The Baddest Cars Owned By The Most Beautiful Celebrities
The most extravagant luxury cars can only be owned by those who have the excessive funds to match. Expensive automobiles have become a hot commodity in the celebrity world, even if they aren't driving the cars themselves. Equipped with high speed, custom interiors, and sleek bodywork, these celebrity cars are the hottest on the streets.
Floyd Mayweather's Koenigsegg
Boxer Floyd Mayweather's Koenigsegg CCXR Trevita cost him $4.8 million. The extravagant vehicle has a carbon-fiber made body and has integrated fuel for optimum performance. The acceleration reaches 62 mph in 2.9 seconds and has a braking distance of 32 meters.
With an estimated net worth of $400 million, Mayweather is a two-time winner of The Ring magazine's Fighter of the Year award, a three-time winner of the Boxing Writers Association of America Fighter of the Year award, and a six-time winner of the Best Fighter ESPY Award. He's been called one of the greatest boxers of all time.
Kim Kardashian's Ferrari
Reality-TV Star Kim Kardashian's Ferrari F430 is just one of the many impressive cars in her vehicle collection. The F430 comes with a 4.3-liter V8 petrol engine and accelerates to 62 mph in 3.9 seconds. The reality star reportedly bought the car when she was dating Reggie Bush back in 2009. The estimated value of the car is $186,925, but she's not been seen driving the car lately.
She apparently prefers her Bentley Continental, and those sightings have been hotly promoted by Bentley. With the long list of perfume and diet pills that she endorses, it's also possible that Ferrari just hasn't offered her a deal to endorse their car.
Ralph Lauren's Bugatti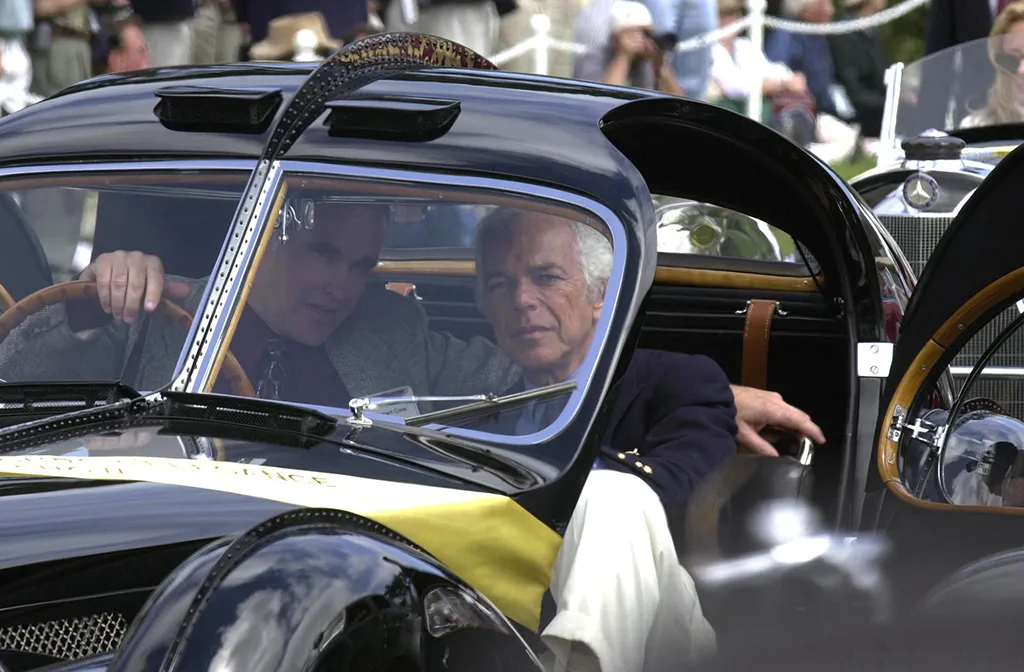 Photo: Steve W Grayson/Online USA
Ralph Lauren owns one of only two Bugatti Type 57SC Atlantics cars, worth an estimated $40 million. The 1938 model is Ralph's prized possession, made from a light but flammable magnesium alloy called Elektron. It's considered a monument to pre-war Europe, and it won the Concorso d'Eleganze Villa d'Este.
One source said, "It's a beautiful car, but not $40 million beautiful. Then again in that rarefied air, you're not paying for value, but for exclusivity. Still, anyway I try to slice it, I can't help but think that $40 million for a car is ridiculous."
Range Rovers Are Kate Moss' Style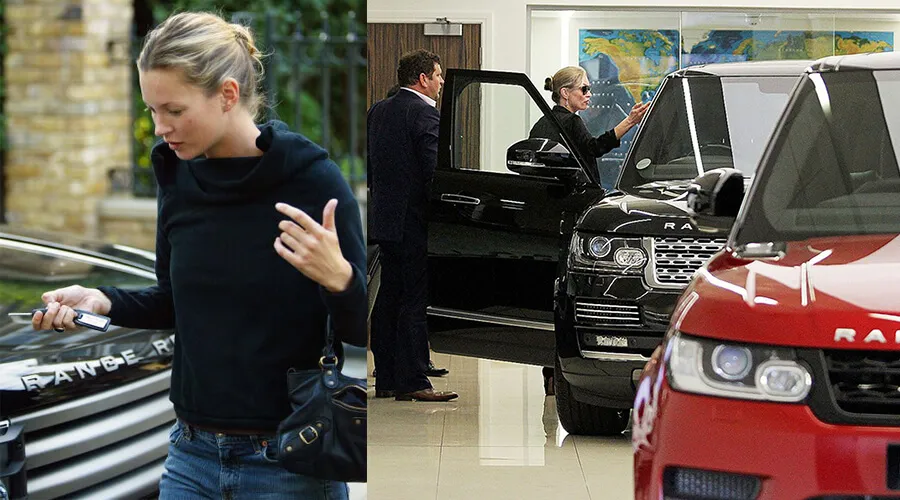 In 2014 Kate Moss was spotted at the Range Rover dealership in London, where she drove away with a new model in black. She trusts the car maker with her safety, as Moss was involved in a car accident while sitting in the back of her previous Range Rove in September of 200.
A chauffeur was driving the model to a Vogue fashion shoot when he collided with another car at high speed and set the Rover on its side. Moss was airlifted to the hospital but was found to only have minor injuries. Looks like she's a Range Rover owner for life!
Tom Cruise Has Plenty of Whips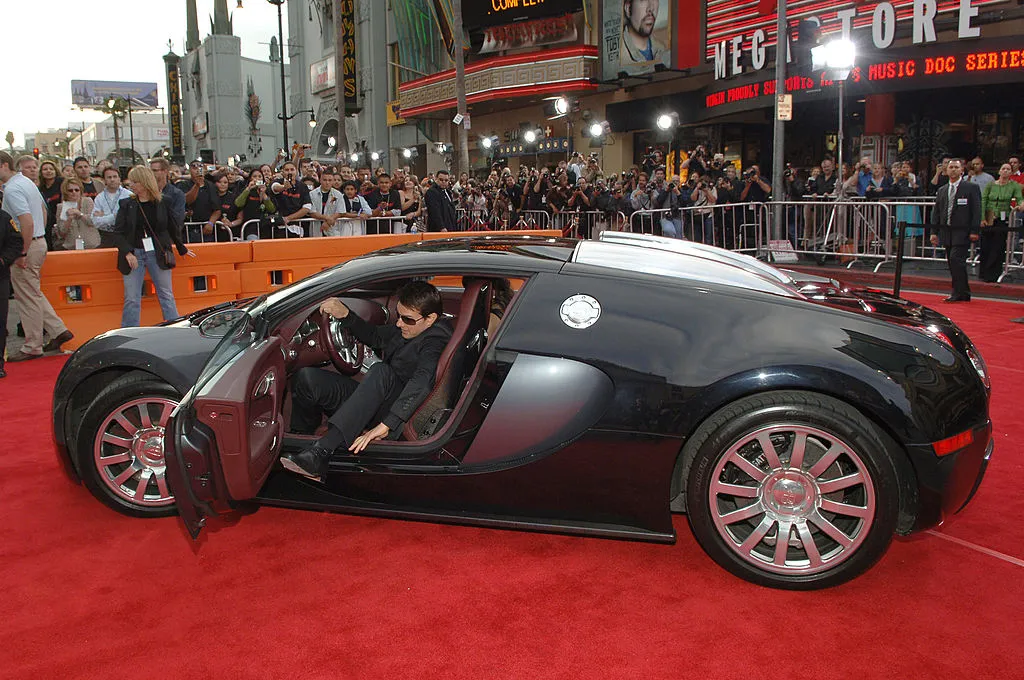 Actor Tom Cruise not only has plenty of cars in his garage, but motorcycles, too. One of his flashiest vehicles has to b the Bugatti Veyron. Built by Volkswagen, the mid-engine sports car has an incredible top speed of 253 miles per hour, making it the fastest street-legal production car in the world.
Cruise was one of the first people to buy the car, and he drove it to the premier of Mission Impossible III, stunning fans. Other cars in his collection include a Ford Mustang Saleen S281 and a 1958 Chevrolet Corvette.
Clint Eastwood Drives a GMC Typhoon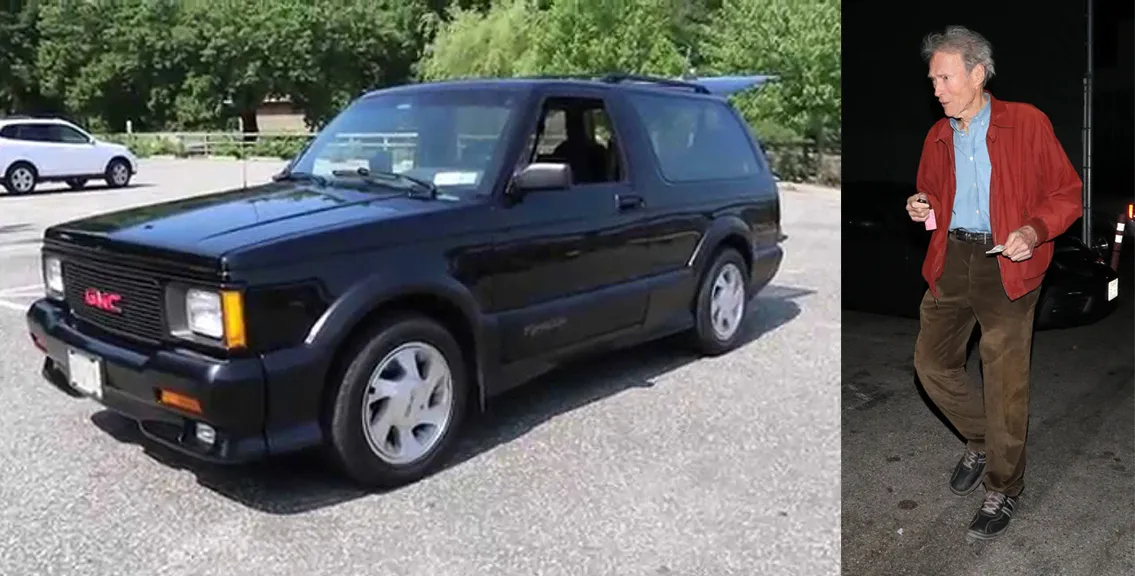 In an interview with Jimmy Fallon on The Tonight Show, Clint Eastwood revealed which vehicle he drives. Fallon guessed that he drove either a muscle car or a truck, and the answer was quite surprising. "I drive a Typhoon," Eastwood said. "A GMC Typhoon. It's actually a turbo V6, it's fast."
The high-performance SUV was only produced from 1991 to 1993. According to Kelly Blue Book, a 1993 GMC Jimmy Typhoon is valued at $11,448, which is a low-cost vehicle for an actor who has a net worth of $375 million.
Patrick Dempsey's Jaguar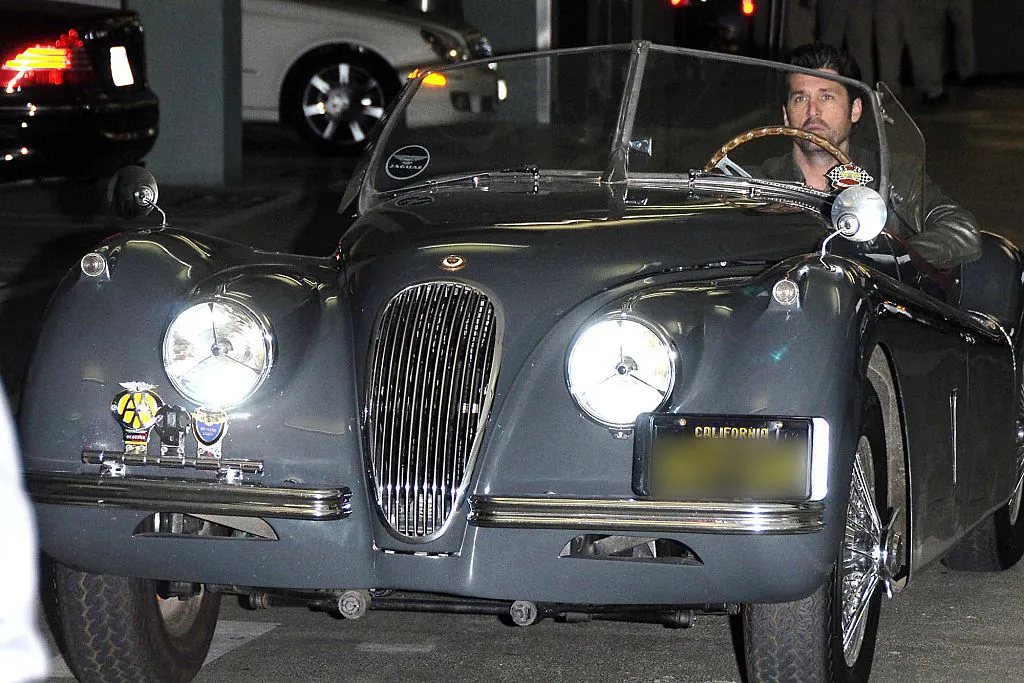 It's a perfectly beautiful car for one of the hottest celebrity you can think of! Unlike some of his fellow celebs, Patrick Dempsey is not one to leave his vintage 1954 Jaguar XK120 in the garage. It's one of the most iconic cars in automobile history, and he regularly drives it around LA. The old-school vehicle is classified as a British roadster. The Telegraph voted the automobile "The World's Most Beautiful Car" back in 2008.
Of course, beyond owning beautiful cars, Dempsey is also the owner and co-driver of Dempsey Racing. He's been compared to James Garner, Paul Newman, and Steve McQueen as an up-and-coming actor-driver to watch. In an interview with Architectural Digest, he said that his dad raced cars and that he'd bring home Matchbox cars for his son. "The older you get, the bigger the Matchboxes get," he said
Nicki Minaj's Custom Pink Lambo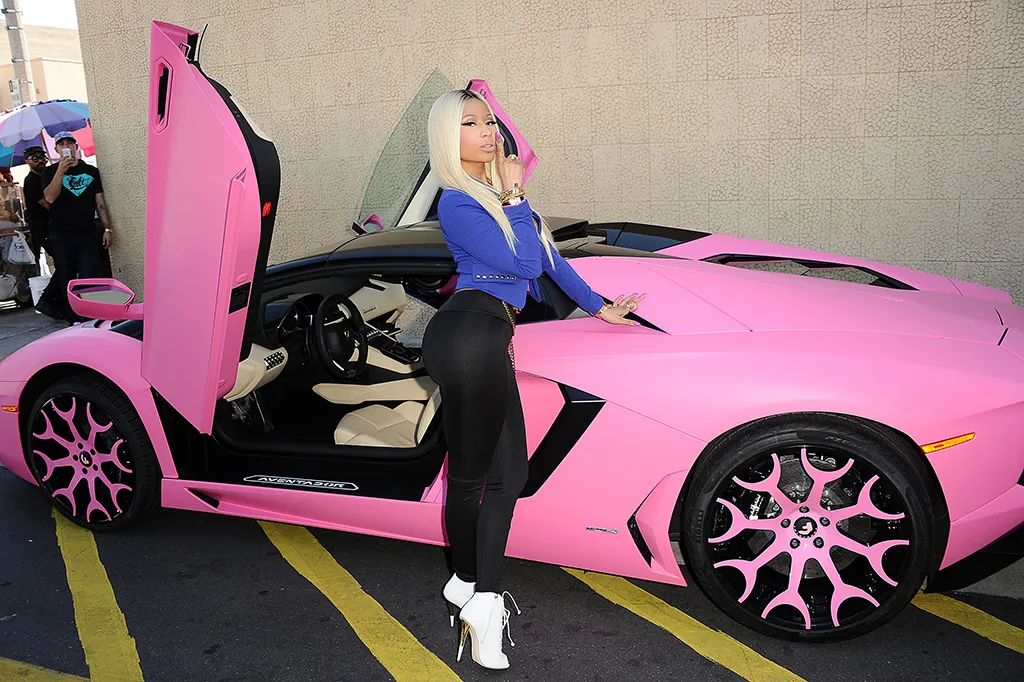 Barbie obviously has to have a pink sports car! Nikki's custom-made pink Lamborghini cost her a cool $450,000 and is decked out with two pairs of Forgiato wheels at 700-horsepower. Of course, who could forget the infamous "scissor" doors. It's the mark of a Lamborghini.
The female rapper also has a pink Range Rover and a pink Bentley to match. Since she's worth a reported $45 million, she's got the right to fulfill her passion for bright-pink, even if it made the cost of the hot car rise exponentially. In case you're curious, Chris Brown also bought one of these hot cars, and he painted it like a Nike shoe.
Miley Cyrus' Maserati
Miley Cyrus' 2014 white Maserati is worth an estimated $100,000. The sports car is a three-speed automatic, with 260 units of horsepower. Always the center of controversy and drama, Miley's Maserati was recently stolen by two young burglars, but it was recovered in Simi Valley. Naomi Charles and Tyler Scott were arrested and plead guilty to burglary, which also included jewelry, purses, and clothing from Miley's house.
They were lured by fame and inspired by The Bling Ring, who infamously robbed Paris Hilton, Orlando Bloom, Megan Fox, Rachel Bilson, Ashley Tisdale and Lindsay Lohan. Like the Bling Ring, Charles and Scott were identified from surveillance video.
Kylie Jenner's Spider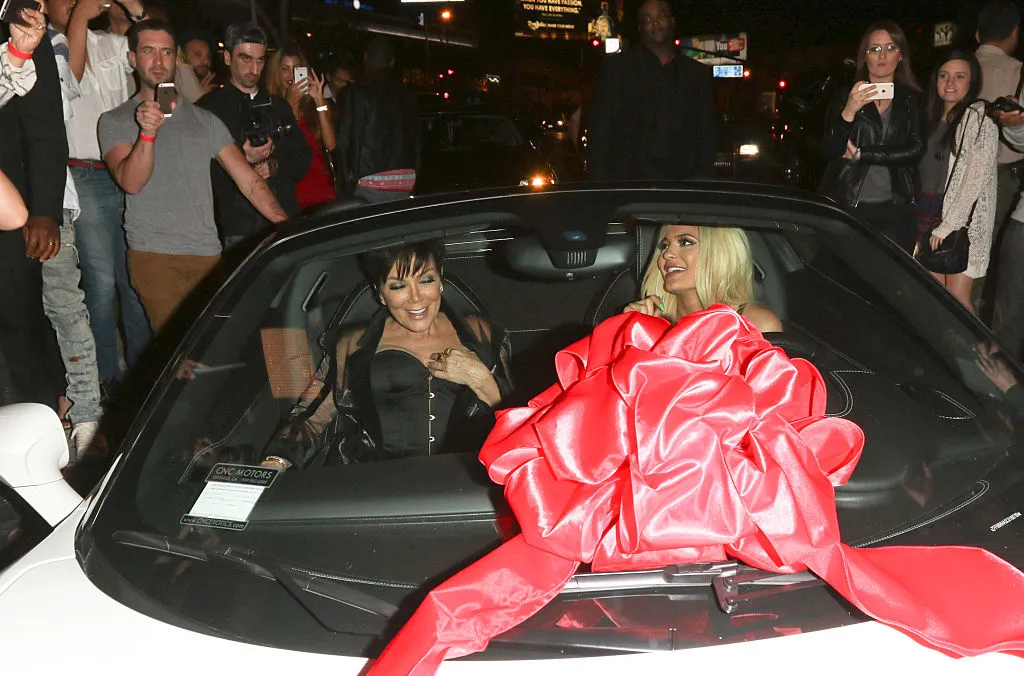 Kylie Jenner's Ferrari 458 Spider was an 18th-birthday present from her rapper boyfriend, Tyga. They then had the sports car custom wrapped with gray, matte finish and costs a cool $260,000. The car is equipped with a 4-liter V8 engine. Pedal to the metal, you can reach 9,000 rpm with 562-the horsepower.
Kylie's sister, Kendall, bought a matching Ferrari on the same day. For her part, Kylie has a fleet of other cars in her garage, including a white Range Rover Autobiography, a black Mercedes-Benz G63 SU and a white Rolls Royce Ghost, plus you'll find a Mercedes-Benz Maybach and Ferrari 458 Italia.
Britney Spears' SL 500
Britney Spears always has a knack for being the center of attention, with controversy, love, and her penchant for expensive stuff. She's also adept at picking luxury vehicles, and the pop icon's favorite car is probably her Mercedes SL 500. The white convertible is one of the biggest-selling MB models of all time and reaches 60 mph in just four seconds!
The car's interior comes with a German wood trim and has "magic vision control." She got the car when she was still hobbling around with crutches, and media reported that the car was a way to keep her mind off the physical therapy.
Sofia Vergara's Mercedes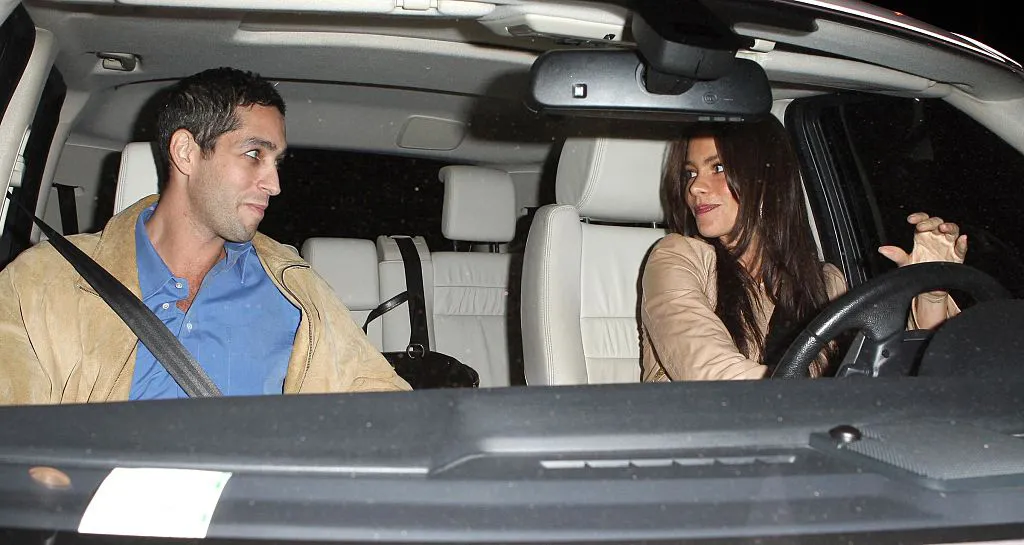 Hot ladies must think alike! Modern Family star Sofia Vergara also owns a Mercedes-Benz S-Class model, similar to Britney's but with slight differences. After all, the luxury vehicle has been manufactured for over six decades and is the world's best-selling sedan. With a twin-turbocharged engine, it isn't hard to understand why it's such a popular car.
With an estimated net worth of $120 million, this hot car is priced at $169,000. She also resides in a Beverly Hills mansion, reportedly worth $10.6 million. She also owns two Range Rover cars. She was also named one of People magazine's "50 most beautiful people," and she received a star on the Hollywood Walk of Fame.
Matt Damon's Tesla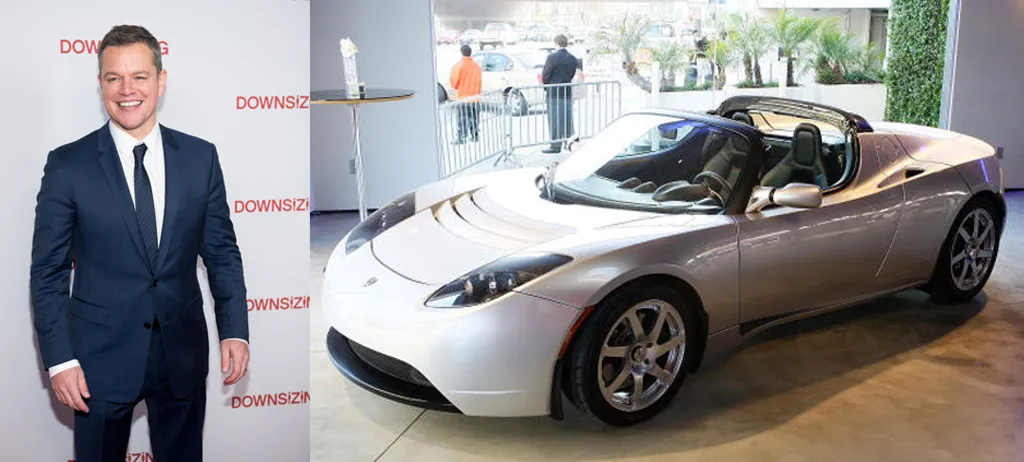 Actor Matt Damon's Tesla Roadster is 100% electric and eco-friendly. The car cost the Film Actor's Guild member $100,000 and operates on a two-speed transmission (as long as it's in the highest gear). The Tesla Roadster gets 250 miles before it needs a charge. He first tried out the test model, which obviously affected his take on the car.
Damon said, "the 30-60 acceleration is like nothing else." Of course, he's not the only one who sports a Tesla. Other Tesla-owning celebrities include Ben Affleck, Cameron Diaz, Will Smith, and Leonardo DiCaprio. For those eco-conscious stars, it's just the right choice.
Jay Leno's Ecojet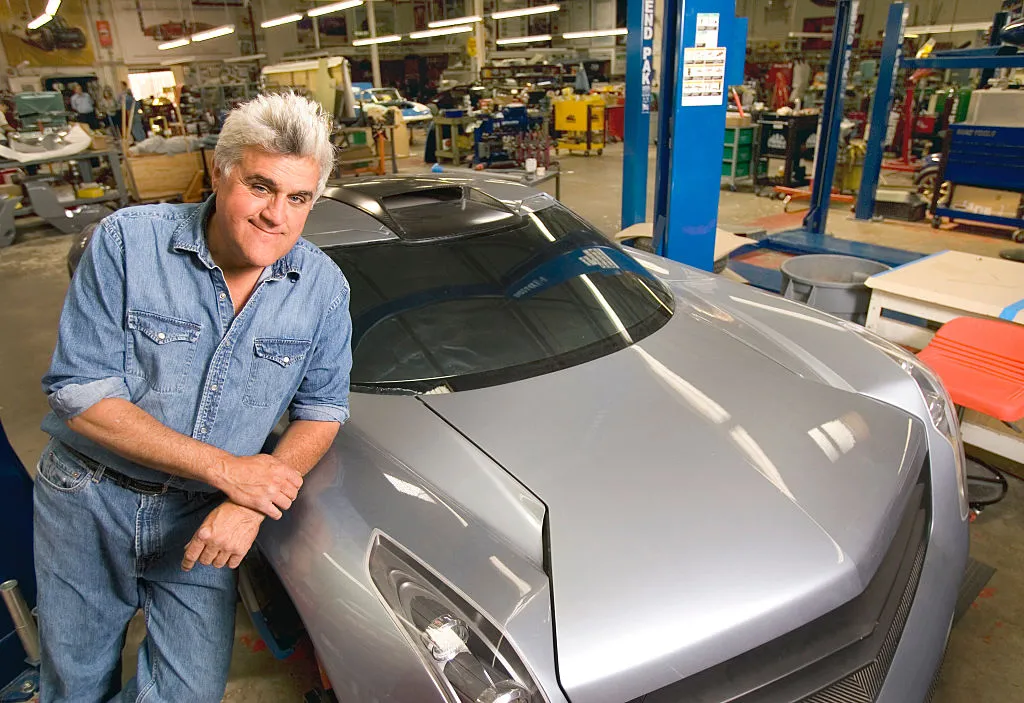 With a car collection like Jay Leno's, you can't help but see his name all over the place when celebrities are linked with hot cars. Of course, Leno also owns a striking Ecojet, which is designed to run on biodiesel fuel. Inspired by a 1963 Chrysler turbine car and GM's 1950s Firebird, Leno collaborated with General Motors to build a custom high-tech supercar. He can afford to get what he wants in a vehicle.
As you'd expect in one of the cars in Leno's fleet, the two-seater has two LCD screens on the dashboard and speech-recognition software. And, of course, the exhaust runs on fine cooking oil. Your burning question is about speed, though, right? And, that can top 245mph (theoretically). Of course, there's been no word on whether Leno has actually been seen traveling that fast on the race track.
Jay-Z's Exelero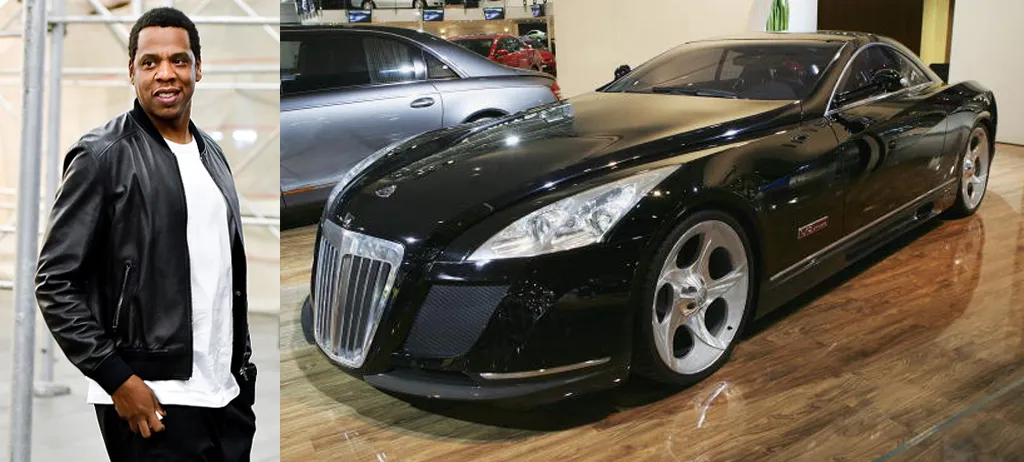 You didn't think Queen Bey would be the only member of her royal family to own a flashy car, did you? Her husband, Jay-Z, owns this Maybach Exelero. The rapper's Exelero is rumored to have cost him a ridiculous $8 million. But, then, it's also been featured in "Otis" by Kanye West and Jay Z, so it had to be just right. This hot car is a two-seater coupe.
You could reach speeds of up to 200mph if you were ever allowed to take a drive. Of course, the high price tag also means that he's in an exclusive club of owners. Few could afford it. His entire car collection has been valued at well over $15 million.
Justin Bieber's Ferrari 458 Italia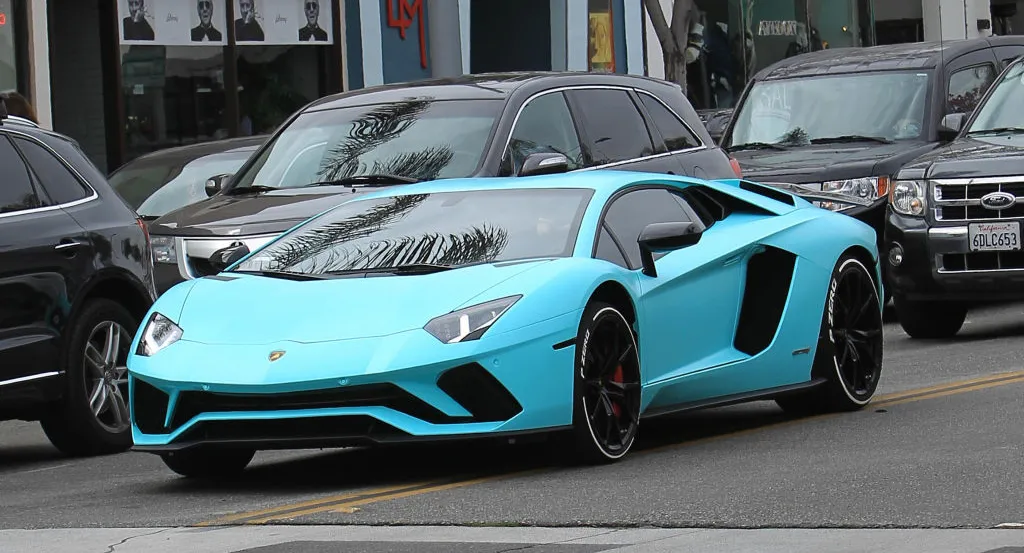 Justin Bieber was riding around in his Audi R8 but then he upgraded to a baby-blue Lamborghini Aventador. Originally purchased in white by the Biebs, he transformed it with a blue matte finish and then he auctioned it off earlier this year.
He also bought a Ferrari LaFerrari with a red body, with an estimated price tag of $1.7 million. It's been called "the world's most-impressive hypercar." It's certainly one of the most expensive cars, but it's also exclusive, as only 499 will ever be made. There's been speculation that this beautiful car might fall victim to Bieber's tendency toward DUIs and street racing. Who knows?
50 Cent's Lamborghini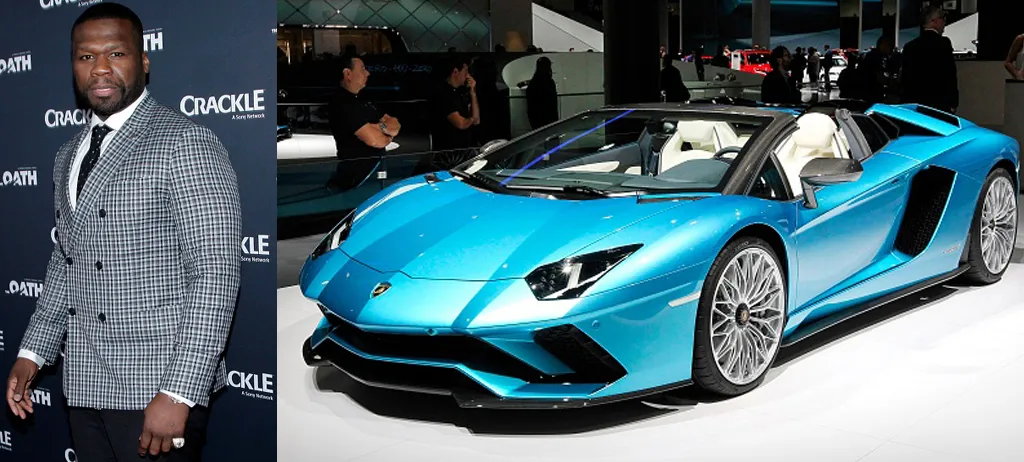 Rapper Curtis James Jackson III, better known as 50 Cent, had a Lamborghini Aventador just like his fellow rapper, Kanye West, except that this Aventador is detailed in a cobalt-blue color wrap. 50 Cent reportedly paid $300,000 for his luxury vehicle. It's all been a blur, though.
Hot on the heels of losing a lawsuit in which Lavonia Leviston claimed that he intentionally leaked a sex tape, and a $5 million judgment, his lawyers filed for Chapter 11 bankruptcy protection in 2015. Before that filing, he appeared #15 on the list of "25 Biggest Car Collectors in Hip-Hop." The New York Times also did a profile on him, which said that he had "exceptional business instincts."
Jerry Seinfeld's Minimalism Slant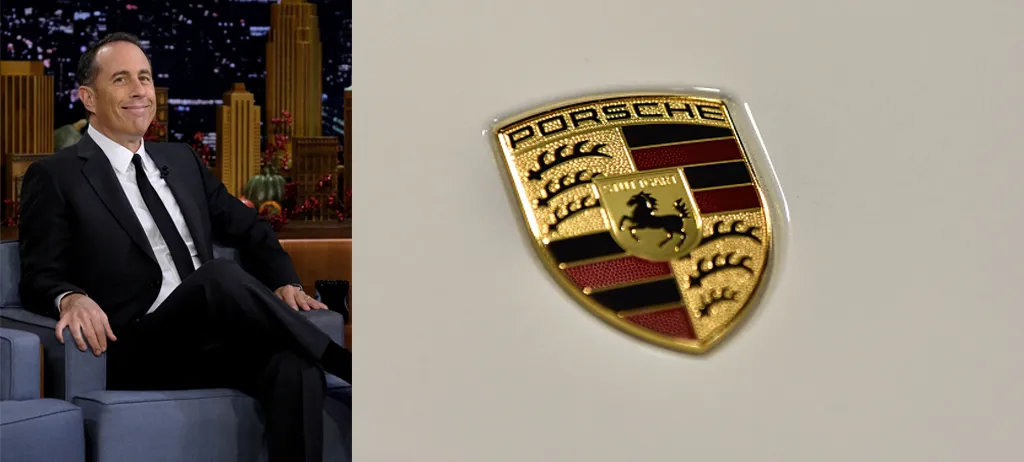 Jerry Seinfeld doesn't have just one Porsche. He has an entire Porsche collection, and many of them appear to have an eclectic and nostalgic slant. The comedy writer and actor owns a 1970 911 S that Steve McQueen drove in Le Mans and a 356 that was once used as a Dutch police car.
He reportedly sold 18 of his Porsches for $28 million. in an interview with CNBC, he said about the Porsche, "This little car is the essence of sports-car perfection." There's something about the minimalism, as he explained: "There's no stupid lines on a Porsche that don't make sense."
Steven Tyler's $1.1 Million Ride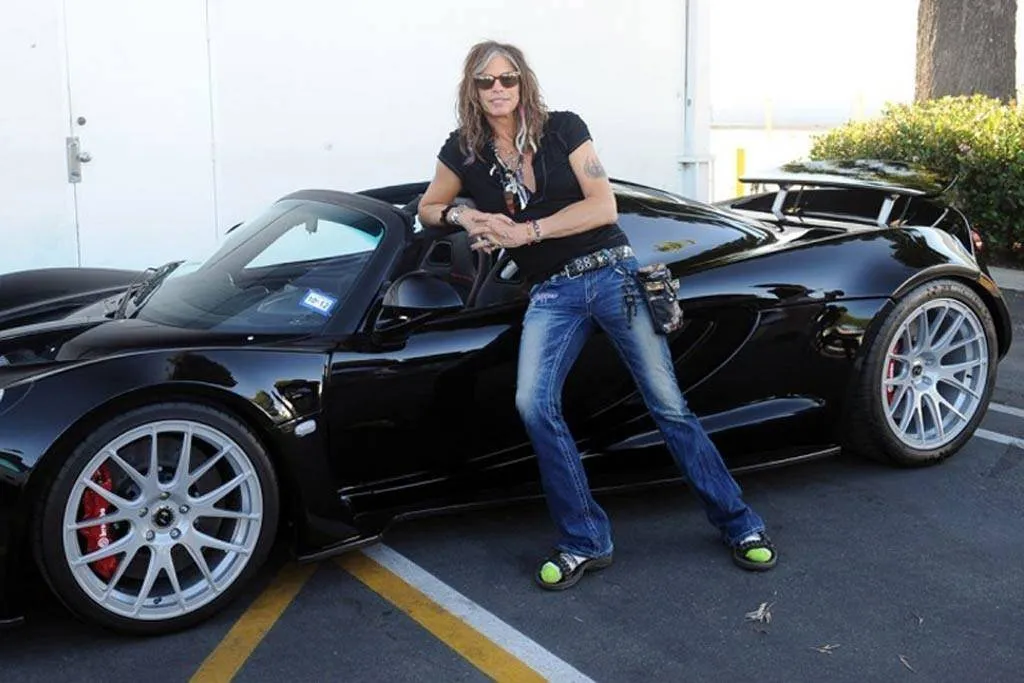 Steven Tyler lives life in the fast lane—literally. In 2012, the legendary rock star purchased the world's fastest street-legal car. The hand-built convertible is known as The Hennessey Venom GT Spyder and is one of just five 2013 models to be made.
Tyler's is the only convertible of the batch and can accelerate to 200 miles per hour in just 15.9 seconds and has a top speed of 275 miles per hour. The Aerosmith frontman came to the car's makers with detailed drop-top and motor requests, so his ride was custom-made just for him based on the standard Venom GT prototype. He sold the car for $800,000 in 2017 and the proceeds went to his charity Janie's Fund.
Katy Perry's Audi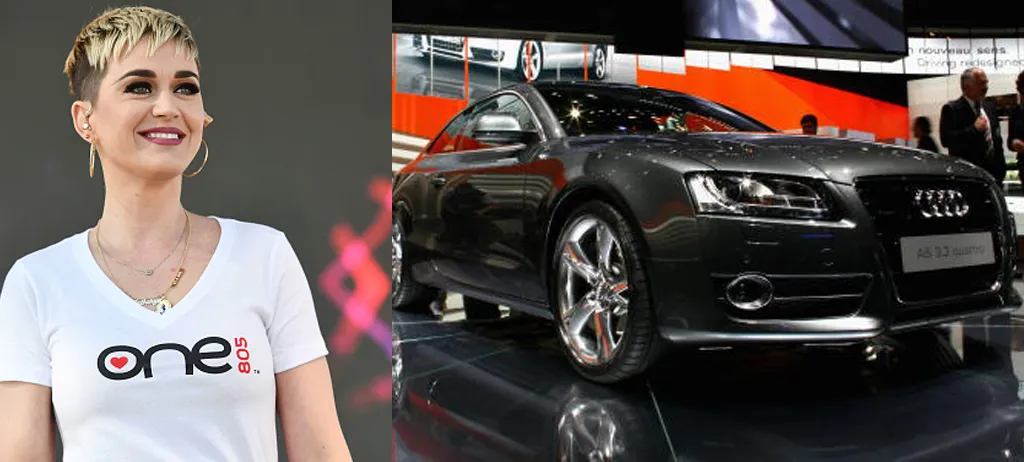 Singing sensation Katy Perry got lots of attention when she bought her Audi A5. This hot car is equipped with a 3.2-liter V6 engine, with a top reported speed of 60 mph in six seconds flat. It's sophisticated and classy, in gorgeous black, without the out-of-sight price tag. Katy purchased the vehicle in 2009 for $50,000.
Of course, she's not the only one who owns an Audi. You may just see these other celebrities in their favorite Audi cars: Gisele, BJ Novak, Ben Stiller, and Ben Affleck. Perry's black Audi also landed her on the list of "Top 10 Expensive Cars of Female Celebrities."
Jason Statham's Ferrari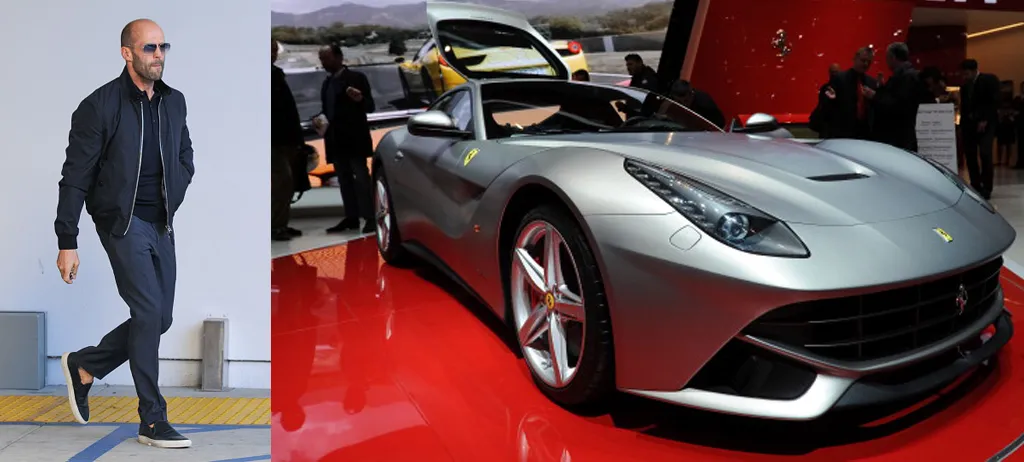 Jason Statham needed a car that could keep up with his high-speed action career, so he purchased a Ferrari F12 Berlinetta in 2015. He's owned a few Audi cars in the past, but this Ferrari is powered by a 6.3-liter V12 engine.
Pedal to the metal, you can reach a top speed of more than 211 miles per hour. Ferrari even posted a pick of Statham with his "real-world supercar" to Instagram.
Mario Balotelli's Camo-Car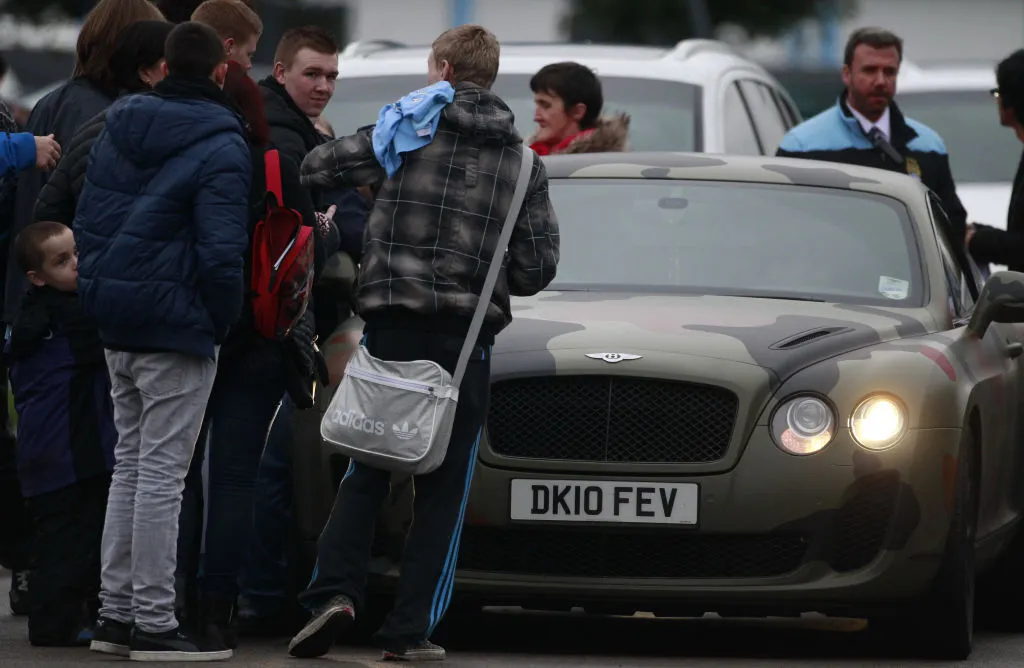 Italian Soccer-Star Mario Balotelli bought a Bentley Continental in 2012 and then personalized it with a camouflage-print wrap. The estimated value of the Bentley is $175,700-215,000. He was in a car crash with an unidentified woman, while driving the Bentley, in 2012. The car was further defaced when a Manchester United fan sprayed fresh urine on the vehicle.
There are reports that Balotelli sold the car in 2013, but he told Sports Illustrated that he gave the car to his teammate, Urby Emmanuel. His teammate took off the custom finish, returning the car to its standard white.
Celine Dion's Rolls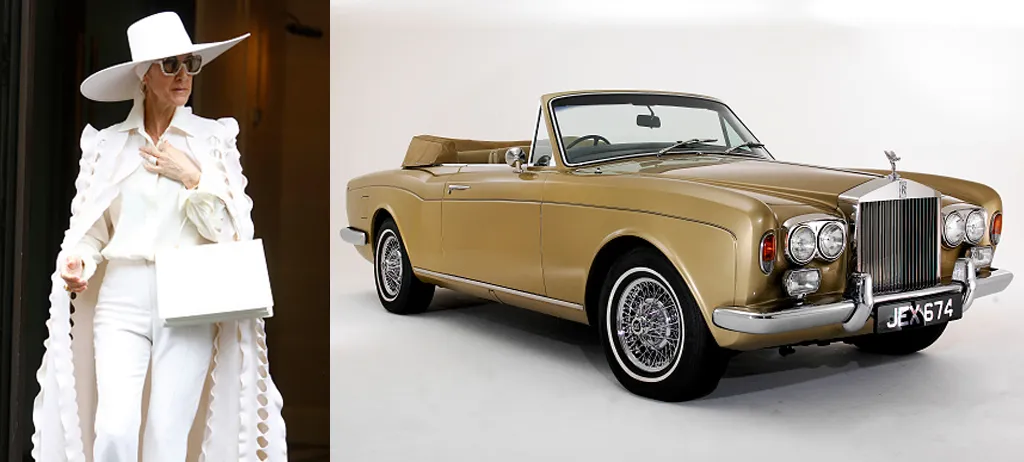 Its sort of mind-boggling of an infamous diva-like Celina Dion can ride around with such modest taste! The pop legend's Rolls-Royce Corniche is rare, classy and beautiful. She purchased the 2-door convertible in 1995. The Rolls also features a beautiful creme-colored wrap, which just adds to the smooth look-and-feel.
You'll also find a 6.75 Liter V8 engine, and 3-speed automatic transmission. The car is reportedly worth $70,000 and seats up to five people. She also owns a self-built home in Florida, worth $71 million, and some 3,000 pairs of shoes, worth more than $1.5 million.
Samuel L. Jackson's Maybach
Samuel L. Jackson is one of the greatest Hollywood legends to ever have graced the silver screen. His equally-stunning Maybach 57S could put even Jay-Z's car collection to shame. The car comes equipped with champagne flutes and a mini-fridge.
He's got a lot to celebrate, as one of the highest all-time box office stars. He's the world's highest grossing actor, with an estimated $7.42 billion in 68 films so far, according to The Guinness World Records. Of course, now that Maybach closed its doors, Bentley has reportedly been courting Jackson and other Maybach owners.
Seal's Bentley Azure
Singer Seal is another hot celebrity who has ditched his Audi R8 for an upgrade. His gold Bentley Azure is the latest addition to his already impressive collection of luxury cars. The four-seater convertible accelerates has an estimated value of $350,000.
Pedal to the metal, you can accelerate to 60 mph in five seconds, with a top speed of 179 mph. He has sold more than 20 million records worldwide, with an estimated net worth of between $50-70 million. He's also an award-winning artist, including the Q Award for the Best New Act, Brit Awards for Best Album, Best Male Artist, and Best Video, and Grammy Award nomination.
Lady Gaga's Stylish Ride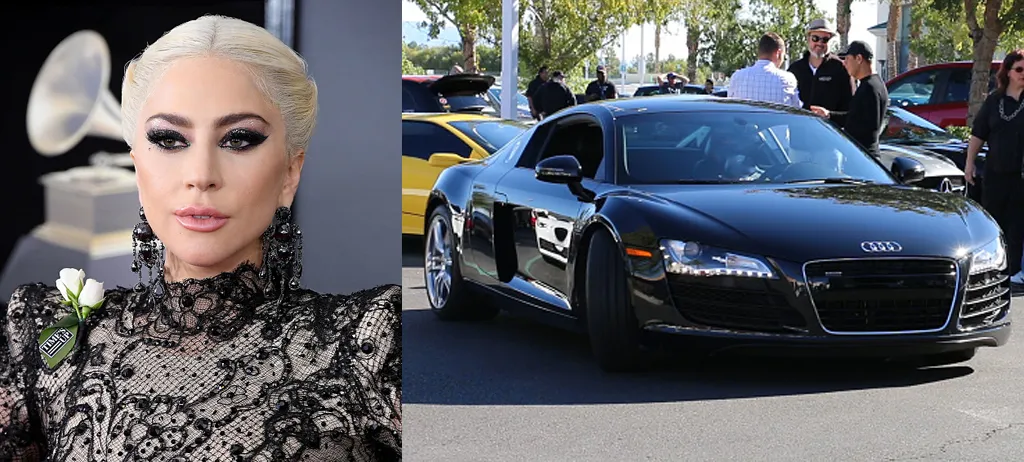 Lady Gaga's R8 GT matches the singer's style perfectly: classy, swanky and still with a bit of edge. The Audi can burn a quarter of a mile in 11.5 seconds and reaches 60 mph in 3.5 seconds. The car is worth an estimated $200,000. Audi used the star's interest to their brand advantage, with that infamous tweet: "Yes, yes... We Love Gaga's New Car, too!"
With a reported net worth of $275 million, you're probably not surprised that Audi was trying to tap into the fab pop star's fan base. Her choice in the car has been a hot topic, because who doesn't want to drive that beautiful supercar.
Gwen Stefani's Wraith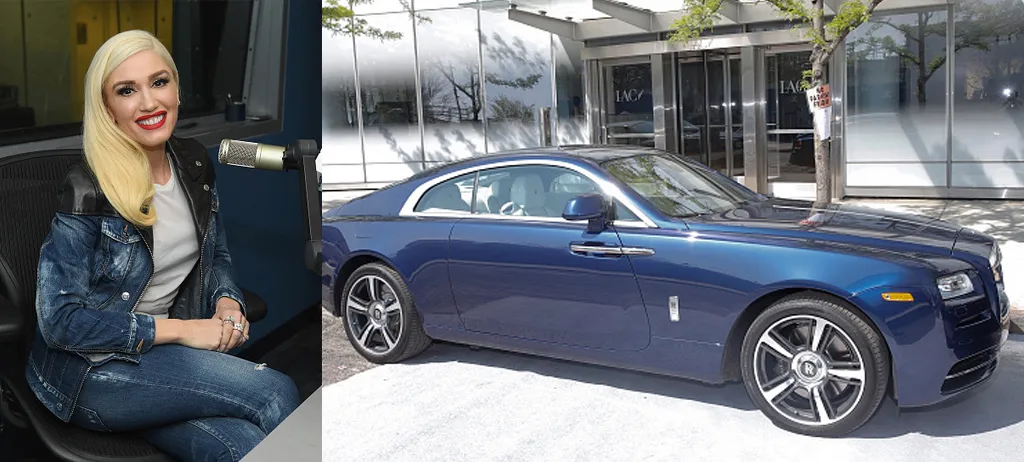 Gwen Stefani is nothing short of a timeless beauty and her Rolls Royce Wraith fits the singer perfectly. Stefani's Wraith is wrapped in a cobalt-blue paint job, with a commercial value of around $400,000. The vehicle is powered by a V12 engine with 624 horsepower and has a 4.6-second standing start.
The interior has also been compared to a superyacht. Just like her fashion line, her car has that vintage-yet-modern look-and-feel. It's got what you'd expect in a celebrity's vehicle, including an "on-board valet."
Janet Jackson's Vanquish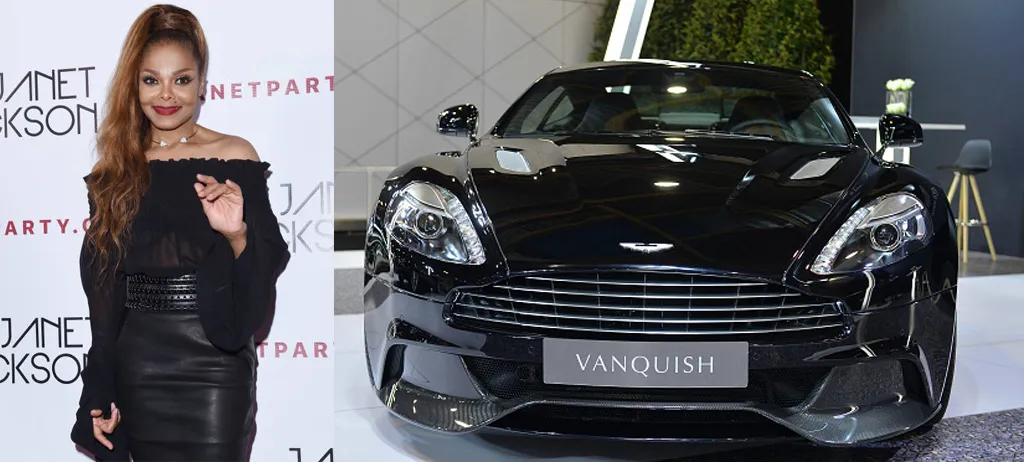 Janet Jackson's Aston Martin is a unique auto design that's worth an estimated $234,000. As you'd expect, Jackson's Vanquish is super-famous and celebrity worthy. It's the same vehicle constructed and used in the James Bond film Die Another Day. Janet owns three other luxury cars including a Lamborghini, Maserati, and a Bentley.
With an estimated net worth of $175 million, she's in good company as an owner of this spy-tastic vehicle. Missy Elliot, Ryan Seacrest, and Jennifer Lopez all own one too. Doesn't everyone want to drive a James Bond vehicle, particularly one that was driven by Pierce Brosnan?
Halle Berry's Vintage Aston Martin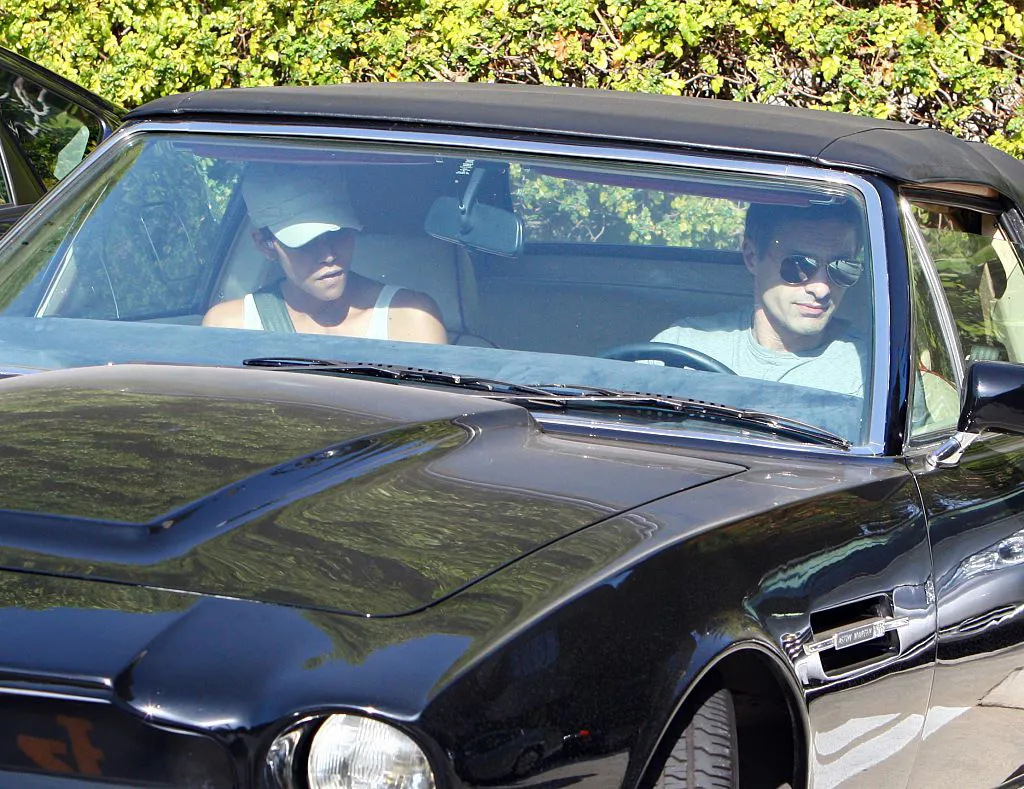 Halle Berry is just another celebrity who also owns a vintage V8 Vantage Aston Martin. The vehicle is powered by a V8-engine. Petal to the metal, you could reach 60 mph in 5.2 seconds. The car's top speed is 172 miles per hour. This hot car was originally manufactured in September 1977. Of course, one of the headlines proclaims: "Halle Berry's Man Got a Classic Aston Martin."
Then again, this hot car looks like the perfect choice for this Catwoman-playing star. If it was good enough for James Bond, you'd better bet it's the perfect car for Halle Berry.
Conor McGregor Celebrates Early With A Fleet Of Rolls Royce
Before he joined Floyd Mayweather Jr. in the boxing ring, UFC fighter Conor McGregor appeared to use some of his guaranteed $100 million from the fight ahead of time to purchase a new fleet of Rolls Royce. Yes, a fleet. The Irishman purchased three Rolls Royce models: a Wrath, a Dawn, and a Ghost.
The trio cost him an estimated $750,000 so he has plenty left in the bank. Although he has homes in Las Vegas and Dublin he was spotted driving one of the Rolls Royce in New York City so its anyone's guess where he stores them.
Duncan James Opts For A Sporty Convertible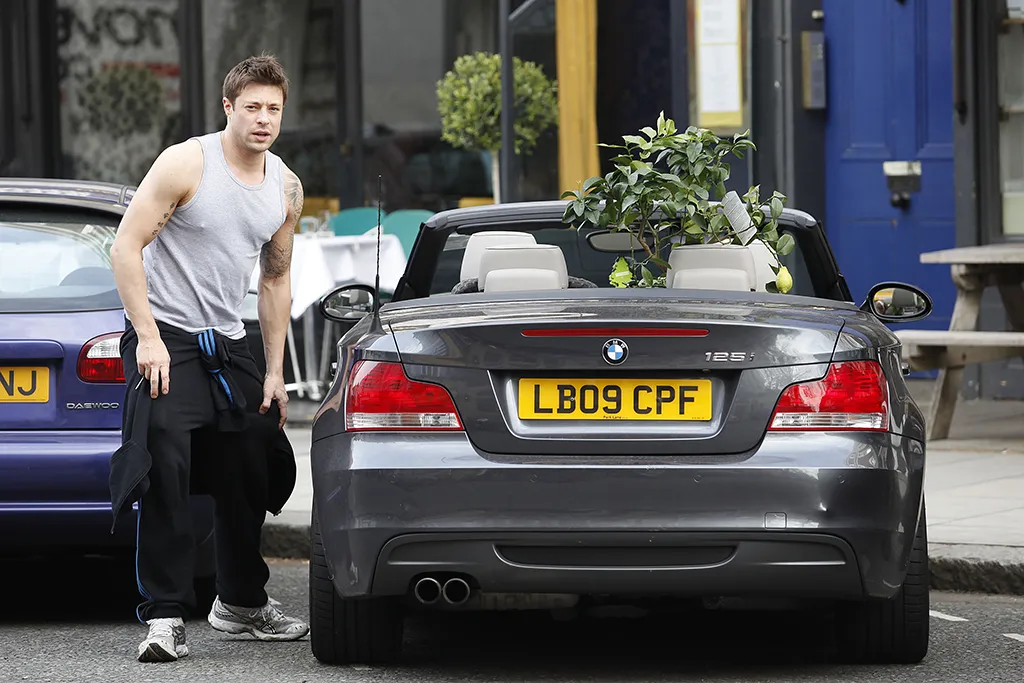 British actor and TV host Duncan James gets around town in his BMW 125i convertible. Here's he's spotted putting a lemon tree in his car that his mom gave him for his birthday. They must have a close relationship (he's also an only child) because he also bought a new car for her!
This BMW features a fabric roof instead of a hard top, which means this sporty convertible has a smaller and sexier backend. It took six years for BMW to release this version of the model.
Cameron Diaz's Tesla Model S
Cameron Diaz was one of many celebrities who chose to buy a new Tesla. The actress has been seen cruising around Los Angeles in her Model S. This luxury vehicle is battery powered and has an MPGe of 102 city and 107 highway, which is how electric cars are measured equivalent to gas vehicles.
The numbers are pretty incredible, and this Tesla also offers 382 to 691 horsepower. Yep, this is definitely step up from the Prius she used to drive!
Jimmy Kimmel's VW "The Thing"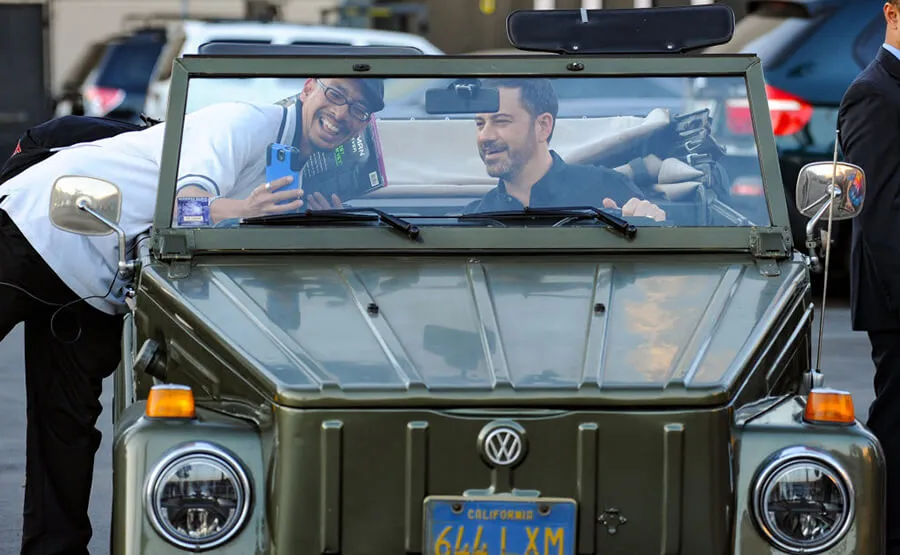 This VW Jimmy Kimmel is driving is known as "The Thing" in the U.S. The comedian has been seen driving the Volkswagen 181 around Los Angeles. The 181 was manufactured from 1968-1983 and was originally designed for the West German Army and was sold to the U.S. public from 1973-74.
While most celebrities prefer their privacy behind tinted windows, Kimmel appears happy to talk and take photos with fans as he cruises Hollywood, top down. It looks like he's kept the original license plate from the 1970s as well.
Drake's Dreamy Bugatti Veyron Sang Noir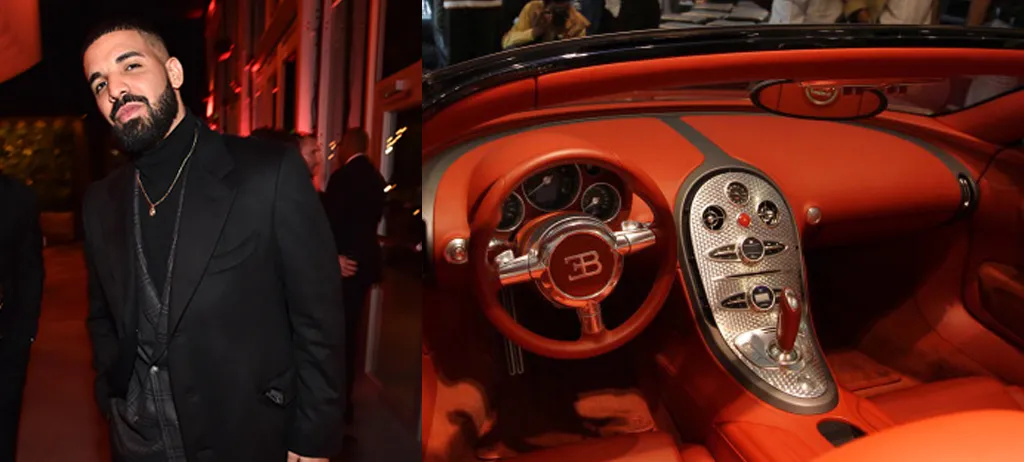 There were only 15 of these on the market, and Drake purchased one of them. The Bugatti Veyron Sang Noir is as sexy as it sounds. This luxury vehicle is one of many that Drake was owned and he paid $2 million for this one. The shiny black exterior carries over into the dashboard while the interior is a flashy orange.
He had one embarrassing incident when Nicki Minaj was riding shotgun and he couldn't get the car started! Maybe he got one too many speeding tickets (this car tops out at 253 mph) because Drake decided to put it up for sale.
Harry Styles Has A Pretty Amazing Collection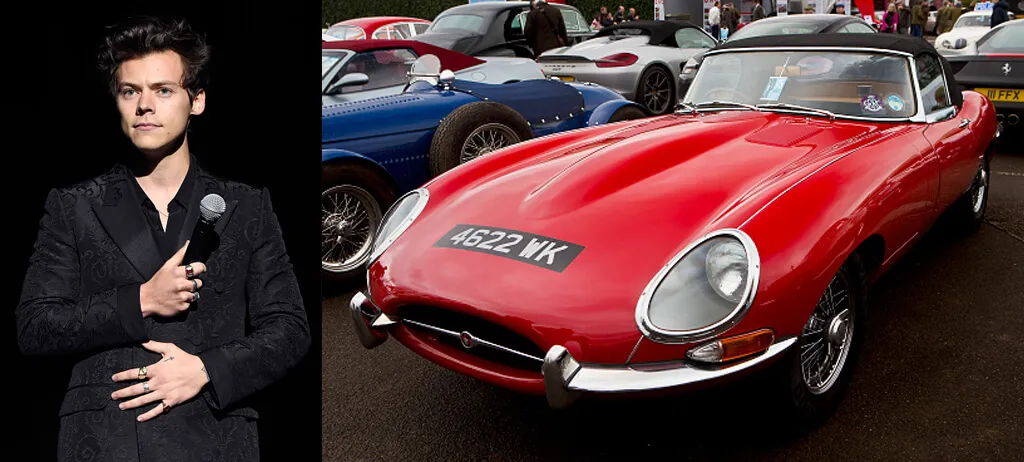 Artist Harry Styles (formerly of One Direction) has a car collection beyond his 23 years of age. In fact, he owned most of his cars by the time he was 19! His car collection includes a 1970s classic white Ford Capri, Range Rover Sport, a Ferrari, vintage Jaguar E-Type, Audi R8 and more.
Most of his cars reside in the UK but he has a few in the U.S. as well. One of his cars, the Ford Capri, gathered dust in his shared parking garage where neighbors wrote unpleasant notes in the dust using their finger, making expletive comments about it needing a good wash.
Simon Cowell's Veyron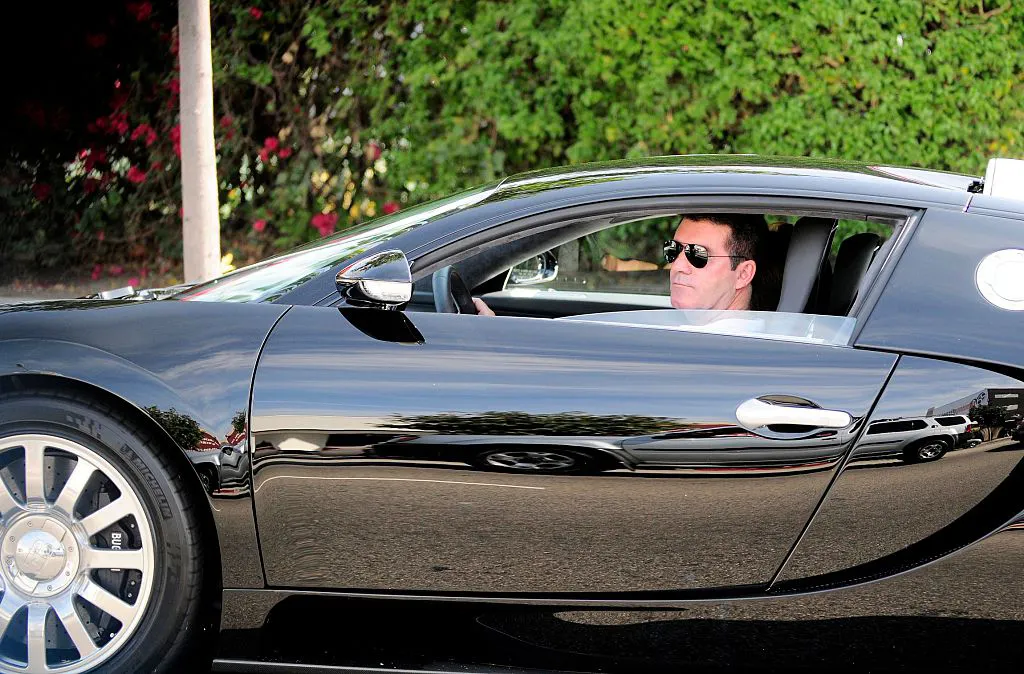 TV mogul Simon Cowell had one of the most expensive cars in Hollywood, and he told Ellen DeGeneres that he bought it because his friend told him to. He only drove the car twice in four years. His Bugatti Veyron sold at a car auction for $1.4 million.
Pedal to the metal, you could reach 260 mph, with 1000 horsepower. The luxury sports car is equipped with an 8-liter W16 engine and produced 1200-horsepower. The engine is one of the world's best, with a 7-speed dual-clutch transmission. He has boasted about his impulse buys in the past.
Paris Hilton's Pink Bentley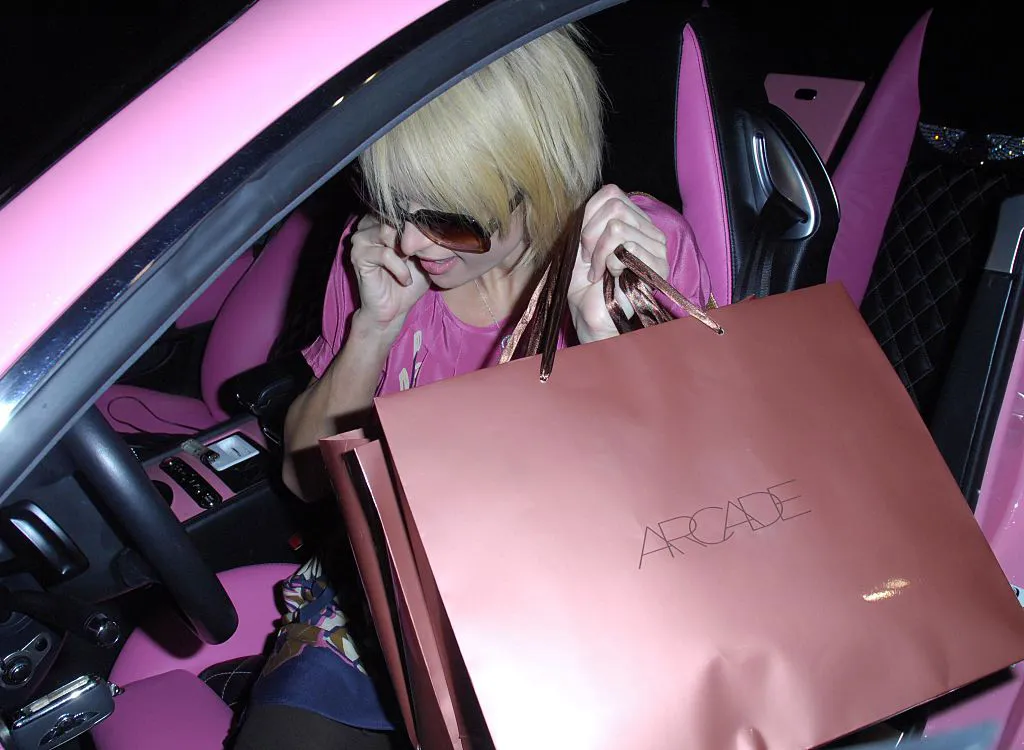 As it turns out, Nicki Minaj isn't the only celebrity riding around in a pink car. Paris Hilton owns a pink Bentley Continental that set her back around $220,000. The interior of the vehicle features pink-and-black leather seats and matching dashboard. The car was created specifically for Paris by West Coast Customs, but Bentley was not at all happy about the brand link-up.
While they were thrilled to promote when Ben Affleck and Jennifer Lopez bought their Bentley cars, Paris has been a center point for controversy. She's rich, sure. But, she's not classy (or at least, she doesn't represent the style of classy that Bentley is looking to promote).
Kevin Hart Has An Appreciation For Cars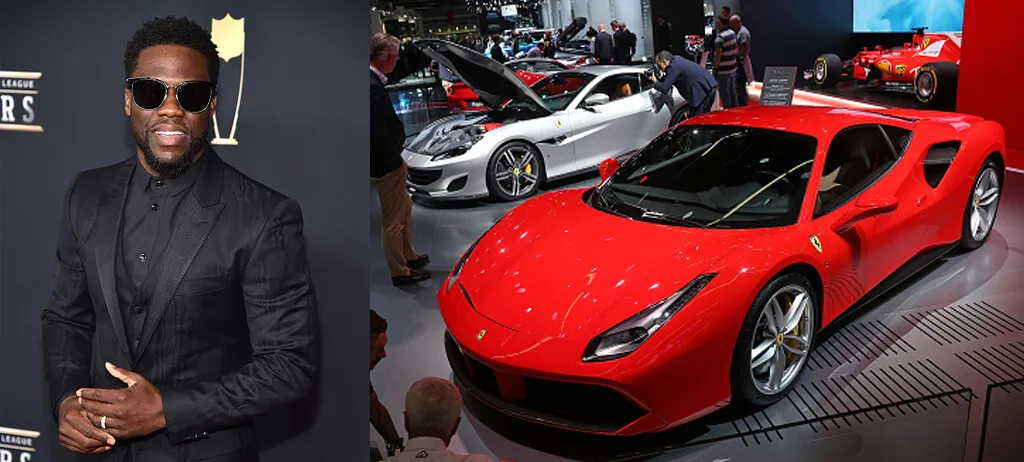 Kevin Hart's car collection is nothing to scoff at. The comedian has posted many photos of his love of luxury cars on his Instagram account. The Ferrari 488 FTB costs around $250,000 and boasts 661 horsepower and 561 lb-ft of torque. It also reaches 60 mph in 3 seconds, and 100 mph in 6.
Other cars that Hart has been seen driving around include a 1966 Pontiac GTO, Mercedes-Benz SLS AMG with gull-wing doors, a Mercedes-Benz G-Class and a Ferrari 458 Spider that tops out at 202 mph. Needless to say, you'll lose a race against him.
Young And Wild: Vanessa Hudgens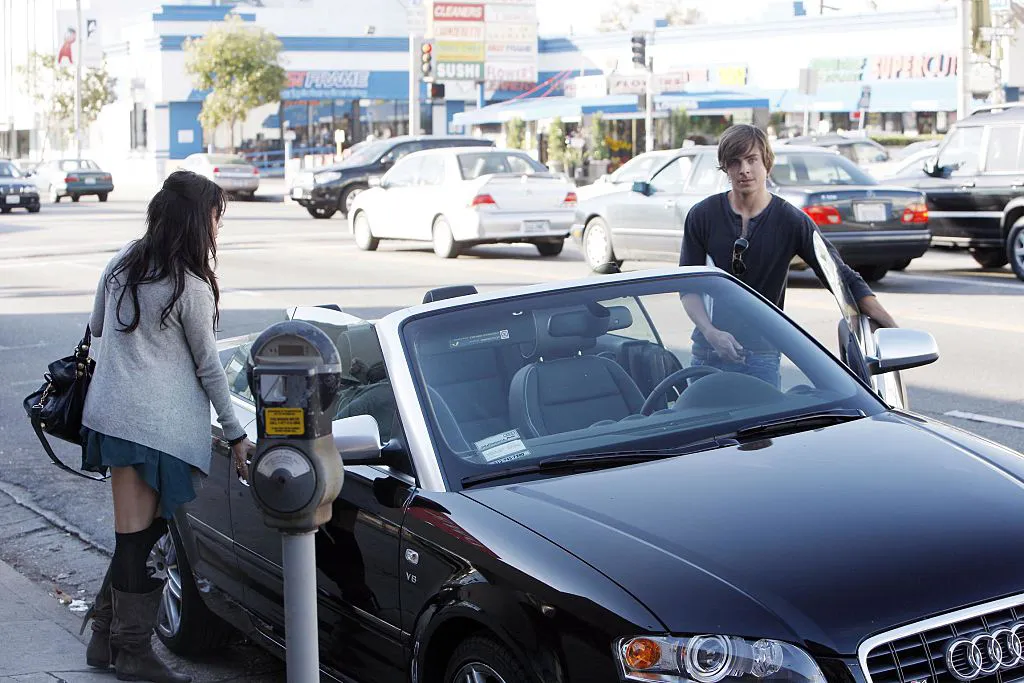 The young and talented Vanessa Hudgens has two flashy cars that she may or may not have racked up a few tickets and fender benders with. She was first seen driving around Los Angeles in her Mercedes-Benz E350 before she treated herself to an Audi S5 with a fabric convertible roof.
There's something to be said about a beautiful and talented young woman who owns her own luxury cars! Let's hope she can keep them looking good and avoid future fender benders.
JLaw Keeps It Simple
While some celebrities go big and flashy with their vehicles, actress Jennifer Lawrence keeps it simple driving her Volkswagen Eos. Although the car is no longer manufactured, it features a five-piece folding roof for a full sunroof effect and the only retractable hardtop.
It's clear Lawrence wants to save her money for things other than a luxury car, and with gas prices as high as they are in California, economy cars are the way to go! Plus it's less likely that she will be followed by photogs looking like the rest of us.
Jaden Smith's Tesla With Falcon-Wing Door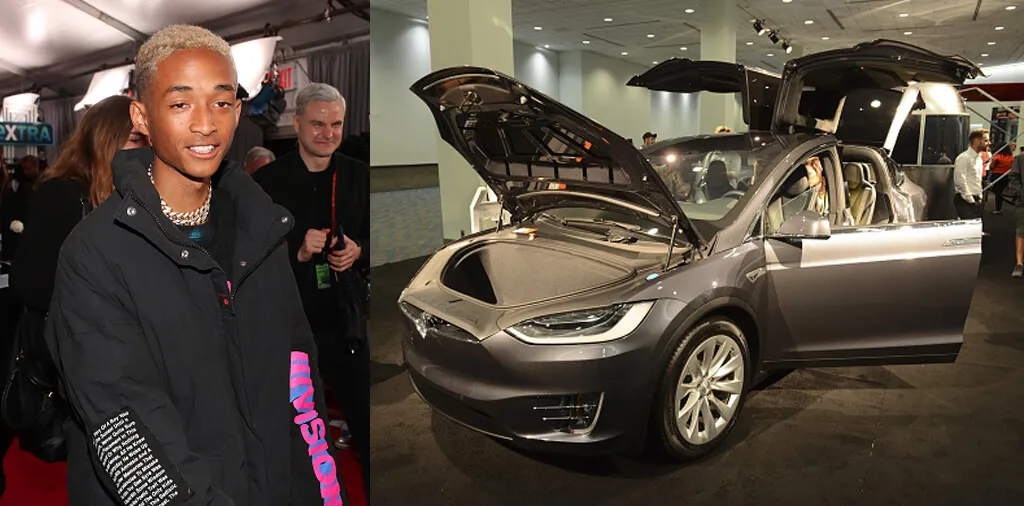 On the opposite scale of JLaw, actor and artist Jaden Smith likes to show off his ride. The 19-year-old from Malibu purchased a $130,000 Tesla Model X with falcon-wing doors and is often spotted mobbing around Calabasas North of Los Angeles. His parents, Jada and Will appreciate flashy things as well, so it runs in the family.
Plus, being born and raised in LA makes it nearly impossible to avoid being drawn to pretty and expensive things. At only 19 this is just the start of Smith's car collection!
Tom Hanks Gifted His Favorite Fiat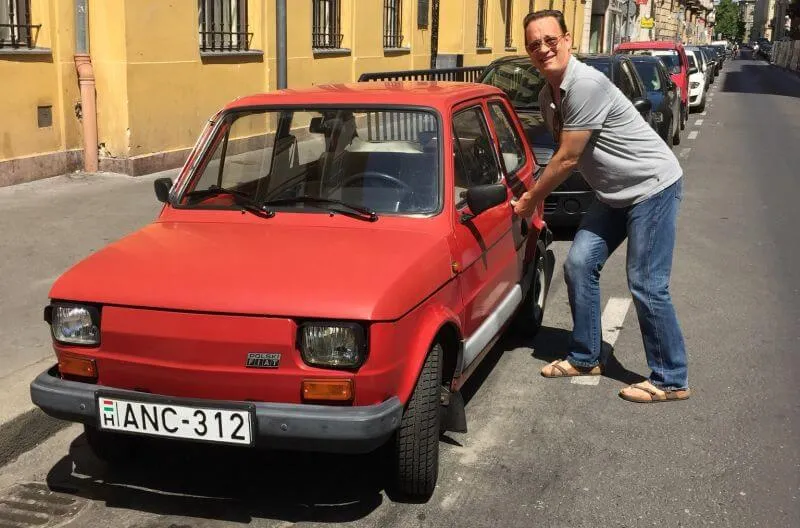 During a vacation to Budapest actor Tom Hanks posed with a classic Fiat and posted a joking tweet, "So excited about my new car! Hanx". His fans then mobilized to purchase and gift the actor with a white Polski Fiat. It was even customized with a speedometer that reads "Bielsko-Biala" and "One of One".
Hanks is one of those celebrities who does right by his fans, and they felt compelled to show their love back. While he certainly has the means to purchase his own cars, this one holds a special value.
Farewell To The Drophead Phantom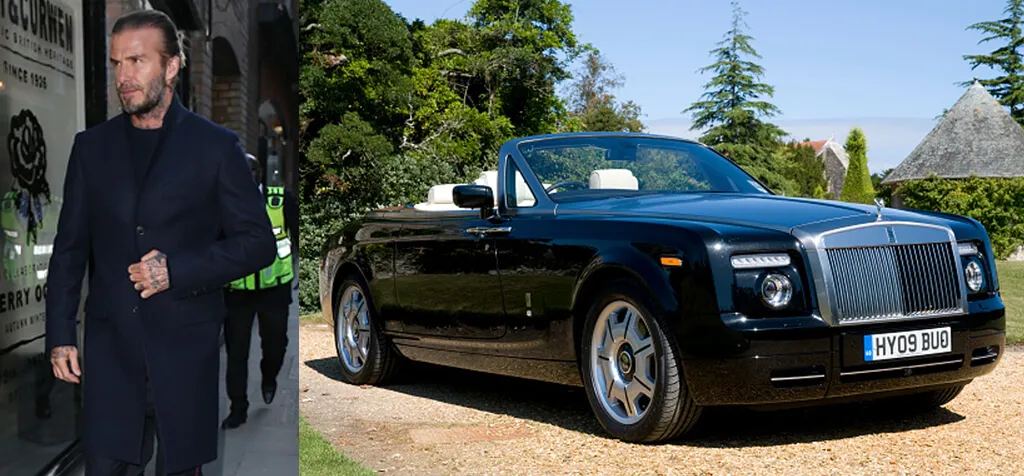 Is anyone surprised that David Beckham's blacked-out Rolls Royce was as hot as he is? The Drophead Phantom is a customized piece of art with a bare-metal theme and 452-horsepower. Rolls Royce unveiled the Drophead in 2004, built to celebrate 100 years of the brand.
As you'd expect, the car has received rave reviews, inspired as it is by racing-yacht stylings. While it's ultra-luxurious and comfortable, it's also the perfect vehicle for celebs to use for everyday use. Yes, they do need to get around town. It was a one-of-a-kind car, but Beckham parted ways with the vehicle in 2012.
Rick Ross' Maybach
Rapper Rick Ross spent an estimated $1 million on recent automobile purchase, the Maybach 57S. The rapper's luxury car has a V12 engine underneath the hood and was manufactured by Mercedes-AMG. At 450 kilowatts of power, the car can go as fast 60 mph in less than five seconds.
Of course, the Mercedes is only one of the fab-hot cars in his collection. You'll love the eclectic list! It includes an Escalade, a Rolls Royce Phantom, a Murcielago Roadster, an Aston Martin, a Bentley Continental GT, and also a Mercedes-Benz CL65 AMG. He's got a great selection of hot cars.
Jay Leno's Unbreakable Exotic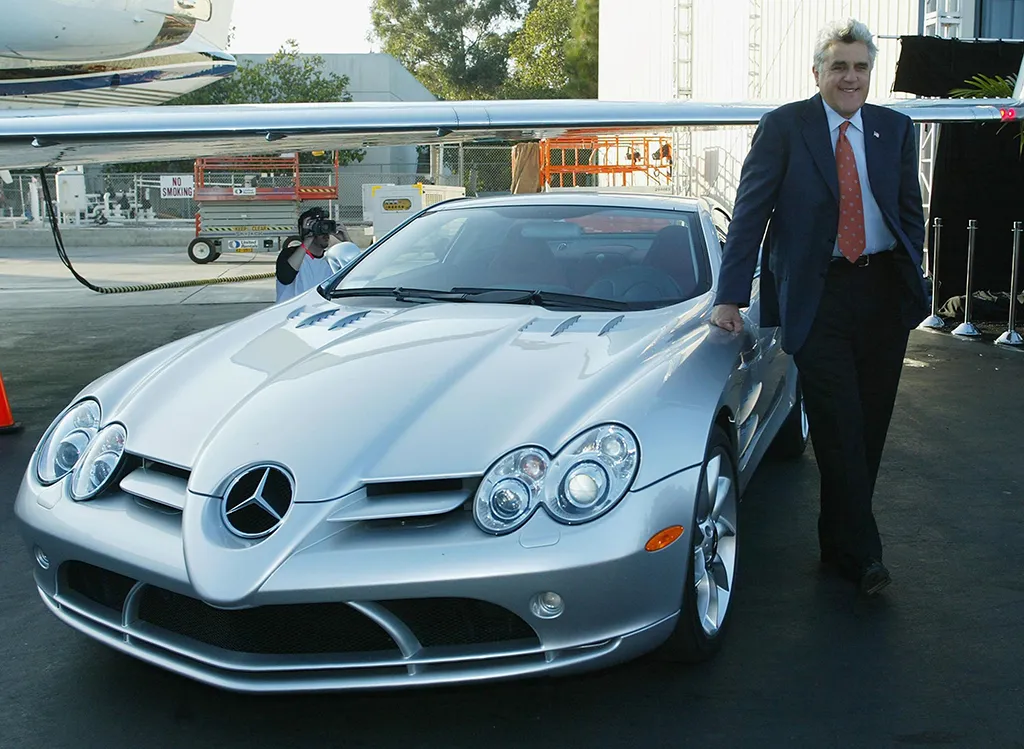 Jay Leno's Mercedes-Benz SLR McLaren is the talk show's host favorite car in his garage. The supercar comes equipped with a V8 super-engine and costs about half a million dollars. The automobile weighs nearly 1.7 tons and is the fastest production car built to date. On Jay Leno's Garage, he says the car is an "unbreakable" exotic, and that it's just one of the best-performing cars he's ever driven.
Of course, Leno says that he fell in love with the C-11 from Mercedes-Benz back when he was a teenager, and that sweet ride appears to have left quite an impression.
Kanye West's Drama-Ridden Life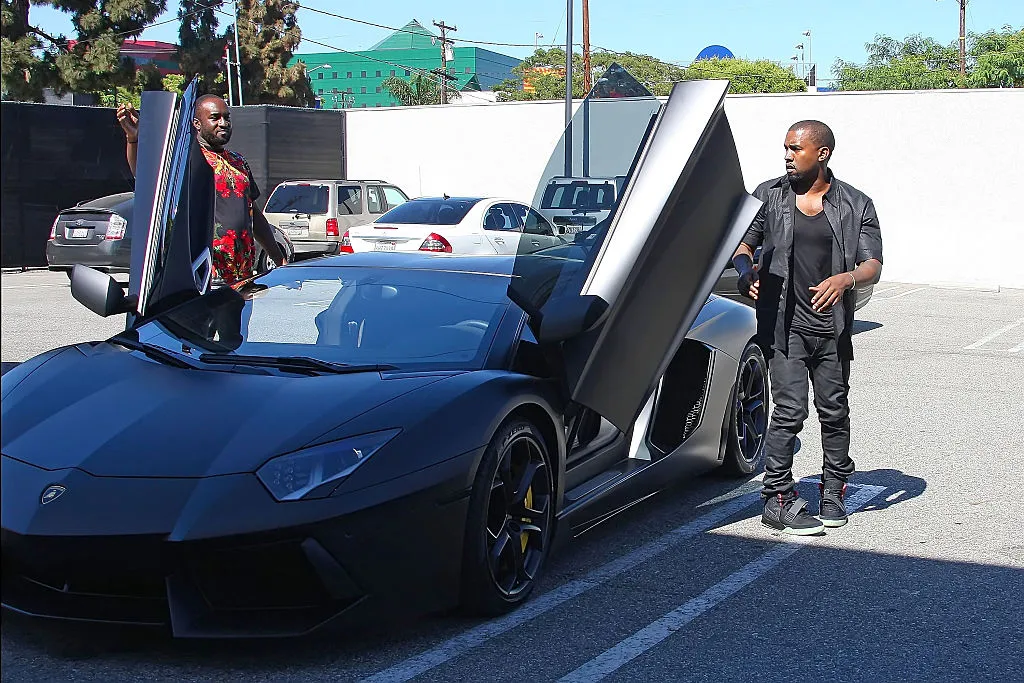 Does Kanye West ever do anything on a small scale? Of course not. You'd be shocked if he ever did anything in a small way, right. So, of course, you'd expect nothing less than for him to spend $750,000 on a Lamborghini. The vehicle is painted with a black-matte finish and is one out of 4,000 vehicles produced by the car company.
The latest reports put his net worth at $160 million, but he's also posted online begging for money to cover his $53 million in debt. He's always in the limelight, whether it be for his hot car, debt-ridden tour, or other drama.