Celebrities Who Are Friends With The British Royal Family
Celebrities frequently mingle with members of the British royal family because they often support the same charitable causes. There have also been situations in which stars befriended a non-royal, such as actress Meghan Markle before she went on to marry into the royal family.
The British royal family, in particular, has some very close ties to Hollywood. Many members are also chummy with athletes and entertainers. Check out some celebrities who are very friendly with Princes Charles, William, Harry and other members of the royal household.
Priyanka Chopra Attended Meghan Markle's Lavish Wedding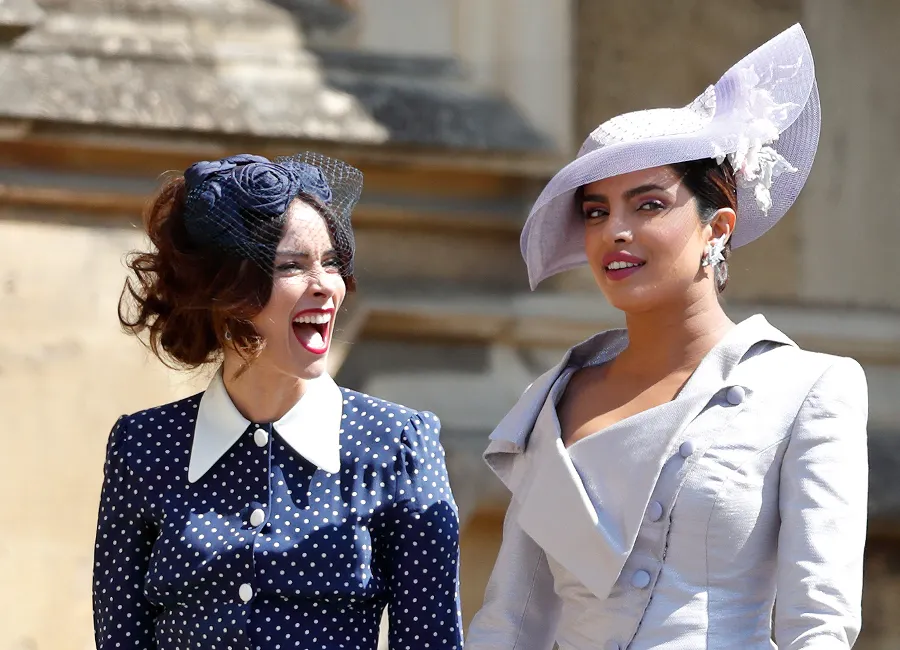 This pic shows actresses Abigail Spencer and Priyanka Chopra attending the wedding of Prince Harry and Meghan Markle at Windsor Castle on May 19, 2018. Priyanka and Meghan have been friends for years even though Meghan was unable to attend her pal's wedding to singer Nick Jonas.
"Priyanka is unbelievable," Meghan said a while back about their friendship. "She has become a really good friend. Elle magazine in the US hosted a dinner celebrating Women in TV, and we met that night -- turns out that she really likes Suits."
Elton John Was Super Tight With Princess Diana And Also Supports Her Children
Singer Elton John recently came to the defense of the Duke and Duchess of Sussex after they were criticized for using public funds and traveling on a private jet to the south of France. Elton issued a statement saying he was responsible for providing Prince Harry and his wife Meghan Markle with the flight.
"Prince Harry's Mother, Diana Princess Of Wales was one of my dearest friends. I feel a profound sense of obligation to protect Harry and his family from the unnecessary press intrusion that contributed to Diana's untimely death," Elton explained, adding, "To maintain a high level of much-needed protection, we provided them with a private jet flight."
Gayle King Attended Meghan Markle's Baby Shower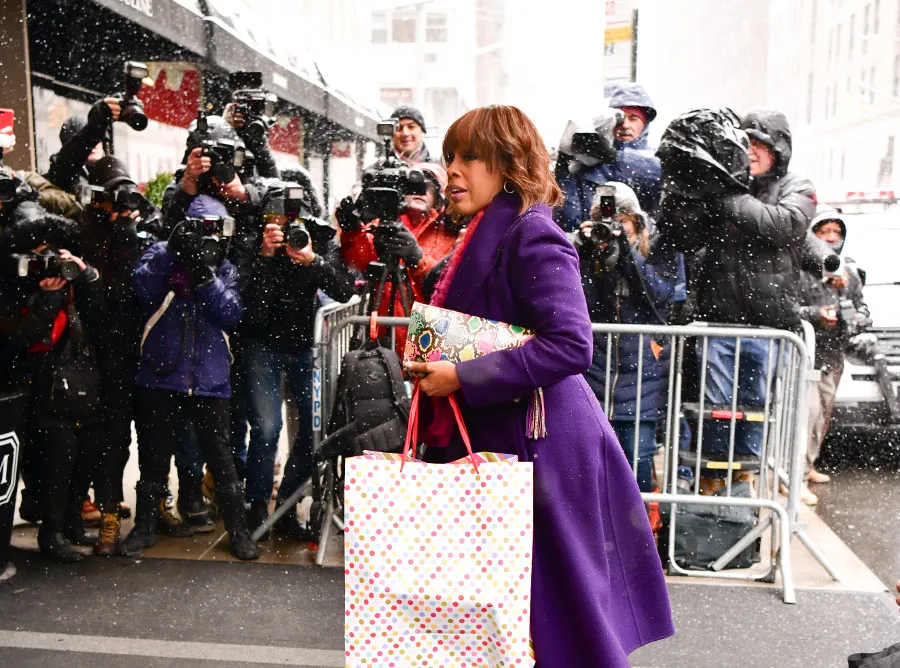 This pic shows Gayle King arriving at The Mark Hotel in New York City to attend the Duchess of Sussex's baby shower on February 20, 2019. We can't guess what she's carrying in the gift bag, but we bet it's something good. The baby shower was an exclusive and private event.
It goes without saying that those on the guest list were very close friends with Meghan Markle. King obviously knows the former actress quite well and covered her and Prince Harry's wedding for CBS.
Serena Williams & Meghan Markle Are Very Supportive Of One Another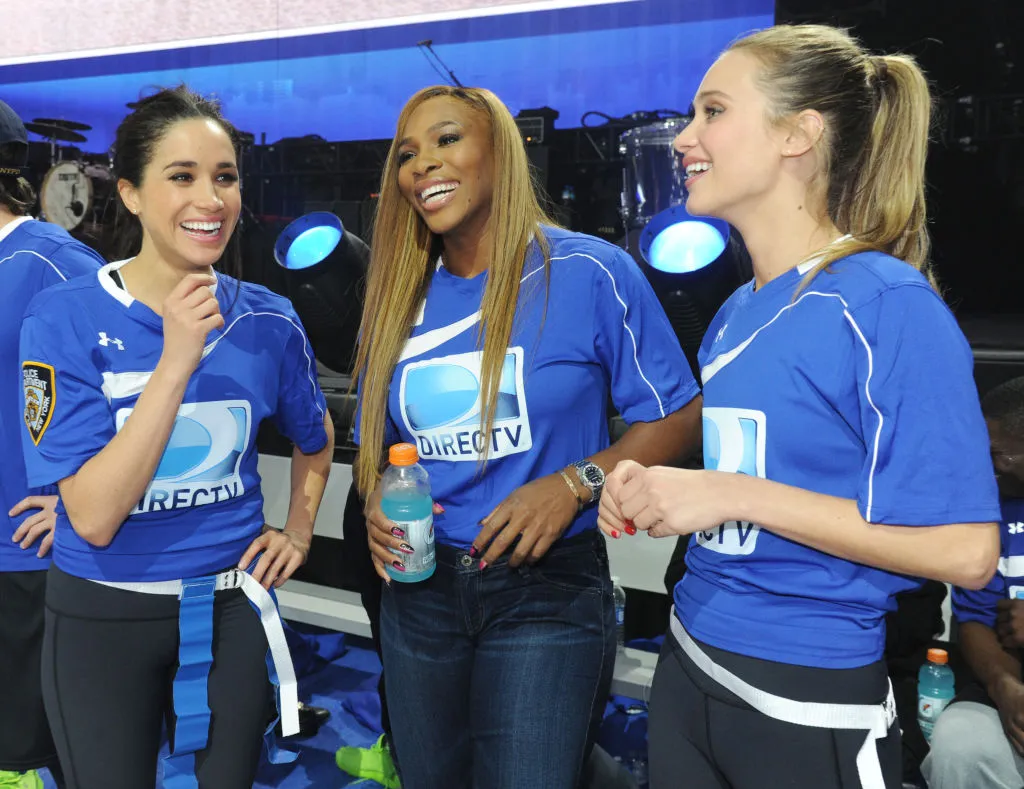 Here are Meghan Markle, Serena Williams and Hannah Davis hanging out in 2014 in New York City. That's where the two of them struck up a friendship that endures to this day. The tennis pro was invited to Meghan's wedding, and the Duchess has watched her pal perform at Wimbledon.
The pair have remained close even as Meghan focuses on her royal duties. In September 2018, the athlete revealed they still hang out, text each other, and "are relying on each other a lot recently."
David Beckham & Prince William Are Longtime Pals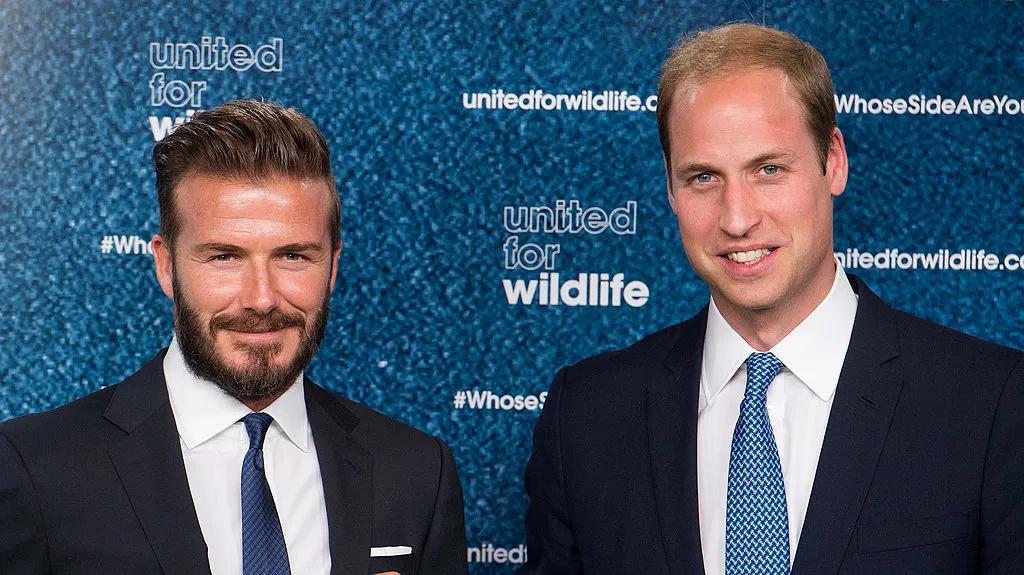 This friendship has been going on for at least a decade. Retired soccer star David Beckham and his wife Victoria attended Prince William and Kate Middleton's wedding back in 2011. And while the pair may seem to be unlikely friends, David and the Prince are just regular guys when they're together.
"It's a very normal relationship," David is quoted as saying. He also noted that he gets along with Prince Harry too. "With Harry as well. They're very easy to get along with."
George Clooney Was Rumored To Be Baby Archie's Godfather
George Clooney has Meghan Markle's back. On more than one occasion he has defended his friend, who hasn't always been treated fairly by the press. The actor and his wife Amal Clooney were guests at her wedding, and Amal attended Meghan's baby shower.
It was rumored that Clooney is baby Archie's godfather (which the actor has disputed), and the star has slammed the paparazzi and media for their treatment of Meghan. He even compared the situation to what happened to Princess Diana. He said earlier this year, "It seemed to be a little unjust since she hadn't done anything except just happen to live her life."
Rod Stewart & Prince Charles Go Way Back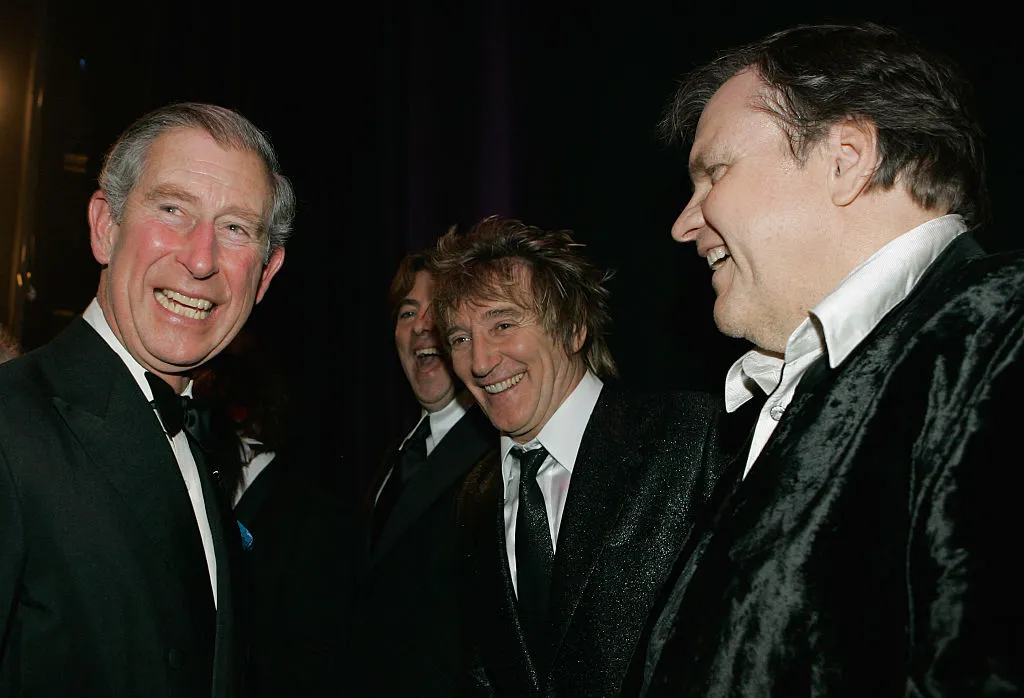 Rod Stewart has performed at several royal parties over the years and is pals with Prince Charles. The singer has received a CBE (Commander of the Order of the British Empire), and his TV presenter wife, Penny Lancaster, has dined with the Prince, an event she once talked about with Camilla Parker Bowles.
The Duchess said to Penny, "Yes, he told me and said what a really lovely evening it had been, particularly sitting next to you." When Charles celebrated his 70th birthday, Penny said the negative press surrounding the Prince was "totally unfair."
Ellie Goulding Knows Both Prince William & Prince Harry, Whom She May Have Dated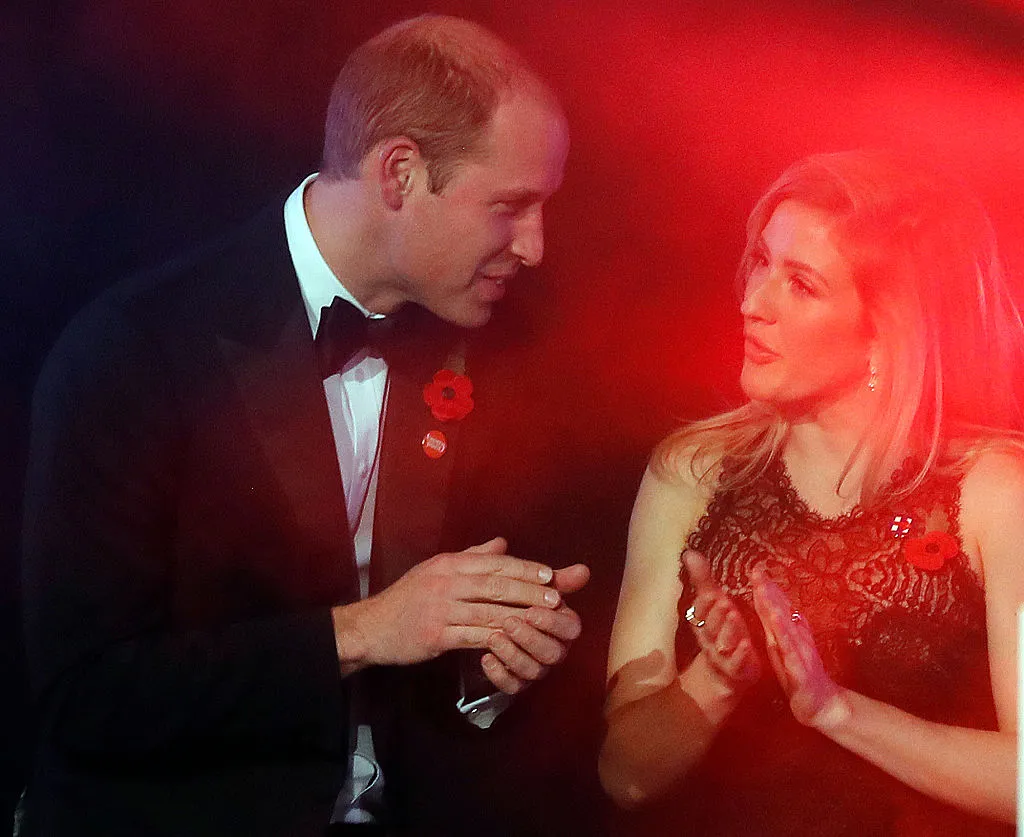 This pic from 2016 shows singer Ellie Goulding and the Duke of Cambridge at a fundraising event at Kensington Palace. Goulding was one of the featured singers at William and Kate's wedding day back in 2011. She's also reportedly close to Princess Eugenie and attended her wedding.
One unsubstantiated rumor is that Goulding dated Prince Harry. There may or may not be any truth to the gossip, but either way, it seems like it didn't affect her friendship with the royal family.
Tom Hardy Befriended Prince Harry At A Polo Event
Here's a shot of actor Tom Hardy and Prince Harry at the Audi Polo Challenge at Coworth Park Polo Club in 2014. This is where the pair first became friends. Interestingly, the pair have the same birthday. Hardy doesn't talk about their relationship because he prefers to keep it private, but he has called the prince a "f---ing legend."
Hardy is an ambassador of The Prince's Trust, which is Prince Charles's charity, and he and his wife Charlotte Riley attended the wedding of the Duke and Duchess of Sussex.
Eddie Redmayne & Prince William Went To College Together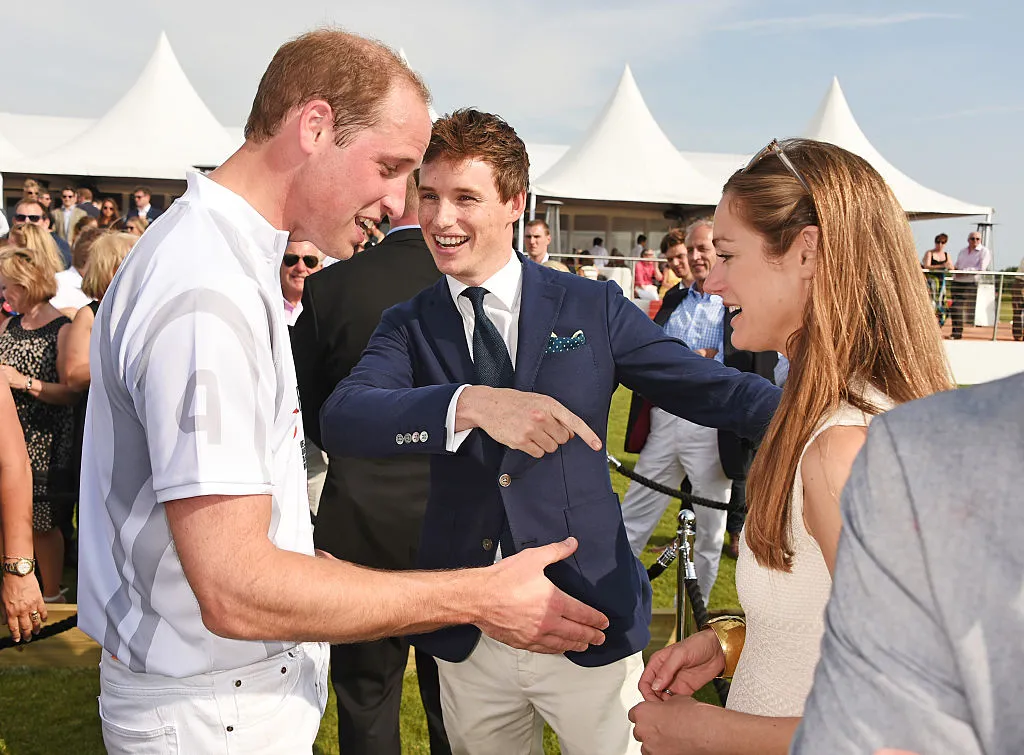 Actor Eddie Redmayne went to Eton College with Prince William. They're not the closest of friends, but they knew each other and even played rugby together, which Eddie thought was great because William was often the target during the games. He explained on Watch What Happens Live:
"I always felt a bit sorry for him because basically any school you'd play, all they wanted to do was tackle Prince William in order for them to say, 'I tackled Prince William.' So, if you were standing next to Prince William, it was actually quite easy and quite fun!"
Rihanna & Prince Harry Took HIV Tests Together For Charity
Rihanna and Prince Harry attended the "Man Aware" event sponsored by the Barbados National HIV/AIDS Commission back in 2016 in Bridgetown, Barbados, where Rihanna is from. The pair met during the prince's tour of the Caribbean and became friendly with one another.
The twosome had a very long conversation during their photo op, took HIV tests together, and attended a concert. While they got along quite well, it didn't develop into a strong bond. Rihanna wasn't invited to the Prince's wedding to Meghan Markle two years later.
Prince Charles Once Called Emma Thompson His 'Favorite Barefooted Actress'
Back in 2002, the Prince of Wales and actress Emma Thompson attended an ActionAid charity event in which Prince Charles called her his "favorite barefooted actress" and said he got to know her quite well over the years. Thompson has known the royal family for a long time.
She created a ruckus when she said dancing with the Prince was "better than sex." She also asked Prince William for a kiss when she was honored with a damehood. He declined, yet it's apparent that she is very close to the royal family.
Ashton Kutcher & Mila Kunis Are Pals With Princess Beatrice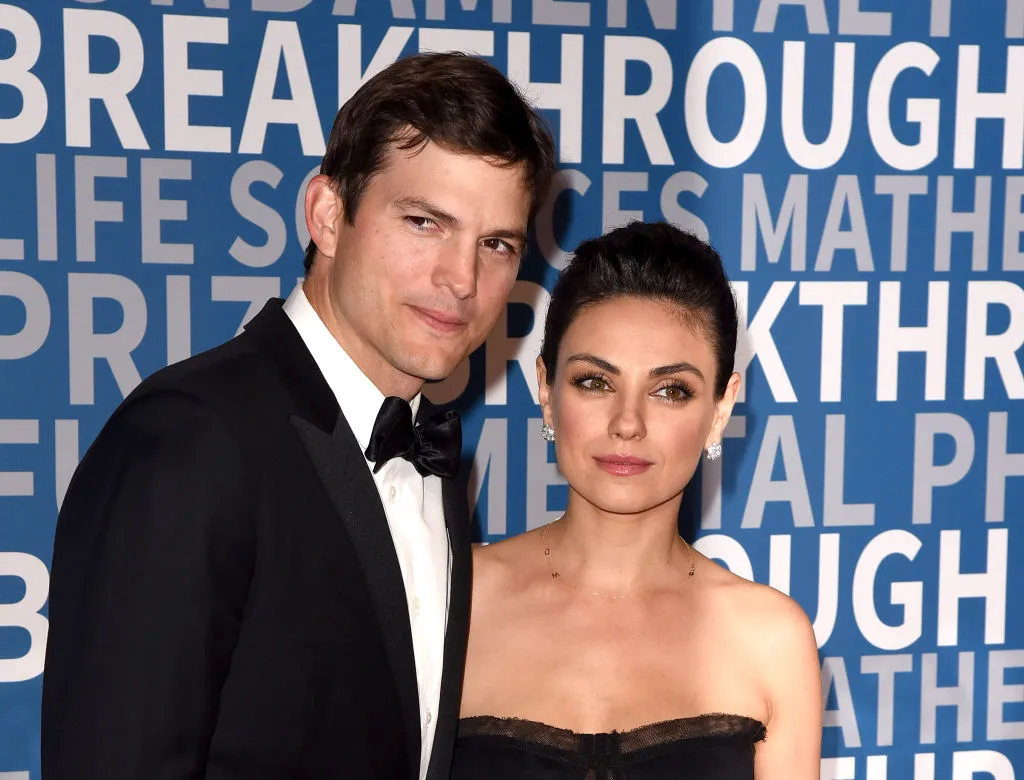 Acting couple Ashton and Mila are good friends with Princess Beatrice. It's believed that Beatrice met the couple through her ex-boyfriend Dave Clark. Clark worked for Uber, the taxi tech company that Ashton invested in. The Princess and the couple have been photographed on vacation in St. Tropez.
They've been friends for quite some time. Back in 2013 they were spotted having dinner together at the Duck & Waffle restaurant in London. They told the staff that they were on a charity food crawl, and aterwards, they hung out at a couple of bar together.
Usain Bolt Joked About Planning Multiple Bachelor Parties For Prince Harry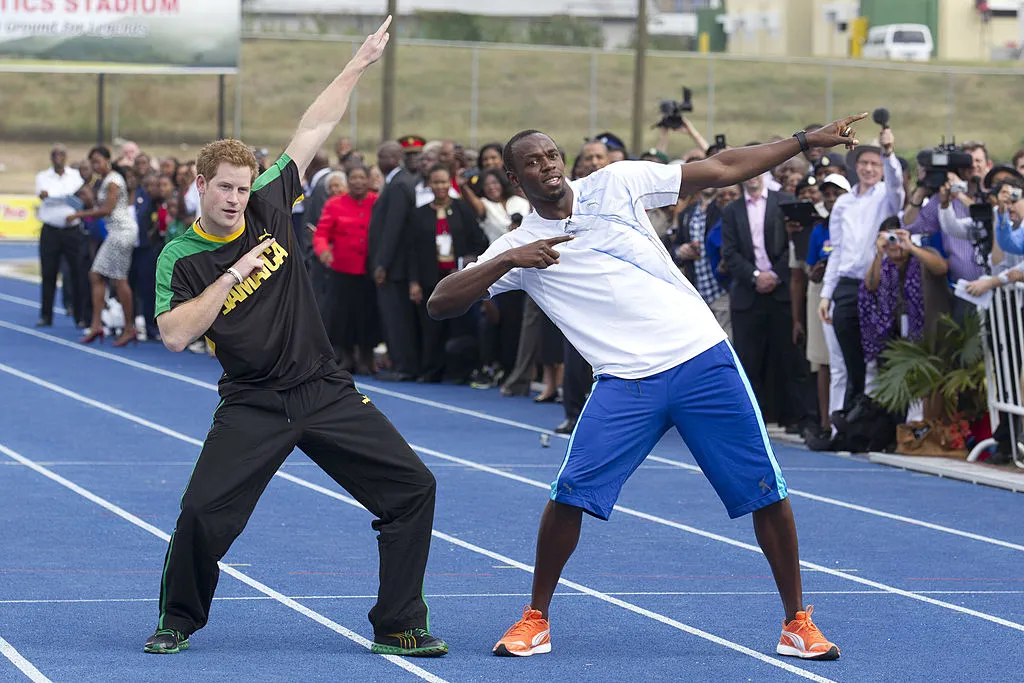 Back in 2012, Prince Harry got some running tips from sprinter Usain Bolt during an official trip to Jamaica. The duo have been friends for many years, and in 2017 the runner joked that he planned on throwing several bachelor parties for Harry in the lead up to his wedding to Meghan Markle.
"I'm thinking about having three. My idea is to have one in Kingston, one in Vegas, and one in London," he explained. "I know it's a lot to ask but these are his last nights of freedom. I will personally call Meghan and take responsibility for getting him home safely after each."
Tom Hanks Befriended Princess Diana Shortly Before She Died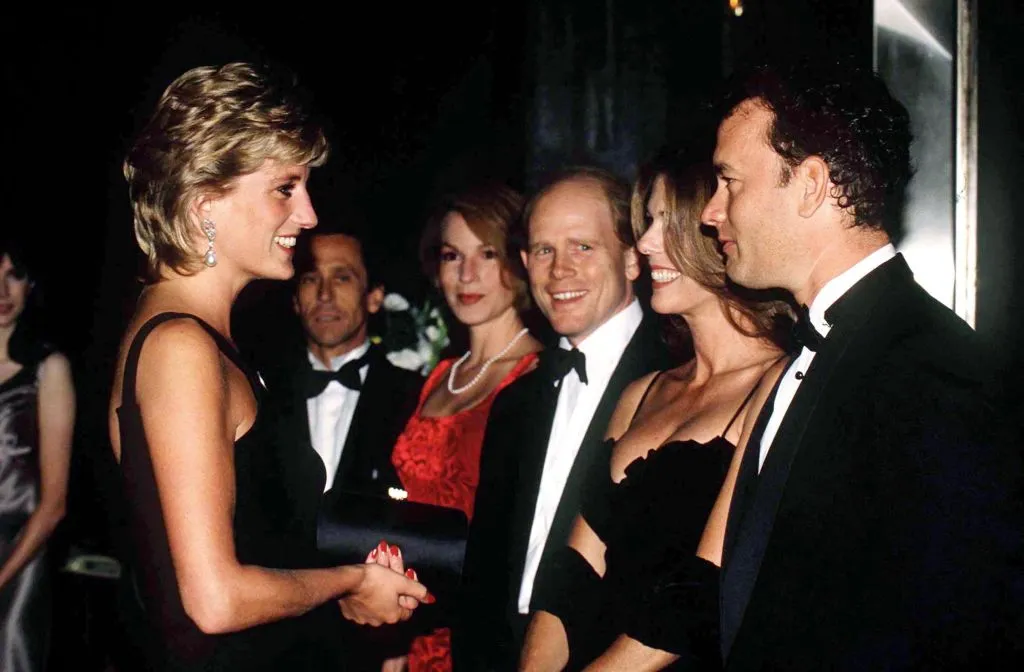 Princess Diana met actor Tom Hanks, his wife Rita Wilson, and director Ron Howard at the London premiere of Apollo 13 back in 1995. They all looked very cheerful, and it was obvious that Tom and his wife made a connection with the princess. They ended up getting together several times over the next couple of years.
When Diana died tragically in a car crash in 1997, Hanks, Tom Cruise, and Steven Spielberg were among the celebrities who attended her funeral.
Kate Middleton & Reese Witherspoon Are Close Enough To Exchange Gifts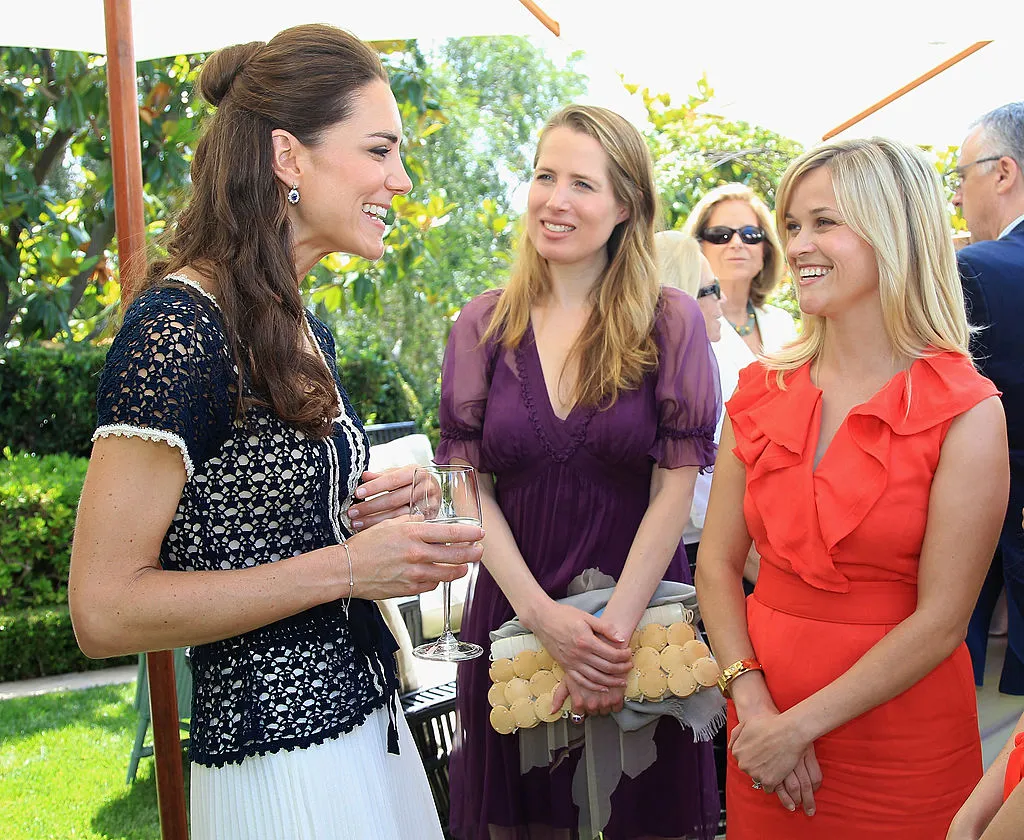 This photo from 2011 shows the Duchess of Cambridge meeting actress Reese Witherspoon at the Launch of Tusk Trust's U.S. Patron's Circle in Santa Barbara, Calif., during her royal tour of Canada and North America. This event took place not long after Kate and Prince William got married.
Kate and the Reese apparently hit it off during the meeting. While they aren't the best of friends, it's believed that the Duchess sent Reese a gift after her son Tennessee was born the following year.
Chris Martin & Prince Harry Shared The Stage Together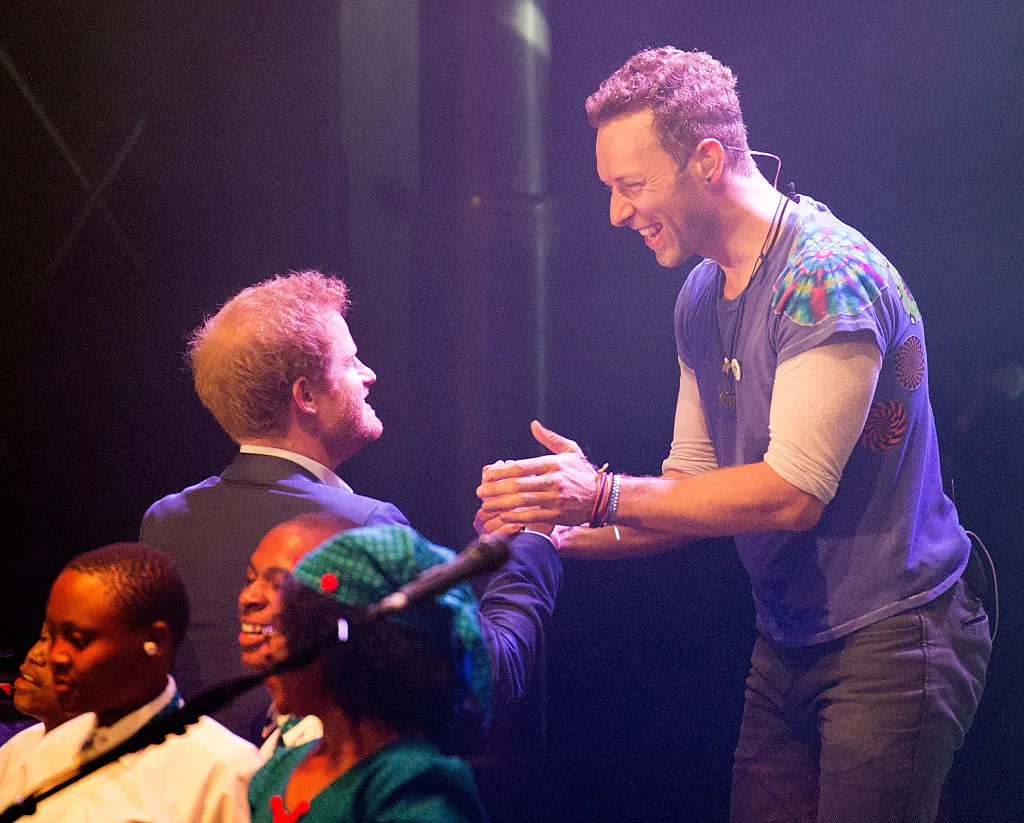 Prince Harry is friends with many actors and singers, many of whom are British. This image shows Harry greeting Chris Martin as he appears on stage with Coldplay during the Sentebale Concert at Kensington Palace on June 28, 2016, in London. Harry founded the charity Sentebale, which focuses on mental health.
During the concert, Harry ended up joining Coldplay on stage. The pair even shared a hug in front of fans. It's clear that the two are very chummy because they wouldn't have been so intimate with one another if they weren't such good friends.
Roger Federer Attended Pippa Middleton's Wedding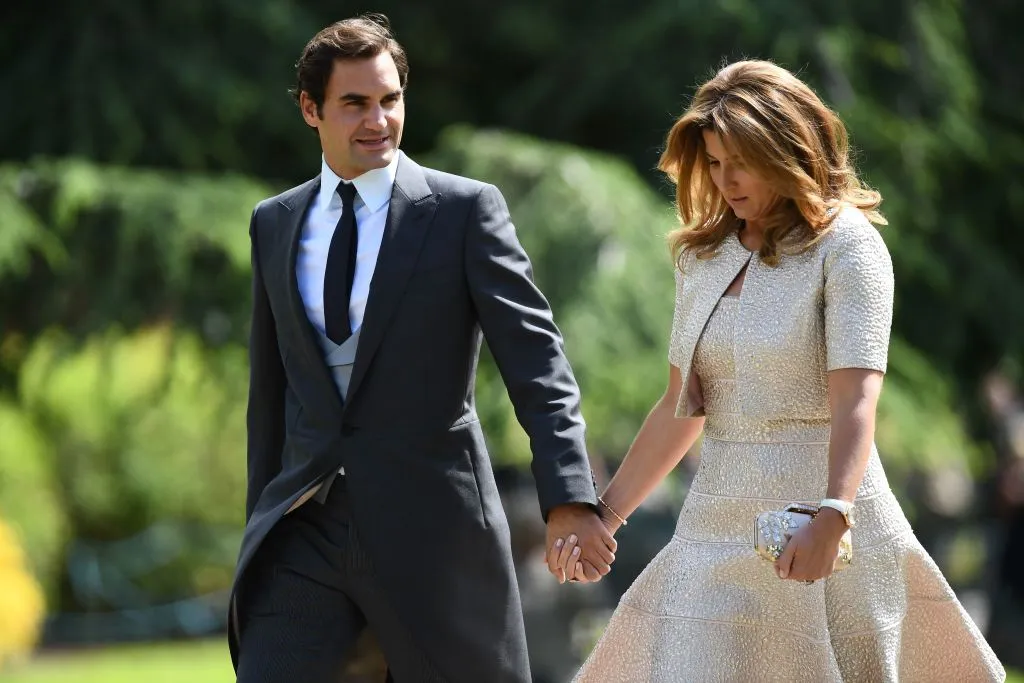 Swiss tennis star Roger Federer is good friends with the Middletons and attended Pippa's wedding back in 2017. He's also been spotted hanging out with Kate, who's a patron of the All England Lawn Tennis and Croquet Club. Over the years he has gotten to know both women quite well.
He and his wife Mirka have visited Kensington Palace to spend time with the Duke and Duchess of Cambridge. It doesn't hurt that both Kate and Pippa are huge tennis fans.
Richard Branson Still Thinks About His Late Friend Princess Diana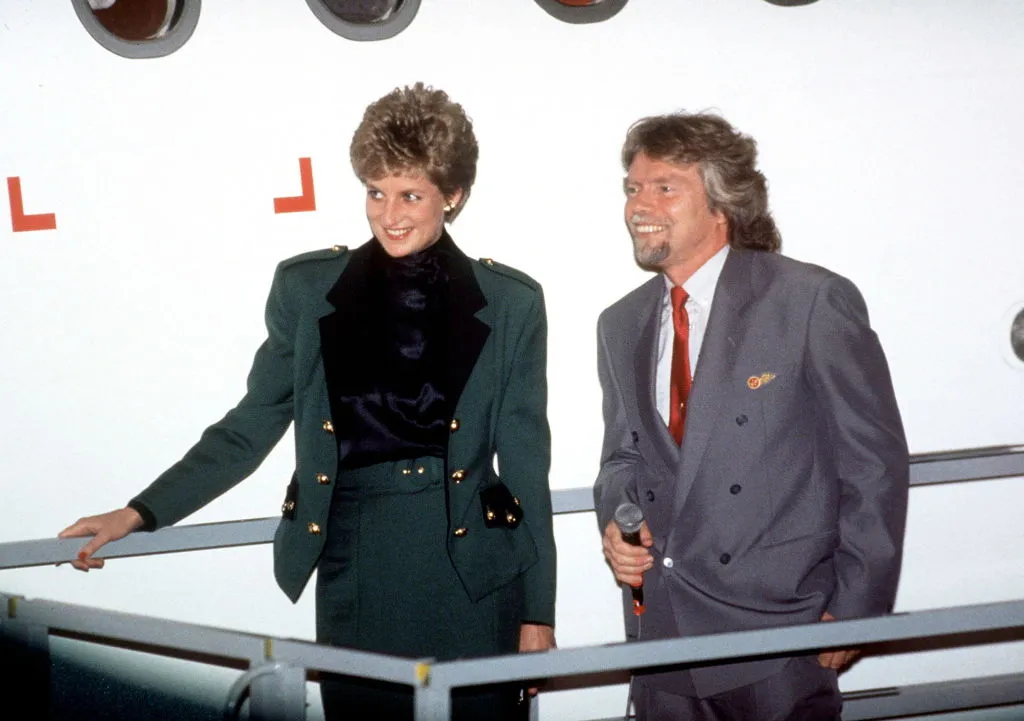 Richard Branson was very close with Princess Diana and even invited her to vacation with him and his family. During the 20th anniversary of her death, Branson penned a note about his good friend, writing, in part:
"Diana was an incredible woman, who simply loved people and made time for everyone. She travelled with us on Virgin Atlantic on many occasions. She made time to talk to our passengers and staff and was ever-ready with quick wit and warm humour... She is greatly missed, but through her Memorial Fund, her legacy and most of all her children, the spirit of Diana will live on forever."
Abigail Spencer And Meghan Markle Have Been Pals For Years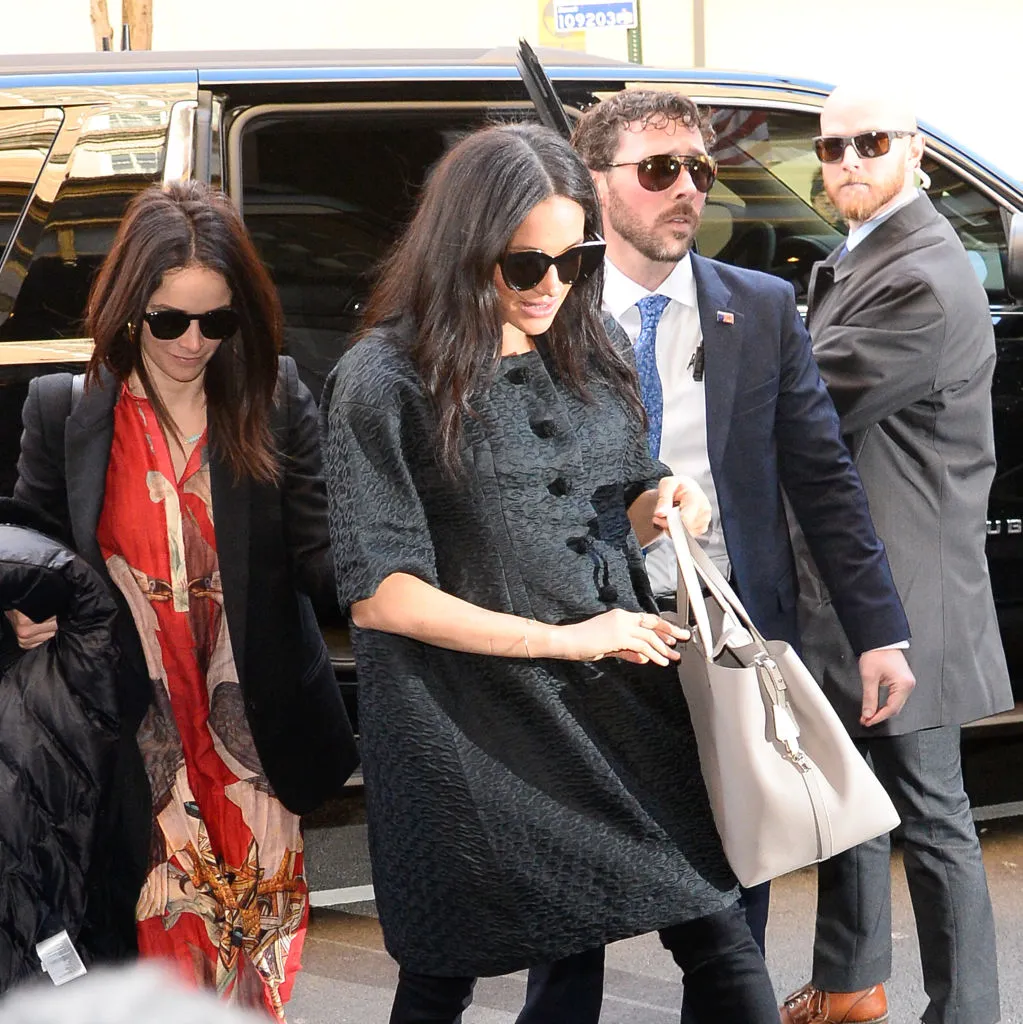 The American film and television actress Abigail Spencer co-starred with Meghan Markle in Suits, but the two had been friends long before that. In fact, Abigail used to be a contributor to Meghan's lifestyle website "The Tig," before she had to take it down.
Abigail was present at both the royal wedding and at Meghan's baby shower in NYC. During that trip, Meghan and Abigail were also seen grabbing lunch together (pictured here).