From The Voice To The One: The Highs And Lows Of Gwen Stefani And Blake Shelton's Love Story
The love story between Gwen Stefani and Blake Shelton is one that's unfolded before our very eyes. The two musicians met while working as coaches on the hit show The Voice, and their chemistry was undeniable.
Over the years, their relationship has faced its share of ups and downs, including breakups and more than a little bit of drama. So, spin your chair around and learn how these two unlikely lovebirds came together!
Gwen and Blake's love story had an unlikely start
In April 2014, Gwen Stefani joined The Voice as a coach alongside fellow coaches Pharrell Williams, Adam Levine, and Blake Shelton. Fans of the show loved her as a coach but probably never would have guessed where it would lead!
Not only because the two were so different but because they were both married to other people at the time.
Blake Shelton was married to Miranda Lambert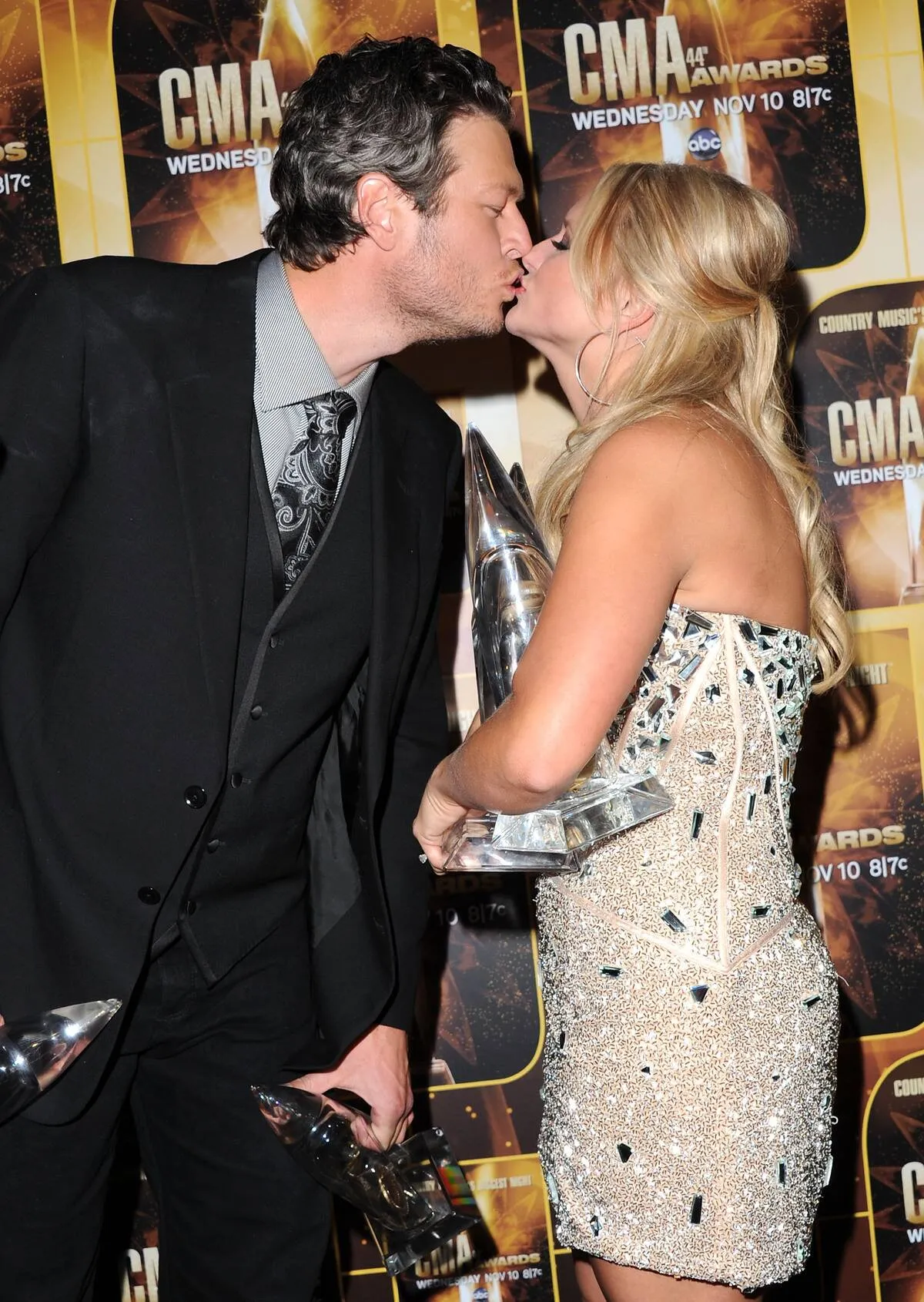 Blake Shelton and Miranda Lambert had a long-term relationship that began in 2006 and ended in 2015. They were married for four years and wrote many love songs about each other over the course of their relationship.
However, it wasn't the happily ever after they might have intended, and they would eventually split.
They announced their divorce in July 2015
"We are real people, with real lives, with real families, friends, and colleagues. Therefore, we kindly ask for privacy and compassion concerning this very personal matter," they said in an official statement.
But Blake wasn't the only one going through some relationship turmoil — his future wife was dealing with it at the very same time.
Gwen Stefani was married to musician Gavin Rossdale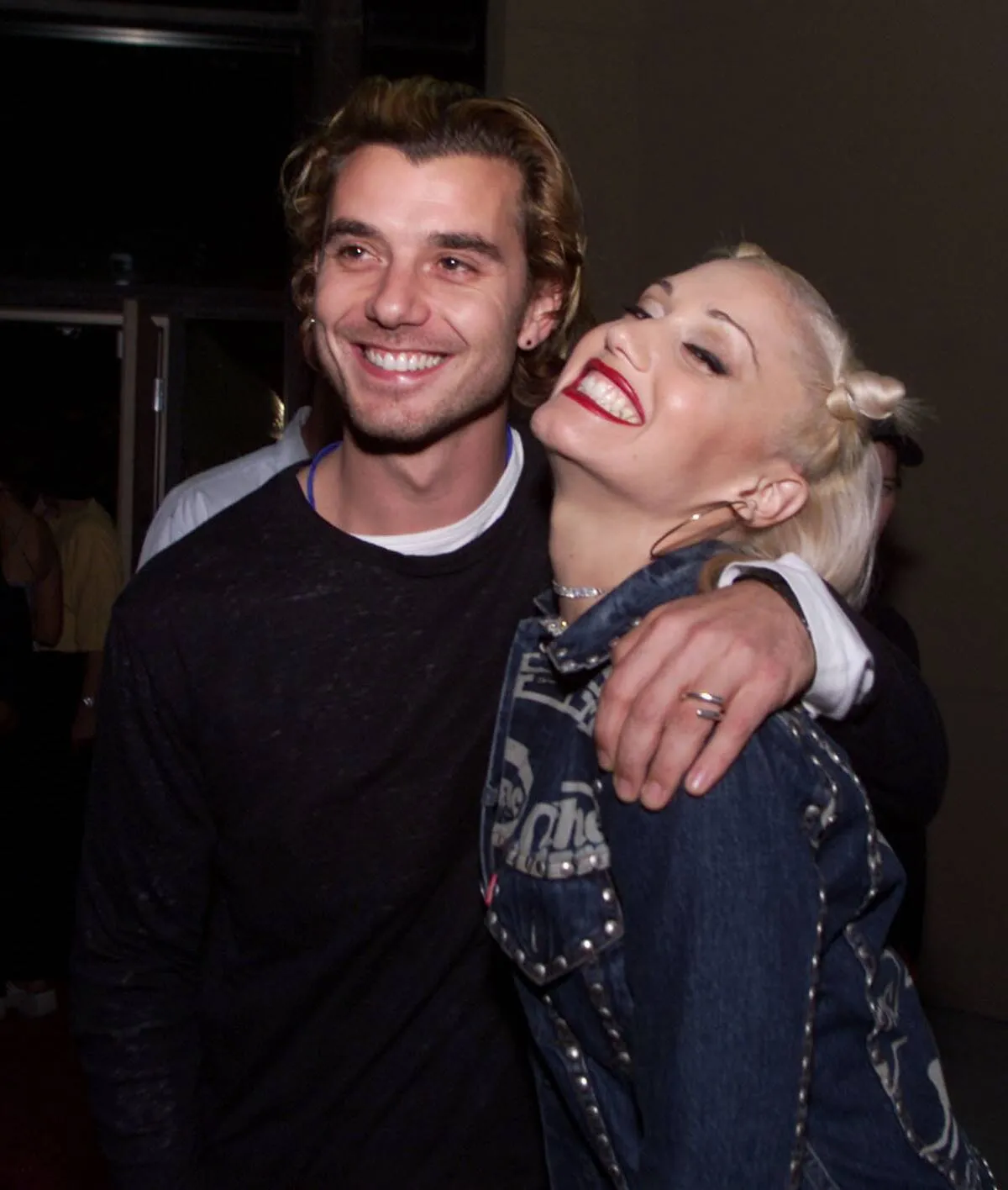 Gavin Rossdale and Gwen Stefani were an 'it' couple for quite some time, having met in 1995 and married in 2002. They had three sons together. Their on-again-off-again relationship and eventual divorce were acrimonious, with Stefani eventually accusing Rossdale of cheating.
Despite the split, the two stars have remained amicable for the sake of their sons.
Gavin and Gwen announced their divorce in 2015
"While the two of us have come to the mutual decision that we will no longer be partners in marriage, we remain partners in parenthood and are committed to jointly raising our three sons in a happy and healthy environment," Gavin and Gwen revealed in a statement.
It didn't take long for rumors to begin to swirl about the newly-single Blake and Gwen.
Gwen and Blake made fans swoon with their first duet
Gwen and Blake delighted fans when they took the stage together in 2015 on The Tonight Show With Jimmy Fallon for an unforgettable rendition of Drake's "Hotline Bling." Their undeniable chemistry prompted speculation that the two were more than friends.
This playful duet instantly had fans wondering if a romance was blossoming and tthey'dget their answer soon enough.
In November, the two were spotted at Halloween parties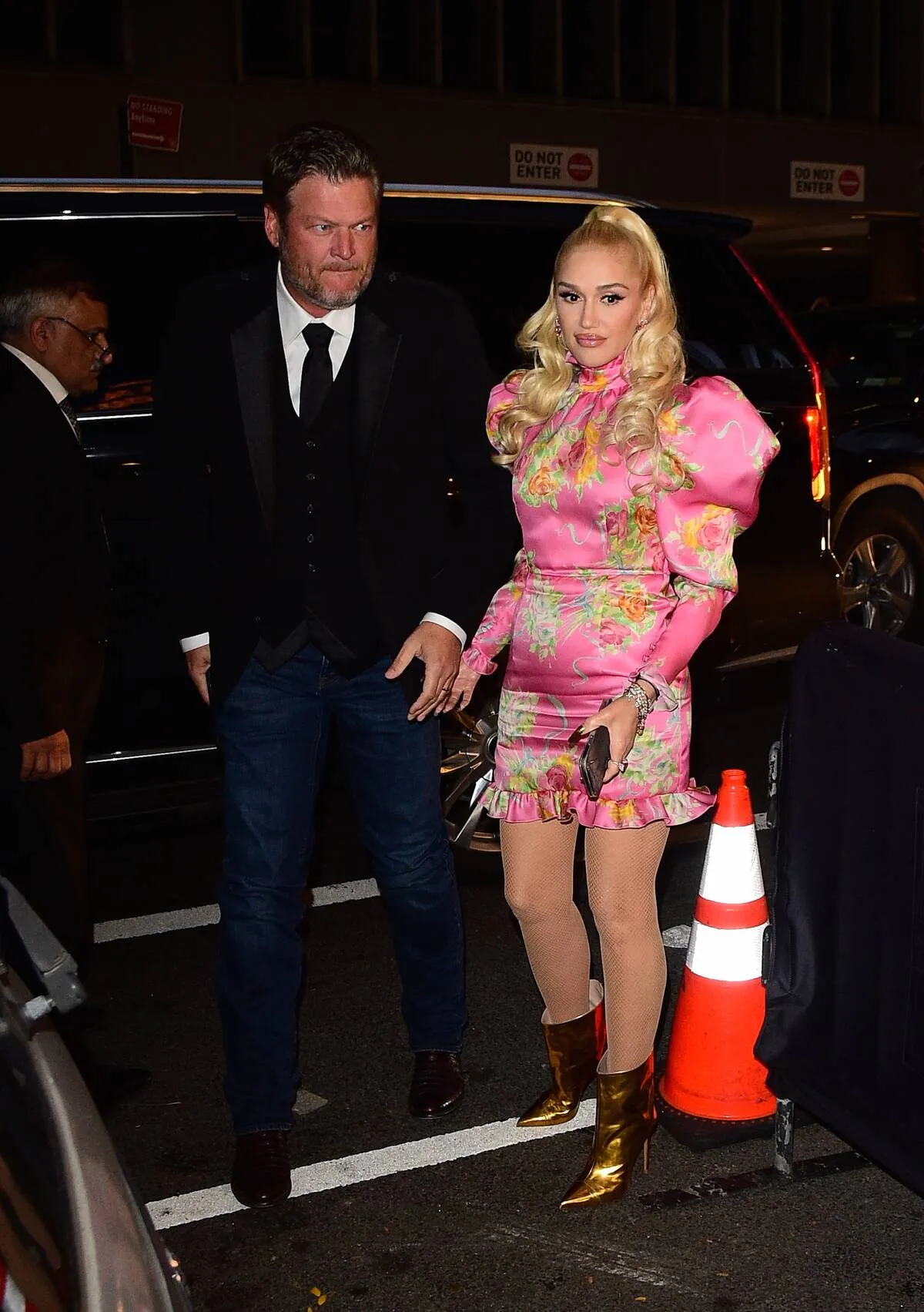 They were spotted at The Voice co-star Adam Levine's Halloween party, where they were pictured standing with their arms around each other multiple times.
"Blake showed up [...] right around the same time as Gwen. It was definitely strange for him to be there because he hadn't been in years past," a source said. "They left right around the same time too."
Blake And Gwen finally confirm their relationship status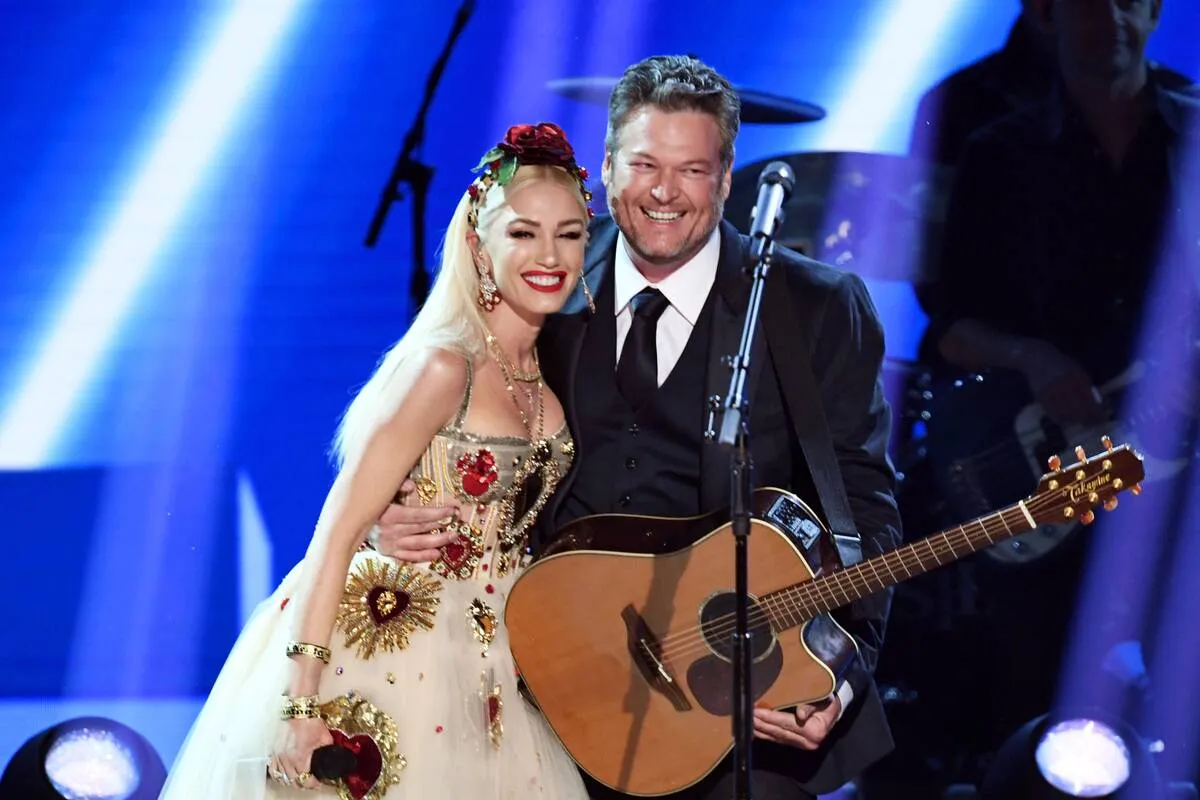 On November 4th, 2015, the couple finally confirmed what fans had already guessed to be true: that they were officially a couple! Fans were ecstatic to see two of their favorite Voice coaches get together.
"Gwen and Blake are longtime friends who have very recently started dating," Blake's rep said in a statement.
The pair revealed they bonded over their divorces
"I was in shock because I felt like he was exposing me. I just couldn't even wrap my head around it," Gwen later said about the moment when Blake revealed his divorce to The Voice coaches.
"I didn't want anyone to know what was going on with me," she went on.
Gwen revealed they had an emotional conversation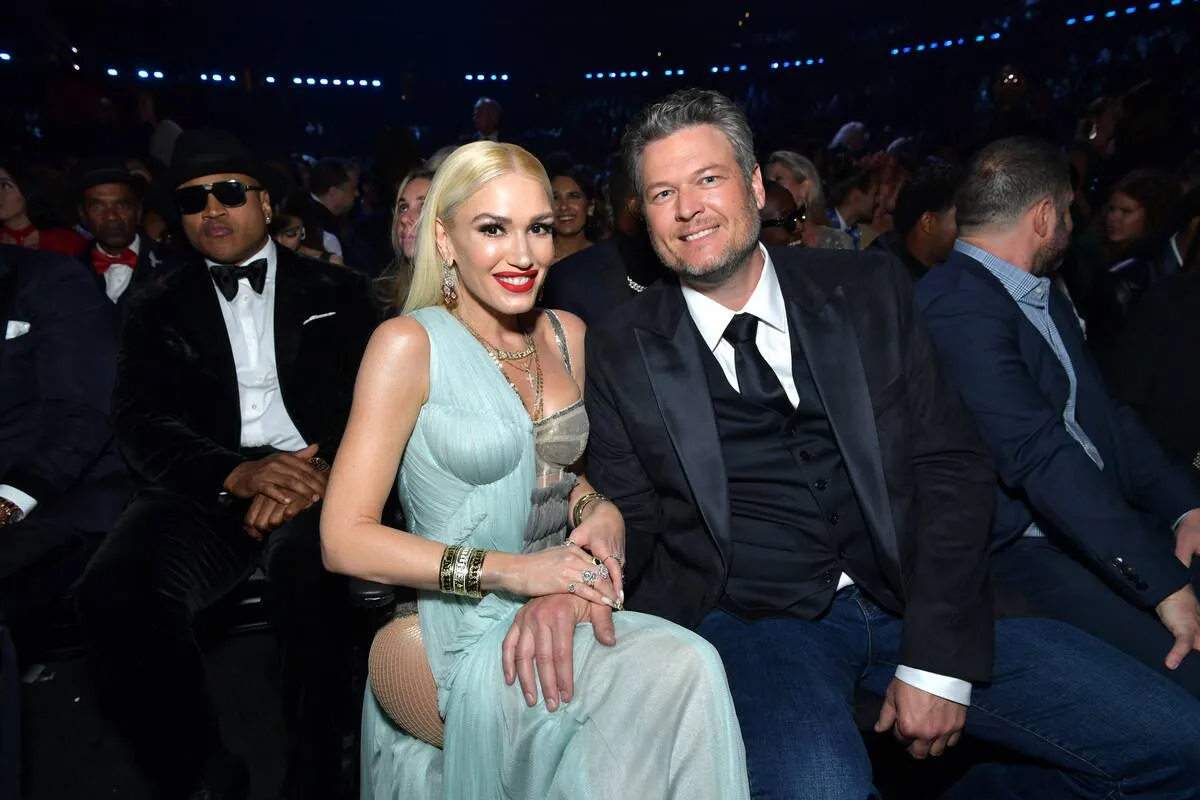 "I had this huge weight on me, and nobody but my parents and obviously everybody involved knew," Gwen revealed.
"It was during that time he came up to my chair…." Gwen went on, adding, "I never saw him look so upset. So then I was like, 'I gotta talk to you.'"
Gwen thanked God for bringing them together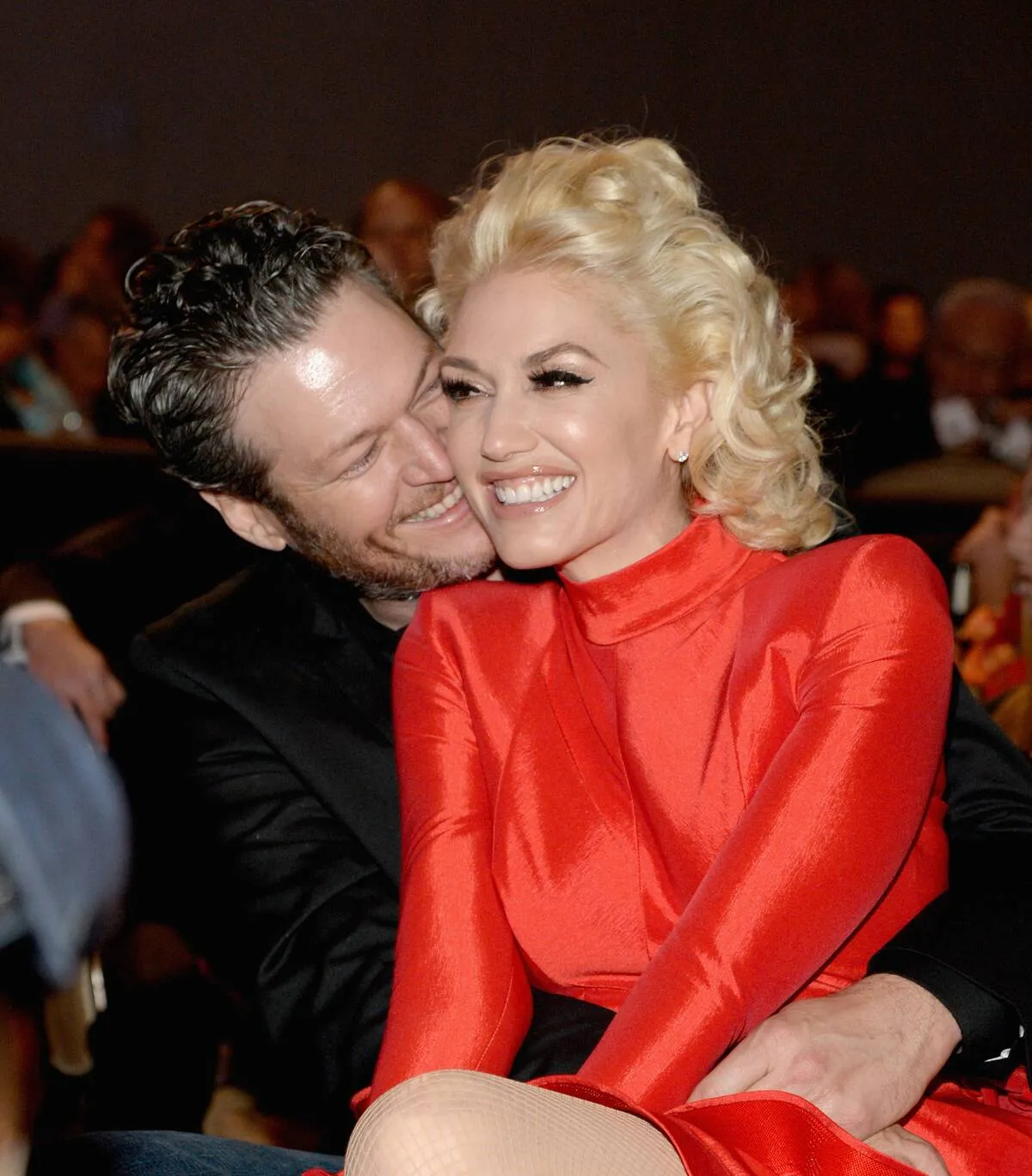 Gwen said that it was "unbelievable that God would put us in a position to have each other at that moment, in the same exact moment" of both going through similar situations.
But she made sure to specify that she "wasn't trying to start a relationship" so soon after their respective marriages had ended.
In February 2016 they made their red-carpet debut
The two appeared on the red carpet for the Vanity Fair Oscar Party, and they didn't shy away from PDA! "They acted like giddy teenagers at a high school dance," a source told People.
"They were holding hands the whole night and didn't leave each other's sides. I don't think either of them stopped smiling the entire time they were there."
Gwen would reminisce on that moment later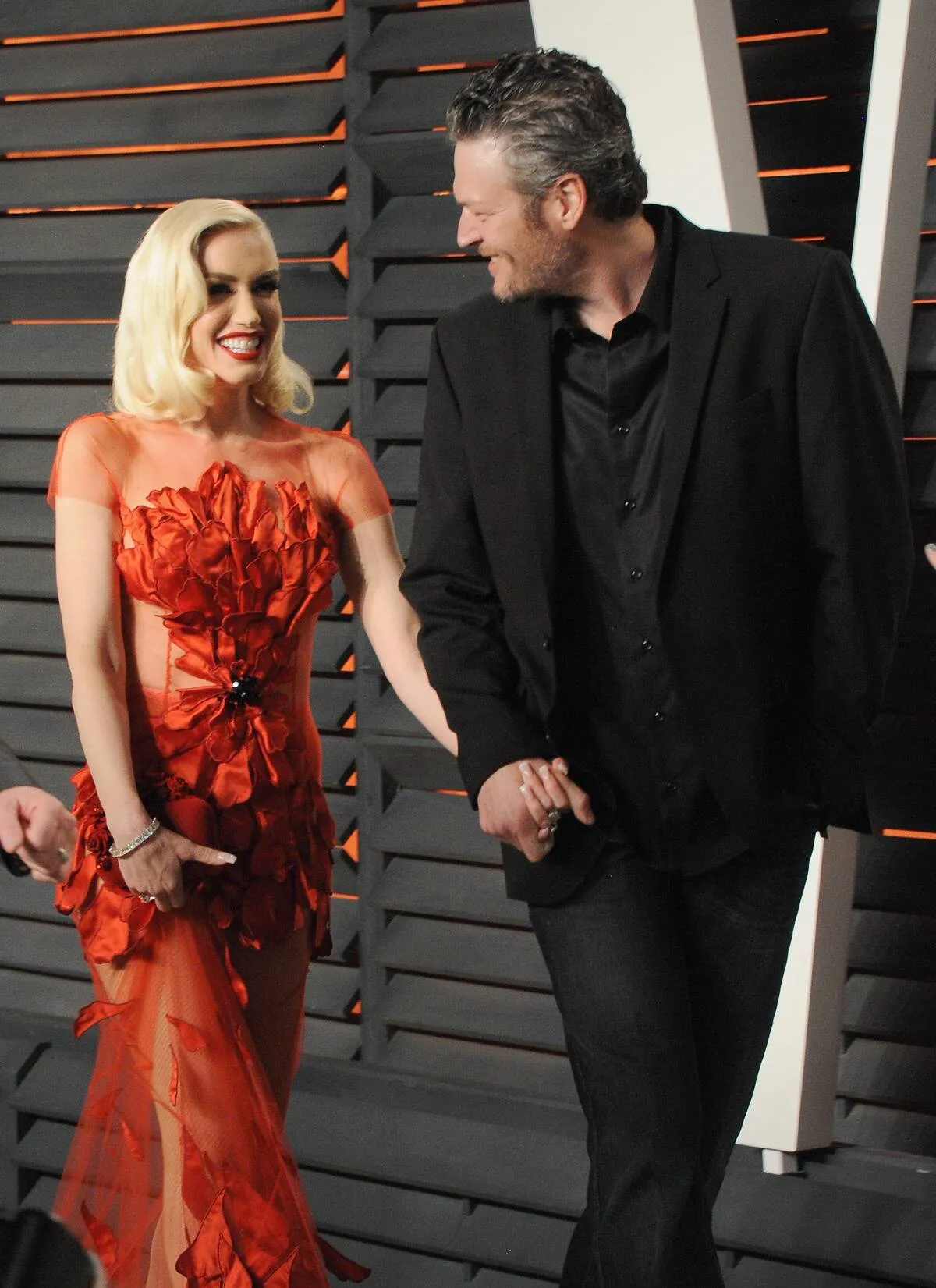 "It was the Oscars Vanity Fair party," she told Kelly Clarkson after being shown a photo of her dress that evening. "I think I played at the party, and then we went out that night. That melts me when I see it."
"It's such a moment for me — a good one."
In July 2016, Blake revealed Gwen saved his life
In an interview, Blake didn't shy away from heaping praise on his future wife. "Gwen saved my life. Who else on earth could understand going through a high-profile divorce from another musician?"
"You can't even imagine the similarities in our divorces," he went on, saying that they went from emailing each other once a week to texting every day.
In November 2017, Blake was named Sexiest Man Alive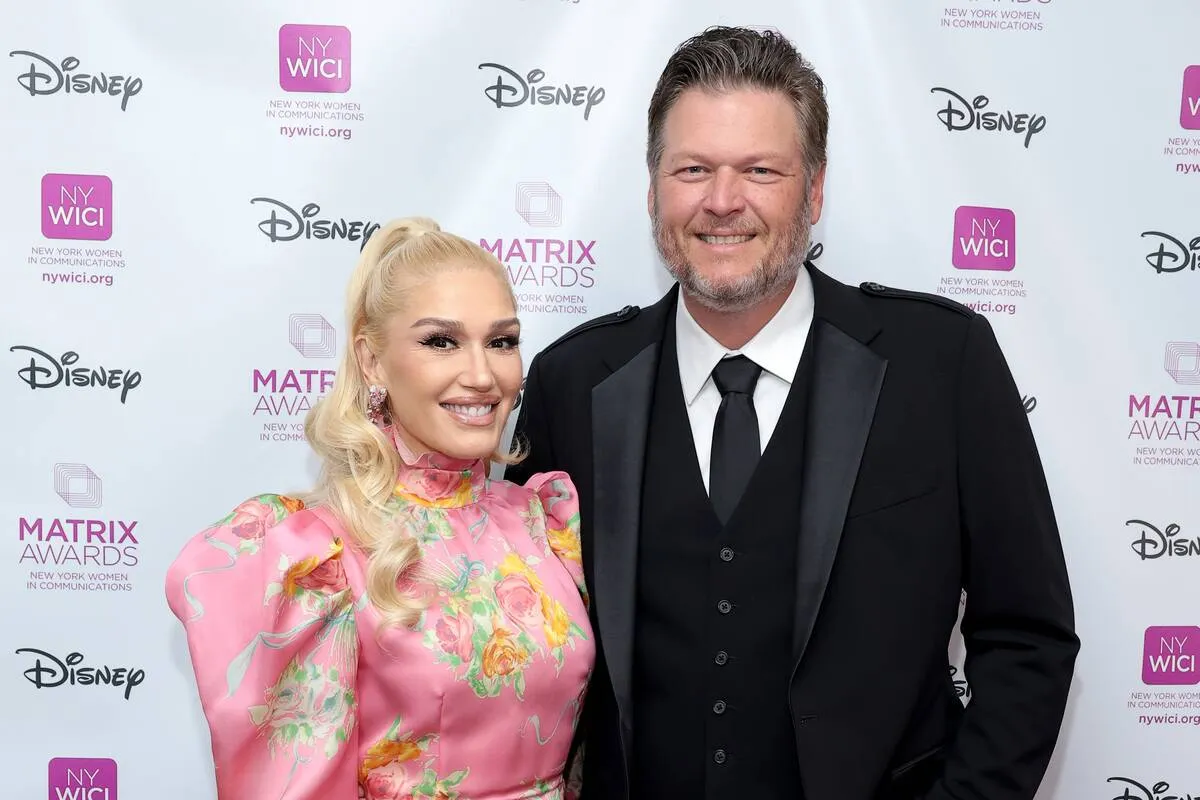 Blake revealed that he almost turned down the title, awarded each year by People magazine until Gwen convinced him otherwise.
"She goes, 'Listen to me, you're going to regret this for the rest of your life if you don't take this gift and just live in the moment,'" he said.
The couple also released music together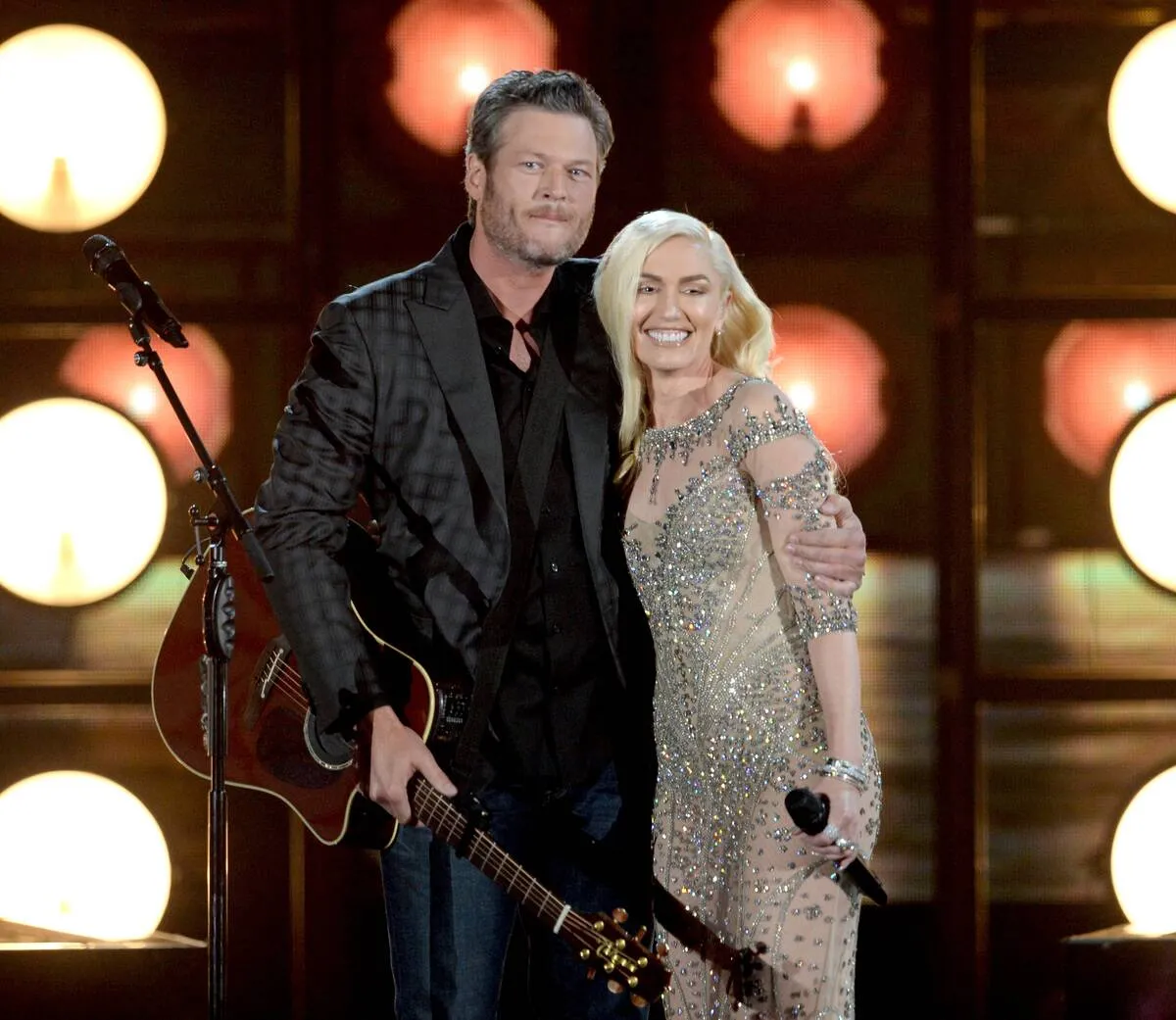 Blake Shelton and Gwen Stefani have recorded several songs together, including their single "Nobody But You." Their musical collaboration shows off their undeniable musical chemistry and distinct vocal styles.
From "Go Ahead and Break My Heart" to "Happy Anywhere," the pair produce a unique blend of pop and country rock music.
Blake opened up about his relationship with Gwen's sons
In July 2020, Blake explained as he and Gwen got more serious, his relationship with her three sons had to, too. "That's a scary moment for me because it's one thing for me to be with the kids all the time and be their buddy."
"But you do have to consider after a while that they start to listen to things that you say."
Gwen thanked Blake for helping raise her kids
Gwen shared an Instagram post of Blake with her sons, writing, "Happy father's day @blakeshelton thank u for helping me raise these boys!! #weloveyou!" Fans were ecstatic to see that Blake had stepped up not only for Gwen but for her kids as well.
And it was a good thing he did because her kids' approval was about to be very important!
Then Gwen was accused of being shady about her ex
In September 2020, Gwen shared a photo of an edited photo showing a young Gwen next to a young Blake. Fans accused Gwen of being shady since Blake was photoshopped over top of a picture of her ex-husband, Gavin Rossdale.
But that wasn't the biggest news story of the year for the couple.
In October 2020, Gwen and Blake got engaged
Gwen shared a photo to her Instagram of the couple, simply captioning it, "yes please!"
"Hey, @gwenstefani thanks for saving my 2020... And the rest of my life," Blake shared in his repost of the picture. "I love you. I heard a YES!" He also revealed he got her sons' permission before proposing!
Gwen said they needed to heal before getting married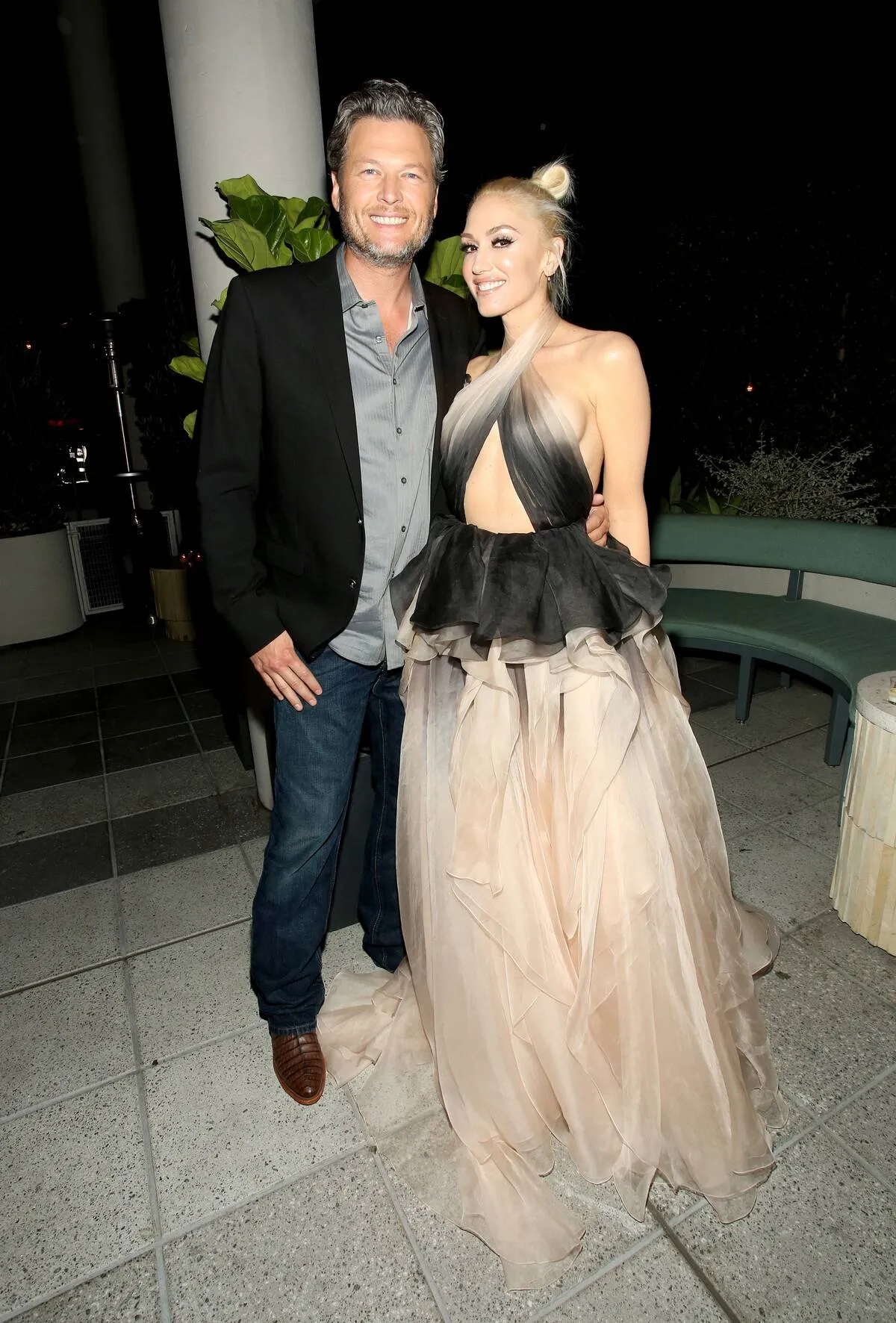 In January 2021, Gwen opened up about their engagement. "I think there was a lot to consider when you have so many people involved. Children, and their hearts, and everybody in my family [and] his family..."
"We all went through a lot together."
Gwen revealed they'd wanted to get married right away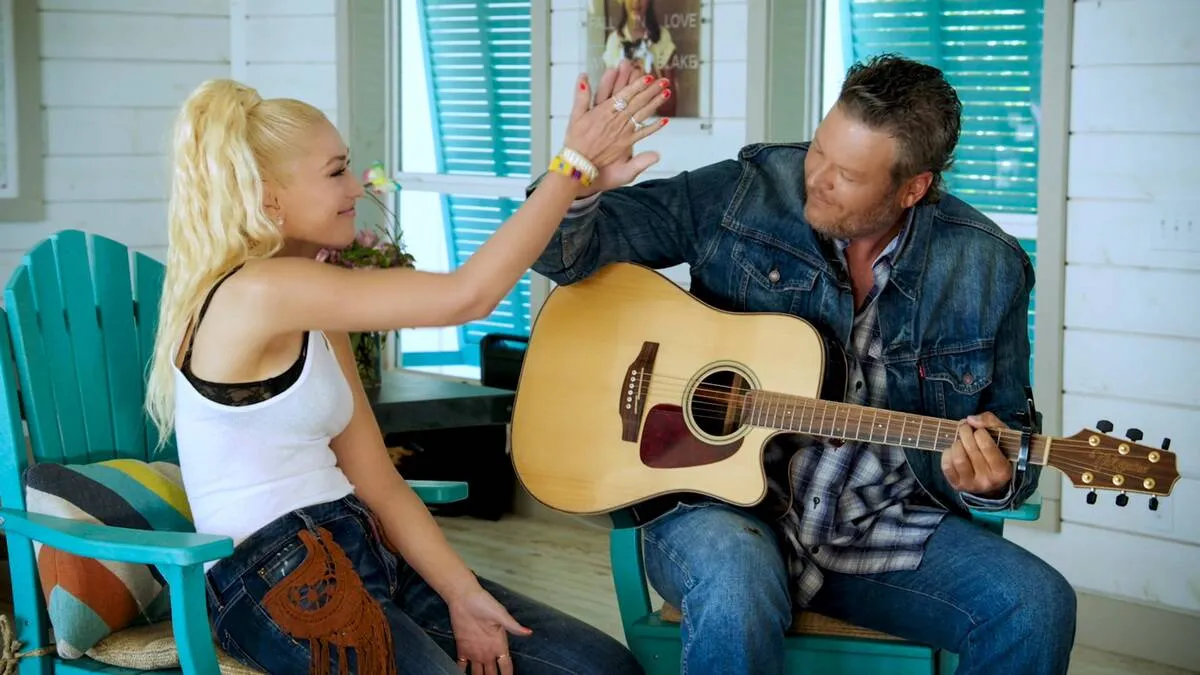 "So I think in a romantic way, when you fall in love so hard and so unexpectedly — and so late in your life — you think 'I want to marry you!'" She said.
"That's the first romantic reaction, like, 'Let's get married,'" she went on. That would definitely be our reaction if we were dating Blake Shelton too!
But they made themselves take it slow
"So we always talked about it, of course, and I think that as the years were going by, it didn't need to happen," Gwen said of why they waited five years to get engaged.
"There was a lot of healing to do," she went on. But the wait was almost over!
Rumors flew about when the wedding would be
The couple was pretty tight-lipped about when exactly they were planning on tying the knot, but fans learned that it would be soon, in June 2021, when Gwen posted about her bridal shower.
"I got kidnapped by my family to celebrate," she said in a video on her Instagram story. "I'm getting married!"
They finally tied the knot!
On July 3, 2021, the couple officially tied the knot, six years after their relationship started! Fans were ecstatic to learn that it had finally happened.
They were pretty secretive about the whole affair, but photos of the wedding taking place at Blake's Tishomingo ranch were taken, revealing that they had finally become husband and wife!
Blake refers to his wife as "magical," making fans swoon
"I wish everybody could have a chance to meet and talk to Gwen Stefani at some point in their life because you'll just be a better person for it, is the only way I know to say it," Blake said in a sweet interview the following year after their wedding.
"She's just a magical person to be around."
One year later, they break their silence on their wedding
On their first anniversary, Gwen shared a video to her Instagram that contained the first glimpse at clips from the wedding itself, and Blake shared the first public picture.
"Happy anniversary to the woman that makes my world go round," Blake wrote on Instagram. "Because of you, this year has been the best year of my life. I love you!!!! Thank you for saying yes!"
They competed as a married couple for the first time
In September 2022, Gwen Stefani returned to The Voice, marking the first time the couple competed against each other since getting married.
"I didn't know what it would be like," Gwen said. "Because it is different. He's my husband. That's crazy. I already won. I already won. I can't win again, right?"
Gwen said she'd thought her life was over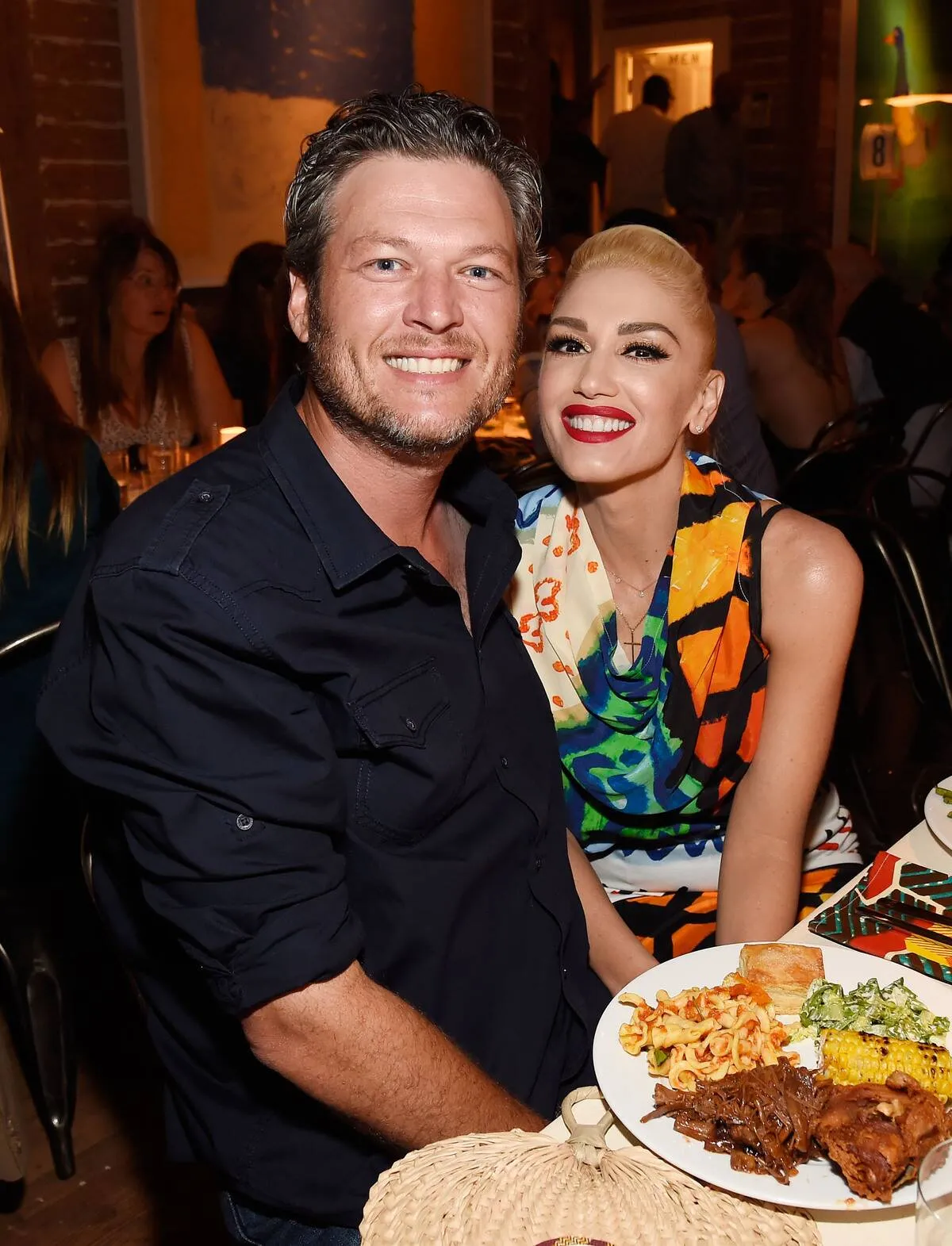 In late 2022, Gwen opened up about her post-divorce life. "I was like, 'I'm gonna wake up every day, I'm gonna have a coffee, I'm gonna take care of my kids, and then I'm gonna go to bed.' Like I'm never gonna kiss anyone."
"I thought my life was over, and then Blake Shelton's like, 'Hey. I'm Blake Shelton.'"
Gwen revealed Blake is her best friend
"Finding a best friend, someone that is on the same plane when it comes to morals, or just the way you look at life, that's the dream," Gwen went on. "We think the same about things, yet we're so different. Like, he's watching football and doing his stuff that he does, and I'm putting makeup on. We're so different, yet we're so the same on so many levels."
It's easy to see how this adorable couple captured so many hearts with their story!