Have You Been Naughty Or Nice? Your Favorite Celebrities As Santa's Helpers!
It is that time of year again, and what do you need to have during the Christmas season? You can think of a thousand things, but Santa Claus has to have helpers to make many people's wishes come true. What if Santa had some really hot women for his helpers? You do not have to use your imagination, as Santa has plenty of them. Take a look at these celebrities in rare form as they are decked out in Santa's helpers' attire. They are sure to make any wish come true!
It's A Megan Fox Holiday
When she wants to, this beautiful and talented actress can "transform" into anything she wants, including Santa Claus! Granted, Megan Fox makes a prettier Santa than most. The Transformers and Jennifer's Body star is seen here in an episode of the hit television show New Girl.
Fox is also well-known for her candid (and sometimes crazy) interviews. In one, she admitted that she smells her own farts. She told GQ, "If you eat Chinese food, your farts come out like Chinese food. If you eat Mexican food, your farts come out like Mexican food. And milk, it's like — you can smell the warmth in the fart. My wardrobe on 'Transformers' always smells like farts, and I have no idea why."
Read on for some better-smelling Santas.
Ola Jordan Says "Olé" As Santa
How does a professional dancer celebrate Christmas? By dressing in a sexy Santa ensemble and putting on a sultry pose in front of a pile of beautifully wrapped presents, of course! At least, that's what Polish dancer Ola Jordan appears to do during the holidays.
Jordan, who has been dancing when she was 12, became a household name when she appeared on the British television show Strictly Come Dancing beginning in 2006. In 2015, she decided to leave the show after a successful nine-year run. She's married to fellow dancer James Jordan. That James is one lucky guy, huh?
The Multi-Talented Tyra Banks
Former supermodel Tyra Banks really does it all. The multi-talented woman wears many hats as a singer, producer, author, businesswoman, actress, television personality, and mother. Banks is a former Victoria's Secret Angel, has written a best-selling novel, and has made numerous film and television appearances throughout her career.
She might be best known as the host of America's Next Top Model, which she worked on for a whopping twenty two seasons. Banks also rocks a Santa hat pretty well! She's looking absolutely gorgeous here in a red velvet getup complete with festive white fur trim. Merry Christmas, indeed!
There are plenty more beautiful Santa's Helpers ahead.
Sexy Selena Santa
Selena Gomez first got her start as a child star before breaking into the pop scene as an adult. Selena has had quite the busy year. First, she began dating The Weeknd and continued to be in a relationship with him for the majority of the year.
However, the two split after around ten months together. Selena also revealed that she had to undergo a kidney transplant which was provided by one of her best friends. Soon after more recent break up, Selean was spotted with her old longtime love. None other than Justin Bieber, and the two are said to be rekindling their romance.
Jessica Simpson Makes Everything Jolly
The lovely Jessica Simpson is all decked in red here. The holidays are a festive time of year, and most people are ready to celebrate and stuff themselves with all manners of food and drink. Ms. Simpson appears to be at a party of sorts and seems to be having a good time, from the looks of it.
It does seem like Jessica Simpson brings a smile to everyone's face, and with a figure like she has it is easy to see how she does that with such ease. She would probably melt the snow in the north pole because she is so blazingly hot.
Naya Is Heading To The North Pole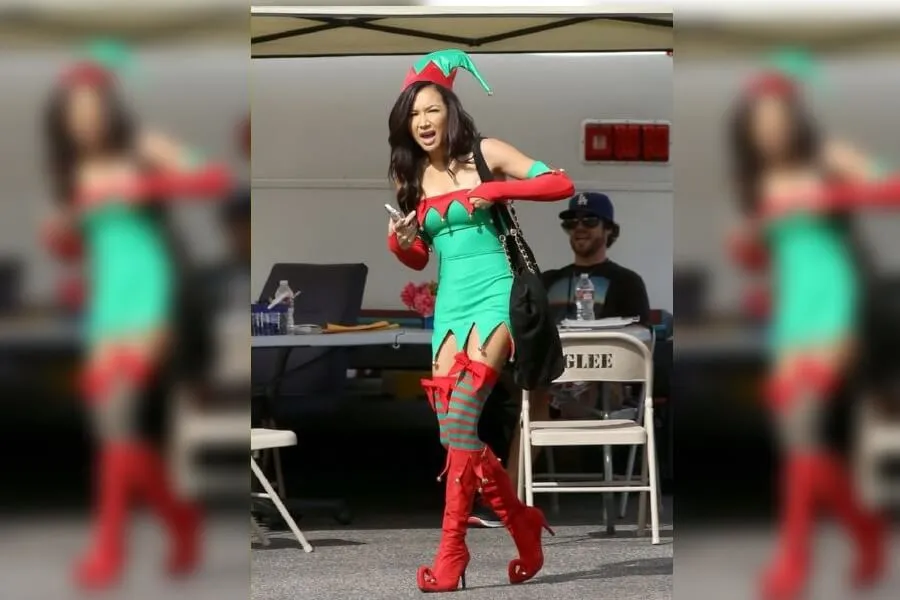 It seems like actress Naya Rivera has made a few adjustments to the elf costume she is wearing. The costume may seem a bit silly for someone of Naya's stature but is still looks great on her. Let's face it, a bear costume would look nice on Naya Rivera!
This is Naya on the set of Glee. This took place back in 2013. Some lucky person just happened to catch Naya and take this photo. Curly toed boots and bells looks silly to many, but Naya Rivera can do no wrong. She can rock any attire and look great.
Coco Is Able To Melt The Ice!
Winter is fast approaching, and from many reports it will be a very cold winter. There will probably be some terrible snowstorms this year, and many people will try to keep warm however they can. Some people get cozy by the fireplace and some people wear coats and such. There is another thing that can use to keep you warm and it is also hot, and that is hot cocoa.
The hot cocoa that I am talking about is Coco Austin! Coco is used to modeling in many different outfits, whether it is fitness or swimsuit, Coco fits the bill. She does not make a bad Santa's helper either.
Don't Even Think About Messing With This Santa's Helper
This lady can put you in an arm bar or a headlock if you want to challenge her! You can look, but you can't touch her. You keep dreaming on the stars above! For those of you who are familiar with this fine specimen, then you know it is her theme song! It is the lovely Nikki Bella, all decked out in red and white.
Nikki is a wrestler who wrestles for the WWE. When she is not wrestling you can catch her on E!'s Total Bellas with her twin sister Brie. This is from a modeling shoot, as she has the body to perform as a wrestler and pose as a model as well.
Who Can Get Enough Of Kendall Jenner?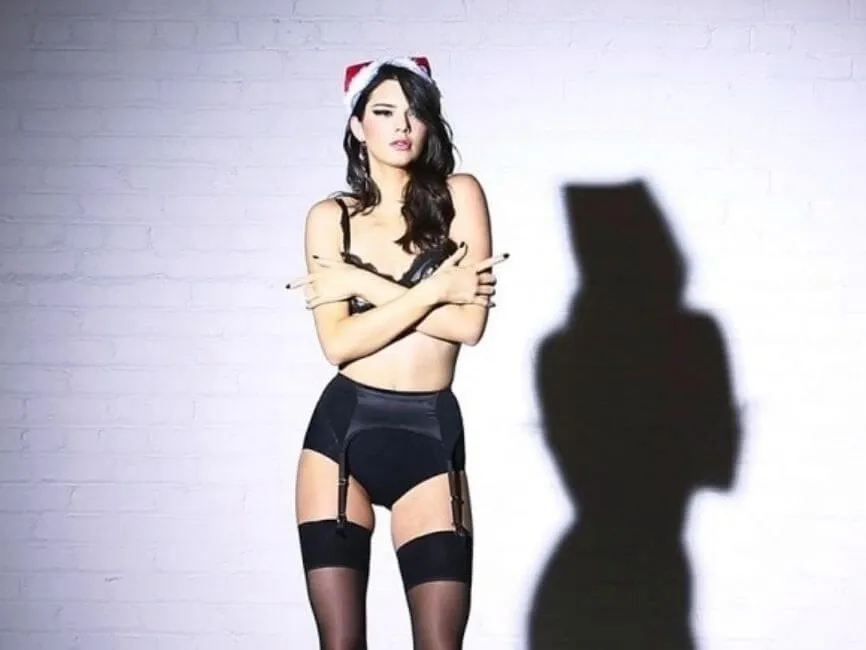 Things are getting a little too heated with a photo like this. Miss Kendall Jenner wears many hats when it comes to her career. If you can name it, she has probably done it. She has been named as being one of the most beautiful people in the world as well, according to People magazine on April 9, 2014.
Being a helper of Santa Claus will be another addition to her repertoire as she could be an inspiration to Santa's helpers everywhere. The whole "little elf" thing could be a thing of the past if more helpers looked like Kendall.
Jasmin Walia Can Make You Say Whoa!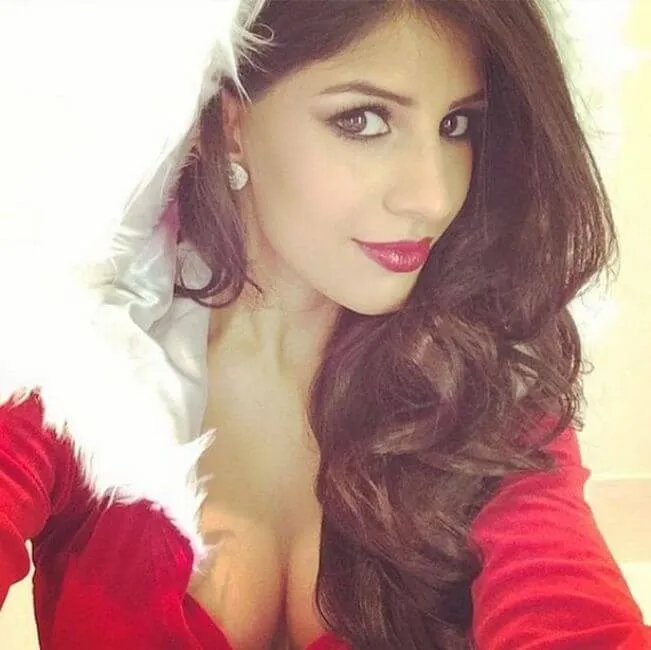 If you live in the United States, you may not know who Jasmin Walia is. Jasmin Walia is a television personality and an occasional actress from Great Britain. She is known for appearing on the television show The Only Way in Essex. Most television personalities like a little more exposure. She is only 26 years of age and she has appeared on some television shows in her career as an actress.
Jasmin also models as well, giving her further exposure, but no overexposure. In this photo of Jasmin, the eyes have it. Everything else just falls into place with her.
Shay Mitchell Does Not Shy Away From The Camera
Where do you begin when you describe Shay Mitchell? First of all, she is an author, actress, model and a whole bunch of other things and she is from up north, way up north as in Canada. Someone this hot must be used to the cold weather perhaps. You may recognize her from the series Pretty Little Liars.
Shay has been all around the world when it comes to her modeling endeavors. She can now make her way to the North Pole just in time for the holiday season. Shay is sure to make Mrs. Claus jealous while she is in the North Pole.
Hey Everyone, It's The Keibler Elf!
Here, we go from one long-legged lady to another. This is not the average Keibler elf who is posing for the camera. This is the modern day Keibler elf who is super gorgeous. Okay, she is not the Keebler elf, but Stacy Keibler (the pronunciation of her last name sounds like "Keebler").
Stacy Keibler is best known for being involved in the wrestling world. She has legs of legends, and those were her selling point. She also made an appearance on Dancing with the Stars with those insane legs of hers. She has such awesome legs that they have been dubbed "weapons of mass seduction."
Brooke Shields Still Has "It"
What comes between Brooke Shields and her Santa Claus, nothing! Brooke Shields has been the face of beauty in Hollywood for a long time now and she is still as beautiful now as she was in the 1980s. Do you notice something strange about the photo? Take a look very closely.
The Santa Claus guy must have been the luckiest guy in this photo. He has the beautiful Brooke Shields as his helper and has the privilege of having her sit on his knee. Now do you notice what is going on? The Santa guy is looking at Brooke's leg. Is this what is known as a bad Santa?
Michelle Monaghan Works Her Magic On Screen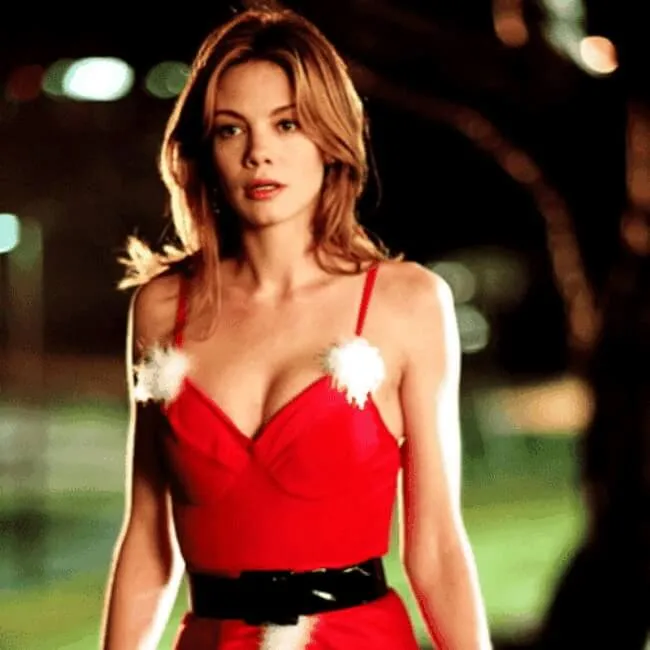 Actress and muse Michelle Monaghan gets into the Christmas spirit by dressing up in this hot Santa-themed outfit. I'm wondering is it winter or far from it. She is wearing a shoulder-less dress and that will make anyone wonder. It could be that she is so hot that she does not need any extra clothing. Hmm.
This is Michelle from the movie Kiss Kiss Bang Bang. She is dressed as a Santa's helper, but she seems to be a bit naughty with the attire she has on. And so the question arises, is it better to be naughty or nice?
Angela Is Santa's Little Angel
Angela Little is a hot model and actress. She is also known as "Little Marilyn," which is a reference to the late Marilyn Monroe. Angela was given this name by Hugh Hefner. She has modeled for Playboy magazine and has been associated with Playboy for many years. She was also the centerfold of an issue as well.
This photo is of Angela from Santa's helper from the Larry the Cable Guy Christmas special. Who could have thought that one of Santa's helpers could have a tummy like that. Would you let Angela wrap your presents? I think so. No one would turn that type of opportunity down.
Kim Kardashian Is A Buxom Little Helper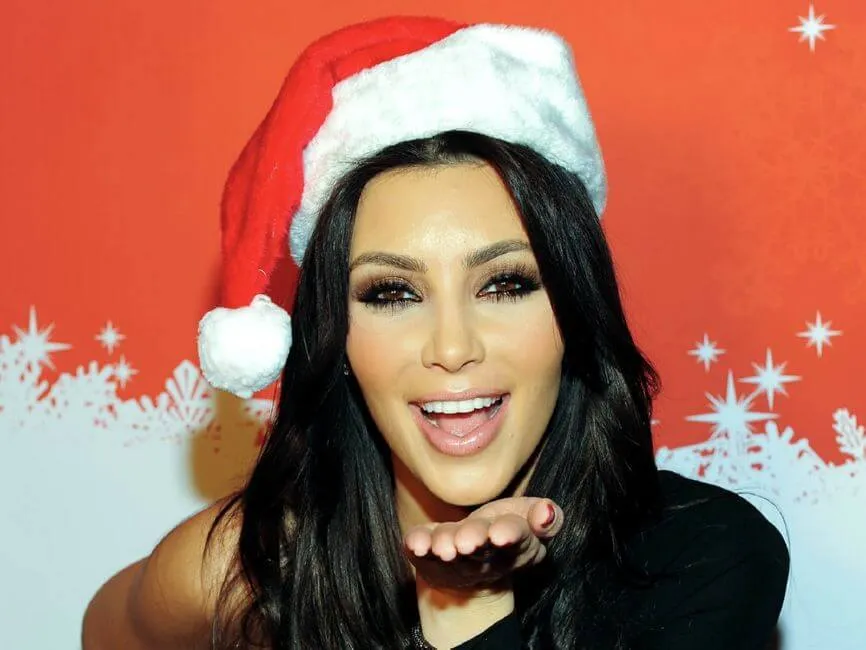 This is the reality that is Kim Kardashian. Christmas may come along once a year, but it probably occurs every day for Kanye West since he has Kim Kardashian for a wife. I cannot think of any type of modeling gig that Kim Kardashian has not done. Kim is ubiquitous when it comes to television and social media.
Lucky Kanye West has Kim to wake up to every morning and luckily to lay down with at night. Has anyone ever wondered what type of gifts Kim Kardashian receives on Christmas Day? According to Entertainment Tonight online, She received a whopping 150 extravagant gifts. She will never need another present again for years!
Simply Put, Paris Hilton Is The Stuff That Dreams Are Made Of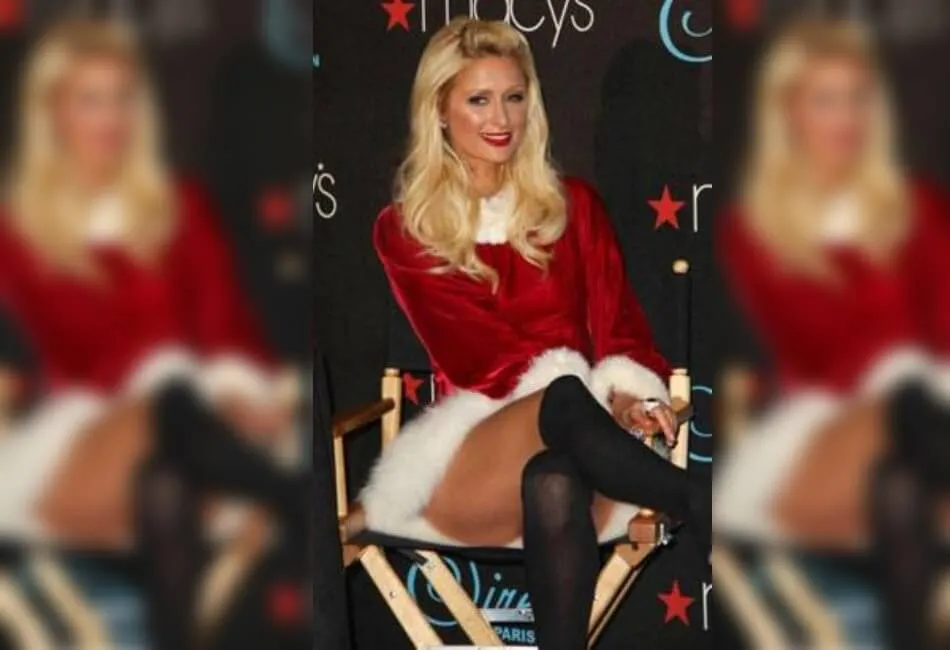 Someone with the status of Paris Hilton could never live the simple life. As the old saying goes, it's so hard to be humble. Even Paris Hilton would have to agree to that quote.
Most of Santa's helpers are usually depicted as little elves with funny sounding voices and funny little hats. They are engaged in merry-making fun and probably sing some type of silly song to get them through the say. That could become very annoying to the Santa Claus camp, but with a helper like Paris Hilton, one does not have to worry about anything of that nature.
Alessandra Heats Up The Runway
Alessandra Ambrosio strolls down the runway in a Christmas-themed outfit. These models seem to have the life. They get to travel around the world and show everyone their curves and model the latest fashions. Alessandra is one of the highest-grossing models in the industry today and on top of that, she is considered to be one of the sexiest women in the world right now. Wouldn't you agree?
Alessandra is one of the elite Victoria Secret's angels. She probably has wings because she is so angelic. This Santa-themed costume is just right for modeling, but have you ever seen one of Santa's elves wear something to this effect?
Olivia Munn Is Missing The Glowing Red Nose
Olivia Munn is in rare form wearing this sexy outfit complete with reindeer antlers. This is probably some modeling shoot for some Christmas-themed movie or some other type of advertisement. Being able to find work in other venues is what is so wonderful about being a celebrity.
Versatility is the key among celebrities. Olivia can cross over into just about anything with the type of looks and body that she has. She would have to be really careful of other Santa's helpers in the North Pole if she ever traveled there. She is so beautiful that she would not get to play in any reindeer games.
Katy Perry Is Totally Without A Care In The World!
Katy Perry is all dressed up as a racy Santa's helper and doing what she does best, and that is performing in front of thousands of fans. She really looks dazzling in the Santa's helpers outfit.
Katy has gone through many phases and experimented with many designs when it comes to her Christmas performances. She has performed on stage as a snowman, complete with the snowman body (as a dress) and also with the buttons where the shirt is supposed to be. Light bulb moment! Why does a snowman need buttons anyway? Anyway, Katy has also dressed up as -- get this -- a peppermint candy cane. I know you're laughing right about now.
Pamela Anderson Is Going To Burn A Hole Through That Chair
It is all about the red when it comes to Pamela Anderson. She is red hot, and she is all decked out in red. Even on the television series Baywatch she wore that red sexy swimsuit that became an essential symbol of the television series.
Wow, there seem to be so many light bulb moments right now. You have heard that old song "The Twelve Days of Christmas." Everyone has heard it because it is played every single year. If you look below Pamela's neck, are those two turtle doves? I have never seen any turtle doves that big before!
Another Baywatch star makes an appearance later on the list. Wonder who it could be?
Ooh La La, Marilyn
Everyone has seen this beautiful face before, but maybe not in a Santa Claus costume. Marilyn Monroe is one of the most recognizable and iconic women to ever grace the silver screen. She starred in countless films, such as As Young as You Feel, How to Marry a Millionaire, Monkey Business, Niagara, Gentlemen Prefer Blondes, Clash by Night, Some Like It Hot, The Misfits, and Don't Bother to Knock.
Although Monroe is often given credit for singing the sensual Christmas song "Santa Baby," that honor belongs to Eartha Kitt, who lent her breathy voice to the classic tune. Regardless, Marilyn looks wonderful here in her red Santa outfit.
Carmen Electra Shocks As Santa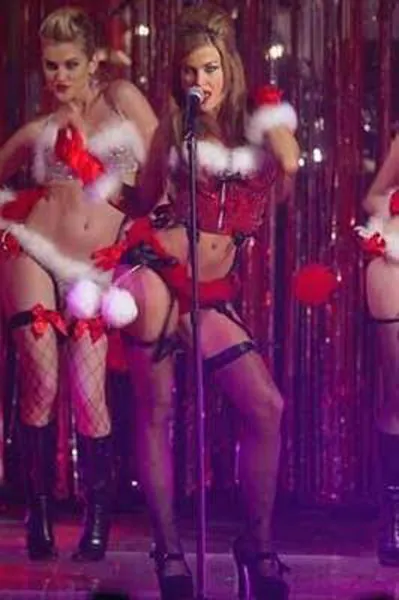 Not many people know Carmen Electra's real first name. It's Tara Leigh Patrick, but was changed at the late rock icon Prince's suggestion after she signed a recording contract with his Paisley Park Records.
Electra is a model and television personality. She's graced the pages of Playboy many times, starred in Baywatch, and had roles in Good Burger, Starsky & Hutch, Epic Movie, Date Movie, Disaster Movie, and Meet the Spartans. She's pretty well-known for her romantic life, as she was married to Dennis Rodman and Dave Navarro in the past. Electra also briefly dated television personality Simon Cowell.
Bella Thorne, Elf Extraordinaire
American actress Bella Thorne is best known for her roles on television series Entourage, The O.C., Dirty Sexy Money, and Shake It Up. She is less famous for her impression of a Christmas elf, which is a shame because she looks terrific in this holiday outfit! Those cute striped thigh-high stockings make her legs look a mile long.
Thorne is not just another pretty face, though. She's really into philanthropy and donates her time to causes that benefit children in Africa, homeless animals, and cystic fibrosis research. So she really is a Santa's Little Helper in real life!
Wait until you see the terrific trio coming up soon...
Have A Very Lilo Christmas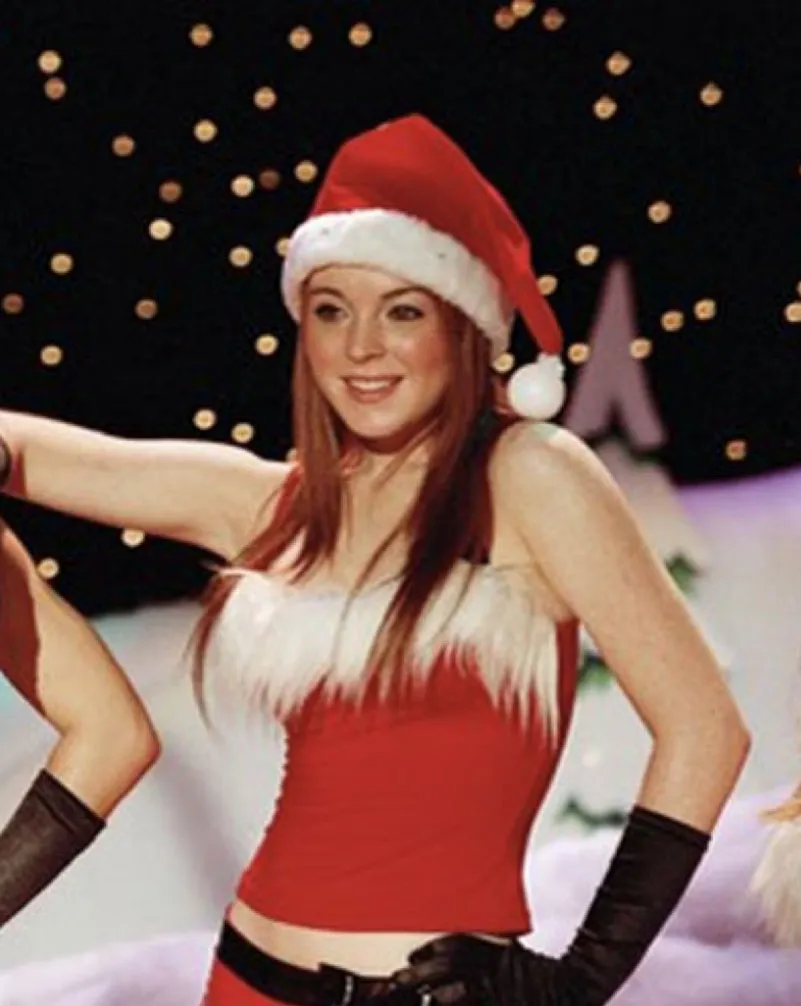 This photo of the notorious American actress Lindsay Lohan is from a scene in the iconic 2004 movie Mean Girls. Here, she's performing a "Jingle Bell Rock" dance routine while dressed in a sexy Santa costume.
Lohan, who shot to stardom as a Disney kid, is unfortunately known almost as much for her troubled personal life and legal issues as she is for her body of work. Her film career includes roles in The Parent Trap, Freaky Friday, Just My Luck, Labor Pains, The Canyons, and Liz & Dick. But despite her less-than-stellar personal reputation, there's no denying that she looks festive in this cute shot!
A Real-Life Christmas Angel
What an angel! No, really, Miranda Kerr is a wildly successful Victoria's Secret Angel. The gorgeous star, who started in the industry when she was just 15 years old, is now one of the highest-paid models in the world.
This supermodel hails from Australia and is consistently named one of the most beautiful people alive by various media outlets, and it's not hard to see why. She looks just stunning in this snapshot, posted to Instagram, of her wearing a Santa-themed red lingerie. Kerr is religious and said in one interview that she prays for three minutes a day. Hey, it's clearly working for her!
The Darlings Of Destiny's Child
Everyone recognizes this famous trio! Here are the lovely ladies of the wildly popular Destiny's Child, an American girl group who shot to fame in the 1990s. The musical act has sold more than sixty million albums! Some of their biggest hits were "Independent Women", "Bills, Bills, Bills," "Say My Name," "Survivor," and "Bootylicious."
Here are band members Beyoncé Knowles, Kelly Rowland, and Michelle Williams dressed in adorable matching Santa hats at an event celebrating the release of a line of Destiny's Child dolls. Unfortunately, the group broke up in 2006, but were inducted into the Hollywood Walk of Fame shortly afterward.
Santa Stodden
Reality television personality Courtney Stodden sure makes a buxom Santa's Little Helper. Seen here in a red bustier with festive white trim, Stodden strikes a sultry pose for the camera.
When she was just 16 years old, Stodden married 50-year-old actor Doug Hutchison. Santa came early to Doug that year, although their age difference proved to be a major problem in their marriage. The couple appeared on multiple TV shows to discuss their marital issues. In 2015 Stodden released a solo sex tape, and in 2016 Stodden and Hutchinson announced that they were expecting a child. Does this sound like the original Christmas miracle or what?
Two For one!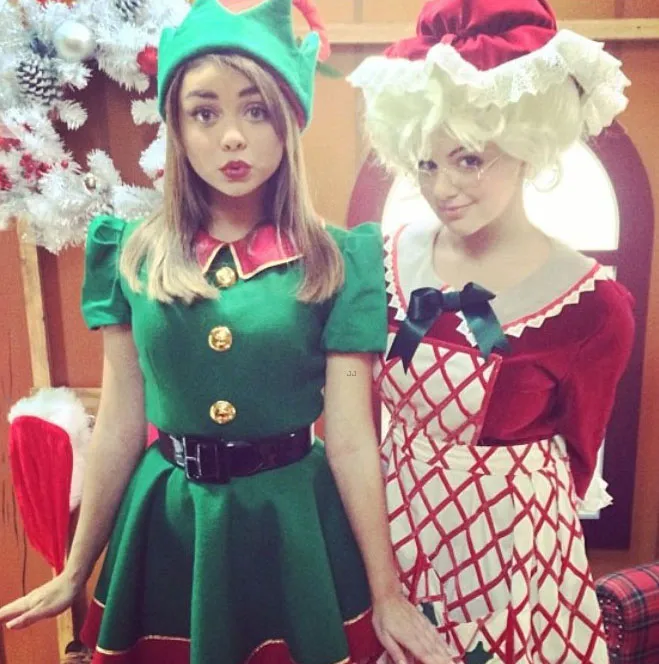 Here we see two lovely co-stars from the hit television show Modern Family, Sarah Hyland and Ariel Winter. Hyland is dressed as an adorable and innocent-looking elf, while Winter is clad in a Mrs. Claus outfit complete with dowdy spectacles. The photo shoot took place while they filmed a holiday-themed Modern Family episode.
Hyland has appeared in the films Annie, Blind Dates, Private Parts, Vampire Academy, Struck by Lightning, XOXO, and Scary Movie 5. Winter had roles in The Chaperone, Speed Racer, and Opposite Day, among others. In 2015, she bravely went public about having breast reduction surgery.
Heidi Klum Wishes You A Frohe Weihnachten
How do you say "Merry Christmas" in German? "Frohe Weihnachten!" This stunning Santa is none other than German supermodel Heidi Klum. Klum, who used to be married to musician Seal, is a former Victoria's Secret Angel who also modeled extensively for Sports Illustrated. She made promotional appearances for companies as diverse as Volkswagen, McDonald's, and Mattel's Barbie.
Klum has hosted the smash hit reality television show Project Runway since 2004, and has received six Emmy Award nominations for her work. With an estimated net worth of $20 million, Klum can afford to give everyone in the world a Christmas gift this year.
There's another supermodel coming up soon!
Oh Come, All Ye Faithful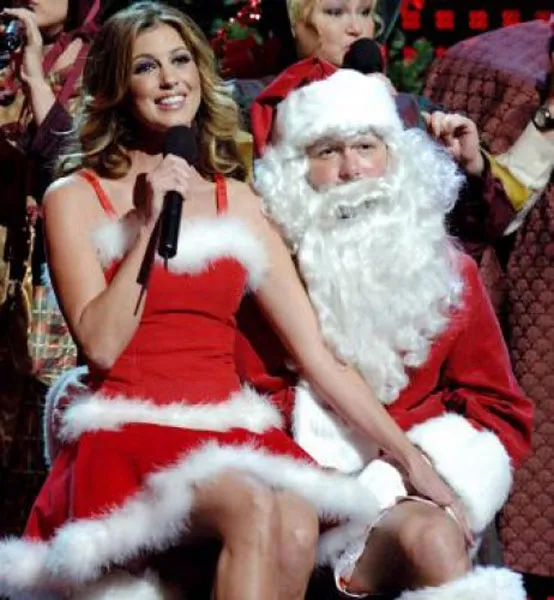 Country music star Faith Hill (who is also a producer and actress) has sold 40 million copies of her albums worldwide. The blonde beauty, married to fellow musician Tim McGraw, is one of the most successful country acts of all time.
Hill, seen here giving a performance directly from Santa's lap, has a Christmas record of her own. Released in 2008, "Joy To The World" contains one original song and required two years of continuous work from Hill. All that dedication paid off, as the album received four and a half out of five stars from the website about.com.
Dandy Danielle
Danielle Mason has never been one to shy from the camera and enjoys putting on a racy show for her fans. The British model and star of the reality television show My Big Fat Gypsy Wedding is frequently spotted out and about in teeny tiny getups (and sometimes just undergarments).
This sexy Santa picture was posted as a result of a feud between Mason and fellow reality star Jemma Lucy, who recently called Mason "a hippo." Prior to that, Mason claimed that Lucy is "riddled with STDs." If these types of beautiful photos keep coming as a result of this fight, then we can only hope that these ladies keep at it!
Cindy Lou Who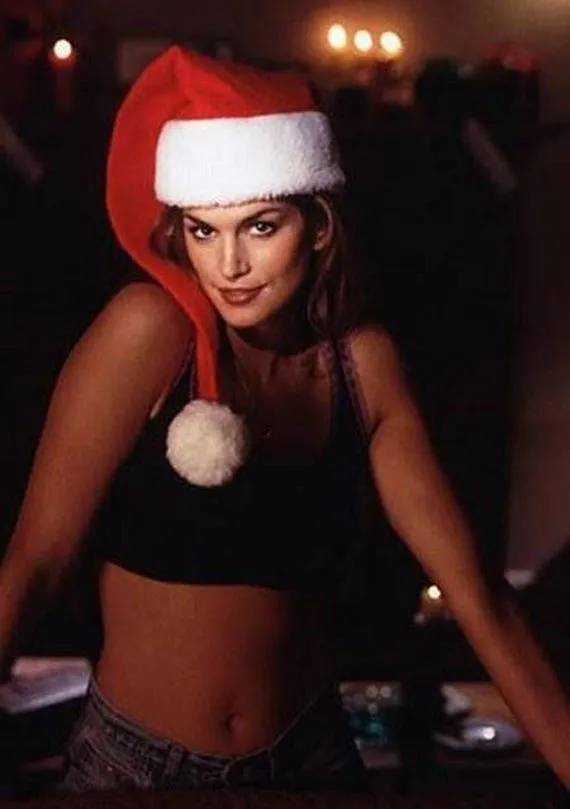 Why is that beautiful models seems to look good in everything they wear? Cindy Crawford, one of the original supermodels, was named by Forbes as the highest paid model on the planet in 1995. She has appeared on hundreds and hundreds of magazine covers during her long and profitable career.
Crawford's look here is slightly more casual than the others on this list, but it still warrants a mention. With her signature mole, distinctive eyebrows, sultry expression, and perfectly-toned body, Cindy Crawford makes even a dowdy Santa hat look tantalizing. This photo is from the 1990s, during the peak of her career, but she hasn't aged much since that time.
That's A Big Sack Of Gifts!
Rebecca Ferguson is a singer/songwriter from Britain. Here, she's carrying a large sack (presumably full of toys?) while dressed as the cutest elf ever. Just look at that adorable red and green dress, complete with matching hat. The outfit even appears to have bells sewn into it!
Ferguson rose to fame when she was named runner-up of the seventh series of The X Factor UK in 2010. She's now signed to Columbia Records in the United States, and now has four studio albums out. She also has some profitable endorsement deals… this is one star who will certainly have a Merry Christmas!
Itsy Bitsy Teenie Weenie Santa Claus-Themed Bikini
Farrah Abraham began her career on MTV's 16 and Pregnantand Teen Mom reality shows. She quickly gained infamy for her rather tumultuous personal life. After trying her hand in the music industry, she released an adult video called Farrah Superstar: Backdoor Teen Mom in 2013. That film was followed by Farrah 2: Backdoor and More the next year. In 2016, Abraham was banned for life from using Uber services after claiming that one of the company's drivers had sexually assaulted her.
Here's a photo of Abraham in a skimpy Christmas-themed outfit, taken in 2016. Whether she's been naughty or nice, it's difficult to deny that she looks great in her little elfin bikini!
Girl Like Me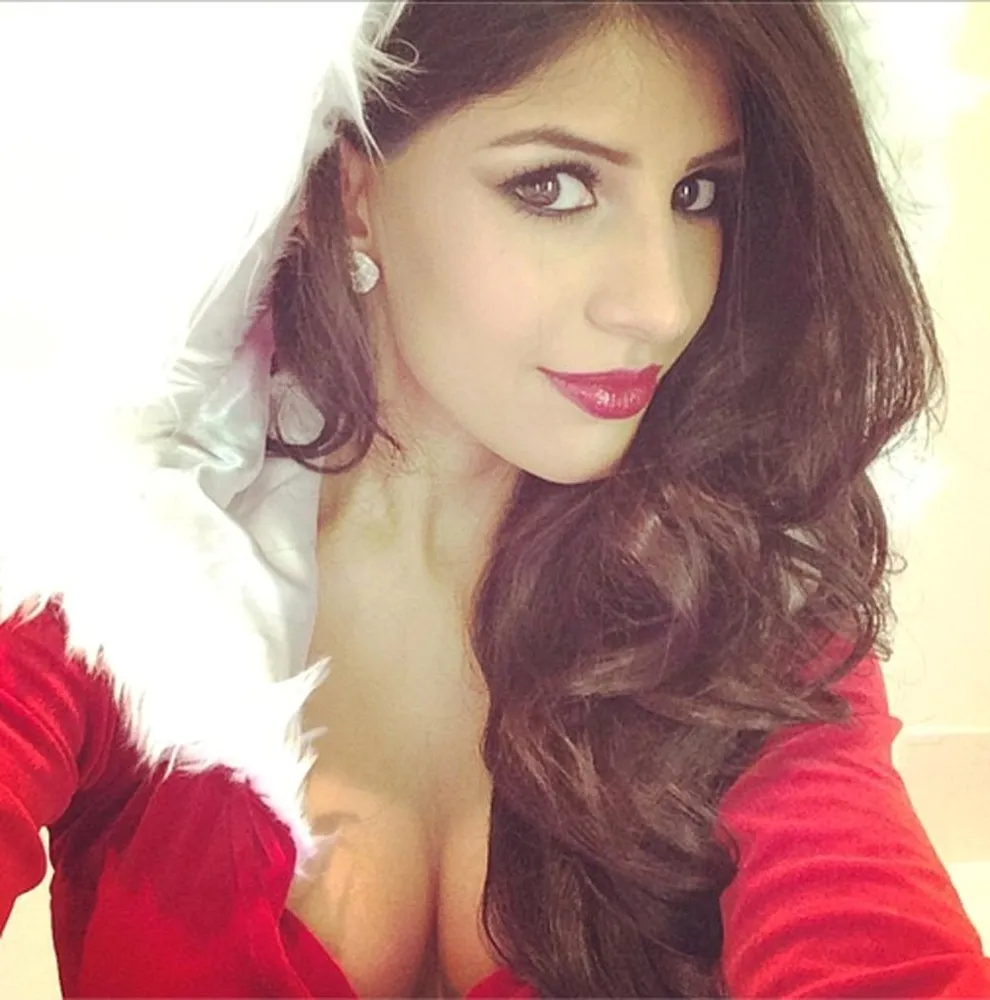 Jasmin Walia is a stunningly gorgeous British singer, actress, and reality television personality. She auditioned to appear on The X Factor UK in 2014 but was rejected in a tearful scene. Walia didn't let that phase her, and went on to appear in reality shows The Only Way is Essex and Desi Rascals. She then received acting parts in The Bill, Doctors, and Casualty. Now she has released a racy music video called "Girl Like Me."
Walia is active on social media and enjoys posting flattering selfies. Here's a holiday-themed one where she's sporting a revealing Santa jacket with hood.
A Walking Holiday Party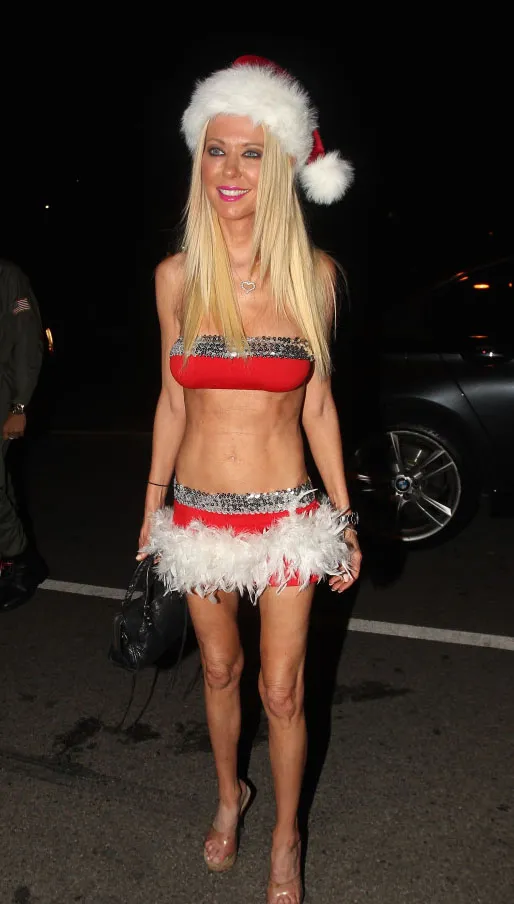 Here's everyone's favorite party girl, Tara Reid! The American Pie actress has sure had her fair share of ups and downs over the years. From addiction issues to eating disorders to botched plastic surgery, Reid just can't seem to catch a break.
This holiday season, she's clearly trying something new: dressing as a slightly skinnier version of Santa Claus. This two-piece (three if you include the hat) outfit is accentuated not just by rhinestones, but by white feathers and fur. Reid's holiday look is topped off with clear plastic high-heeled sandals. So perfect for Christmas Day.
Scarlet Red, The Perfect Christmas Color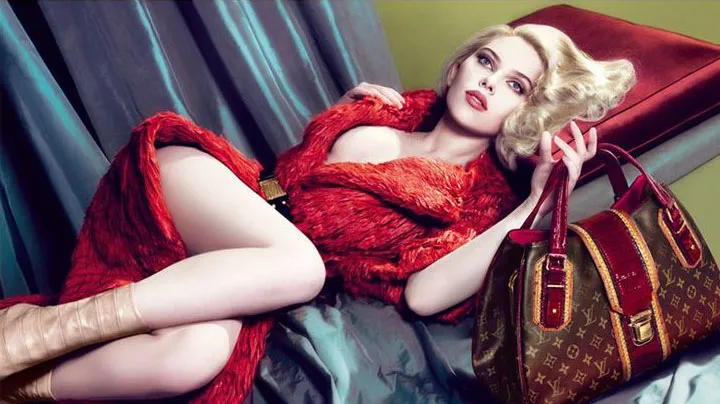 Scarlett Johansson is probably tired of looking the way she does. It must get pretty old being named "The Sexiest Woman In The World" year after year. (Sarcasm.) Actually, the Girl with a Pearl Earring and Lost in Translation actress and new mom once said in an interview, "I don't want to always have to be trendy and glamorous and an object of desire. I don't want to be stuck in that forever. Because it doesn't last."
Johansson's ensemble here isn't exactly a Santa outfit, but it's a safe bet that he wouldn't mind having her along during his long night out on Christmas.
Lizzie Cundy Will Turn Your Head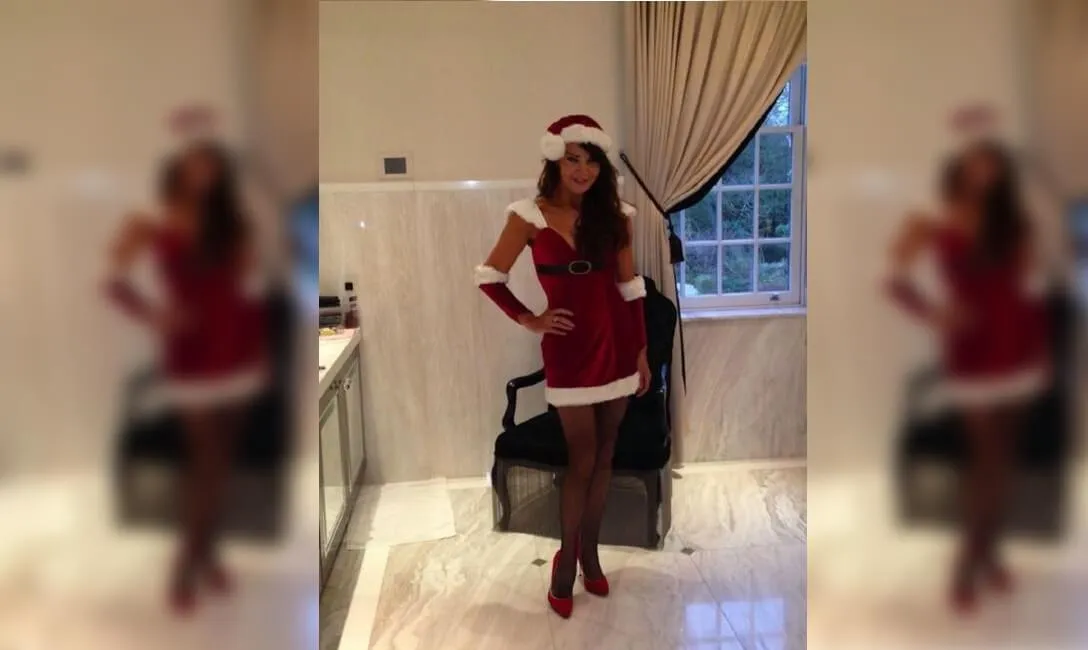 Lizzie is a lovely lady from across the pond. You can turn on your telly and see her in various movies and television shows. Lizzie is known for being on the red carpet for ITV2. ITV2 definitely made an excellent choice when it came to picking a presenter for red carpet evens.
Lizzie will have you seeing red, especially in this Santa suit. You have probably seen Santa's helpers before, but not quite like this. Lizzie is also a model and knows how to turn heads. She had a wardrobe malfunction last month but she seems to wear the Santa's helper outfit without any problems.
Courtney Sixx Brings The Fire On The Red Carpet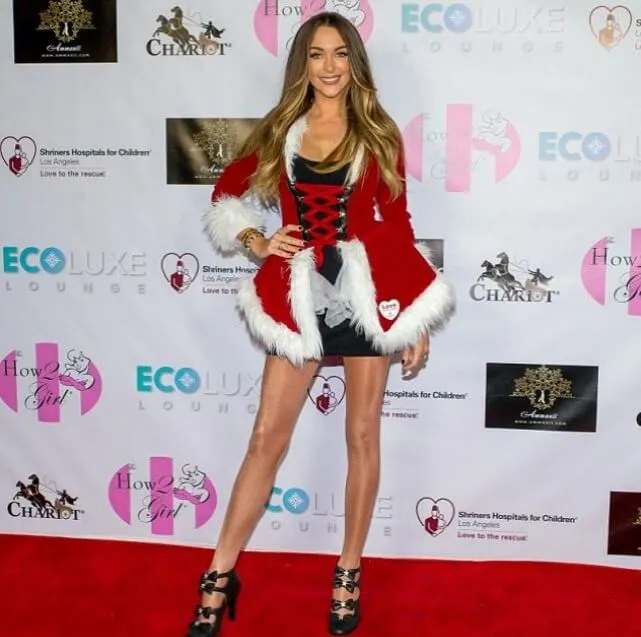 Courtney Bingham, better known as Courtney Sixx, is on display on the red carpet. She sizzles on the red carpet like no one else can. She seems to be standing on stilts almost, doesn't she? Looking down on the world from above is not such a bad thing.
Being hot for a good cause is great for publicity and it is a way to give back to the community. Courtney Sixx was at a charity event to benefit Shriner's hospital children back in 2015 when this photo was taken. She was actively involved in decorating the Christmas tree and making kids' wishes come true.
Miley, The Raunchy Santa
Miley Cyrus went through a definite raunchy phase with her Bangerz album which was full of gratuitous nudity, leotards and constantly sticking out her tongue. So it was only natural that during the Christmas season, Miley had to incorporate her best sexy Santa complete with a Santa Clause on stage to grind on.
These days Miley has simmered considerably. She has toned down her image, grown her hair back long and even reunited with her one time fiancé, actor Liam Hemsworth. Miley seems happier than ever. Yet, don't be surprised if she still breaks out the old sexy Santa costume, it's kind of a classic!
Chrissy's Classy Santa
Chrissy Tiegen is a model and cookbook author. She's also married to music star John Legend and they are parents to super cute daughter Luna. The two also recently announced the exciting news that they are expecting their second child together. Chrissy is also known for her antics on Twitter and is known to get into refular tiffs with the likes of President Trump and Piers Morgan to name a few.
It's also hard to forget that she's a supermodel with her stunning looks. While hosting Lipsync Battle of course she had to play up the Christmas season by dressing up as a Santa. When one at home watcher tweeted Chrissy about her beautiful red dress saying, "But seriously, when you're done with that red dress will you send it my way?" Chrissy actually responded saying, "I am done, DM your address". She actually sent a fan her real dress. Amazing!
Gisele Out-Of-This-World Santa
Gisele Bundchen is married to Patriots quarterback Tom Brady and the two are completely settled into domesticated life with three children. That hasn't stopped her from stomping the runway. In Fact, until 2017 she was regularly noted as the world's highest paid supermodel. This is the first year she has been overtaken by none other than Kendall Jenner.
However, just because the new girl in town has overtaken her highest paid throne, that doesn't mean that she can ever be matched on the runway. In fact, we think pretty much no current model can match Giselle's fierce runway stomp with gaze to match.
Katy Perry As Santa: Round 2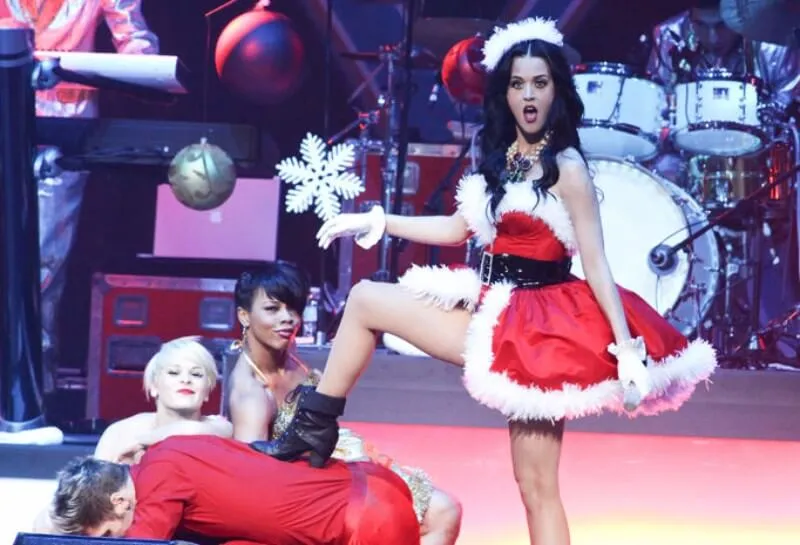 Katy Perry has already made the list once for her sexy Santa costume. However, the outfit seems to be one that she just can't resist as she has appeared in multiple versions of the costume. Although these days Katy seems to be going for a different look entirely after cutting her long dark hair into a pixie cut and bleaching it blonde.
Perhaps this Christmas season she will offer up an entirely new Santa Claus look. In recent time, Katy has also faced her own celebrity feud with none other than Taylor Swift. They both recorded diss tracks about one another, but perhaps they can pull it together for the Christmas season!
Kelly's Punk Little Santa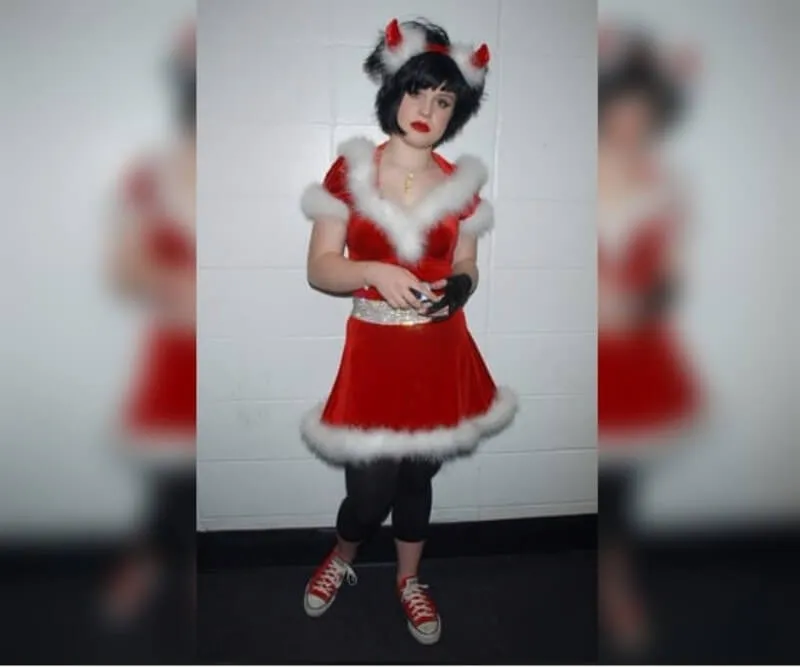 Kelly Osbourne is the daughter of legendary rocker and Black Sabbath front man Ozzy Osbourne. It's no wonder that she has always had a bit of rockin' punk style herself. She even brought the style to her Santa costume. Kelly launched her own music career for a while before taking a bunch of different gigs on shows over the years.
Some of her gigs included Dancing With the Stars, Fashion Police and Australia's Next Top Model. More recently, Kelly has been devoting herself to writing a book, however the title is quite expletive laden and unfit for print here (which is honestly in true Osbourne fashion)!
Leann's Sexy Country Christmas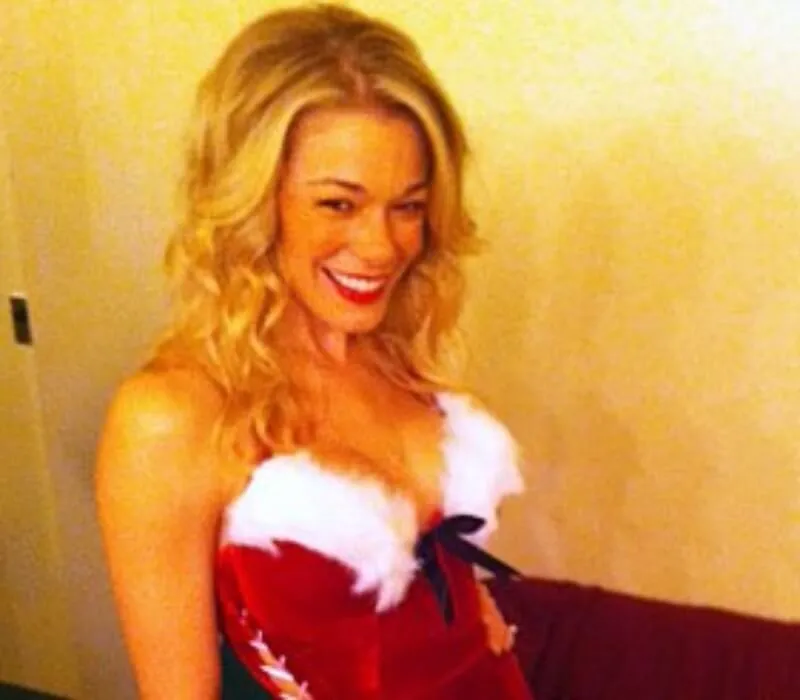 Leann Rhimes hit it big as a child singer with her hit country record "Blue". Her talent was clear from a young age, and it's obvious that it remains her passion today. In addition to music she also quite passionate about husband Eddie Cibrian and her two stepsons.
However, her happy marriage started from quite the salacious place. Both Leann and Eddie were married to other people when they met. Eddie's ex-wife and mother of his children Brandy Glanville, went on to start on the Real Housewives, where she made no bones about her dislike of Leann. The two also regularly feuded over social media, perhaps the two will be able to put it all behind them during the season of giving.
Candice's Jaw-Dropping Santa Kisses
Candice Swanepoel is one of the most beautiful of all the Victoria's Secret models. Candice is originally from South Africa and she actually speaks three languages: English, Afrikaans and Portuguese. She speaks the later due to her male model husband whom she shares a son.
Also, Candice dedicates her time to a charity called Mothers2Mothers, which helps children and mothers in Africa in order to have an "HIV-free generation". Candice has made several designs in support of the charity for her home country. Fellow supermodel Christy Turlington, has also donated her time to the cause.
Jenny's Elvin' Around
Jenny McCarthy has long been famous for her sexy good looks since her heyday in the 1990s. Although she made news for being an anti-vaxxer in the past years, Jenny is still as sexy as ever. Here she is pictured in a Santa outfit with some elves surrounding her. For a while, Jenny was dating uber-famous comedian Jim Carrey but the two eventually parted ways.
In more recent years, Jenny seems to have finally found her true love, Donny Wahlberg actor and original member of the original boyband "The New Kids On The Block". The two seem very happy together and we bet Donny loves seeing her dress up like a sexy Santa!
Gorgeous Adriana Has A Magical Christmas
Brazilian supermodel Adriana Lima is another who is completely stunning and also perhaps one of the best known of all the Victoria's Secret Models. In 2017, she was even named to be "the most valuable Victoria's Secret Angel". She also recently announced that she will retire from the Victoria's Secret runway after she walks in her 20th show.
She also said that she aims to continue for four years from now when she will reach forty years old. Of course, with a remarkable physique and face like Adriana's it's not hard to imagine that she will be successful at her goal!
Bridget's Mrs. Claus
Bridget Marquardt skyrocketed to fame as one of Hugh Hefner's three girlfriends when they began their acclaimed series for The Girl's Next Door. The girls also included Holly Madison and Kendra Wilkinson. The girls were totally ecstatic when they were finally made Playmates and were even able to pose as centerfolds for the famous magazine. However, after they all departed the Mansion not everything was to be happily ever after.
Apparently, Bridget became totally cut off from Hef and was also not welcome anymore at the mansion. However, there is no doubt that Bridget will continue to be one sexy Santa (although, everyone knows her real favorite holiday is Halloween!).
Ariana's Candy-Cane Christmas
Ariana Grande is one of the hottest popstars of the moment, and she hopes to live up to her idol Mariah Carey with her amazing vocals. Ariana is also a huge animal lover. She is vegan and has also adopted multiple animals. Ariana actually got her start on Nickelodeon as a child star but has definitely proved that she has the acting chops, not to mention vocal power to make her mark in the industry.
Ariana also proudly supports the LGBTQ community. She and her brother Frankie follow Kaballah teachings which teach that if you do good to others, good things happen to you.
Demi's Smiley Christmas
Demi Lovato is another star who got her star as a child only to come into her own with powerhouse vocals. Demi and Selena also used to be best friends and although they seemed to have drifted apart in adulthood but the two still speak fondly of one another. The two definitely share at least one thing in common – there love of Santa hats.
Demi is an outspoken advocate of sobriety having struggled with alcoholism and drug addiction early in career. Demi also revealed that she suffered with depression, bi-polar disorder and an eating disorder. However, she definitely seems to be happier than ever as of late!
Carmen's Pussycat Santa Crew
Before the Pussycat Dolls was a pop music group they were also a burlesque act in Hollywood. Carmen Electra was always a dancer before she was an actress and she has even put out a series of sexy series instruction dvds. Needless to say, there is no doubt that Carmen's performance with the burlesque group was sure to steal the show.
The outfits. The performances. The sexiness. All of it is off the charts amazing! Carmen notably got her start after being discovered by the legendary Prince. And we all know that Prince definitely knew how to choose some of the most amazingly sexy women in the world!
Ariel's Cheeky Holiday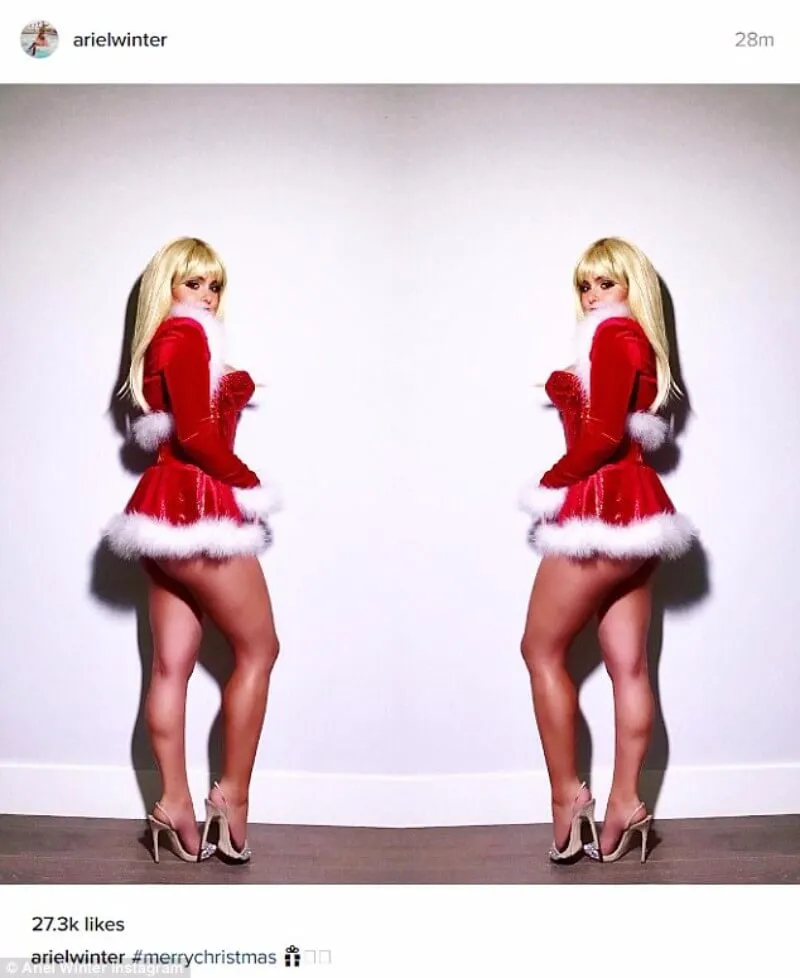 Ariel Winter is known for being the kind of plain younger sister on Modern Family, however in real life she is anything but. At the end of her teens she made headlines for gaining emancipation from her mother. Now that she has ventured into adulthood, she continuously makes headlines for pushing the boundaries with her over-the-top sexy wardrobe.
What can we say, the girl loves to show off her extremely voluptuous body. Can you blame her? The girl definitely has a great figure. She also showed off a change of hairstyle by donning a bleach blonde wig, which finished off her sexy holiday look.
Kylie Khristmas Look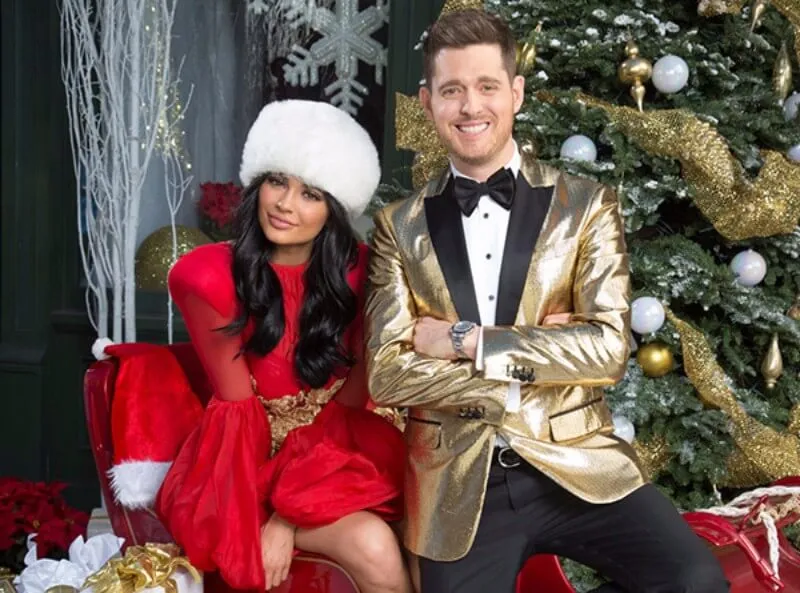 Everyone knows that Kardashians love to dress up and even more than that they love to go all out for the holidays. Youngest sister Kylie Jenner is definitely no different as seen here in her Christmas look. Kylie gained a lot of notoriety in recent years for reportedly changing up her looks with plastic surgery.
She also dated rapper Tyga for a time before having a big breakup last year. Now the twenty-year-old is dating yet another rapper named Travis Scott and the two are reportedly going to welcome their first child together – a baby girl.
Another Kardashian Look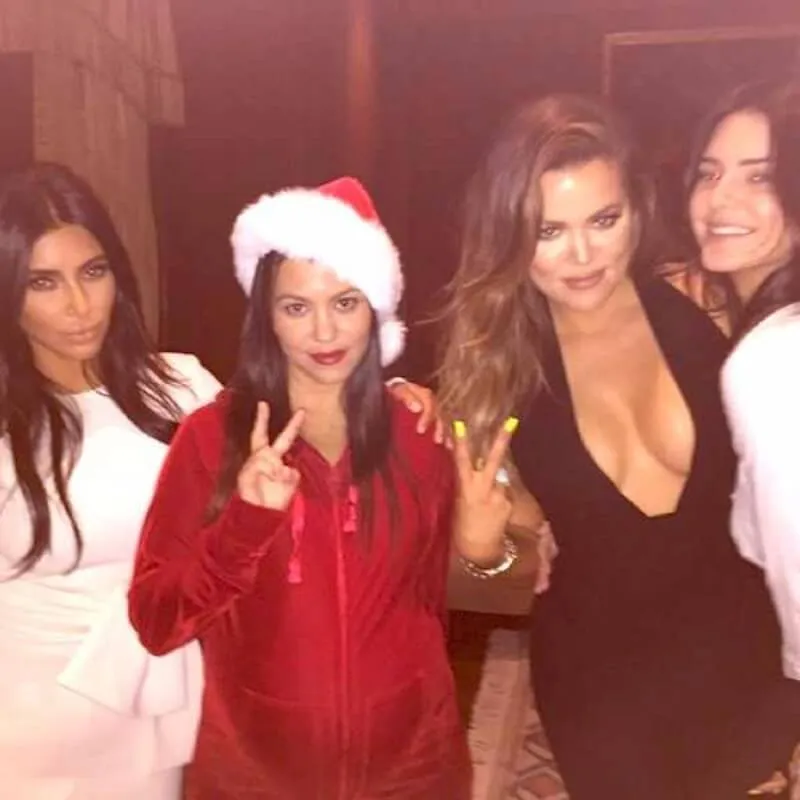 Here is yet another member of the Kardashian brood sporting a holiday look. This time it's big sister Kourtney. She has often been reported to be the most "normal" of all the sister. Despite her general normalcy, Kourtney has still had her fair share of drama, particularly with the father of her children Scott Disick.
Scott has been repeated hospitalized for alcoholism and other associated problems. Although he claims to seek help it seems as though he just can't kick the habit. Kourtney has since moved on to another younger male model boyfriend. Perhaps the holidays' will usher in a new era for the modern family.
Is That You Kardashians?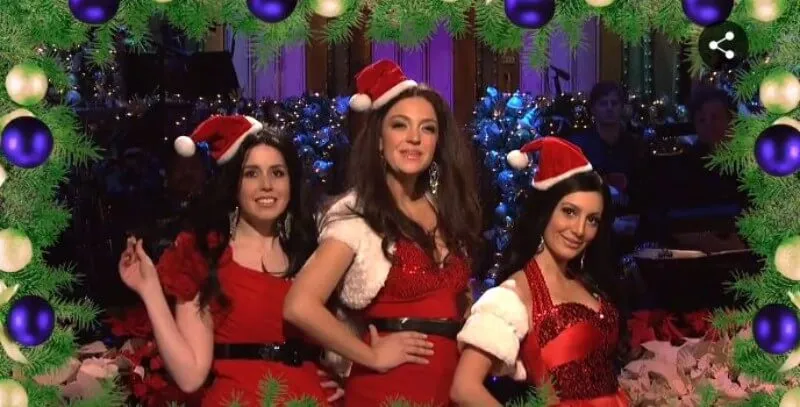 Okay, so it's no actually the Kardashian sisters however it is an SNL skit making fun of Kim, Khloe, and Kourtney. The actresses are Vanessa Bayer, Nasim Pedrad and Abby Elliott doing their very best impressions. We think they are pretty spot on as far as how the Kardashian's talk.
They may not look exactly like the girls but they certainly look super adorable in their holiday outfits, don't you think? As of the current season, all three of these women have exited the show, for greener pastures and bigger shows. Perhaps, the new year will finally see the women star in their very own films.
Christina's Red Hot Holiday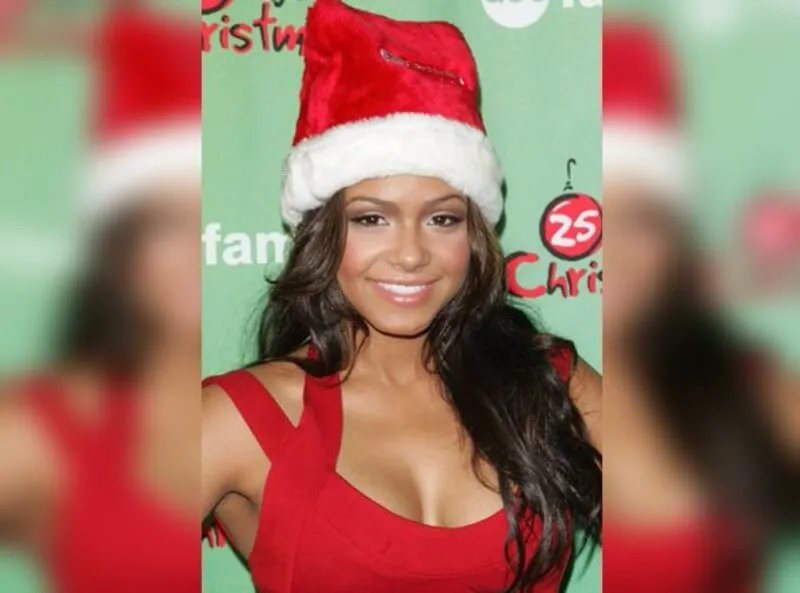 Christina Milian certainly looks stunning in her red ensemble complete with matching Santa hat. The beautiful singer released her first album back in 2001 but ultimately ventured into acting and has had starring roles in a number of films over the years.
In the summer of 2017, Christina appeared as a judge on the show Superhuman where people attempted to put their personally extraordinary skills to the test (such as memory, touch, hearing, etc) in order to win an amazing $50,000 grand prize. We think there will only be more great things to come for this beautiful Santa!
Christina's One Sexy Elf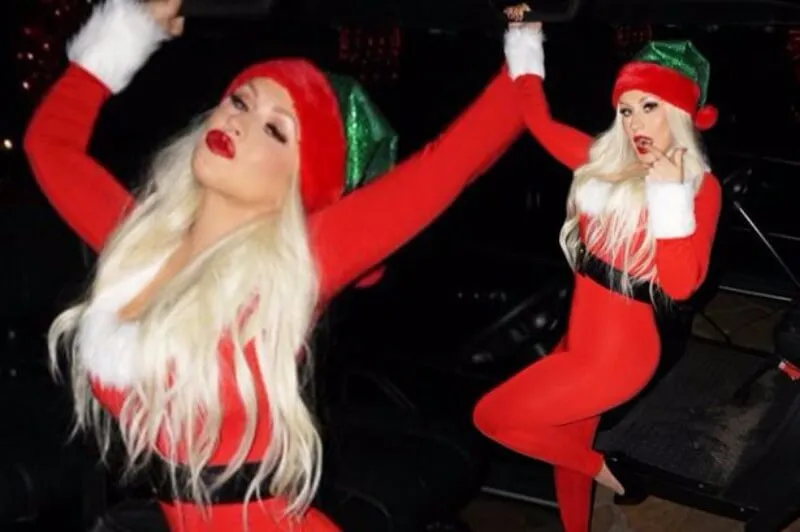 Christina Aguilera is definitely known for pumping up the sexy level, all the way since her Genie In The Bottle Days. So it's no surprise that she was gallivanting around Hollywood dressed like the sexiest elf in the entire town. Although, Christina is known for amping up the sexy factor, she is also a bonafide vocal talent.
Christina has also lent her name to numerous causes including PETA, World Hunger Relief, and the Human Rights Campaign. Although Christina has somewhat toned down her image since becoming a mom to a son and a daughter, she is still known to love her glam side. We are sure to see more sexy holiday photos come from her this season!
Who Can Hold A Candle To Mariah Carey?
The Christmas season and singer Mariah Carey go hand in hand. Why is that song popping up right now? You know the one, the one with the lyrics that go: "I don't want a lot for Christmas, There is just one thing I need, I don't care about the presents, Underneath the Christmas tree." Yes, that song.
Mariah is about five feet and eight inches tall, but where did she get those legs? I'm glad to see that Mariah does not have on those curled-up pointed shoes that elves are known to wear in this image, or those small bells either. That would definitely ruin the sexiness of this photo.