Meghan Markle's Pregnancy Fashion Is #Goals And We're Living For It
From the earliest days of Meghan Markle's pregnancy, she absolutely glowed. We couldn't wait to see what she wore next as her little bump continued to grow, and we loved watching her maternity style evolve.
Keep reading to see everything that Meghan wore since she and Harry announced that they're expecting. Many congrats to the happy couple on their baby boy!
Flowy And Floral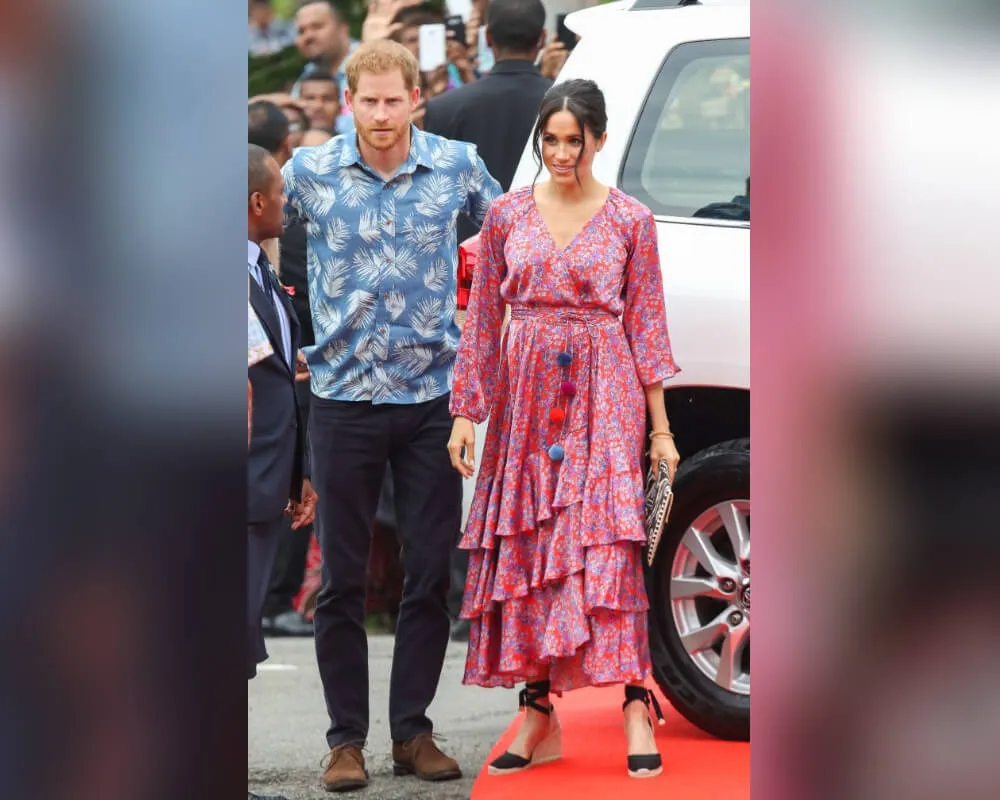 This dress just screams mamma to be. There's something so feminine and pretty about it. I love the pom pom details and the layered hemline.
This dress is flowy enough that Meghan will be abl to wear it months into her pregnancy.
Lady In Red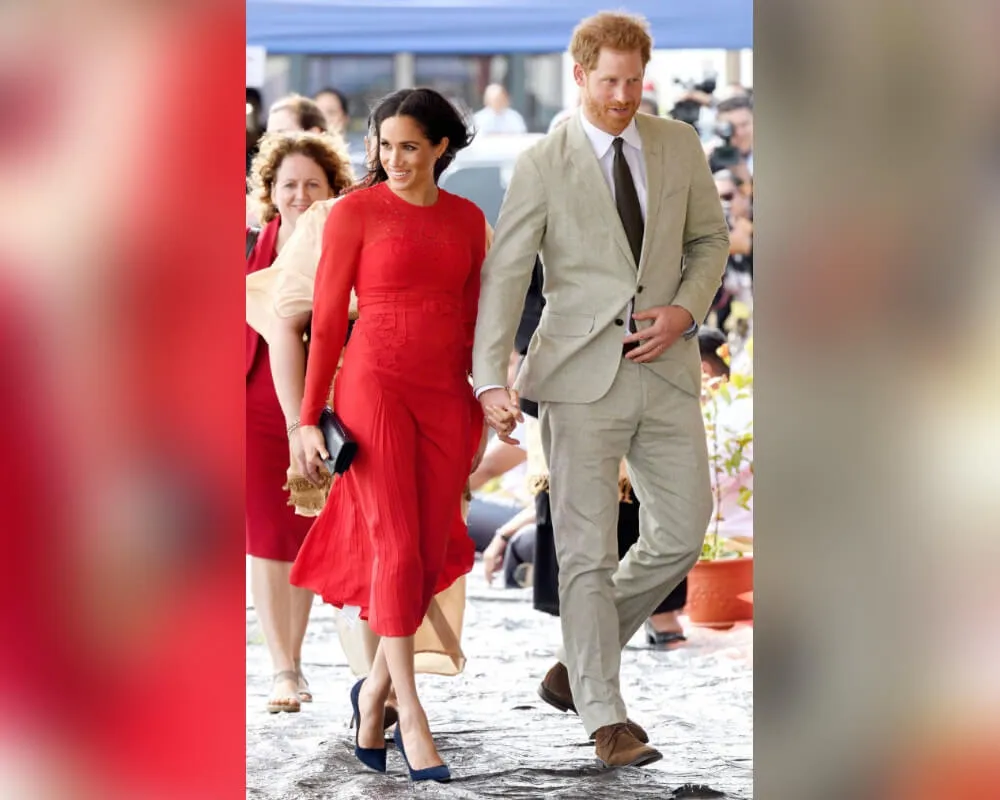 Meghan sent Twitter into a frenzy over this dress, and not for the reasons you might think. Of course, she looks absolutely gorgeous (as she always does), but if you look carefully at the bottom of the dress, you'll notice that Meghan forgot to remove the tag.
There's a little white tag just flapping in the wind. I guess even Princesses make mistakes sometimes.
Playing With Pups
Looking like she's ready to give birth any day didn't stop Meghan Markle from visiting Mayhew, an animal charity in the UK. And in true Duchess of Sussex style, she looked ready to impress in a $35 H&M knit dress and an Emporio Armani cashmere coat.
Markle was visiting Mayhew to see several projects they have designed to help improve the lives of people around London through animal interaction. This includes working with the homeless and animal therapy visits.
Stealing Cirque Du Soleil's Thunder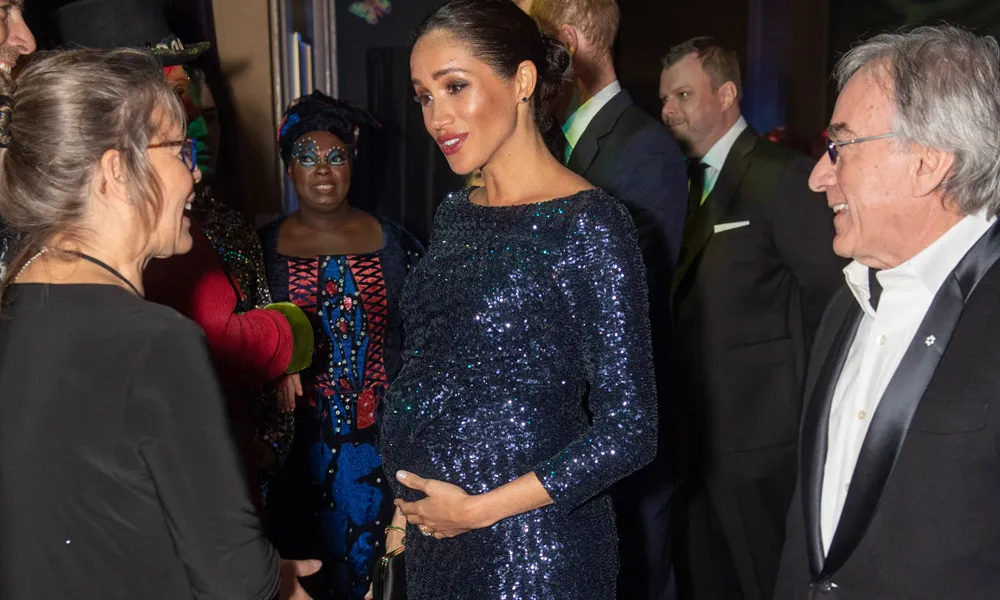 Just hours after wearing a $35 H&M dress, Meghan Markle hit the town with her husband to take in a Cirque du Soleil show. Of course, she stole the show from the performers looking gorgeous in a $6,000 Roland Mouret gown paired with $398 Stuart Weitzman heels.
The show took place at the Royal Albert Hall in London, and all anyone could talk about after was Markle's "Sarandon" dress. She stunned onlookers with her sparkling sequins and knee-high slit and signature boat-neck collar.
What's That? Blue Again?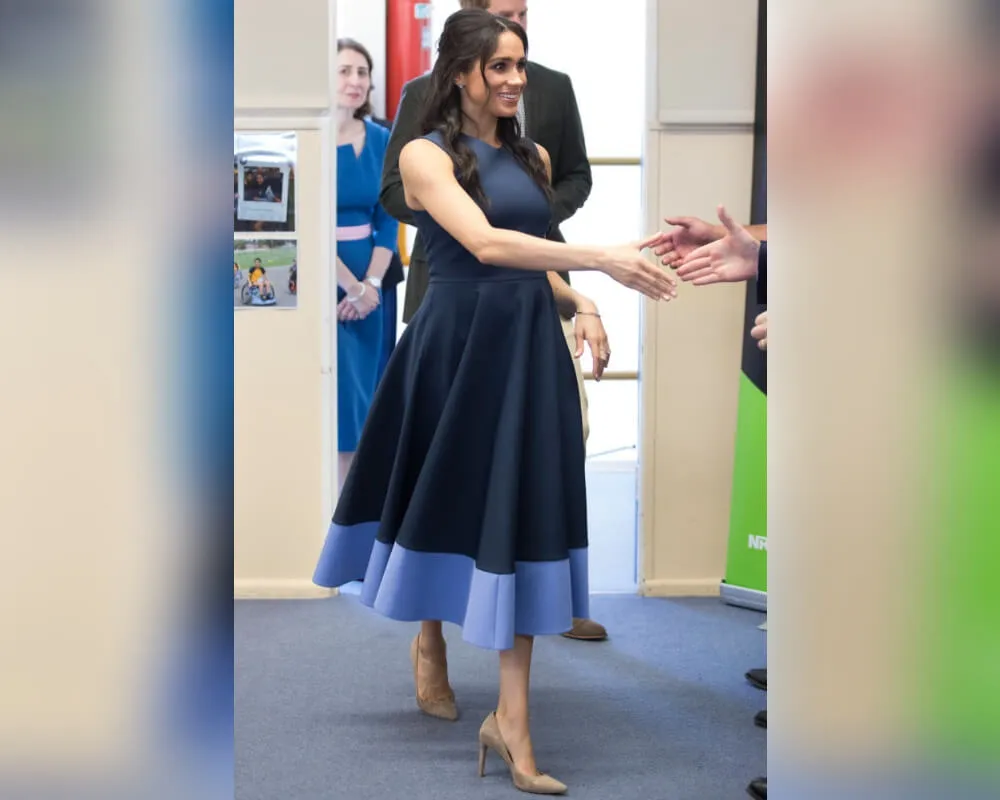 Ok, now I'm starting to get suspicious. I know that blue isn't just a boy's color, but this dress does seem to suggest that Meghan knows something we don't.
I love that she's paired this dress with some nude pumps. Very classy, if I do say so myself.
Summer Stripes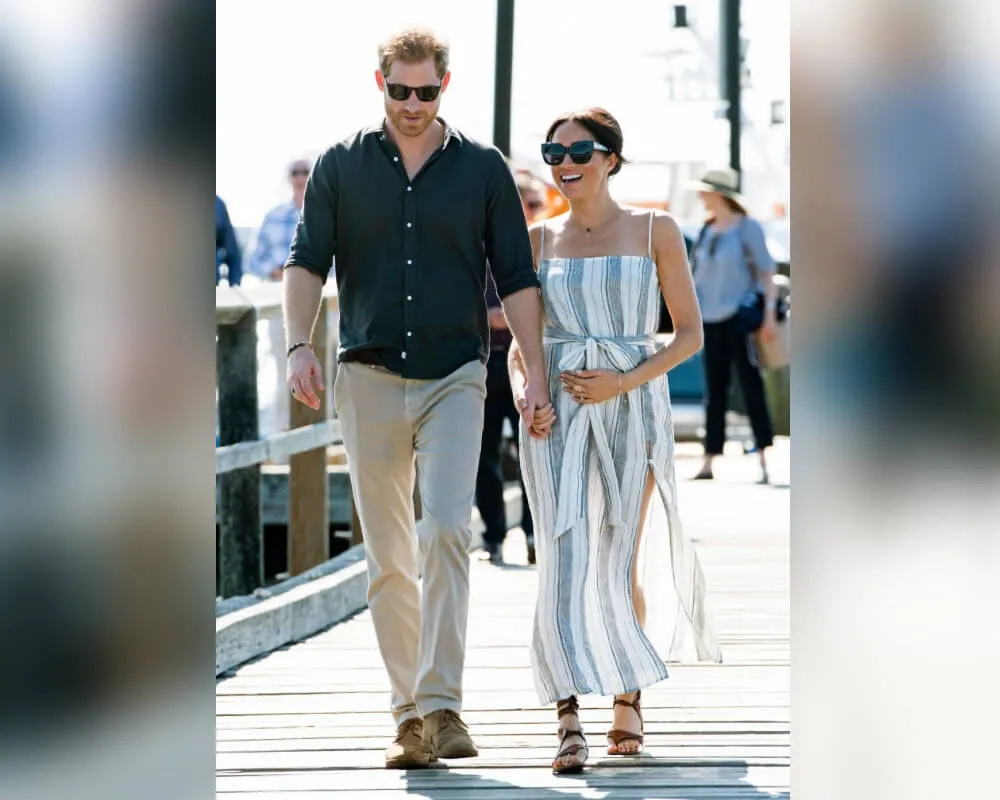 Meghan and Harry look like they've coordinated with each other very nicely in these nautical inspired outfits. Meghan's striped dress is airy, but still somewhat structured. The long slits give her lots of room to move around.
Also, the neckline of this dress is super flattering on her.
A Pure White Frock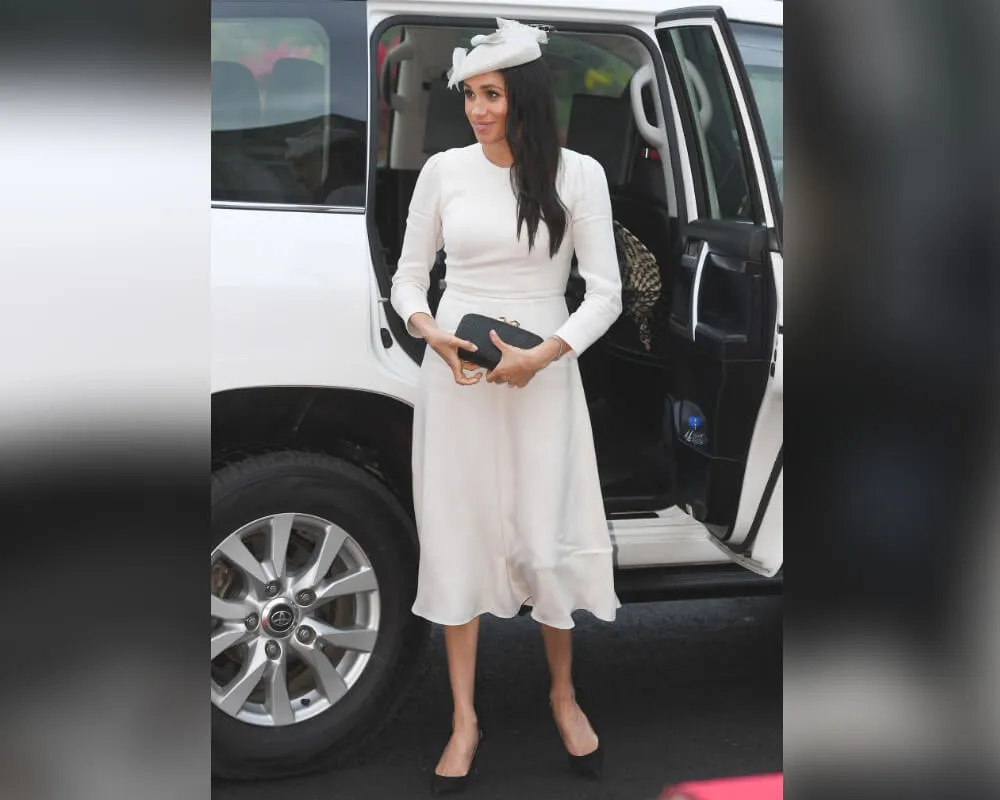 I'm a little nervous to wear an entirely white dress, and I'm not even pregnant. Obviously, Meghan can do no wrong. She looks stunning in this white number, and the black clutch and black shoes just tie it all together.
I like that she matches the car that she's stepping out of.
Stripes On Stripes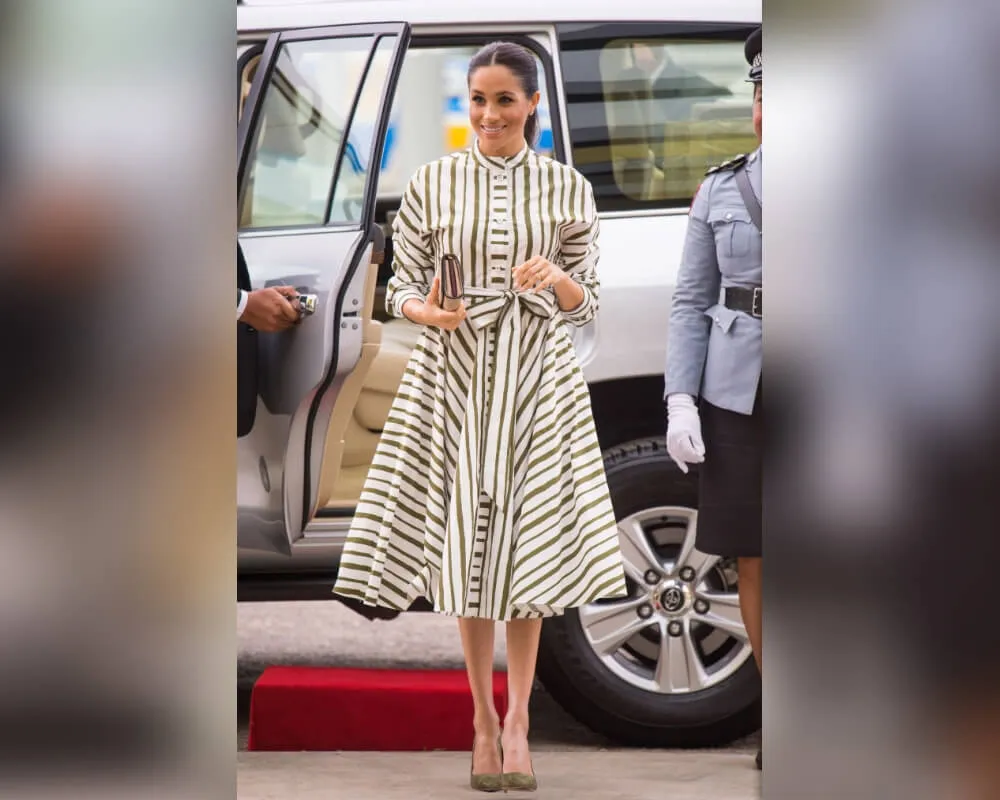 We've already seen Meghan in that blue striped spaghetti strap dress. In this photo, she's gone for a similar pattern in a similar neutral color scheme.
Meghan has actually opted for a riff on this look three times in the past few weeks.
Belle Of The Ball
This dress is a little bit of an unusual choice for Meghan Markle. Normally, she chooses sleek, solid dresses, but this one is patterned and poofy. Perhaps her pregnancy is causing her to branch out into the realm of fuller skirts.
Whatever her motivation was, I absolutely love this dress on her.
Meghan and Her Growing Bump Made an Unannounced Appearance at the British Fashion Awards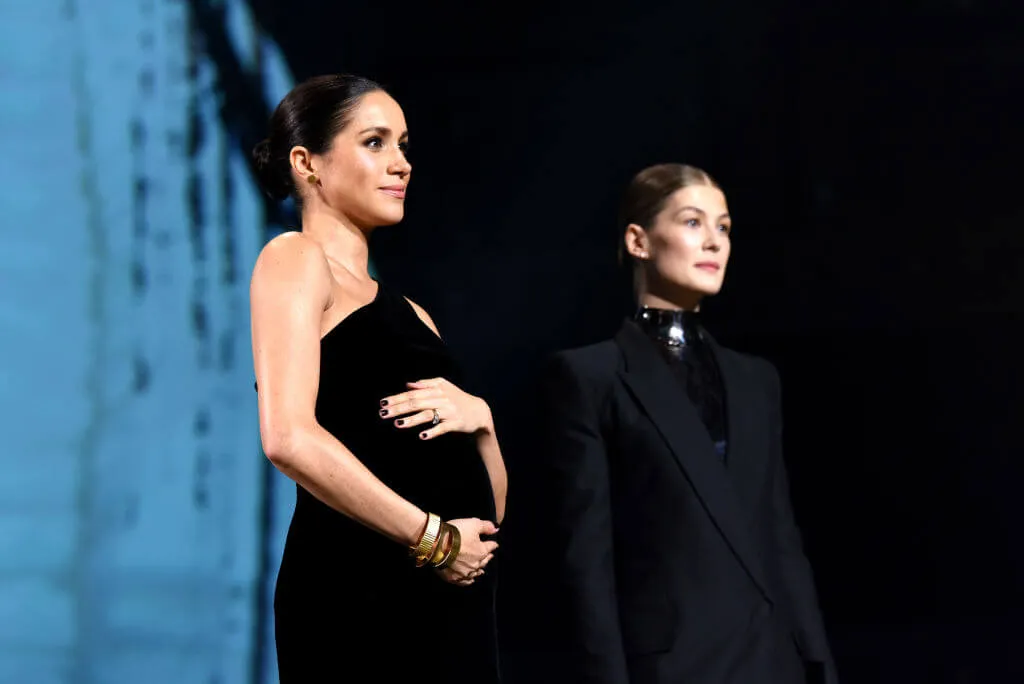 As if the British Fashion Awards aren't already exciting enough, the crowd got an extra treat when Meghan Markle made an unannounced appearance. Meghan and her growing baby bump (which she adorably cradled all night) attended the event to honor her wedding dress designer, Clare Waight Keller of Givenchy.
Naturally, the Duchess wore an elegant black Givenchy gown, along with a slicked-back hair, and chic gold bangles. We think her bump is her best accessory though!
Our First Hint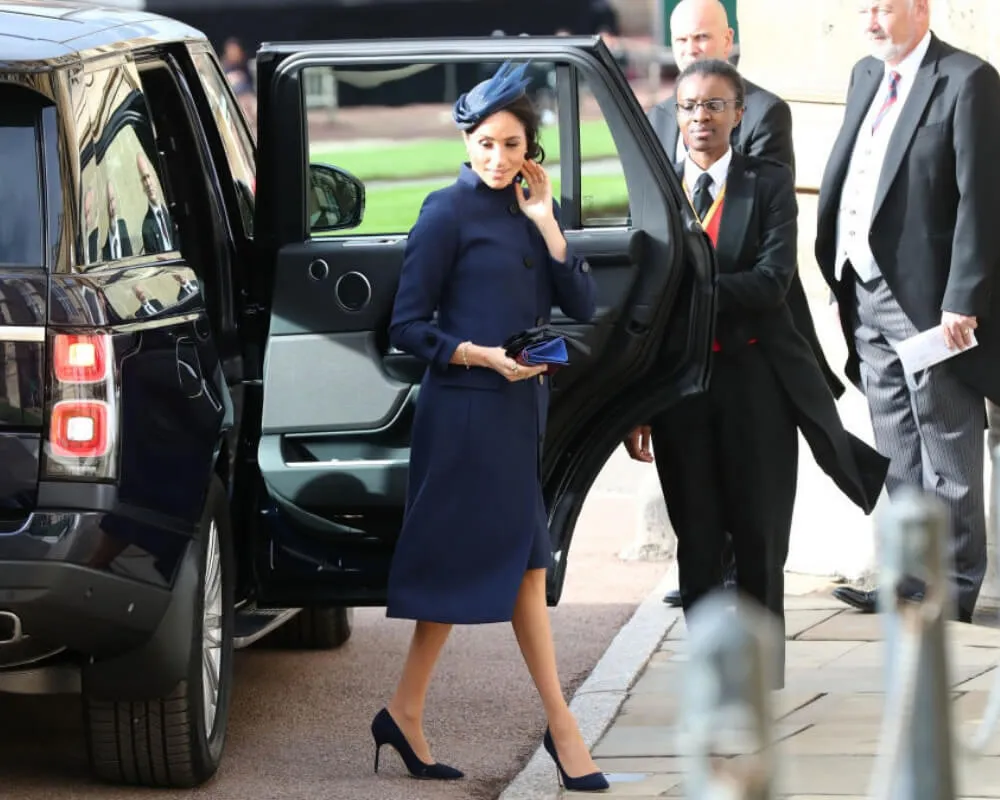 Meghan Markle showed up to Princess Eugenie's wedding in this conservative navy blue trench coat. She paired it with a matching fascinator and some classic pumps in a neutral black.
Just one day after this event, Meghan would tell the press about her baby news. Do you think she chose this outfit to hide her bump?
A Classic Gray Coat Barely Conceals Her Baby Bump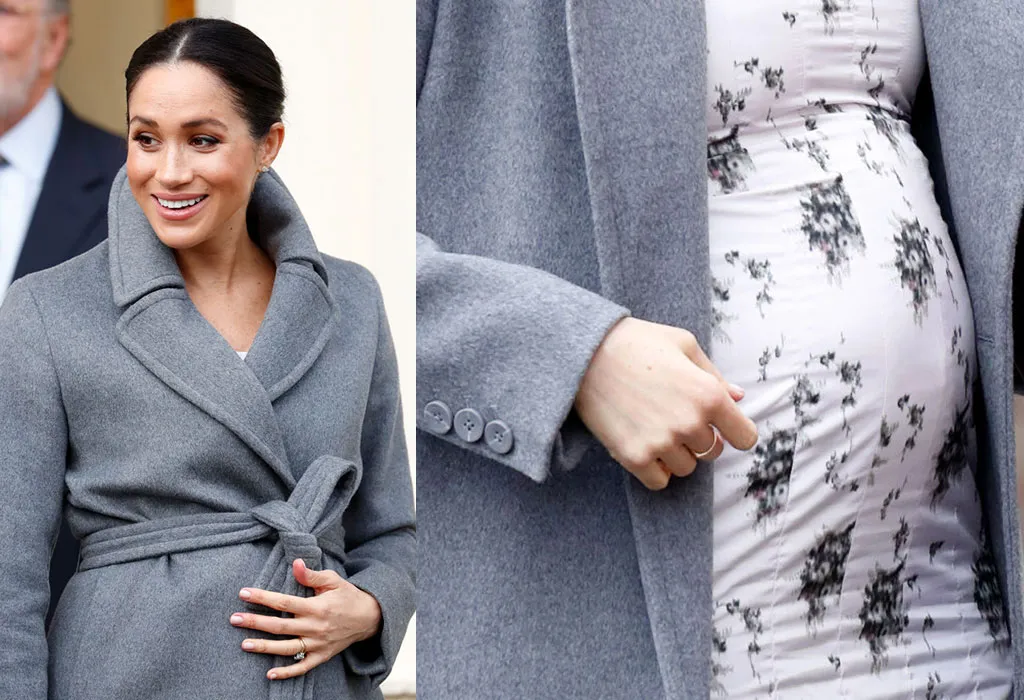 On December 18, 2018, Meghan paid a visit to the Royal Variety Charity's Brinsworth House in Twickenham, England. The facility is a residential nursing and care home for those who have worked professionally in the entertainment industry -- a cause that's near and dear to the former actress.
For the occasion, the Duchess wore a warm and cozy, but elegant, gray coat over a demure floral dress. The coat just barely concealed her rapidly-expanding waistline! In fact, when asked how she was doing, she replied: "I'm feeling very pregnant today." Hang in there, it won't be long before you get to meet your bundle of joy!
Is Blue A Clue?
Meghan has been wearing a lot of blue in the early days of her pregnancy. Could this be a clue that she's expecting a baby boy? At this point, we don't even know if Meghan and Harry know the gender of their child.
Maybe Meghan just likes the color blue.
A Classic Meghan Look
Here she is in a sleek, solid, white dress again. If it's not broke, why fix it, right? Meghan knows what looks good on her body, and she's not going to mess with a good thing.
The sleeves on this dress are pretty unique, though.
I Feel The Teal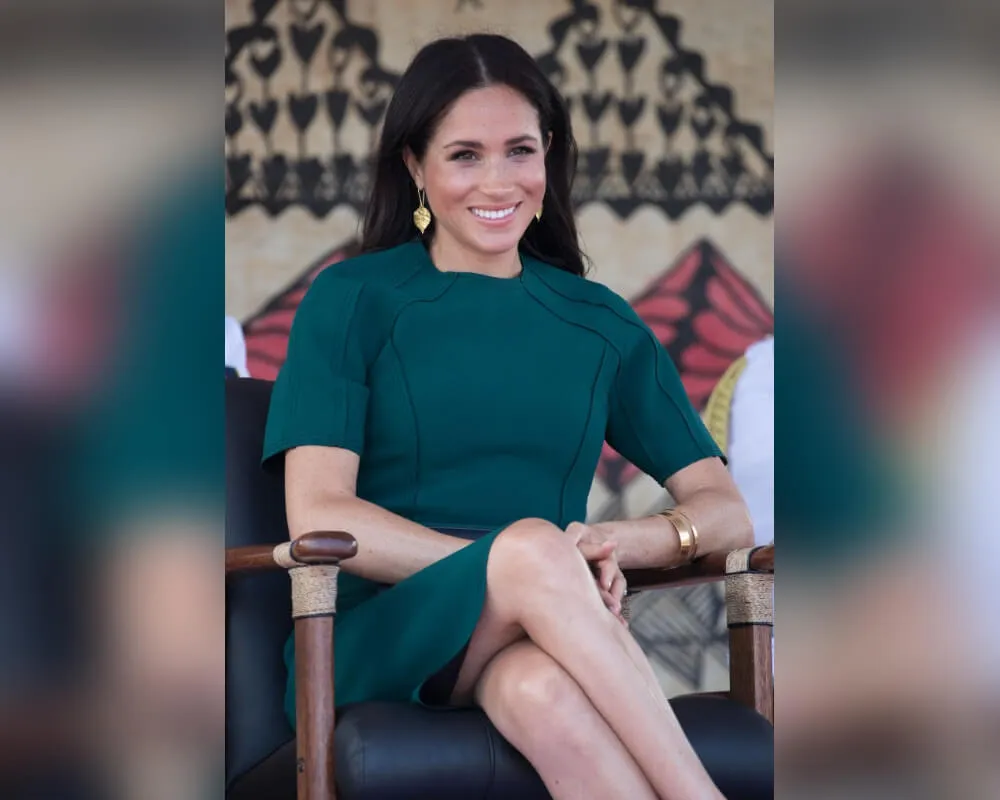 I love this teal color so much, and Meghan's skin tone complements it so beautifully. I also love that she's paired the dress with those hanging gold leaf earrings.
I was just looking at a similar pair of earrings online the other day... Meghan and I must be on the same wavelength.
Fancy And Fresh
You can barely see Meghan's little baby bump in this gorgeous blue dress, but we all know it's there. I love how the bouquet of flowers she's holding pop against her outfit. This picture couldn't have been staged more perfectly.
Also, those baby blue shoes are to die for.
After Archie Arrived!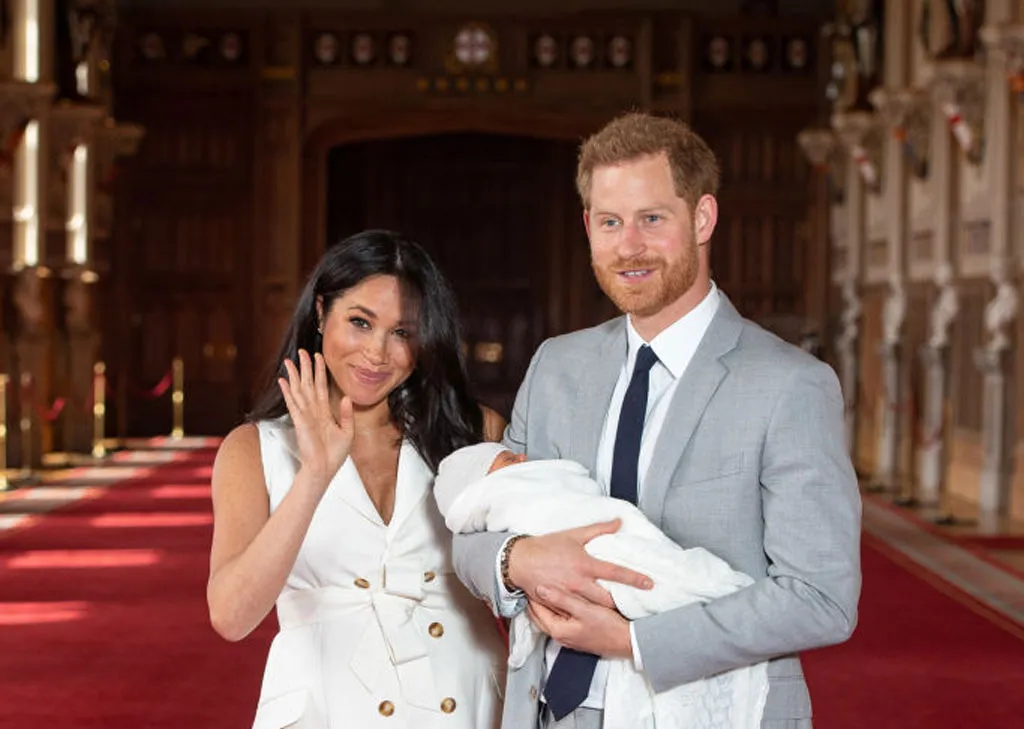 After Prince Harry and Meghan Markle had their child, a son named Archie Harrison Mountbatten-Windsor, they opted to wait two days before introducing him to the public.
Of course, Meghan looked as radiant as ever. For the special occasion, she opted to wear a simple but elegant white trench-style dress designed by Grace Wales Bonner and featuring a double row of buttons. Meghan wore her long hair down and paired the dress with nude pumps.
Meghan Had A Secret NYC Baby Shower!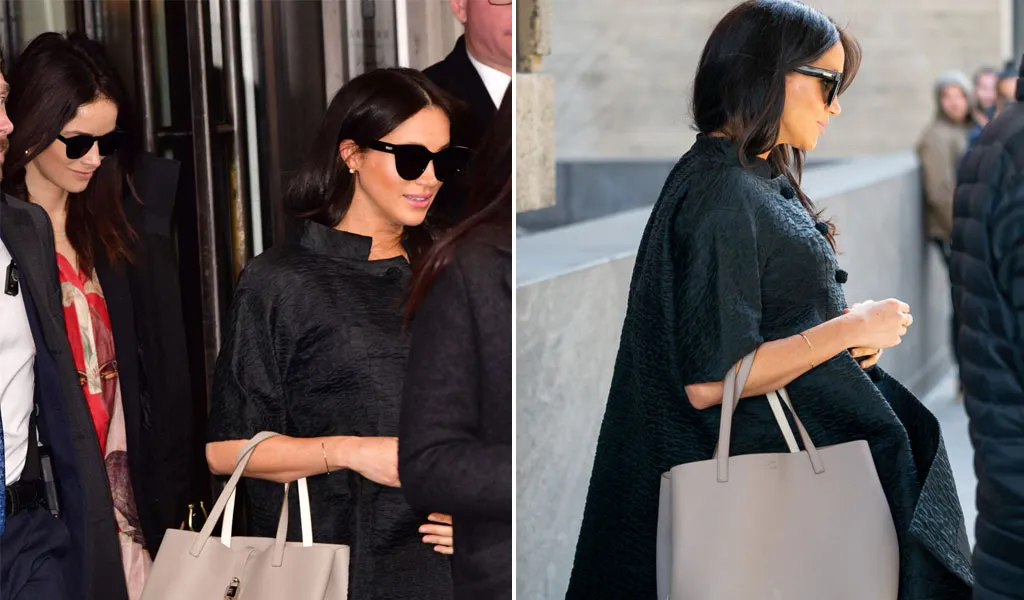 Meghan Markle was spotted on the Upper East Side of New York City on Tuesday, February 19. She was leaving the Mark hotel, where her baby shower was held later that day. A crib and flowers were delivered to the hotel pre-shower.
Baby showers are not custom in the British royal family (Sis-in-law Kate didn't have one for any of her three pregnancies). Meghan made the 'secret' trip to the US so her close girlfriends could throw her a shower. During the five-day girls trip, the Duchess and her friends enjoyed themselves all over town. As usual, she looks beyond perfect here in her chic maternity clothing.
A Celebrity-Studded Baby Shower For Meghan
Tennis star and close friend Serena Williams hosted Meghan's shower in the penthouse suite of the swanky Mark Hotel. The event was attended by many famous faces, including Amal Clooney, Gayle King, Abigail Spencer, Bonnie Hammer, wellness expert Taryn Toomey, and designer Misha Nonoo, along with stylists and friends.
As per British royal tradition, there was no gender reveal at the shower. Attendees listened to jazz music as they participated in a floral arrangement lesson and ate delicious treats like customized cookies and cotton candy.
The Royal Wave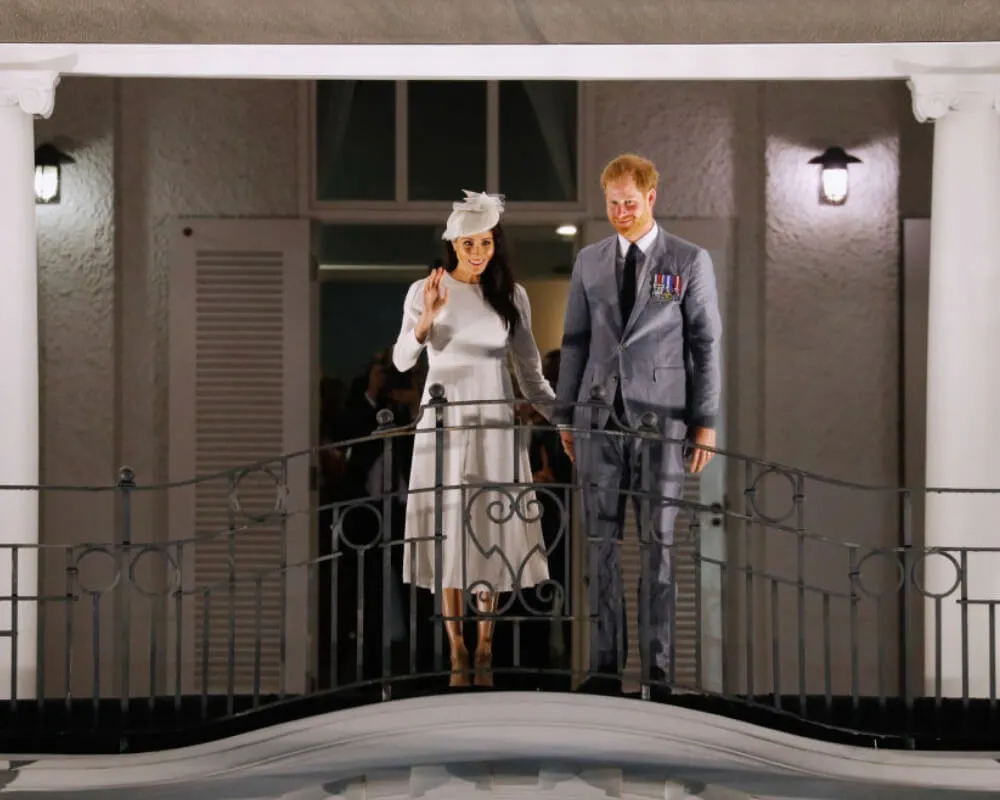 I know we've already seen Meghan in this white dress, but I liked how the lighting in this picture made it look almost silvery. Also, let's take a moment to appreciate Harry's dapper grey suit.
These two make a beautiful couple, and I bet they're going to be amazing parents.
Smart And Sophisticated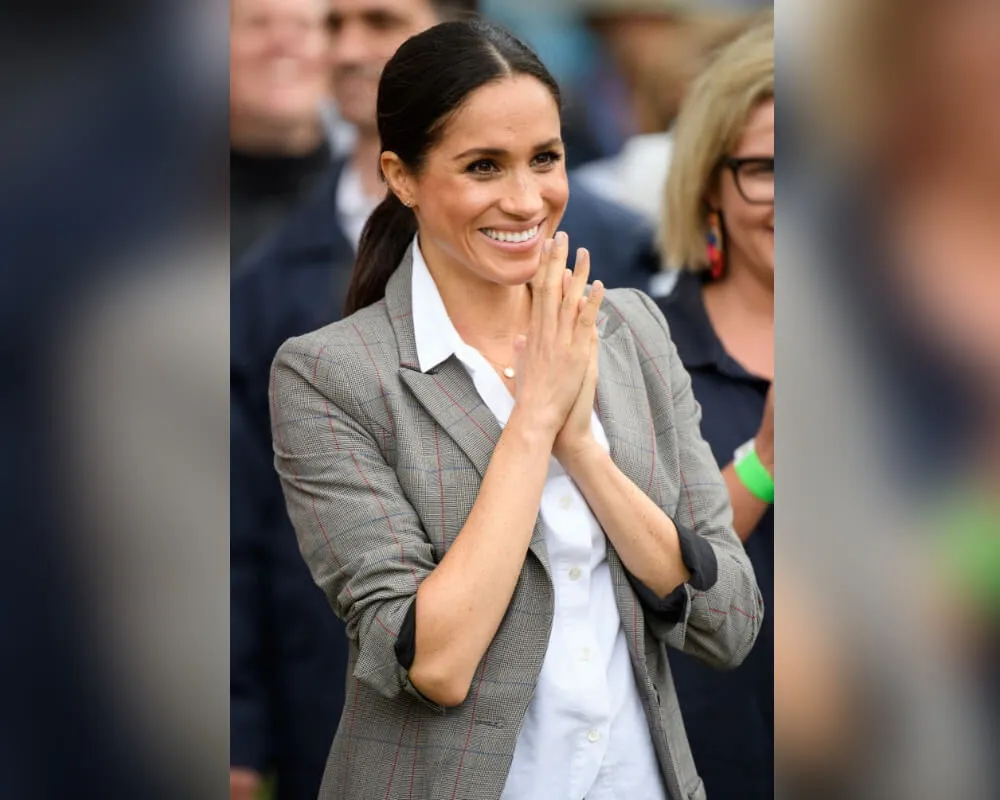 This outfit looks like a combination of Meghan and Harry's outfits from the previous picture. It's almost like she took the suit jacket right off his back.
I love the subtle red lines on this jacket. They really add some visual interest and elevate the entire look.
Stripes Part 3: Luau Edition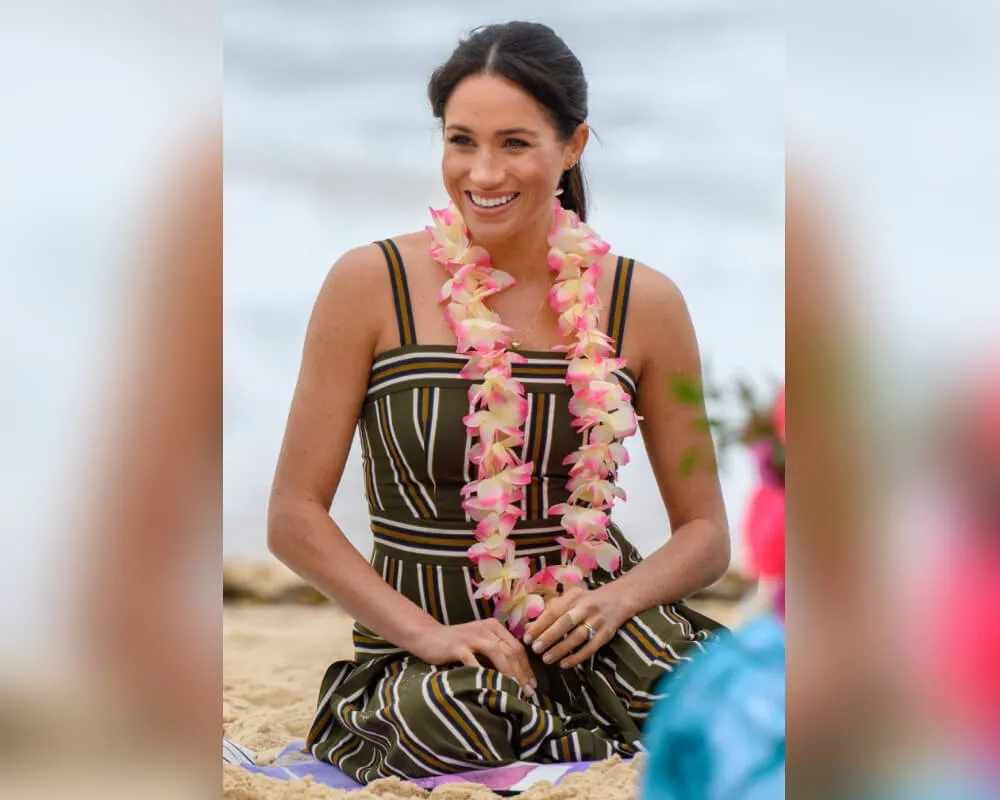 Meghan Markle and Prince Harry traveled to Fiji recently. While they were there, Megan wore this neutral striped dress that looks like a perfect combination of two other striped dresses she wore this month.
The lei is a nice touch, though. It goes perfectly with this beachy look.
A Suit For Every Occasion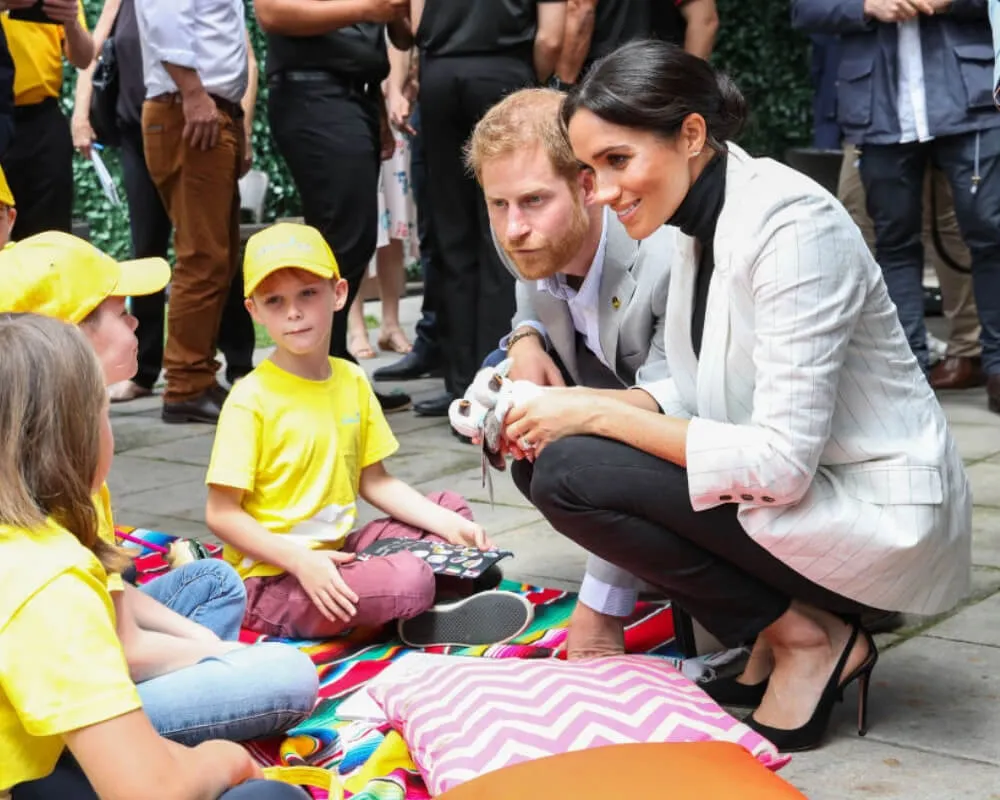 Meghan looks absolutely stunning in this mismatched, but still coordinated suit. I love that Meghan loves to play with neutrals. A bright color is nice every now and again, but neutrals really let her natural beauty shine through.
Also, she always has the best shoes.
A Casual Look
Meghan and Harry took a boat across Sydney Harbour in these matching black and yellow windbreakers.
I wish I looked this good in a windbreaker. Meghan and Harry are such jet-setters. I don't know how they manage to travel around the world and still look like they aren't jet lagged at all.
Buttons For Days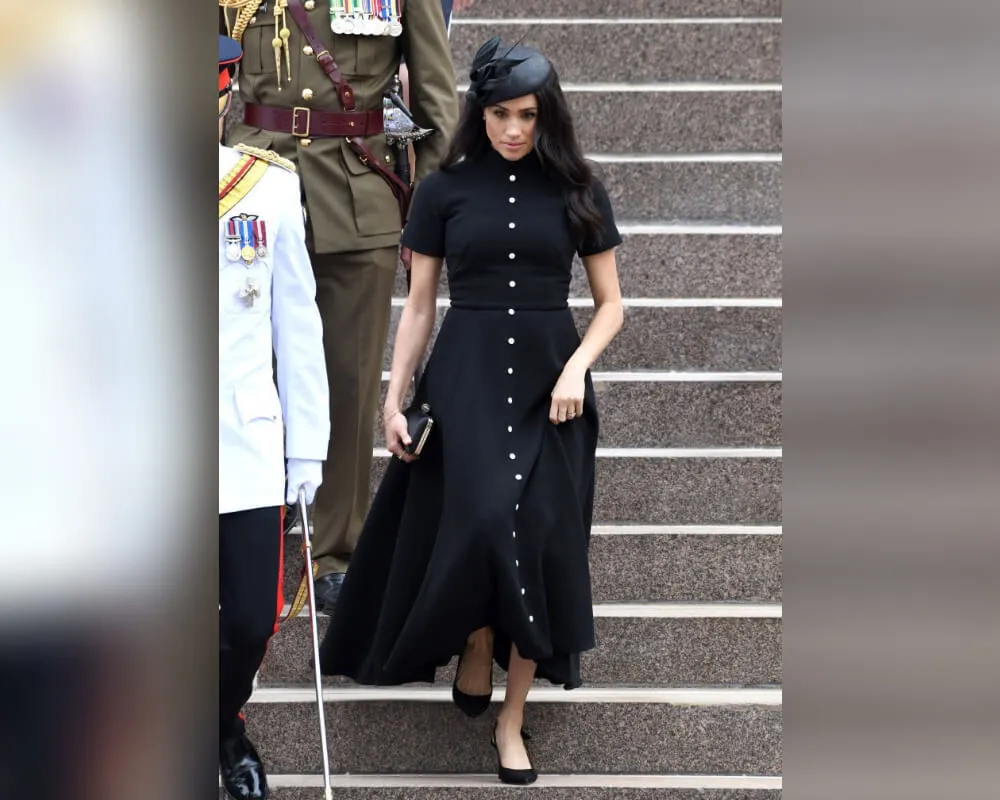 Ok, somebody please tell me where I can get this dress... or maybe a knock-off version of this dress because I promise you I cannot afford the real thing.
This is how you do a neutral color palette in an interesting way. I hope Meghan never runs out of ways to wear black and white.
That Time Meghan Looked Like A Stock Photo Model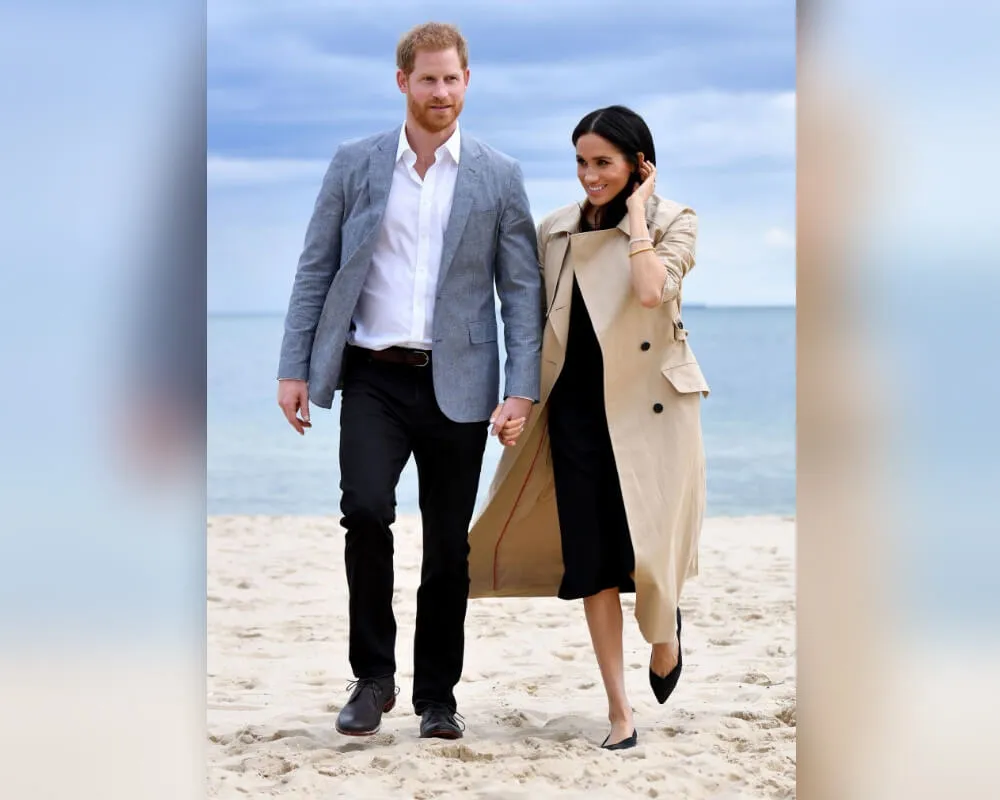 Doesn't this picture look like something you would find on Google if you searched "couple on a beach?" They look like the picture that comes with the frame you bought at the dollar store.
Stock photo or not, Meghan still looks amazing. I love that trench coat and I kind of want it.
Asymmetrical Navy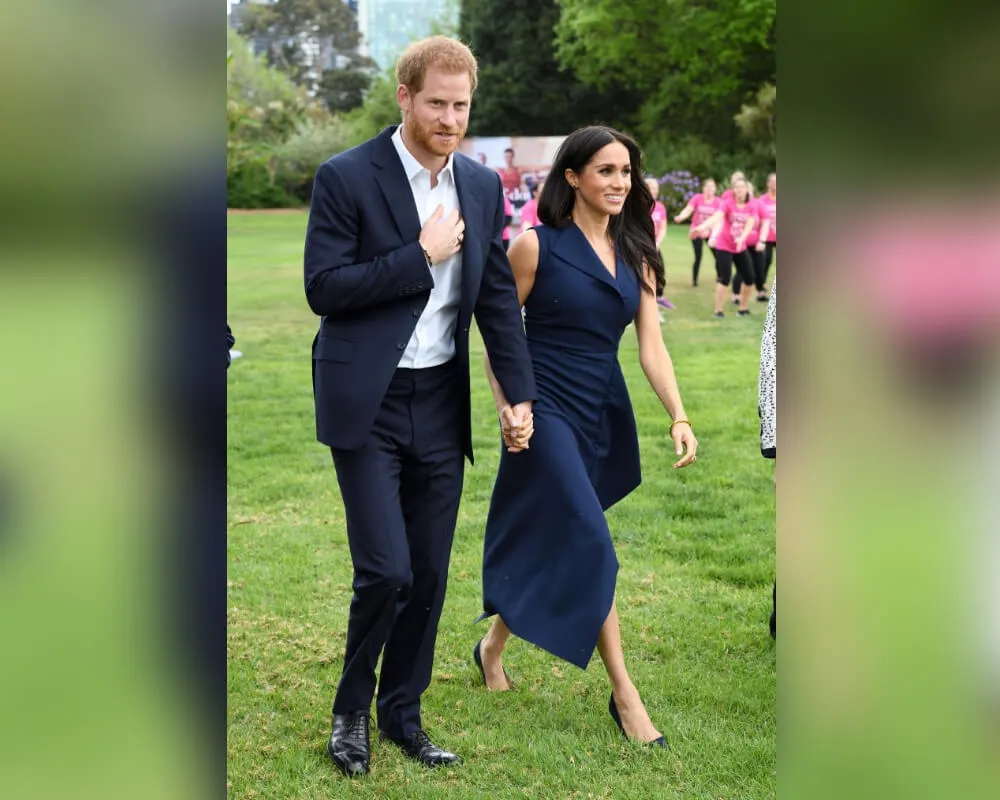 Baby bump or no baby bump, Meghan is glowing in this navy blue asymmetrical dress.
I think there was only one outfit on this entire list that wasn't a neutral color. Navy is a neutral, by the way. It totally counts. Stacy London from What Not To Wear said so.
Somber But Still Stylish
During a 2018 Remembrance Day ceremony held in honor of those who lost their lives in World War I, the Duchess appeared in a subdued dark dress.
In typical Meghan fashion, though, she added a splash of color in her red floral pin. This is a poppy, which is a symbol of remembrance for war veterans.
Cradling Her Bump!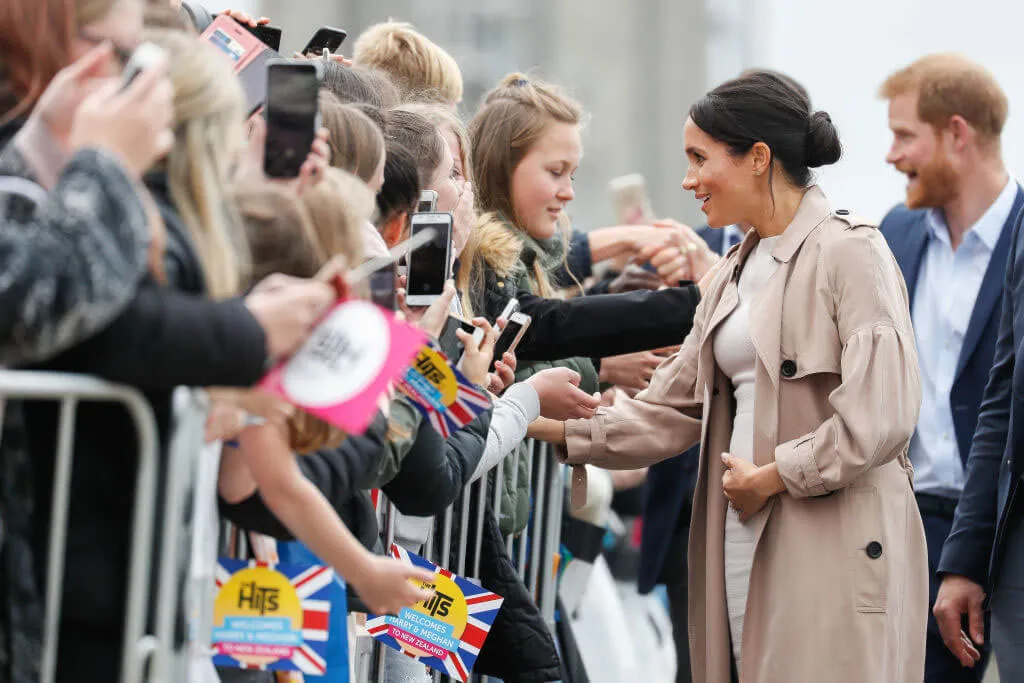 Awww, we haven't gotten to see many pictures of Meghan holding her adorable bump, but here's one now!
And let's not forget to mention the gorgeous cream-colored sheath dress she's rocking under the stylish trench coat. And as always, her updo is perfection!
Keeping It Under Wraps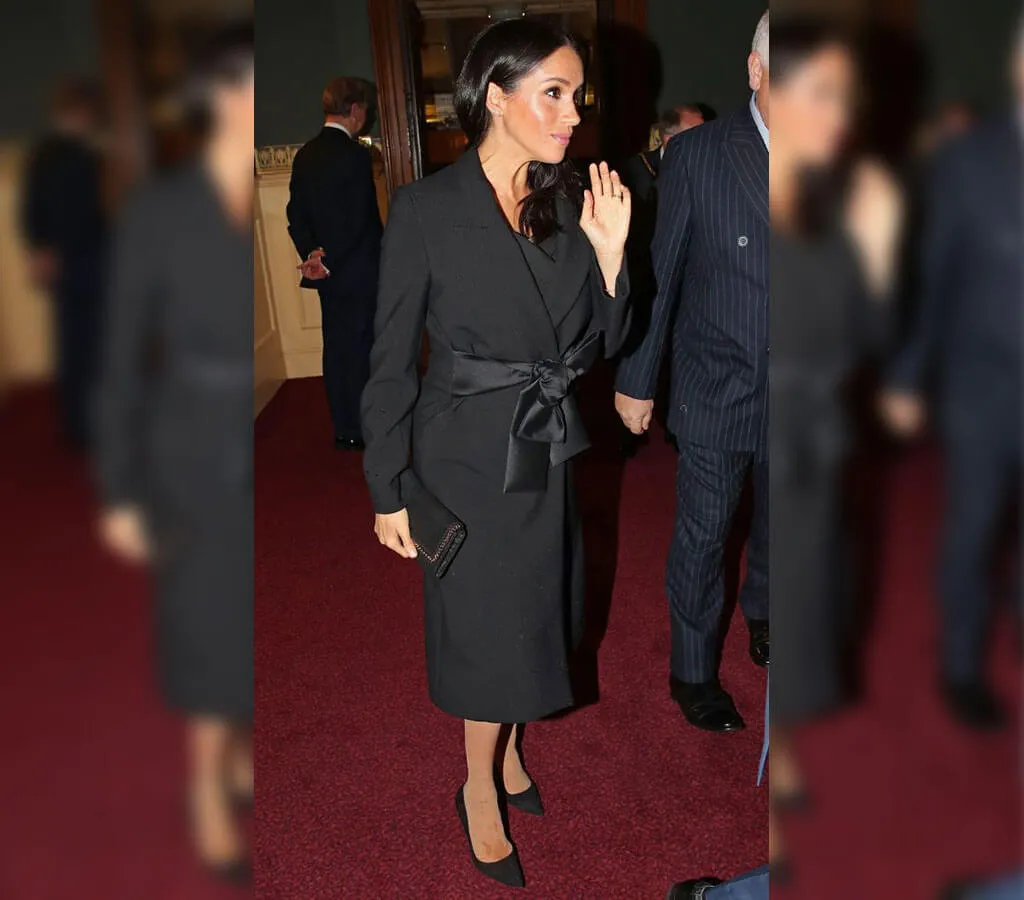 At another memorial for those who sacrificed their lives in World War I, Meghan wore a chic wrap coat that nicely covered her growing belly.
She paired the coat with a simple clutch handbag and matching black pumps. She's always impossibly stylish -- this coat could end up looking like a bathrobe on some of us!
Ridiculously Chic
Can we just talk for a minute about how adorable this pic is? Meghan and Harry are going to be the greatest parents -- they're naturals!
Meghan's ensemble here is total perfection, from the gray wrap coat to the fitted leggings to the heeled boots. And all topped off with an envy-inducing ponytail.
Very Dressy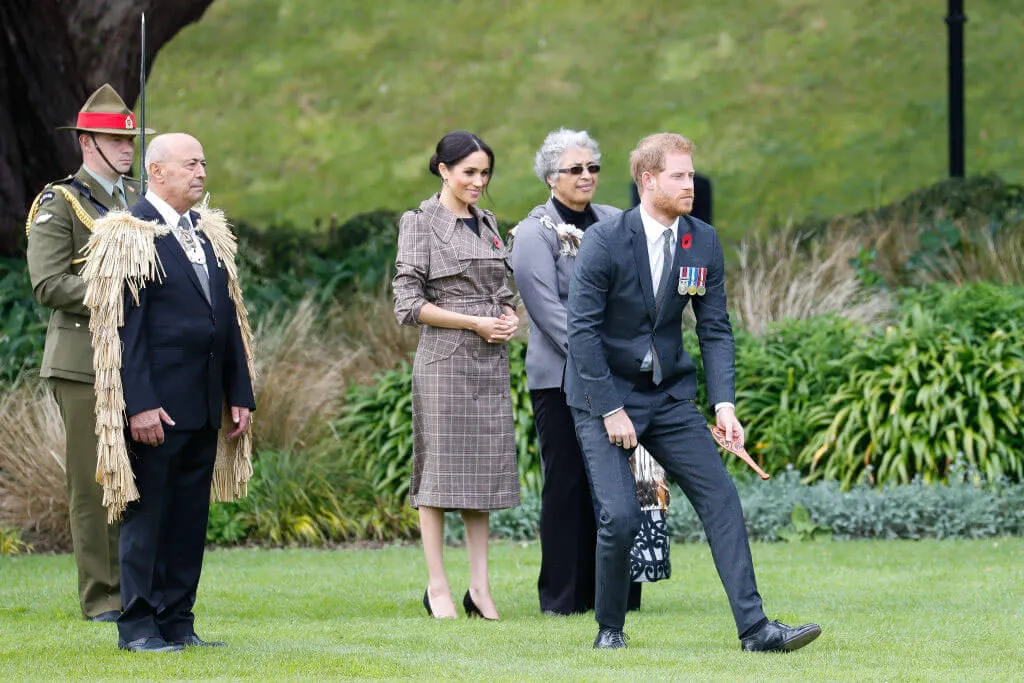 For an official visit to the Government House in New Zealand, Meghan opted for a classic plaid trench coat over a dress. The coat was designed by Karen Walker and it sold out almost as soon as Meghan was spotted in it.
A black version is still available, though, if you have $750 burning a hole in your pocket.
A Formal Maternity Look For The Fashion Awards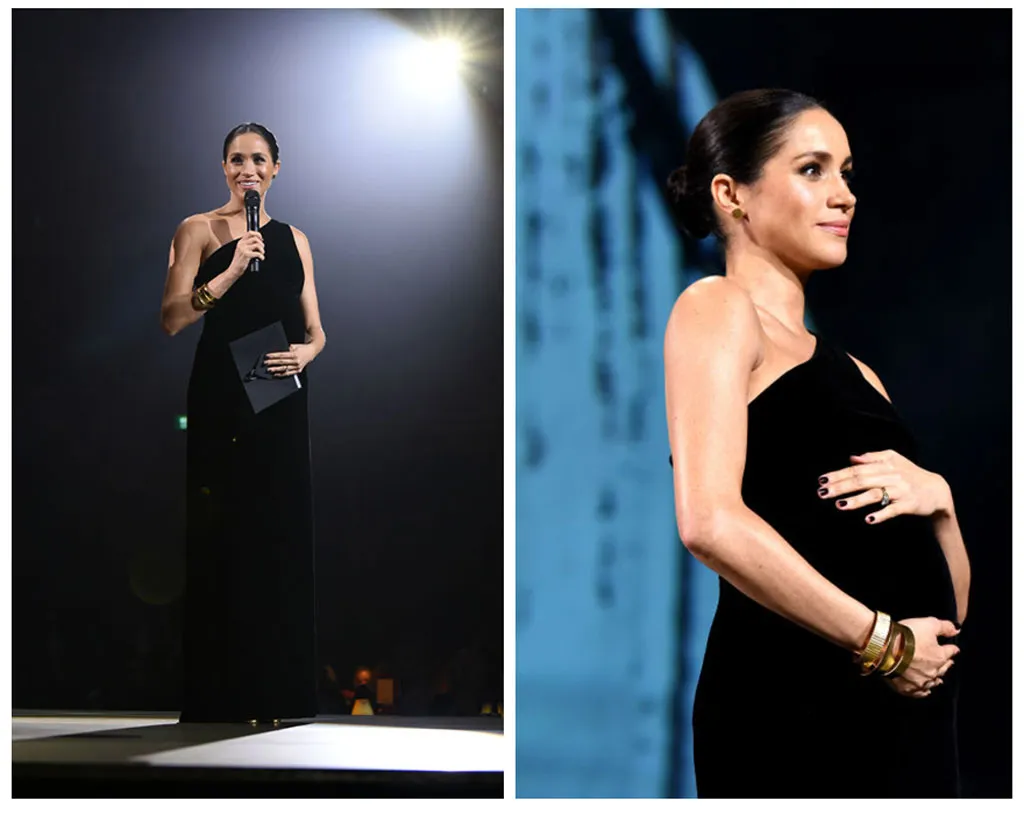 She can't stop from cradling that baby bump, and we can't blame her! Here is Meghan at The Fashion Awards 2018 In Partnership With Swarovski at Royal Albert Hall on December 10, 2018.
Meghan was at the event as a surprise, to honor Givenchy's Clare Waight Keller, who designed her wedding dress. To mark the occasion, she wore a black one-shoulder Givenchy gown that perfectly accentuated her baby bump. "It's such a pleasure to be here, celebrating British fashion and British designers in my new home of the U.K. I'm seeing many familiar faces, many of you I've known for quite a while," Meghan said as she addressed the crowd.
Va Va Voom!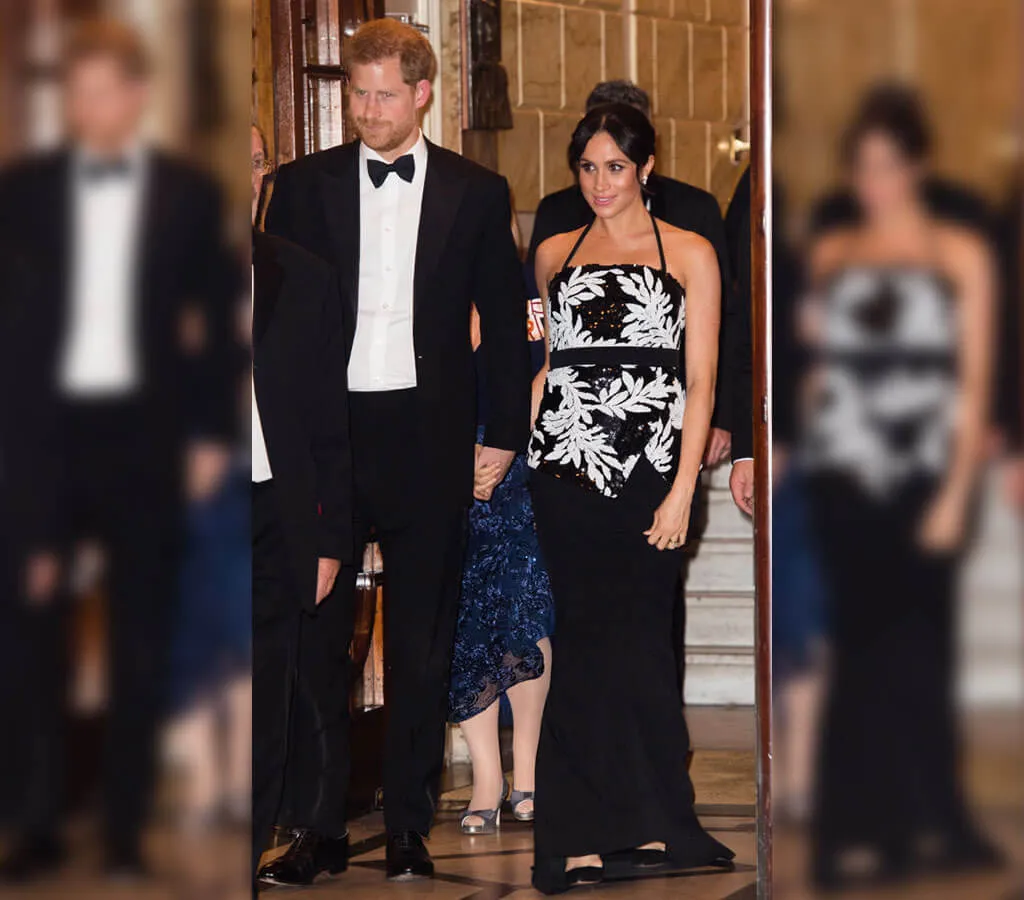 The Duchess is not one to let pregnancy stop her from looking her very best! Check out this stunning ensemble she chose to wear to The Royal Variety Performance in November.
This Safiyaa-designed outfit featured a black halter top with black-and-white leaf-shaped sequins. She paired the look with a matching sequined handbag and chic updo.
Blue Rumors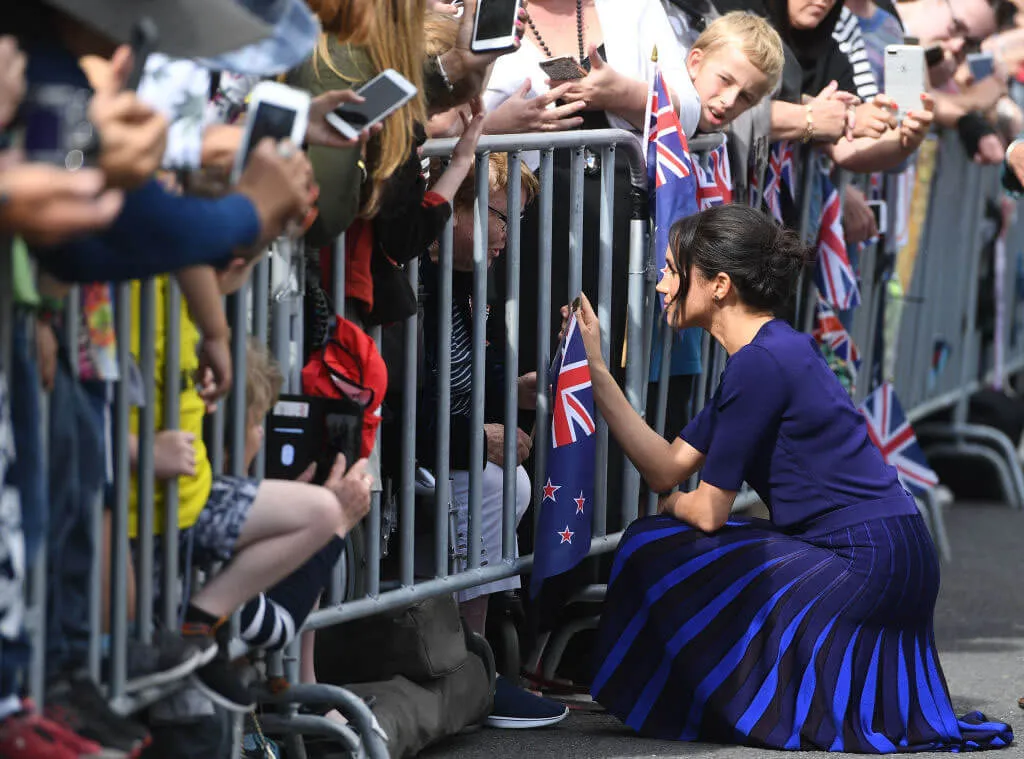 People seem to like speculating that Meghan's recent fashion choices might be an indicator of whether she's carrying a boy or a girl.
Either way, she just looks great in blue. This pleated dress was a huge crowd pleaser during an outing on the royal couple's tour of New Zealand.
When In New Zealand...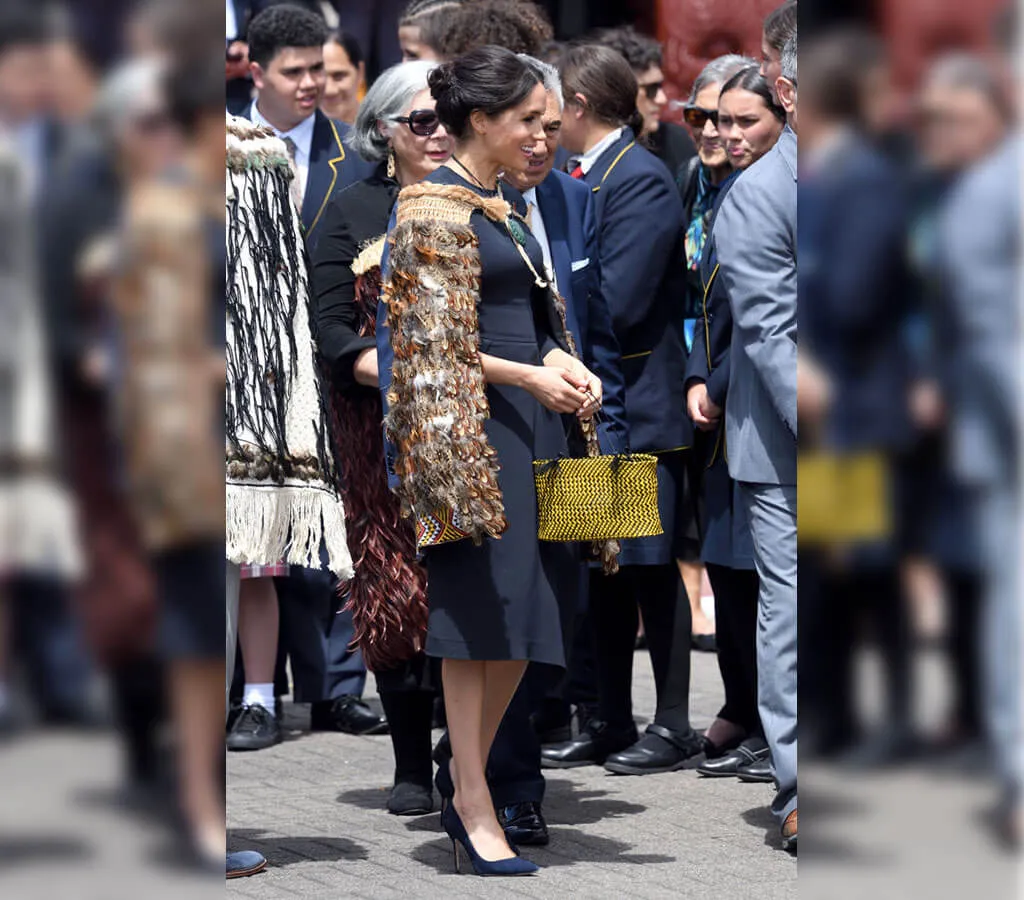 Meghan is rocking a traditional Maori cloak here as she attends a formal powhiri and luncheon in New Zealand.
Under the woven neckwear, she's got on a cute navy midi dress by designer Stella McCartney, one of her faves! We love that you can see a bit of bump under this dress! Also, we are dying over her handbag!
Gucci, Gucci, Goo!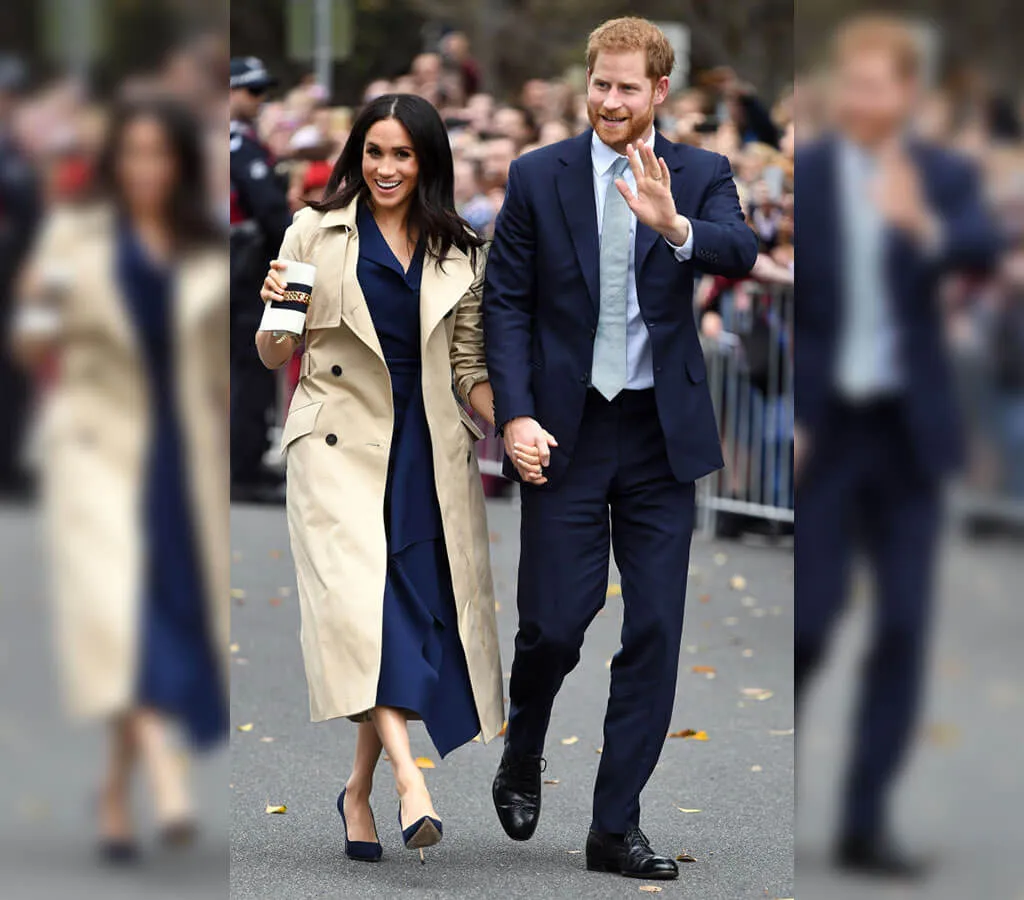 Those royals certainly love wearing Gucci, and why not? It looks great on them all!
Here's Meghan carrying a Gucci 'Sylvie' mini bag, which she paired with a chic and comfy-looking overcoat for a walkabout with Prince Harry in Australia. We saw this asymmetrical navy dress earlier but not the coat and bag combo!
She Sure Likes Wrap Dresses
And wrap dresses seem to like her... the style looks just great on Meghan. Here's a shortish white number which she wore to visit a conservation center in New Zealand.
She's paired it with an oversized navy coat and matching heels. Hey, you never know when you're going to feel chilly!
An Extra Helping Of Cuteness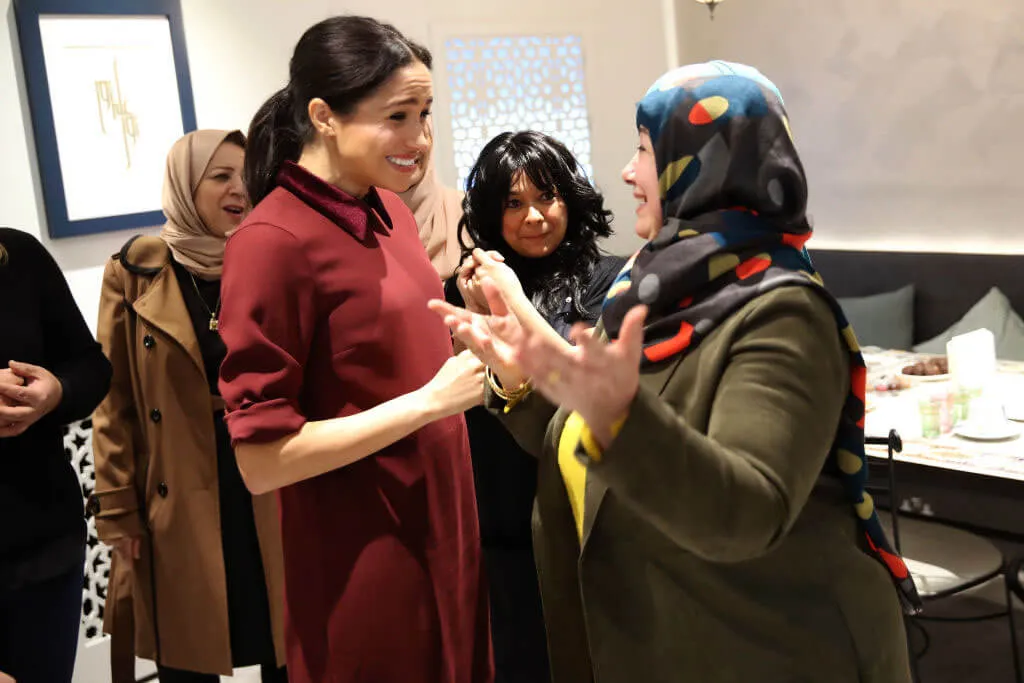 During the Thanksgiving holiday, the Duchess paid a visit to the Hubb Community Kitchen to celebrate the success of their cookbook. She wrote the forward of the book, which is meant to raise money for victims of the Grenfell tower fire.
Meghan looked adorable as usual in a red dress. She even patted her (growing) baby bump a couple of times during her visit.
Playing It Casual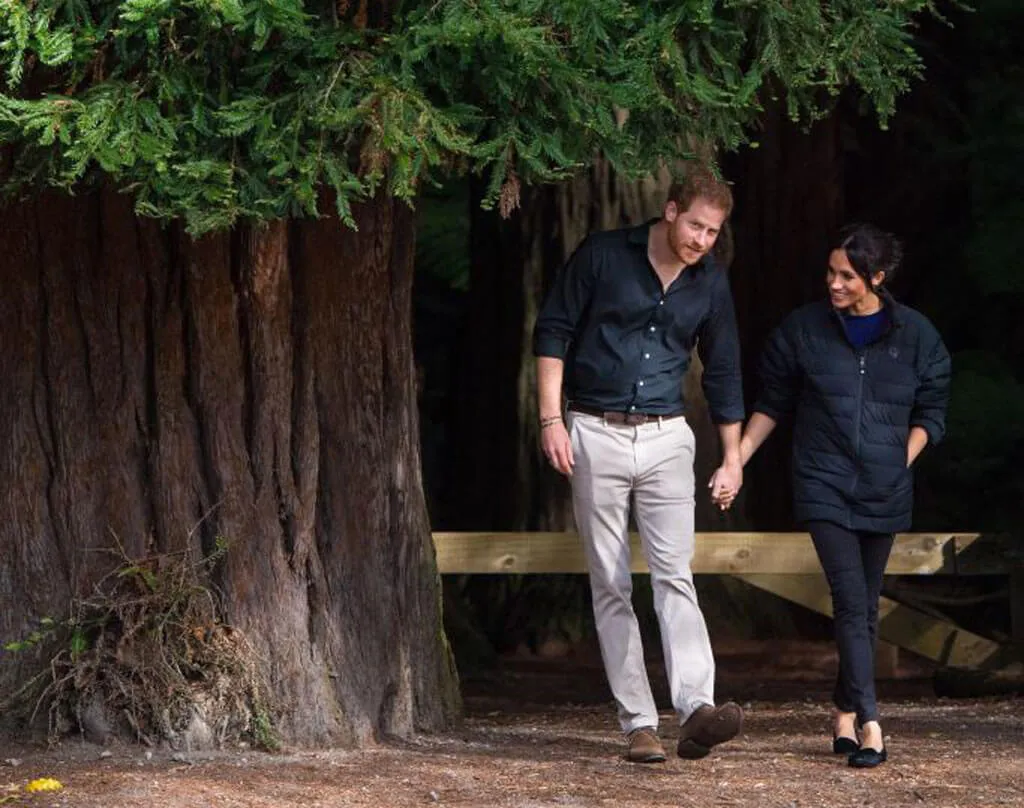 Anyone who's a good dresser knows that there's a time and a place for a pair of heels. Touring a Redwood forest is not one of those times.
Meghan looks completely adorable in her appropriately casual outfit and flats. We can't get enough of seeing the Duke and Duchess together!
White For A Royal Birthday Celebration
Prince Charles celebrated his 70th birthday in November. To commemorate the event, Clarence House tweeted this lovely family portrait.
Meghan looks stunning, as always. She selected a demure white dress with a black neckline and belt. The dress was designed by Givenchy. Kate's long-sleeved and collared dress is an Alessandra Rich if you're curious.
Impossible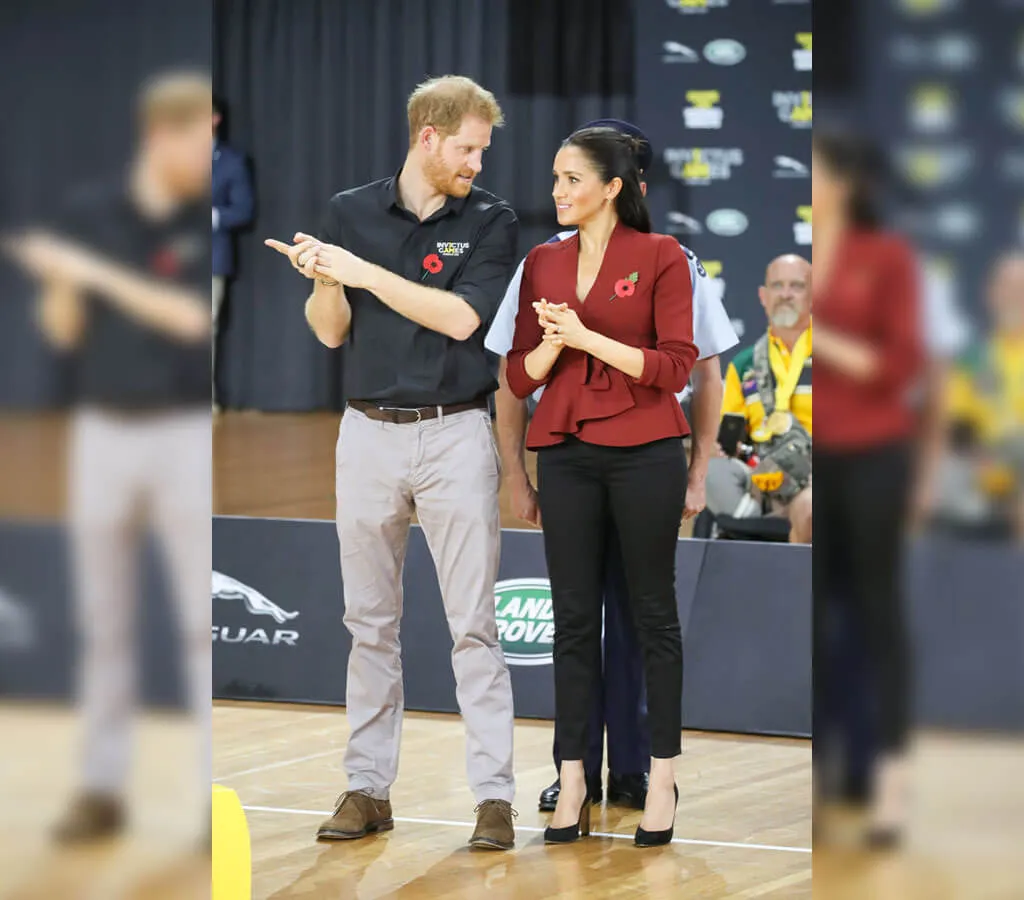 It should be criminal to look this good while pregnant! Meghan is absolutely stunning in this fit-and-flare red jacket and tailored black pants. She wore this look to day eight of the Invictus Games in Sydney.
The coat is by Australian designer Scanlan Theodore, and the pants are actually jeans, designed by Outland Denim Harriet.
First Night In New Zealand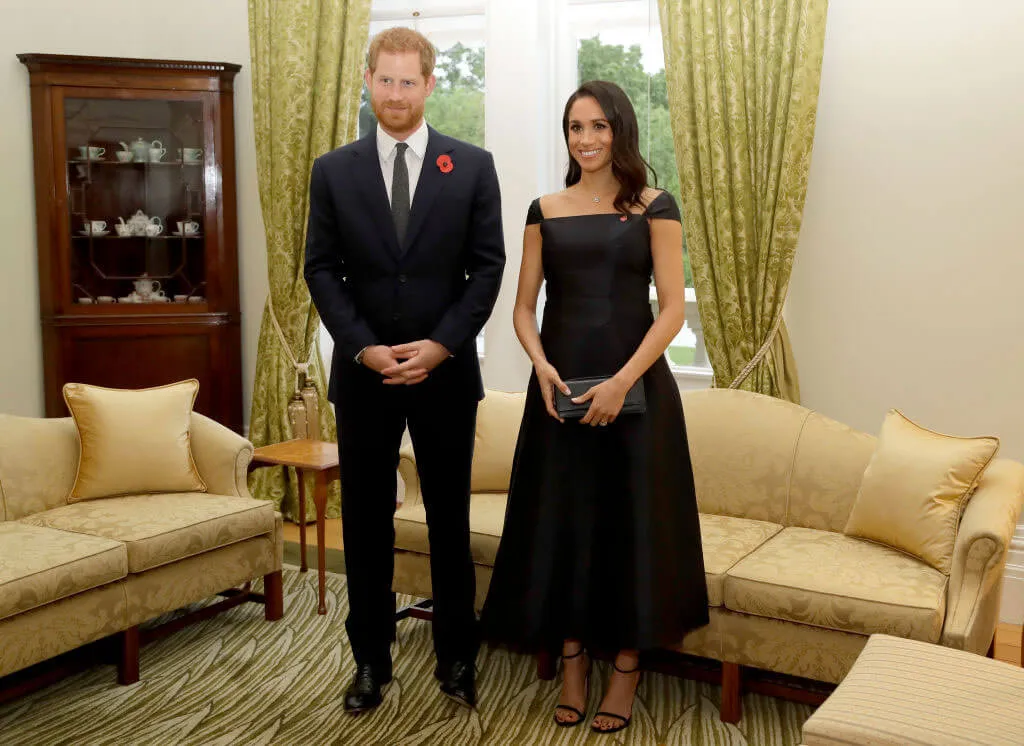 Here, Harry and Meghan are at a reception at Government House on their first night in New Zealand. They opted for more formal looks.
The Duchess wore a form-fitting cap-sleeved Gabriela Hearst dress by Gabriela Hearst along with shoes by Stuart Weitzman.
Traveling In Red
As the Duke and Duchess departed Australia for New Zealand, Meghan chose to wear this sophisticated burgundy dress by designer Hugo Boss.
Her strappy nude sandals and matching bag really complement the color of the gown. Bye Sydney! See you next time.
She Stunned At The Royal Foundation's Fall Dinner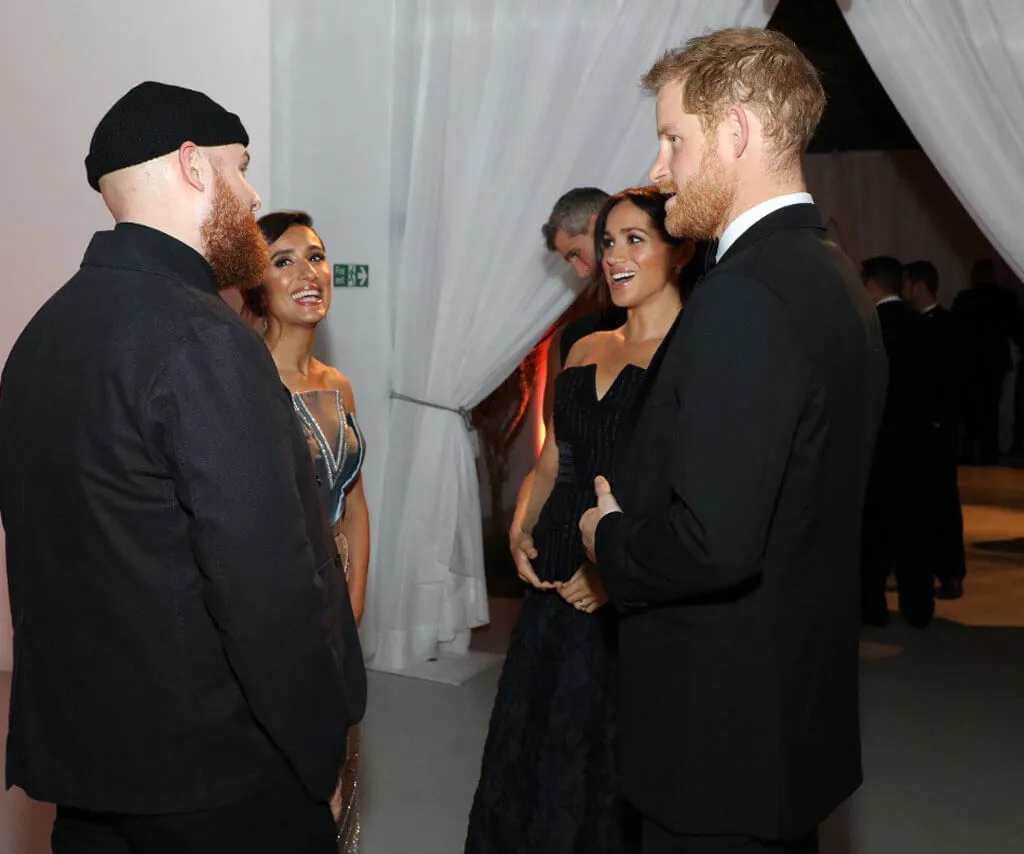 In November, Meghan and Harry attended the Royal Foundation's fall dinner at Victoria House. Although the Palace didn't release any official photos of the event, the evening's performer, musician Tom Walker, shared this shot on Twitter.
Meghan is wearing a glamorous satin strapless dress with a pleated effect. So cute, mami!
Great In Green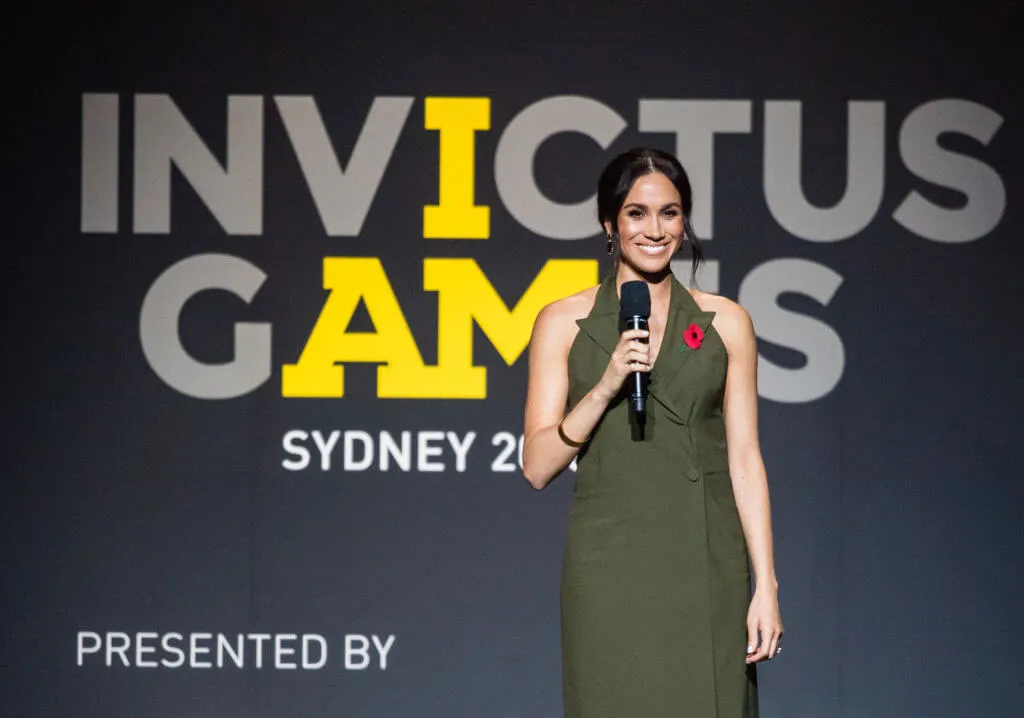 The Duchess gave a speech during the closing ceremony of the 2018 Invictus Games.
For the occasion, she chose to wear an olive green shirtdress by designer Antonio Berardi. the event. The sleeveless, halter-back style showed off her toned physique nicely.
Not Going To Let A Little Rain Slow Her Down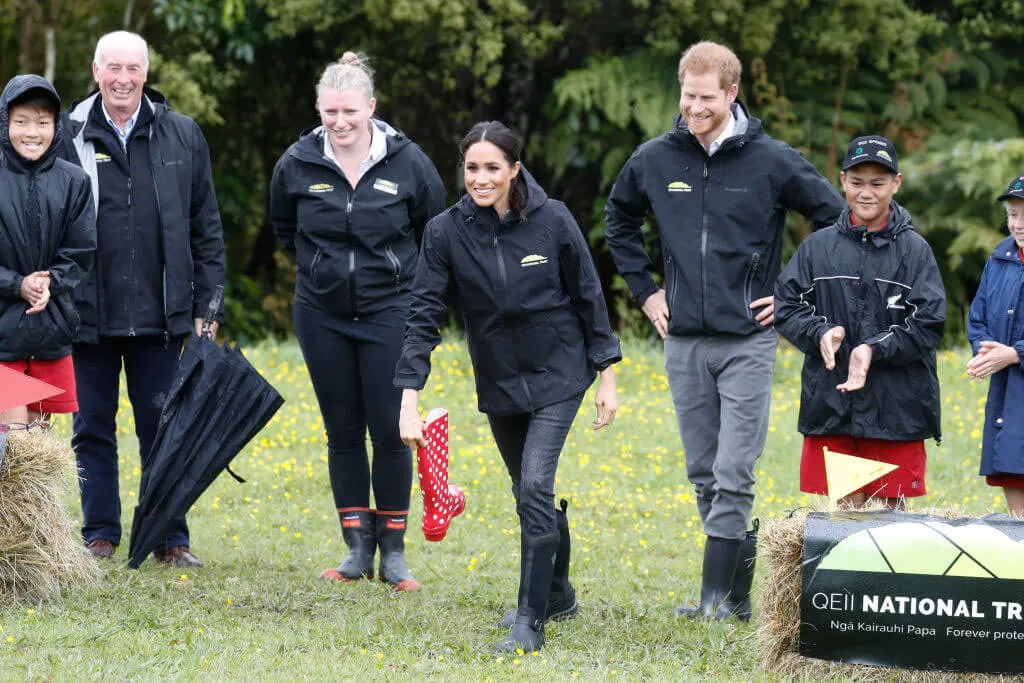 Meghan has always shown that she's not afraid to get her hands dirty from time to time, and during her pregnancy she's still got that trooper attitude! During the official royal tour of New Zealand, she even busted out the rainboots to play a game with some locals.
Even through the rain you can see that beautiful pregnancy glow!
Another Blazer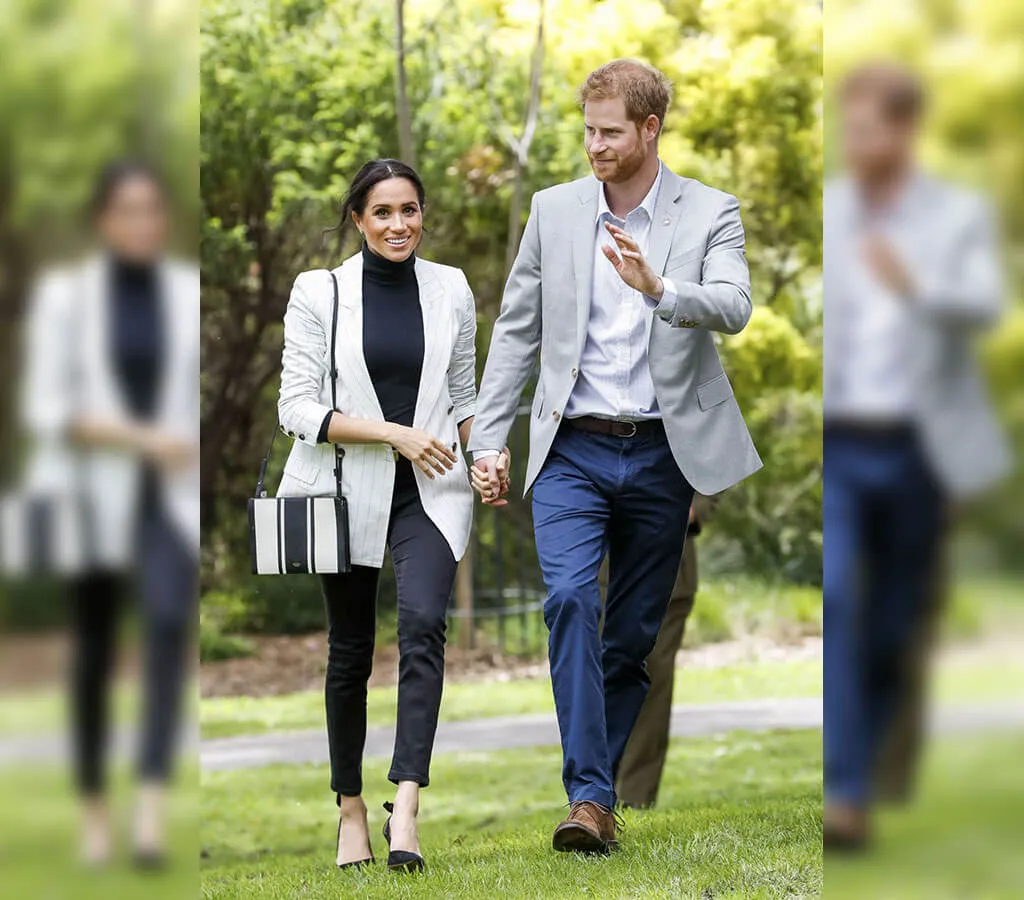 What's not to love about a blazer? They look great and are totally practical. Here's another one of Meghan's, designed by L'Agence.
She paired the pinstriped jacket with a black turtleneck, sleek heels, and a striped bag. There's no shortage of style in this mom-to-be!
Glowing In Green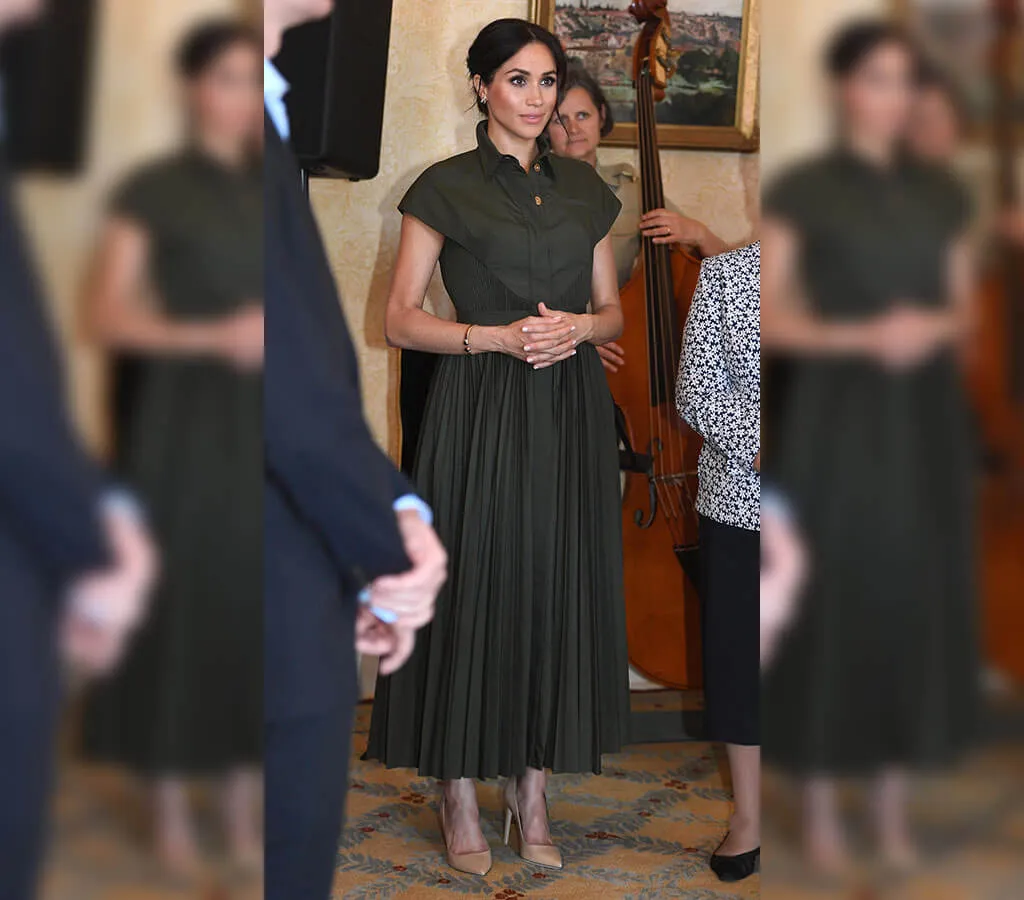 For a reception given by the Governor-General in Sydney, Meghan chose this look. She really seems to favor blues and greens, doesn't she?
The Duchess looks terrific in this olive-green button-down number, designed by Brandon Maxwell. And as usual she kept her accessories simple and understated.
Always Weather Appropriate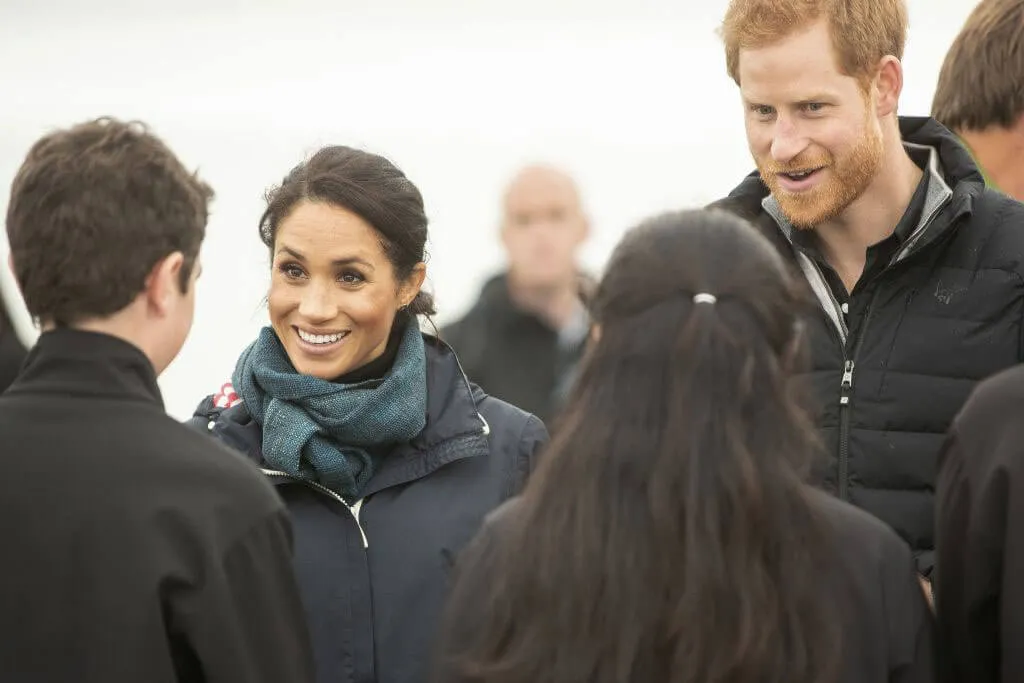 As we've seen, Meghan knows when it's acceptable to dress down. Especially in situations like this one, where it's cold and she's going to be spending a good bit of time outside.
Even so, she's stylish in her warm coat and splash of a green scarf. Keep that baby warm, mama!
Technically It's A Maternity Look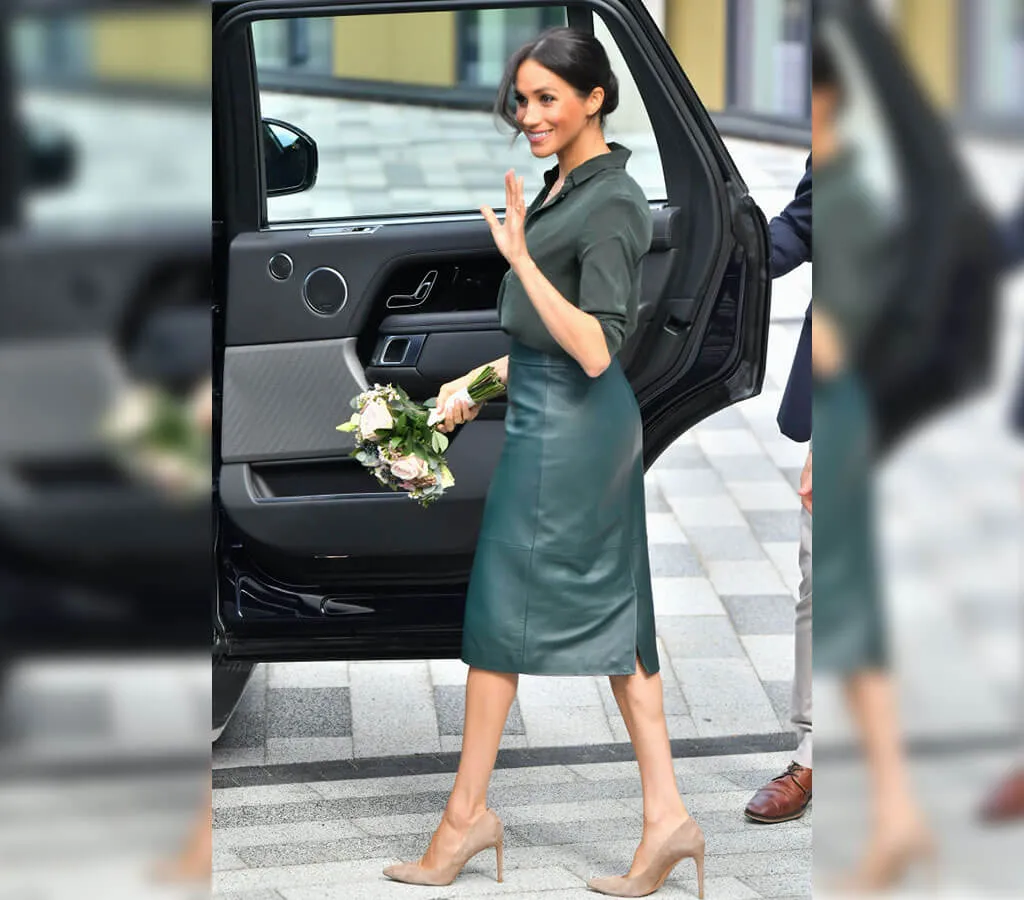 Meghan and Harry didn't officially announce that they were expecting until October 15. This photo was snapped on October 3. Although we didn't know it yet, Meghan was certainly aware of the good news!
And although she's even showing a little now, her clothing has stayed just as fashionable as ever. We suspect she'll be sporting gorgeous looks like this green skirt and top all the way to the end.
She's On A Boat!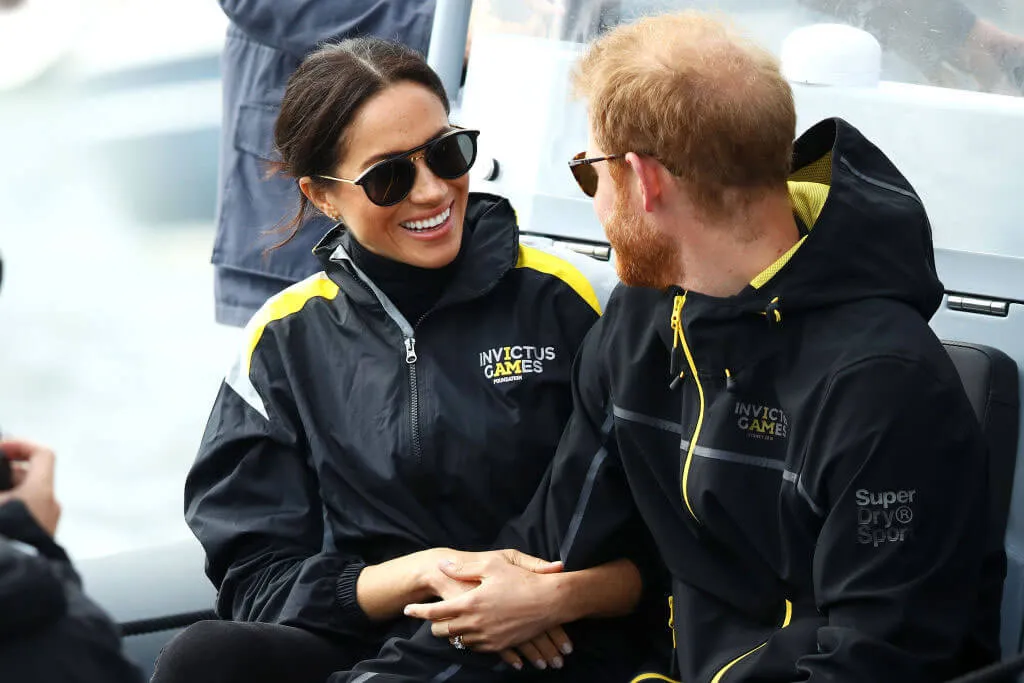 Even when she's on a boat in choppy water, the Duchess manages to look stylish. She's in an official Invictus Games hooded jacket (with Super Dry Sport technology!) and protective shades.
Meghan and Harry were together watching some of the Invictus Games sailing competition during the Australia leg of their royal tour.