Nyuk, Nyuk, Nyuk! Hardcore Fans Of The Three Stooges Need To Know These Facts
Before comedic talent like Jim Carrey and Melissa McCarthy took over Hollywood, the Three Stooges were the pioneers of using slapstick comedy to make people laugh around the world. In 2012, all of their shorts were released on DVD, and fans found themselves falling in love again with their antics. Here, we take a look at the members of this beloved group, and we'll also discuss some little-known tidbits about the show.
Larry Fine
Louis Feinberg, better known as his stage name Larry Fine, was a part of The Three Stooges for their entire run. His hairstyle became iconic, as he let his thick, curly hair grow out although he was balding on top.
Larry's agreeable personality led to him being known as a "yes-man". He never hesitated to help out a struggling actor with some cash, without expecting to be paid back.
Moses Harry Horwitz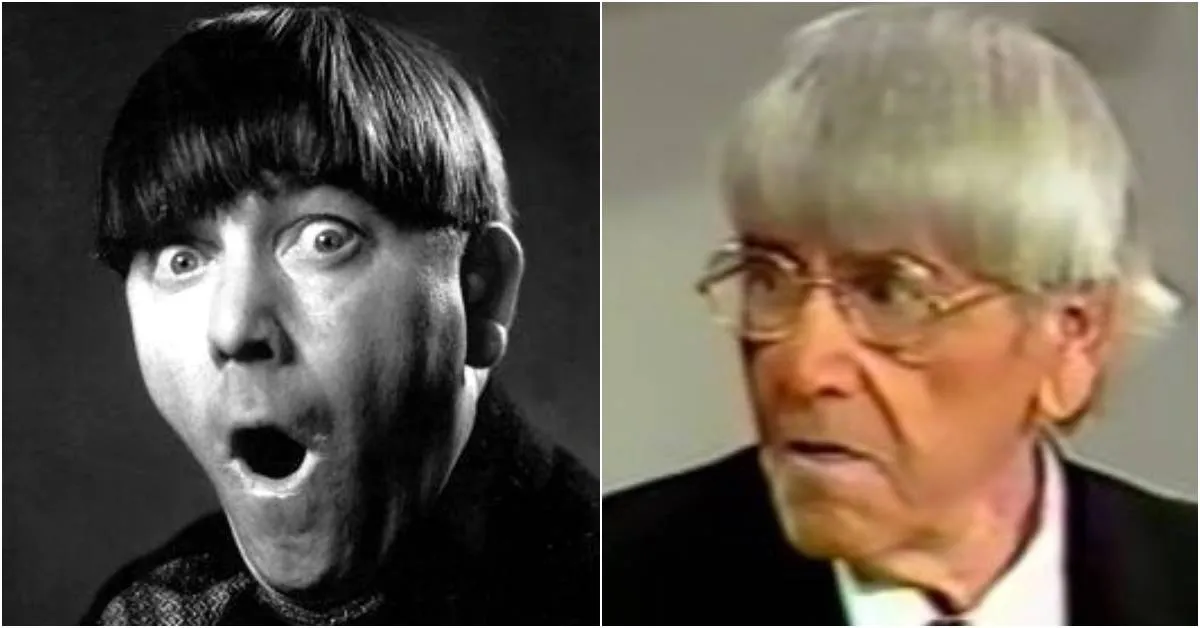 This is Moses Harry Horwitz, who is better known as Moe Howard, or just Moe. Moe was the leader of The Three Stooges. He was the mastermind behind all of their silliness.
Moe's acting career began when he started working as an errand boy for Vitagraph Studios in Brooklyn, New York. The studio started giving him work and he eventually joined a Mississippi River showboat's acting troupe. He met up with Curly and Larry shortly after that.
Samuel Horwitz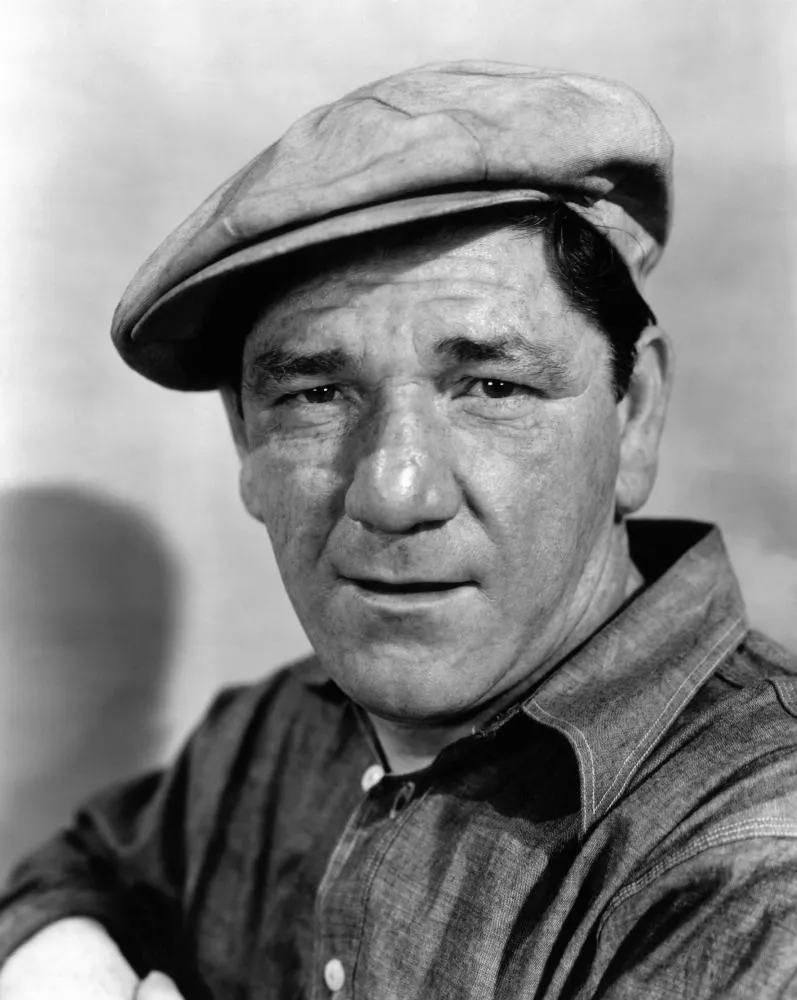 Some fans only know of Larry, Curly, and Moe, but Shemp was part of the group, too! Born as Samuel Horwitz, Shemp Howard was a member of The Three Stooges from 1930 to 1932 and from 1946 to 1955.
Aside from being a part of the Stooges, the New York City native also had a career in film with roles in Pittsburgh, Strictly in the Groove, and Moonlight and Cactus.
Curly Howard
From 1932 to 1946, Jerome Lester Horwitz played Curly Howard, who was arguably the most popular out of the Stooges. He used his voice to entertain audiences, speaking in a high-pitched tone and spitting out wild expressions like "nyuk-nyuk-nyuk!"
Surprisingly, Curly never studied acting, instead of going off of his natural instincts. Kids loved his physical comedy acts that included frequently banging his head.
Moe's Bowl Cut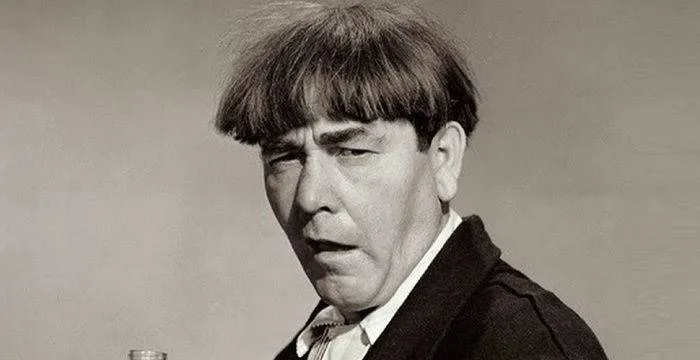 One of Moe's most noticeable features was his bowl cut hairstyle. As a kid, his hair was always shoulder length because his mother wouldn't allow him to cut it.
After consistently being teased by his classmates, Moe hid in a shed in the backyard and cut his own hair. Out of all of the Stooges, Moe's bowl hairstyle may be the most iconic. It's difficult to picture him without it!
Curly's Walk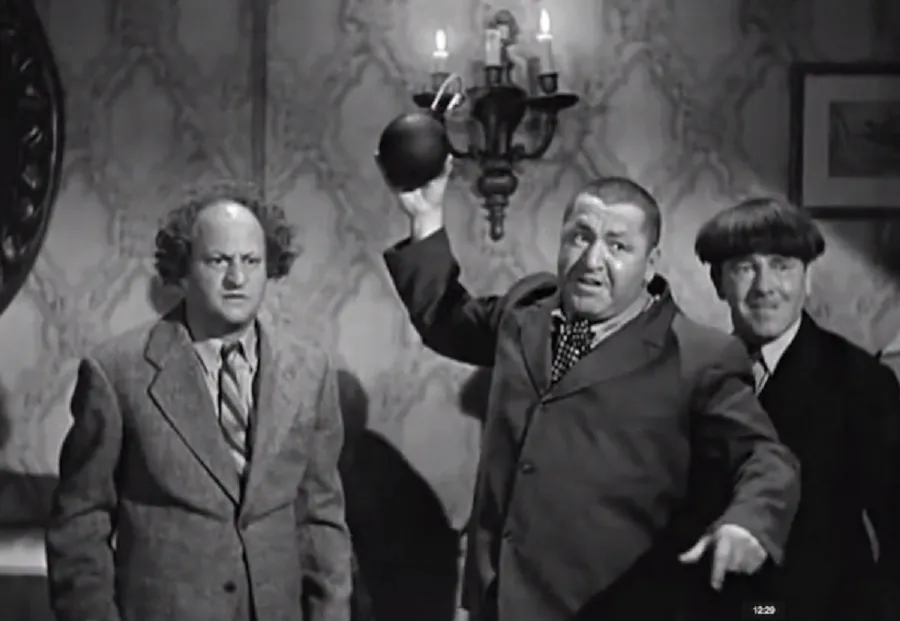 One of the most memorable things about Curly Howard was the limp that he walked with. Unfortunately, that wasn't something he taught himself in acting school. When he was 12 years old, he was cleaning a rifle and accidentally shot himself in the left ankle.
Since he didn't want to get surgery, he was left with a limp for the rest of his life. His on-screen walk was designed to hide the injury.
Larry Fine's Violin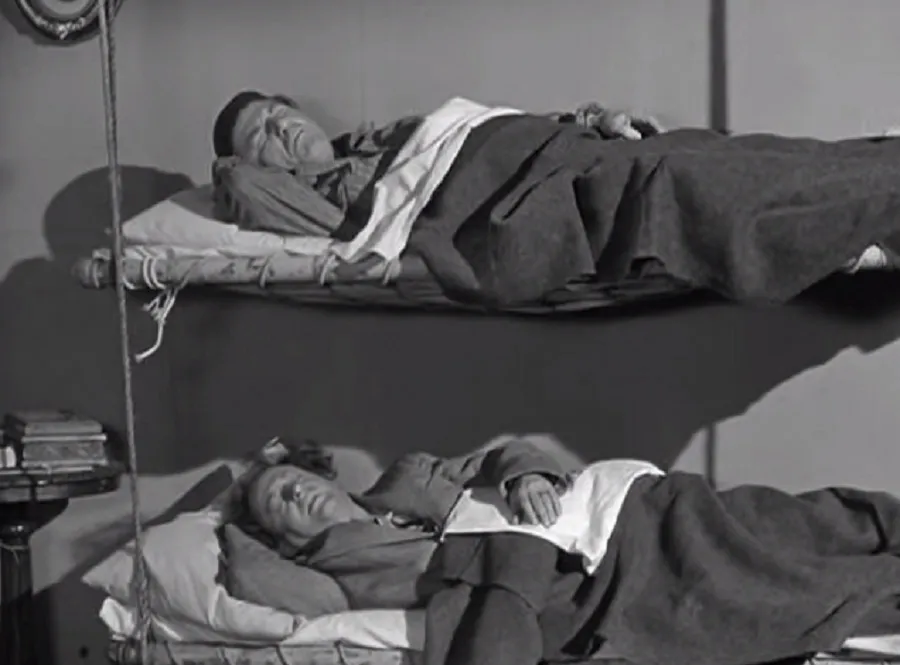 Larry Fine's musical instrument of choice was the violin. Unfortunately, it wasn't something that he decided to get into on his own. When he was a kid, he grabbed a bottle of what he thought was a tasty beverage.
In reality, it was a bottle of acid. His father smacked the bottle out of his hand, and the acid landed on his arm. In order to strengthen his muscles, he decided to take violin lessons.
Curly's Hair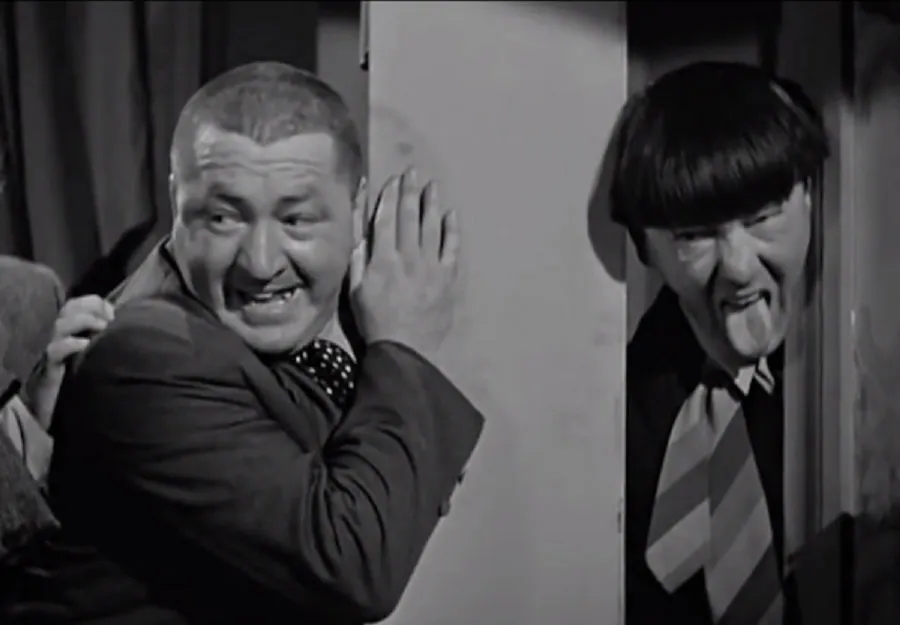 Some people might be surprised to learn that before becoming a part of The Three Stooges, Curly Howard had a great head of hair. Unfortunately, Ted Healy, who was the mastermind behind the group's success, thought that Howard just wasn't funny enough with all of that hair.
Minutes after hearing this assessment, Curly went to the back and had his head shaved for the part. Obviously, he really wanted the role!
The Eye Poke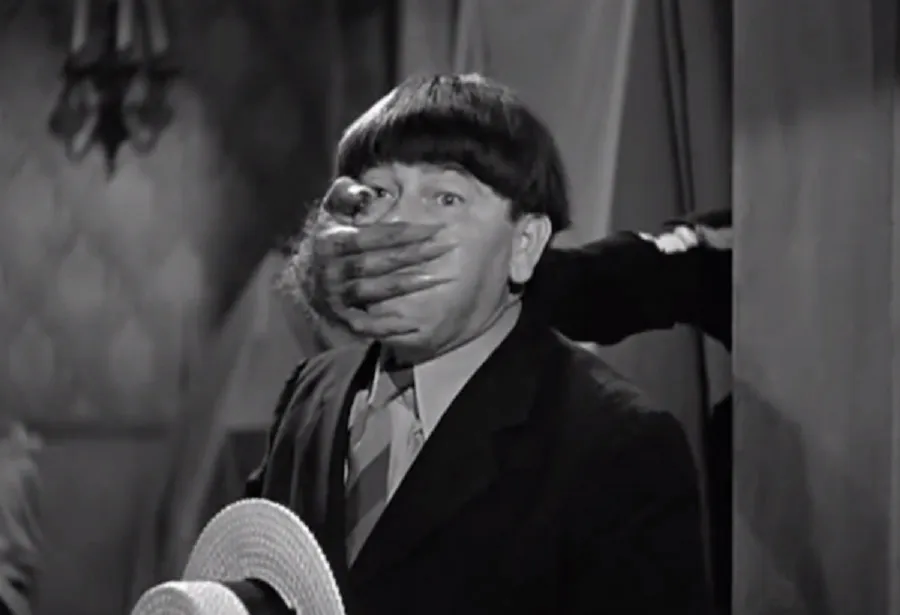 One of the most memorable things about The Three Stooges is the eye poke gag. The origin of this move stems from a bridge game between Larry and Shemp. The two argued about Larry's supposed cheating at the game.
Angered by the cheating, Shemp gave Larry two pokes in his eye. They added this move to their arsenal of physical attacks, and it's one of the most iconic gags in cinema history.
Joe DeRita, Curly Joe
Joe DeRita is known by many as Curly Joe, and was on the show from 1958 to 1969. Before becoming a part of the iconic group, the Philadelphia native landed roles in "People Are Funny," "The Sailor Takes a Wife," and "High School Hero."
The era of the Stooges that involves Joe DeRita is now referred to as the era of Larry, Moe, and Curly Joe. DeRita died from pneumonia at the age of 83.
A Ton Of Physicality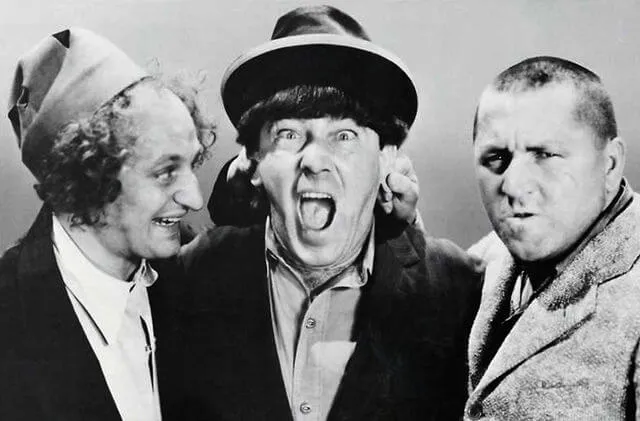 It's safe to say that "The Three Stooges" have seen their fair share of injuries on set. For the short film Three Little Pigskins, there is a scene where they have to get attacked by some professional football players. The three men wanted nothing to do with the scene, so they allowed stuntmen to take their place.
Most of the time the trio did their own stunts, though. These comedic men definitely got slapped a lot!
Word Play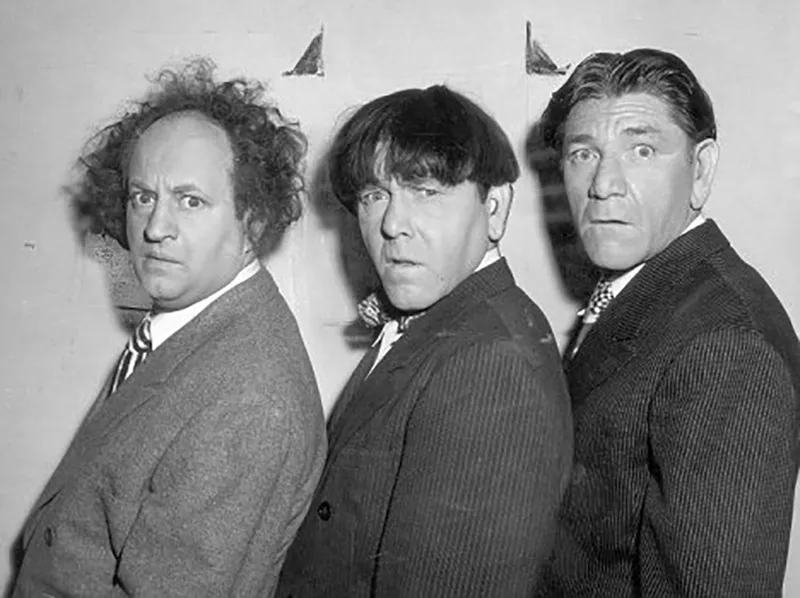 Like most TV shows, some of the titles of The Three Stooges episodes are a play on various phrases. Some episode titles include "Jail Birds of Paradise," "Disorder In The Court," and "Yes, We Have No Bonanza."
Some titles, like "3 Dumb Clucks" and "Beer and Pretzels" were based on movie titles from that era. Even slapstick comedy can be clever and witty when it wants to be. The Stooges knew their audience would appreciate the references.
A Possible Replacement?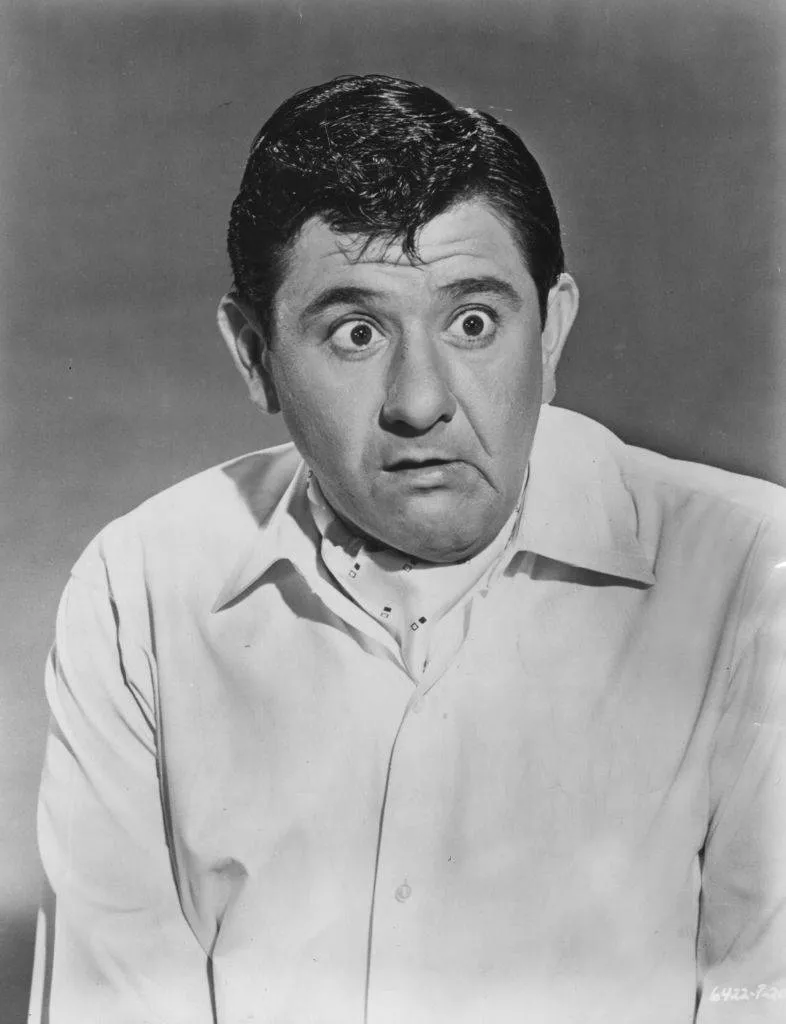 When Curly Howard suffered a stroke, the producers behind the show went on a search for a replacement. One of the people asked to come on the show was comedian Buddy Hackett, who is best known for his work in the films The Music Man and It's a Mad, Mad, Mad, Mad World.
He turned down the role due to his family commitments. Imagine if Buddy Hacket had been one of the Stooges! It'd be a different world.
Sole Oscar Nomination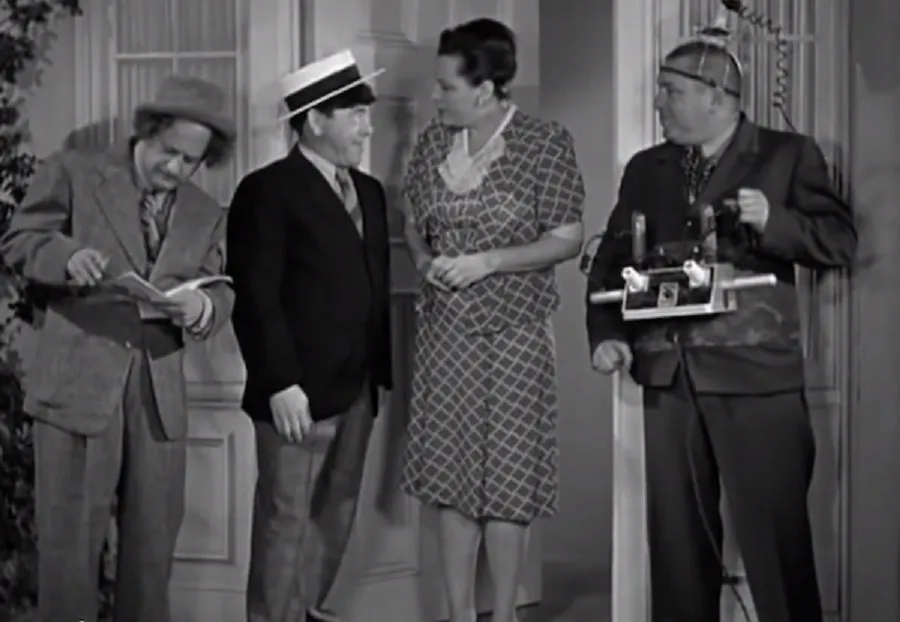 "The Three Stooges" have appeared in 220 films, but they only received an Oscar nomination for one. Their 1934 short film Men In Black gained a nomination for Best Short Subject - Comedy.
It lost to the film La Cucaracha, which was produced by Kenneth Macgowan. A colorized version of the film was released in 2004. The talented men may not have taken home the trophy, but they found other ways to prove their worth.
Married To Magic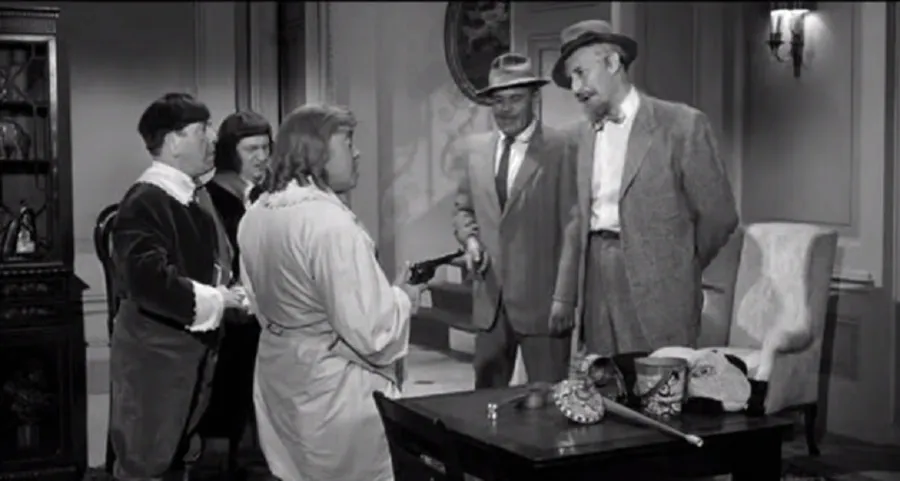 Moe Howard married Helen Schonberger on June 7, 1925. Helen Schonberger was the cousin of iconic magician Harry Houdini, who is known for stunts such as the milk can escape.
The couple had two kids together, Joan and Paul Howard. Joan still attends Stooges conventions in the country. Helen and Moe's marriage was clearly full of magic. Whether that had anything to do with Helen's famous cousin remains to be seen.
Stoogeburgers
After the decline of films in The Three Stooges catalog, Larry Fine blew his money on various things. One of the things he poured money into was Stoogeburgers, which was a chain of themed restaurants in the area.
Unfortunately, this didn't last long. In 2014, C3 Entertainment Inc., which owns "The Three Stooges" brand, announced the Three Stooges Burger House. But perhaps comedy and burgers just aren't a perfect fit.
Lucille Ball Got Her Big Break Thanks To The Three Stooges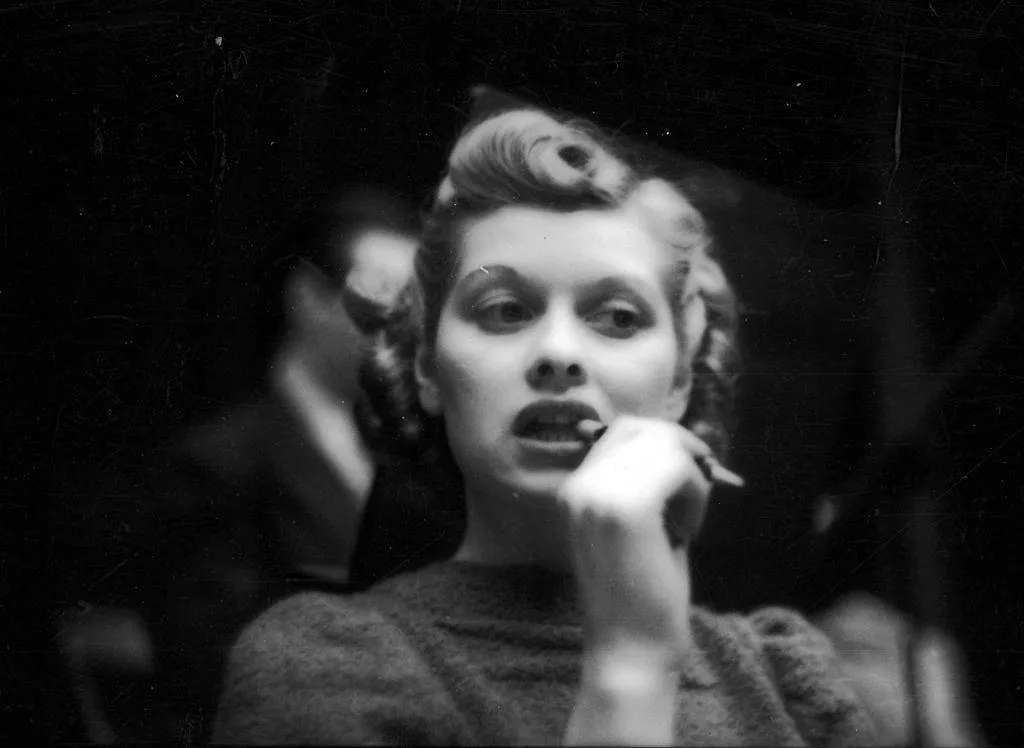 Lucille Ball is one of the most iconic TV stars of all time. Before becoming a five-time Emmy winner, the actress had one of her first roles in the 1934 film Three Little Pigskins.
In the short film, she played the role of Daisy Simms. The Three Stooges are often credited for giving the actress her big break. As we know, she rose to prominence after getting her own TV show called I Love Lucy.
It's Batman!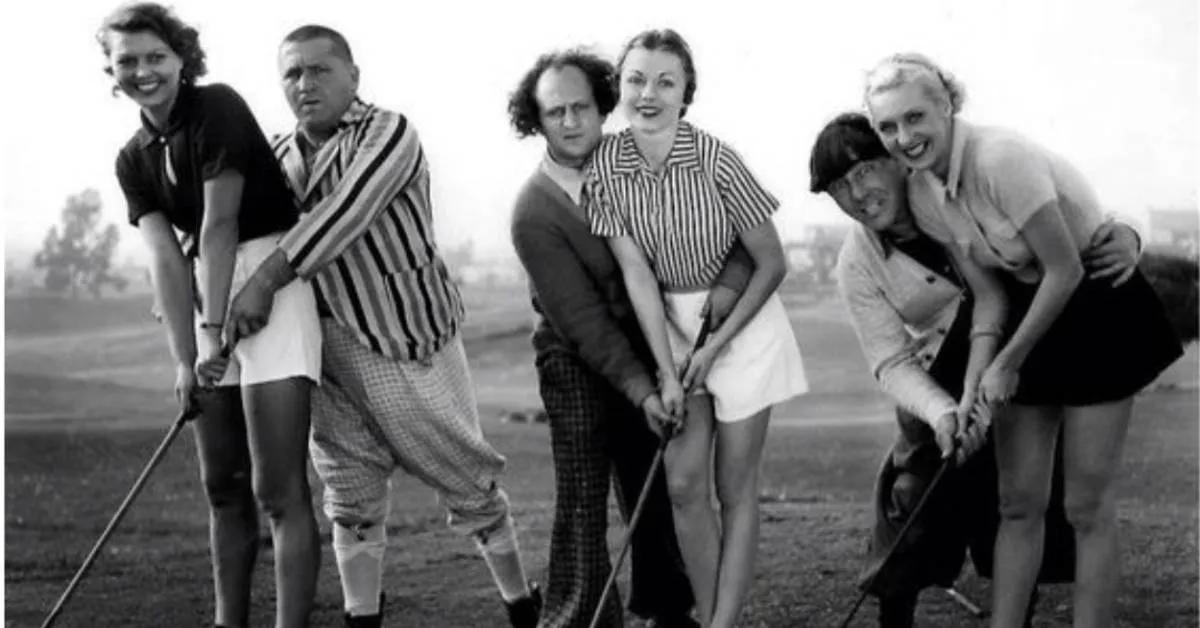 Adam West, who famously went on to play Batman in the iconic 1960s television series, appeared in a Three Stooges film. The Outlaws Is Coming, which was the Stooges' final feature-length film, was released in 1965.
West played an editor-turned-town sheriff named Kenneth Cabot in the movie. It's nice to see a familiar face when you go back and watch old movies and TV shows. Adam West was amazing as the town sheriff.
Moe's Later Years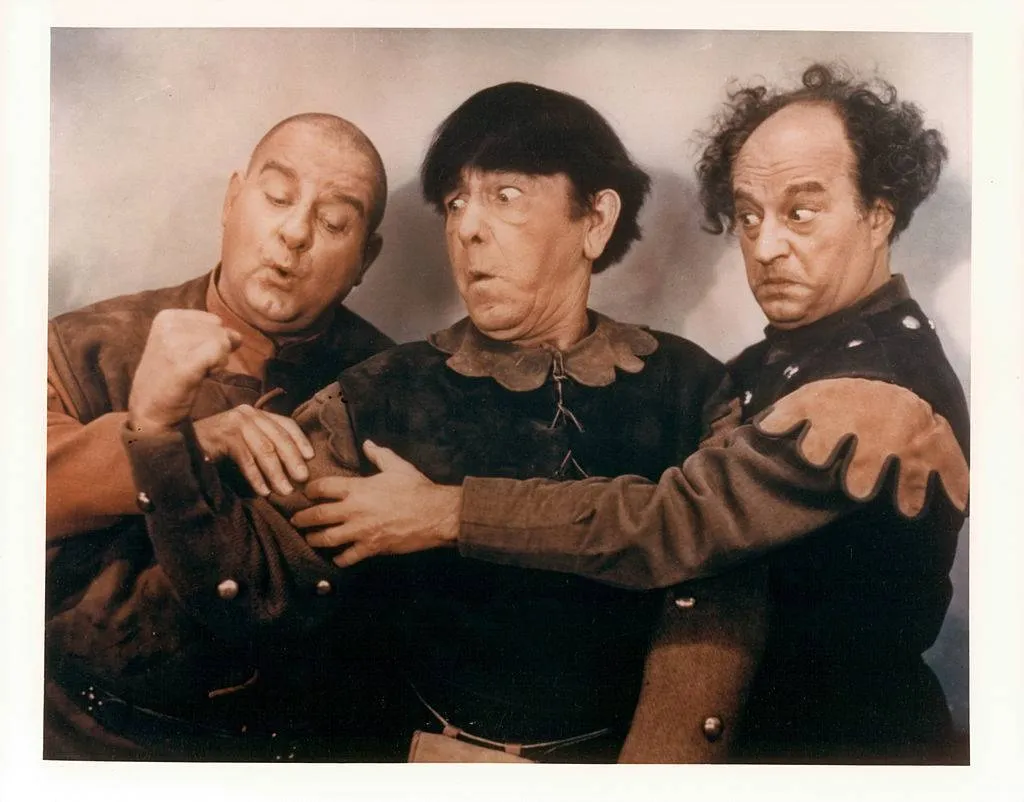 After retiring from acting, Moe turned to selling real estate to make money. On May 4, 1975, he died from lung cancer at the age of 77. His last movie appearance was in the 1973 film Doctor Death: Seeker of Souls.
Moe's wife died of a heart attack just a few months after he passed away. They are buried side by side in an outdoor crypt at Culver City's Hillside Memorial Park Cemetery.
Starting Salary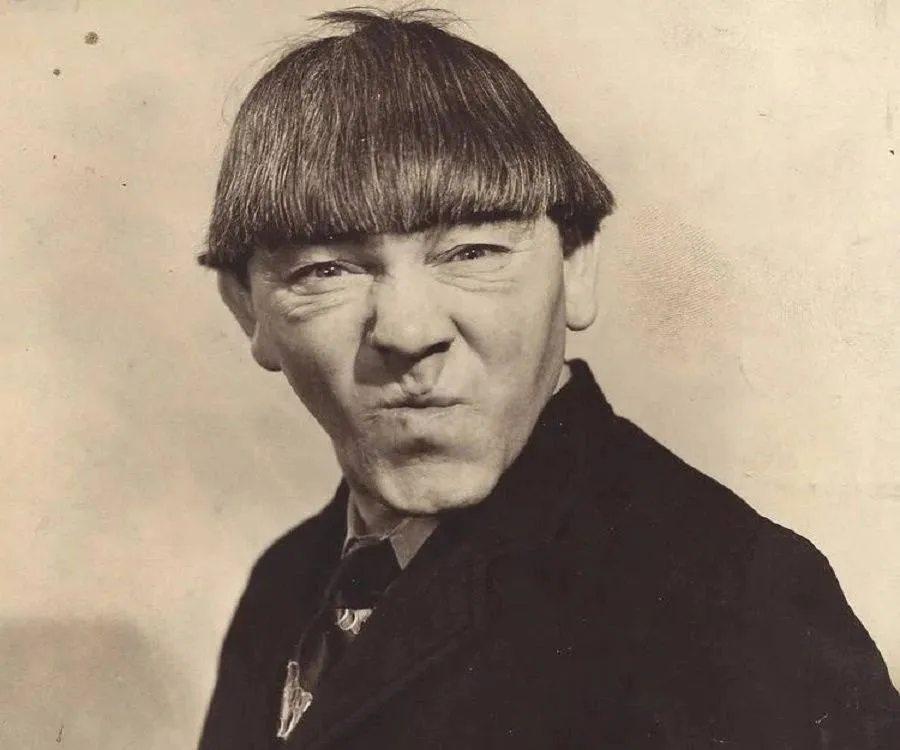 During the start of their career, "The Three Stooges" had to split a weekly $1,000 check between the three of them. Obviously, $1,000 meant more back then than it does now. But still, even accounting for inflation that's not a lot of money for people who turned out to be icons!
After their Oscar-nominated film Men In Black was released, their pay was increased to $7,500 a week, but they still had to split it among themselves.
A Romantic At Heart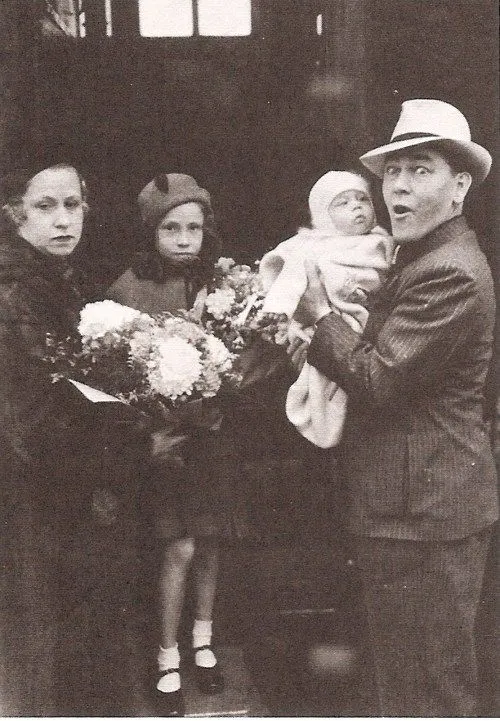 Moe's wife Helen Schonberger said that he was a lifelong romantic, and recounted this story about their 10th wedding anniversary, reprinted in a book titled The Three Stooges Scrapbook.
"[T]he phone rang and a strange voice on the other end asked me if I would take Moe Horwitz for my lawful wedded husband. The voice then proceeded to perform the entire wedding ceremony, with me on one end and Moe (the mystery voice) on the other… at the end of the ceremony, in a beautiful baritone voice, he sang 'Oh Promise Me,' the song sung at our wedding."
Two Brothers Get Their Start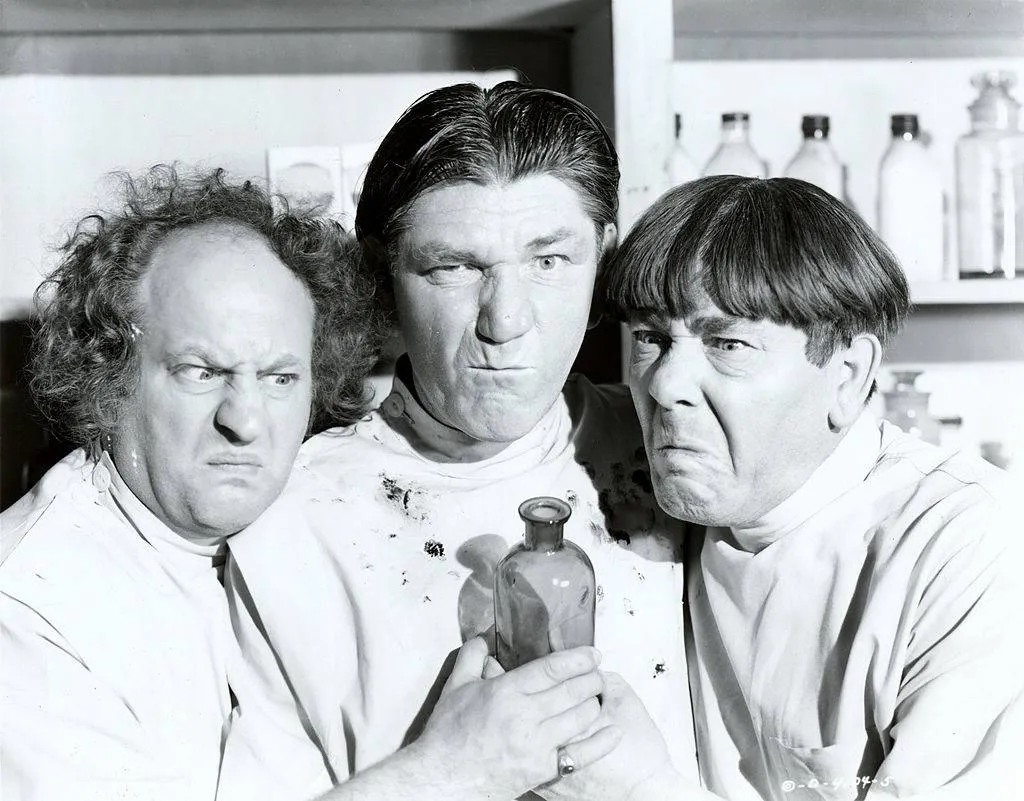 Moe was hired by Ted Healy to work in a vaudeville act in 1921. While on stage during a performance two years later, he spotted his brother Shemp in the audience.
Moe cried out to Shemp from the stage, and their interaction was an instant hit. Healy hired Shemp on the spot. These men always had great chemistry both on- and off-screen. It's not hard to imagine that they had a ton of fun performing together year after year.
Replacing Shemp
Larry Fine was initially brought into the vaudeville mix in 1925 when Shemp decided to leave the act he'd been doing with Moe. Larry gave a performance that Shemp, Moe and Ted Healy attended when Shemp announced his departure. Healy offered Larry the position, for $90 a week. Larry accepted, and of course, Shemp returned later.
The Stooges had something of a revolving door policy... people would come and go, but they were never gone for too long.
An Important Site
Larry Fine was born in Philadelphia, and a commemorative mural was painted near his birthplace, at the corner of 3rd and South Streets. It's above a restaurant called Jon's Bar and Grill. Fine's sister attended the dedication ceremony. The painting depicts Fine playing his violin, with a silly expression on his face.
This is how many people remember Larry Fine. He always had that crazed look in his eye, and audiences loved him for it.
Scaredy Cat Shemp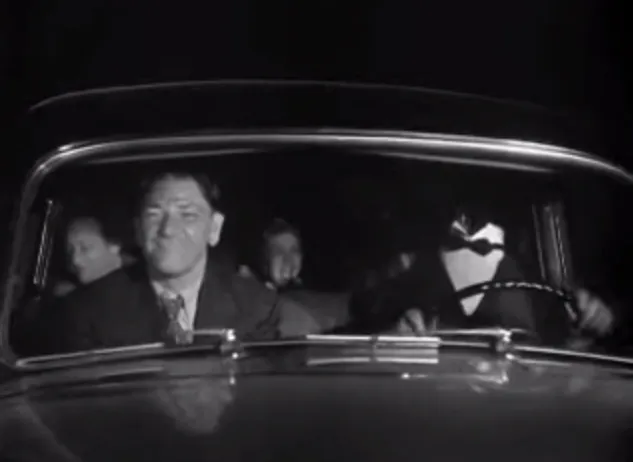 Shemp Howard suffered from a number of phobias. The comedian was terrified of cars, planes, dogs, and even water. He was in a car accident when he was young, which explains the automobile phobia. In scenes where he's behind the wheel, the cars are being towed rather than driven by him.
His fears really impacted how he lived his life and went about his acting career. He never really got over his fear of cars.
An Ironic Death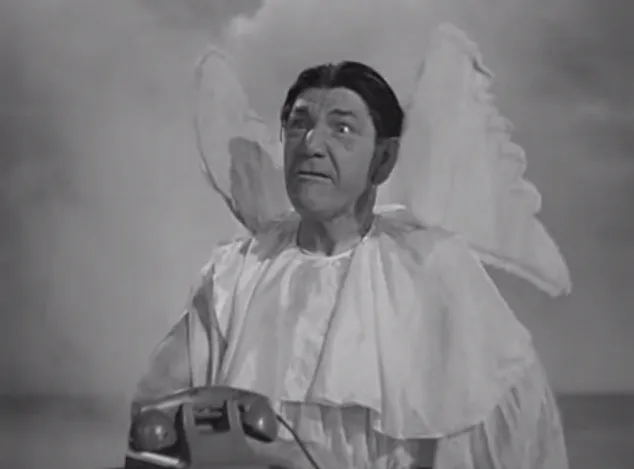 Shemp ended up dying in a car, but not in a collision. On November 22, 1955, he attended a boxing match with a friend. After the bout, they were riding home together.
As Shemp told a joke and lit a cigar, he suddenly slumped over, dead. The friend thought it was a prank but unfortunately, it wasn't. As we already read, Shemp always thought that cars were dangerous. Maybe he was right.
The Many Expressions Of Curly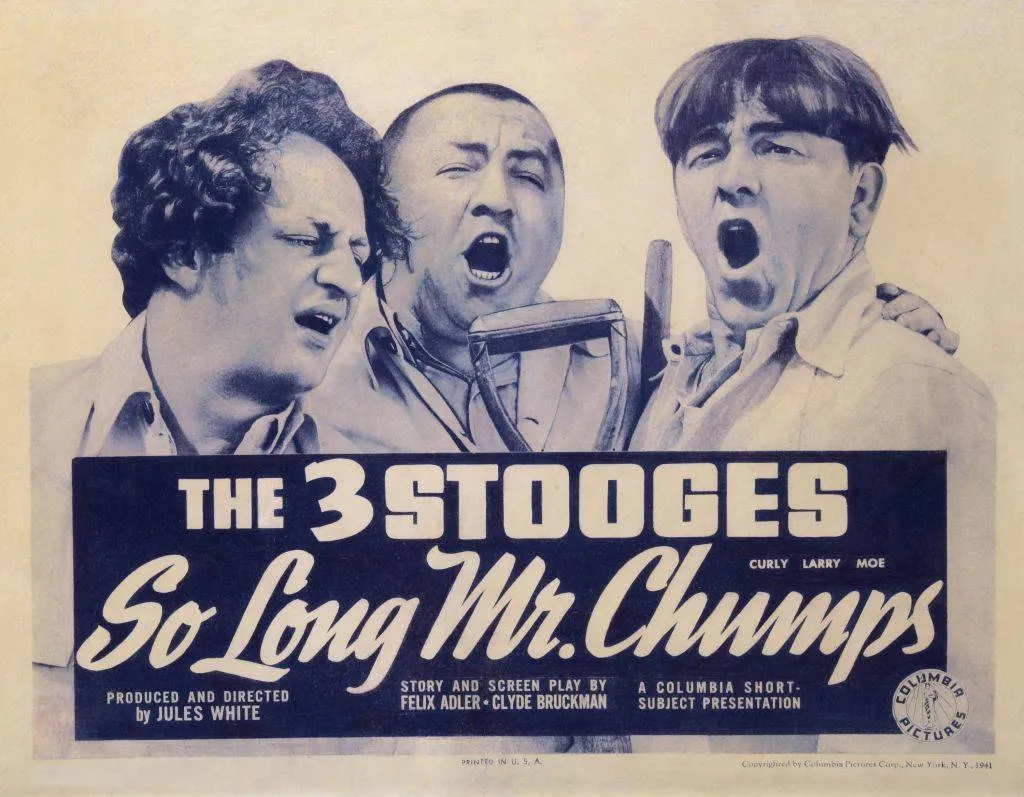 Curly Howard was responsible for coining many of the Stooges' trademark phrases. These included "nyuk, nyuk, nyuk," "nyahh-ahhh-ahhh," "a WISE guy, eh?," "say a few syllables," "oh, look," "I'll moider you," and "soitenly"!
The other Stooges continued to use Curly's favorite expressions after his death, and you might have even said some of these expressions without even realizing that it was Curly who popularized them. His comedy has become a part of our everyday language.
Curly Cameos
In 1947's Hold That Lion! Curly appeared as a sleeping train passenger. His hair had regrown by this time. This was the only film to include all three of the Howard brothers and Larry Fine in the same scene. Curly also shot another cameo appearance in 1949 but that part was cut.
Curly was great as a sleeping train passenger. He didn't really have to do anything, but he was great at doing nothing.
An Unhappy Union
In the early 1940s, Moe was concerned for Curly's worsening health and heavy drinking. Moe encouraged him to marry a woman named Marion Buxbaum, thinking this would help Curly to change his hard-living ways. The marriage ended up being a disaster, with Curly squandering a fortune on Marion. The two were divorced only months later.
Clearly, getting married won't solve your problems. Only introspection, accountability, and therapy can do that. Haha.
Fan Favorite
Many fans cite Curly as their favorite Stooge. It seems like his fellow Stooges agreed. In an interview, Larry Fine said "Personally, I thought Curly was the greatest because he was a natural comedian who had no formal training.
Whatever he did, he made up on the spur of the moment. When we lost Curly, we took a hit." Curly is buried at the Home of Peace Cemetery in Los Angeles.
The Stoogeum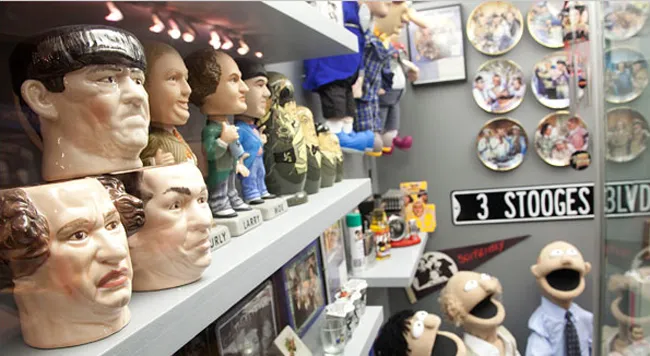 There is a museum dedicated to all things Stooge. The "Stoogeum," located in Ambler, Pennsylvania, is open only on Thursdays and displays quite an impressive collection of Stooge artifacts.
Exhibits include artwork, movie posters, costumes, novelties, props, rare photos and more. There are even interactive Stooge-themed arcade games! This is a place that every Three Stooges fan would love to visit. It's like a paradise for lovers of slapstick comedy.
Walk Of Fame
The Stooges always felt slighted by the fact that they didn't have a star on Hollywood's Walk of Fame despite their success. In 1983, they were finally awarded with their star. Sadly, Moe, Curly and Larry were already dead when they received the honor. The Stooges' star can be found at 1560 Vine Street.
The Stooges definitely earned this true honor. Hollywood just wouldn't be the same without their influence and amazing star power.
Pop Culture References
"The Three Stooges" certainly made a huge impact on future generations. Numerous films, television shows, songs, and books have referenced the comedic trio. Movies ranging from This Is Spinal Tap, Pulp Fiction, Ice Age, and Grease all pay homage to the Stooges, as do songs from artists as varied as Chris Brown, Frank Black, and Toby Keith.
These references prove just how influential the Stooges were. They are still popping up in pop culture to this day.
A Band Of The Same Name
Rock icons The Stooges borrowed their name from Moe, Larry, and Curly. The band, formed in the 1960s and headed by lead singer Iggy Pop, got its moniker from watching "The Three Stooges."
In an interview with Clash Magazine, Pop said of co-founder and guitarist Ron Asheton, "It was inevitable that anything creative that Ron did in his life was gonna come back to the Stooges, because he'd already spent probably seventeen thousand man hours watching The Three Stooges' films when he was supposed to be doing something else since he was twelve."
No Female Fans?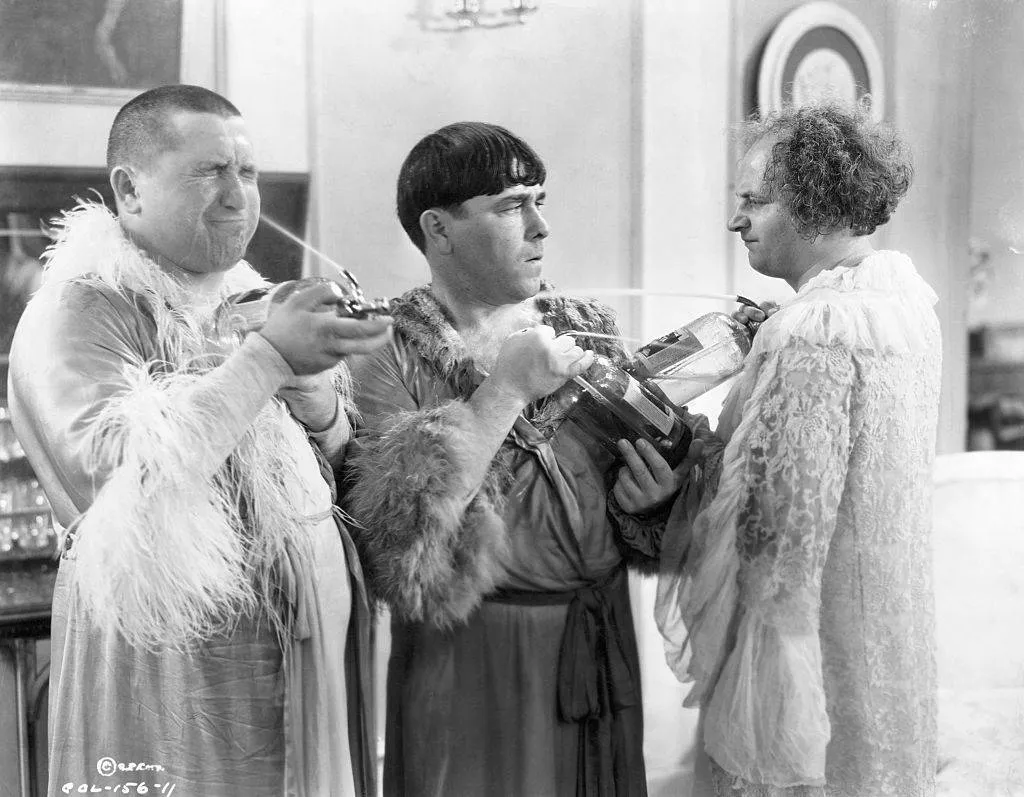 It's frequently said that women don't enjoy The Three Stooges. This is a huge overgeneralization – many females do like the Stooges – but the primary theory behind this is that women tend not to prefer physical or slapstick comedy.
One AMC writer attempted to explain the phenomena this way: "Women respond to seeing someone they dislike suffering pain with empathy, and men with pleasure at another's misfortune."
"The Man Of A Thousand Voices"
Mel Blanc, known as "The Man of a Thousand Voices," lent his special talent to the film Snow White and the Three Stooges. In the 1961 movie, a puppet named Quinto is voiced by Blanc. Edson Stroll, Patricia Medina, and Guy Rolfe co-star alongside the Stooges.
Blanc went on to voice iconic characters such as Bugs Bunny, Daffy Duck, and Porky Pig. He's basically all of the Looney Toons characters.
Stooges Reboot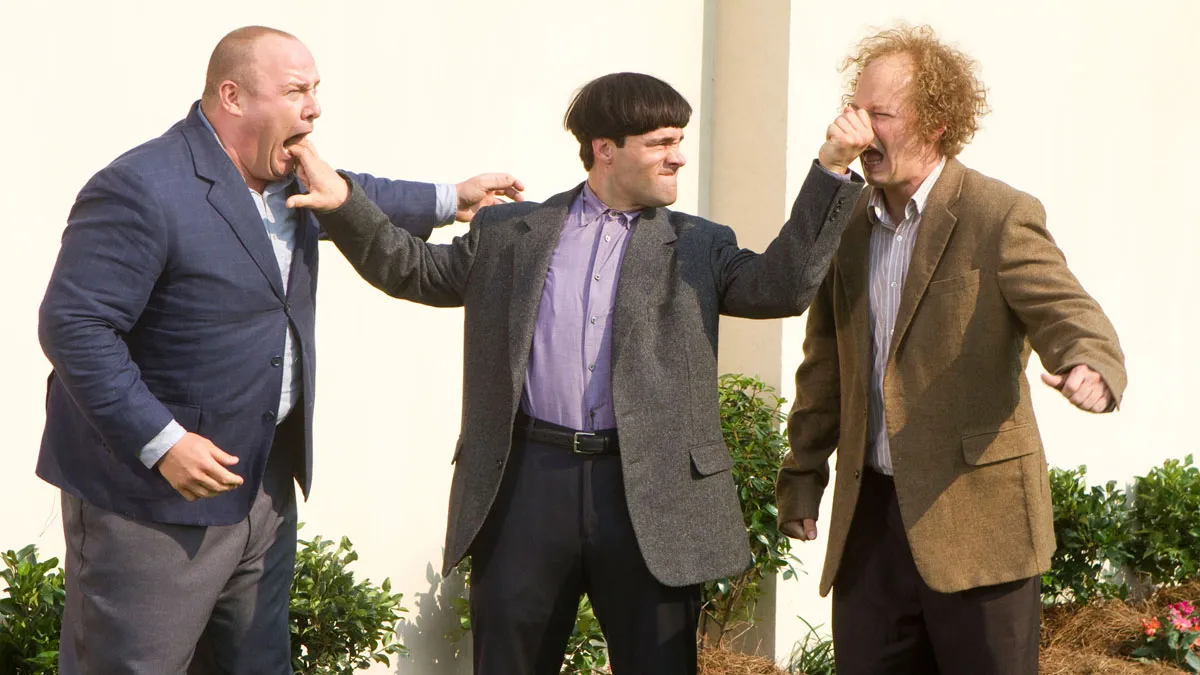 In 2012, the Stooges were reinvented in the form of a brand-new movie starring Chris Diamantopoulos (Moe), Sean Hayes (Larry), and Will Sasso (Curly). Produced by the Farrelly brothers, the film is divided into three shorter stand-alone stories.
In a statement, Peter and Bobby Farrelly said of The Three Stooges: The Movie, "It's by far the riskiest project we've ever done, without question, but it is also the one closest to our hearts."
Forced To Work After His Stroke
Harry Cohn, who was the president and chief of production at Columbia Pictures, is widely acknowledged to be the main man who helped get them to the level they finally achieved. However, he is also known as an unliked person.
After Curly had suffered from multiple strokes, Cohn made the weakened comedian continue working. Harry Cohn died after a sudden heart attack in February of 1958. He's buried in the Hollywood Forever Cemetery in Hollywood
Hard Times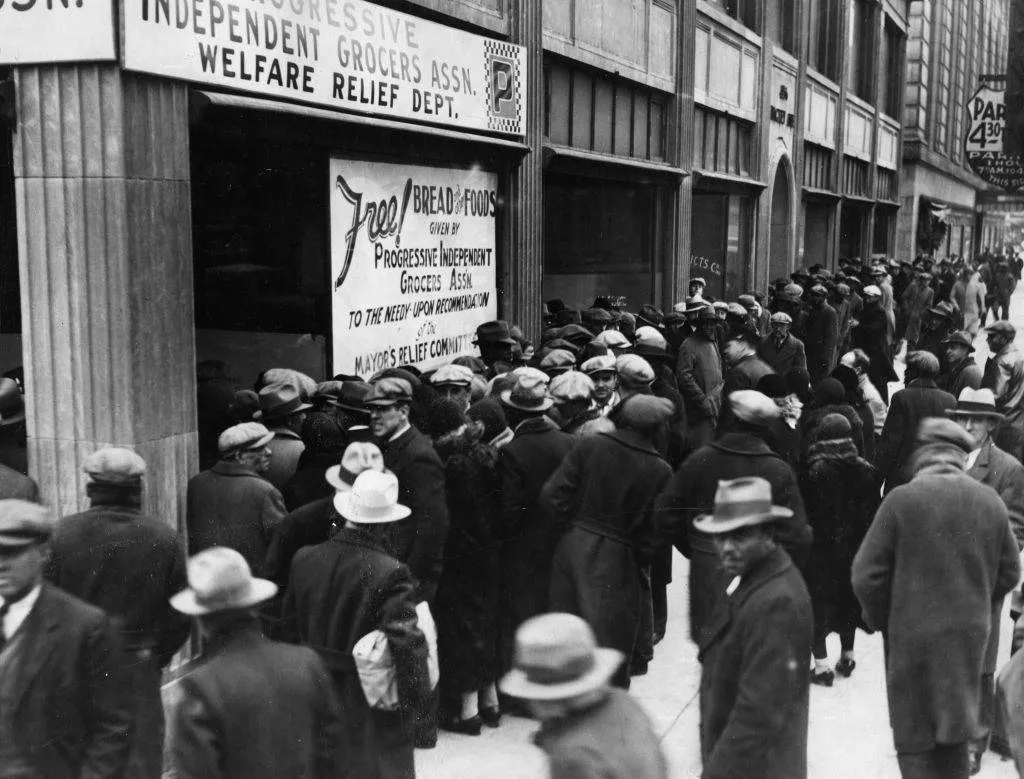 In many ways, The Three Stooges appealed to the spirit of the common man. They provided an escape from the harsh economic challenges that many Americans were facing during the Great Depression and as tensions between social classes were rising, The Three Stooges' ongoing antics provided commentary to this as well.
To this day, the Stooges are beloved by audiences for the hilarious escape they provide us with during tough times.
Joan Howard Maurer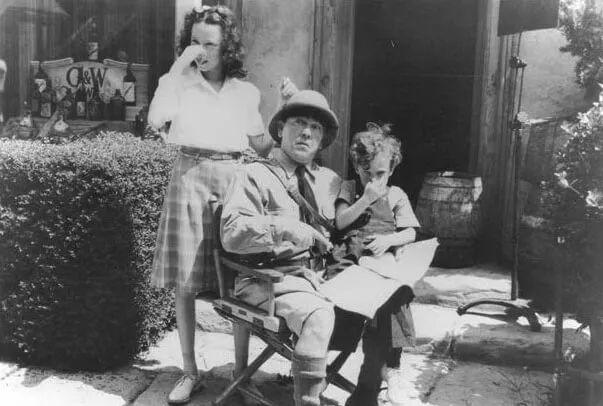 Moe's daughter Joan Howard Maurer is quite active in keeping the Stooges' legacy alive. She has authored several books about the Stooges and regularly attends Stooge conventions.
Maurer's books include The Three Stooges Book of Scripts, Curly: An Illustrated Biography of the Superstooge. She also co-wrote Moe Howard and the Three Stooges with her father. She also paid special tribute to him on what would have been the comedian's 120th birthday.
Moe's 120th Birthday
On June 19, 2017, Moe's daughter Joan Howard Maurer paid tribute to the actor on what would have been his 120th birthday. On the Stooges' official website, Maurer shared a love poem he had written to his wife along with this commentary: "In addition to his love, Moe had a drive to share his good luck with others.
His poem "My Wish," written to my mother in the 1920's, is a perfect example of the lesser known side of my father."
Cinema Killed The Vaudeville Star
The Three Stooges entered the entertainment industry at a key historic moment in history. Originating in France, vaudeville is a theatrical genre of variety entertainment. As the role of cinema began to grow, vaudeville began its decline.
The Three Stooges initially began as a live vaudeville act before eventually transitioning to film. It speaks for the talent of the people involved that they were able to remain successful across different mediums.
Hey There, Boo-Boo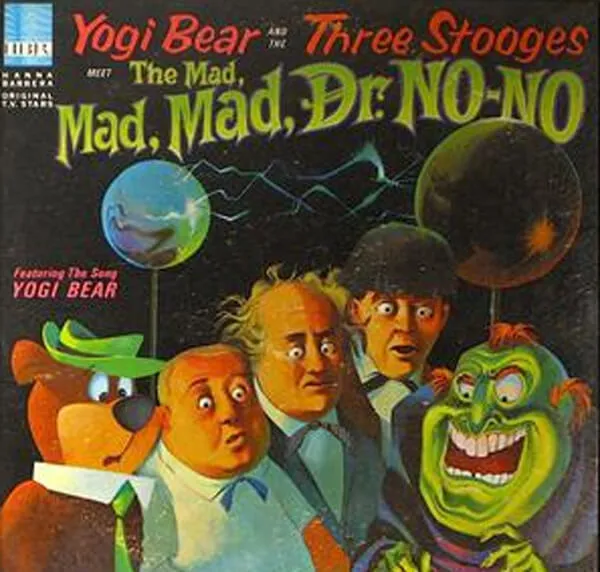 Throughout their career, the Three Stooges recorded and released several albums. One of their final releases was a comedy collaboration album that featured the dapper smooth-talking Yogi Bear. It was titled, Yogi Bear and The Three Stooges Meet the Mad, Mad, Mad Dr. No-No.
Other titles include The Nonsense Songbook, Madcap Musical Nonsense, A Rocket Ship Ride Through Time & Space To Storyland, and Snow White And The Three Stooges
Around The World In Three Days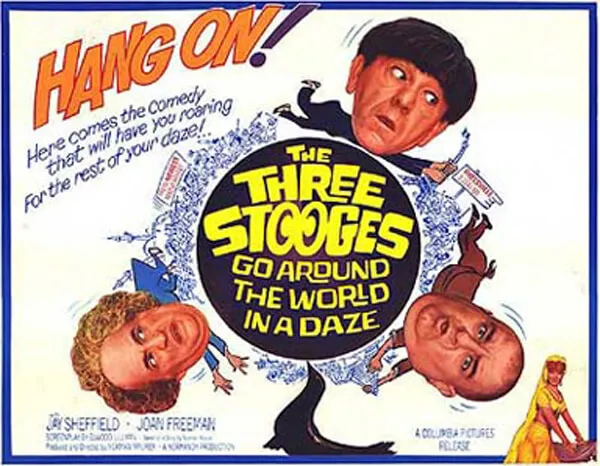 When translated to Chinese, the name of The Three Stooges becomes "Three Smelly Shoemakers" and in Japanese, the name for the Three Stooges translates into "Three Idiot Generals." Furthermore, their Spanish name translates into "The Three Crackpots," and in Turkish they are "The Three Cronies."
Speaking of language, a lot of the "gibberish" words that the Stooges sometimes spoke was actually the Jewish language of Yiddish. The Three Stooges had a physical comedy that was understood nearly universally.
And The Award Goes To…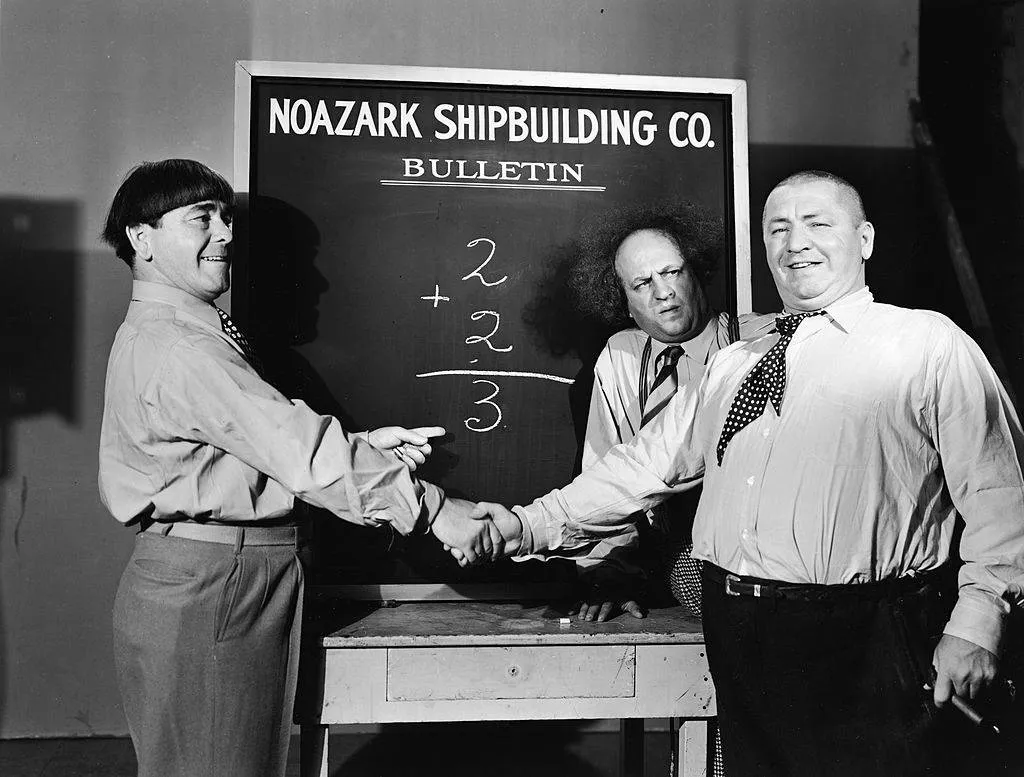 Although they didn't win the Oscar, in 1993, The Three Stooges earned the MTV lifetime achievement award. The lifetime achievement award was created to honor those who have made an impact on pop culture. It was discontinued following 1998.
Other recipients over the years include Jason Voorhees, John Shaft, Jackie Chan, Godzilla, Chewbacca, and Clint Howard. That's a pretty varied list of award winners! All of them, real or fictional, should be proud to share a spot with the Stooges.
Here Come The Men In Black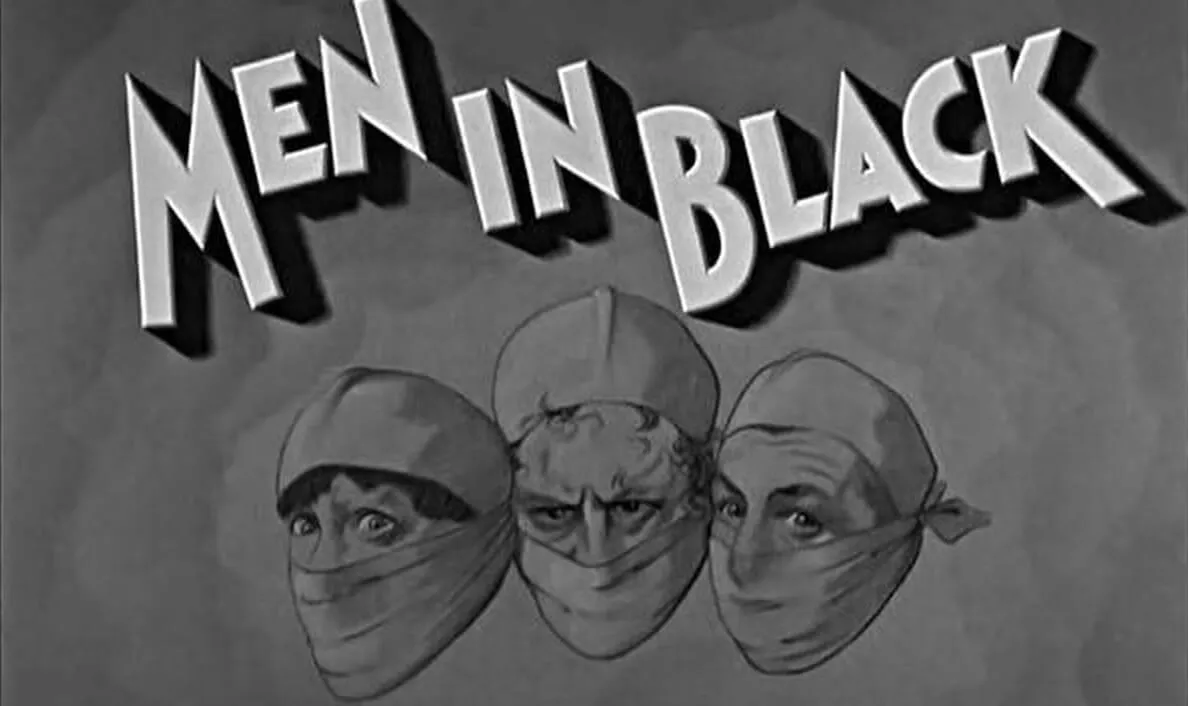 In the video games "Dead Space" and "Batman: Arkham Asylum," the line "Paging Dr. Howard, Dr. Fine, Dr. Howard," can be heard. This is a nod to the Academy-Award nominated short by The Three Stooges, "Men in Black."
There were actually two The Three Stooges video games, too. One was an arcade game called "The Three Stooges in Brides is Brides," and there was also a home console and PC game version that was composed of minigames.
Committed To More Than Just The Craft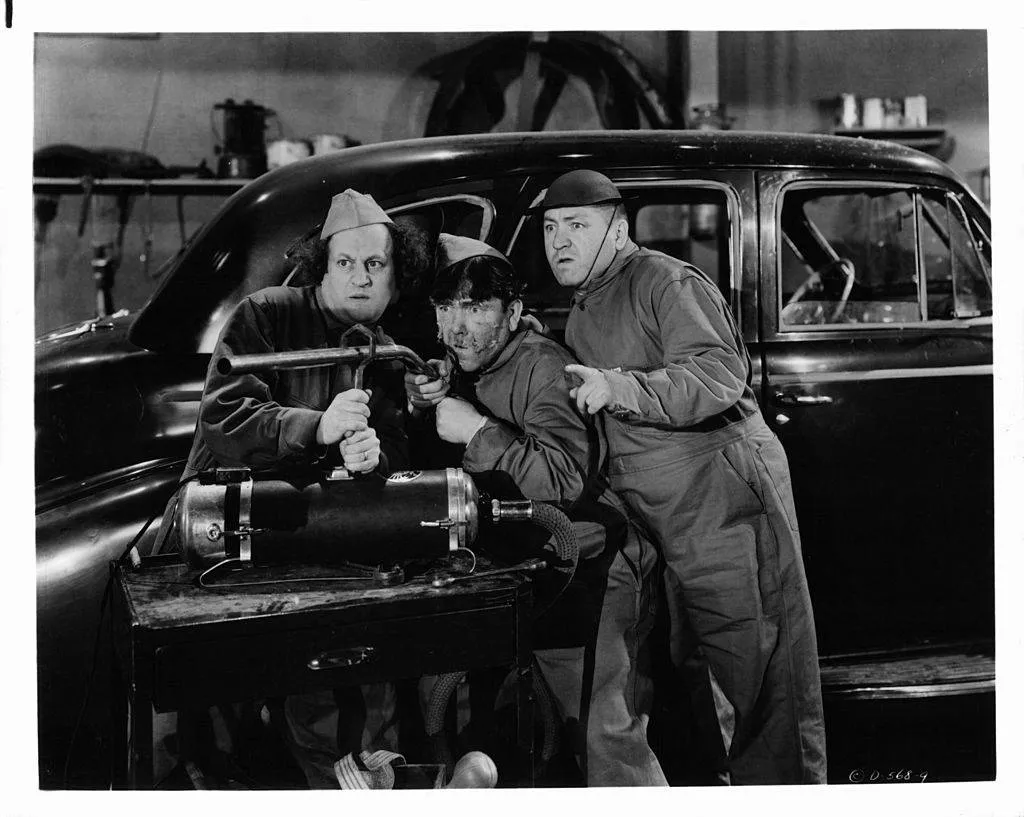 Other than Curly, the Three Stooges actors were in some pretty extensive marriages. Joe Besser was married for 56 years, Moe Howard was married fifty years, and Larry Fine was married forty-one years.
Shemp was married for close to 30 years, and Joe DeRita was married to Bonnie Brooks for 30 years until she passed, and then to Jean Sullivan for 26 years until he passed away. Not all showbiz marriages are short!
Three On Two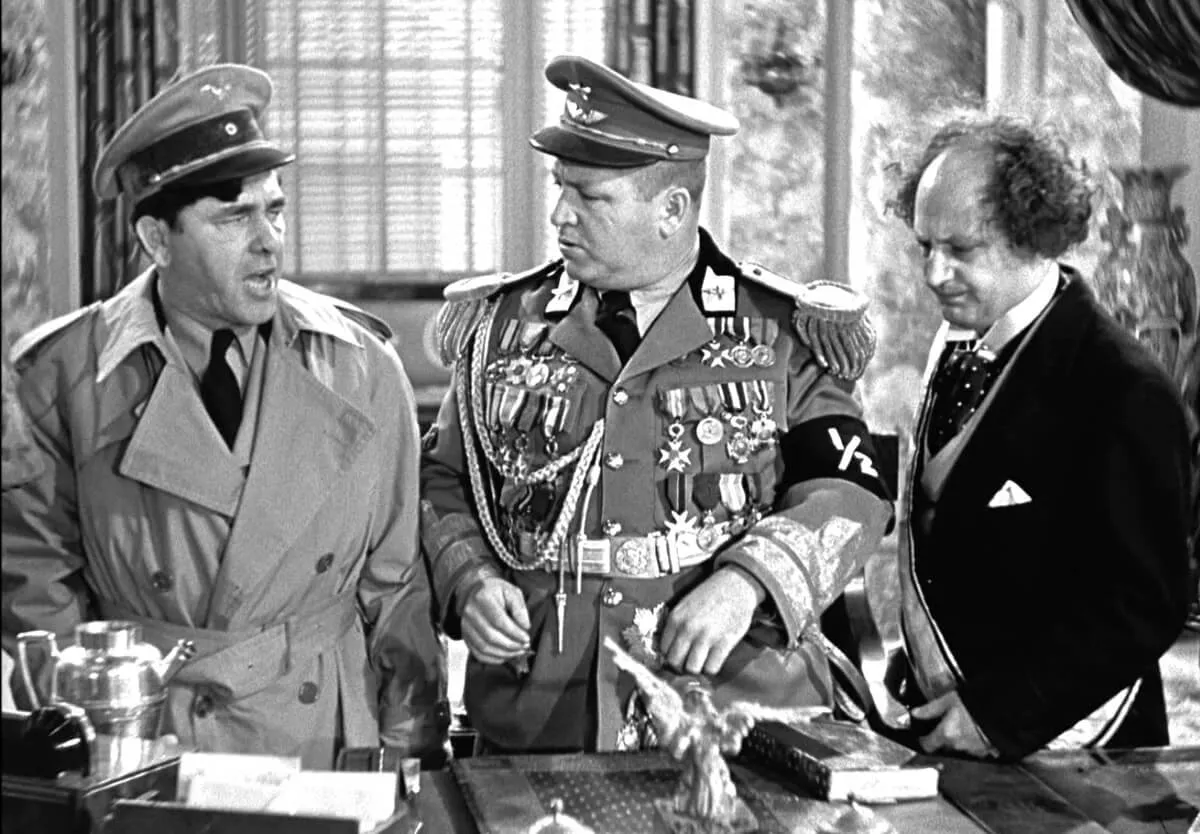 In 1940, The Three Stooges released the short film "You Nazty Spy!" which satirized Hitler and Third Reich. This short film is widely regarded as the first open spoof of Hitler and is attributed as a key piece in helping publicize the Nazi threat to Americans.
Directed by Jules White, this was the 44th Stooges film released by Columbia Pictures. It begins with a disclaimer that reads: "Any resemblance between the characters in this picture and any persons, living or dead, is a miracle."