Twin-tastic: Celebrity Pairs Most People Never Knew About
The Olsen twins may be one of the only pairs of famous twins you can think of, however, there are plenty more celebrities who have a twin. Most of the time only one of them aspired to lead a famous Hollywood life, and the other twin lives a "normal" family life. So get ready to meet these secret twins... some of these might surprise you!
Jon Heder and Dan Heder
Best known for his Napoleon Dynamite film and character, Jon Heder has an identical twin brother named Dan. They are a close pair and started a production company together.
Give them the same haircut and lose the mustache and these guys could have split time on the screen in Napoleon Dynamite and almost nobody would have noticed the difference. This is a great reminder that you can have the face for Hollywood stardom and still go in a different off-screen direction.
Kiefer Sutherland and Rachel Sutherland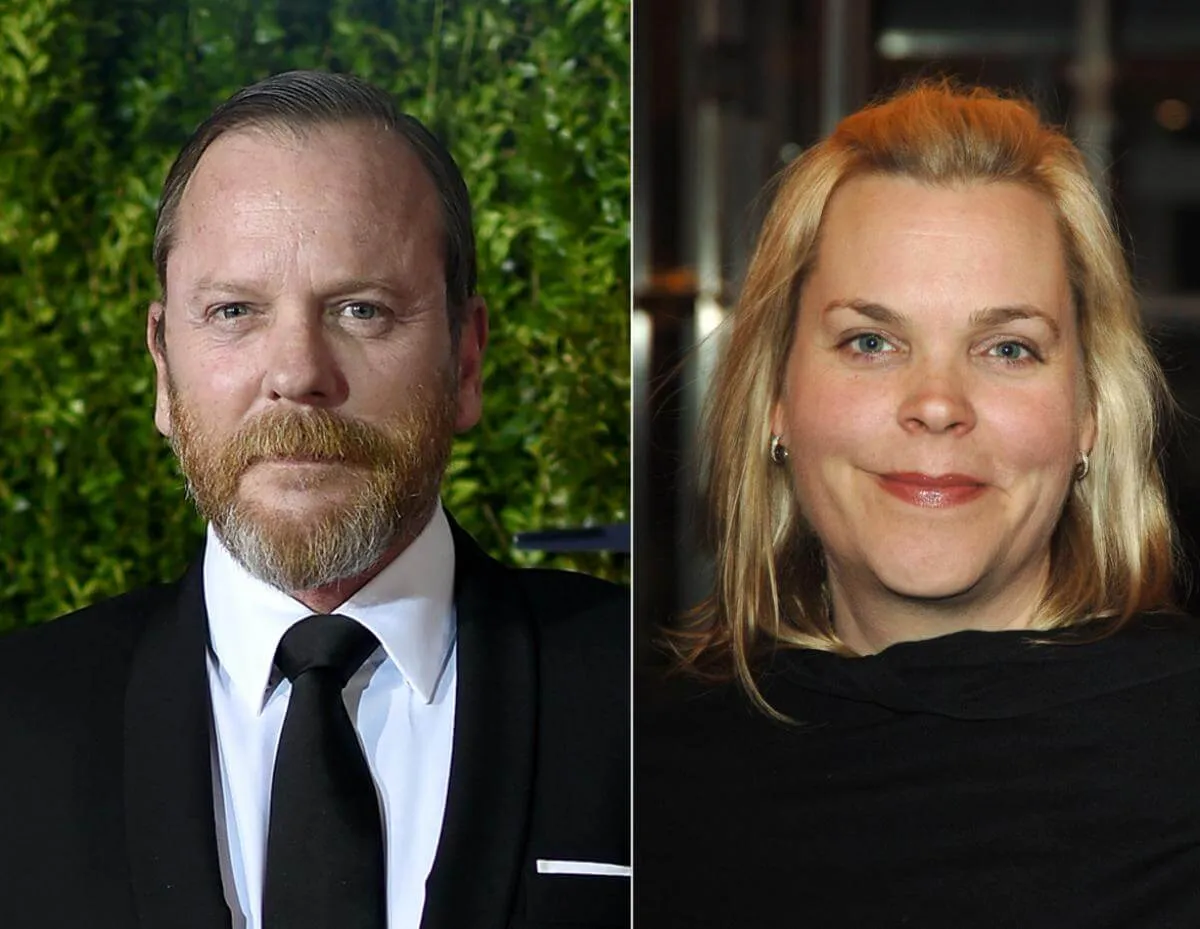 This is a family full of show business! Kiefer and their father, Donald Sutherland, are both actors with reputations for their ability to take on roles with ease.
Rachel took a whack at something different and works behind the camera supervising television post production. When you're born into a family of Hollywood heavyweights it's very likely you'll find your way into the "family business" even if it's not in front of the camera.
Cameron and Chimene Diaz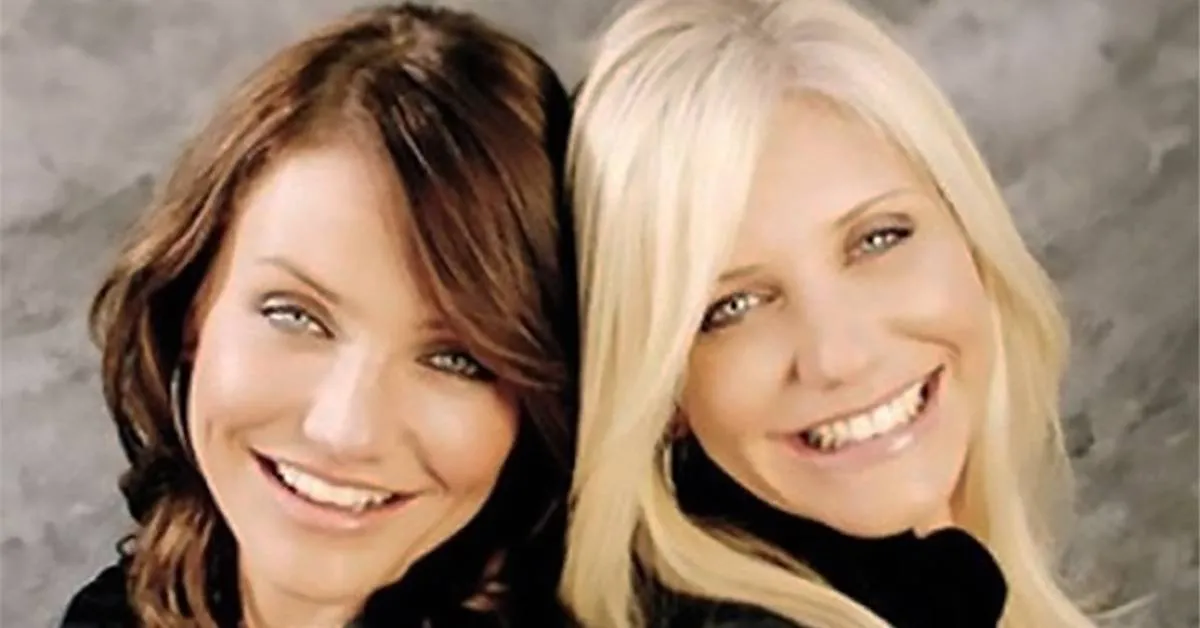 While they're not technically twins, these sisters bear a striking resemblance to each other. Cameron has had an extremely successful acting career, but her older sister Chimene has stayed away from the spotlight and keeps her personal life on lock. But there's no denying that these sisters from Long Beach, California could pass as twins.
Chimene is married to Robby Armstrong and they have four kids together. We're sure that Cameron is a great aunt to them!
Aaron Carter and Angel Carter
A fairly famous family, Aaron Carter is not only the brother of former boy-band member Nick Carter but also the twin brother to his sister, Angel.
Nick was a Backstreet boy which likely inspired Aaron to go out and try his hand in the music field. Angel also chose to work in entertainment but focused on building her modeling career. It's another example of family members catching the Hollywood bug and proving these have the skills to master their respective crafts.
Benji Madden and Joel Madden
The rock star, tattooed twins, have dated some of Hollywood's most famous women including Hilary Duff, Nicole Richie, and Paris Hilton. They were able to land their Hollywood partners thanks to the massive success of their band "Good Charlotte."
While these rockers might not be topping the charts these days, they have become a part of pop culture and are still cranking out music and touring after forming way back in 1996.
Gisele Bündchen and Patricia Bündchen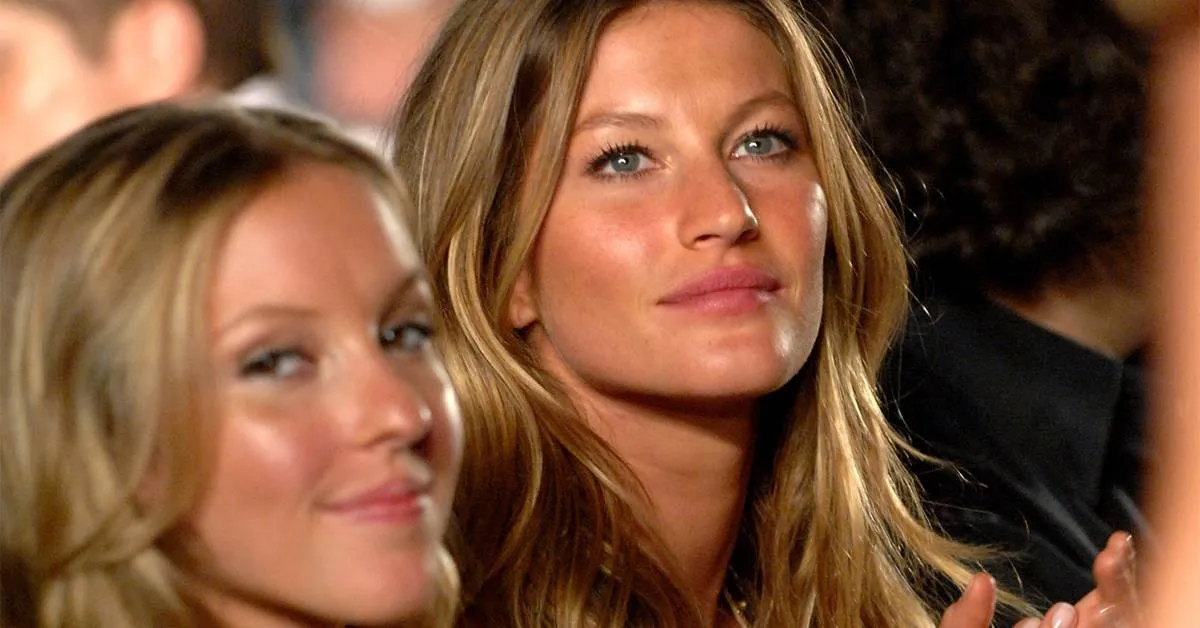 Gisele Bündchen and Patricia Bündchen are fraternal twins from Brazil. The Bündchens come from a big family that includes five girls. They also appear to be pretty close, often appearing together at fashion events.
Fraternal twins often have some similarities in their facial features but a majority of the time you would not know they were twins if you didn't ask. Even if you didn't notice they were twins it's hard to deny that good looks run in their family.
Vin Diesel and Paul Diesel
Vin Diesel has become one of Hollywood's highest-paid actor's in the world thanks to the massive success of the "Fast And The Furious" franchise but his twin brother has gone in a very different direction.
Vin's brother works behind the Hollywood scenes as a film editor. That is a perfect brotherly pair. As Paul is able to coach Vin into what looks great on screen and what doesn't. They definitely seem loving toward each other when they are spotted together in public.
Giovanni Ribisi and Marissa Ribisi
The Ribisi twins were raised as Scientologists, and both have enjoyed full careers in acting. This pair of successful twins come from a family of performers which might explain how they both ended up in Hollywood. The twins' father Albert Anthony Ribisi is an Italian-American musician who toured with the band People!
Their mom, Gay, manages actors and writers. They also have another sibling, sister and voice actress Gina Ribisi.
Rami Malek and Sami Malek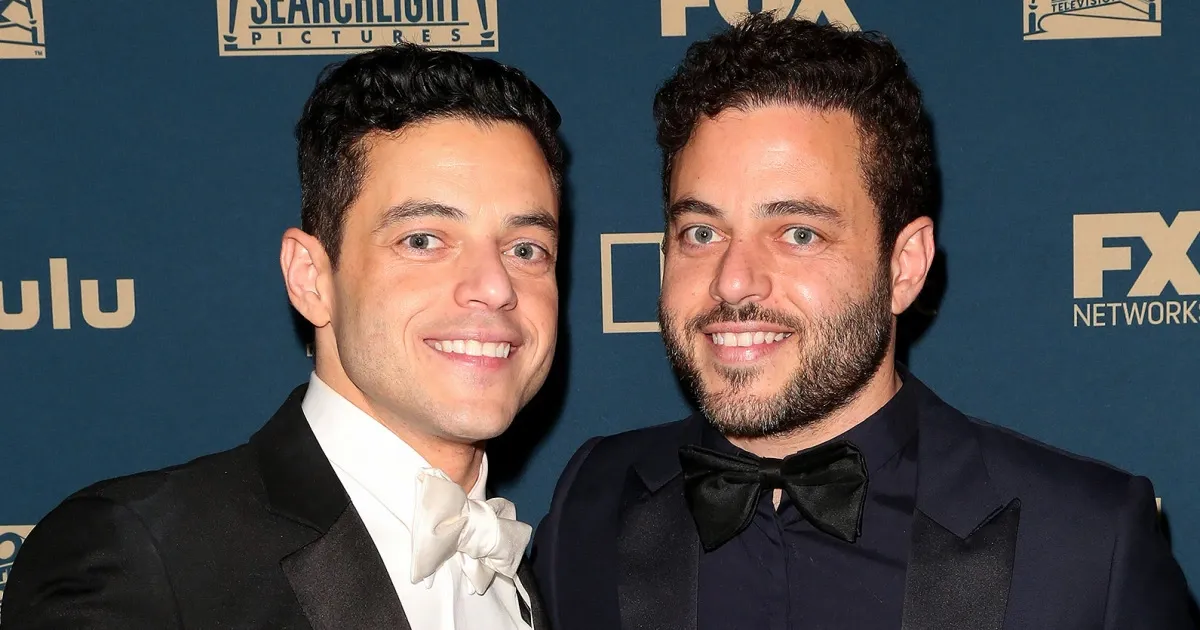 Rami is now most popular for portraying Freddie Mercury in the film Bohemian Rhapsody, but first rose to fame for his role on the television show "Mr. Robot." Sami accompanied Rami on the Jimmy Kimmel Live Show, and memes popped up all over the internet.
The easiest way to tell the two apart is by their facial hair. Rami usually has a clean cut while his brother tends to have a beard in full effect.
Scarlett Johansson and Hunter Johansson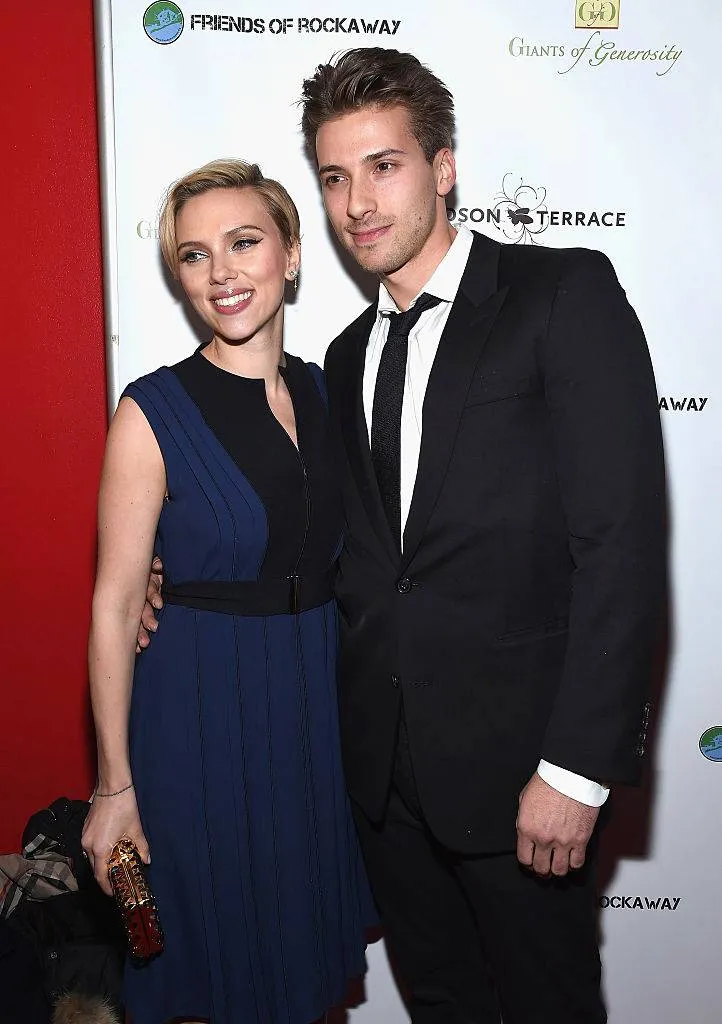 The gorgeous Scarlett Johansson has a twin brother named Hunter Johansson. The fraternal pair have been spotted together on numerous occasions and appear close. Hunter is also successful in his own right but in a very different field.
Hunter worked during campaign and reelection and has also taken on a number of high-profile events. He took the political path and she took the Avenging path. It all makes perfect sense.
Parker Posey and Christopher Posey
The Dazed and Confused starlet has a fraternal twin brother, Chris, who works as an attorney over in the Peach State. Based on Posey's own statement in the past, she wasn't cut out for the drier world of lawyering.
"I'm a good girl, you know?" Posey said in a January 2012 interview with The Daily Beast. "But I'm from the South and there are some powerful women down there, and very theatrical."
Barbara Bush and Jenna Bush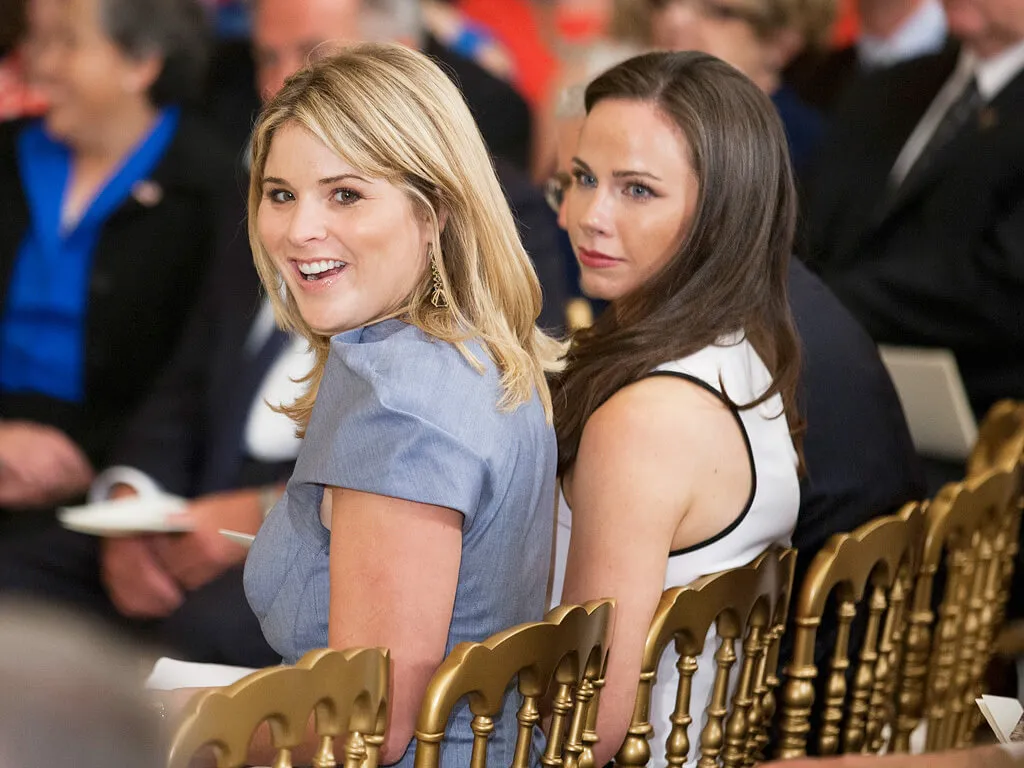 Former U.S. President George W. Bush's twin daughters look more like sisters than twins but they indeed fraternal twins. They both have done well for themselves. It probably doesn't hurt that their father was the president of the free world.
One went on to graduate from Yale and the other, Jenna Bush is a contributor to NBC Nightly News. It, apparently, doesn't hurt to grow up in the White House when it comes to finding success.
Linda Hamilton and Leslie Hamilton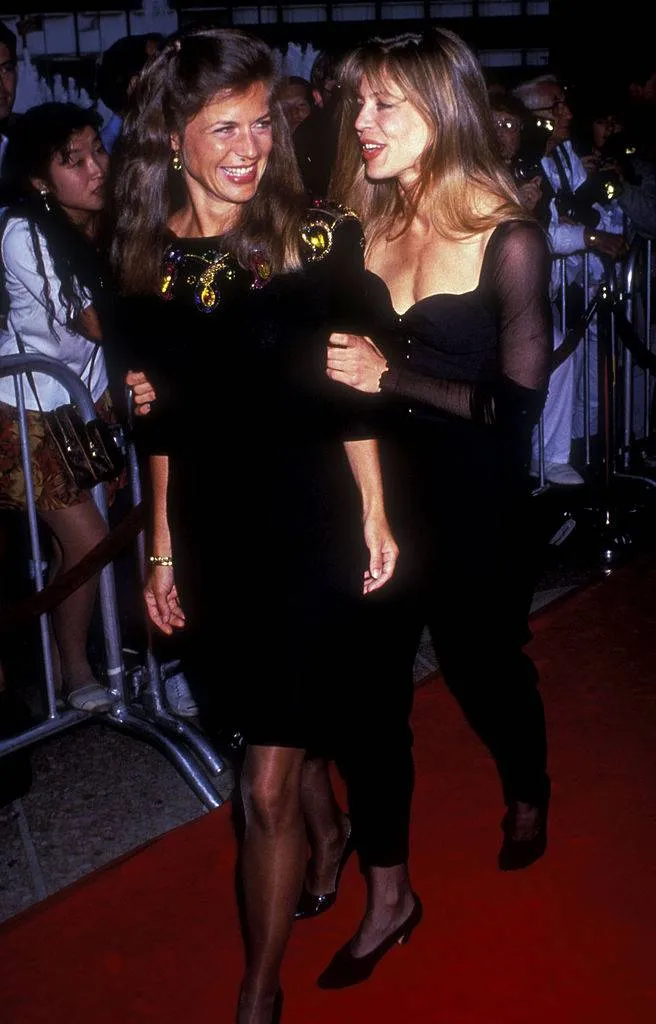 Linda Hamilton played Sarah Connor in The Terminator, and had an identical twin sister in Leslie Hamilton. Leslie was no actor, however, she was instead a nurse. However, for three scenes, she was her sister's double in Terminator 2: Judgement Day.
When she appeared, she played whichever "Sarah" was further from camera view while Linda plays "the Sarah" who is in focus. Sadly, Leslie Hamilton Freas passed away in 2020, at age 63.
Shawn Ashmore and Aaron Ashmore
Shawn Ashmore and Aaron Ashmore are most certainly a duo that is hard to tell apart. Both of these brothers are actors and have appeared on the show Smallville. Shawn also received accolades for his role in Iceman.
If it wasn't for the very different choice is head and facial hair we wouldn't be able to tell if these guys switched out on each other for a day of filming.
Charlotte Ronson and Samantha Ronson
A creative and successful set of twins can be spotted in Charlotte Ronson and Samantha Ronson. One of these talented sisters is a successful designer and the other is a popular DJ. Samantha, the DJ, used to date Lindsay Lohan.
The business of show doesn't stop in this family with these two talented twins. Their older brother, Mark Ronson, has become a super producer in recent years with hits like "Uptown Funk" which features the multi-talented Bruno Mars.
Alanis Morissette and Wade Imre Morissette
The famous "Ironic" singer has a twin brother named Wade who has devoted his life to similar interests of his younger famous sis. Wade teaches yoga and performs his own unique brand of rock music that combines indie rock and pop music with Sanskrit and English chants.
His music might not remind us of Alanis Morissette's younger rocker days but she eventually calmed down her rhetoric and the volume on her music and she's more on base with her brother than ever before.
Brittany Daniel and Cynthia Daniel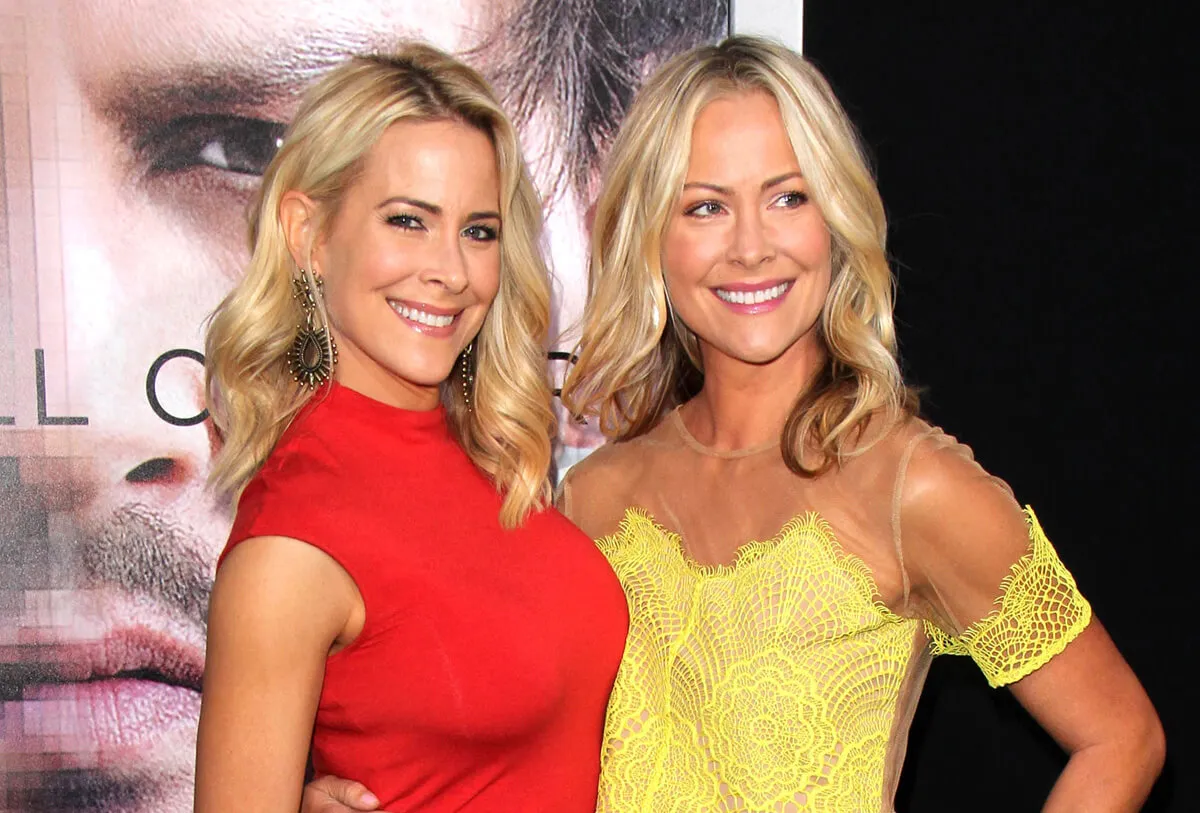 The duo played Liz and Jessica Wakefield in the TV series Sweet Valley High. The two have clearly grown closer to one another as it appears they do pretty much everything together. "Nothing is better when another person really knows you on a soul level," the pair recently wrote on Instagram.
Hailing from Gainesville, Florida, the pair began modeling when they were just 11 years old. Fittingly, they have appeared as the Doublemint Twins in commercials for Doublemint gum.
Deidre Hall and Andrea Hall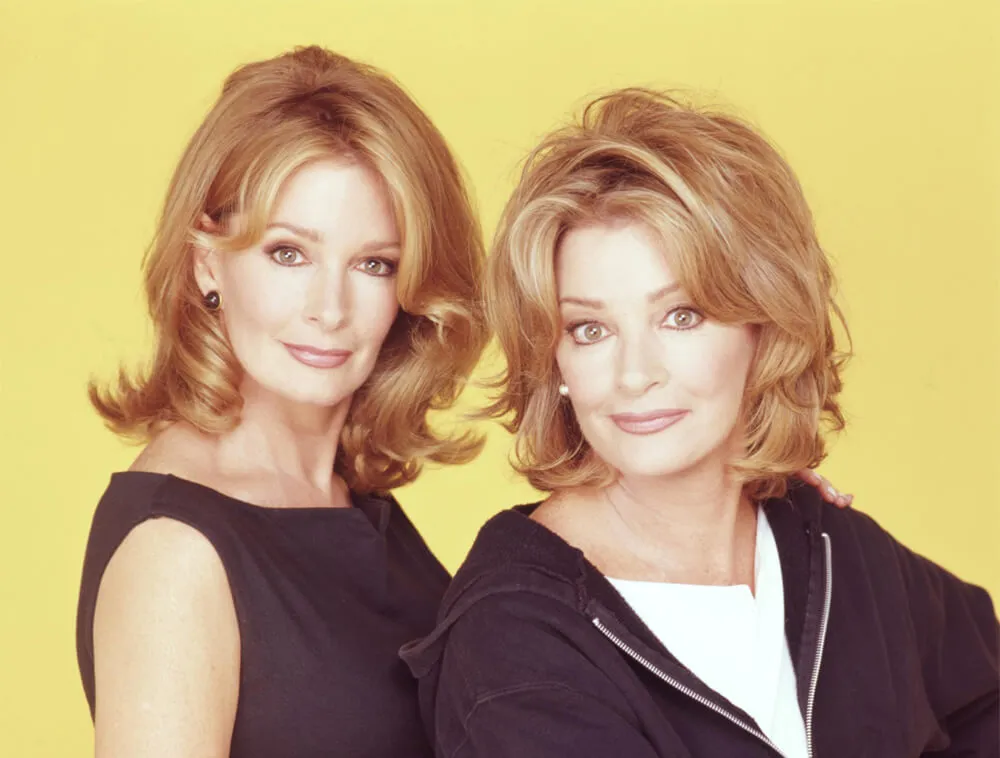 Andrea Hall, the American actress who played Samantha Evans on Days of Our Lives from 1977 to 1982 (and then again from 2000-2001), has a real-life twin sister named Diedre. They were born in Milwaukee, Wisconsin and are only two of five siblings.
Andrea received a star on the Walk of Fame in 2014. Dierdre is a soap actress as well, and played Samantha Evans' jealous twin sister Marlena on Days.
Dylan Sprouse and Cole Sprouse
You may recognize their younger self from the Adam Sandler movie Big Daddy. These 20-year-old twins then picked up their own TV show, The Suite Life with Zack & Cody. That show was followed up with Disney's Suite Life On Deck.
The Disney stars are now grown and living their own lives, although they appear to still find time to spend with each other as this photo highlights. We're suddenly feeling really old.
Tiki Barber and Ronde Barber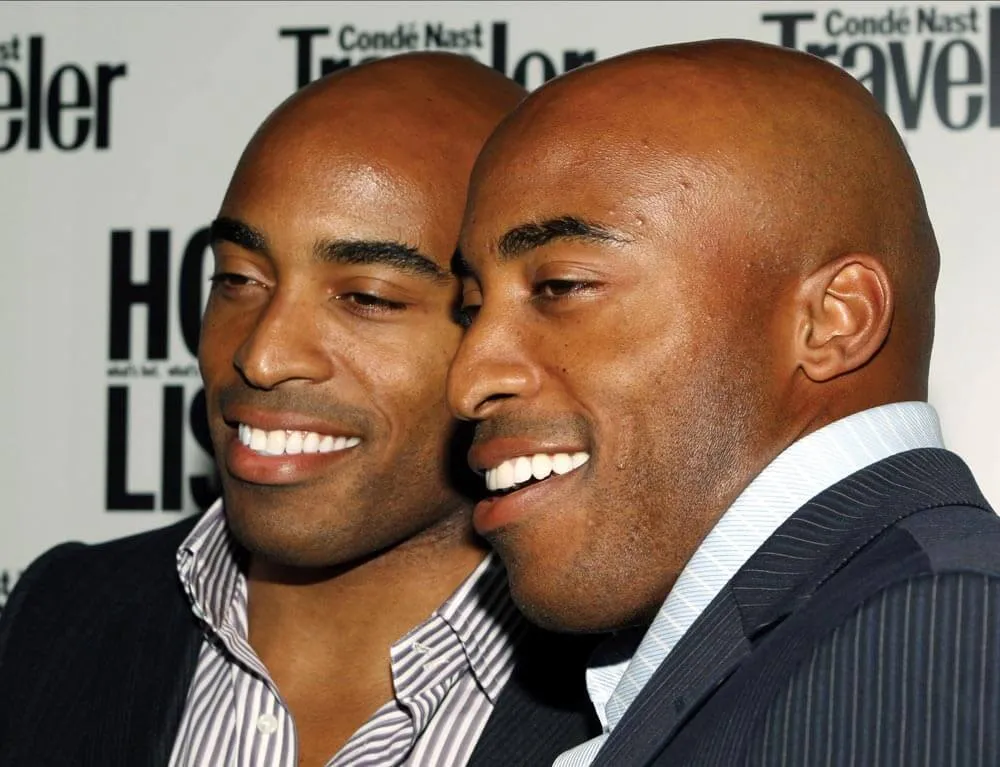 The NFL is full of family dynasties, just look at Peyton and Eli Manning. However, it's not often we find NFL playing twins! Tiki Barber is now is an on-air TV personality and was a former New York Giants football player.
Ronde Barber spent his entire 16-year professional career playing for the Tampa Bay Buccaneers before also becoming a broadcaster. Tiki was an offensive player while Ronde played the defensive side of things. They even had their own sibling run-ins on the field a few times.
José Canseco and Ozzie Canseco
The brothers that both made MLB history, Ozzie (the less famous of the pair) would often attend book signings and appearances in place of Jose. Whenever someone hears Canseco, they know it is synonymous with baseball. That is how big of an impact the Canseco brothers have made on the sport.
In 2011 José got into trouble for breach of contract when he sent Ozzie to pass as himself at a celebrity boxing match.
Elvis and Jesse Presley
Did you know Elvis had an identical twin? Elvis' twin brother, Jesse, was tragically delivered 35 minutes earlier than the rock star and was stillborn. It's not something Elvis Presley spent much time talking about.
Elvis allegedly lived his life haunted by the realization his brother didn't survive. His mother, Gladys used to tell people that Elvis had the energy of two people. Perhaps some of Elvis' music passion came from a place of sorrow for his brother.
Joseph Fiennes and Jacob Fiennes
An impressive bunch, these twins are the younger brother of well-known actor Ralph Fiennes, and also have filmmaker and composer siblings. Joseph stars in American Horror Story. They are yet another family that collectively took their talents to the entertainment industry. They clearly know what they are doing in that field. American Horror Story is one of the most popular shows of all time.
Joseph's twin brother did not join the family business and enter showbiz, however. Instead, Jacob Fiennes works as a conservationist -- a noble career. He has a wife, a daughter, and two dogs.
Mary-Kate Olsen and Ashley Olsen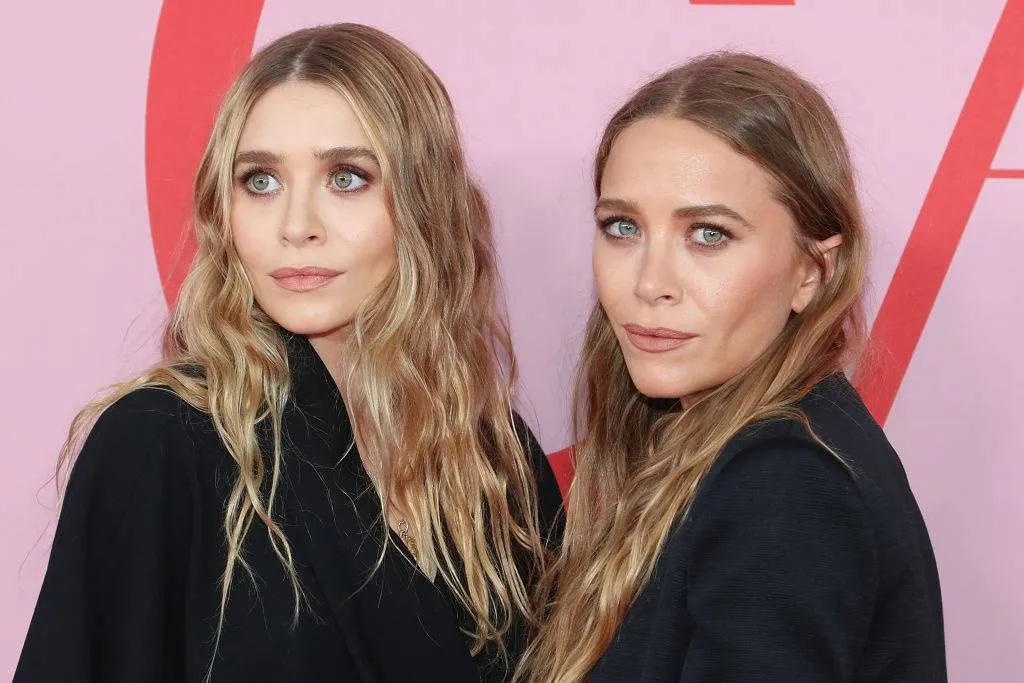 The twins' claim to fame started when they were still in diapers, however, they have become successful businesswomen with their very own fashion line, named after their older siblings (Elizabeth and James). Full House is where most of us can say we first saw these adorable twins in action.
Many fans were disappointed that the twins refused to join the rest of the original Full House cast when its reboot, Fuller House, was introduced in 2016. Ashley doesn't want to return to acting, and Mary-Kate felt that the show would interfere with her fashion business.
Laverne Cox and M Lamar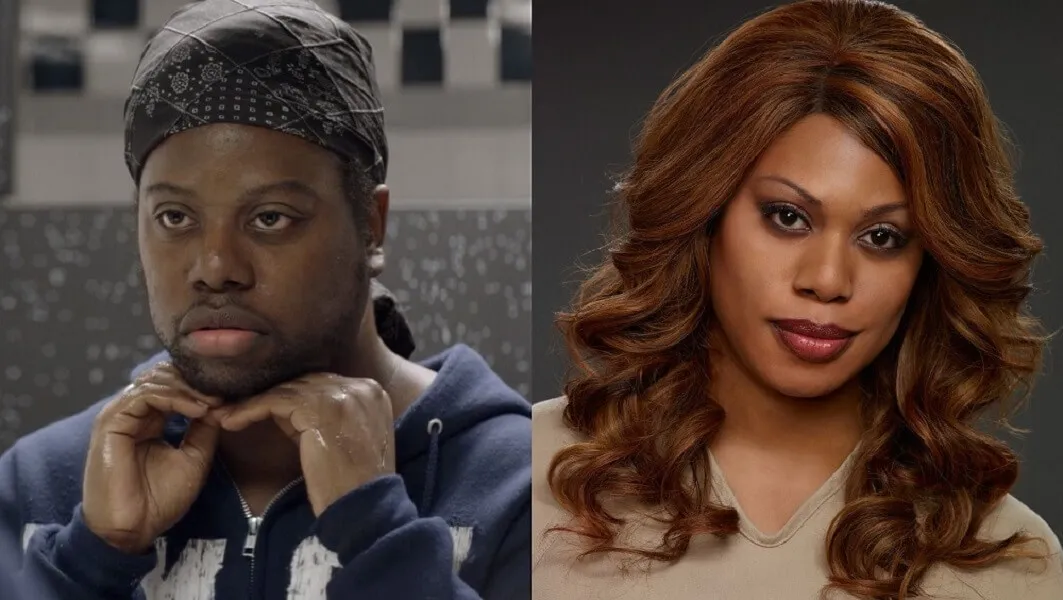 Actress Laverne Cox and her identical twin brother M Lamar have achieved success in different parts of the entertainment industry. Cox is best known for her portrayal of transgender inmate Sophia Burset on the popular Netflix series Orange is the New Black. Her brother, M Lamar, portrays Sophia in a flashback before her transition.
Lamar also has a successful career separate from his sister. The New York City-based composer, multimedia artist, musician, and counter tenor has created art that's been praised by The New York Times as "a bracing alternative to the dispiriting traffic in blandly competent art clogging the New York gallery system."
Olly Murs and Ben Murs
An appearance on The Jonathan Ross Show revealed that twins Olly and Ben were actually estranged for quite some time after Olly wasn't able to attend his brother's wedding due to a scheduling conflict with X Factor. If you think that is bad, the whole family was once in a heated feud. "He made the decision not to speak to the family," said Olly when asked about his brother.
Ben even went so far as to change his name to further distance himself from his family. But in 2018, Olly revealed that he hoped that he would see his brother again "one day."
Jill Hennessy and Jacqueline Hennessy
These twin sisters come from Canada, and one went on to become an actress while the other stayed in Canada to host a TV show. Two paths that both require being in front of a screen. Their good looks may have had a part in their decisions.
If you have two twins that look so much alike why not cross the border and take over both entertainment industries at the same time!
Tia Mowry & Tamera Mowry
You may recognize these faces, as they starred in their own show: Sister, Sister! However, many people think the young actress pulled a Lindsay Lohan (a la Parent Trap) and played both parts; not true, there are two! Not only are there two but they both prett different lives.
Life took a tragic turn for the twins in 2018. Tamera's Niece Alaina Housley was killed in the Borderline bar shooting in Thousand Oaks, California, on Wednesday, November 7. Tia took to Twitter to support her sister, writing "Our sweet Alaina Housley is gone. We love you. We are devastated."
Jason London and Jeremy London
These twin brothers are also both Hollywood actors; Jeremy was in Party of Five, 7th Heaven and I'll Fly Away, while Jason starred in Dazed and Confused. Being the bad boys of Hollywood comes at a price when it comes to casting.
They may have played in cult classic roles but have not been in much as of late. With their charming good looks and bad boy portrayals, they were big fan favorites for years and that's nothing to gawk at in an always changing Hollywood.
Siva Kaneswaran and Kumar Kaneswaran
Siva is a member of the British boy band "The Wanted." He has an identical twin who could easily step in when he doesn't feel up for red carpet events. Siva is also a model and both of them grew up in a large family in Dublin. In fact, there are seven siblings in their close-knit family.
Kumar eventually got into entertainment and has two movie credits to his name: Rock Rivals and Uncle Max.
Aimee Ann and Katy Ann Duffy
The singer that goes by the single name moniker, Duffy, has a twin sister, Katy Ann. Some of Duffy's songs are about her sisters. This twin-tastic pair were born in Bangor, Gwynedd.
Duffy was introduced to Jeannette Lee and that meeting led to her getting signed by A&M records in 2007. We might not know her sister as a household name but Duffy has more than made up for that fact with hit songs and world tours.
Nicholas Brendon and Kelly Donovan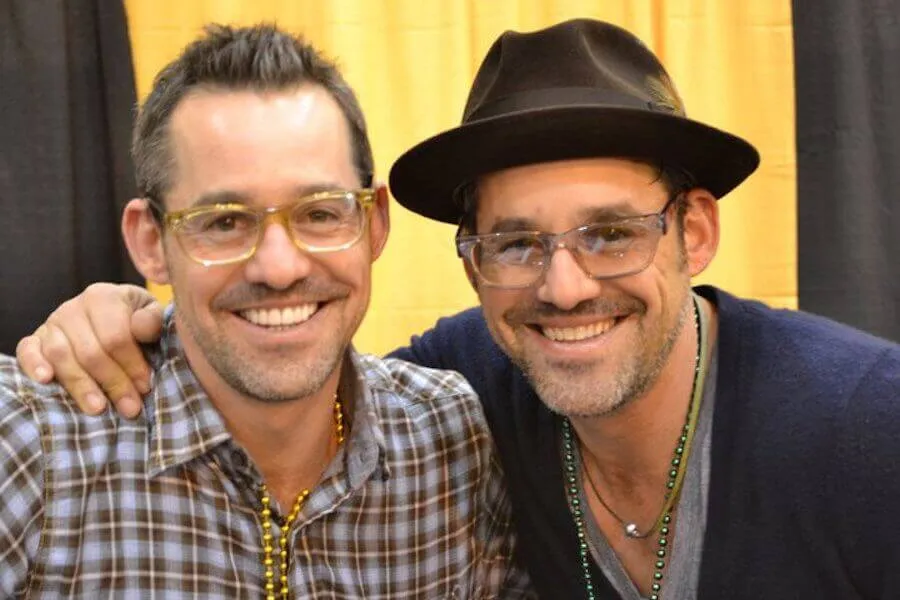 Nicholas Brendon was best known for his role in Buffy the Vampire Slayer, and his twin brother Kelly Donovan actually stepped in as a stand-in throughout the show. Donovan always had an interest in acting and got his big break in the 1997 movie City Guys.
The brothers were born only three minutes apart and it just seems like the pair couldn't stay away from each other for too much longer than that. We love to see siblings who stay so close!
Monique Lamoureux and Jocelyne Lamoureux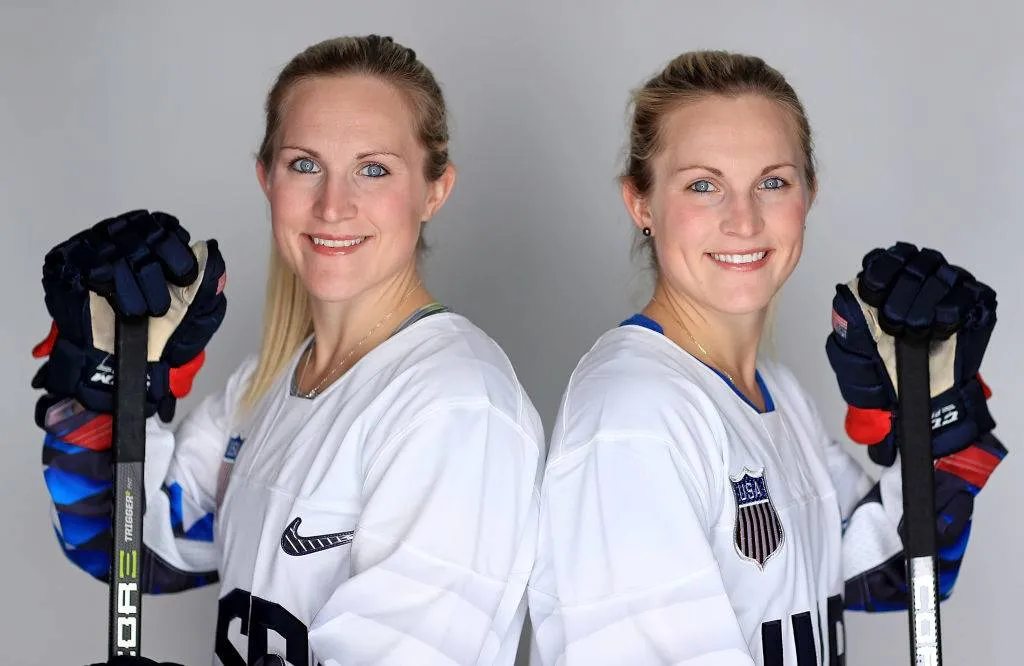 The hockey-playing pair have been hard to miss on the rink. They grew up in a house full of hockey players. Either one of two things can result from that. One, they can grow to resent hockey and want nothing to do with it. Or, they can embrace it and become great at it themselves. It seems that the latter stuck.
The hockey phenoms really made the news in 2018 when they announced that they were both pregnant at the same time! Talk about being close." Like everything in life, we're doing it together," Jocelyne said.
Charles Carver and Max Carver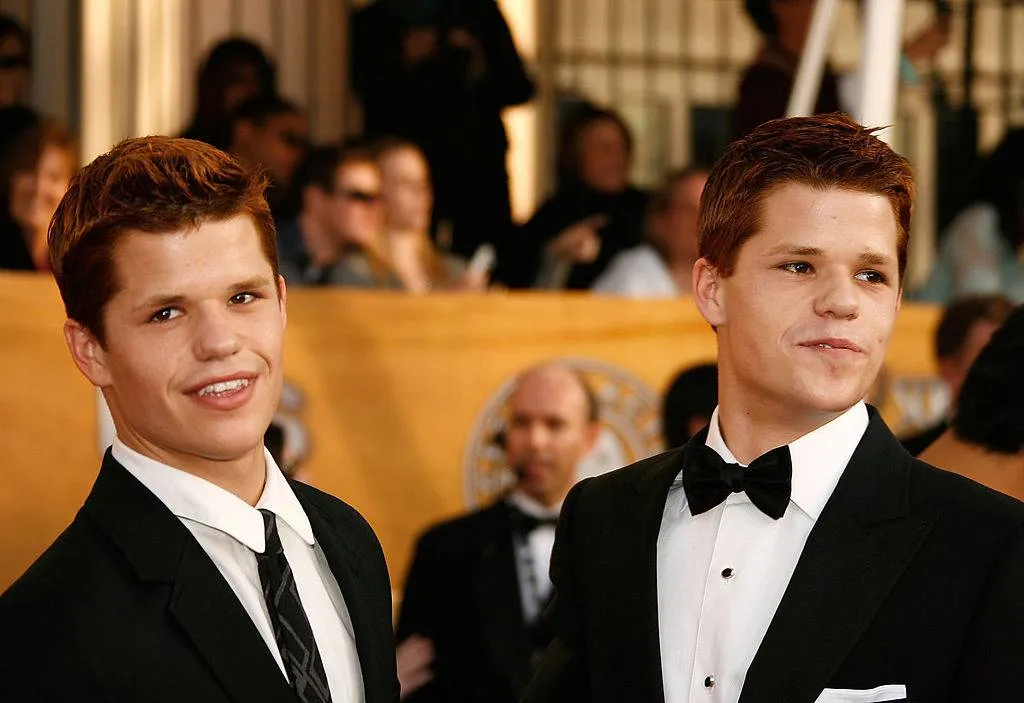 Charlie starred in Teen Wolf, along with his brother, and came out as gay in 2007. "As a young boy, I knew I wanted to be an actor." wrote Charlie. "It was around that age that I also knew, however abstractly, that I was different from some of the other boys in my grade."
Both Carver brothers have done well for themselves, with them later acting as twin characters Porter and Preston Scavo on the television series Desperate Housewives.
Conrad Bain and Bonar Bain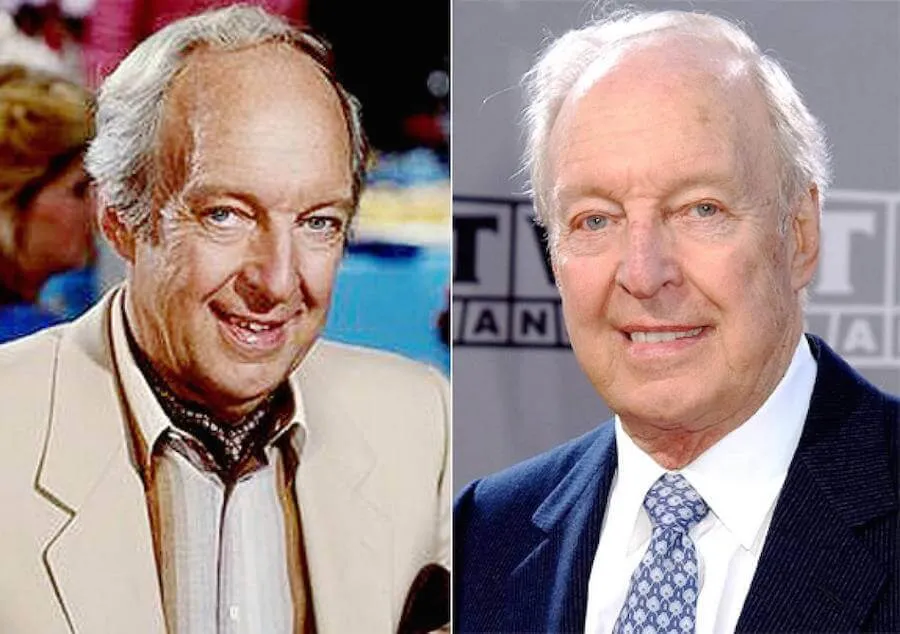 Canadian-American actors, with television credits ranging from Diff'rent Strokes to Maude. Sadly, Conrad passed away in 2013. His daughter, Jennifer was quoted saying, "He was an amazing person. He was a lot like Mr. Drummond, but much more interesting in real life. He was an amazing father."
Brother Bonar, who died in 2005, once appeared as Arnold Harmon, the twin brother of Dr. Arthur Harmon, who was Conrad's Maude character.
Blake Tuomy-Wilhoit and Dylan Tuomy-Wilhoit
Blake was born, as a twin, in Los Angeles, California. He is best known for his role on Full House and now Fuller House. After Full House, the two grew up but they did not continue on their early acting journeys together.
Dylan does sound work for films and video games, and even earned an Emmy nomination for his work on the HBO series Game of Thrones. Blake decided to be a firefighter.
James Phelps and Oliver Phelps
Identical, British twins who are best known for playing twins in the Harry Potter film series, the two started their careers at 14 years old. Their roles may not have been that big in Harry Potter but they were still well-known and loved thanks to the series. Fun fact: the twins and the rest of the HP were tutored on set during filming.
Today, James and Oliver spend their time between Santa Monica, California, and their home back in the UK.
Bryan Kirkwood and Denny Kirkwood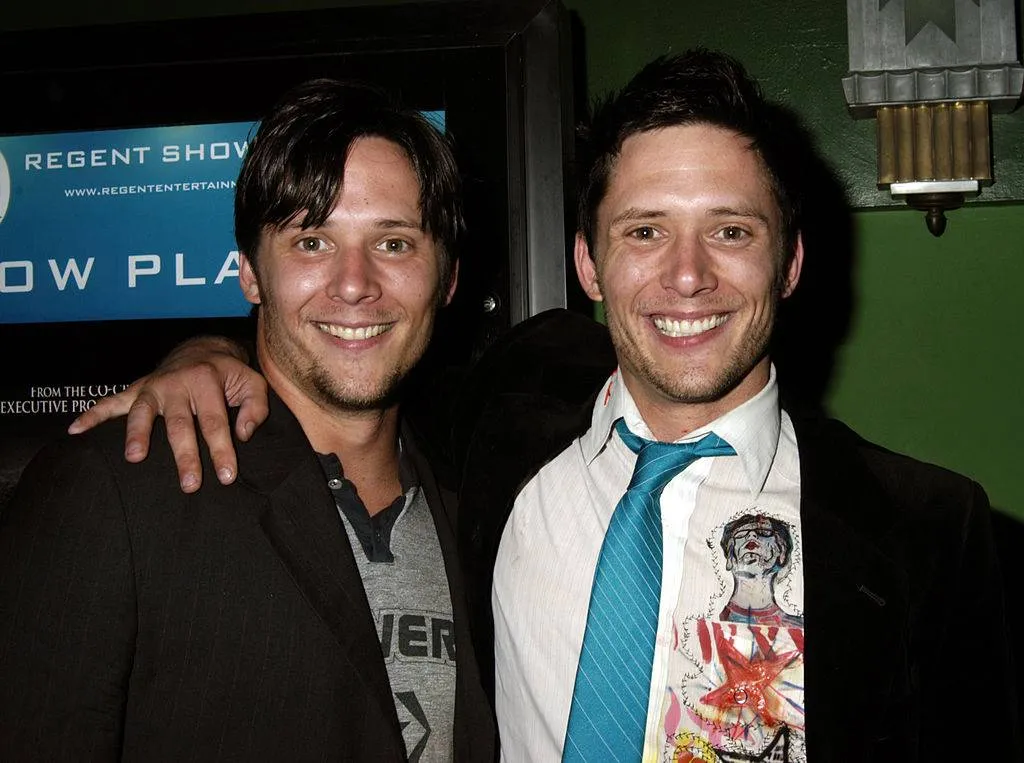 They are twin American actors, born in Washington. Denny made his acting debut after he was involved in Never Been Kissed. They've both appeared in a number of TV series including The Nanny, Lois and Clark, Weird Science, One World, and The Dead Zone.
And judging from the looks of their bodies, any shirtless scene may have gained them a multitude of women fans. Do you think their large muscles contributed to their portfolios?
Ashton Kutcher and Michael Kutcher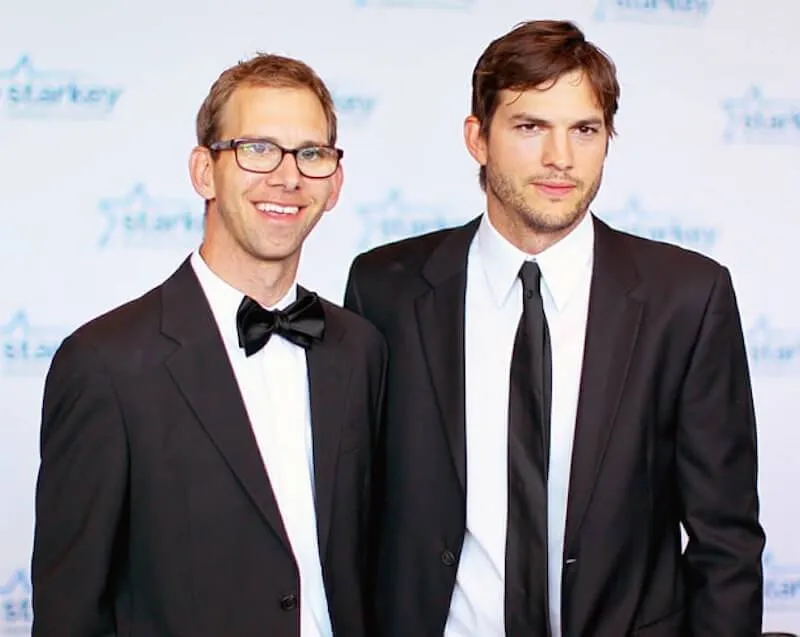 The funnyman known as Ashton Kutcher has a fraternal twin who lives in Iowa with a son. Michael was diagnosed with cerebral palsy as a child, and he now works as a motivational speaker.
The Punk'd star hardly ever brings up anything about his brother but on the rare occasion he has talked about Michael's fight with cerebral palsy Ashton had to fight back tears. There's definitely a deep love among these twins.
Liz Sagal and Jean Sagal
Liz has received accolades for both acting and writing in Hollywood. She appeared in Grease 2, Flashdance and Double Trouble. Jean is known as an actress and director. Perhaps, the two could pair up and make a movie of their own where Jean directs and Liz writes the movie.
The twins have another sister, one that might just be more famous than they are! Katey Sagal is best known for her portrayal of Peg Bundy on Married...With Children. She has also been Leela on Futurama, Cate on 8 Simple Rules, and most recently as Gemma on the series Sons of Anarchy.
Malika Haqq and Khadijah Haqq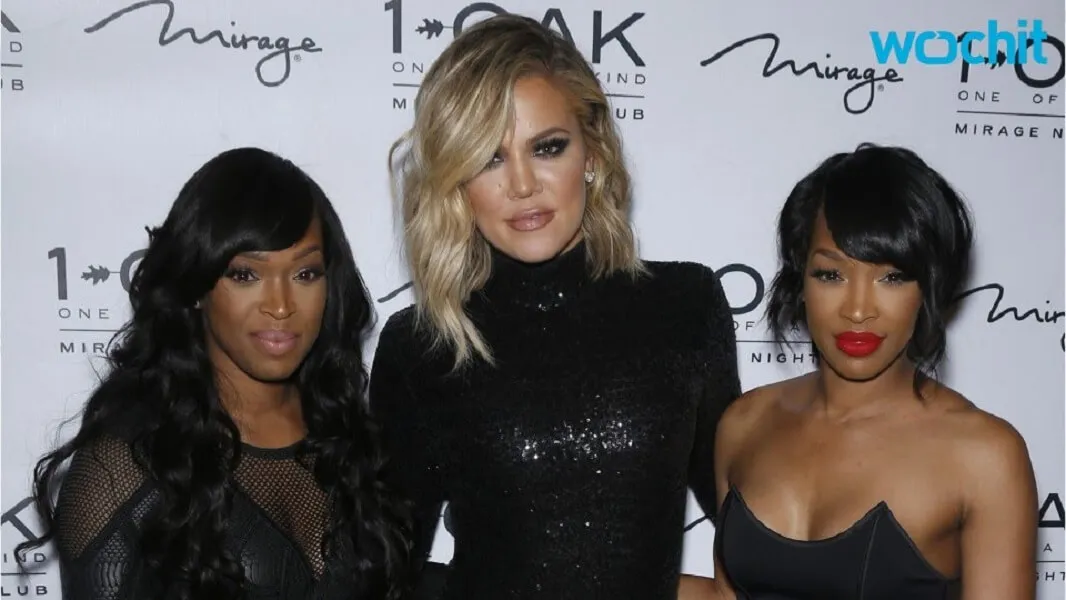 These twins are likely to be found hanging around the Kardashians; they are businesswomen and branding gurus. Both stunning, it makes sense that they hang out with the beautiful Kardashian sisters. Birds of the same feather flock together. You probably have caught them on a few episodes of Keeping up with the Kardashians.
In 2015 they even got their own reality show, called Dash Dolls. It only ran for one season, in 2015. Khadijah has been married to former Saints defensive end Bobby McCray since 2010..
Paul Vogt and Peter Allen Vogt
Paul, an actor who's really good at impressions, is also a comedian who appeared on MADtv and The Big Gay Sketch Show. Peter Allen was best known for appearing in Princess Diaries 2 and Valentine's Day. Those are an impressive list of shows and movies that these identical-looking brothers accomplished.
In 2013, Paul was diagnosed with non-Hodgkin's lymphoma. Fortunately, as of 2015, he is now a survivor and is in recovery.
Judy Reyes and Joselin Reyes
Both twins are actors; Judy is best known for her role in Scrubs, and Joselin best known for her part on Law and Order. Joselin may be the less known two of the sisters but she appeared alongside Judy as her sister in Scrubs.
As of 2017, Judy's primary role is as Annalise "Quiet Ann" Zayas in the crime comedy-drama, Claws. She has also appeared on shows like Law & Order, The Sopranos, and NYPD Blue.
Hailey Partridge and Sierra Partridge
The Southern California twins can be found surfing the coast of their state. Sierra was once asked about Californians' health and she responded, "I feel as if California people go with the flow and don't stress about the little things. Life is too short; we need to have as much fun as possible every day."
Other than surfing and having fun, the twins also enjoy paddle racing, horseback riding, and modeling. They're quite a well-rounded team!
Randy and Jason Sklar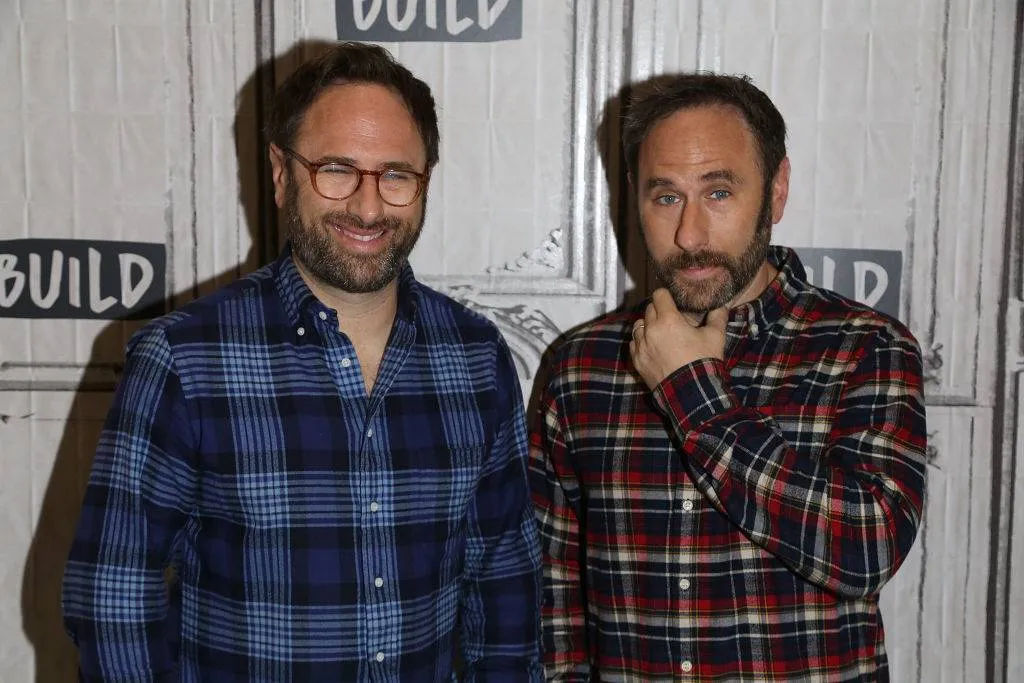 Randy and Jason Sklar, who are professionally known as the Sklar brothers, are identical twin sportscasters and comedians. In their early careers, the Sklar Brothers were hosts on Cheap Seats, a show on ESPN Classic that highlighted odd or notable sporting events, and borrowed its format from Mystery Science Theater 3000.
The Sklar Brothers went on to co-write the Nick Kroll web series Layers, and write the web series Held Up. They also hosted a television show on the History Channel called United Stats of America, and they have their own weekly podcast called Sklarbro Contry. These twins definitely know that sticking together is the key to their success.
Stephen and Timothy Quay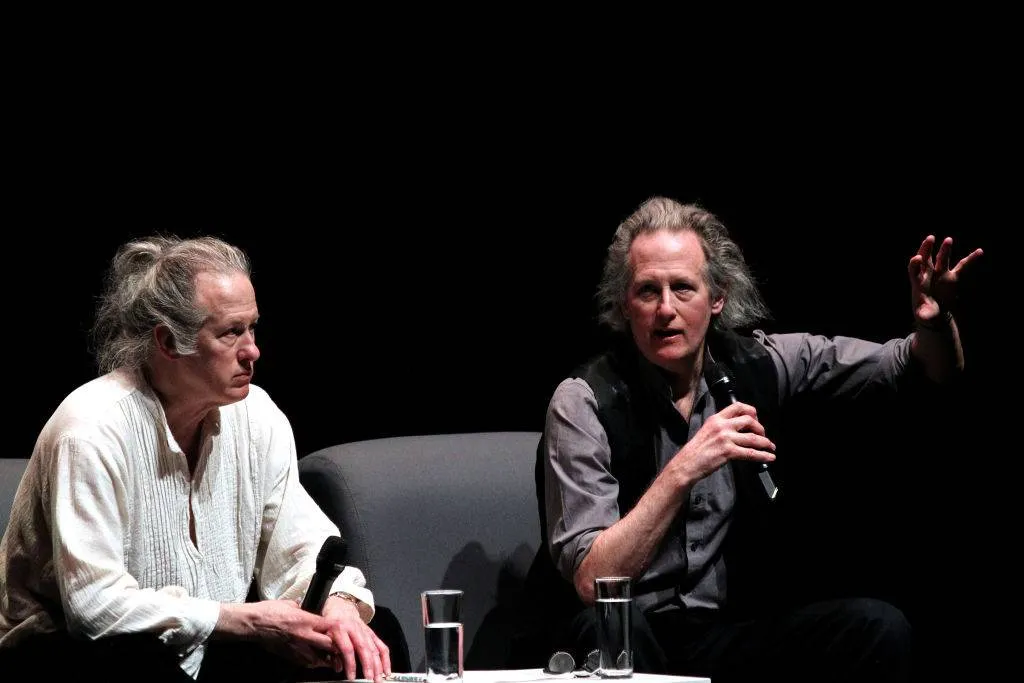 Stephen and Timothy Quay are identical twins better known as the Brothers Quay or Quay Brothers. These influential stop-motion animators know that two heads are better than one when it comes to making their surreal films. Their animation features puppets in dark moody atmospheres, as they were influenced by many Polish and Czech animators.
Their most popular film in Street of Crocodiles, which Terry Gilliam selected as one of the best animated films of all times. However, few people are familiar with their avant-garde animation outside of the film world. Instead, audiences might recognize the Brothers Quay from animated sequences they direct for bigger budget movies, including the film Frida.
Kristina and Karissa Shannon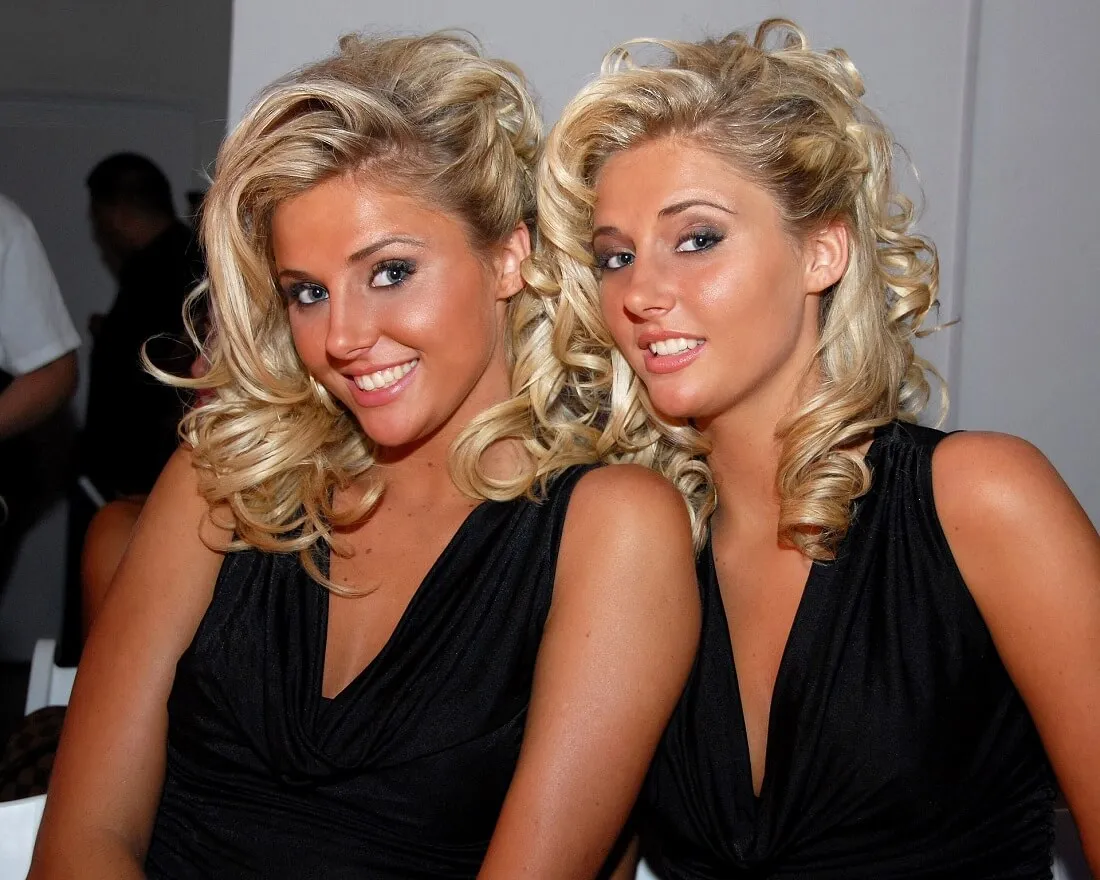 Kristina and Karissa Shannon are best known as two of Hugh Hefner's girlfriends on the E! reality show Girls Next Door. The Playboy models insist that despite their "girlfriend" title, their relationship with Hefner was more platonic.
Since the show ended, the twins have appeared in a few films as themselves. Kristina was also reported to be dating fellow Playmate Ida Ljungqvist, who she met while she was living at the mansion and dating Hefner. They were also both charged with aggravated battery in 2008 after getting into a fight at a house party. They pled no contest and were put on probation.
Gary and Larry Lane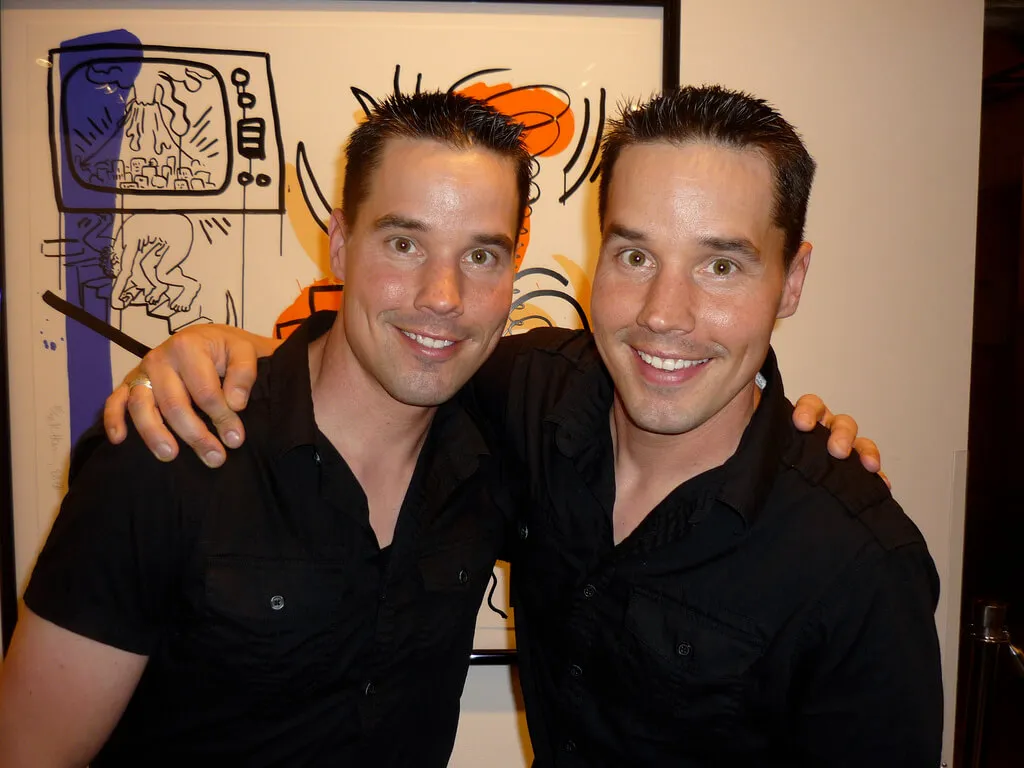 When you have identical good looks, why not capitalize on it and become models? That was the thought process behind Gary and Larry Lane's career. The identical twin brothers also branched into acting, with appearances on Dawson's Creek, and in Zoolander.
The Lane twins are best known for their documentary Hollywood to Dollywood, in which they try to hand deliver the screenplay they wrote Full Circle to Dolly Parton to convince her to take the role tailored for her. The documentary also explores their concern about how their Southern hometown will react to the fact that they're gay, and their desire for acceptance from their Southern Baptist mom. The film won 24 awards at film festivals.
Albert and Allen Hughes
Albert and Allen Hughes are best known professionally as the Hughes brothers. These twins co-direct visceral, sometimes violent, films, including Dead Presidents, American Pimp, and The Book of Eli. Allen Hughes also branched out on his own to direct a short film for New York, I Love You.
The Hughes brothers were born in Detroit. Their mother was supportive of their film ambitions and gave them a video camera when they were twelve. The twins dropped out of high school their senor year, and started directing music videos for Tupac Shakur and Tone Loc. They moved on to feature films later.
Diane and Elaine Klimaszewski
Diane and Elaine Klimaszewski are better known as the Coors Light Twins. These Polish American models and actresses first made an appearce as teen dancers on Star Search in 1987. Then, they appeared as models on Let's Make a Deal.
The twins also signed on with the World Wrestling Federation and were Nitro girls for a while. They competed as the Power Twins. Their Coors Light advertisements are what the twins are best known for. Their ad campaign called "Love Songs" were the highest scoring spots in Coors history, and the twins were parodied by Rachel Dratch and Jennifer Garner on Saturday Night Live.
Kelley and Kim Deal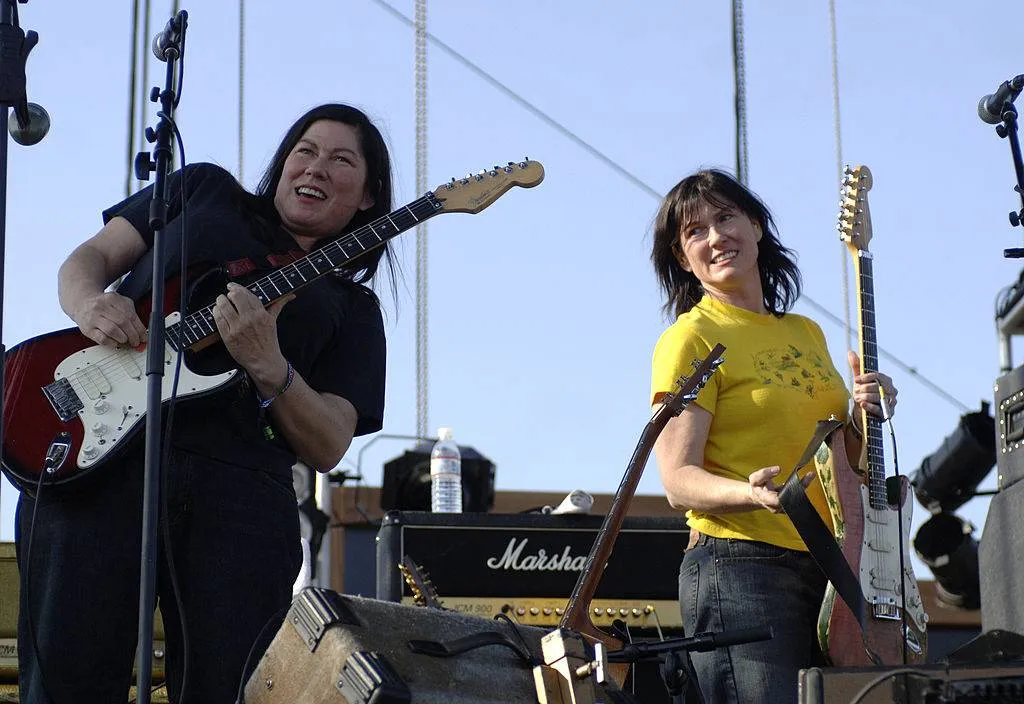 Kelley and Kim Deal are identical twin sisters who are also both musicians. The twins played together in the band The Breeders, with Kim as rhythm guitarist and lead vocalist, and Kelley as lead guitarist. Kim Deal was also in The Pixies, and toured with The Amps.
Kelley Deal has also taken on other projects. In addition to playing with The Breeders, Kelley started The Kelley Deal 6000, and joined The Last Hard Men. She's battled a heroin addiction throughout her career. In recent years, Kelley has also been knitting, and has appeared on the DIY Network show Knitty Gritty as well as releasing a book of her handbag patterns. The Deal twins aren't the only twin sisters in music.
Tegan and Sara Quin
Tegan and Sara Quin are best known as the musicians behind the Canadian indie pop duo Tegan andSara. These identical twin sisters collaborate as songwriters for the duo, and both know how to play multiple instruments. They've released eight studio albums together, and even earned a Grammy nomination or their live album "Get Along."
These twins have had each other's backs for a long time. The duo began writing songs and playing guitar at age 15, when they formed a band called Plunk. Before they were Tegan and Sara, they were known as Sara and Tegan, but fans were confused about the name thinking it was a solo act named "Sara Antegan" Both twins are openly gay and are advocates for LGBT rights.
Shane and Sia Barbi
Shane and Sia Barbi are best known as The Barbi Twins. These identical sisters began their career as cover models for Playboy, and went on to appear on the covers of mainstream women's magazines as well as having a popular calendar model career.
The Barbi Twins put their fame to good use. They released a health and fitness book that was also a self-help guide for others struggling with eating disorders. Their second book addressed how to be animal and eco-friendly while being healthy and fit. They have donated all of the proceeds from their books to animal charities. The twins have posed in campaigns for animal rights as well.
Robin and Maurice Gibb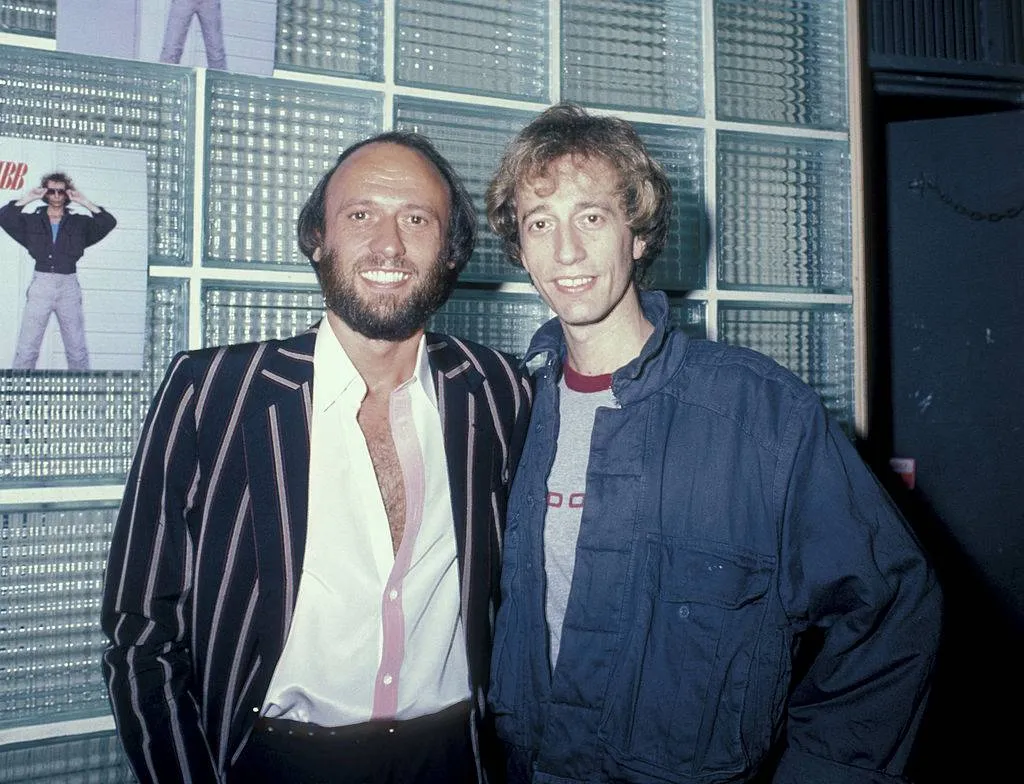 The Bee Gees, one of the most successful pop-rock groups ever, consisted of three brothers: Barry, Robin, and Maurice Gibb. Robin and Maurice Gibb were twins. The musicians in the popular 1960s and 1970s group are fraternal twins, and Robin is younger by 35 minutes.
Maurice Gibb's role in the group was mostly focusing on backing vocal harmony, melody and arrangements, and playing a variety of instruments. Robin played a variety of keyboards for The Bee Gees, and acoustic guitar and organ on his solo album. Sadly, both twins have since passed on, with Robin aged 62, and Maurice aged 53.
Didem and Sinem Balık
Didem and Sinem Balık, best known as The Balık Sisters, are a famous opera act. The Turkish identical twin sisters Didem and Sinem are also known by the nickname "the Opera twins." Sinem is a soprano and Didem is a mezzo-soprano. Didem is also the older twin by five minutes.
The Balık sisters started studying music when they were just four years old, before they could even read or write. They have performed concerts to critical praise throughout the world, and often wear traditional Turkish clothing at their appearances. In addition to opera, they sing Broadway musicals, Italian Neapolitans, operettas, and more. They are currently living in Vienna, Austria.
Kyle and Lane Carlson
Kyle and Lane Carlson are identical twin models with a twelve pack between them. The twins came from humble beginnings, and were born in Stillwater, Minnesota. Kyle is younger by six minutes. They were scouted at a shopping mall, and signed with Elite Model Management. The nature of their photoshoots also quickly made them gay icons, even though both twins are straight.
Some of their most recognizable jobs were for Armani and Abercrombie and Fitch. They've also appeared on several television shows. Lane was a contestant on NBC's Fear Factor and made it to the final round. The twins appeared together on Mobile Home Disaster. Kyle was also regularly featured on Deserving Design on HGTV.
Ethan and Grayson Dolan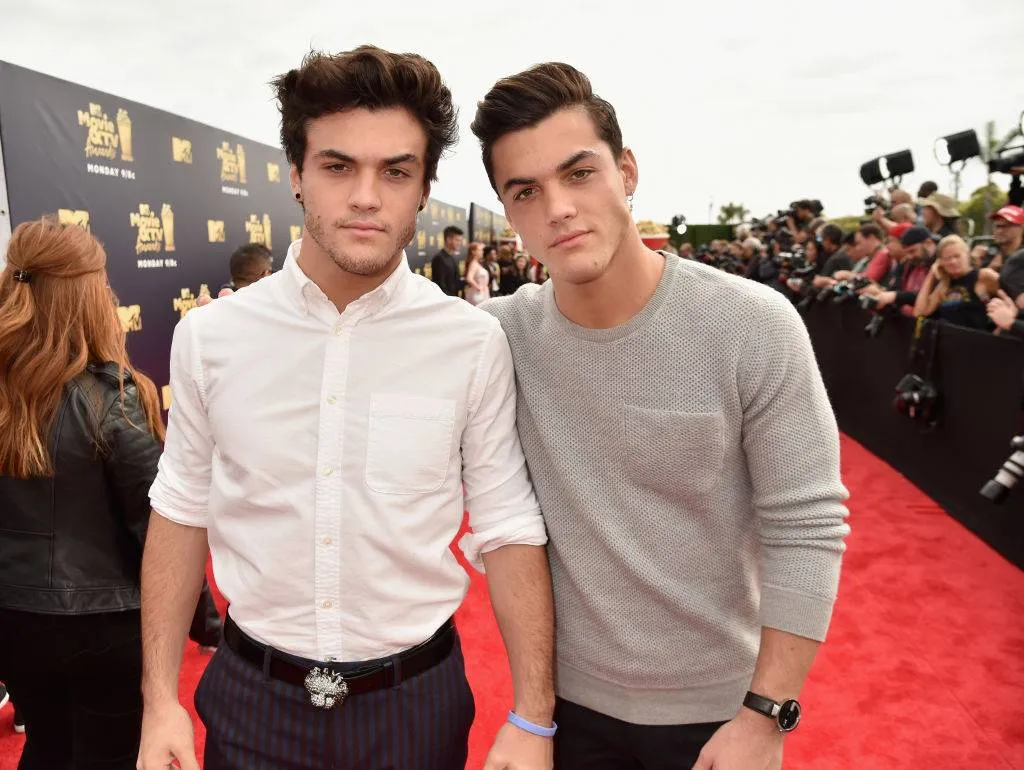 Ethan and Grayson Dolan, better known as The Dolan Twins, rose to popularity as a teen comedy duo on the now defunct video sharing platform Vine. Their videos accumulated 6.4 million Vine followers, and 3 million YouTube subscribers. The duo also won the 2016 Teen Choice Awards titles of Choice Web Star: Male and Choice YouTuber.
The Dolan Twins got their start on Vine in 2013, and collaborated with digital stars Cameron Dallas and Amanda Cerny. Just because Vine is dead doesn't mean these twins are giving up. In 2015 Ethan and Grayson Dolan signed to Awesomeness TV, and continue to make web videos.
Cameron and Tyler Winklevoss
Cameron and Tyler Winklevoss, the Winklevoss twins, who are sometimes referred to as Winklevi, are two of the biggest names in tech. The Internet entrepreneurs may be known for their suit against Facebook founder Mark Zuckerberg who allegedly ripped off their idea, but they rebounded as venture capitalists and are involved with the bitcoin payment processer BitInstant.
In addition to their business in the technology industry, the Winklevoss twins are also accomplished athletes. They competed at the 2008 Beijing Olympics in the men's pair rowing event. In the David Fincher film The Social Network, both twins were played by actor Armie Hammer.
Linda and Terry Jamison
Historically, many cultures have held the belief that there's something mystical about twins. Linda and Terry Jamison are definitely taking advantage of that trope. The Los Angeles based identical twins have made a career as psychics.
The Jamison twins have had their predictions featured in tabloids, and claim to channel the spirits of dead celebrities. They also claim that they predicted the September 11th attacks on the World Trade Center in 1999 on the Art Bell show, but transcripts show the twins saying, "We are seeing terrorist attacks on…the New York Trade Center, the World Trade Center in 2002." Since the World Trade Center had been previously attacked in 1993, their claims were actually pretty vague.
Lee and Lyn Wilde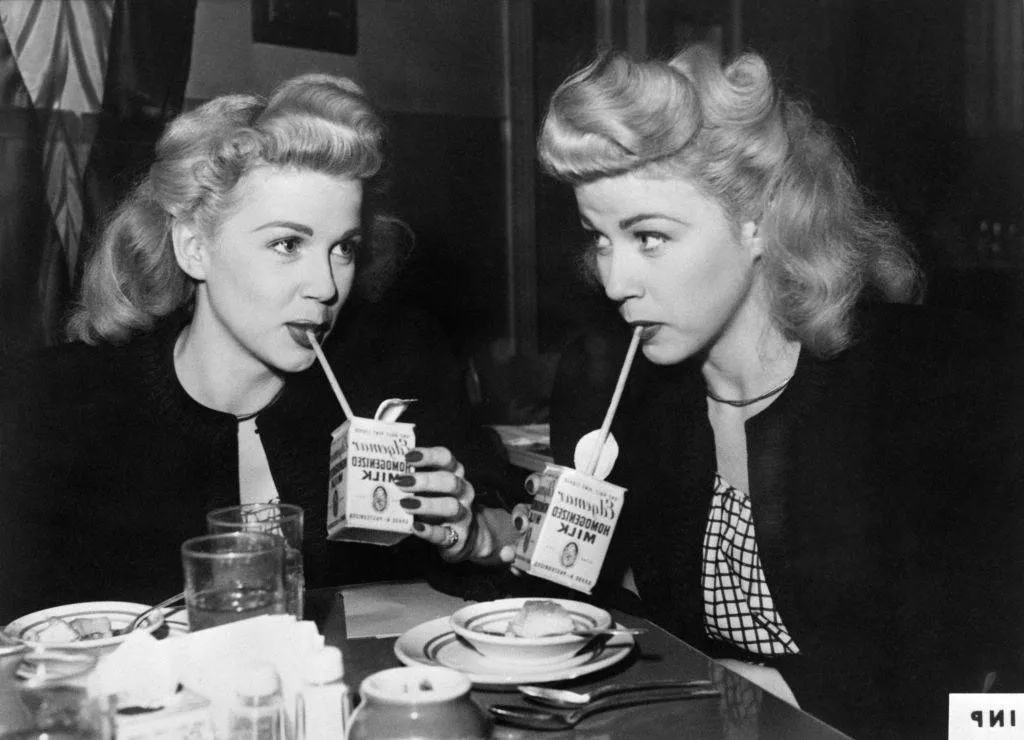 The love of twin entertainers isn't just a recent thing. Lee and Lyn Wilde appeared in films as The Wilde Twins throughout the early to mid-1940s. These charismatic blonde beauties were born in Illinois, and began singing in church, singing hymns for the local radio station by the time they were teens.
In the 1940s, the twins became band singers. Then, their live performances led to featured film appearances, including in Judy Garland's Presenting Lily Mars, and Twice Blessed. Lee and Lyn left show business before the 1950s. Lee earned her pilot's license, and earned several degrees. They also married twin brothers. Lee and Lyn died at the ages of 92 and 93 respectively.
Milly and Becky Rosso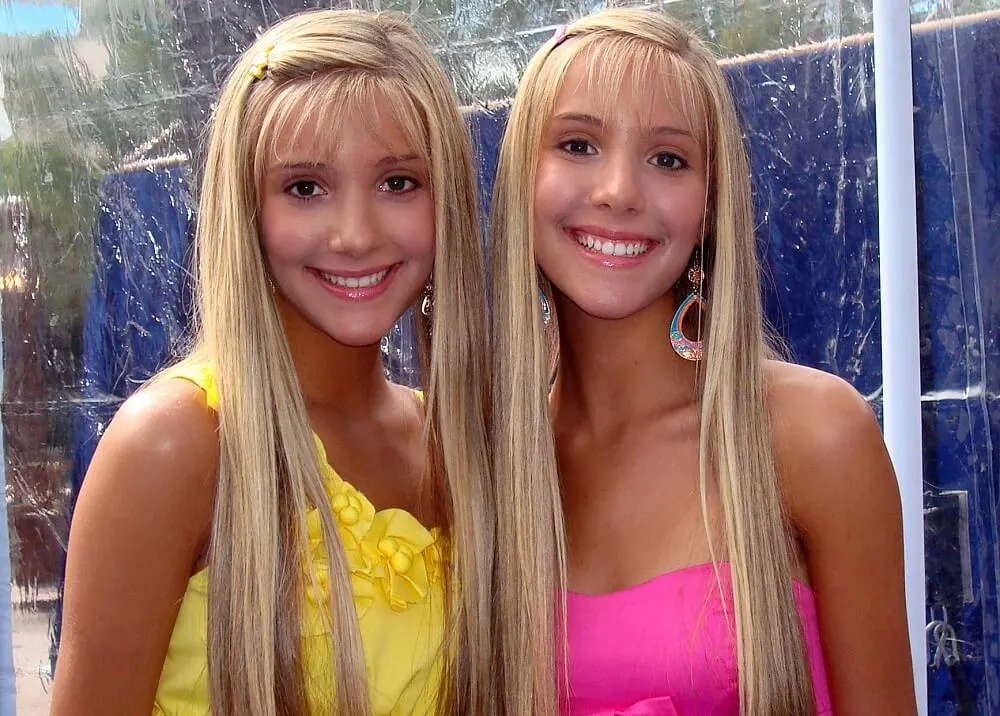 Camilla "Milly" Rosso and Rebecca "Becky" Rosso are British twins who appeared alongside another set of twins, Cole and Dylan Sprouse, on The Suite Life of Zack & Cody. They were discovered after being picked out of the audience by a producer during a live taping of The Suite Life.
They also starred as the main roles in the film Legally Blondes which was released on DVD in 2009. The film as produced by Reese Witherspoon. Becky and Milly formed a girl group called The Rosso Sisters with their other sisters Georgina and Lola, though their oldest sister didn't join the group. Sadly the group disbanded after the death of their mother.
Lindsay and Sidney Greenbush
You may not recognize these now 46-year-old twins today, but Lindsay and Sidney Greenbush were on your TV a lot in the 1970s. The Greenbush twins are best known for their combined and alternating role as Carrie Ingalls on the drama Little House on the Prairie. You may not have realized Carrie Ingalls was played by twins, since the twins were credited as Lindsay Sidney Greenbush in the opening sequence.
After some commercials for Doublemint Gum, Kentucky Fried Chicken, and Mattel Toys the twins retired from acting to focus on school and being kids. The Greenbush twins come from a family of actors, with their brother Clay, and their father Billy "Green" Bush appearing in bit roles.
Camille and Kennerly Kitt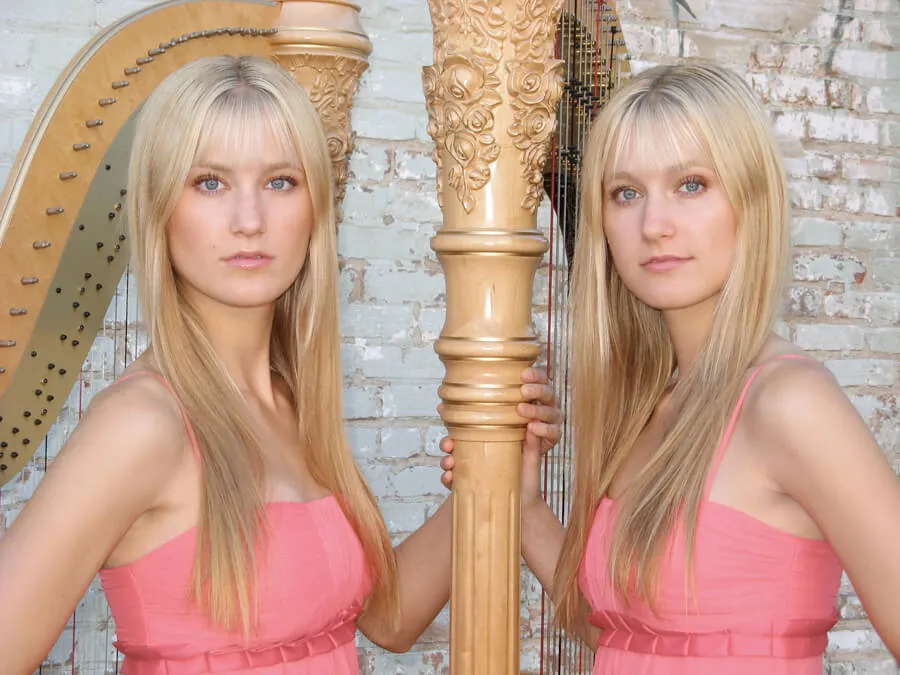 Camille and Kennerly Kitt are better known as The Harp Twins. The identical twin actresses and harpists have recorded over 50 singles that were released online and four physical albums. They often arrange contemporary songs by Lady Gaga, Rhianna, Iron Maiden, Pink Floyd, Coldplay, and more. They've also recorded music for video games.
They market themselves to fantasy and video game fans, often dressing in elf costumes. They have gained a large YouTube following with over 25 million views of their dozens of music videos. The sisters play both classic concert grand pedal harps and electric lever harps in their songs.