Celebrity Fashion Face-Off: Who Wore It Best?
Welcome to our celebrity fashion showdown, where we compare and contrast the style choices of some of the biggest names in Hollywood. Let's take a closer look at some of the most iconic outfits worn by our favorite stars and determine who truly wore them better.
Get ready for the ultimate fashion face-off!
Colorful Clash: Drew Barrymore Vs Kate Middlleton
Drew Barrymore has earned her title of America's Sweetheart and looked every bit the part in this Tory Burch gown in 2016 on the red carpet for the ASPCA's 19th Annual Bergh Ball.
That very same day (although many hours earlier, thanks to the time differences across countries), the now-Princess of Wales Kate Middleton wore the same dress with an accompanying orange jacket to dinner with the king and queen of Bhutan. Do you think Drew pulled it off, or do you think the then-Duchess reigned supreme?
Pantsuit Prizefight: Miley Cyrus Vs Lena Dunham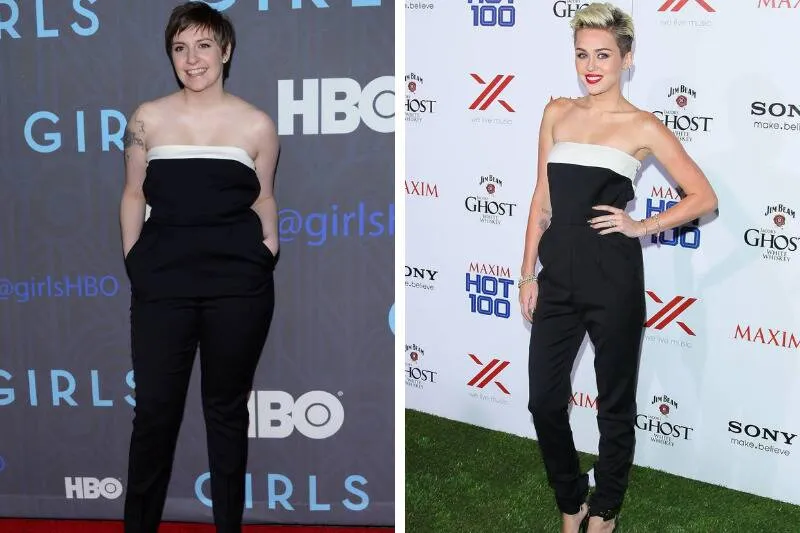 In 2013 Miley topped the Maxim Hot 100 list and showed up on the red carpet in this snappy black-and-white Valentino jumpsuit. She wasn't the first celeb to rock it that year, though!
Lena Dunham, star of HBO's Girls, rocked the same jumpsuit at the season premiere of the show! It's easy to see why the look was popular with both stars – it's simple, sharp, and even has pockets! Who do you think wore it better? Are you Team Miley, or does Lena rock it best?
Royal Rumble: Kate Middleton Vs Meghan Markle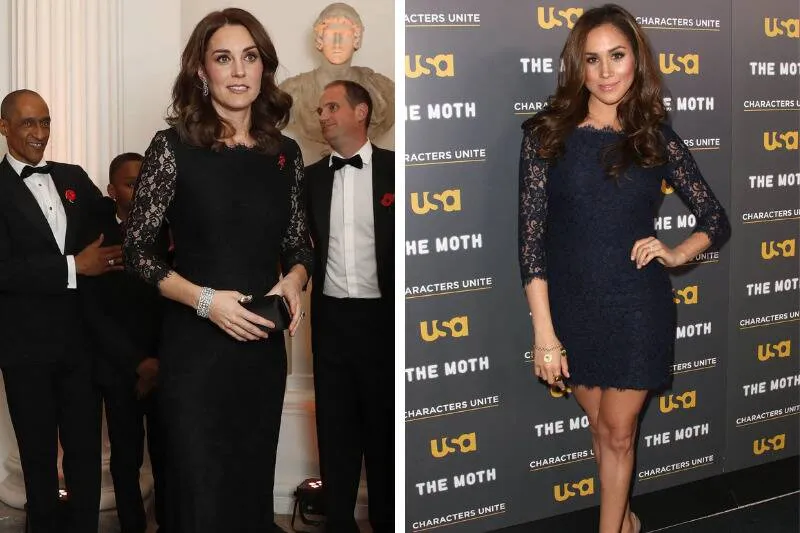 Both Kate Middleton and Meghan Markle are renowned for their style, so it's no surprise that they both rocked the same look. Meghan rocked the minidress version of this Diane von Furstenberg design all the way back in 2012. The dress is a simple lace-covered gown with a floral pattern.
Kate wore the floor-length version of the design two years later, in 2014! Which of these royal ladies do you think wore it best?
Family Feud: Angelina Jolie Vs Zahara Jolie-Pitt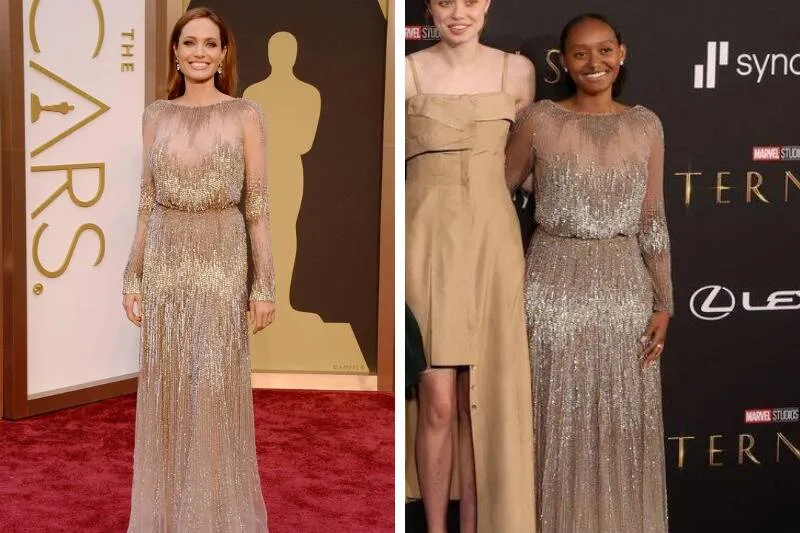 It's no surprise when Angelina Jolie shows up on a red carpet looking gorgeous and glamorous. Case in point: this beautiful Elie Saab couture gown that she wore to the 2014 Oscars!
At the 2021 premiere of The Eternals, Angelina's teenage daughter Zahara rocked the same gown next to her mom and all of her siblings. So who wore it better? Mom's original style, or daughter's updated look seven years later?
But that's not all...
Actress Jane Fonda also wore the same dress at the premiere of Grace Of Monaco at the Cannes Film Festival! Jane wore the dress in red, paired with a red clutch and heels to match.
Do you like Angelina's more neutral tone, or are you a fan of Jane's red look?
Blonde Battle: Marilyn Monroe Vs Kim Kardashian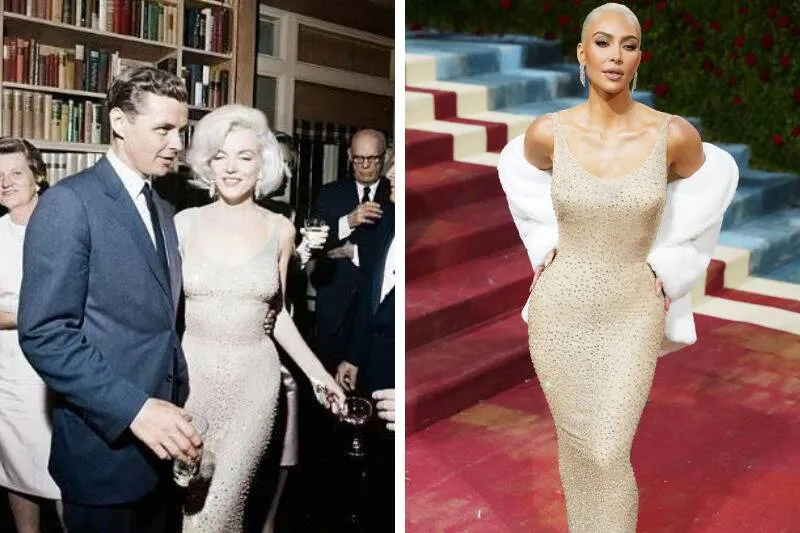 Marilyn Monroe cemented her icon status when she performed "Happy Birthday" for President John F. Kennedy in this gorgeous skintight bejeweled gown designed by Bob Mackie and Jean Louis that was custom designed for her. For the 2022 Met Gala, Kim Kardashian made headlines when she wore that very same historic dress! While she wore a replica for most of the night to not damage the original dress, she did wear the actual one for her entrance to the event and faced quite a bit of controversy for it!
Who do you think wore it better? Was it truly made just for Marilyn, or were you a fan of Kim's homage?
Singer Skirmish: Shakira Vs Pink
Shakira was definitely proving that her hips don't lie in this gorgeous black and silver strapless Balmain minidress at the 2009 MTV Video Music Awards. Fellow singer Pink also rocked the same dress, although she paired it with some silver jewelry and a flashy updo of her short silver-blonde hair to match.
But wait a minute...
They Wore It To The Same Event
Both musicians wore this dress to the same award show at the same time! Luckily, neither woman seemed bothered by this, and the two of them laughed it off and posed for a few pictures together.
Who do you think stole the show and wore it better? Are you on Pink's side or Shakira's?
Suit Scrimmage: Zendaya Vs Michael B. Jordan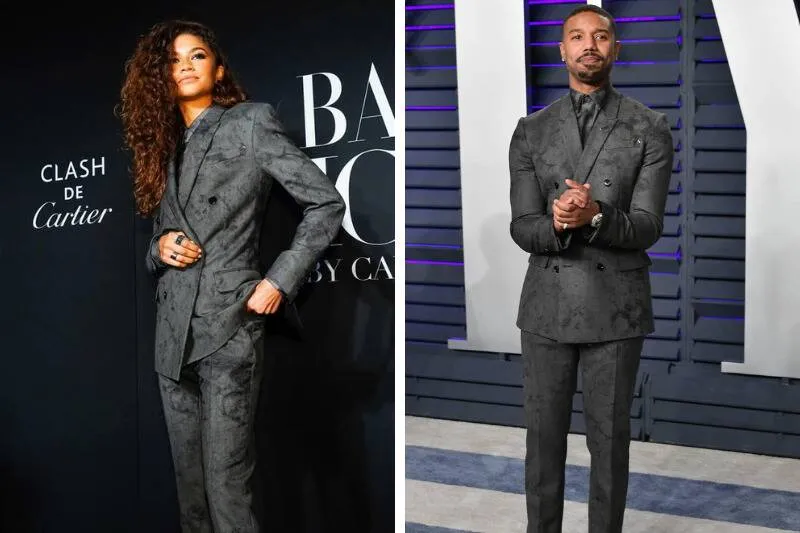 When it comes to super stylish celebrities, it's pretty hard to top Zendaya. The Euphoria star proved this was the case in 2019 when she stepped out in this gray Berluti suit at a New York Fashion Week party. Creed star Michael B. Jordan had rocked the same suit earlier that year at the Oscars!
When it comes to deciding who wore it best, Jordan already cast his vote – when an Instagram page asked who wore it better, he took the time to comment, writing, "Zendaya hands down no contest." Do you agree?
Posh Punch-Up: Meghan Markle Vs. Victoria Beckham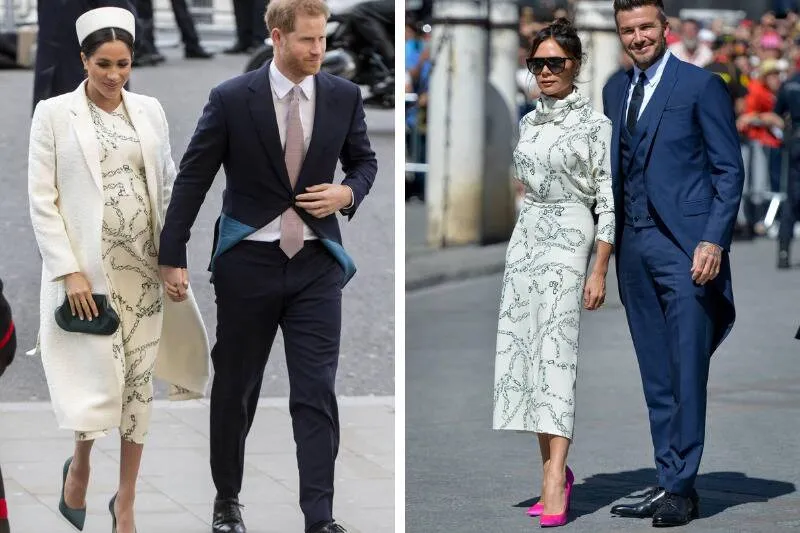 Back in 2019, Meghan rocked this Victoria Beckham-designed dress for a Commonwealth Day Service, paired with a white jacket and matching hat. A few months later, Victoria Beckham was seen in the same design while attending a wedding with her husband, although Posh opted to forgo a jacket or a hat when she was accessorizing the look.
Who do you think wore it best? Did Meghan master the look, or did the designer know how to rock it?
Floral Faceoff: Olvia Wilde Vs Priyanka Chopra
A bold pattern in a bright color in a retro-inspired turtleneck isn't for everyone, but Don't Worry Darling and Booksmart director Olivia Wilde proved that she wasn't afraid of the look in this gorgeous Kate Spade floral dress in 2018. Actress Priyanka Chopra also rocked the same dress for New York Fashion Week that same year accessorized with sunglasses and a silver bag!
Priyanka opted to rock the dress in a gentler blue color instead of Olivia's bright pink. Which of the two stars do you think came out on top?
Cheetah Contest: Demi Lovato Vs Whoopi Goldberg
Demi rocked this Dior long-sleeved cheetah print gown to the 2018 Billboard Music Awards, but eagle-eyed fashion fans knew they'd seen it on another bold and confident star a few years earlier. Actress Whoopi Goldberg showed up to the 2009 Academy Awards in this nearly-identical long-sleeved cheetah print gown, also designed by Dior. The only real difference is that Demi cinched her dress with a belt at her waist!
Do you think Demi updated the look, or was Whoopi's classic style better?
Nicky Nailbiter: Nicky Hilton Vs Nicole Kidman
Nicky Hilton, socialite and sister of Paris Hilton looked pretty in pink in this gorgeous Valentino gown, complete with pink ruffles, sheer fabric, and sequins. She paired the dress with a matching hot pink clutch and wouldn't have looked out of place in the Barbie movie! Nicole Kidman also rocked this bright dress to the Critic's Choice Awards.
Do you think Nicky wore it better, or are you on Team Kidman?
Rainbow Rivals: Dua Lipa Vs Gigi Hadid
"Don't Start Now" and "Levitating" singer Dua Lipa isn't afraid to take bold steps when it comes to fashion, which you can definitely tell by the confident way she's wearing this gorgeous graffiti-inspired jumpsuit designed by Versace. At the 2018 CFDA Fashion Awards that same year, supermodel Gigi Hadid also rocked a Versace catsuit with the same print design, albeit in a slightly different placement.
Both women pulled off this statement piece, but whose statement do you think was the best received? Did Dua levitate the look, or was Gigi modeling it perfectly?
Dotted Dispute: Kelly Clarkson Vs Kerry Washington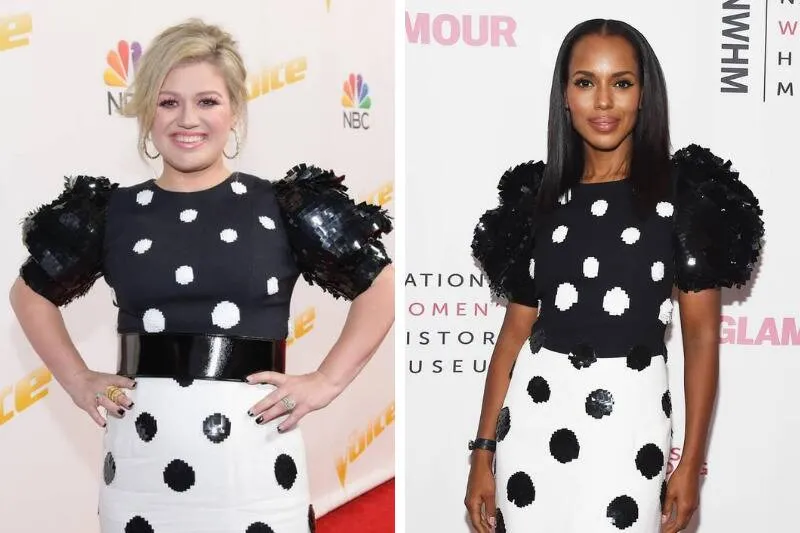 The Voice coach and singer Kelly Clarkson looked positively adorable in this black and white polka-dotted dress by designer Carolina Herrera. Scandal star Kerry Washington also looked beautiful in an unbelted version of the dress on the red carpet for the National Women's History Museum's Women Making History Awards!
Do you like Kelly's take on the dotted dress, or do you think that Kerry added a little something by removing the belt?
Stripe Showdown: Suzanne Somers Vs Mariah Carey Vs Beyoncé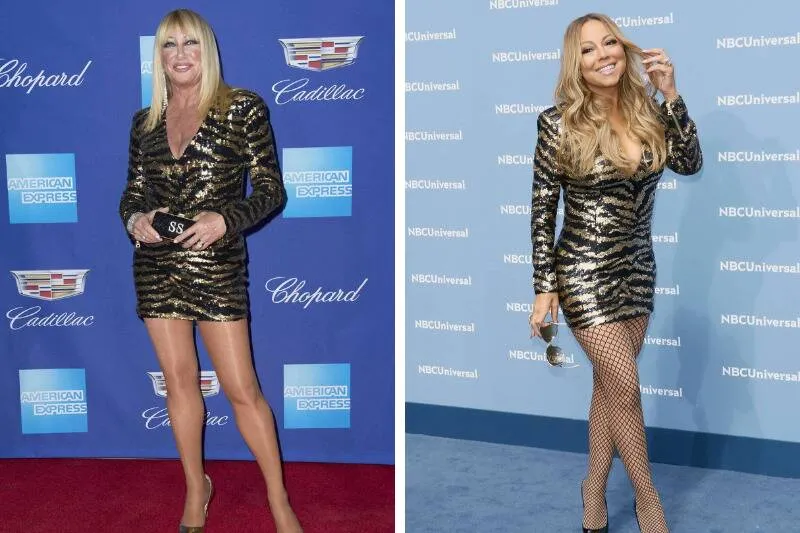 Three's Company star and fitness icon Suzanne Somers rocked this stripy sequined Balmain minidress to the Television Academy's 70th Anniversary Gala, along with a black clutch with her initials on it for flair. When Mariah rocked the same dress at the NBC Universal Upfronts in New York City, she paired the look with fishnet tights and a pair of aviator sunglasses and looked absolutely stunning.
Do you like Suzanne's simple take or Mariah's version of the look?
Jacket Jostle: Miley Cyrus Vs Harry Styles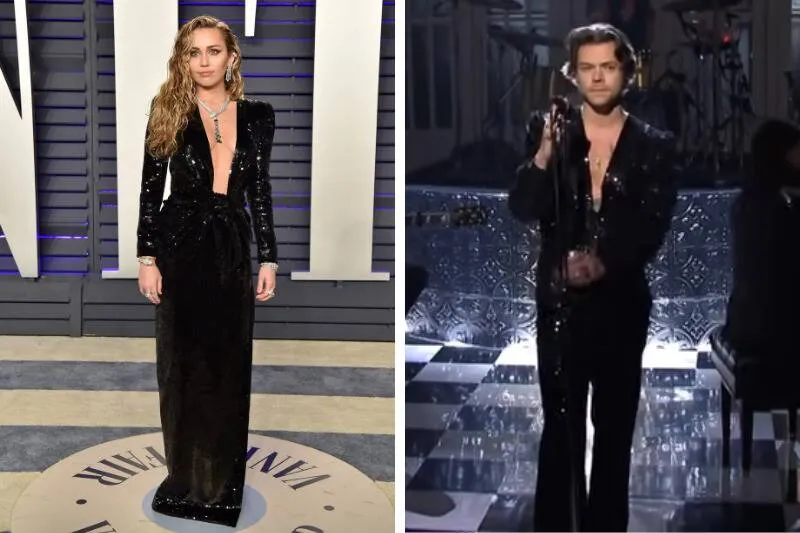 If you saw Harry Styles performing his hit "Lights Up" on Saturday Night Live, you might have recognized the jacket as the same one Miley Cyrus wore to the 2019 Vanity Fair Oscar Party. They even accessorized the look in the same way — with a long dangling necklace and rings!
Are you a fan of Miley's style, or are you Team Harry?
Strapless Scuffle: Jameela Jamil Vs Jonathan Van Ness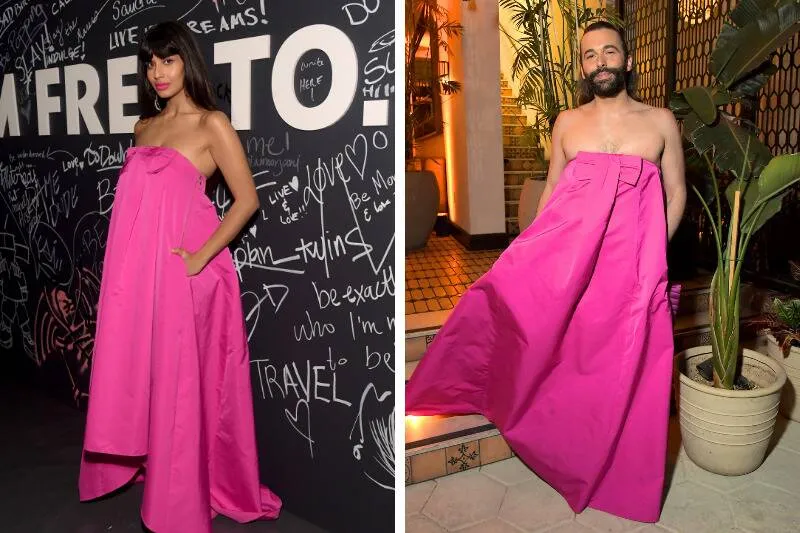 Both The Good Place's Jameela Jamil and Queer Eye's Jonathan Van Ness looked absolutely stunning in this strapless, hot pink Rochas dress. Jameela wore hers to the YSL Libre Launch Party, while JVN stepped out at the Netflix Creative Arts Emmy's Afterparty.
Jameela later tweeted, "You don't need to say it! I know JVN wore it best!" Do you agree with her?
Blue Battle: Jennifer Garner Vs Meghan Markle
Jennifer Garner wore this navy Roland Mouret Barwick Dress to accept her place on the Hollywood Walk Of Fame. Meghan wore the same dress as she was about to have a big day cementing her place in history — the day before her wedding to Prince Harry!
Both women look stunning in this classy blue gown. Do you think Jennifer has the edge, or does Meghan take this one?
White Wrangle: Helen Mirren Vs Nina Dobrev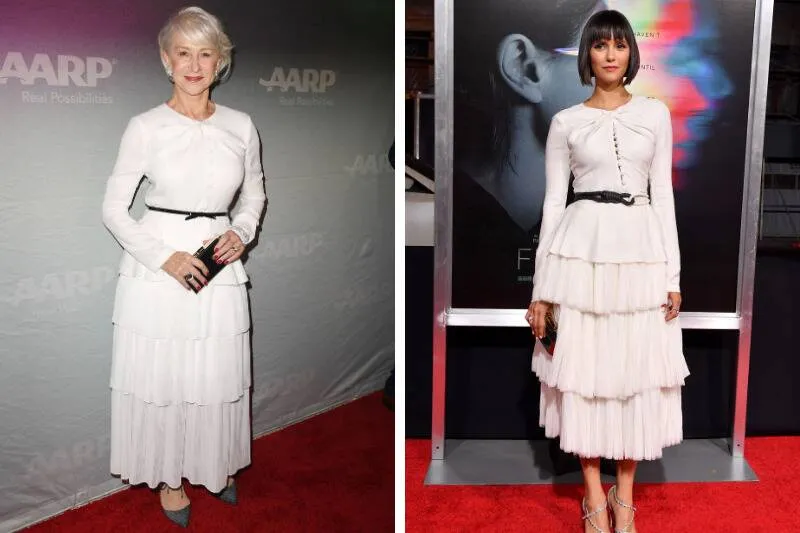 It's hard to compete with a legend! Helen Mirren wore this demure white Prabal Gurung dress to the premiere of Leisure Seekers. Nina Dobrev had rocked her version of it earlier on the red carpet for her movie Flatliners. Both accessorized the dress with a black belt, but Nina's was a two-toned rope version.
Who do you think pulled this one off the best?
Kat-Fight: Katy Perry Vs Kat Graham
Katy Perry is no stranger to the bright and colorful side of fashion, so when she showed up to Good Morning America in this rainbow-striped and sequined Christopher Kane dress, nobody was that shocked! She paired the look with a pair of bright red pumps. Actress Kat Graham chose black platform sandals when she wore the dress herself.
Which look do you think won?
Mesh Match-Up: Doetzen Kroes Vs Gwen Stefani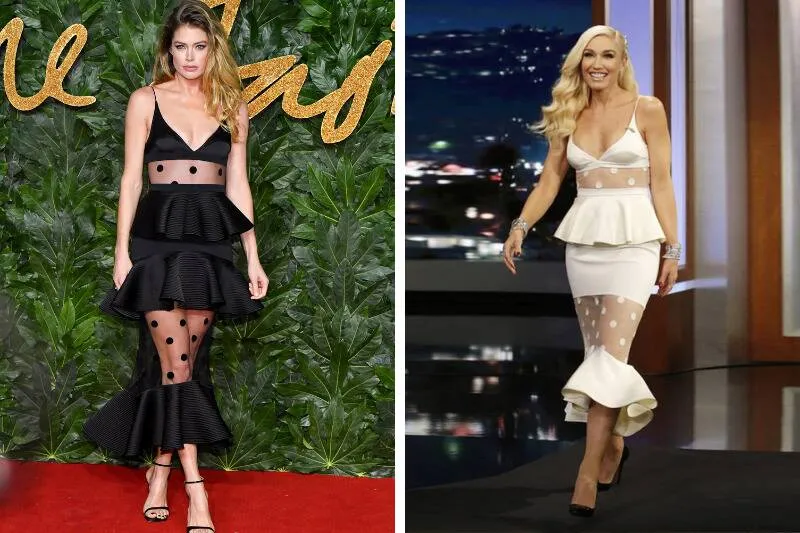 Model Doetzen Kroes graced the red carpet of the British Fashion Awards in the black version of this David Koma dress in mesh cutouts, polka dots, and multiple peplums. Singer Gwen Stefani rocked the white version of the gown on Jimmy Kimmel Live!
Do you prefer the black or the white look? Who took this round?
Dark Debate: Lady Gaga Vs Gigi Hadid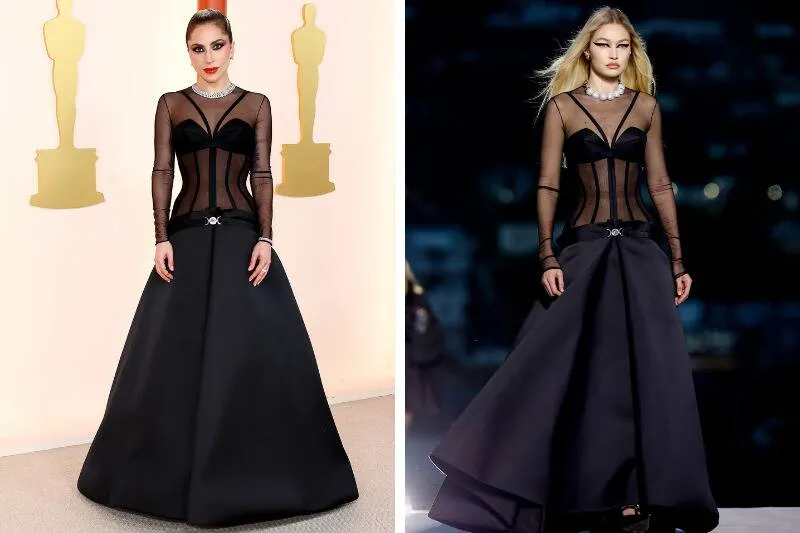 Lady Gaga and Gigi Hadid both had pretty similar ideas of how to dress up this black lace Versace gown — both wore bold chunky necklaces and dramatic eye makeup when they rocked it on the red carpet of the Oscars and the runway, respectively.
Lady Gaga went with a bold red lip, where Gigi stayed neutral. Who do you think wore it best?
Green Grapple: Rihanna Vs Julia Roberts
You might not think that mega movie star Julia Roberts and singer and beauty mogul Rihanna have that much in common style-wise, but they both turned out this green lace Gucci dress just a year apart!
Do you think Rihanna rocked the dress better, or do you think Julia made for one Pretty Woman?
Harness Hassle: Dua Lipa Vs Cindy Crawford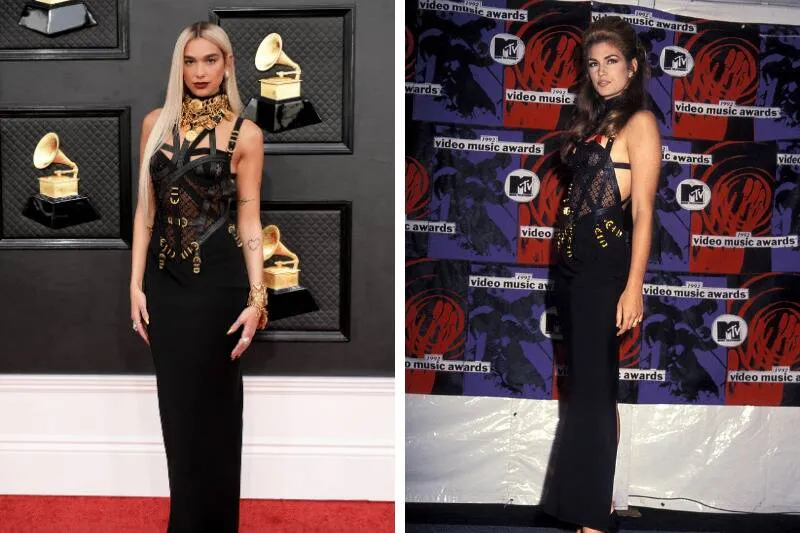 When Dua Lipa rocked this harnessed Versace look to the 2022 Grammys, supermodel Cindy Crawford recognized it as the same piece she wore to the 1992 MTV Video Music Awards!
Cindy shared a side-by-side shot to her Instagram, captioning it "Then and now" and calling the look "Timeless." Do you like Cindy's original take, or are you more of a fan of Dua's new style?
Feathered Face-Off: Iman Vs Lil Nas X
Supermodel Iman first rocked this golden feathered Harris Reed design on the 2021 Met Gala Carpet, and she was quick to notice when rapper Lil Nas X showed up at the 2022 MTV VMAs in a black version of the same look!
"Imitation is the sincerest form of flattery! Congrats to @harris_reed @lilnasx @vmas 2022," she shared on Instagram. Do you think she was flattering herself, or did she wear it best?
Checkered Contest: Jada Pinkett-Smith Vs Kathryn Newton
Supernatural actress Kathryn Newton paired this plaid dress with a cat decal with a pair of cream-colored shoes at HBO's Official Golden Globe Awards After Party in 2016. Jada Pinkett-Smith went with a black shoe when she wore the dress to the Jingle Ball a year later!
Which actress do you think wore it better?
Backless Battle: Kate Bosworth Vs Anna Kendrick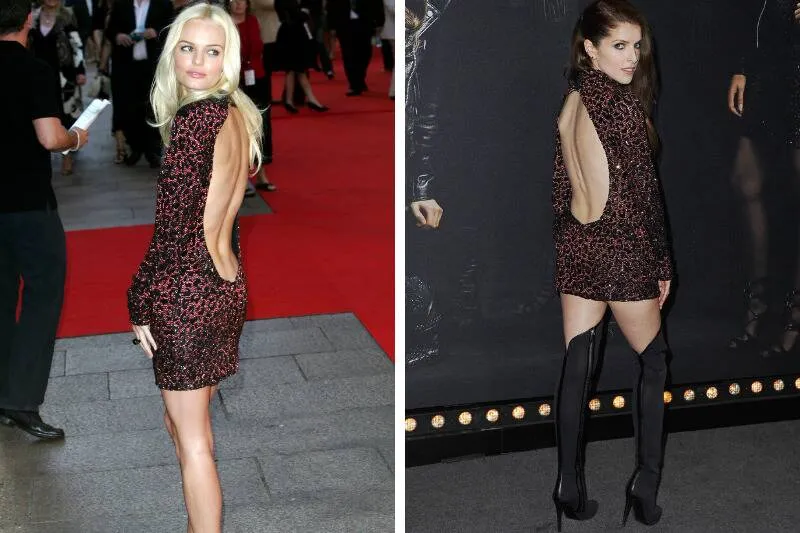 Talk about a throwback! Actress Kate Bosworth first wore this backless minidress to the premiere of Superman Returns way back in 2006. Anna Kendrick broke the dress out again more than a decade later for the premiere of her 2017 movie Pitch Perfect 3.
Anna went for a thigh-high dark boot with her dress. Did it overpower the look, or are you a fan?
Houndstooth Hassle: Olivia Munn Vs Mary J. Blige
Actress Olivia Munn showed up in this black and white Fendi jumpsuit to SiriusXM Studios with red pumps and a thin black belt. R&B legend Mary J. Blige went with a black and white shoe and a thicker belt when she wore the jumpsuit to the 2018 Essence Festival.
Do you like Olivia's simpler look, or are you a fan of Mary J.'s bold style?
Red Row: Sarah Paulson Vs Kristen Bell
Sarah Paulson wore this Philosophy Di Lorenzo Serafini burgundy knit dress paired with black heels and a black clutch to promote The People V. OJ Simpson: American Crime Story and The Good Place's Kristen Bell rocked the same dress to the NBCUniversal 2016 Upfront Presentation, also with black shoes.
Do you think Sarah looks the best, or are you a fan of Kristen's simplicity?