Looking Back On Serena Williams' Style Evolution Over The Last Twenty Years
From catsuits to black tutus, Serena Williams has never been shy about wearing extravagant attire on the tennis court. Now that she's launched her first independent clothing collection, it's apparent her passion for fashion isn't all about raising eyebrows. Williams was the first black athlete to be pictured by herself on the cover of Vogue, so it's fair to say she's made an impact on the fashion world. From beaded hair to stunning gowns, here's Serena's two-decade-long fashion evolution.
1998 -- The Beaded Hair
Young Serena wears her hair beaded, posing with a bright grin on her face. She has on a highlighter-yellow plaid shirt and black jeans as she hugs a palm tree by the beach. Her free and careless look is just what you'd expect from a teen with a bright future ahead.
This photo was snapped during the Lipton Championships of 1998 in Florida. Serena was just 17-years-old but had already been playing professional tennis for three years.
2002 -- Passion For Fashion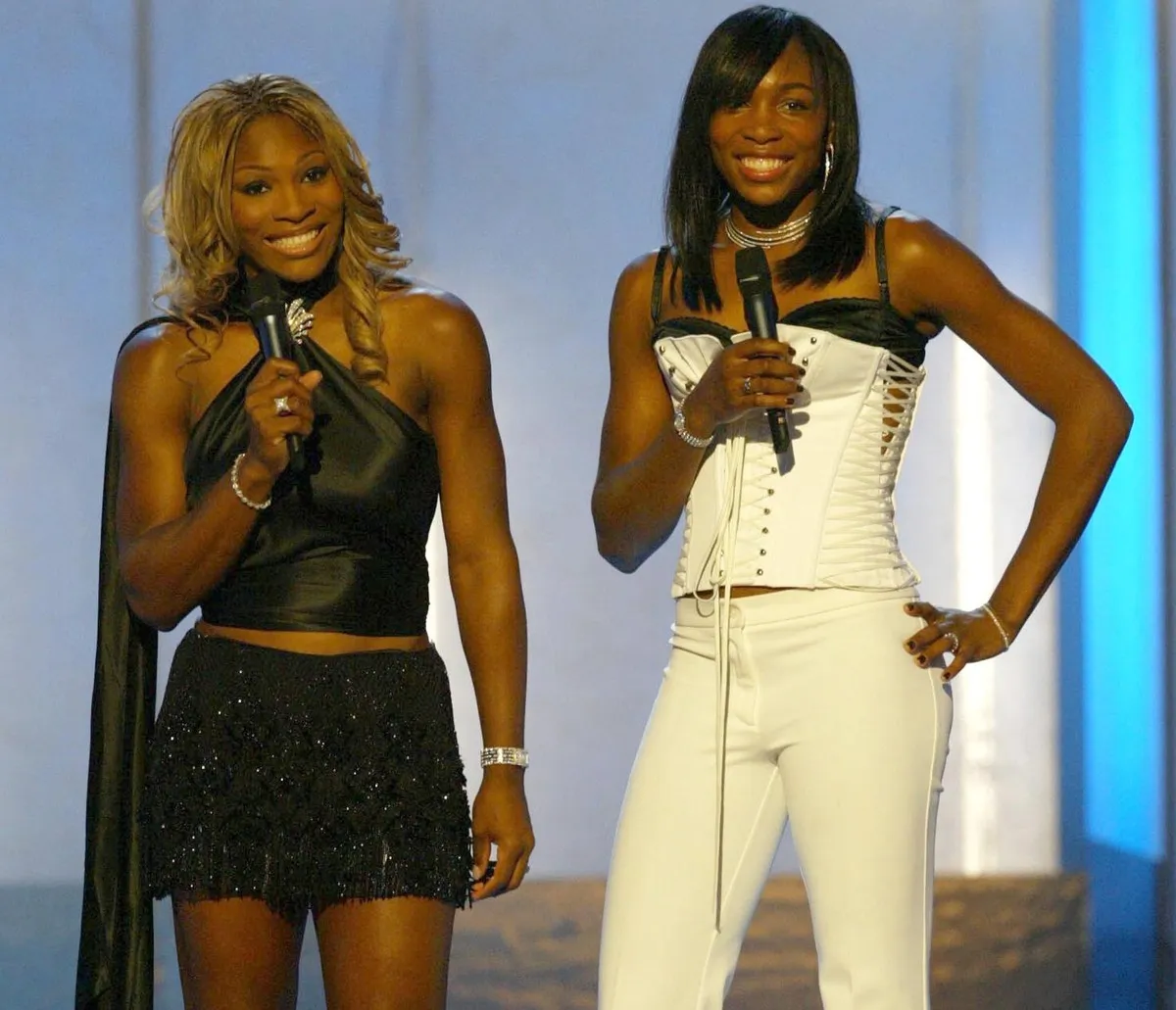 By 2002, Serena was living the life many 21-year-olds dream of. Here she's pictured at the VH1 Vogue Fashion awards alongside her sister and fellow tennis athlete, Venus Williams. Her style has taken quite the transformation from her teen years.
She's wearing a sparkly mini skirt and a slick halter top. You'll also notice she's gone blonde. Having established herself as a top-10 tennis player, she began dipping her toes in fashion. The young athlete was already proving that you can have the best of both worlds.
2002 -- The Prestigious Diamond Bracelet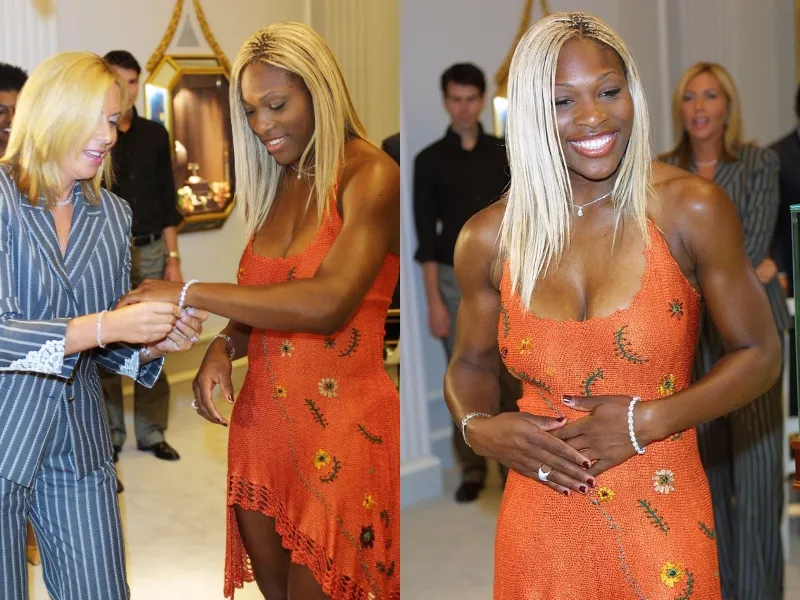 Serena was already maneuvering into the fashion industry by the age of 21. This photograph may look like an ordinary picture of the young athlete at an event, but what's on her wrist is extraordinary.
That's because it's a nine-carat diamond bracelet that was famous jeweler Harry Winston's newest design at the time. The tennis star was chosen to wear the $29,000 bracelet to the 2002 US Open in New York. That's what we call having friends in high places.
2003 -- Sleek And Bold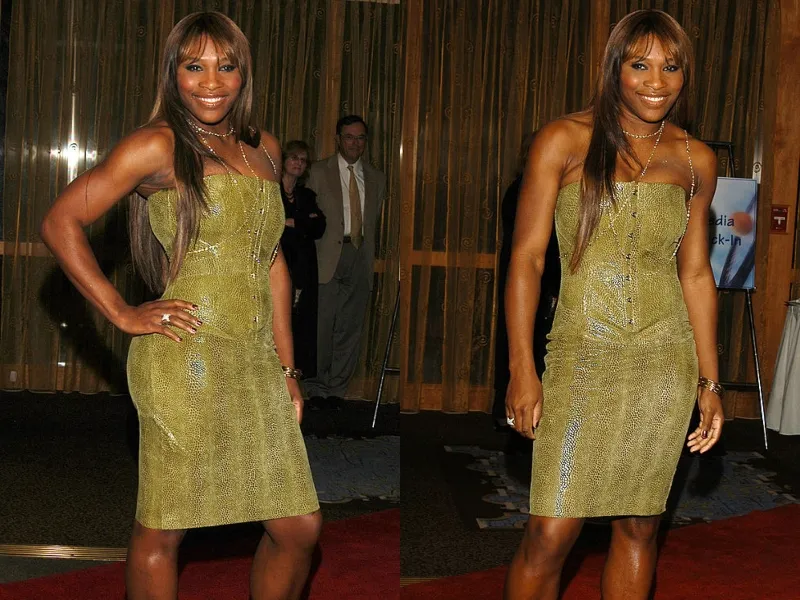 Serena is definitely feeling twenty-two in this sleek, form-fitting ensemble. The shade of yellow isn't one you often see in dresses, but Serena isn't one to shy away from something new. She appears to be confident as ever in front of all the flashing cameras.
To complete the look, she straightened her long hair and added bangs. The hairstyle is very early-2000s. This same year, Serena became the sixth woman in the Open Era to complete a career Grand Slam!
2004 -- Tattered And Chic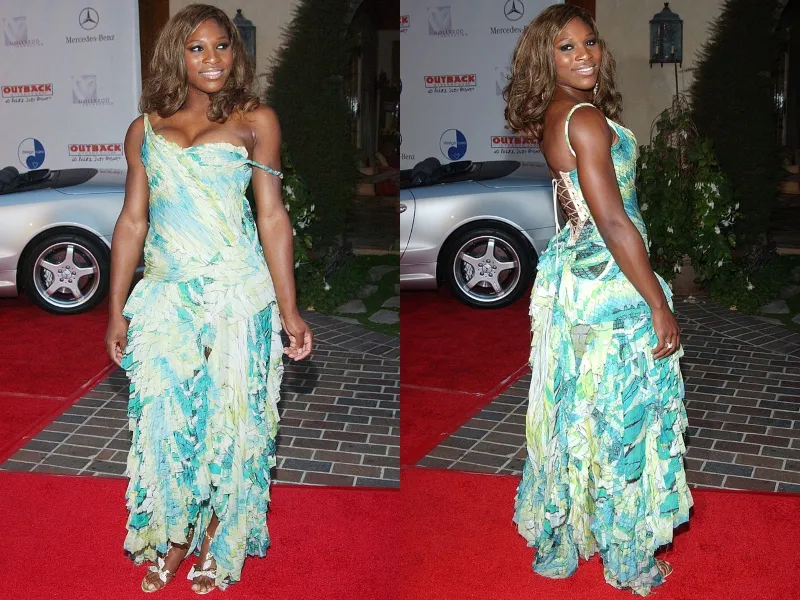 Serena pops in this flowy dress with a corset back. The light shades of blue and green in the fabric is a lovely contrast to her deep caramel skin tone. The form-fitting top gives shape while the shaggy skirt adds texture.
This style shows off a carefree side of Serena that isn't as apparent on the tennis court. She returned to touring this year after an eight-month hiatus, winning the title for the third year in a row.
2004 -- This Girl Is On Fire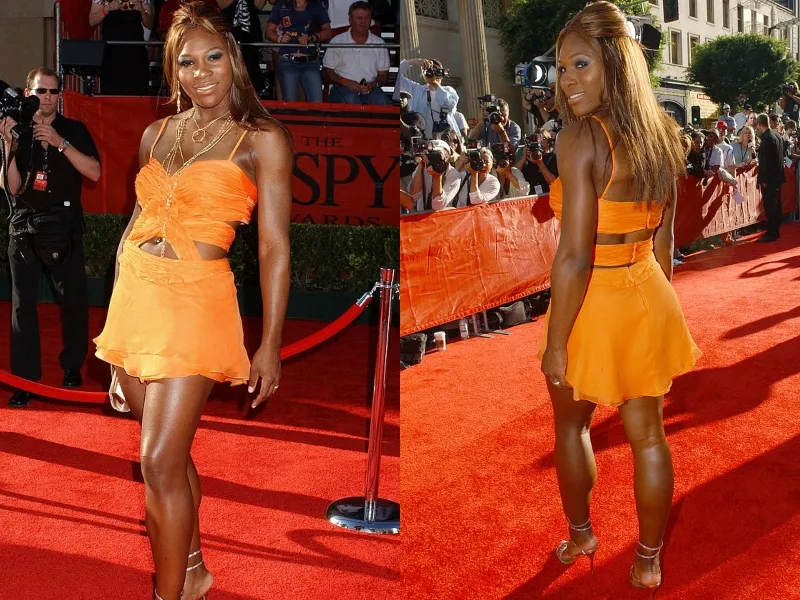 Serena was a stand out at the 2004 ESPN awards. Her bright orange ensemble was impossible to miss and showed off her youthful spirit. Between her silver pumps and her highlighted hair, the athlete looked positively radiant.
The dress wraps around her middle in such a way to expose a bit of mid-drift and back without being too obvious. The flowy miniskirt was fun and flirty, while the stiletto heels dressed up the summertime look.
2005 -- Dazzling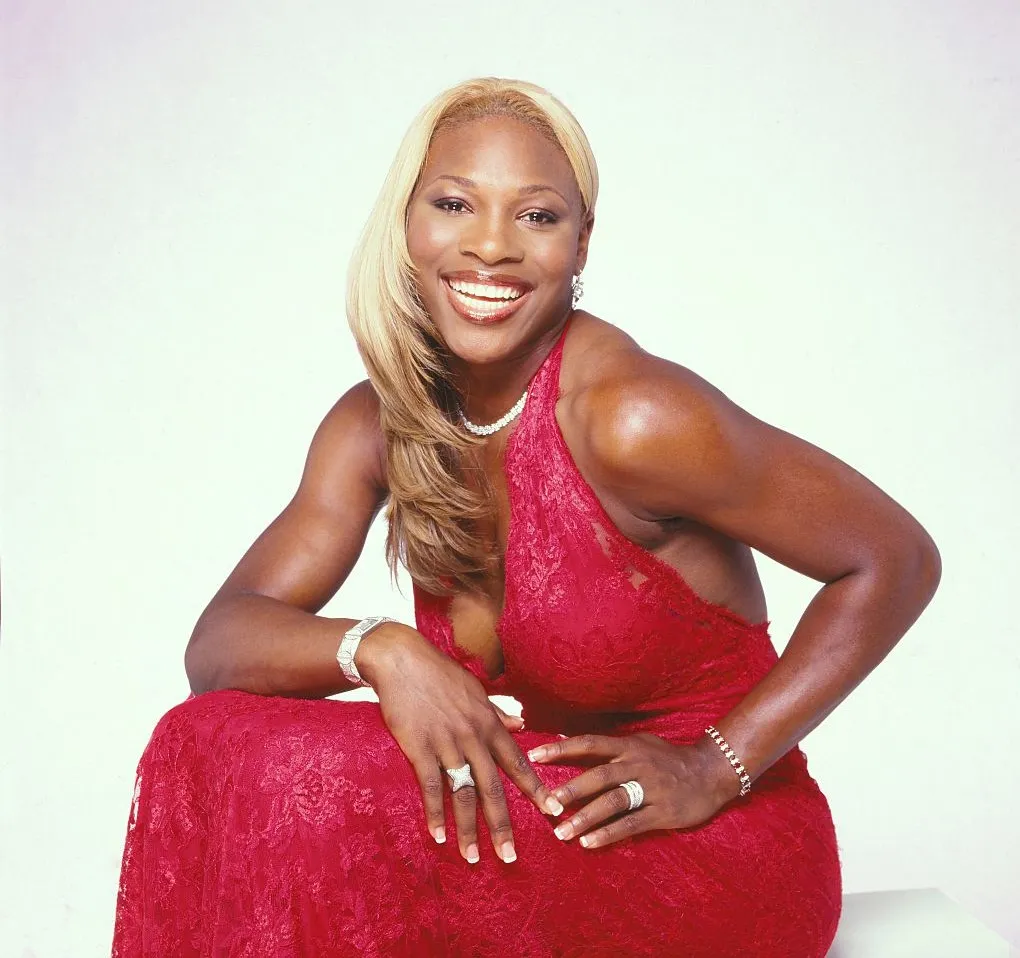 Serena is glowing in this 2005 portrait. Her red-violet dress has just the right touch of femininity. The design shows of her classy, grown way of carrying herself. Her layered hair is lighter than ever, illuminating her cheerful expression.
The silver jewelry Serena is wearing makes her seem a touch more grownup than we've seen throughout her early twenties. 2005 was a hard year for the athlete due to a series of withdrawals and low scores. Her style and demeanor here underscore her resilience.
2006 -- Lady In Red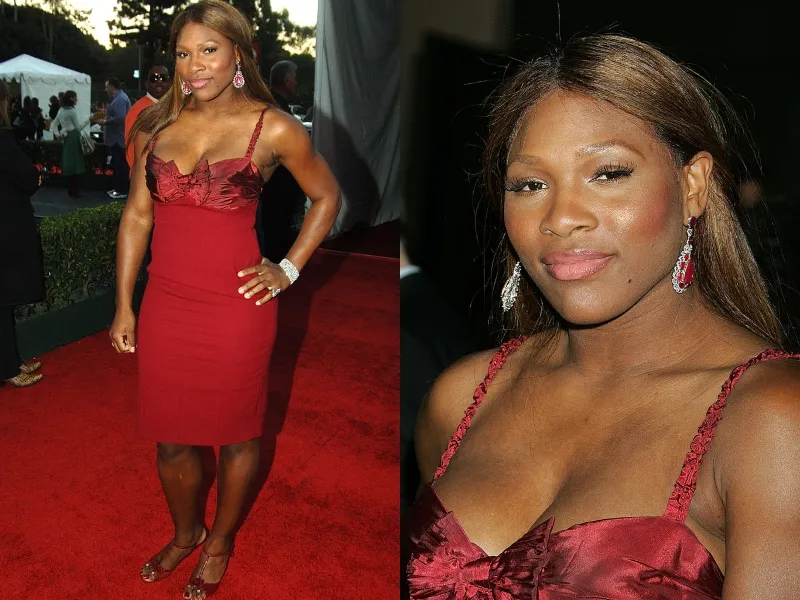 Serena looked Valentine's Day-ready at the 2006 American Music Awards. Her red dress brought out her ruby earrings, which were framed by silver for extra glimmer. The outfit was partially satin, offering variety to the monocolored ensemble.
The deep red tones pick up on the rosy undertones of her skin. Her chestnut hair and light pink makeup serve to soften the look. The bow at her bust adds a subtle embellishment to the simple design.
2006 -- Pretty In Pink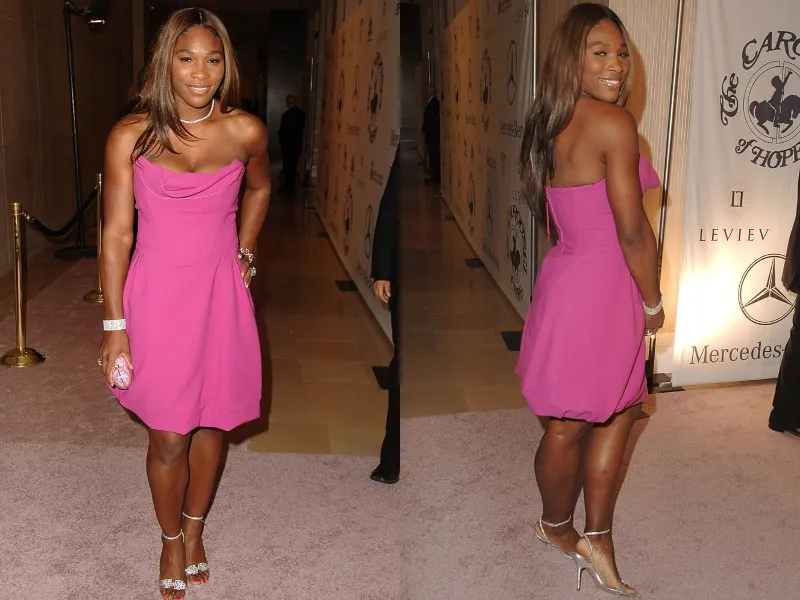 Serena showed off her girly side in this vivid, pink dress and silver pumps. Her silver jewelry picks up on the color of her shoes without competing with the dress. The design is simple yet flattering, eye-catching yet soft.
As lovely as she looks, it turns out this year was the hardest yet for Serena. Her rank was continually slipping, and people noticed. Fortunately, she met a fan who encouraged her she could still win.
2007 -- The Sassy Bob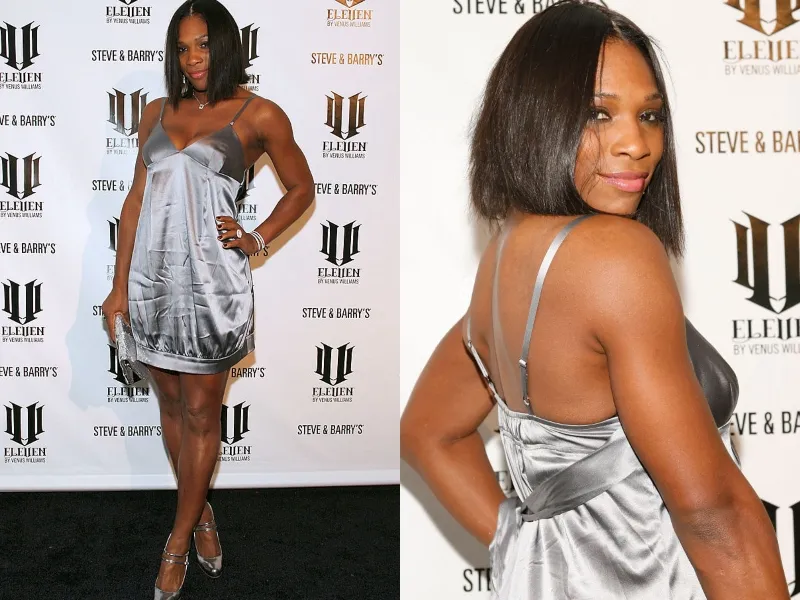 Serena's sassy style evokes the renewed confidence she had after a year of wavering motivation. She's wearing a silky, silver dress that looks more like a sultry nightgown. Her pumps and jewelry prepare the ensemble for a night on the town.
Marking a new chapter, Serena returned to dark hair and chopped off her locks. The bob hairstyle was at the height of its popularity, and she proves how sassy the look can be. If anyone had started to doubt her athleticism, she proved them all wrong by winning the title this year at the Australian Open.
2008 -- Bling Bling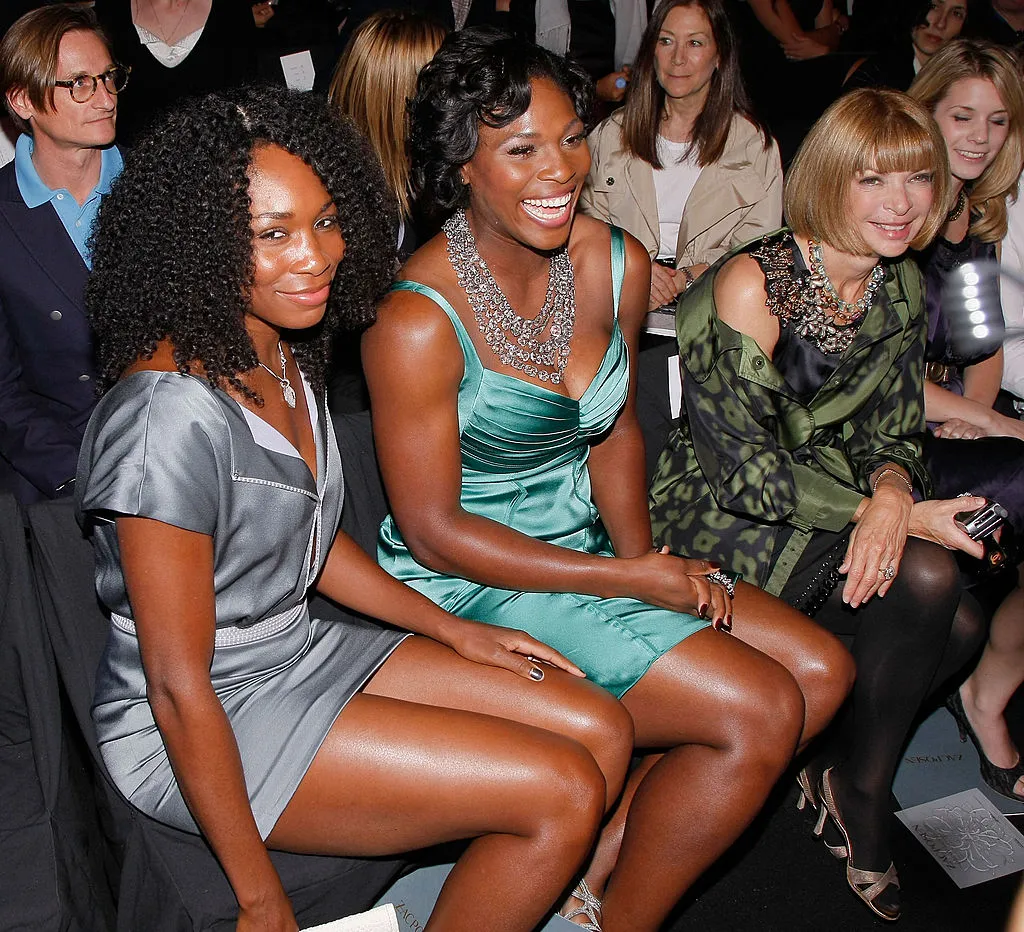 Serena looks joyful as ever while sitting in the front row of a runway show. If being front and center at a fashion event wasn't enough to prove her love of the art form, there's also the fact that she's seated next to Anna Wintour, the Editor in Chief of Vogue.
The athlete sported a gorgeous necklace with several layers of dazzling gems. Her satin, turquoise dress was a wonderful complement to her deep, glowing skin.
2008 -- A Classic Beauty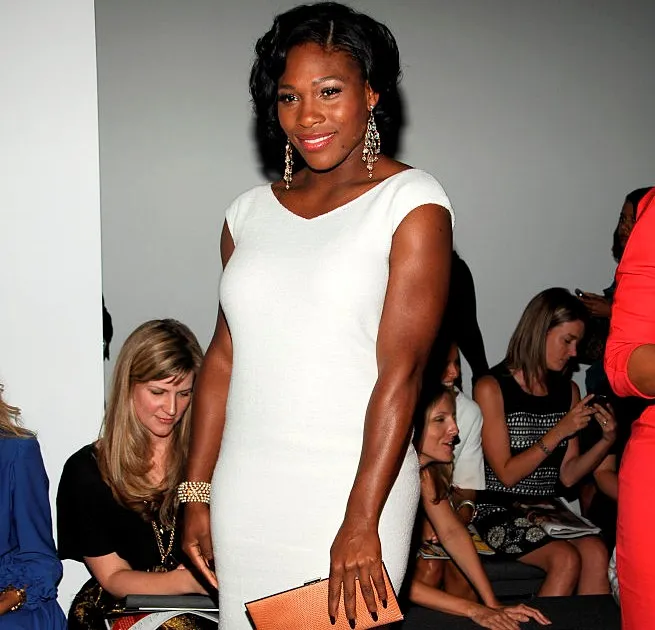 Serena looked like a 1950s Hollywood starlet at Calvin Klein's runway show in 2008. Her simple, white dress is a gorgeous contrast to her dark skin tone. The long earrings and thick bracelet dress up the subdued look.
We don't often see Serena in an updo off the court, so it's especially nice to see this graceful hairstyle. Her easygoing look is refreshing to see after a couple of years full of injuries and blows to her rank. By the end of the year, she was back up to the top 10.
2009 -- Simply Stunning
2009 was Serena's year, and you can see it by the way she looks. Offering a smile and a wave to adoring paparazzi, she walked the red carpet at the ESPY awards looking like a star.
Her soft, blue-green gown complimented her physique, while her short hair and bouncy curls gave her a Whitney Houston kind of look. The athlete was on top of her game in 2009 and she finally managed to return to her number one ranking.
2010 -- Boho Chic
Serena looked effortlessly graceful in this soft-lavender dress during a 2010 Vanity Fair event. The tattered cloth offered a bohemian feel while the layer of sparkly material below her bust gave a touch of formality.
The long length of the gown gave Serena additional length without appearing to engulf her. The cutouts at either side of her waist added shape to the dress. Her chestnut-blonde hair was the cherry on top of the light and bright look.
2010 -- Animal Print Everything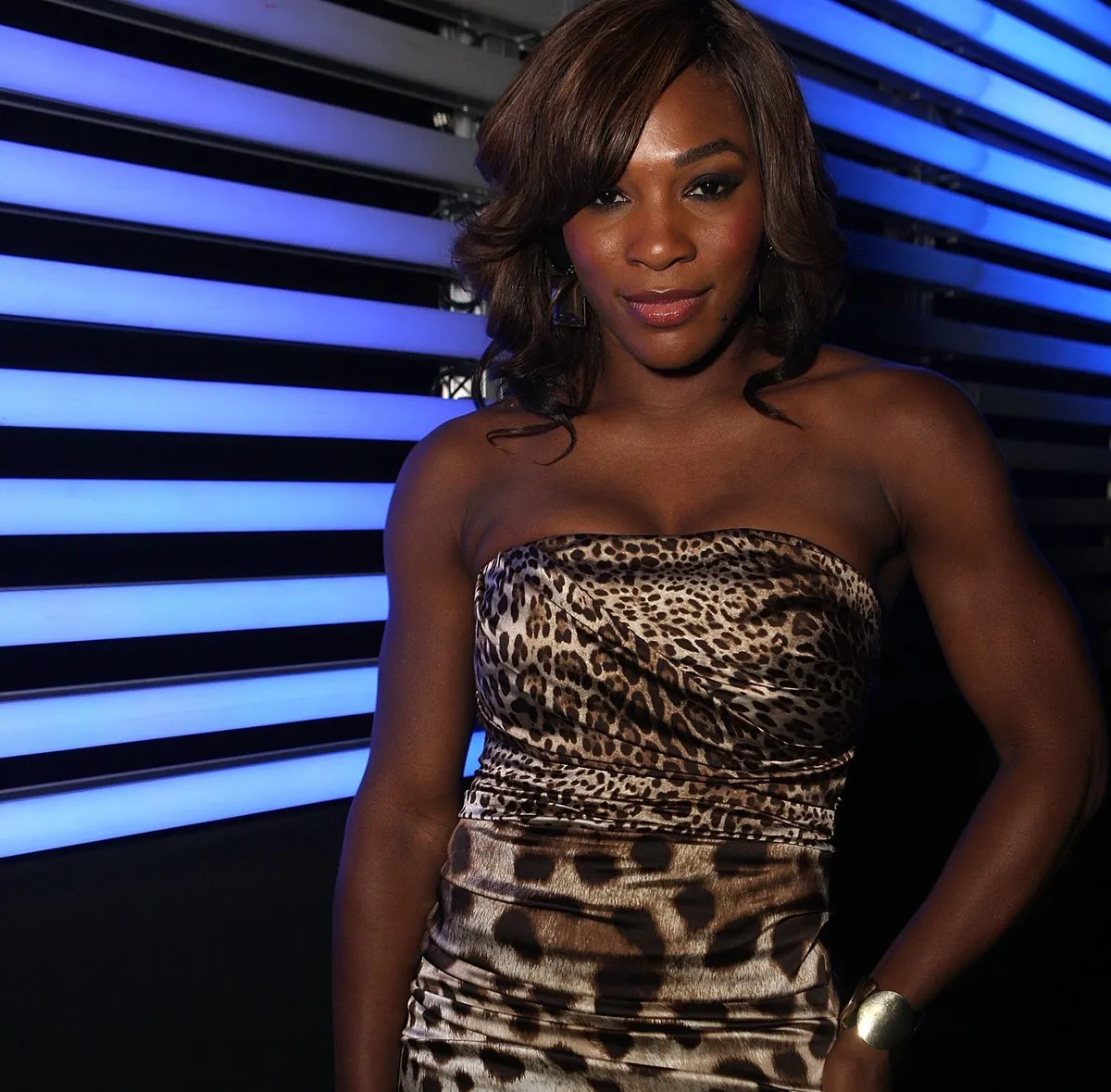 Cheetah print was in, if you could pull it off. Serena clearly has no problem doing so, especially since the brown tones look marvelous against her skin. Considering that she moves at lightning speed on the tennis court, the print seems fitting.
By 2010, Serena was the defending champion in singles and doubles at the Australian Open. This year she was also deemed one of the top five female tennis players of all time by renowned tennis player and coach Martina Navratilova.
2011 -- Frilly And Fun
The year was 2011 and Serena was 30, flirty, and thriving. She looks like a kid playing dress-up in her fluffy, feather-ball dress and matching hairpiece. The look was the most fashion-driven yet, and she pulled it off stunningly.
While her tennis career was going splendidly, she did come out this year with some news about her health. Serena admitted that she had suffered from a hematoma and a pulmonary embolism. Nevertheless, she ended the year with two titles.
2011 -- Feeling Posh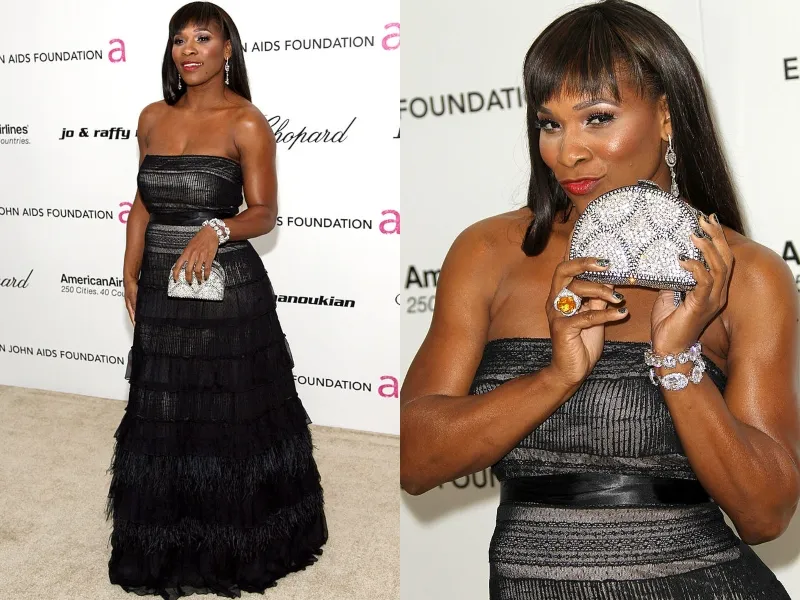 This 2011 ensemble shows Serena looking a little more in her element. Like the previous dress, there is a frilly aspect to this design, but not so much that it steals the show. The black color adds depth to the playful fabric.
Meanwhile, the accessories scream luxury. Serena's pose suggests she's feeling a little posh in this outfit. She deserves it after the tumultuous year she faced. After her rank dropped to 169, she put her all into bringing it back up to number 12 before the year's end.
2012 -- Bright And Elegant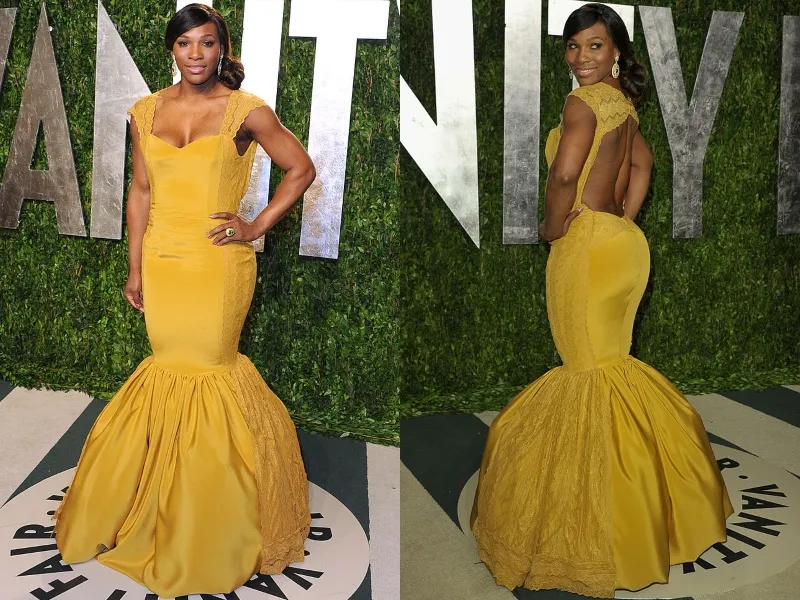 Serena showed offer her curves in this form-fitting gown with at the open back. The layer of lace at the straps and running down either side add texture to the dress. The flared bottom resembles the tale of a mermaid, playing on Serena's feminine side.
While she looks elegant as ever in this ensemble, you can still see the glint of determination in the athlete's eyes. Sure enough, Serena blew her challengers out of the water this year and was subsequently named the International Tennis Federation World Champion.
2012 -- Matching Her Trophy
This silky, yellow dress was a perfect match for her glistening gold and silver trophy. Serena stands here next to fellow tennis champion Roger Federer at the Wimbledon Championships 2012 Champions' Dinner.
The tone of Serena's dress picks up on the olive undertones of her skin, reflected in the glow of her face. Blonde hair would have clashed with these tones, so she sports deep brown curls as a complementary contrast to the ensemble. Her thin, soft gold jewelry doesn't compete for attention, allowing all of the focus to stay on her shiny trophy.
2013 -- The Bigger The Hair The Better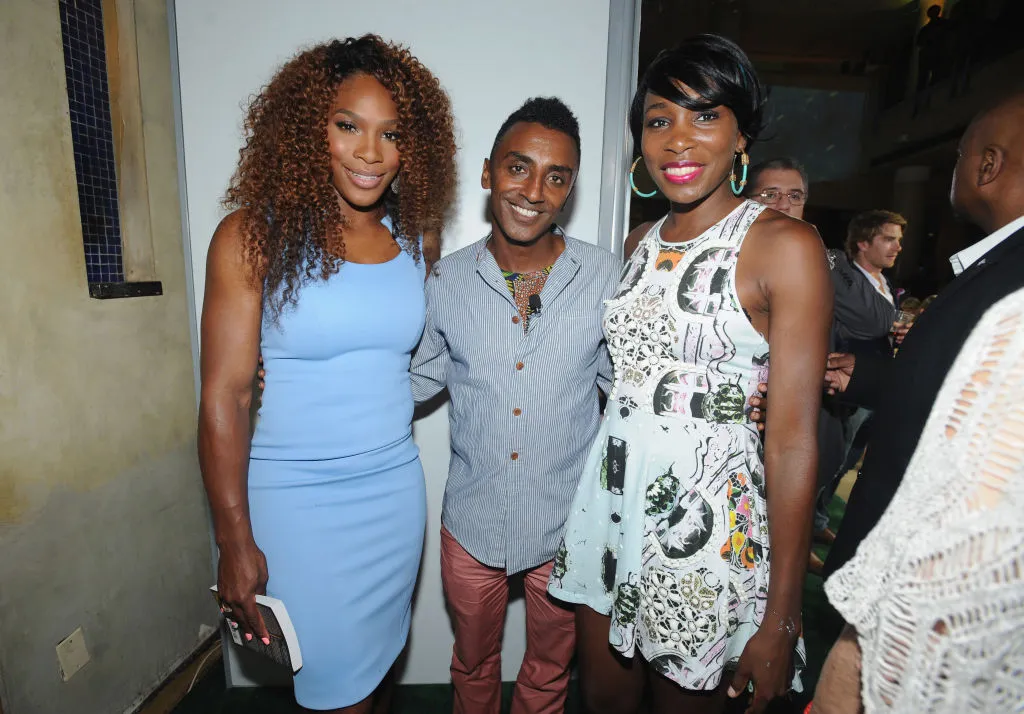 Fluffy curls offer volume that few other hairstyles can achieve, evident in this image of Serena at the 14th Annual BNP Paribas Taste Of Tennis event. She also went a shade or two up in color, giving her a softer look than we'd seen in previous years.
Her fun-loving appearance is further embellished by the powder-blue dress she's wearing. At the age of 32, she finished the year at number one, becoming the oldest woman in WTA history to hold the ranking.
2013 -- Commanding The Streets Of New York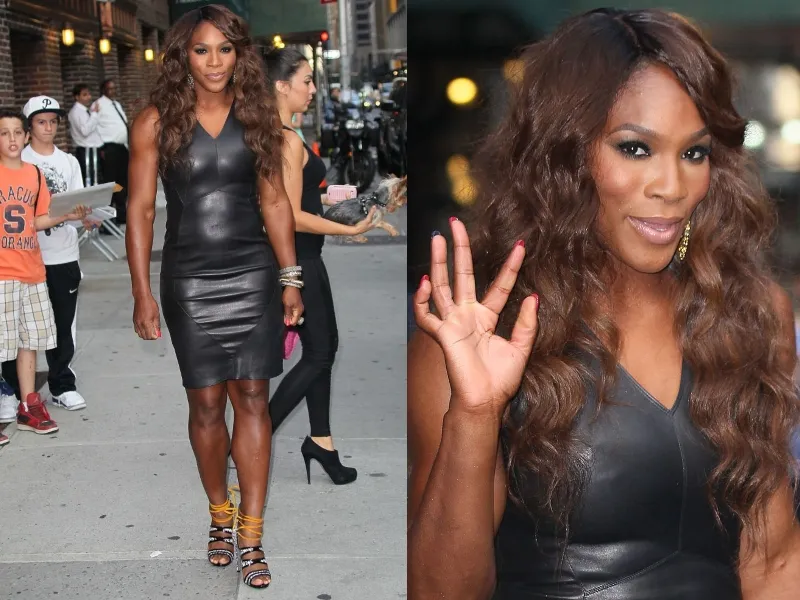 Anyone who's been to New York before knows how difficult it is to stand out in the big city. For Serena, it's hard not to stand out, especially in this slick outfit. The long waves of her brown hair stand out against the black leather of her dress, bringing attention to that sassy look on her face.
It would be hard not to smirk while walking in those dazzling stilettos, complete with yellow ties that wrap up her ankles. As you can see by the expression on the young boy's face standing behind her, she did not go unnoticed.
2014 -- Floral At Its Best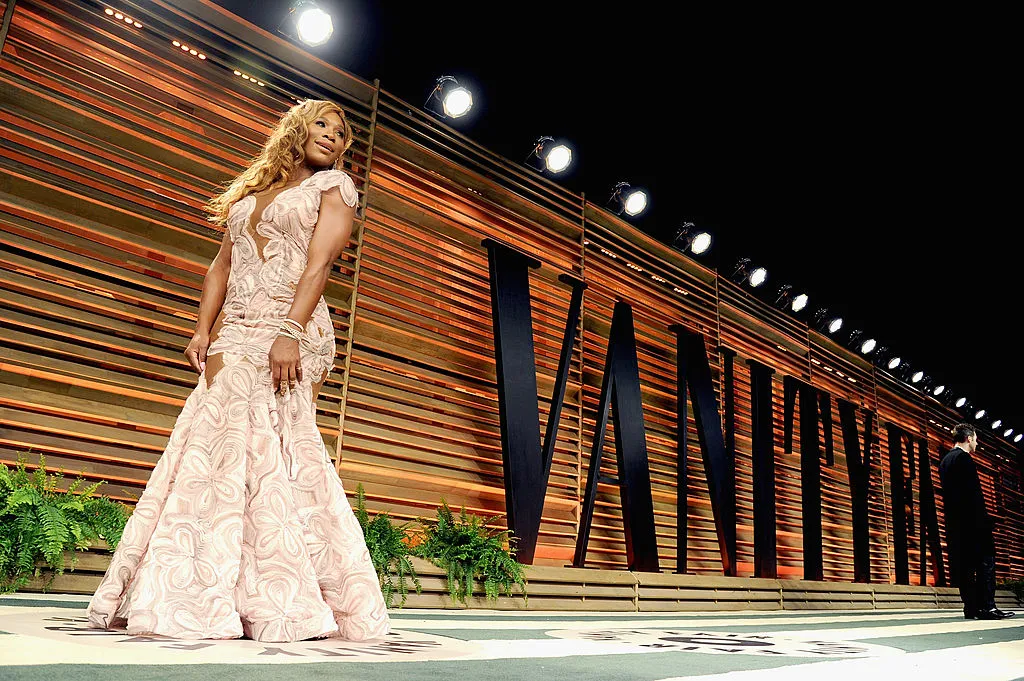 Floral patterns can be a hit or miss, but this one is a definite hit. The soft-pink flower outline creates a delicate look that doesn't distract from Serena. Cutouts throughout the dress add intricacy to the gown that compliments her physique.
Her return to blonde hair was a good pick for this ensemble, adding to its light-hearted feel. This year, Serena won both the US Open and the US Open Series. She also had the biggest payday in tennis history, bringing home $4 million for her victories.
2015 -- Dressed To Impress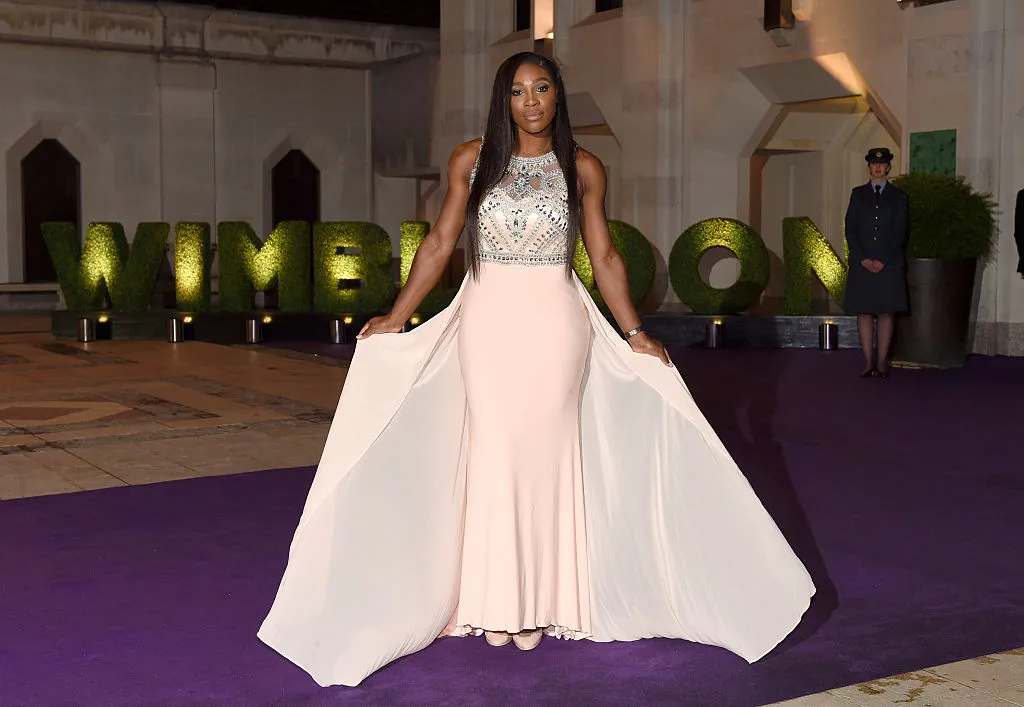 This striking gown shows off Serena's graceful stature. The form-fitting skirt is embellished with a sheer train for dramatic effect. Silver gems form an intricate design over her bust that balances out the soft fabric.
This year, Serena held the third-longest run as the number one ranked tennis player in WTA history, holding onto the title for 114 weeks in a row. She also won four Grand Slams in a row, known as a "Serena Slam," for the second time in her career.
2015 -- Au Naturel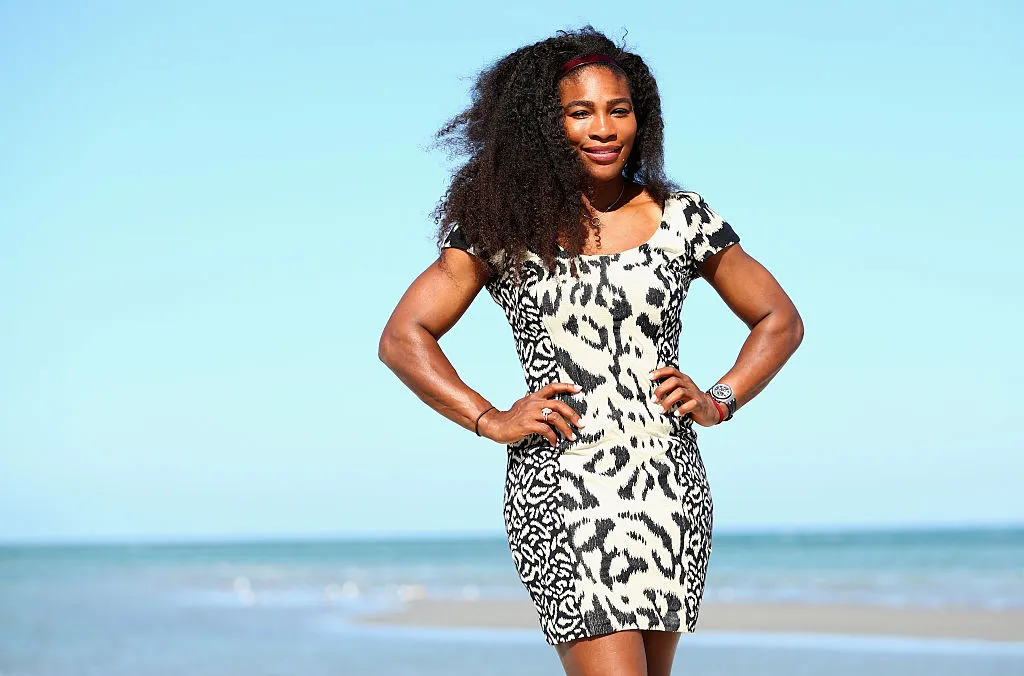 Being a fashionista doesn't always mean making runway appearances in thick jewelry and fancy gowns. Sometimes it means letting your fluffy curls down, skipping the makeup and heading to the beach.
Serena pulled off animal print once again in this black and white cheetah dress. The busier pattern on the sides place emphasis on her curves. Only Serena would think to wear this stylish dress to the beach. She pulls it off with a few pieces of jewelry and an otherwise natural look.
2016 -- Making All Of The Doilies Jealous
Serena didn't get engaged until six-months after this photo was taken, but she certainly looks wedding-ready. The all-white gown has a flattering v-neck, a translucent mid-section, and a long, flowing skirt.
The pattern of the fabric is similar to a doilie, exposing bits of her skin throughout. This year, Serena lost her the US Open, ending her number one streak. Before her loss, she made it to 186 weeks ranked number one, tying her with Steffi Graf for the longest run in WTA history.
2016 -- The New Business Casual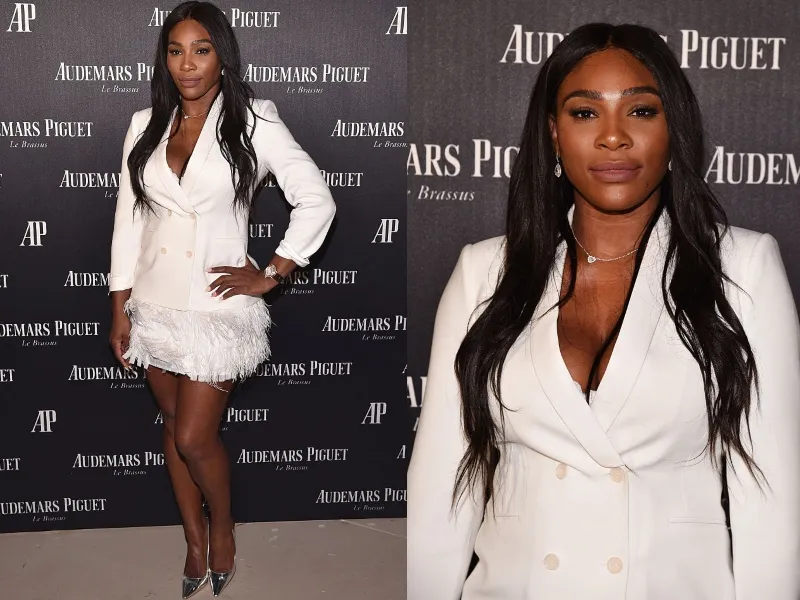 Serena looks breathtaking in this white and silver ensemble from 2016. While her blazer brings a professional touch to the look, her frilly miniskirt screams fun-loving. The contrasting styles are fused together via her pointed, metallic pumps.
Her long, dark hair is a lovely contrast to the all-white attire. Her thin, silver jewelry and her wristwatch pick up on the color of her shoes but aren't so loud that they clash with the carefully balanced ensemble.
2017 -- Gorgeous While Carrying
The news that Serena was pregnant broke out in April 2017, when she was 20-weeks along. This meant that for the first two months of her pregnancy, she was on the court. Even more amazing is during that time, she regained her rank as number one.
This photograph from May 2017 shows the lovely mother-to-be showing her baby bump in a gorgeous teal gown with sparkling embellishments. The long train needed frequent tending to but was worth the eye-catching effect.
2018 -- Fit For Royalty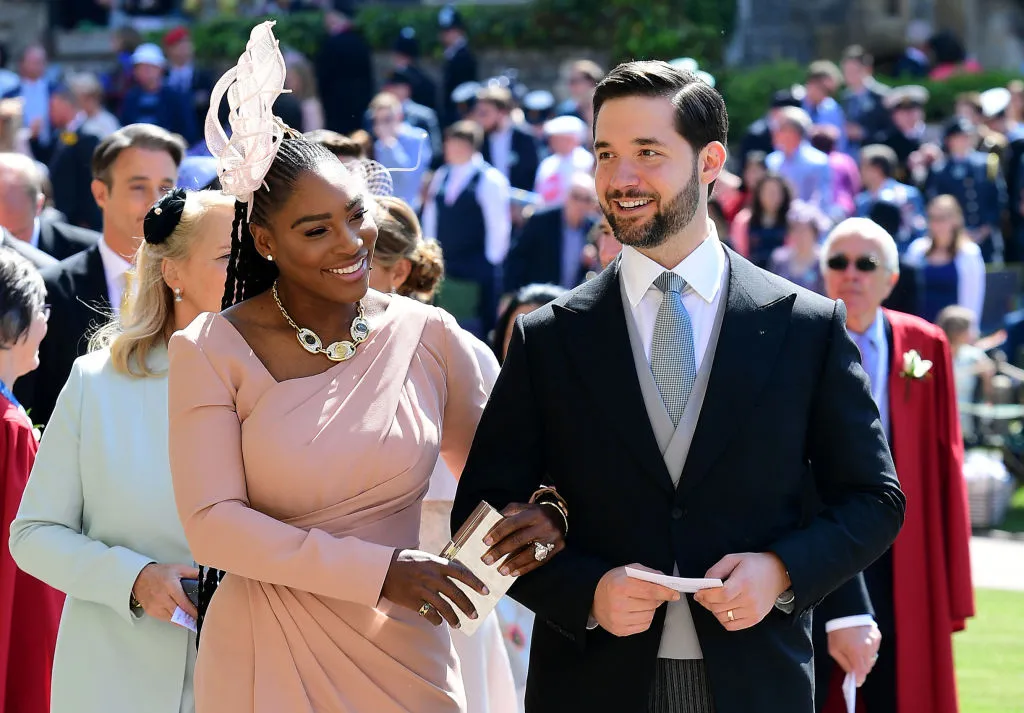 Nine months after giving birth to her daughter, Serena and her husband attended the royal wedding of Prince Harry and Meghan Markle. Her soft pink dress was gently cinched in all the right places and matched her hairpiece.
Her long, braided hair put a modern twist on the traditional look. Serena had a shaky return to tennis a few months prior, during which she had multiple early exits. She still managed to make her way to finals at the Wimbledon Championships and the Cincinnati Masters.
2018 -- Dressy Casual
While most stars wouldn't dream of wearing overalls to an event, Serena proves that any style of clothing can be workable. Her denim, overall-inspired dress with chain straps allows the athlete's down-to-Earth character shine.
To dress up the look, she's paired it with sparkly, open-toed stilettos and a subtle necklace. Her red-violet lips also work to bring some class to the casual attire. Her soft, auburn curls pick up on the carefree tone of the look.
2019 -- Fashionable As Ever
The 37-year-old mom looked glamorous as ever in a beige top and shiny skirt at the 2019 Sports Illustrated Fashionable. Her gold jewelry matched her golden locks, adding to her glowing appearance.
Her fashion sense landed her a position as the board of directors of the online fashion marketplace Poshmark in February of this year. In terms of her tennis career, she proved fully recovered from her complicated childbirth, making her way back to the number 10 ranking by the end of the year.