The Most Stunning Royal Tiaras Of All Time
According to ancient tradition, members of the British royal family are not allowed to wear tiaras until they are married. This is why we hadn't seen Meghan Markle in one until the big day when she married Prince Harry. In celebration of all things royal, we're presenting some of the most gorgeous tiara moments in the British monarchy's history. We'll see some of these tiaras make repeat appearances over the years.
Queen Elizabeth Had The Largest Collection Of Tiaras In The World
Queen Elizabeth II became Head of the Commonwealth in 1952. During her time on the throne, she amassed a huge number of jaw-dropping tiaras and is thought to have had one of the most extensive collections in the world.
Pictured here are Elizabeth and Philip, Duke of Edinburgh, on their wedding day in 1947. The tiara she wore had formerly belonged to Queen Mary, her grandmother.
A Beaming Princess Diana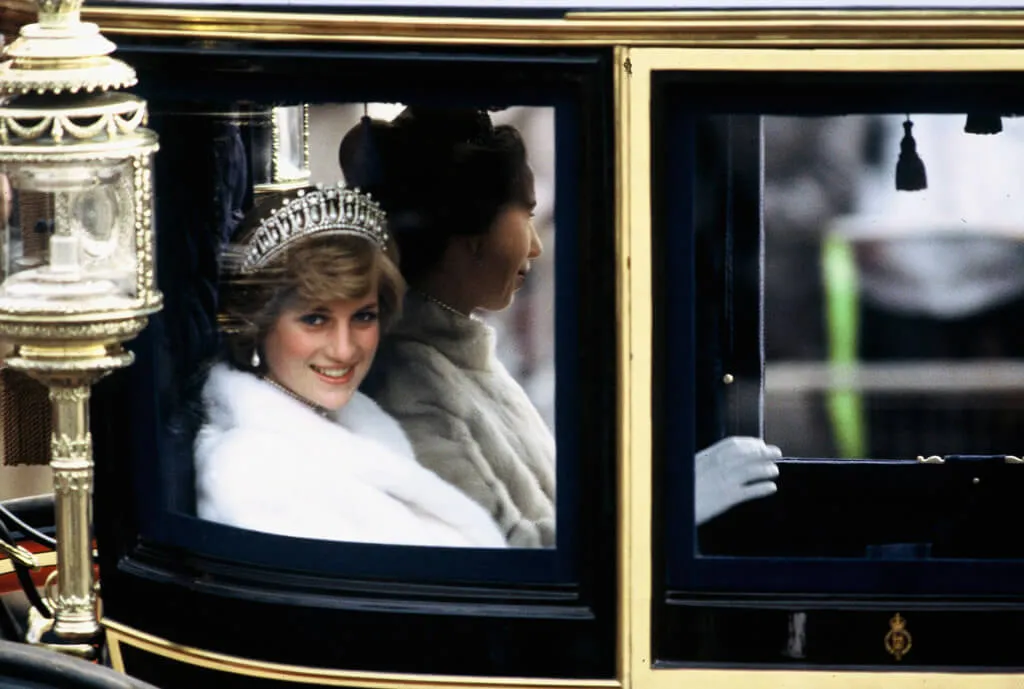 It's hard to upstage a piece of jewelry as stunning as the tiara seen here, but Princess Diana managed to do just that with her beautiful and beaming smile. This photo was taken in November of 1981.
Diana and Princess Anne were photographed while en route to the State Opening of Parliament. They're riding in the glass coach that was used in Diana's wedding to Prince Charles just months earlier.
Autumn Kelly Wore The Kent Festoon Tiara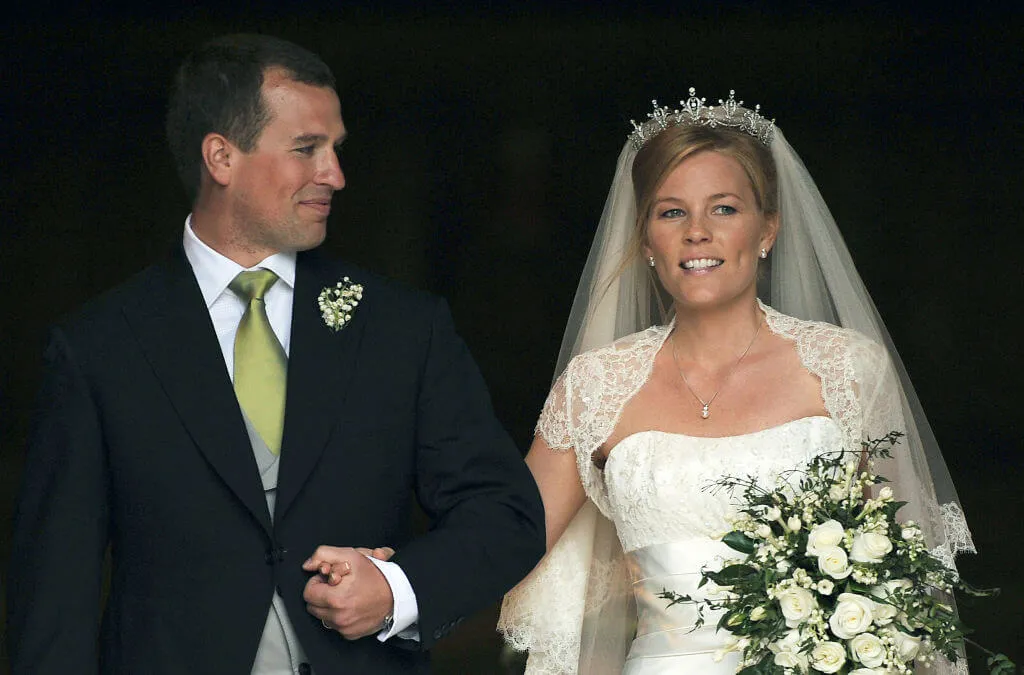 Autumn Patricia Kelly married Princess Anne's son, Peter Phillips, on May 17, 2008. Anne lent it to Autumn for the special day. Although the tiara was given to Anne the same year she was married to Mark Phillips, it was not a wedding gift. It had been given to her by the World Wide Shipping Group as a gift in 1973 after she christened a ship for them.
Princess Anne wears the tiara frequently. It's thought to be one of her favorites. Sadly, Peter and Autumn announced their divorce in 2020.
Queen Elizabeth's Ruby Encrusted Tiara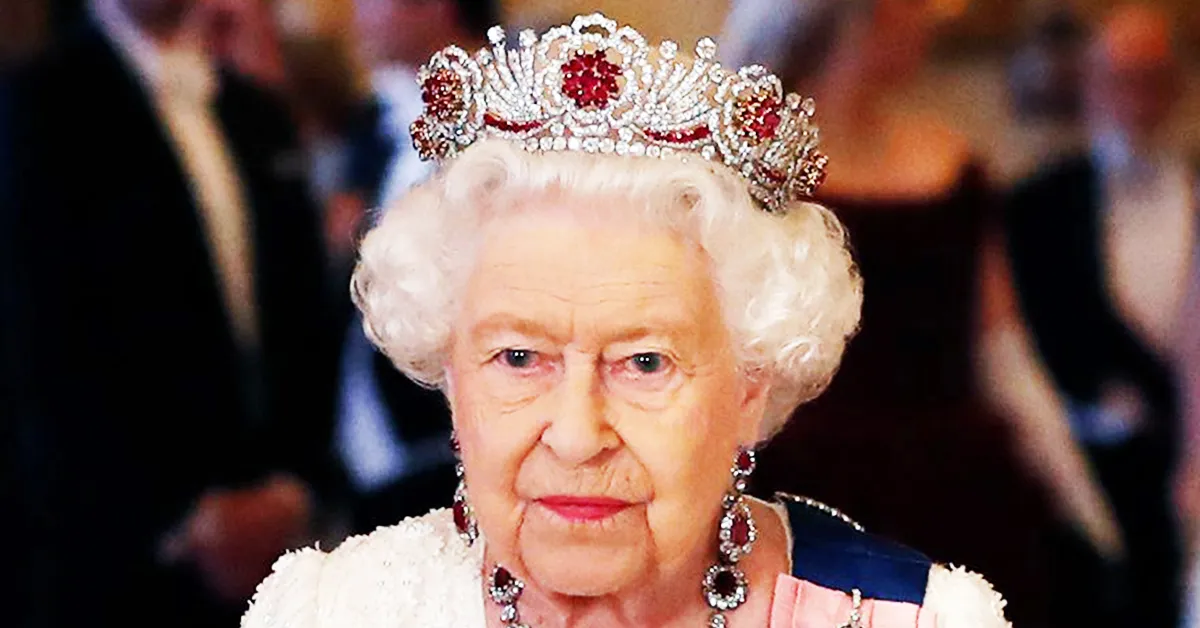 At the 2019 State Banquet, Queen Elizabeth wore one of her most precious tiaras; a ruby-encrusted beauty gifted to her from Burma.
The tiara has 96 rubies, which are considered symbolic, "rubies in Burmese culture protect from illness and evil, in this case, to protect the wearer from the 96 diseases that can afflict humans." The choice of tiara led some on social media to wonder if the Queen was taking a secret jab at the President, whose trip was met with protest by thousands of British citizens.
Royal Honeycomb
This honeycomb-style tiara was a favorite of the late Queen Mother's and is a favorite of the Duchess of Cornwall's today. With no heirs of her own, it was bequeathed to the Queen Mother by wealthy socialite and brewery heiress Margaret Greville in 2002, along with all her other rare jewels.
Made by Boucheron, it's one of the sparkliest tiaras in the royal collection. The Queen Mother upped the bling on this tiara and had it made even larger, asking Cartier to add a marquise-shaped diamond in the center.
Meghan Chose The Queen Mary Diamond Bandeau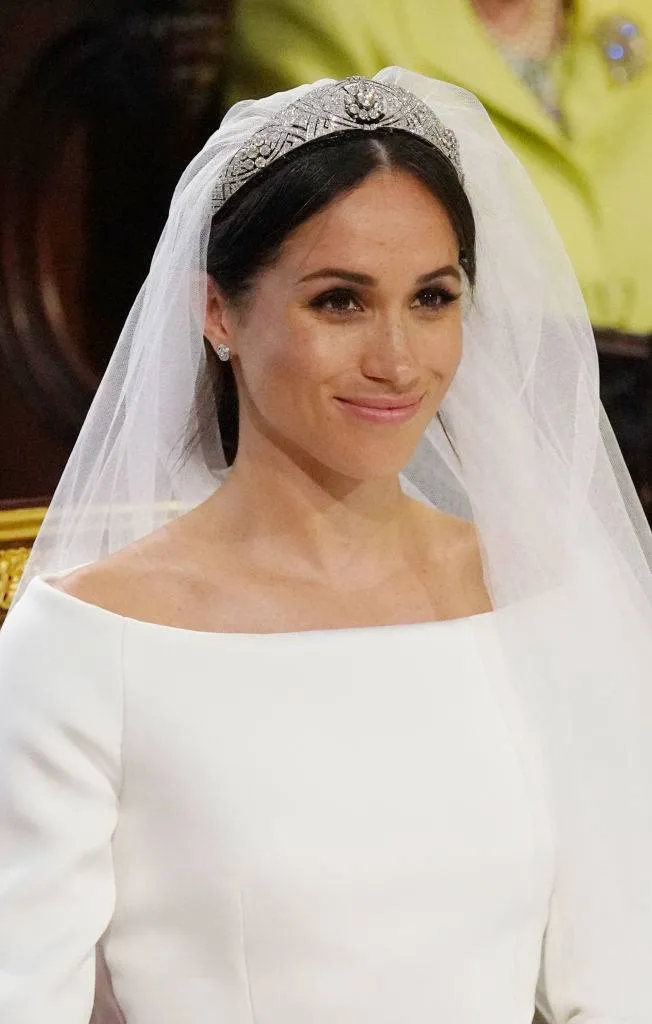 In the weeks leading to Meghan Markle's marriage to Prince Harry, many speculated which tiara she would wear. On May 19, 2018, we finally got to see her decision. Meghan opted for the lovely Queen Mary Diamond Bandeau, one of her new grandmother-in-law's pieces.
The 10 diamonds featured in the center of the tiara date back to 1893. The gems were made into the current tiara in 1932. This tiara had been a favorite of Princess Margaret's and she wore it frequently.
Princess Madeleine In The Swedish Aquamarine Kokoshnik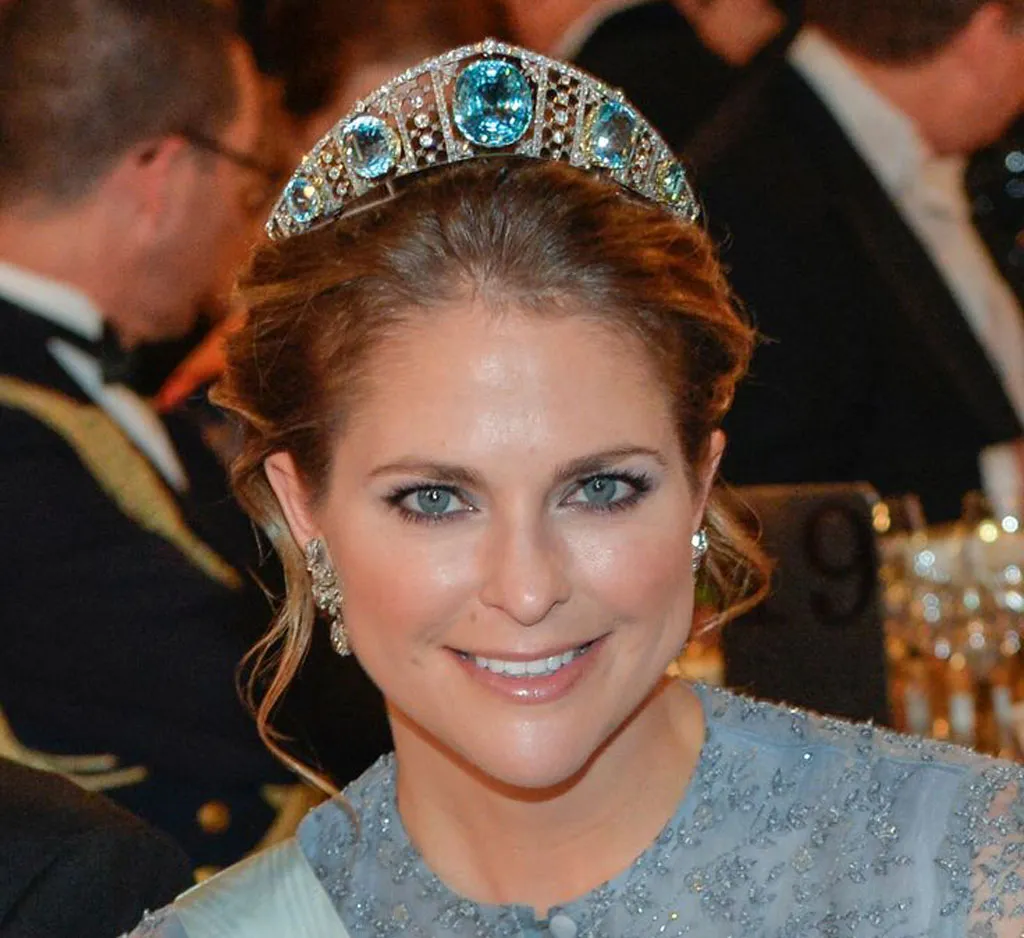 The 'kokoshnik' is a style of tiara that came into fashion during the nineteenth century, in the Russian imperial court of the Romanov family. This aquamarine beauty is currently owned by Princess Margaretha of Sweden. The huge aquamarine stones are accented by delicate diamonds in a flattering half-moon shaped frame.
It's believed that the original owner was Margaretha's grandmother, Margaret of Connaught (wife of Sweden's King Gustaf VI Adolf). Princess Margaretha has been known to loan the aquamarine tiara to her niece Princess Madeleine, who is pictured here wearing it in 2015.
Duchess Catherine's Fairytale Wedding Tiara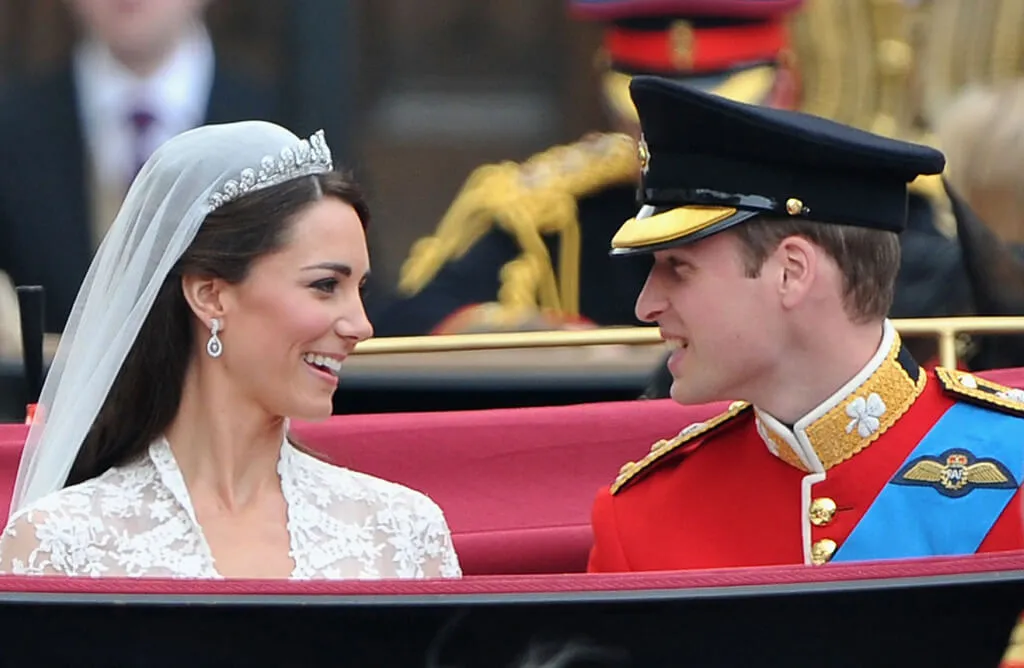 When Kate Middleton married Prince William on April 29, 2011, the entire world watched. Their wedding was a real-life fairytale, and Kate's bridal jewelry fit the bill.
For the big day, Kate wore the Cartier Halo Tiara, also referred to as the Scroll Diamond Tiara. It was made in 1936 and presented as a gift from King George VI to his wife Elizabeth (the Queen Mum, who we'll see later).
The Original Fergie Married In Style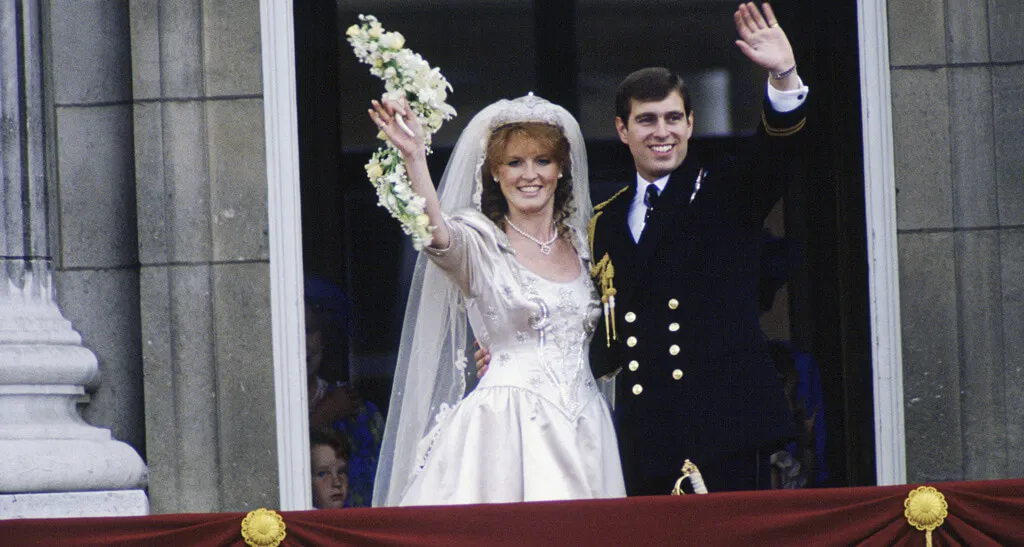 Sarah Ferguson married Prince Andrew at Westminster Abbey in 1986. She wore a headpiece called the York Diamond Tiara, which is said to have been purchased for her by the Queen.
Sarah continued to wear the tiara and kept it after her marriage to Andrew ended in divorce in 1996. She was last seen wearing it publicly at Elton John's White Tie and Tiara Ball in 2001. Many people predicted that her daughter, Princess Eugenie, would wear the York Diamond Tiara for her 2018 wedding. Instead, she opted to borrow an emerald tiara from the Queen.
Sophie, Countess of Wessex
Sophie Rhys-Jones became the Countess of Wessex when she married Prince Edward, Earl of Wessex, in 1999. Sophie wore a silk organza gown that was embellished with 325,000 crystals and pearls.
At the wedding, Sophie also debuted a tiara that hadn't been seen in public before. Some have speculated that the jewels were on loan from Queen Elizabeth's personal collection. Others think the tiara might have been crafted from jewels that had belonged to Queen Victoria.
The Lotus Tiara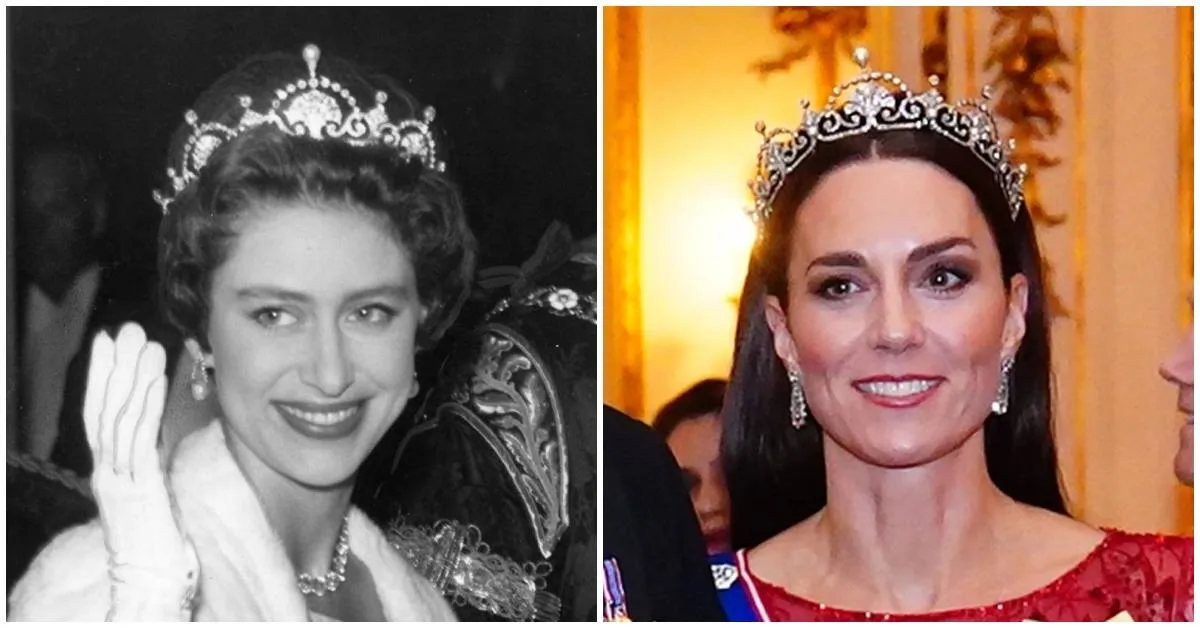 This rarely seen tiara might have the most romantic history out of all of the royal jewels. It was originally designed as a necklace and given to the Queen Mother by Elizabeth II's father, in celebration of their wedding in 1923. Later it would be redesigned into it's current iteration of a stunning tiara, which was said to be Princess Margaret's favorite out of the vast royal collection.
More recently Kate Middleton has been spotted in the tiara, first during a 2015 state banquet and again in 2022 for a diplomatic reception.
Zara Tindall Wore Her Mother's Tiara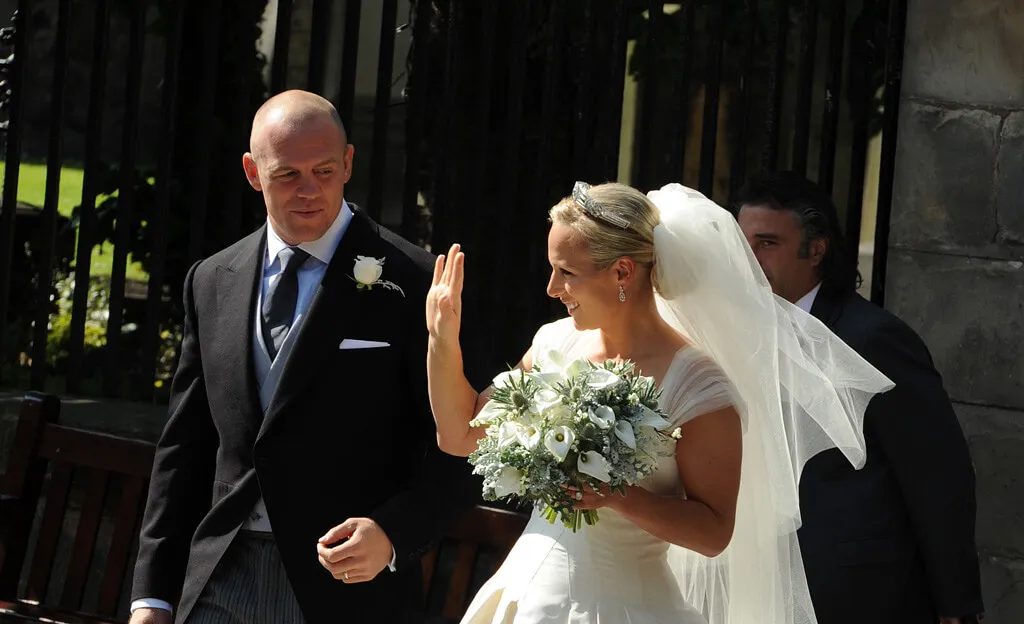 Zara Tindall is the daughter of Princess Anne and is known worldwide for her skills as an equestrian. Tindall is currently 17th in line to the British throne. In 2011 she married rugby player Mike Tindall.
For the wedding day, Zara wore her hair in a chignon and topped the look off with the lovely Meander Tiara. The jewels were loaned to her from Anne's personal collection for the special event.
The Scroll Diamond Tiara, As Worn By Princess Anne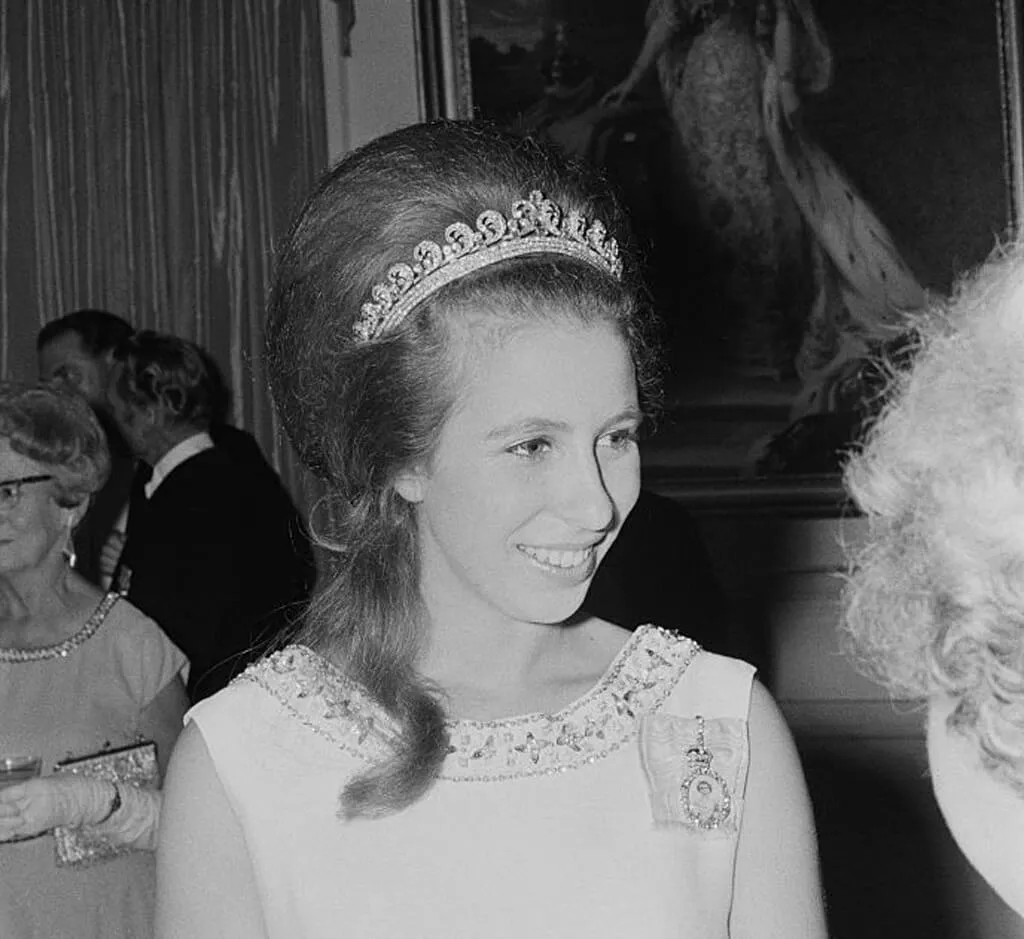 Prince Charles' sister, Princess Anne, is the only daughter of Queen Elizabeth and Prince Philip. Here, Anne is pictured in March 1970, at a formal event while she was visiting New Zealand.
She is wearing the Scroll Diamond Tiara (Cartier Halo Tiara). Anne stopped wearing the tiara publicly in the 1970s, but it made a big reappearance when Kate Middleton famously wore it at her 2011 wedding to Prince William.
An Addition To The Windsors
When Dr. Claire Alexandra Booth married Alexander Windsor, the Earl of Ulster, she became part of the British royal family. The couple has two children together, Lord Xan Richard Anders Windsor and Lady Cosima Rose Alexandra Windsor.
Claire wore a stunning diamond tiara for her wedding day. Although we're unsure of the tiara's origins, many believe that it may have been a gift from Alexander's parents, the Duke and Duchess of Gloucester. We'll learn about Claire's sister-in-law next.
This Tiara Has A Long History
Lady Rose Gilman (born Lady Rose Victoria Birgitte Louise Windsor), a daughter of the Duke and Duchess of Gloucester, was married to George Gilman in 2007. She wore a long white couture gown for the event, as well as a stunning tiara with a very special history.
The Iveagh Tiara was originally a wedding gift to Queen Mary. It's also been worn by two Duchesses of Gloucester, Alice and Birgitte.
Queen Fabiola's Interchangeable-Stone Tiara
Queen Fabiola of Belgium was gifted the Spanish Wedding Gift Tiara in 1960 by Generalissimo Franco, the then-leader of Spain. The tiara is different, as it actually has three variations.
The center stones are interchangeable, with the Queen being able to switch out the stones from emerald to aquamarine to ruby. The leaves are even moveable, either standing upright or flat down.
The Kent Festoon Tiara Makes Another Appearance
The woman born Marie Christine Anna Agnes Hedwig Ida von Reibnitz married Prince Michael of Kent in 1978. She then became known as Princess Michael. She's had an active career, working as an interior designer, an author, and a lecturer.
Here, Michael is pictured as she attends the State Visit Of President Vladimir Putin in London, 2003. She's wearing the Kent Festoon Tiara, which was left to her husband by his mother, Princess Marina.
Birgitte, Duchess Of Gloucester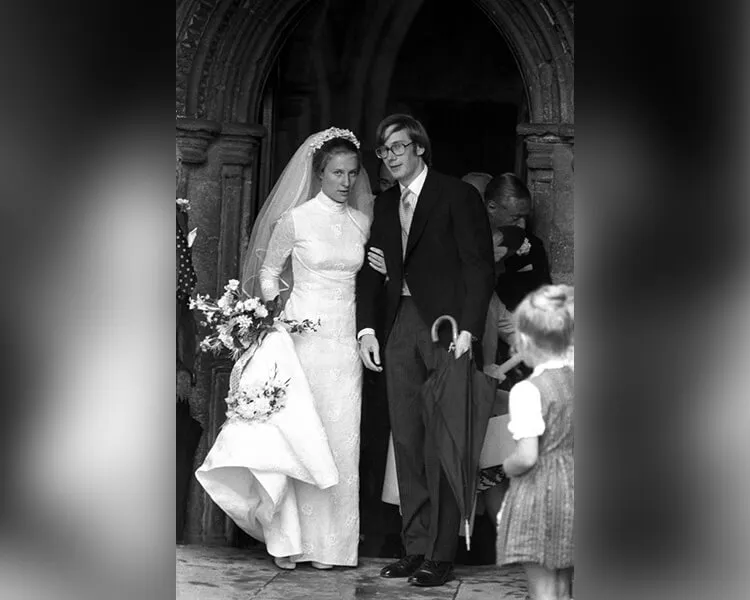 Birgitte Eva Henriksen became the Duchess of Gloucester when she married Prince Richard, the Duke of Gloucester in 1972. By royal standards, they had a relatively simple wedding -- the Queen wasn't present for it.
Birgitte didn't even have bridesmaids for the event. In a further departure from tradition, she also didn't wear a jeweled tiara but instead opted for one made of stephanotis flowers, which held her veil in place. She looked absolutely radiant!
This Tiara Paid Tribute To Her Parents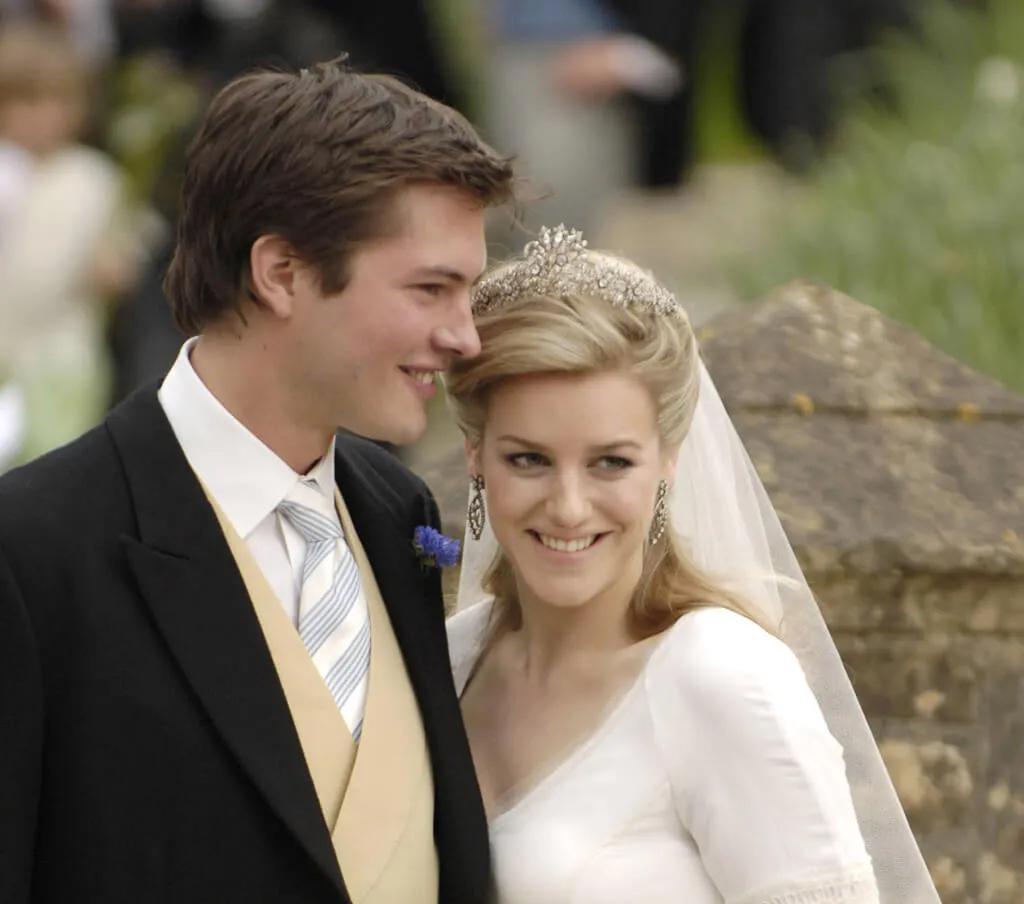 Laura Lopes is the daughter of Camilla, Duchess of Cornwall, and Camilla's former husband, Andrew Parker Bowles. Prince Charles is her stepfather.
For her 2006 marriage to Harry Lopes, Laura topped off her look with the Cubitt-Shand Tiara. It belongs to Camilla, who wore it on the day she married Laura's father, Andrew! The tiara belonged to Camilla's grandmother, Sonia Keppel, who left it to daughter Rosalind (Camilla's mother) upon her death.
George VI Victorian Sapphire Suite Tiara
This sapphire tiara isn't just stunning on it's own...it also comes with a suite of matching sapphire jewelry! This jewelry also had special sentimental value to the late Queen Elizabeth: her father, then King George VI, gifted her the jewels as a wedding present for her nuptials to Prince Philip in 1947. Most recently, Queen Consort Camilla was spotted wearing the suite of jewels to a state banquet held at Buckingham Palace.
Diamonds And Pearls
Lady Helen Taylor, née Windsor, is the only daughter of the Duke and Duchess of Kent. She is currently 42nd in line to the British throne. Taylor had a career in fashion as the muse of designer Giorgio Armani.
She married art dealer Timothy Taylor in 1992 and wore the distinctive Kent Diamond and Pearl Fringe Tiara for the event. We've seen that tiara quite a few times, and it's always a stunner.
Queen Mary Recycled Her Jewelry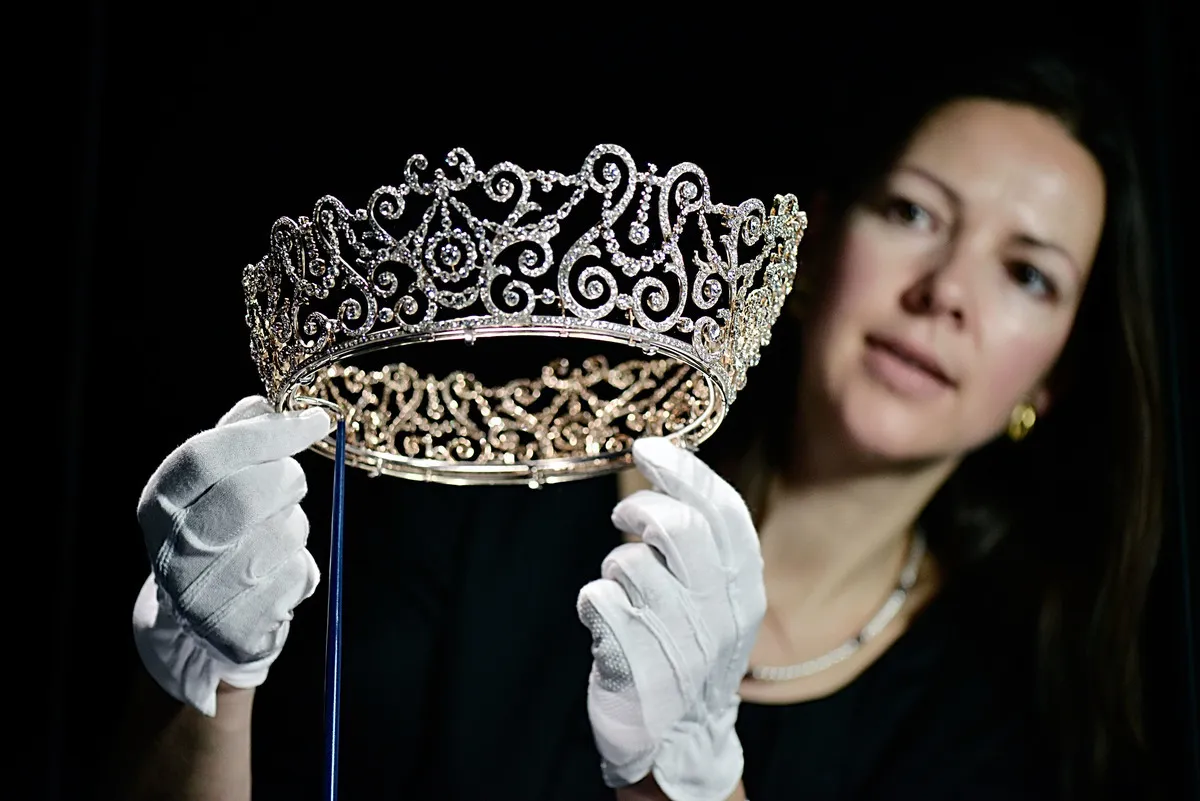 The Delhi Durbar Tiara was originally made for Queen Mary in 1911. It was made by Garrard for a celebration in Delhi that marked the coronation of King George V and Queen Mary as Emperor and Empress of India. Mary had this tiara made with remnants of another tiara set in platinum and gold. It used to have 10 cabochon emerald drops on top but these were later repurposed into a different tiara.
This tiara was lent out to Camilla, the Duchess of Cornwall, for her first appearance at a banquet as a member of the royal family.
A Versatile Tiara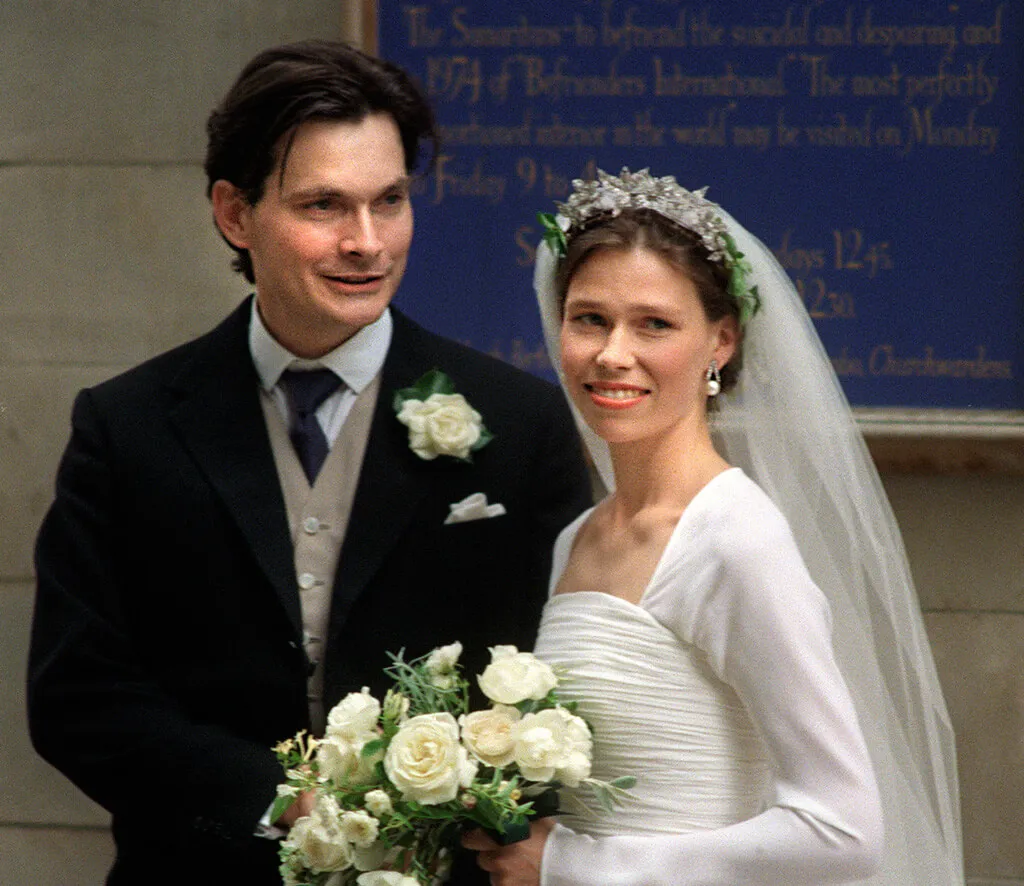 Lady Sarah Chatto, a painter, is Princess Margaret's daughter. She is currently 23rd in line to the British throne (she was seventh when she was born). Sarah appears to have inherited her mother's fabulous tastes in fashion.
For her 1994 wedding to Daniel Chatto, she wore the Snowdon Floral Tiara, which was made from three different brooches belonging to Magaret. The wedding was the only time the brooches were publicly worn as a tiara.
The City Of London Diamond Fringe Tiara
On April 24, 1963, Princess Alexandra of Kent was married to Angus James Ogilvy at Westminster Abbey. She is a first cousin of Queen Elizabeth.
For the occasion, Alexandra wore the City of London diamond fringe tiara, which features diamonds that are set in both gold and silver. The jewelry had belonged to her mother, Princess Marina, who had a similar style for her own wedding. We'll see her bridal ensemble later.
The Kent Diamond and Pearl Fringe Tiara
Katharine Worsley married Prince Edward, Duke of Kent, one of Queen Elizabeth's first cousins. They were wed in 1961, and she became Katharine, Duchess of Kent.
For the special event, Katharine wore the Kent Diamond and Pearl Fringe Tiara. As its name indicates, the tiara features both diamonds and pearls, set at varying heights. More recently, the tiara has been spotted on her daughter-in-law and daughter, the Countess of St. Andrews and Lady Helen Taylor.
A Tiara Befitting A Princess
Princess Margaret, Countess of Snowdon, was Queen Elizabeth's only sister. In 1960 she married a photographer, Antony Armstrong-Jones, and the couple had two children together before divorcing in 1978.
Margaret was always known for her sharp sense of style and this photo proves it. Here she is in London sometime around 1990, sporting a stunning tiara and a fur wrap. Many of her jewels and other belongings were auctioned off by her children in 2018.
Princess Marina Wore A Tiara Similar To The One Her Daughter Wore Years Later
Princess Marina of Greece and Denmark became the Duchess of Kent when she married Prince George on November 29, 1934. Here is a photo of the couple on that happy day.
Marina is wearing a tiara very similar to the City of London diamond fringe tiara that we covered earlier. It had been a gift from the city of London to commemorate her marriage. She loaned the tiara pictured here to her daughter, Princess Alexandra, for her wedding day.
Princess Alice Wore Pink At Her Wedding
In 1935, Alice Montagu-Douglas-Scott wed the third son of King George V and Queen Mary, Prince Henry. He was the Duke of Gloucester, so Alice became the Duchess of Gloucester after their marriage.
The tiara Alice wore for the wedding was a gift from Queen Mary. Her gown was a pale pink shade, which is quite unusual for a member of the Royal family. Alice lived a long life full of adventurous travel.
The Queen Mother Having A Ball In Her Tiara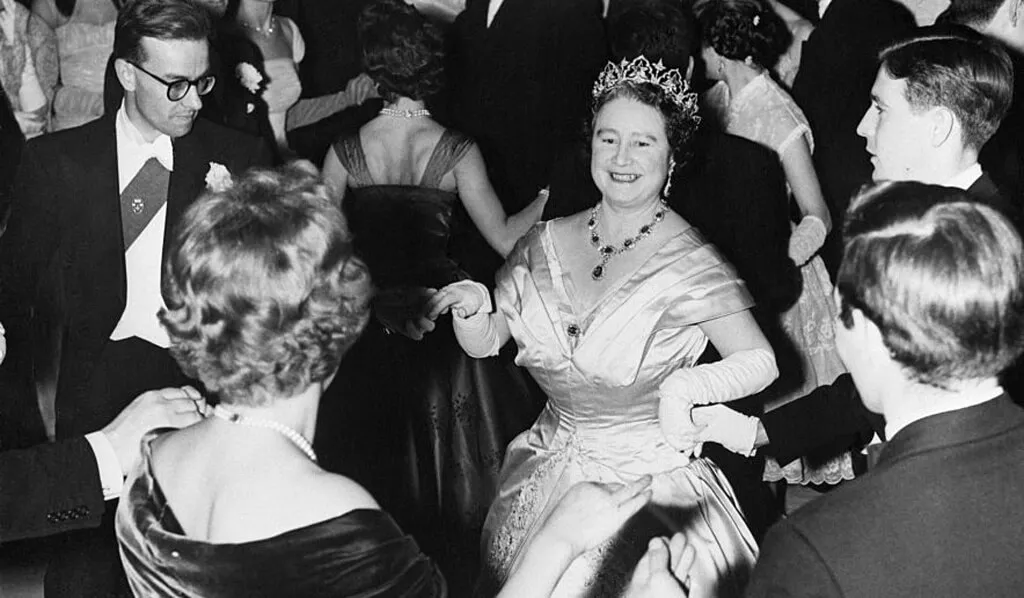 Here is Elizabeth II's mother, affectionately called the Queen Mum. She was attending London University's Senate House Ball on November 28, 1958. The Queen Mum was all smiles as she danced the night away with students.
Perhaps her smile is enhanced by the stunning jewels on her head. This is the Delhi Durbar Tiara, and it's the largest in the Windsor collection. Most recently, it's been worn by Camilla, Duchess of Cornwall.
Princess Di's Sapphire Engagement Ring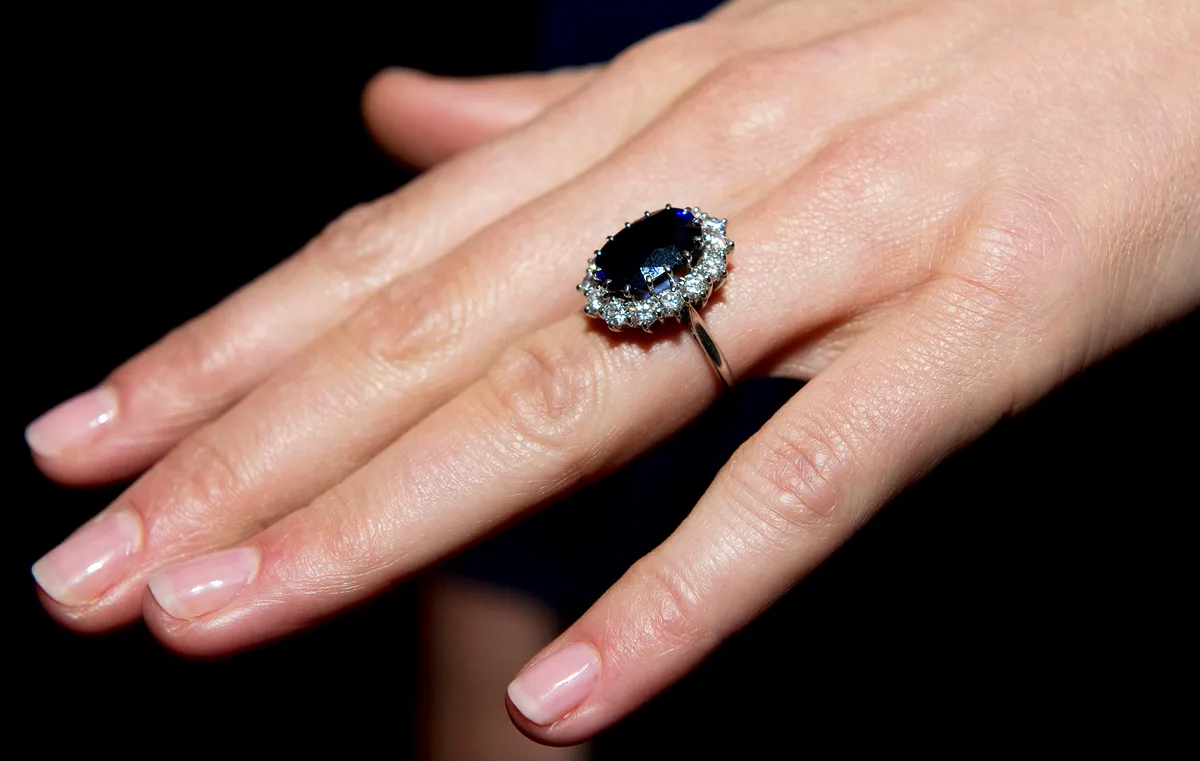 We all know the famous engagement ring formerly worn by Princess, Diana which now lives on Kate Middleton's elegant finger. But did you know there was quite a bit of controversy around it within the royal family? When Diana picked the sapphire creation out of a Garrad catalog, some members of the family poo-pooed it because it wasn't custom-made. For a member of royalty to pick a ring that was accessible to the common public was unheard of.
The unique ring that's inspired copycats around the world features a 12-carat oval Ceylon sapphire that's surrounded by 14 solitaire diamonds and set in 18-karat white gold.
Reinventing the Brooch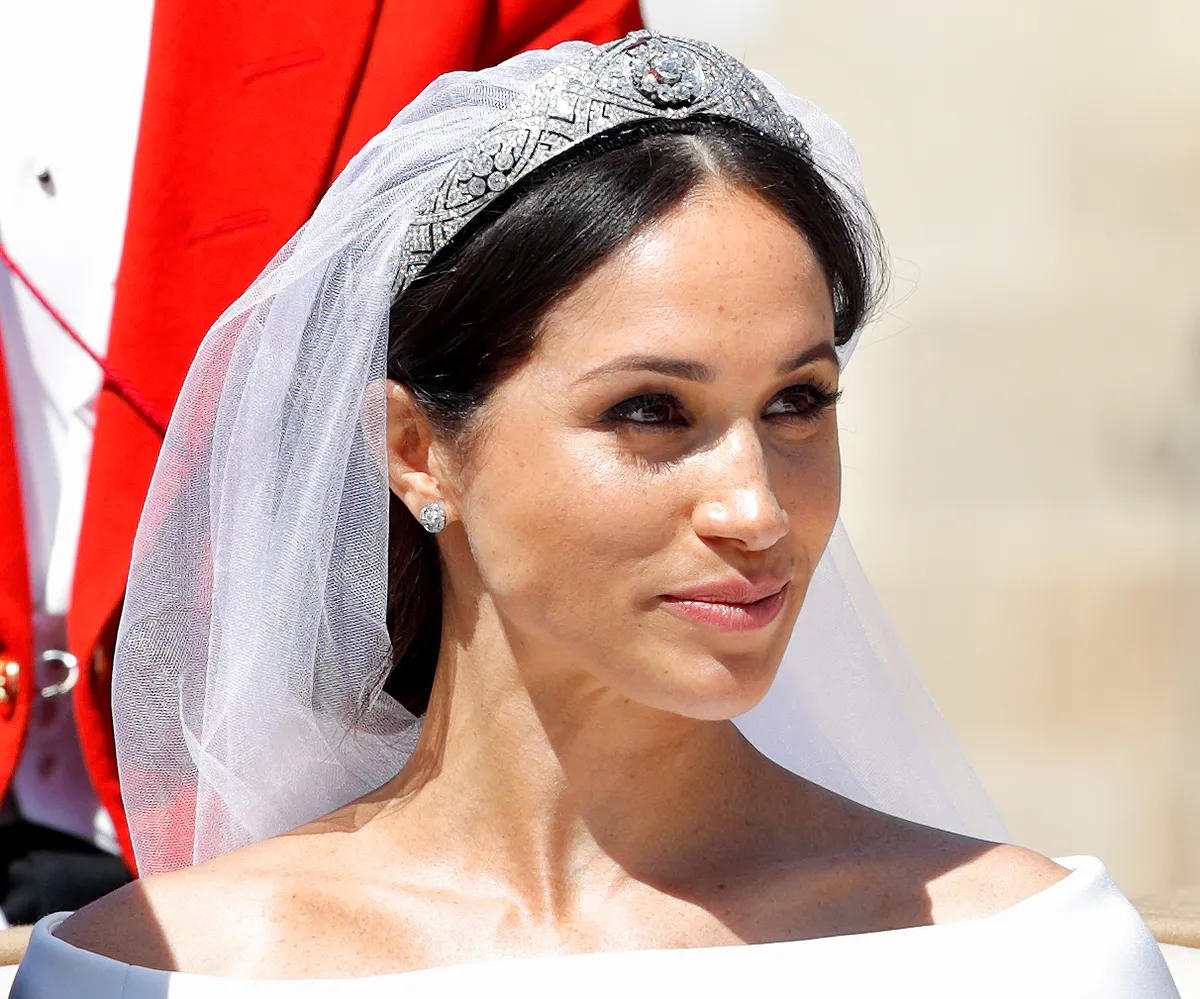 Queen Elizabeth loaned Queen Mary's Bandeau Tiara for Meghan Markle to wear at her wedding to Prince Harry. In true fairytale fashion, Meghan got to enter her Majesty the Queen's vault and have her pick of stunning tiaras.
In 1932 Queen Mary had the Bandeau Tiara made specifically to accommodate the centerpiece stone, which is actually a brooch. The brooch was given to Mary of Teck in 1893 as a gift from the Country of Lincoln on the occasion of her wedding to then-Prince George, Duke of York.
The Coronation Ring That Didn't Fit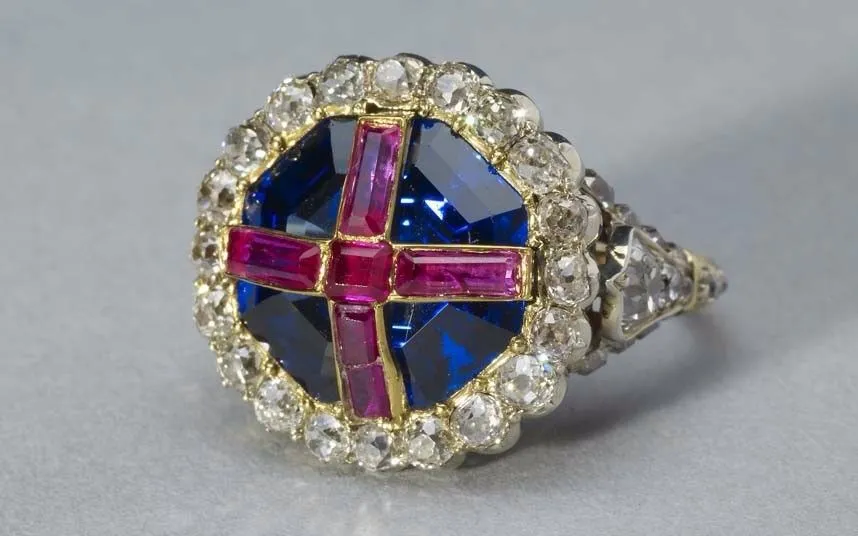 Rundell, Bridge & Rundell, the goldsmiths who made this ring of sapphire, rubies, and gold, screwed up royally in 1838. Apparently, the jewelers misunderstood the wording of the rubric given to them for the coronation and made this ring for Queen Victoria's little finger, not the ring finger. Whoops!
Come ceremony time, the Archbishop forced it on her ring finger anyway. Queen Victoria had to soak her hand in ice water after the ceremony in order to get it off.
O Canada! What A Gift!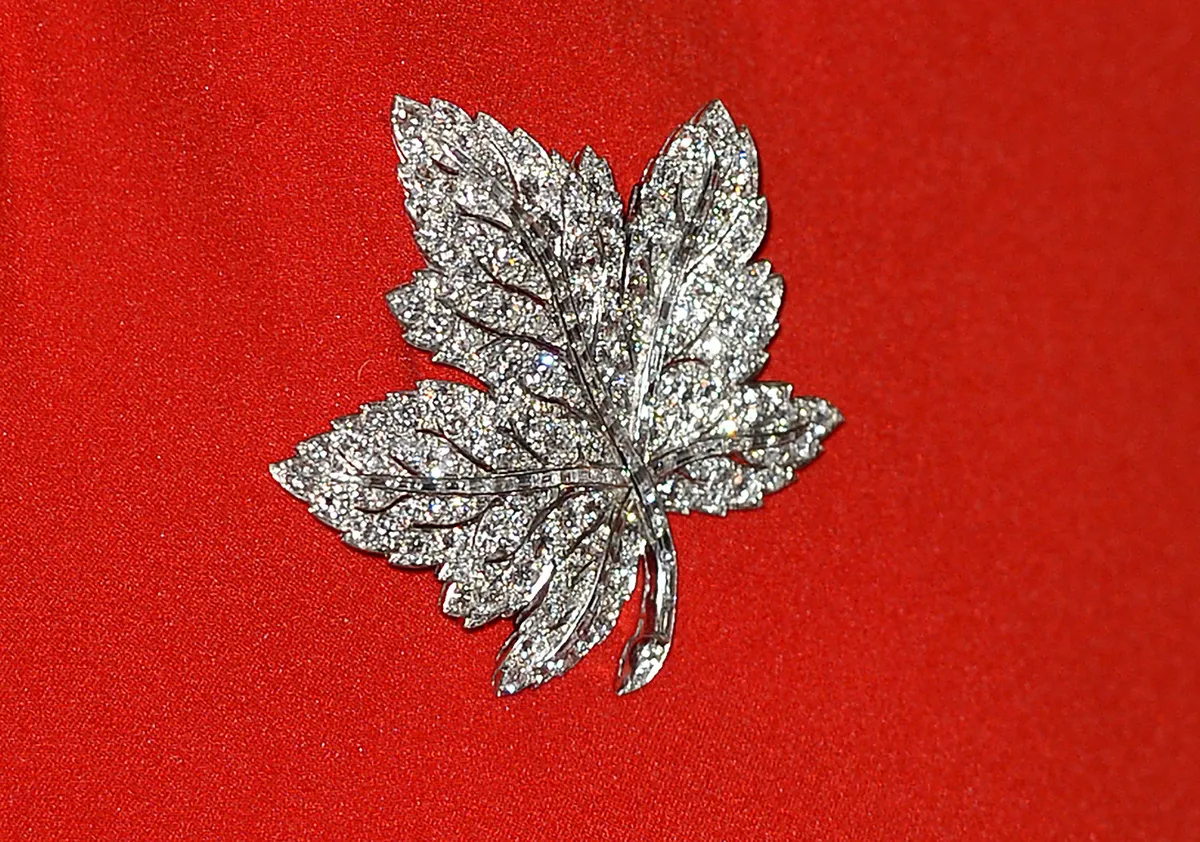 King George VI bought this Canadian maple leaf brooch for Queen Elizabeth during their first state visit to Canada in 1939. The brooch was bequeathed to Queen Elizabeth II in 2002.
The Canadian maple leaf brooch is one of the most loaned-out pieces of jewelry in the Queen's collection. Camilla, Duchess of Cornwall, and Kate, Duchess of Cambridge, have both worn it several times, in addition to Queen Elizabeth II.
Let's Brooch the Subject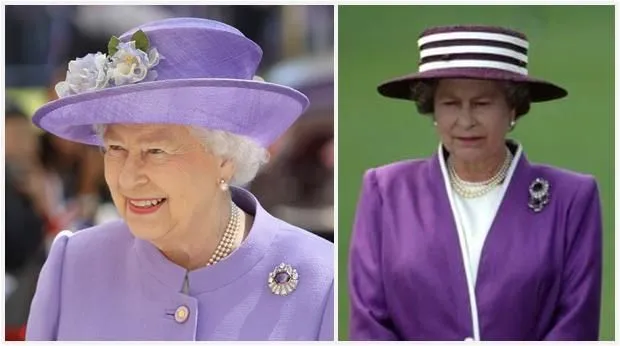 It's no secret that Her Majesty Queen Elizabeth just loved a brooch. The Kent Amethyst Brooch is part of a set of amethysts owned by the British royal family. The first owner of the set was Queen Victoria's mother, the Duchess of Kent. It includes a necklace, a pair of hair combs, a pair of earrings, and three brooches.
Queen Elizabeth wore the brooches frequently and has only been seen publicly wearing the necklace and earrings once, at a banquet in 1984.
22-Carat Magic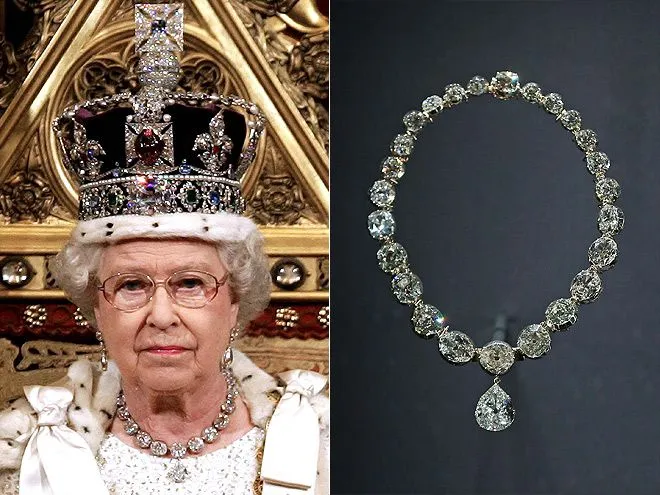 Nothing screams 'royalty' like a neck covered in gigantic, glistening diamonds. The Coronation Necklace and matching diamond earrings have been worn by every queen since Queen Victoria. The set consists of 25 gigantic diamonds. The teardrop diamond in the center is a whopping 22.48-carat stone known as the Lahore Diamond.
Queen Victoria pulled the Lahore Diamond from a ruby tiara she had and commissioned Gerrard to add it to the necklace. The matching earrings, worn by Queen Elizabeth II in this photo, were also pieces from that tiara.
The Japanese Pearl Choker
Queen Elizabeth II commissioned this choker in the early 1980s using cultured pearls that were a gift from the Japanese government. She has loaned it to Princess Diana for a banquet and to Kate Middleton, Duchess of Cambridge, who paired the necklace with Diana's pearl and diamond earrings.
The choker consists of four delicate strands of pearls meeting at the center diamond pendant. Fun fact about pearls: Just like snowflakes, no two pearls are exactly alike.
Greville's Gifts Endure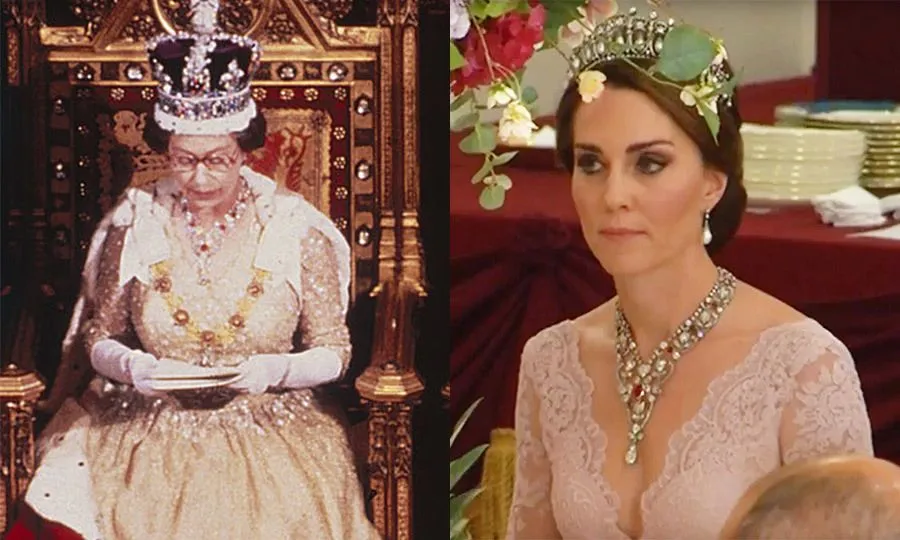 The Greville Ruby Necklace is yet another treasure from the Greville haul. It was made by Boucheron in 1907. Queen Elizabeth II received this necklace as a wedding gift from her parents, King George VI and the Queen Mother.
This diamond and ruby necklace has not been worn in public since the 1980s. Her Majesty took it out of the vault and lent it to the Duchess of Cambridge, who wore it to the Spanish State Banquet at Buckingham Palace in 2017. She paired it with the pictured deep-v soft pink Marchesa gown.
Sapphires Are A Family Favorite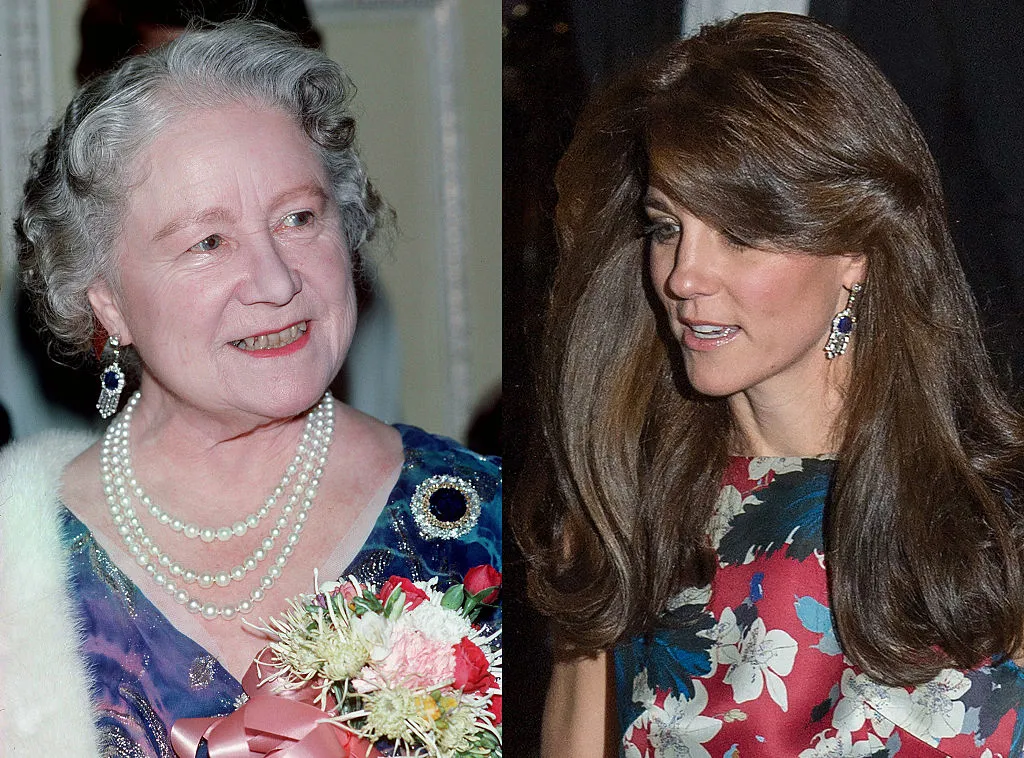 Here we are given the chance to take a peek back through history and see the Queen Mother wearing some of her favorite jewels, known as the diamond and sapphire fringe earrings, in 1986 as she attended a birthday celebration.
On the right, the Duchess of Cambridge Kate Middleton wore the same pair of earrings as she arrived at a gala at the Victoria and Albert Museum in London on October 27, 2015.
Queen Mary's Diamond Bar Choker/Bracelet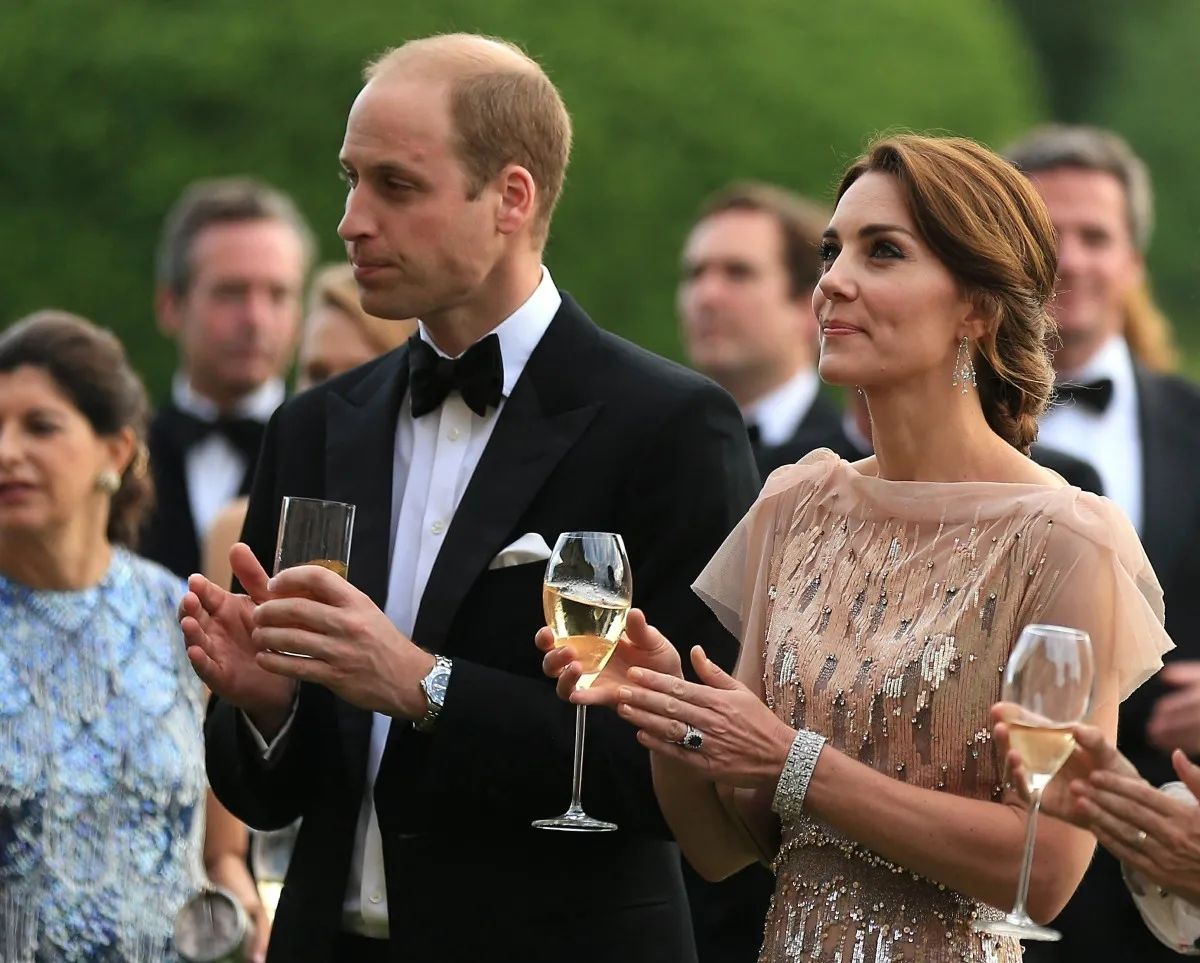 This sparkling art-deco styled diamond choker was first owned by Queen Mary. After her death in 1953, the piece was not seen in public until the Queen Mother wore if for her 75th birthday portrait. It's now owned by Queen Elizabeth.
In recent years, Kate Middleton has been spotted more than once wearing it as a bracelet. This photo from June 22 shows Prince William and Kate at a gala dinner benefitting East Anglia's Children's Hospices.
Queen Victoria Received This Brooch As A Wedding Gift
This gorgeous sapphire brooch was said to be one of the Queen's most treasured pieces of jewelry. It was a gift presented to her great-great-grandmother Queen Victoria by her fiance Prince Albert the day before they were wed.
Victoria admired the brooch so much that she wore it many times after her wedding day. Queen Elizabeth also wore it frequently. This photo shows her at a reception for secretaries held at The Queen's Gallery in 2017.
Meghan Markle's Engagement Ring Holds Special Meaning For Prince Harry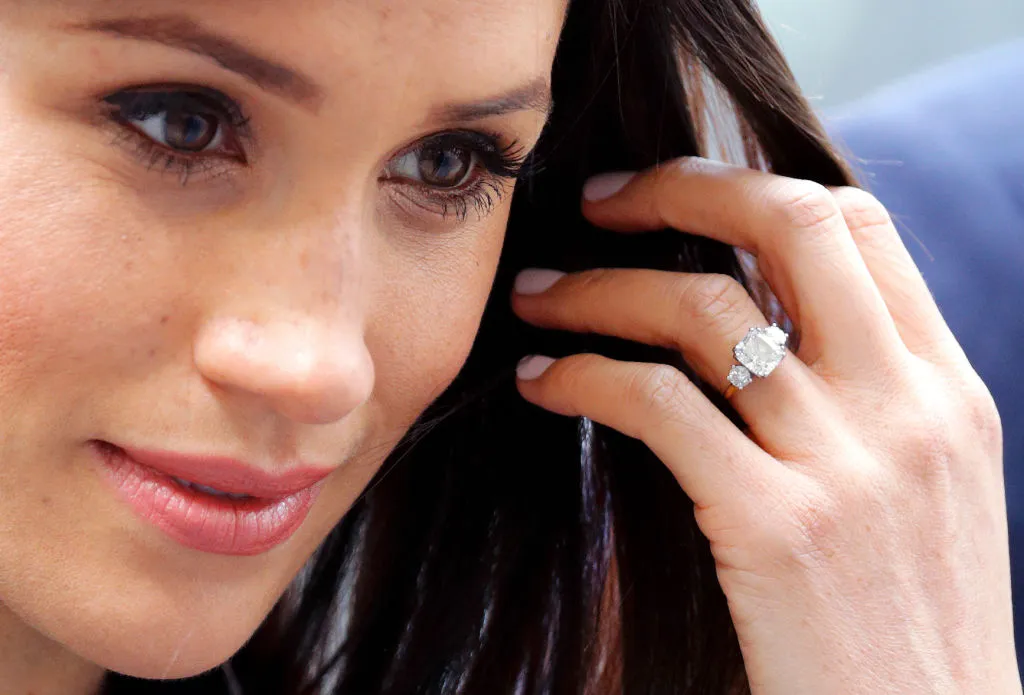 Talk about romantic! Prince Harry designed the engagement ring he proposed to Meghan Markle with. The completely unique piece was custom-made by the famed jeweler British Cleave & Co. for Harry.
It features a three-carat cushion-cut diamond from Botswana, which is a country dear to the couple. Set in a yellow gold band, the diamond side stones were given to Harry by his mother, the late Princess Diana. How very touching.
Generations Have Worn This Necklace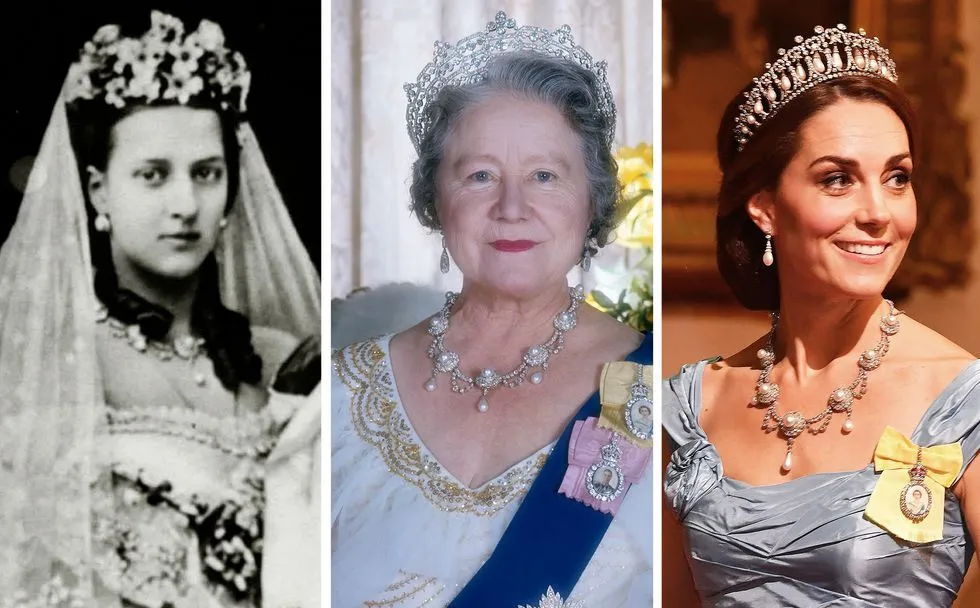 Princess Alexandra of Denmark received this necklace as a gift on the eve of her wedding in 1863. The jewelry is now known as Queen Alexandra's Wedding Necklace, and it was eventually passed down to the Queen Mother.
In 2002, the necklace became the property of Queen Elizabeth. As we've seen time and time again, the queen is generous in lending out her jewels. Here's Kate Middleton wearing it to an official event in 2018.
The Sovereign's Orb Contains 600 Gems And Pearls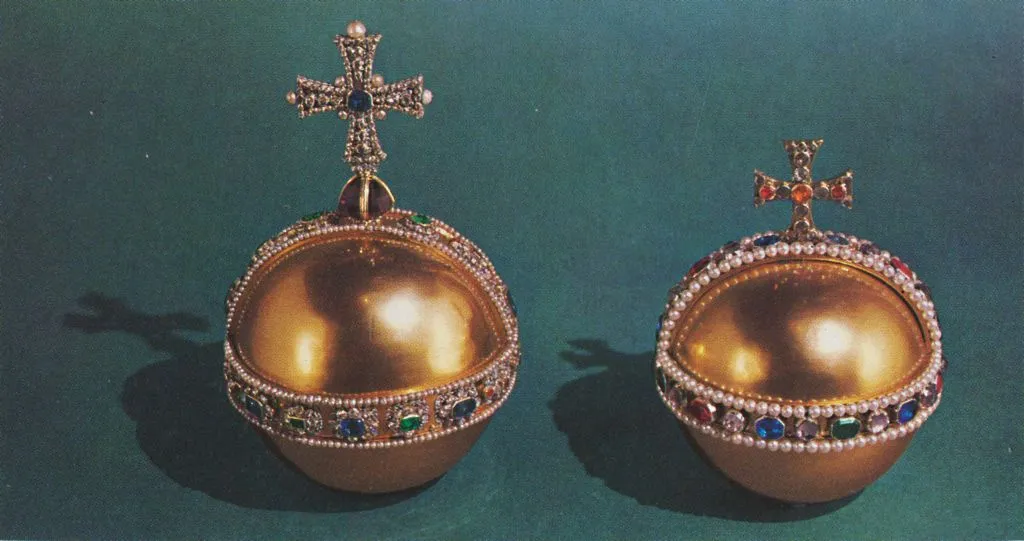 The solid gold piece on the left is called the Sovereign's Orb, which is part of the royal family's coronation regalia. It was initially made for the 1661 coronation of Charles II and has been used at all coronations since.
The impressive orb contains more than 600 gems and pearls, including diamonds, rubies, sapphires, emeralds, and amethyst. When William and Mary came to the throne as King and Queen in 1689, an orb was made for her as well (seen on the right). Both orbs were placed on Queen Victoria's coffin during her funeral.