Photos Of The Royal Family That Show Another Perspective
For centuries the British Royal Family has captivated the world. In 2011, all eyes were on England for the wedding of Prince William to Kate Middleton, and not long after the world got to watch Prince Harry tie the knot (the leave the royal family) with Meghan Markle.
Many are used to seeing the royal family when they're all dressed up and looking fancy so take a look at these much more candid and relaxed photos from the last century.
Ching, Carol, And Crackers
We all know how much Queen Elizabeth II loves her dogs. There's plenty of photo evidence to show that the head of the royal family has been cultivating bonds with four-legged friends since she was a child.
Here, she sits in the grounds at the Royal Lodge in Windsor in April of 1940, alongside her mother, Elizabeth, her father King George VI, and her sister, Princess Margaret. The family's attention is focused primarily on their dogs, Ching, Carol, and Crackers. Those are some names. Way better than Fluffy, if you ask us.
Looking Good, Ma'am
Most of the pictures released to the public of the royal family are perfectly poised, professionally taken snaps. Not a hair is out of place, or a hat at a crooked angle. It's all meticulously orchestrated down to the last detail. Of course, pictures of them out and about doing their visits can be a different story, like this gem.
In 2010 the Queen and Prince Philip donned some stylin' 3D glasses to watch a display and pilot a JCB digger when they visited the University of Sheffield Advanced Manufacturing Research Center. We have to say, you're looking pretty down with the kids there, ma'am.
A Royal Pantomime
There's no doubt that the life of a royal child is different from most of our lives. For starters, we imagine there's no such thing as going out with your friends and lying to your parents about where you'll be. It's a privileged life, but in terms of freedom it can blow the big one.
This sweet picture of a young Queen Elizabeth II alongside her sister Princess Margaret is a hidden gem in the family photo album. Back then, kids usually had to make their own fun. Throwing a royal pantomime with the help of Hubert Tannar sounds like a pretty good way to do it. Here they are singing "The Ladies Wot Oblige" in 1943 for their own version of Aladdin.
Lending A Hand
Prince Harry and Prince William are undoubtedly the most popular royals in modern times. There's something about them that makes them seem relatable and accessible - even though Harry had a few blunders in his youth. The brothers have never shied away from doing their bit.
In 2010 they visited Semonkong, Lesotho in Africa where they spent time visiting some projects supported by their charities -- namely, Sentebale and Tusk Trust. Here, they're pictured helping a young boy put on some gloves to keep away the cold. Be still our beating hearts. This couldn't get much cuter if it tried.
"Is It Over Yet?"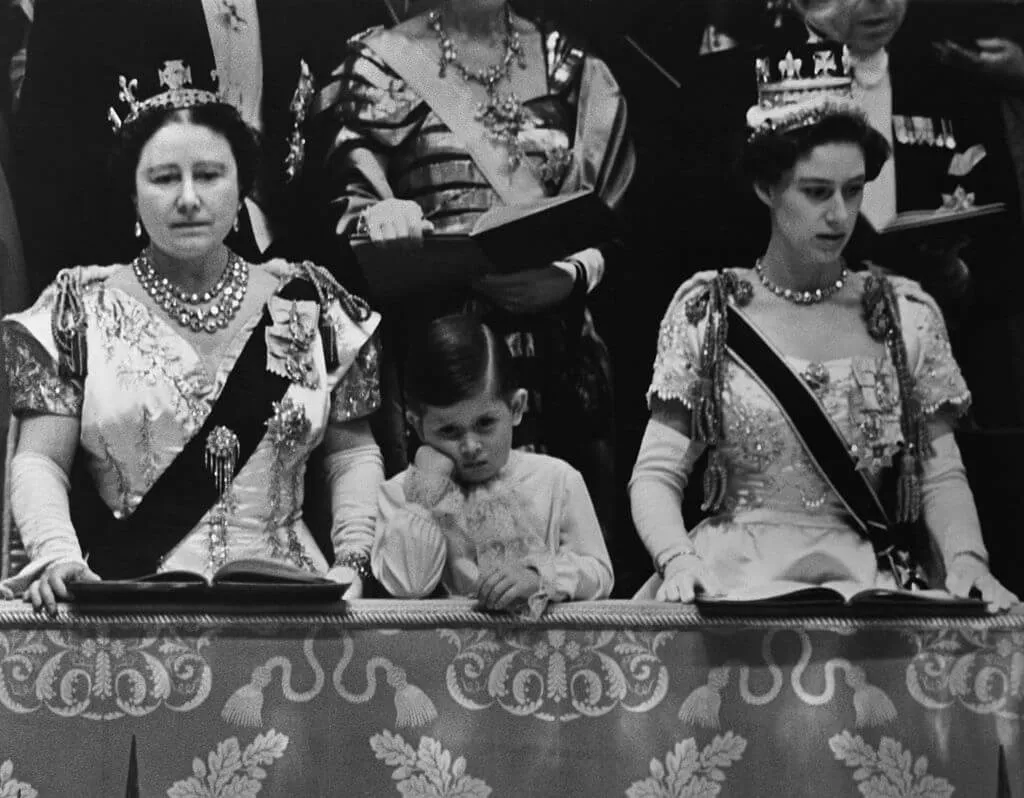 Family events can be so dull, can't they? When you're a kid, standing in a church for an hour can feel like an eternity, and that's just at your standard christening. Here, a little Prince Charles looks like he would rather be doing anything else than watching his mother's Coronation.
The year is 1953, and little Charlie is sandwiched in between his aunt, Princess Margaret (right), and his grandmother, Elizabeth the Queen Mother. Honestly, we don't blame the little guy. There are the recognition and the oath, the anointing, the investing, the actual crowning, then the enthronement, homage and finally the closing procession. That's a lot for anyone to endure.
The Darkest Of Days
When Princess Diana died in a car crash in 1997, the entire world was shaken. Dubbed "The People's Princess," Diana flipped the script on what it meant to be a divorced royal. The public adored her - in their eyes, she could do little wrong. While her relationship with ex-husband Charles was strained, when it came to her funeral he was there for his kids.
This striking photograph was taken at Diana's funeral seven days after her death. Prince Philip, Prince William, Earl Spencer, Prince Harry, and Prince Charles, all dressed in black suits, bow their heads during the service which took place at Westminster Abbey on September 6th, 1997.
A Family Vacation
Prince William was just 15 years old when his mother, Diana Princess of Wales died in 1997. Prince Harry was 12. That's an awful trial for anyone to go through, let alone children in the public eye. Above all of her royal duties Diana prized spending time with her boys.
The above shot of Diana buried in the sand was taken in 1990 on vacation in Necker Island, a private paradise in the British Virgin Islands just north of Virdin Gorda owned by Sir Richard Branson. The mogul continues to speak highly of his late friend, insisting that Prince William and Prince Harry have 'saved' the royals.
Young Love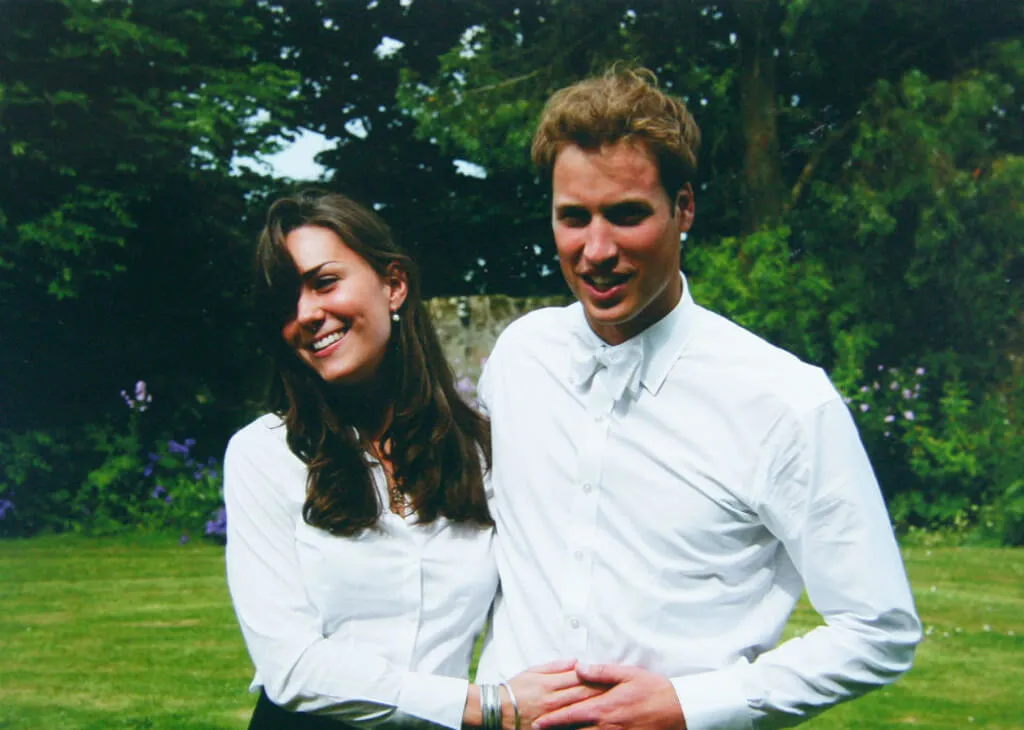 We can't get enough of a good love story, can we? Dating when you're in the royal family can be a bit of a minefield, but Kate and Will managed to navigate it all pretty well. They reportedly started dating in 2003 after meeting at university. Although they briefly split in 2007, they officially tied the knot in 2011.
To celebrate the upcoming nuptials in 2011, the Middleton family released personal pictures of the young couple, including this one which was taken on the day they graduated from university in 2005. With Kate just recently welcoming their third child, they've come a long way. Just look at William's hair as proof.
Unflappable Poise?
If Prince Charles were on social media, we'd imagine he'd be asking all of his chums to untag him in this unflattering picture. Thankfully, he's not, so the rest of us get to enjoy his reaction to a flying eagle alongside his wife Camilla.
During the Sandringham Flower Show in 2015 in King's Lynn, the mascot of The Army Air Corps gets a little bit excited and flaps his wings, causing the pair to veer back in the most hilarious way possible. Seriously, someone paint a portrait and hang it in Buckingham Palace ASAP. This needs to be documented in every way possible for the history books.
Singin' In The Rain
We know what you're thinking, but no - it's not the latest royal pantomime version of Singin' in the Rain. While Meghan is now at Harry's side for most of his public appearances, there was a time when himself, Prince William, and Kate were a regular trio.
Above they're pictured on a rainy in England as they visited The Sunken Garden at Kensington Palace in August of 2017. The beautiful garden was transformed into a White Garden to honor the memory of their late mother, Diana. Might want to watch the grass with those heels, Kate.
Granny's Boys
For millennials, it's hard to remember the Queen in any other way than she is now. While rumors abound that her majesty wasn't the biggest fan of Princess Diana, there's no doubting that she has always doted on her grandsons.
In this sweet photo, grandma watches over the two boys as they take in a match from The Royal Box at Guards Polo Club, Smiths Lawn, Windsor in 1987. Harry was just three years old while William was five. Don't they look like the most adorable little princes? Harry's strawberry blonde hair and his cute patterned shirt are particular highlights of this scene.
Keeping Famous Company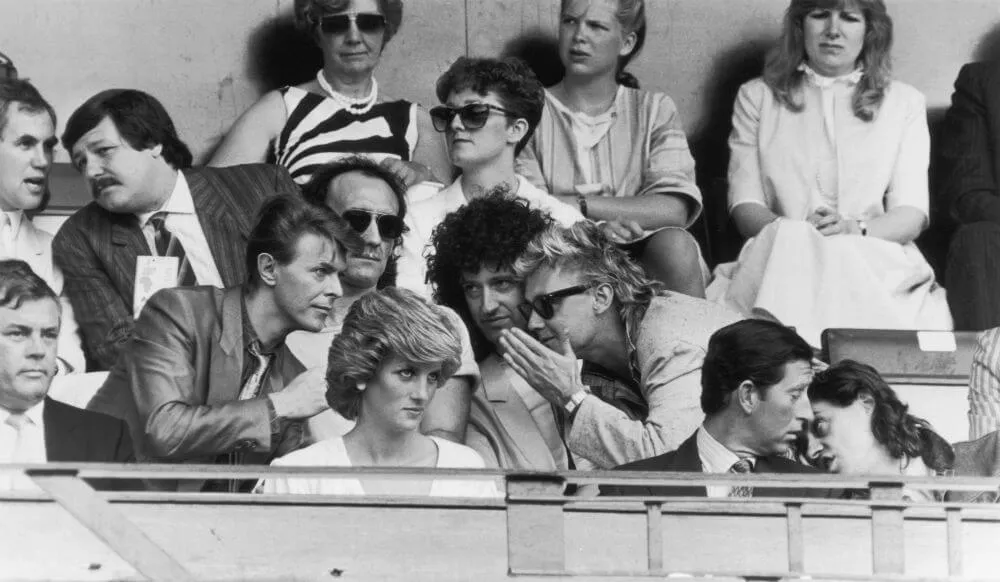 When Live Aid came to fruition in the 80s, it was only right that the huge fundraising effort was met with a royal welcome. Princess Diana and Charles had front row seats at Wembley Stadium and sat with the musical elite.
Here, Bob Geldof can be seen whispering something into Prince Charles' ear, while David Bowie has a chat with Roger Taylor and Brian May of Queen. That's a lot of famous for one photo, isn't it? Princess Diana seems focused fervently on the festivities, probably watching the stage. We don't blame her, as there's a lot of famous up there too.
The Queen's Birthday Party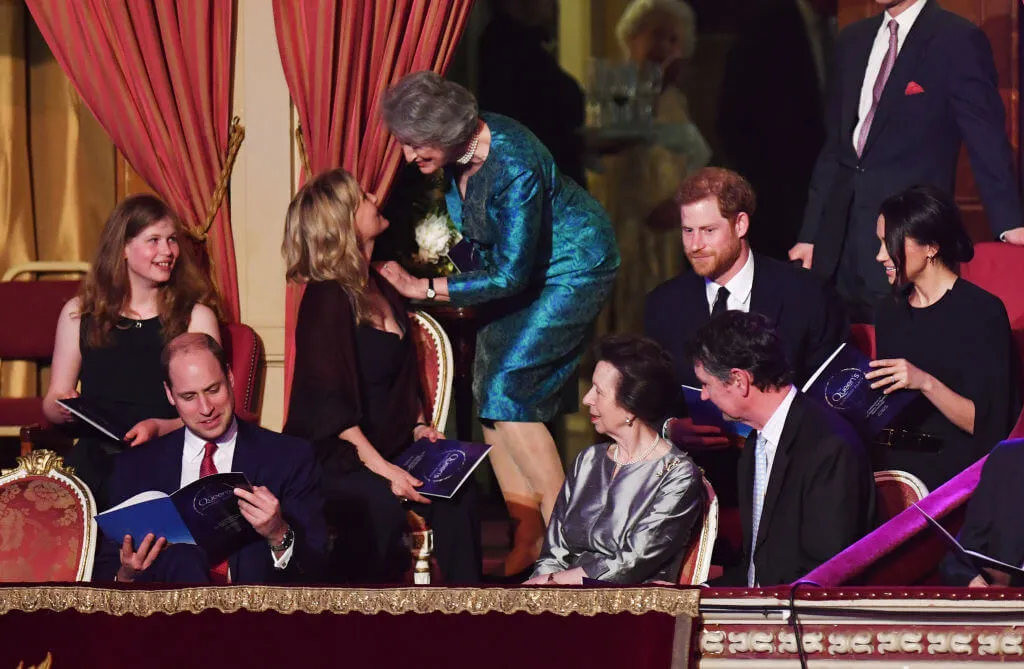 The Queen recently celebrated her 92nd birthday, which is pretty impressive by anyone's standards. Of course, on such momentous occasions, the whole family gets together to enjoy the festivities. We do the same, but we usually hire a DJ and rent a hall.
This picture was taken on April 21st of this year at a star-studded concert put on in her majesty's honor. It was billed as "The Queen's Birthday Party". Here you can see Lady Louise Windsor, Sophie Countess of Wessex, Prince William, Prince Anne, Vice Admiral Sir Timothy Laurence, Prince Harry, and his soon-to-be wife Meghan Markle as they take their seats for the show.
Give Us A Kiss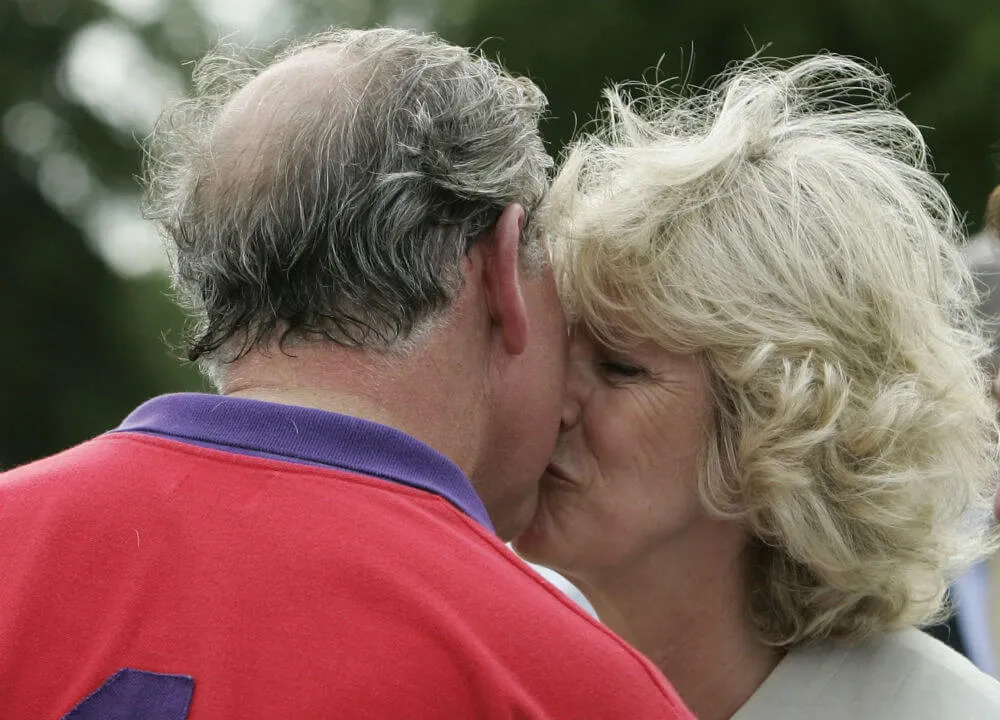 Being a member of the royal family means that all eyes are on you, all of the time. We "norms" can walk down the street holding hands and making eyes at our significant others without much more than a grossed-out stare from the neighbor across the street. For royals, a kiss can make headline news.
Although this candid shot of Prince Charles and his wife Camilla pales in comparison to that balcony kiss of William and Kate's, it's still pretty sweet. It was taken after Charles participated in a royal polo match in 2005, in Cirencester, England.
A Royal Reception
News of Prince Harry's engagement to US actress Meghan Markle received a mixed response across the world, with some traditionalists questioning if the young prince could really marry an American divorcee. Luckily, most people - along with us - believe Meghan and Harry are a match made in heaven.
Since the engagement Meghan has been easing herself into royal duties, just like this one pictured. The couple visited Cardiff Castle in south Wales in January for a day that celebrated the heritage of Wales. Meghan looks really touched by all of the gifts and well wishes from the crowd. Who wouldn't be?
When There Were Three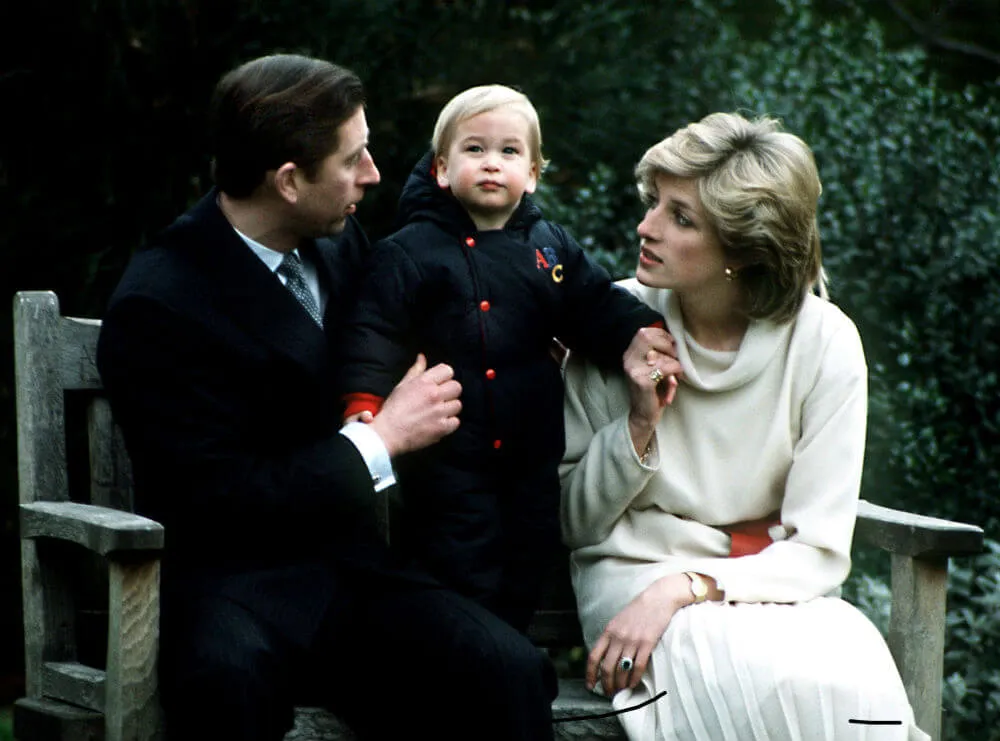 Princess Diana's marriage to Prince Charles was short and unhappy. Though they had two children together, it wasn't long after they tied the knot that Diana discovered Charles was having an affair with his now wife, Camilla Parker-Bowles.
Here, they're pictured on Prince William's first official photo engagement at Kensington Palace, London, on December 14th, 1983. The cherub-cheeked youngster looks off into the distance as his parents talk to him. This photo makes you realize how much Prince George looks like his daddy, doesn't it? Undoubtedly Prince Louis will have the same characteristics too.
A Family Day Out
Kids love a good day out, regardless of if they're royal or not. Throw balloon animals into the mix, and you've got a winning combination. Lucky Prince George and Princess Charlotte were treated to the inflatable friends during the 2016 royal tour of Canada.
Here Prince William and Kate take the tots to a party for military families and stop to get a balloon animal (or several). Charlotte holds one fashioned like a flower, while George and William are intently concentrating on what's about to be made for them. As far as family pictures go, this is almost normal.
What's So Funny?
Seeing the Queen break her perfect posture is always a laugh. While we see her smiling, her majesty almost always seems quite reserved and poised. Luckily for us, eagle-eyed photographers managed to capture this great shot.
Here, Kate and Queen Elizabeth sit side by side watching a children's sports event in Vernon Park during a Diamond Jubilee visit to Nottingham in June of 2012. Clearly, something has tickled the monarch as she throws her hands in a grand gesture. Kate obviously finds it highly amusing too, so it must've been a grand ol' time.
Caught In The Act
Stopping to chat with the public is one of the easiest parts of being a royal, we would imagine. After all, some of the duties are pretty intense, like visiting war-torn countries or having to sit through ceremonies for hours on end.
Prince Philip, now aged 96, is dialing down his royal duties. We can't blame him really, can we? Since he wed the Queen back in 1947, the Duke of Edinburgh hasn't stopped. Here, the Prince stops by to have a chat with two mischievous toddlers in an unknown location, circa 1980. It's quite likely that two boys had no idea who they were talking to. Imagine that!
Watch With Mother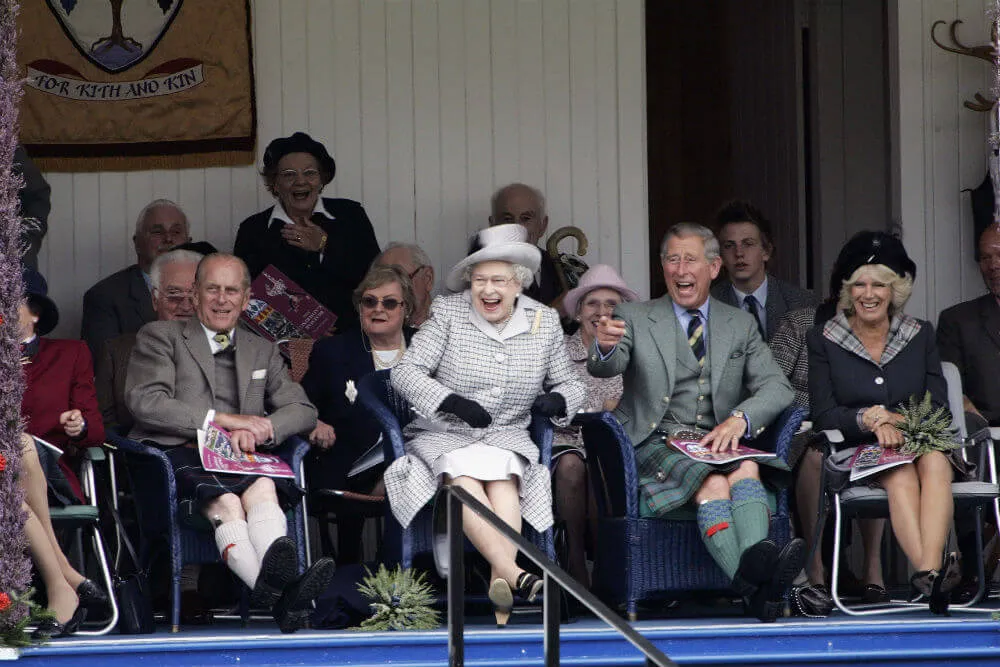 There's nothing quite like spending time with your parents, is there? Although the extent of our family time usually doesn't go beyond Friday night dinners a la Gilmore Girls, the royals have dozens of events to attend every year.
Prince Charles laughs alongside his mother, his wife Camilla, and his father Prince Philip here as they watch their Balmoral team in the tug of war competition at the Braemar Games Highland Gathering in September of 2006. Having both of your parents alive in their 90s isn't something many of us get to experience, but it looks like Charles is making the most of it.
Making A Splash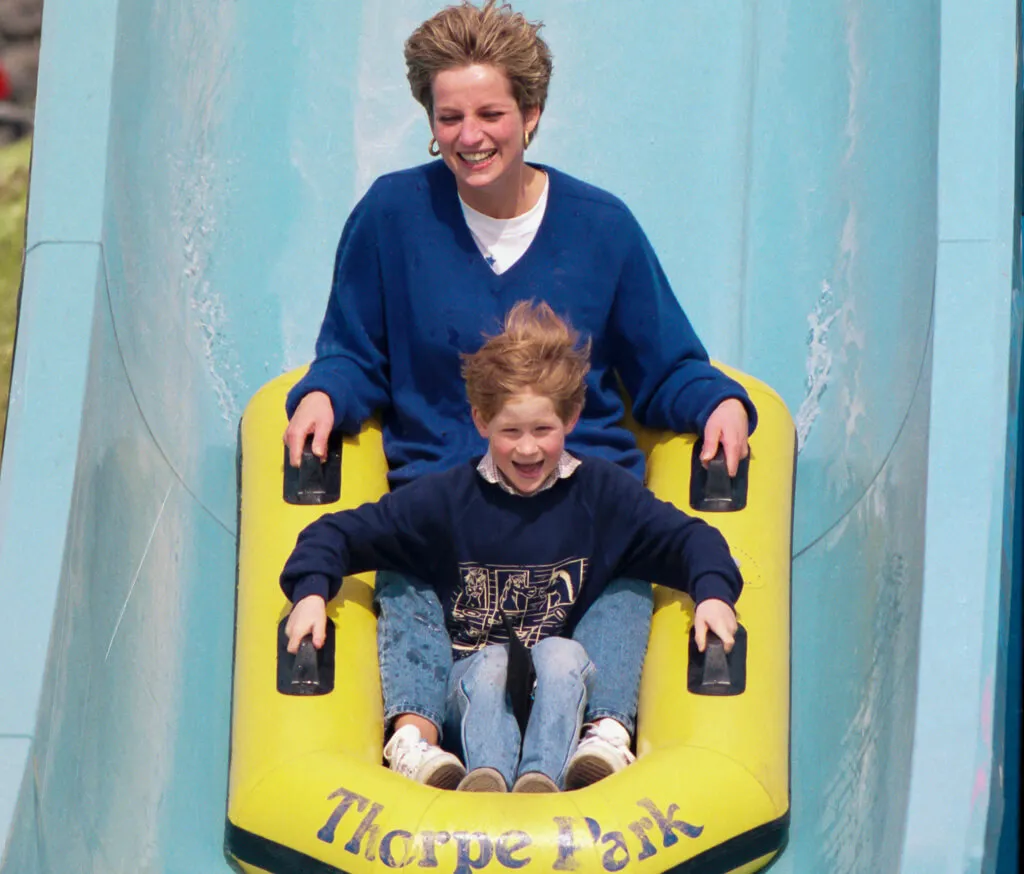 Here is an awesome photo of Princess Diana riding a water slide with Prince Harry as a young boy. They are riding the Depth Charge ride at Thorpe Park, an amusement park in England in 1992.
In most photos we see of Diana with her kids, we can tell that she was a caring mother who made an effort to be involved with her kids' lives despite her royal duties. The innocence on Prince Harry's face and knowing what would eventually happen to Diana make this picture a little heartwrenching.
Smile For The Camera
Normal people can only imagine what it's like to grow up underneath a spotlight. As princes of an entire country, Prince William and Prince Harry must have had a lot of annoyances dealing with their fame.
It must be especially trying for children. Perhaps that explain's Prince William's playful antics from this 1988 snapshot. Here, William and Harry were leaving Portland Hospital, where they were visiting their cousin, Princess Beatrice, who had just been born to Sarah, the Duchess of York.
Days With Dad
We wonder if Prince William and Prince Harry remember this special moment with their father, Prince Charles, from 1987. The photo shows the Prince of Wales watching his two young sons playing on the bank of the River Dee in Scotland.
This is near the Balmoral Estate in Scotland, which serves as one of the residences for the British Royal Family. It was purchased by Prince Albert in 1852. The estate is a private property of the family and therefore is not the property of the Crown.
A Regular Spot For Father And Sons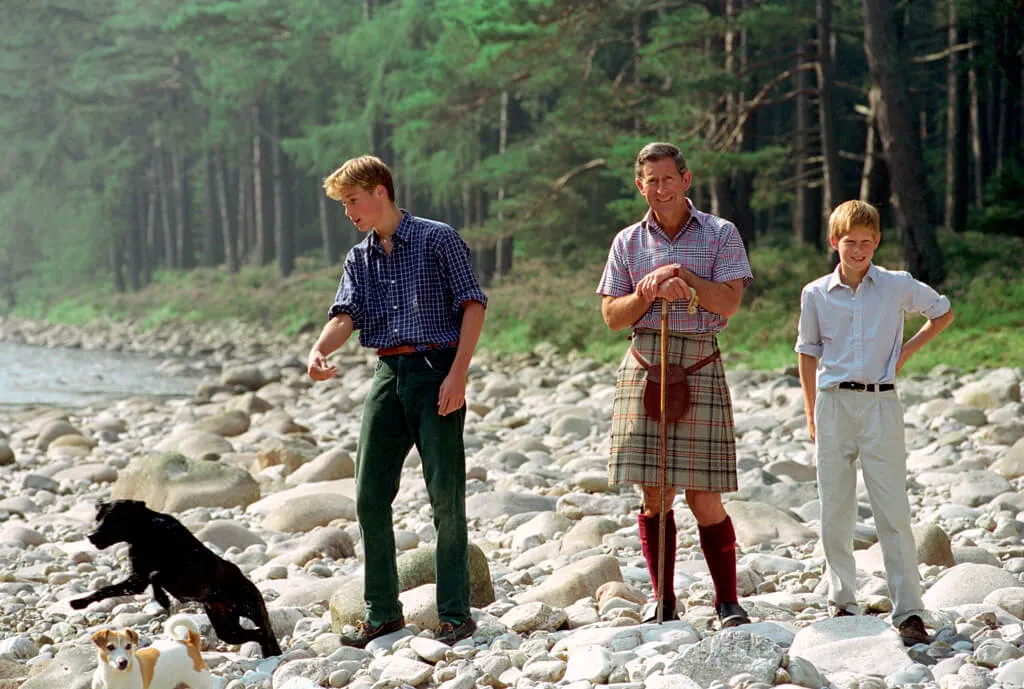 Here is a picture from ten years later in 1997 by the River Dee at the Balmoral Castle Estate. Prince Charles is pictured with sons William and Harry, who by then have grown considerably. Prince William's black labrador Widgeon and Prince Harry's Jack Russell Terrier Tigga are along for the fun.
As they are in Scotland, Prince Charles is seen wearing a kilt and sporran, as well as using a Shepherd's Crook walking stick.
Staying In Tune
If you want your child to have some skills with an instrument later in their life, it's best to start them out young. Perhaps that's the idea Princess Diana had by placing Prince William and Prince Harry together in front of a piano for this photo shoot!
Here is Princess Diana with her sons at Kensington Palace in 1985. Prince Harry is still a toddler and Prince William bears a striking resemblance to Prince George! It's obvious now who Prince George is taking after as he gets older.
Hitting The Slopes
Here is a photo of Charles, Prince of Wales, with his sons William and Harry. Father and his sons are pictured here in 1994 on a ski holiday to Klosters in Switzerland.
Klosters is a popular vacation destination for the Royal family and other esteemed celebrities. Apparently, these people like to flock to Klosters for the amount of privacy they can manage while on vacation there. It's also a resort for people who are pretty serious about getting some skiing in, which looks to be the case in this photo.
Cousins Are Your First Best Friends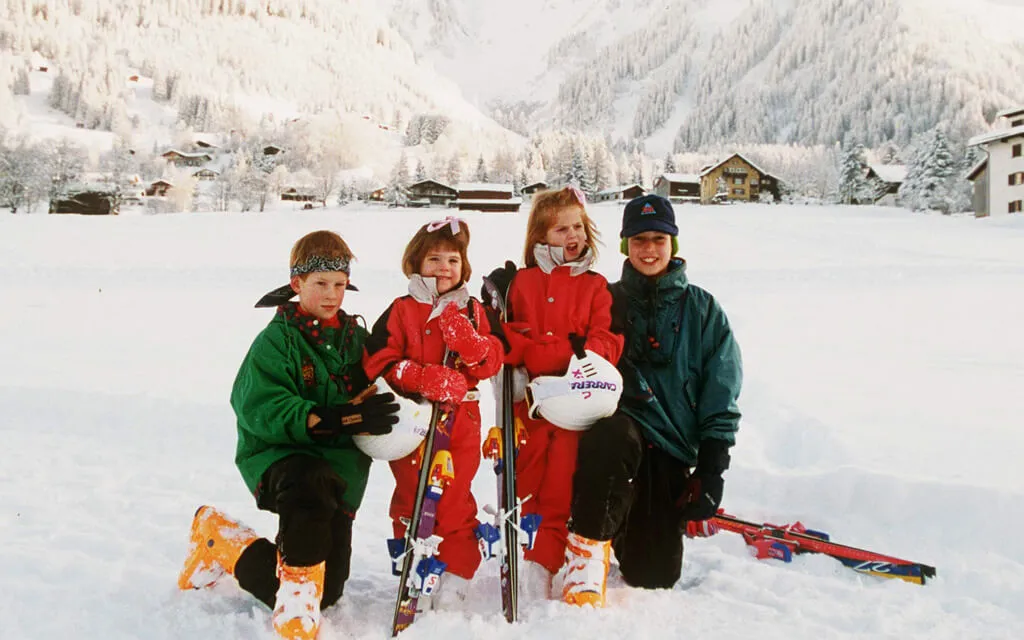 Though we cannot confirm that such was the case for these royal relatives, we do know that there were plenty of Royal family trips. This picture was also taken at Klosters in 1995. Here, Prince Harry and Prince William pose with their cousins, Princess Beatrice and Princess Eugenie of York.
Beatrice and Eugenie are the daughters of Queen Elizabeth's second son, Prince Andrew, Duke of York. As a result, Beatrice and Eugenie are eighth and ninth in line for the throne, respectively.
Which Way, Dad?
Here is another Royal family vacation photo in the Klosters from 1997. Prince Charles of Wales was seen sledding with his youngest son Prince Harry near their hotel. In this snap, father and son appear to have taken a pause after Harry took control of the toboggan. Prince Charles appears to be concerned about what might happen next.
This is a great contrast to how cold and formal the prince's parents seem in other photos. It's especially neat to see Prince Charles enjoying a more relaxed environment with his son.
Off To Boarding School
Children of the Royal family often go to private, independent schools. When he entered high school age, Prince William broke a Royal family tradition by not going to the same school as his father and ancestors. Instead, he went to Eton College, where Princess Diana's father and brother had gone.
Prince William is pictured here in 1995 partaking in an Eton tradition of signing a special book before starting his first year there. Prince Harry looks like the typical younger brother, who's trying to seem supportive but really wants the affair to be over with.
She Manned The Carpool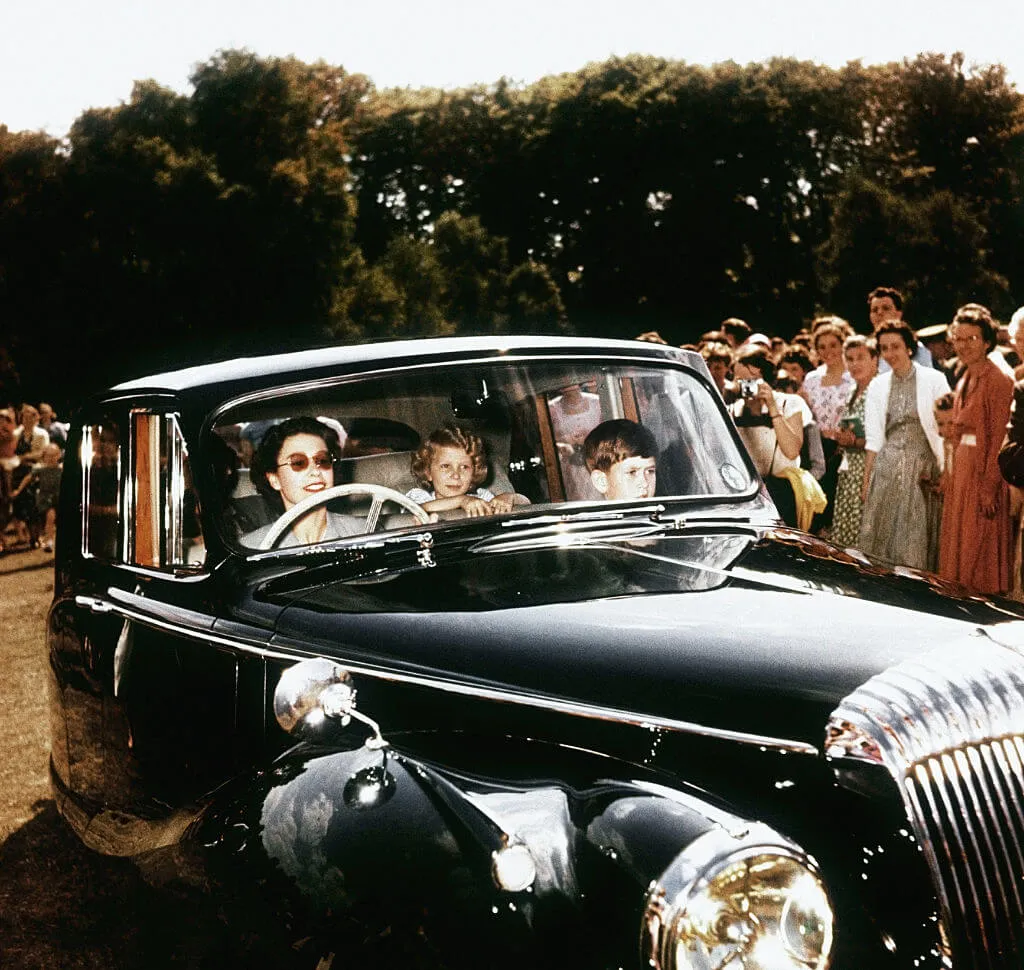 As the Queen, it's probably not often that you get to drive yourself wherever you need to go like the average citizen does. The Royal Family most likely has people to chauffeur you around the clock.
But back in 1957, Queen Elizabeth had a bit of fun playing soccer mom. Here she is driving Prince Charles and Princess Anne at Windsor. Because of the audience present, this was most likely some event and not a candid photo of the Queen making a grocery run with her kids.
Children Always Entertain
This is a photo from Prince Harry's christening. In this photo, he is supposed to be pictured with his relatives and the godparents who were there for his special day. But it seems that during the shoot the family got a little distracted by the infant antics of a young Prince William.
He appears to be delighting all his aunts and uncles, probably savoring his last few days of the spotlight before his younger brother grows a little older and steals it from him. Jokes aside, this photo shows that the Royal family does have a funny bone in their blood.
A Queen With Her Princesses
This photo is from 1936. It shows the Queen Mother, Duchess of York, with her daughters, Princess Margaret and Princess Elizabeth. Little did they know, that Elizabeth would end up taking reign over the United Kingdom herself one day.
This photo was taken at the Royal Lodge in Windsor in England. As you might guess, the Royal family has always had affection for canines. Before Queen Elizabeth's infamous corgis, she grew up with these loyal hounds.
Becoming Ladies
Here are the sisters years later in 1944. This picture was taken on the grounds of Windsor Castle in Berkshire. You'll also notice a young corgi puppy in the arms of Princess Margaret.
This picture was taken less than ten years before Princess Elizabeth had to ascend the throne herself. This was around the time that the future queen was approaching her 18th birthday. As such, she began making royal public appearances, but she also began having romantic relationships.
There's No Love Like Grandma's
This picture was taken in 1960. The Queen Mother, Elizabeth, poses here with her grandchildren, Prince Charles, Princess Anne, and Prince Andrew. As the children of Queen Elizabeth II, they were next in line for the throne.
The Queen Mother lived to the age of 101 and was publicly active until just a few months before her death. She passed away in 2002, just seven weeks after her own daughter, Princess Margaret, passed away due to failing health.
A Perfect Day For A Picnic
This picture was taken in 1960 on the lawns of the Royal family's Balmoral Estate. Queen Elizabeth II poses here with her husband, the Duke of Edinburgh, and their children, Prince Charles, Princess Anne, and Prince Andrew.
Prince Charles apparently spent his youth in Balmoral. As you've already seen, he would end up spending a lot of time there with his own sons, William and Harry. Over the years, members of the royal family have added their own touches to the castle on their estate.
Growing Up With The Queen Mother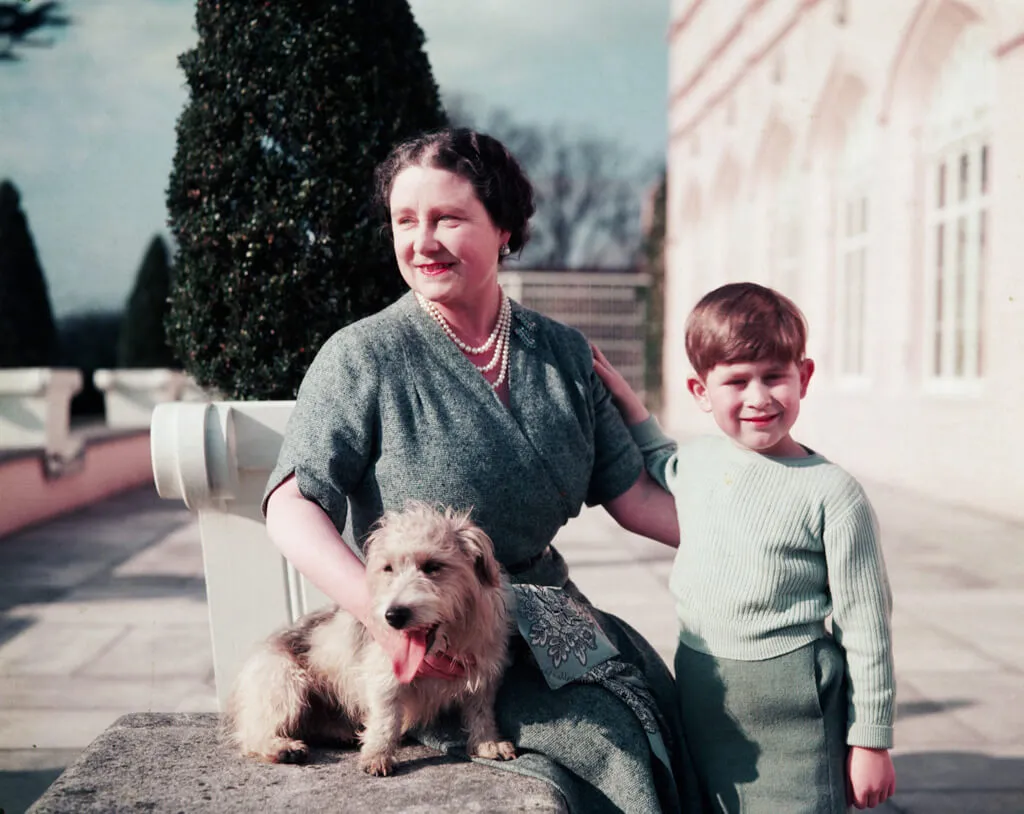 Here is a young Prince Charles posing with his grandmother, the Queen Mother, and her dog Pippin. It's photos like these that show the close bonds the royal family achieved outside of their lives in the spotlight. We like to imagine that the Queen Mother, despite being a queen, was just like our own grandmas!
One might assume just how close Prince Charles remained to his grandmother throughout the years. If you'd like to get an idea, click to the next photo to see one of their last photos together!
Nothing Like Family During The Holidays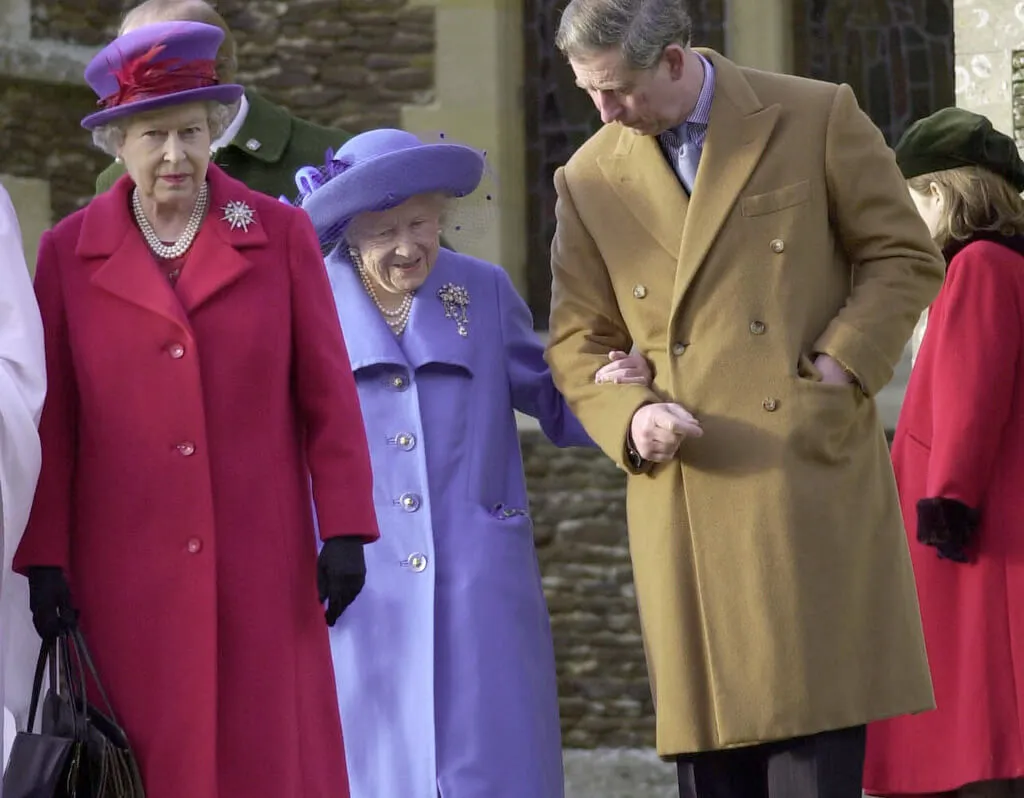 This photo was taken in 2000 and depicts Prince Charles escorting his grandmother, the Queen Mother, out of church on Christmas Day. They attended church with Queen Elizabeth II at Sandringham in Norfolk.
This photo shows that no matter how old you get, you'll always have respect and care for your elders, especially your own grandma! This is one of the few photos of the Queen Mother and Prince Charles before her unfortunate passing in 2002.
A Relaxed Look
Here is a photo of Kate, the Duchess of Cambridge, with her son Prince George. Looks like she is making an effort to be just as involved with her kids like her late mother-in-law. This is a more relaxed look for Kate Middleton, who is usually dressed to the nines for her royal appearances.
The jeans and striped tee were probably acceptable wardrobe choices for the event they're at in this photo, which is the Gigaset Charity Polo match at the Beaufort Polo Club in Tetbury in 2015.
Taking After His Mother
If there's one thing Prince Harry does in honor of his mother, the late Princess Diana, it's continuing her mission of charitable works. Here is Prince Harry in Lesotho in 2004. He was visiting the county as a guest of Prince Seeiso of Lesotho, Brother of the King.
While in Lesotho, Prince Harry helped out at a local orphanage, the Mants'Ase Orphanage. There he helped put up a new fence, in addition to planting some trees on the property.
A Modern Day Family
They may seem like they have it all together, but do they really? The Duke and Duchess of Cambridge always look put together in family pictures with Prince George and Princess Charlotte. Sure, they probably have nannies to help them out, but we can't help but imagine if Prince William and Kate Middleton experience the same trials that all new parents do.
Here is a photo of the royal family arriving Victoria Inner Harbour in Canada in 2016, seemingly trying to get Prince George to calm down. With a third baby now in the mix, life can only get happier!