Explore Jackie O's Mansion In Martha's Vineyard Hit The Market With A Listing Price Of $65 Million
Two and a half decades after the death of one of America's most beloved first ladies, her former home in Martha's Vineyard was listed for $65 million. Jacqueline Kennedy Onassis' luxurious estate sits on an island near Cape Cod. It's a tourist attraction known for its affluence as many wealthy New Englanders have vacationed there for centuries. Jackie was one of the few year-rounders on the island, which is primarily a summer vacation spot. The incredible space includes 340 acres of land and 6,456 square feet of living space. Let's take a look around the estate and explore some interesting facts about the land it inhabits.
Welcome To Red Gate Farm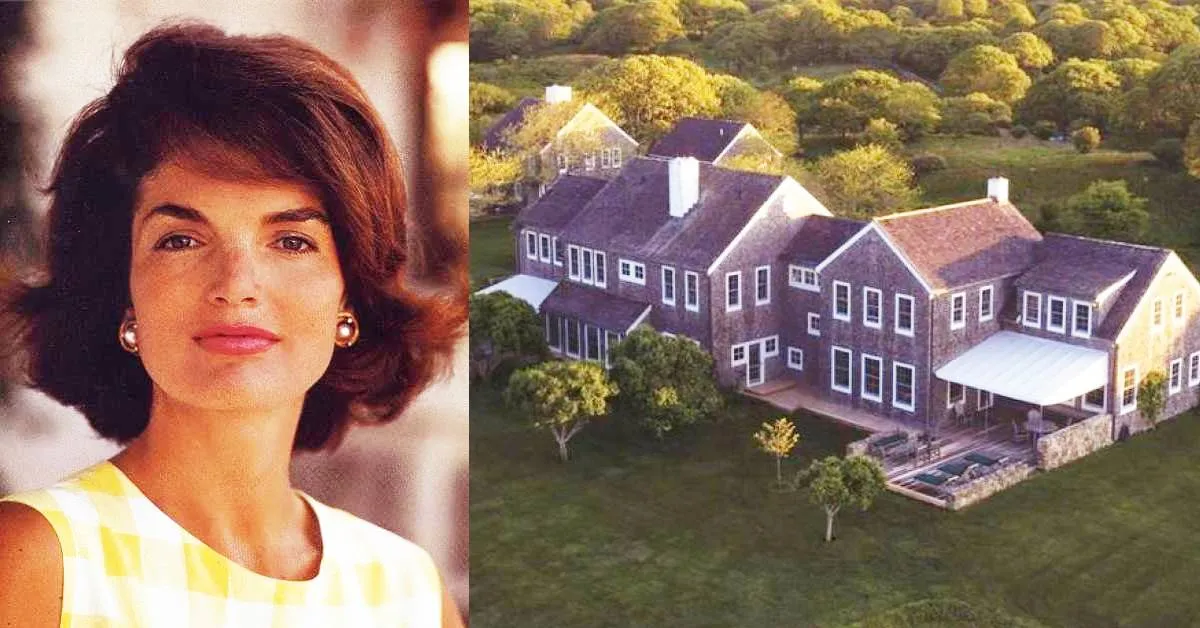 The impressive home is so giant that it has its own name. The 340-acre land is called Red Gate Farm, though it certainly is far from traditional farmland. However, the place had previously been a sheep farm.
The house was designed by famous architect Hugh Newell Jacobson in 1981, along with a two-story guest house. Prior to these additions, the only living space on the property was a small hunting cabin. Jackie's daughter, Caroline Kennedy, hired the dean of Yale's School of Architecture to redesign and expand the main home in 2000.
How Many Bedrooms?
With about six and a half thousand square feet, it may be surprising to find out that there are only five bedrooms in the main residence. The summer estate housed Jackie and her children and grandchildren when they cared for an escape.
She bought the land in 1979, more than a decade after her second and final husband, Aristotle Socrates Onassis, died. Their marriage had taken place on a private Greek island, which may have strengthened Jackie's connection to solitary island homes like this one.
This Is What's Included Inside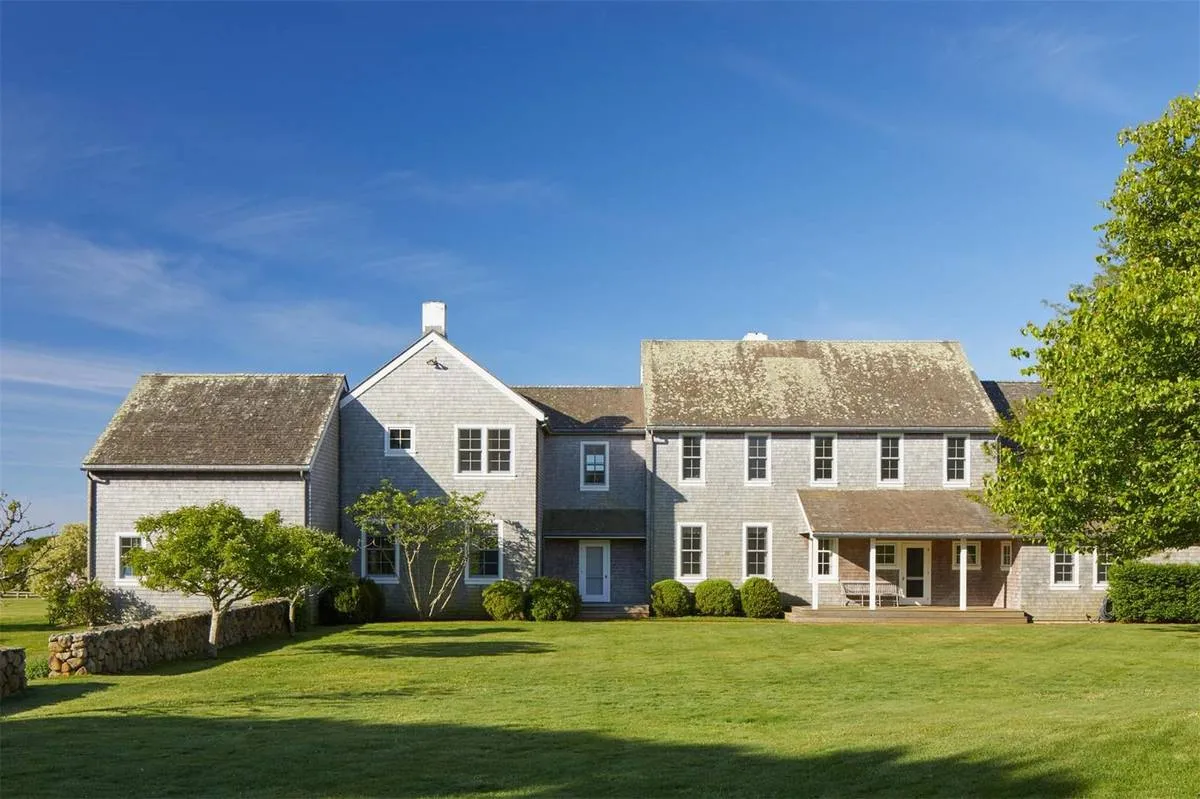 This large, grassy backyard would be perfect for family gatherings of any size. Inside this primary home are a formal sitting room with a fireplace, a living and family room, a drawing-room, and a chef's kitchen with top-scale appliances. That's just the main floor.
Upstairs you have four large bedrooms, each with their own bathroom. In addition, there is the master bedroom complete with a dressing room and master en suite. The home also includes a den, two office-studios, two powder rooms, three fireplaces, a laundry room, and a basement.
Divine Design And Style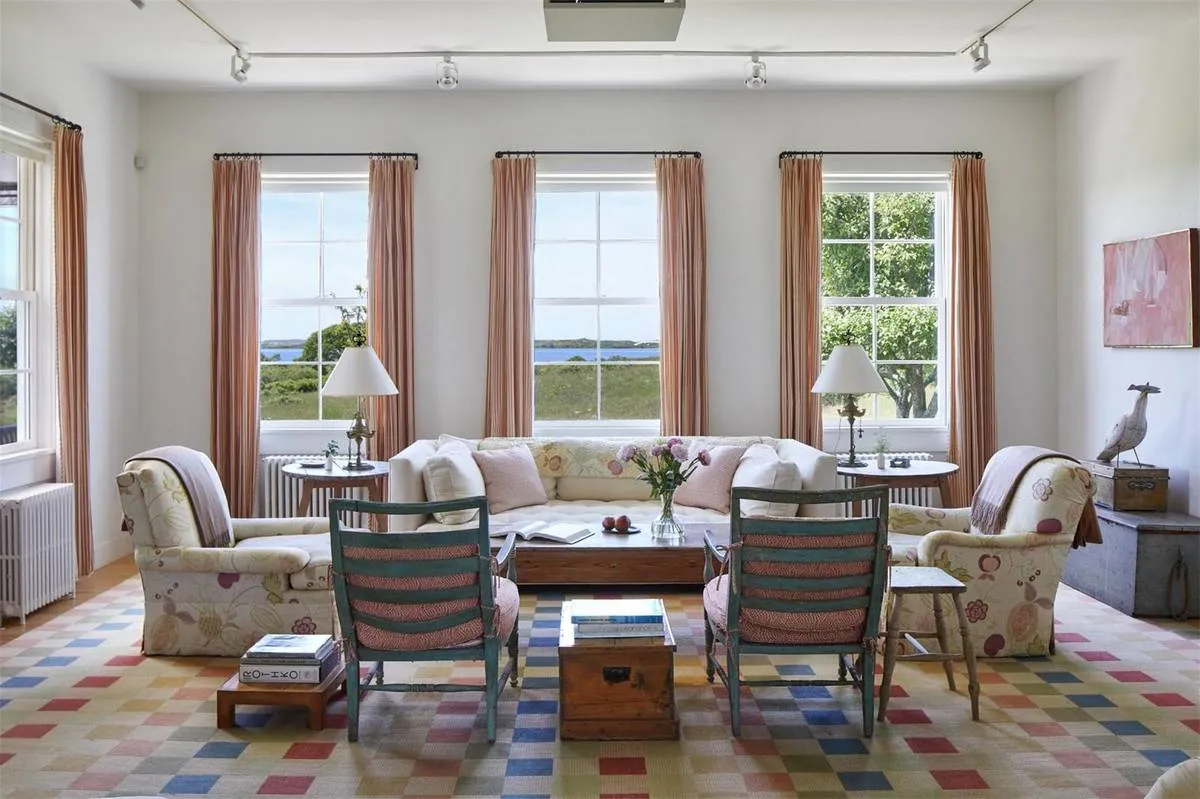 The home boasts gorgeous rooms like this one, which utilizes a mixture of colors and patterns illuminated by the brilliant natural lighting. Large windows enable occupants to experience their gorgeous surroundings from the inside. Superior style is one of the elements that made Jackie such an adored first lady.
When her former husband, John F. Kennedy, was elected in 1960, Jackie hired fashion designer Oleg Cassini to build her First Lady wardrobe. Newsweek reports that she spent nearly $150,000 on her fashion items in 1961, well over her husband's salary as president.
Jackie Was All About The Water
A large pool enables homeowners to enjoy the water all year round. There are also two freshwater ponds onsite, so occupants have a variety of bodies of water to enjoy in multiple ways.
Traveling to Martha's Vineyard requires taking one of several ferries in New England, including the ferry at Woods Hole, Massachusetts and the ferry at East 35th street in Manhattan. The trip is about four and a half hours, but quicker rides such as Martha's Vineyard Fast Ferry are also available.
A Piece Of The Past
This hunting cabin was the only building that originally rested on the property prior to Jackie's purchase of the land in 1979. True to her instinct to remain historically relevant, she was sure to design the mansion and its many add-ons in such a way that it remained stylistically similar to the cabin.
The cabin overlooks one of the two ponds on site. In addition, the property contains gardens, a library, and various biking and hiking trails.
The Fairy Treehouse
In addition to her passion for preservation, Jackie also had a knack for creating something spectacularly new. Not only did she do this in the form of several extravagant living spaces on the property, but she also added a small and charming touch to the farmland.
Jackie had a gazebo-style treehouse sturdily built for her grandchildren. As pictured above, the structure overlooks lush, green land and deep-blue water beyond. Named a "fairy treehouse" for its design, the piece adds a personal touch to the mansion.
Aquinnah In Martha's Vineyard
Martha's Vineyard is an island that consists of six towns, each with their own board and town meetings. The Red Gate Farm is a part of the Aquinnah town, which is home to the Wampanoag Native American tribe.
The calm and quiet land was perfect for Jackie, who avoided the public eye more frequently after the death of John F. Kennedy. She was only 31 years old when he had been elected, making her the third-youngest First Lady to date.
You'd Want To Be Their Guest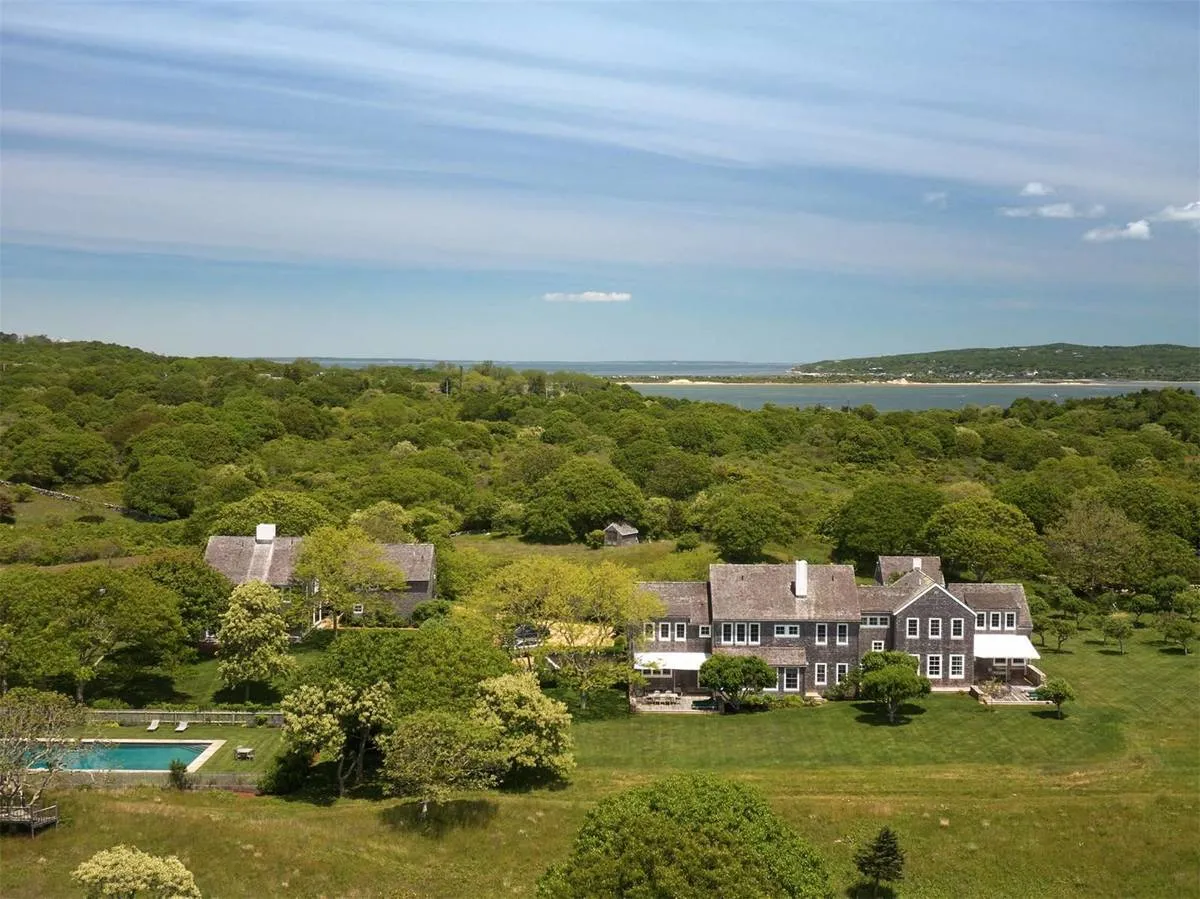 The guesthouse can be seen in this photograph to the left of the primary living space, behind the bright turquoise pool. The two-story addition has four bedrooms, which would bring the estate's room count to nine.
But it doesn't end there. A three-bedroom caretaker's house and a two-bedroom guest apartment are also on the property, bringing the grand total to 14 bedrooms spanning four separate units total. It makes sense that Jackie only wanted five bedrooms in the main home considering she had plans for so many additional spaces.
But Wait, There's More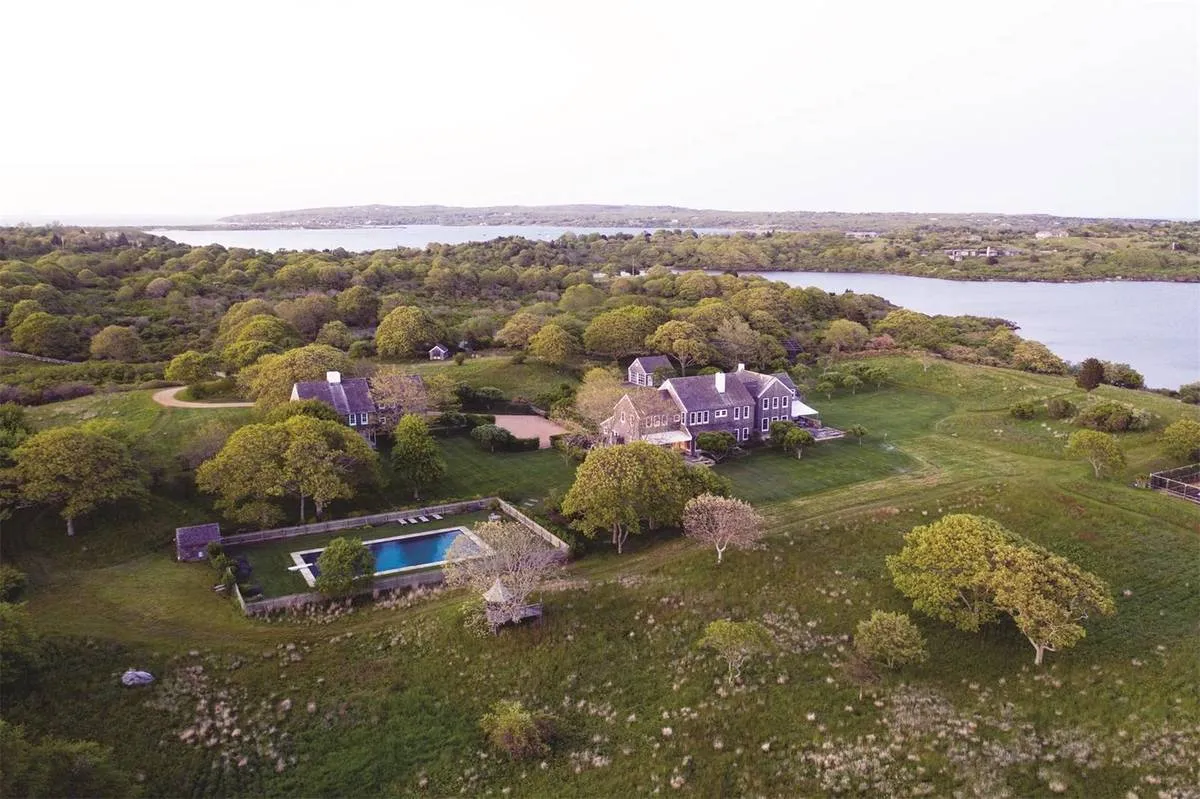 On top of all of the various living spaces, there is also a hunting cabin, barn, boathouse, two garages, a storage building, and an exercise studio. One of Jackie's pastimes was riding horses, which tragically contributed to her death in 1994.
She was participating in a fox hunt in Virginia when she was thrown off of her horse in November of 1993. Upon examination, the doctor discovered a swollen lymph node in her groin. Her health continued to decline and in January of 1994, she began chemotherapy for non-Hodgkin lymphoma. She died in her sleep that May.
Too Old To Be Single
A lighthouse at the top of the property's steep shoreline adds to the maritime feel of the place. The area juxtaposes the urban setting that dominated Jackie's young adulthood. After college, Jackie won a junior editorship at Vogue. She quit after one day following the editor's critique of her single status at 22 years old.
According to the biography by Barbara Leaming, Jackie was considered too old to be single by her high-class social circles. It makes sense why she was introduced to John F. Kennedy the following year and engaged to him shortly thereafter.
The Perfect Spot For A Literature Buff
Many writers have secluded homes in nature that they can retreat to in order to have peace of mind. Jackie received her college degree in French literature, and spent her later years editing books. Martha's Vineyard would have been an ideal place to get work done near the water, as it was for many writers.
Authors including Shel Silverstein, David McCullough, Judy Blume, and Dorothy West all have lived on the island. Many other celebrities have visited out of a need to get away and out of the limelight.
View From The Top
An aerial view exposes the gorgeous land on the property. A pool, tennis court, vegetable garden, and blueberry patch are included with the farmland. The estate also has over a mile of Atlantic Ocean beachfront.
The landscapes were designed by Jackie's friend Rachel (known as Bunny) Mellon. Bunny had redesigned the Rose Garden at the White House and is a renowned horticulturist and landscape designer. The surrounding nature looks so impressive that it's hard to remember the placement of those trees were planned.
Seclusion At Its Finest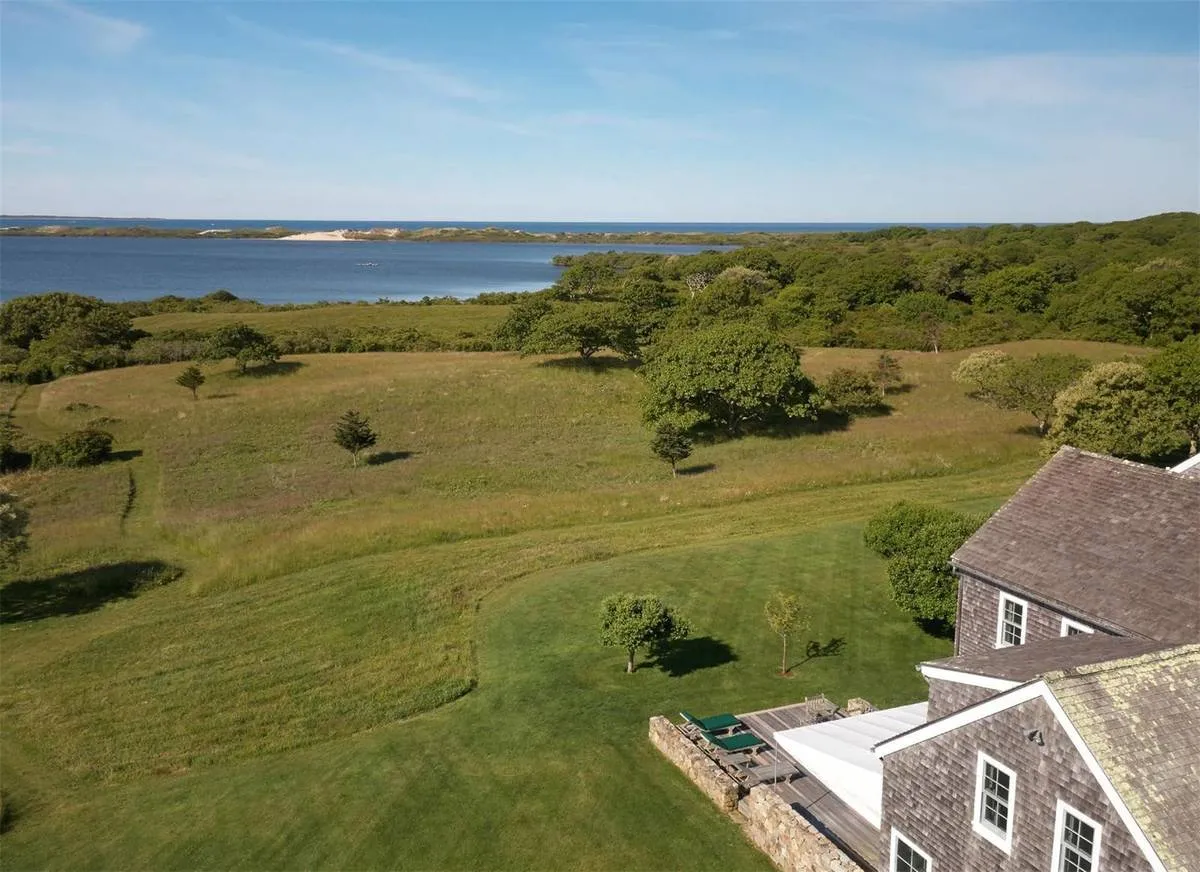 The home boasts panoramic views of both the ocean and extensive farmland. Coastal views permeate most of the rooms while over a mile of private beachfront offers a secluded escape to the water.
Jackie notably wanted to attend college near New York City, but her parents preferred that she go to a school that was more isolated. This may help to explain Jackie's appreciation of expansive landscapes and ample privacy. After all, she did build a separate building for her guests and caretakers.
How To Get To And Around The Island
For those who don't prefer traveling by water, you also have the option to travel by plane. Martha's Vineyard has its very own airport that flies year-round from Boston and other areas, and seasonally from New York.
Once on the island, Martha's Vineyard Transit Authority provides a bus service year-round. The place has been a hotspot for tourists since the summer weather isn't just beautiful, but also tends to remain in the low 80 degrees Fahrenheit. The year-round population is only about 17,000, according to the Martha's Vineyard website, but jumps to as many as 200,000 in the summer.
Lots Of Noteworthy Events On The Island
Martha's Vineyard was used by various United States armed forces in the 1940s for training and practices. It is also the island where Jackie's former relative through marriage, Ted Kennedy, crashed a car that fatally injured Mary Jo Kopechne, a staff member on the Robert Kennedy campaign.
Perhaps the island's most popular piece of trivia, the movie Jaws was filmed at Martha's Vineyard. In 2005, a weekend-long festival celebrated the 30th anniversary of the movie.
A Devastating Loss
Jackie maintained the home until her death in 1994. Unfortunately, just five years after she passed, her son, John F. Kennedy, his wife Carolyn Bessette, and his sister-in-law Lauren Bassette died in a plane accident while John flew the aircraft to Martha's Vineyard.
The incident is blamed by some on the "Kennedy curse," a popularized term describing the string of calamities that seem to follow the Kennedy family. As unfortunate as her circumstances may have been, Jackie still has been featured 27 times in the Gallup list of 10 most admired people of the latter half of the 1900s.
Jackie's First Task In The White House Was Its Design
Jackie's first project as First Lady was to incorporate more historical elements into the White House's interior design. The reason for the lack of past furnishings was a presidential tradition where presidents and their families could take items from the White House when they left office.
To end this tradition, Jackie implemented a bill stating that White House furnishings would be the property of the Smithsonian Institution and founded the Committee for the Preservation of the White House. Her love of traditional, colonial-style spaces explains why she enjoyed this Cape Cod-style home, which has been preserved for four decades.
Why Martha?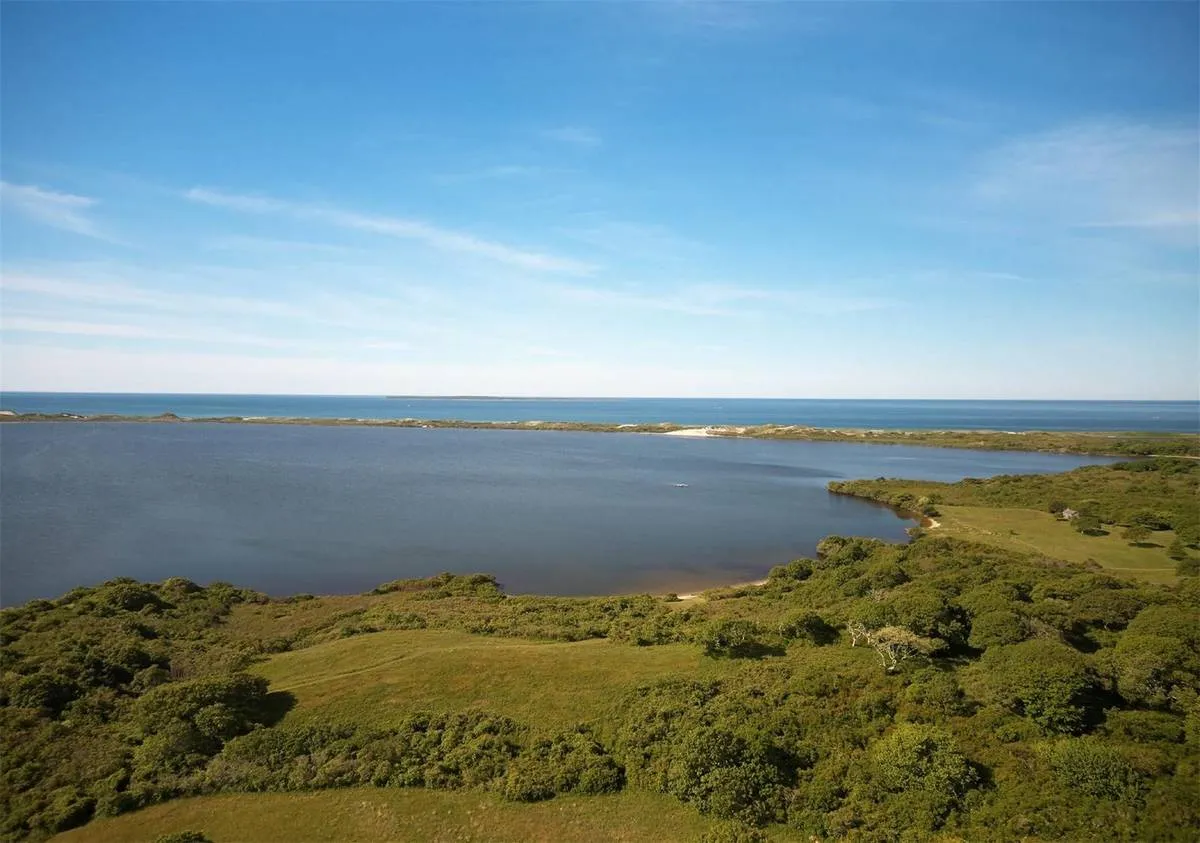 Jackie was born in Southampton, New York but spent much of her time on Hammersmith Farm in Newport, Rhode Island. She was a competitive horse rider who loved to read and learn languages. Considering her upbringing and hobbies, it makes sense that she found solace in this East Coast island in the final decades of her life.
The island itself was originally named by its Native people Noepe, meaning "land between the streams." In 1602 its name was changed to Martha's Vineyard after a British sailor's daughter, Martha, and the viney undergrowth near its coastline. Ironically, there are no wine vineyards on the island.
A Small But Impressive Island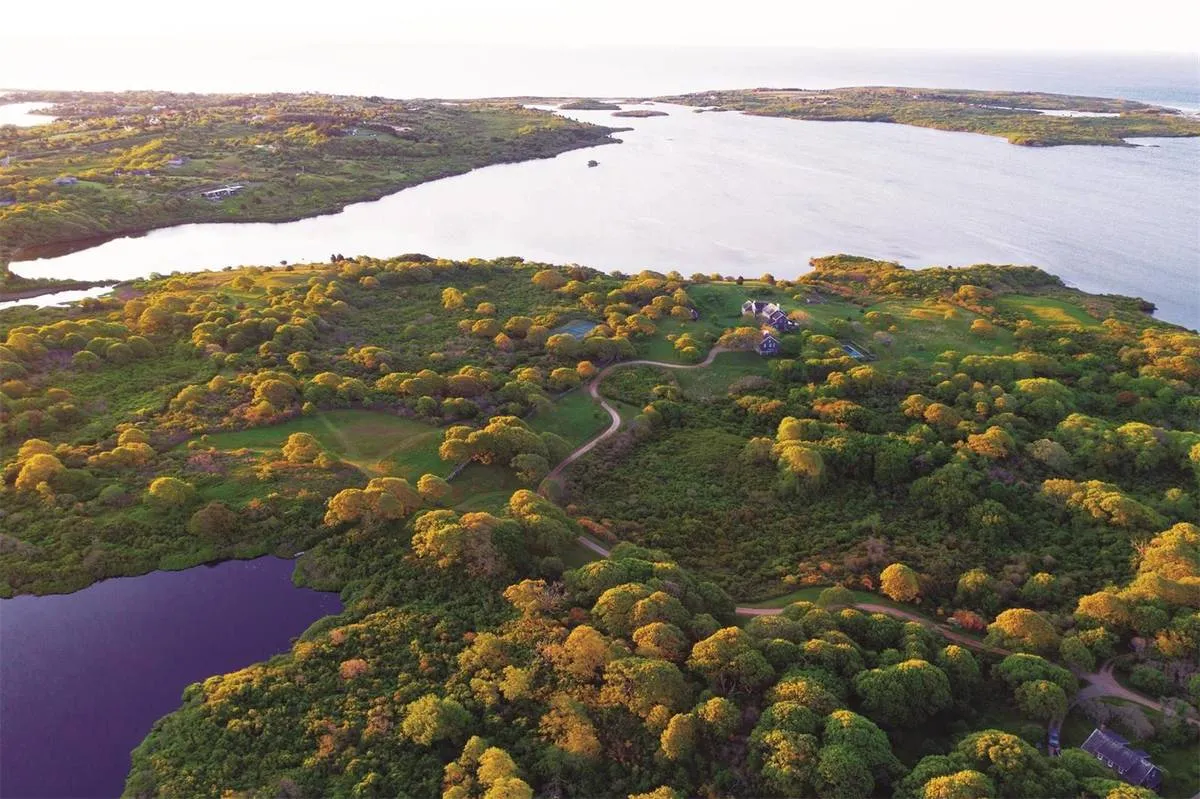 The total land area of Martha's Vineyard is only about 96 square miles. Nearly 125 miles trace the island's shoreline. From this aerial view, you can see the impressive estate nestled into the lush greenery.
The Martha's Vineyard website boasts that there are no chain stores, making it an ideal spot for entrepreneurs and shoppers who like unique items. Additionally, 50 local farms enable restaurants to serve the freshest and tastiest of food, while farmers' markets offer nutritious, local foods.
Lauren Bacall's $26 Million Central Park Apartment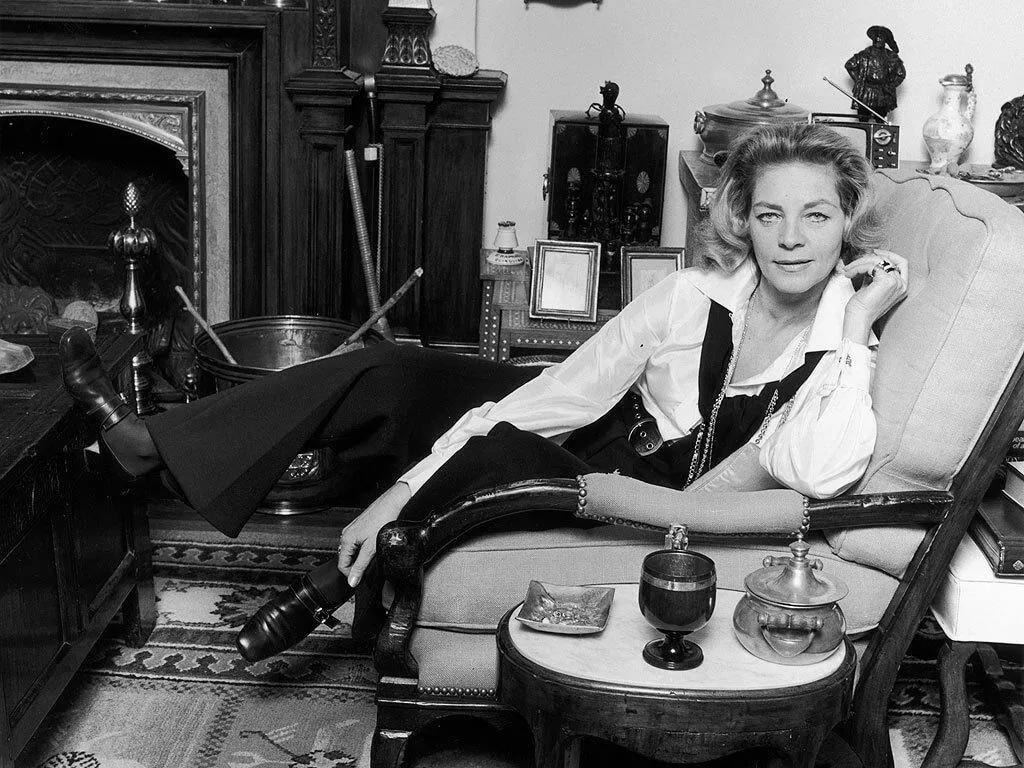 Lauren Bacall defined an era. The actress and singer, who was known for her sultry looks, distinctive voice, and timeless style was named the 20th greatest female star of Classic Hollywood Cinema by the American Film Institute.
It's no surprise that with all of her success, the actress had an amazing home. In 2015, just a month shy of her 90th birthday, the legendary icon passed away and left behind her amazing Central Park apartment. When the home hit the market, we finally got a glimpse inside the $26 million stunner.
The Most Coveted Real Estate In New York City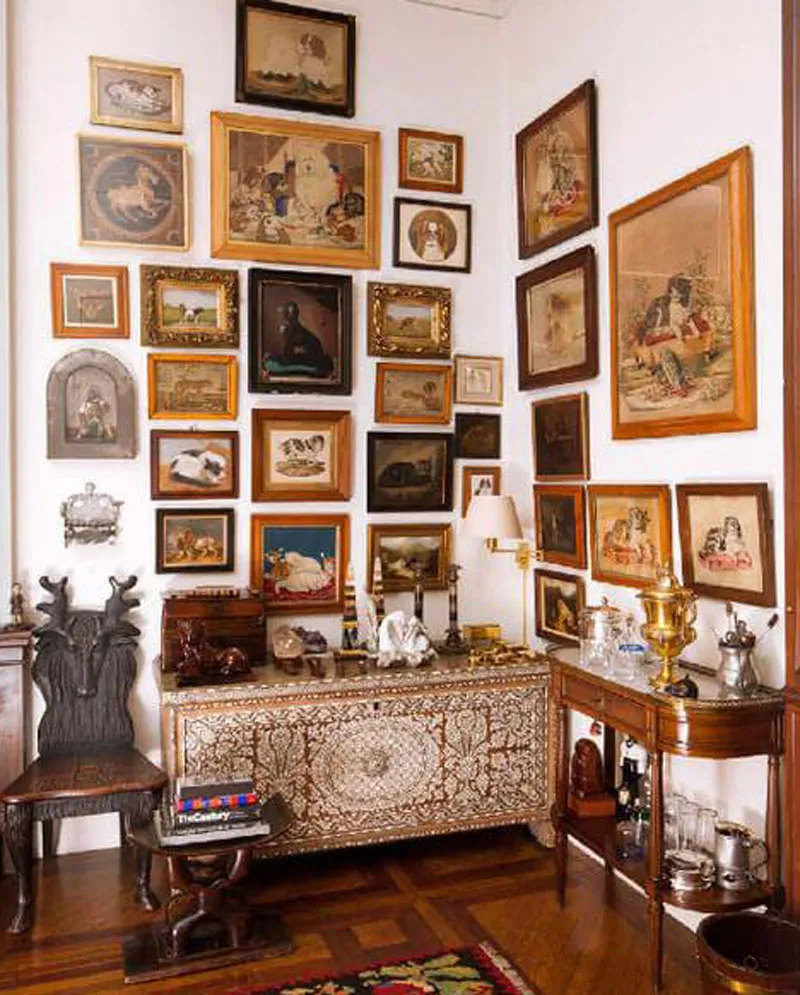 The apartments directly across from New York City's Central Park are some of Manhattan's most expensive real estate. Lauren Bacall's mansion, which she called home for 53 years, went to auction last week at the price of $26 million. So, what the heck are you getting for $26 million?
Doesn't that cost more than Taylor Swift's mansion in Rhode Island? Yes; however, Bacall's digs are located in the historic Dakota Building on the Upper West Side. With nine entire rooms, this apartment hardly feels like an apartment at all, but rather an entire house placed inside of the Dakota Building's gorgeous architecture.
Nine Massive Rooms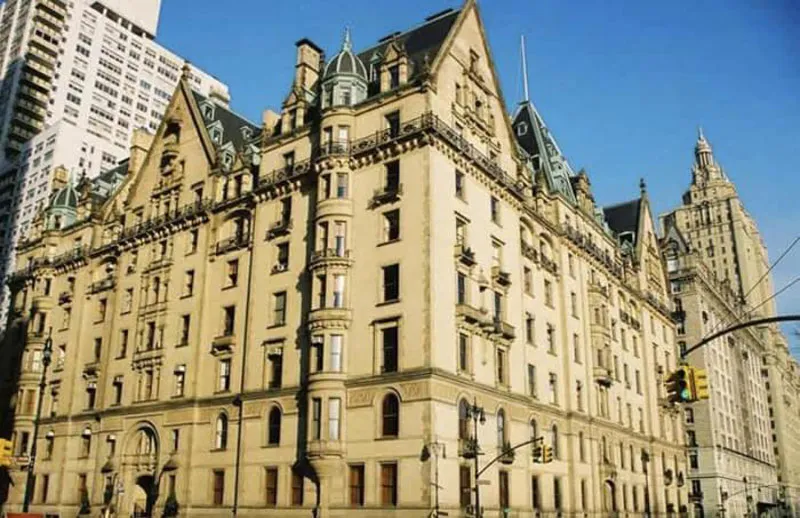 Lauren Bacall's apartment inside the Dakota Building (one of the most famous properties in NYC history) was gigantic, and the floor plan shows the sheer size of the rooms within. The master bedroom is a massive 22 feet wide and opens into a private study, bathroom and walk-in closet.
It also has a gorgeous balcony looking over Central Park. The kitchen is not your average NYC apartment kitchen. It's not shoved into a corner. It's actually an eat-in kitchen which opens up into a 24 foot by 19 foot dining room and a family room. Bacall's home also includes a guest bedroom, a library and a gallery.
Bacall's Dining Room, With French-Inspired Design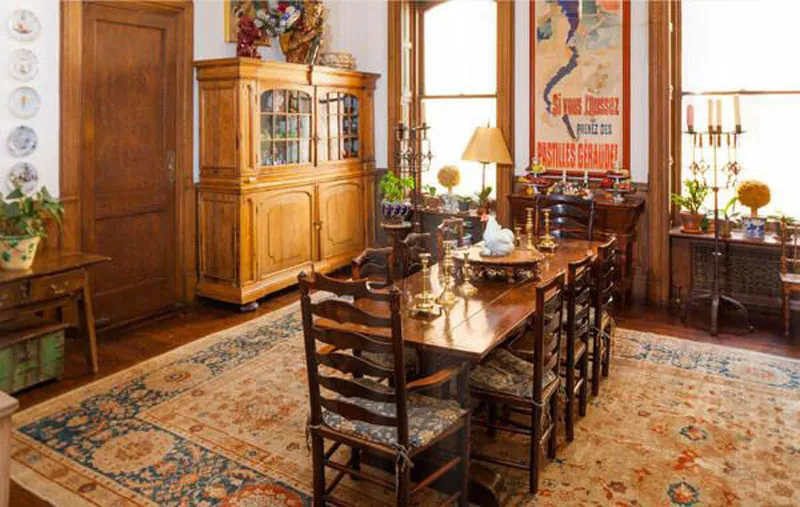 Bacall was a fan of French-inspired design. This is evident in her furniture choices, many of which are in the style of Louis XIII (you'll see what just a pair of Louis XIII-style chairs sold for later).
Bacall's dining room brings these French elements together. The color pallet is flawless, opting for rusty reds and deep blues which can be seen accented in the chair upholstery, rug and wall hanging. The wall hanging is actually the star of the dining room. The Bell Époque French poster by Jules Cheret sold for a whopping $7,000.
French Posters And Fine China In The Formal Dining Room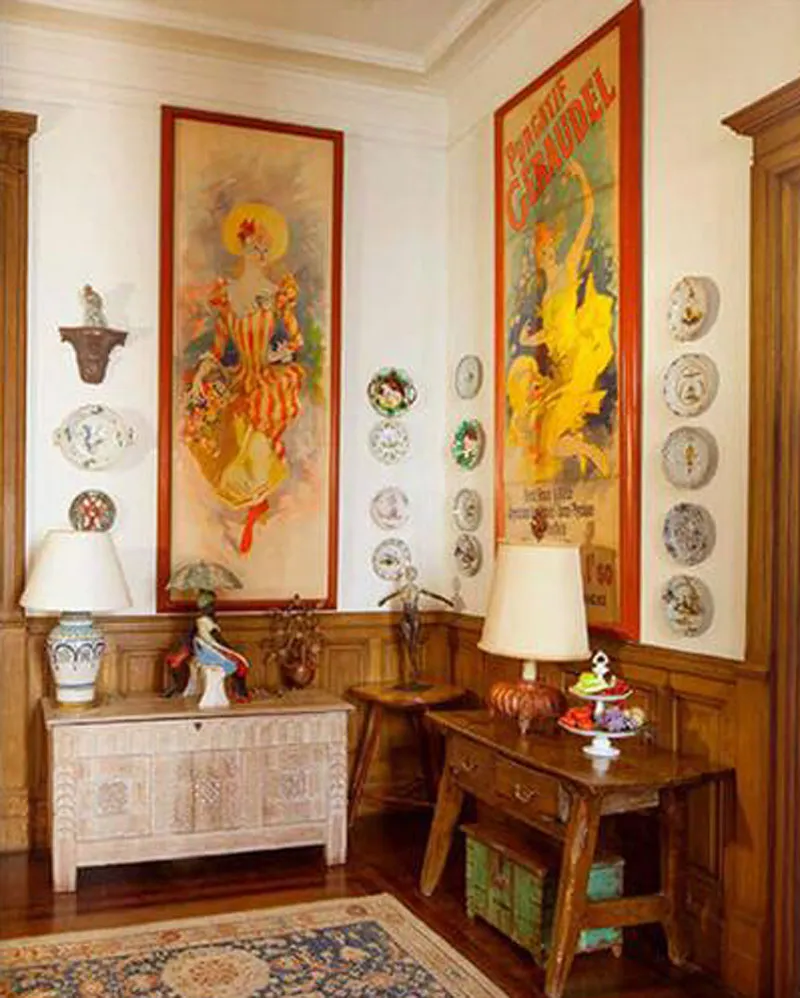 Like most of the rooms in her massive, nine-bedroom apartment, Lauren Bacall had an overall French theme to her formal dining room. In addition to the Bell Époque French poster which sold for $7,000 in auction, the actress had a number of French posters hanging on the dining room's walls.
She paired these posters with expensive, highly collectible china, that instead of using she hung as art pieces next to the framed posters. This corner of Bacall's dining room shows just how much of a collector she truly was, with decorative lamps and art-pieces topping the surface of every piece of furniture.
Unique George III Style Dresser Sold For $6,875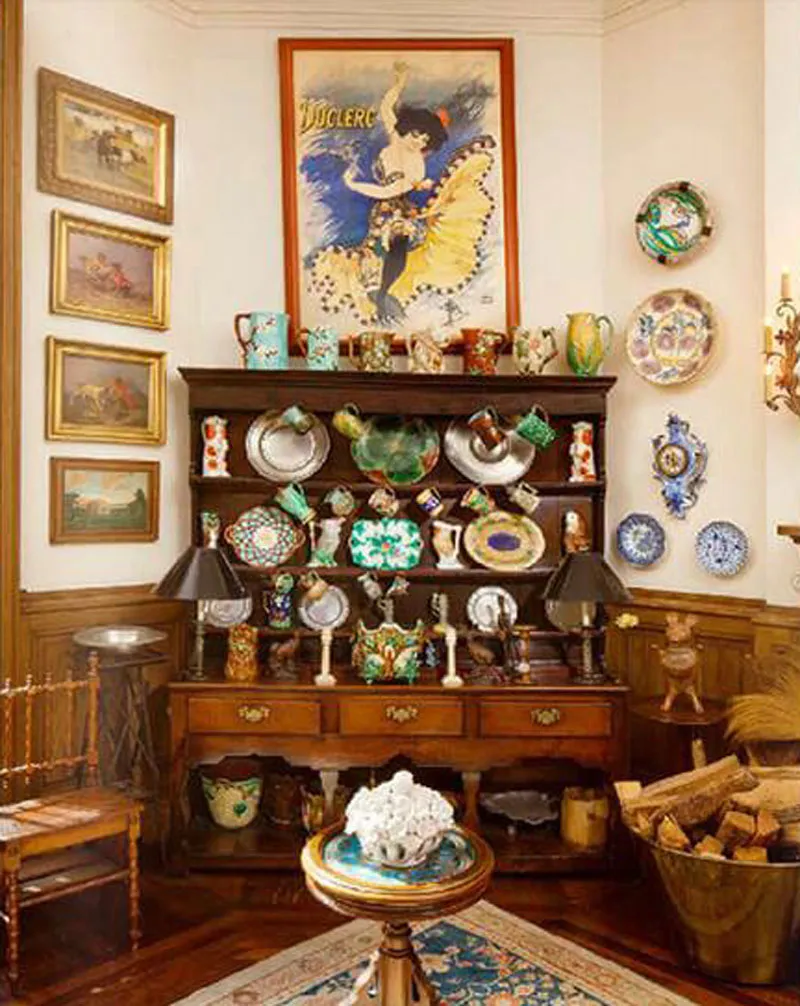 Though Bacall favored French design, she also included pieces from other countries and periods. Her antique George III oak Welsh dresser, which displayed her collection of fine china, was from the late 18th century.
Though the style is straight from the United Kingdom, George III pieces are actually an English interpretation of Rococo (in other words, they're based on that classic, French style Bacall loves). Bacall's dresser, which sold for $6,875, was made from oak, a unique choice for pieces from that time. George III style furniture typically uses Mahogany. Sometimes painted satinwood and giltwood would be used, but rarely oak.
The Pretty Pink Master Bedroom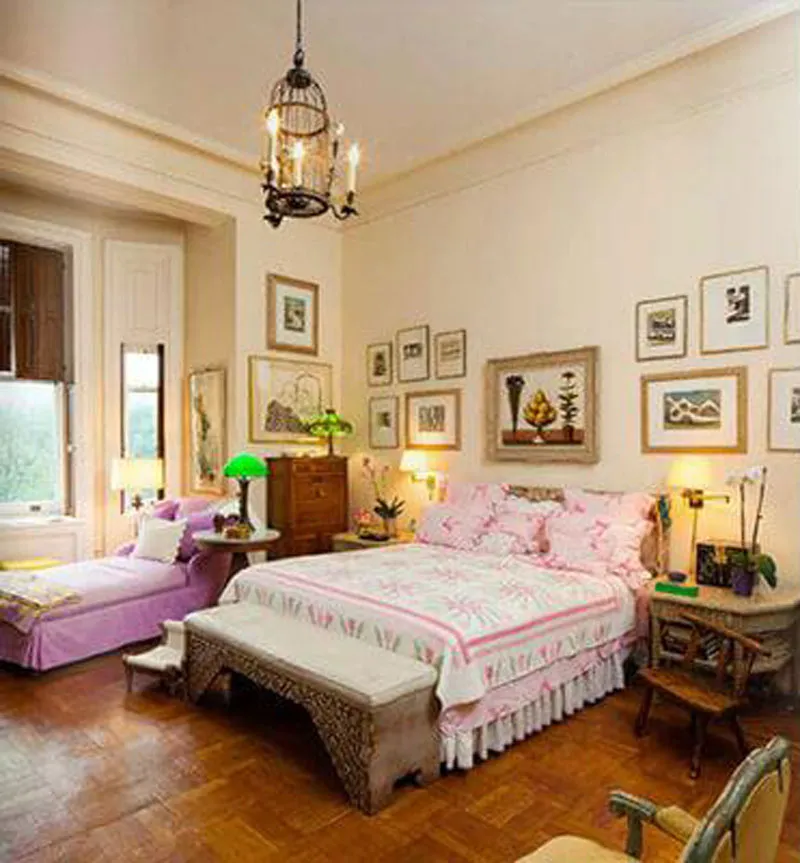 Like the rest of her apartment, Bacall's bedroom is dripping in prized pieces of artwork. Behind her bed is another gallery wall, undoubtedly worth a pretty penny. The master bedroom isn't just something because of its furnishings; it also has a highly-coveted, unobstructed view of Central Park. Could this be the most expensive room in NYC real-estate? Maybe. Imagine a life where you sit in the bay windows of your mansion-sized apartment and look out on the peaceful, green Central Park. Imagine!
Bacall's choice of color in her bedroom is also interesting considering most of her other rooms are blue, brown and white. Here she chose very feminine lavender and pink tones, which aren't seen anywhere else in her apartment.
The Master Suite
Bacall liked to fill every inch of a room with antique furniture, art and collectibles. The master suite is the only place where something seemingly new is placed. Adjacent to the working fireplace, which is adorned by a number of collectible metal plates and figurines, is what appears to be a very modern lounge.
The lounge actually ties the room together quite nicely, making this room appear more cozy than cluttered (which is a fine line when you're a longtime collector like Bacall). Behind the lounge is a bookshelf, filled again with knickknacks and books. Guests who are enjoying the fireplace can also relax with some reading.
More Gallery Walls In The Master Suite
The fireplace by the master suite is the perfect display case for Bacall's collection of decorative metal plates and candle sticks. Next to the fireplace is yet another gallery wall with framed portraits of ships and floral designs. Bacall is not afraid to use accents of color.
Next to what appear to be two clown figurines is a bright blue decorative piece that really stands out among the wash of browns. The reason Bacall's apartment can have so much art is because the walls are a whopping 13 feet high. This place is definitely catered to an art collector because there's a lot of picture frame real estate.
Yellow Walls In The Guest Bedroom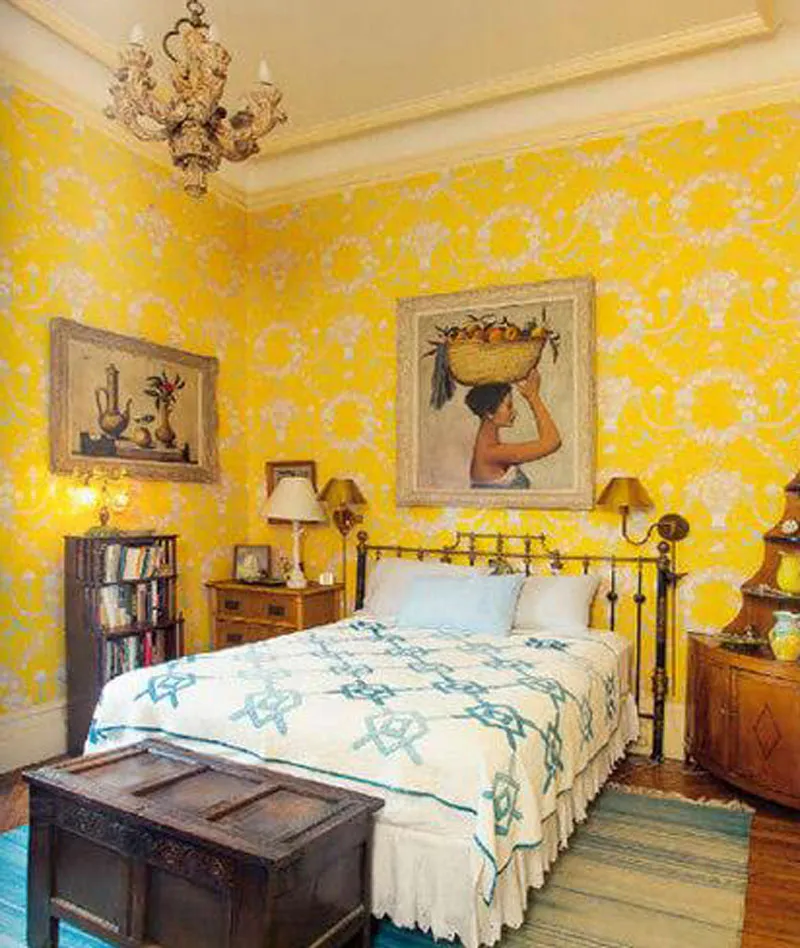 Lauren Bacall went for an interesting choice in her guest bedroom – bright, cheerful, yellow walls. The pattern screams opulence whilst the color screams whimsical fun. Above the bed hangs a very expensive piece of artwork dating back to Spain in the 1920s. This piece, which depicts a woman holding a basket of fruit, was painted by Andrew Segovia and sold for a whopping $18,750 at auction.
Bacall kept her themes of robin's egg blue in the guest bedroom. Though the walls are a cheerful shade of yellow, the bedspread and rug match her living room couches and walls. She also has a unique, tiered shelving piece resting in the room's right corner and adding an interesting touch to the overall look.
A Palette Of Natural Blue And Robin's Egg Blue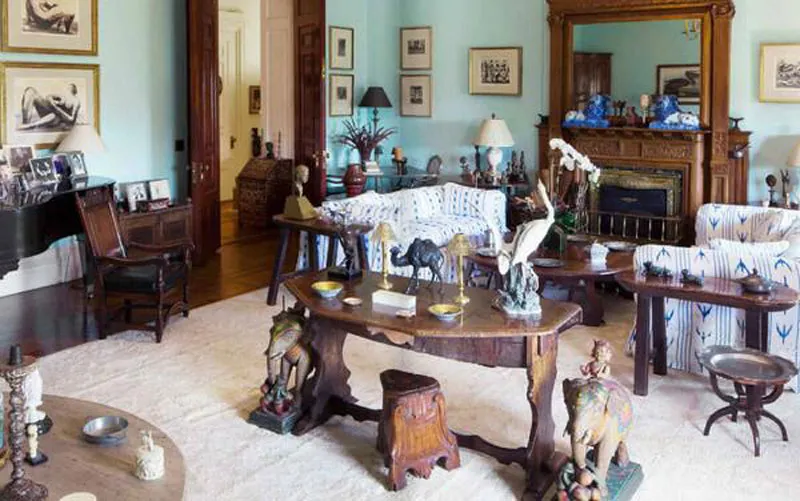 Bacall's living room was quite formal, but she was known for her style. This is probably why she chose to paint the space a refreshing shade of robin's egg blue, which brightens up the entire room and works wonderfully with the space's natural light.
Throughout the room, there are blue accents that really tie her collection of vintage knick knacks together – everything from the statues on the fireplace mantle to the pattern on the comfy-looking couches. Bacall also collected animal accent pieces and had two Indian-inspired elephant statues set alongside a camel and crane statue.
A Baby Grand With Framed Figure Drawings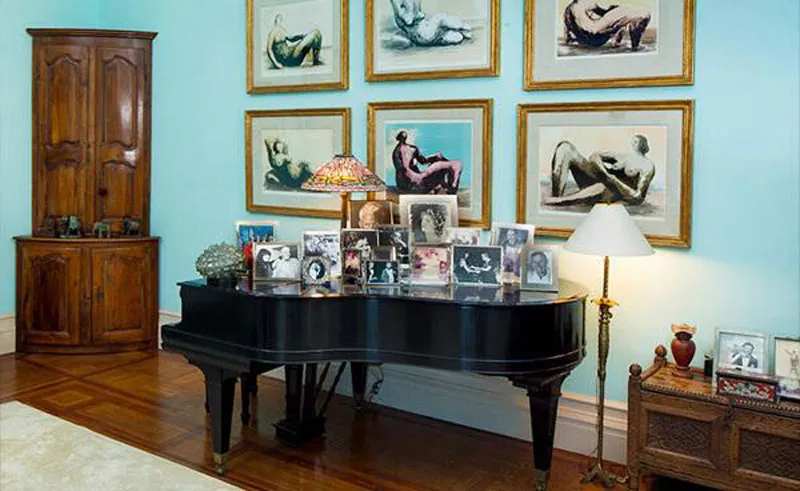 What's a lux New York City apartment without a baby grand piano? We don't even want to think about how difficult it was to get that thing in there, but it's absolutely gorgeous. The piano is by Mason & Hamlin, a premier New England-based piano company that was founded in 1854.
The piano sold for $6,875, just above the starting price for a new piano of that caliber. The original value was likely much, much more. Though Bacall was a great supporter of the arts, it didn't look like she did much playing in her old age. The piano appears to be a more of a table for displaying her old family photos.
Carved Fireplaces, Crown Moldings, and Not Your Average Grandmother's Couches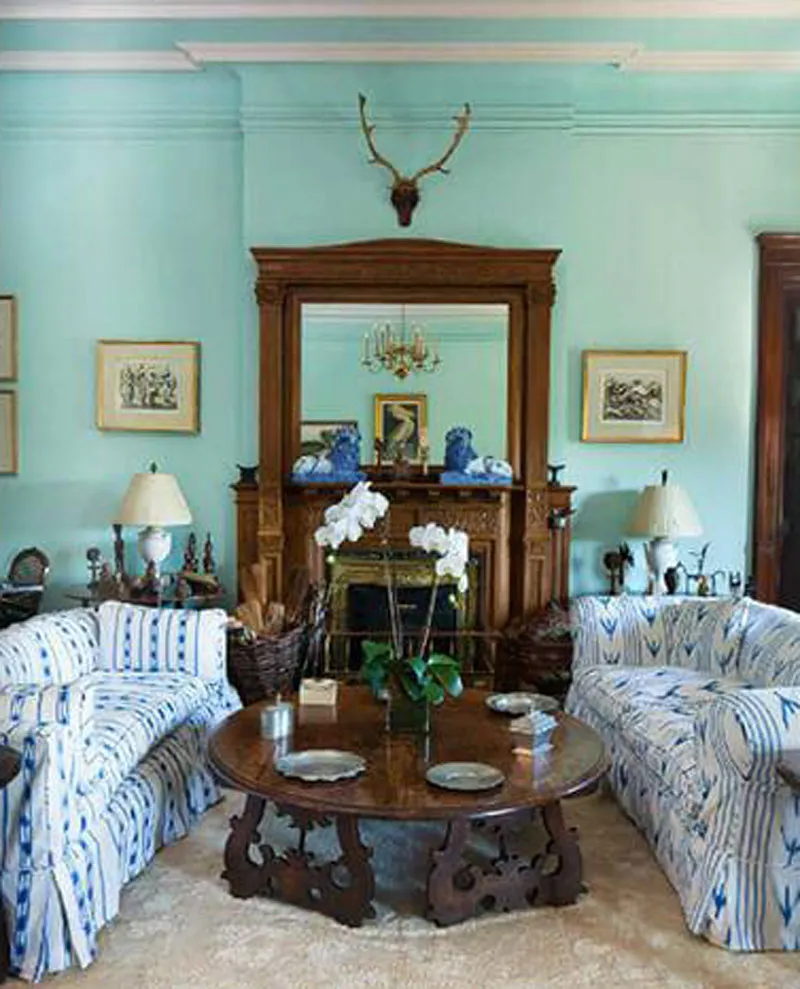 These couches look comfortable, but they're not your average grandmother's sofa. They're Lauren Bacall's and chosen to perfectly accent her living room's wall color. Patterned couches are sometimes hard to pull off, but these actually ground the room. Since they're white, they offset the dark wood of her gorgeously-carved fireplace and coffee table.
Bacall's grand apartment actually has a whopping five working fireplaces – an increasingly rare sight, especially for a New York City apartment. Each is mantle is detailed with gorgeous ornate carvings. This particular fireplace is accented with a deer head above the mantle, a nod to her overall theme of wildlife.
Ornate French Style Mirrors And Antique Dressers In The Master Suite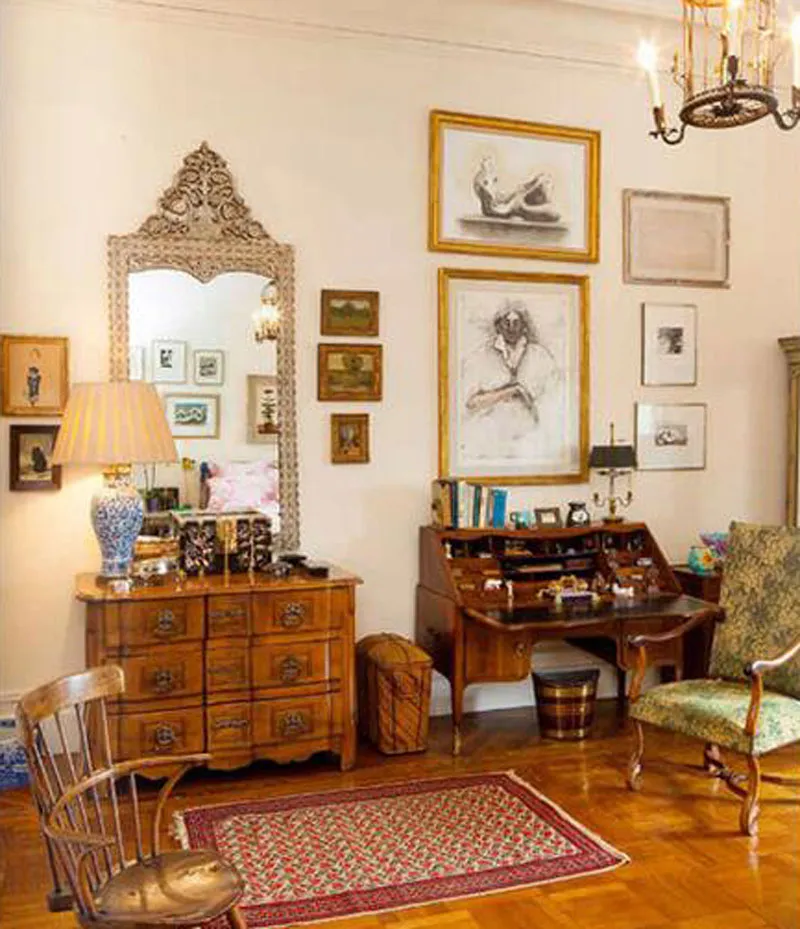 It's not just that Bacall's apartment had nine whole rooms, it's that the rooms are actually gigantic allowing her to have tons and tons of gorgeous antique furniture. In this room, an ornate French-style mirror rests on a Regence Provincial Walnut Commode. This mid-18th-century piece sold for $3,750.
The room also has an antique secretary desk which was crafted with French style. The Louis XV provincial bureau was crafted from walnut in the mid-to-late 18th century and sold for $5,000. Both of these pieces complement the wood floor.
Bacall Was A Collector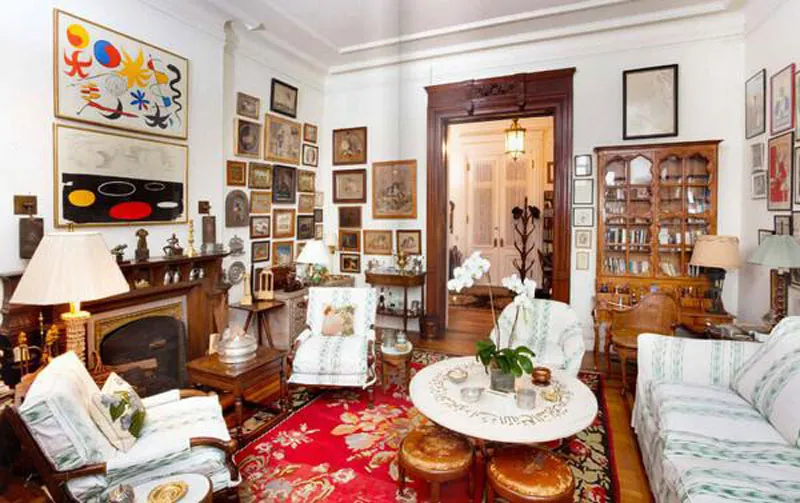 Bacall lived at the Dakota from when she was about 36 years old until she was 89. A lot happens when literally your entire life goes by, and throughout her many years, Bacall collected art and antiques. Bacall's home is practically an art museum with gallery walls enclosing the main living space.
Nearly every spare inch of wall space in her living room was covered in framed art – from expensive paintings (some more modern than others) to photographs and prints. Not to mention, Bacall's nine-room stunner also had a working fireplace, a rare sight for a New York City apartment.
Bacall's Pelican Painting Sold For $173,000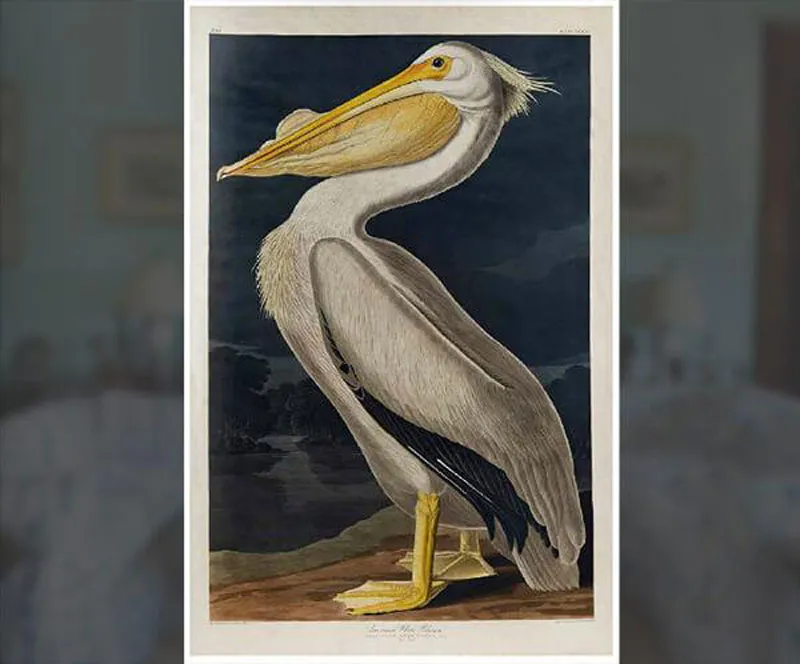 Bacall's art collection was worth even more than her furniture. This original print of American White Pelican by James Audubon sold for $173,000. Audubon was an ornithologist, naturalist, and painter. He gravitated towards painting birds in their natural habitats and American White Pelican truly showcases his niche.
Audubon's most major work is a color-plate book called The Birds of America (1827-1839) which is one of the first ornithological works ever completed. His goal was to paint one page each day and he massively succeeded. Audubon identified 25 new species of birds in his anthology – who says art and science can't be one?
Bacall's Antique Louis XIII Walnut Fauteuils Sold For $1,875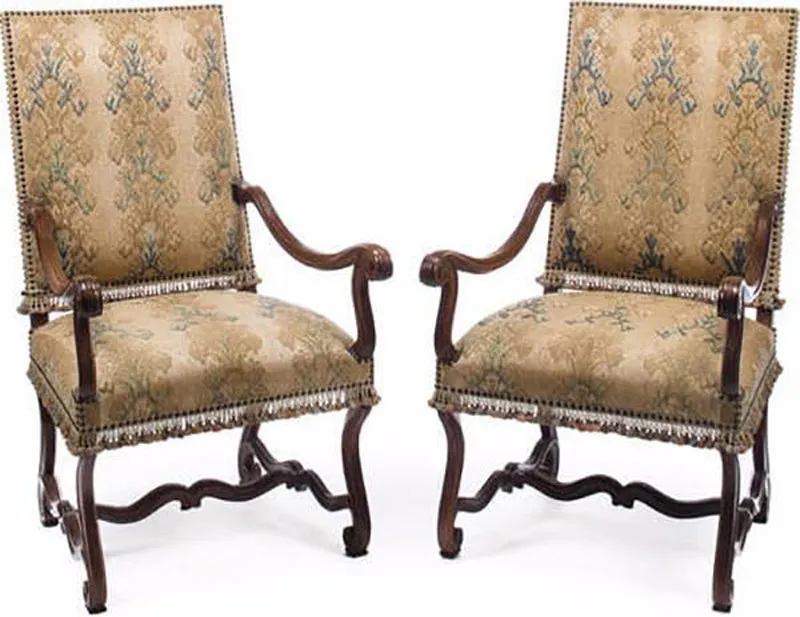 We don't often think about dropping nearly two grand on a couple of chairs unless you're in the world of antiques. Lauren Bacall's antique Louis XIII-style chairs were in excellent condition, and they really made a great addition to her already stunning home. The little bits of blue stitching on the upholstery really complimented her Robin's egg walls.
The pair of these chairs sold for $1,875, and are what some consider the top tier of French design. Louis XIII furniture featured veneer turned wood and moldings. It always leaned towards the architectural and walnut was a commonly used wood (along with ebony, oak, pear wood and pine).
Ultra-Chic Louis Vuitton Luggage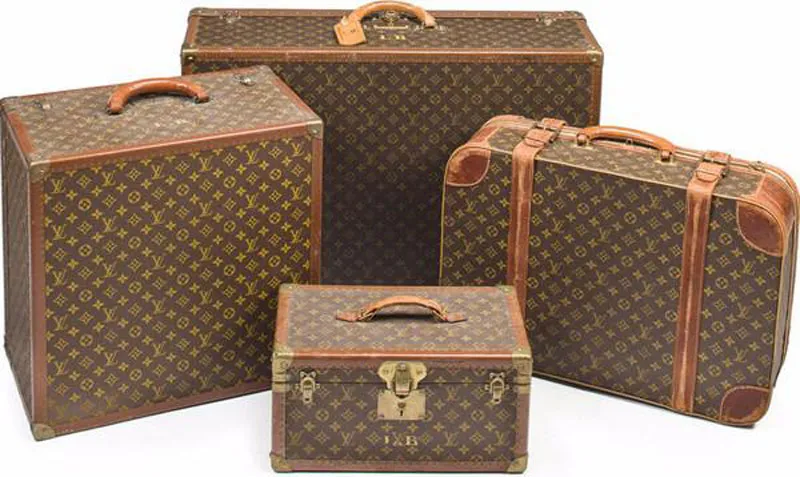 Louis Vuitton luggage is a must-have for celebrities today and even celebrities of yesteryear. The company founded in 1854 and has been purveyors of luxury style since then. With Lauren Bacall's classic, timeless style, it's no surprise that she had a set of monogrammed Louis Vuitton luggage.
In modern times, you may see celebs like Kim Kardashian (and the whole Kardashian-clan) toting around the canvas suitcases. A single duffle can set you back nearly two grand, but Bacall's is vintage, which means it's exceedingly rare and uber-expensive. Bacall's collection of Louis Vuitton luggage sold for a very steep $37,500.
Lauren Bacall's Director's Chair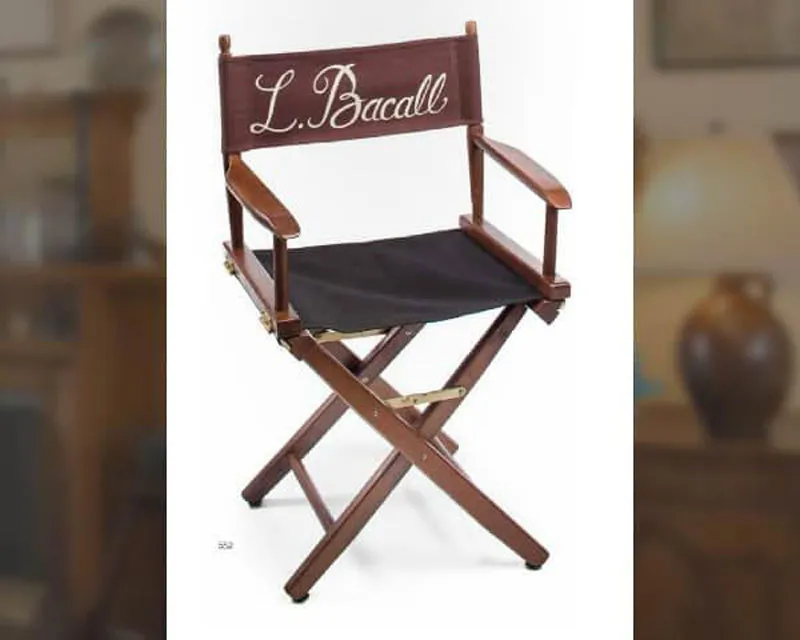 Lauren Bacall's apartment isn't just filled with art and antiques; it also has pieces of Hollywood history. This chair is the actress' personal director's chair, which many would consider priceless, though it sold for $4,750 in the auction.
Before the actress was Lauren Bacall, she was Betty Joan Perske. The second she changed her name and debuted in To Have and Have Not, she began a long legacy of Hollywood stardom. From acting alongside Marilyn Monroe to her final role as a voice actress in the 12th season of Family Guy, Bacall was a star and a hard worker. The actress worked up until the very last year of her life when she tragically died from a stroke.
Bronze Sculptures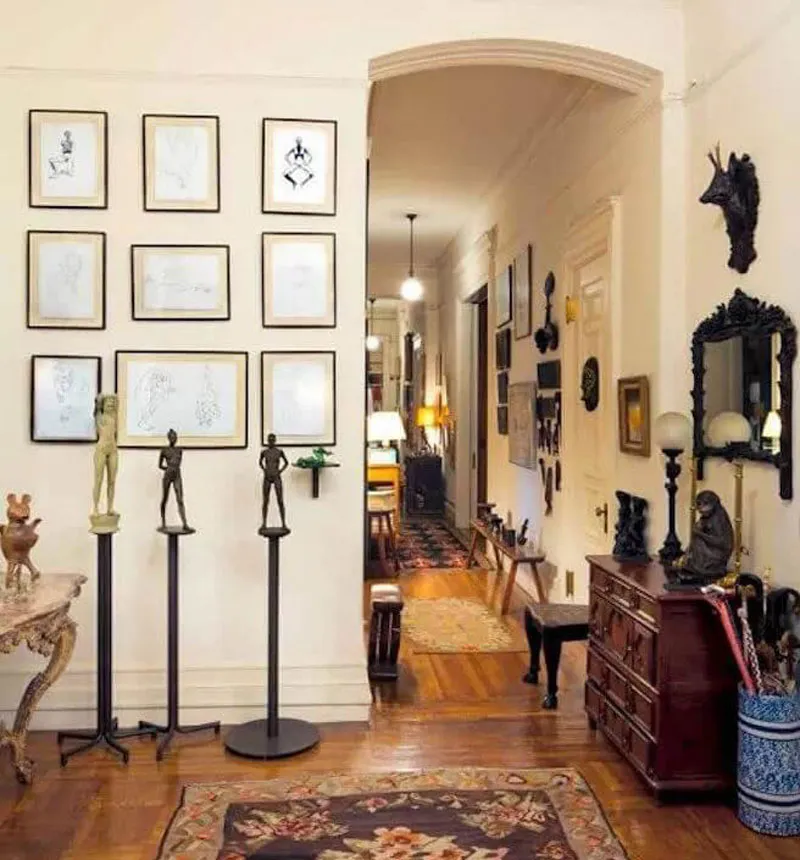 Lauren Bacall filled her home with amazing works of art, including three bronze sculptures that reportedly fetched more than $30,000 when they were auctioned after her death.
The three sculptures pictured above were created by sculptor Robert Graham, who was famous for designing the entrance gates for the 1984 Olympics. The sculptor was also married to actress Anjelica Houston, which is how he and Bacall met. the two remained friends for many years, and Bacall fell in love with his portrayal of the female form. Bacall purchased the three bronze sculptures from Graham which depicted naked women in natural poses. The art remained in Bacall's foyer for years and she playing referred to them as "her girls."
Raw Sketches Beautifully Framed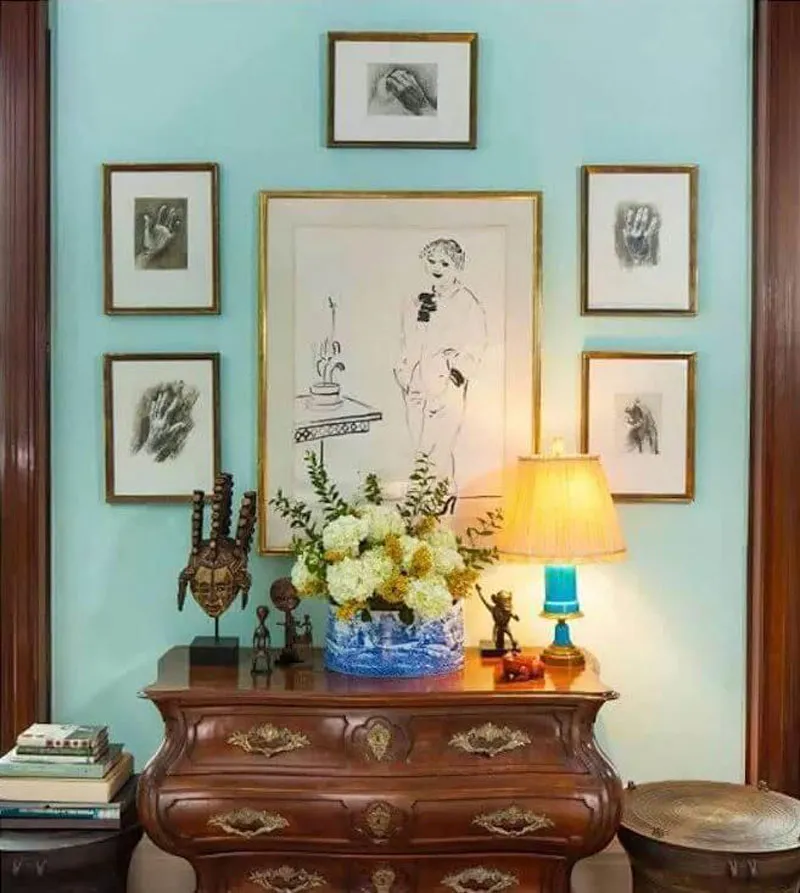 In one of her last interviews, Lauren Bacall sat down with Vanity Fair and discussed her impressive career and how her New York City apartment had become a "map of memories" of times passed.
Lauren Bacall owned artwork by numerous renowned artists, painters, sculptors and more. Amongst her personal collection included works by John James Audubon, Max Ernst, David Hockney, Jim Dine, Henry Moore and many more.
Divine Wood Furnishings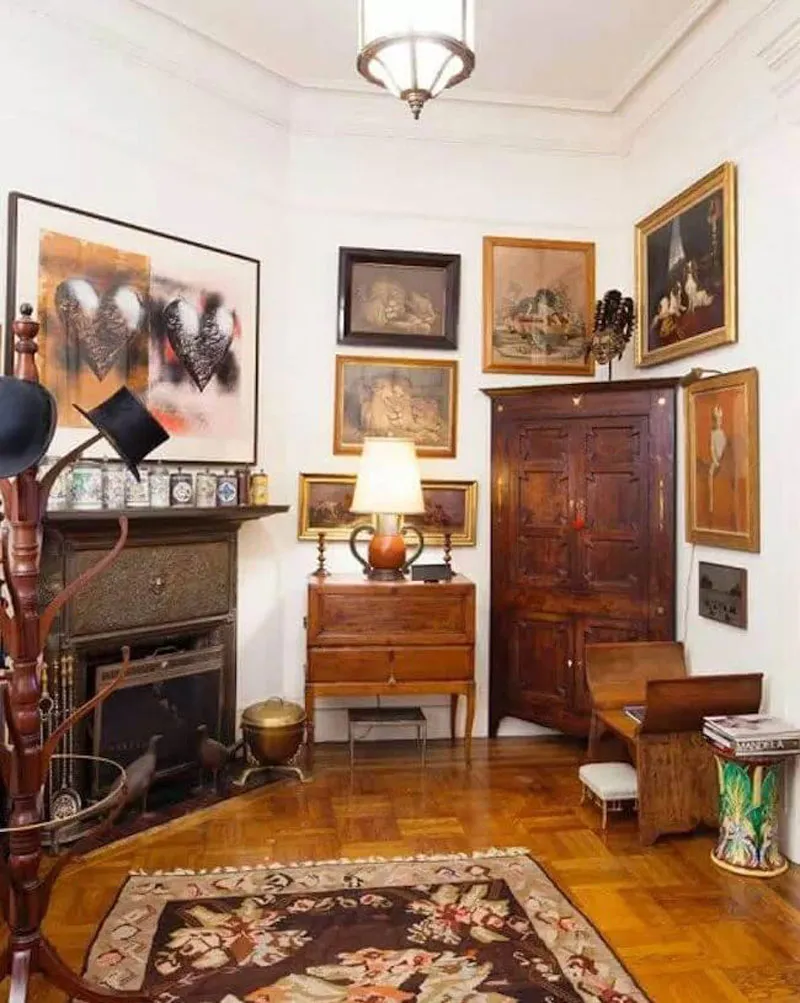 The unique wood furnishings in her apartment, both decorative and functional, are one of the themes throughout the rooms. The interior of the New York City apartment wasn't flashy and glamorous, as many might expect of a Hollywood star.
Instead, the hand-carved wooden benches, dressers, and bureaus provide a sense of coziness and the feeling that the apartment is lived in and loved, not just staged and to be admired from afar.
Sweeping Views Of Central Park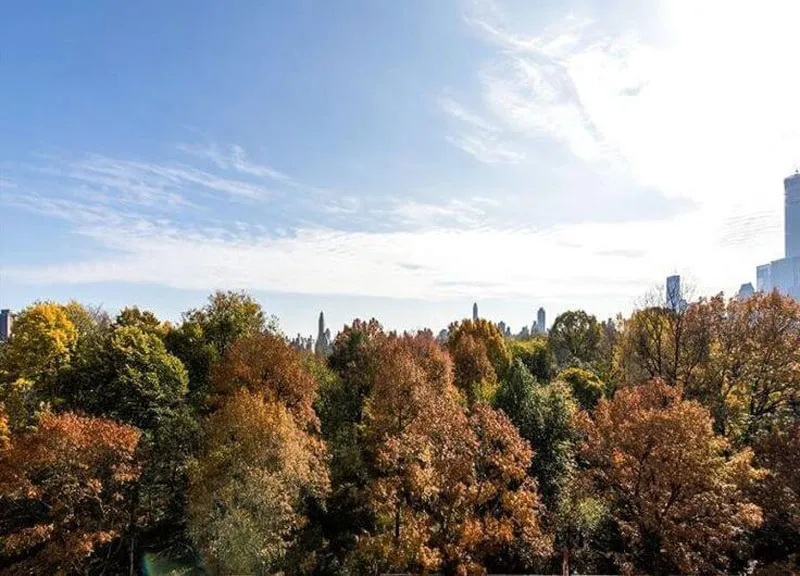 In New York City, real estate is drastically increased if you have an enviable view. And there are few views more coveted than beautiful Central Park. Lauren Bacall's apartment has approximately 100 feet of Central Park frontage. This means nearly half of the apartment has a breathtaking view of the serene park.
In a 1978 issue of French Vogue, Lauren Bacall said of her apartment, "Outside that window lies Central Park; my relief from the city, an important reason to live there."
Extravagant Exterior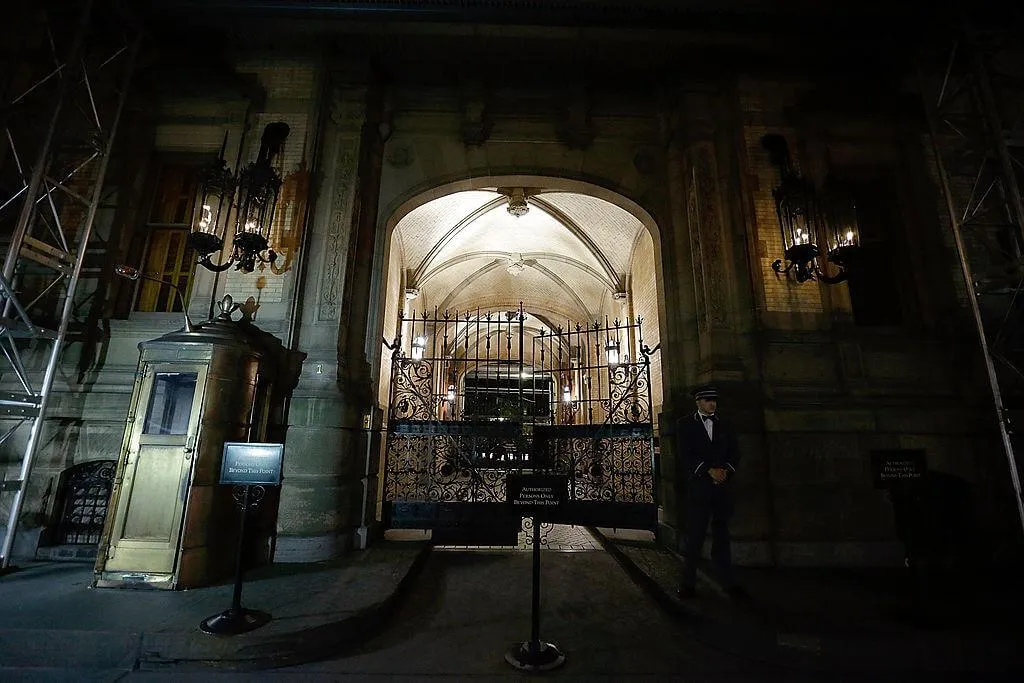 The exterior of Bacall's apartment building stood tall on the corner of Central Park West and West 72nd Street. While traffic flows by the grand building, it stands in place, holding its history, preserved and poignant.
Overlooking Central Park, this building is one of the beautiful things about New York City, as it's full of history, icons, and the essence of possibility and fulfilling dreams. The value of the building has grown to enormous proportions, and it's easy to see why.