A Young Man Walked 14 Miles To Work, And It Proves That Managers Know How To Pay It Forward
Over the course of our lives, we can go through many difficult times. When it comes to work and business, some of us have experienced the moment when we have to keep going no matter what.
You have to perform at your best, like Michael Jordan and the infamous flu game. He was sick as a dog, but he stepped up to the plate to help the Chicago Bulls win another NBA Championship. But, when you're a 20-year-old like Walter Carr, there was no turning back. What you're about to see is something that changed his life for good.
Say Hello To Walter Carr
Walter is a 20-year-old college student who moved to Homewood, Alabama after he and his mother lost their home because of Hurricane Katrina.
One day, Walter hopes to become a marine, and what did on his first day of work could help him reach that goal.
Walter Was Getting Ready For His First Day On The Job When The Worst Thing Happened
Carr was getting ready for his first day working at Bellhops, a moving company. When he was driving, his car broke down unexpectedly.
Despite still being 20 miles away, Walter did not hesitate as he looked at the situation from a courageous perspective. He decided to walk.
Since His Job Was 20 Miles Away, He Started Walking At Midnight
In a bold move, Walter started walking at midnight, as he was planning on reaching the job site by morning.
Interestingly enough, he made it passed the 10-mile mark, and somehow was able to walk 14 miles. Then, a couple of police officers saw Walter, and stopped to ask if he was alright.
Walter Told The Cops What Happened To Him, Then They Did The Unthinkable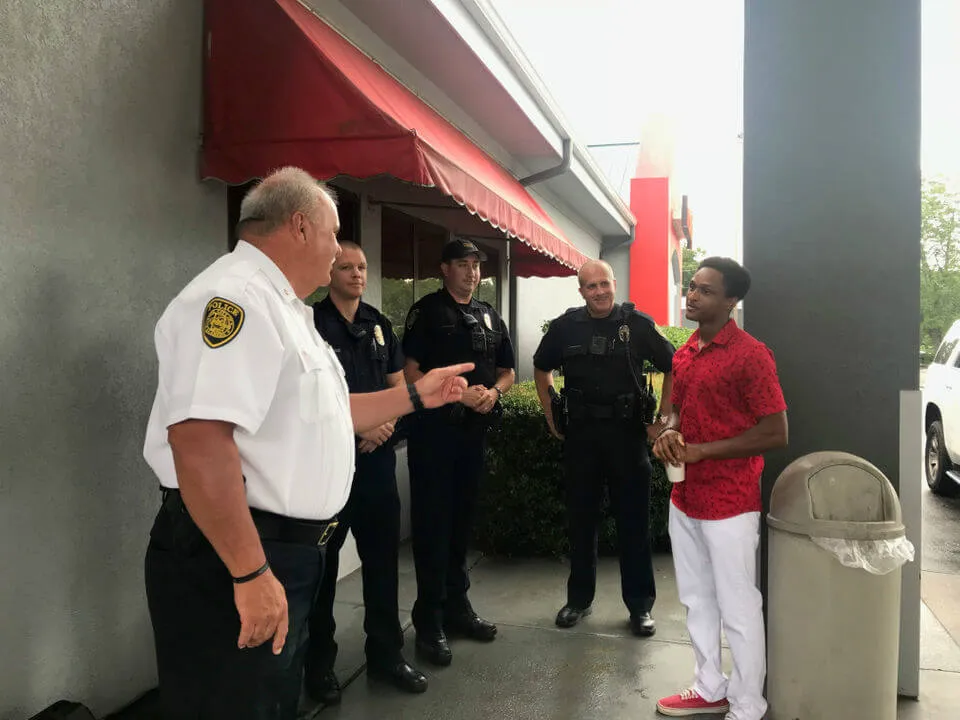 As soon as Walter explained the situation to the cops, everything was alright. In fact, the police even took him for some breakfast, and they gave him a ride to his job.
He was supposed to help a family move, and that's when the owner of the house was shocked to see how committed the 20-year-old was.
The Owner Of The House Was Amazed How Committed Walter Was To His Job
Finally, Walter had reached his destination. Jenny Hayden Lamey, the owner of the house, was in awe about what happened to her mover.
So, she decided to write a heartwarming post about him on Facebook. On top of that, she even created a GoFundMe page for Walter to help him out.
Jenny Wanted To Raise $2,000, But That Escalated Real Quick
All Jenny wanted to do was raise money for Walter so he could fix his car. Lamey's post went viral and the donations escalated to $34,000.
The CEO Gifted Walter With His Own Car!
Mr. Marklin responded to Lamey's post on Twitter. The CEO took it one step further by driving his Ford Escape from Tennesse to Homewood. As soon as he arrived, the boss presented his new employee with the vehicle.
Even if he was sore from all the legwork, it's safe to say that Walter couldn't believe what was happening to him.
Carr's Story Has Touch So Many People
Thanks to the incredible moment, it became a symbol of courage and kindness. Walter's story has inspired so many people that they even came up with a hashtag to go with it.
#BeLikeWalter is all over social media, so go ahead and show your support for this young man!
Luke Marklin Wasn't The Only Boss To Pay It Forward
Mike and Sherryl Simon own Shipley Do-nut, a donut shop in Houston. After the damage from Hurricane Harvey, they had to close up shop.
Our Town America, a marketing company that partners with the shop, raised nearly $3,000 for the Simons. But, they knew right away they couldn't accept the money. Someone else deserved it more.
As Described My Mike, Lucia Flores Is A Hardworking And Loyal Employee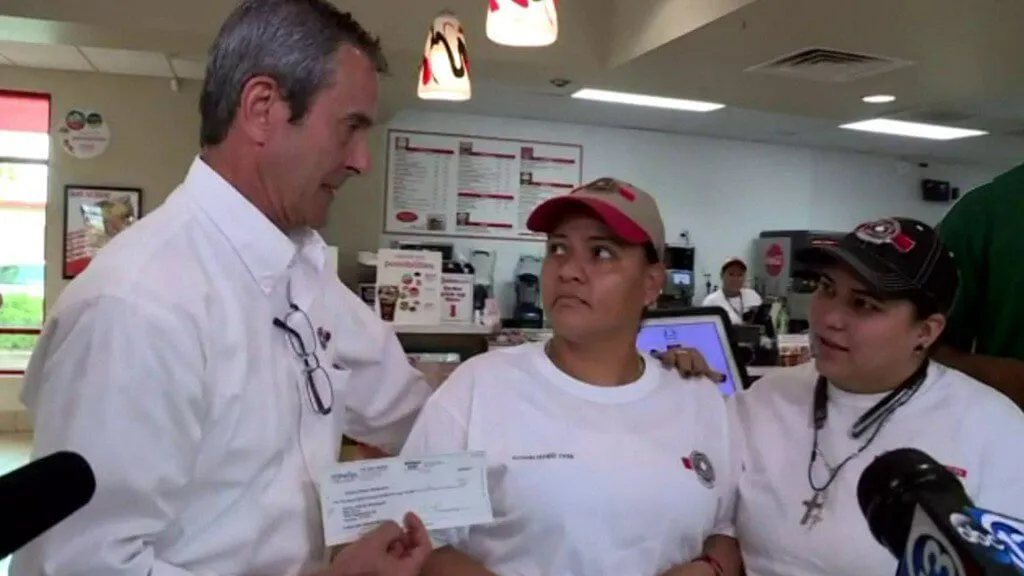 During a TV interview, Mike unexpectedly gave Lucia Lores the money. She's a single mom of two who lost everything from the Hurricane.
Not only was Lores surprised with the money, but she plans to use it to buy beds and chairs since her and her daughter were sleeping on an air mattress.
Two Men Left A Homeless Pizza Hut Waitress A Huge Tip
Krystal Palmer was living in a hotel when her home was flooded. One day while working at Pizza Hut, Kramer struck up a conversation with two male customers.
After sharing her story, the customers offered her a couple of slices of pizza. On their bill, a $558 tip was left for Kramer. The restaurant's owner heard about what happened and went into action.
Then Her Boss Did Something Else
The owner had zero clue that his employee's situation was bad. He pulled $400 from a fund for his employees and gave it to Krystal.
The money was enough for Kramer to put a deposit down on a new home and to pay the first month's rent. A little generosity can go a long way.
Like Walter, This Boss Bought His Hardworking Employee A Car
Meet Alex Rios, not the baseball player, but the owner of Kids Kollege Learning Center. His hard-driven employee, Veronica Solis, has never missed a day of work, even while battling cancer.
However, Solis had difficulties getting to work the one morning. Instead of firing her, Rios came up with a better alternative.
Now Veronica Can Get To Work On Time
Not only did Rios not want to lose Solis as an employee, but he did the unthinkable. The good-hearted boss bought Veronica a car with his own money.
Now, Rios can be happy knowing that he did some good for his inspiring employee. It's people like him that remind us of the awesomeness of the world.
This Doo-Dah Waiter Got A New Smile As A Tip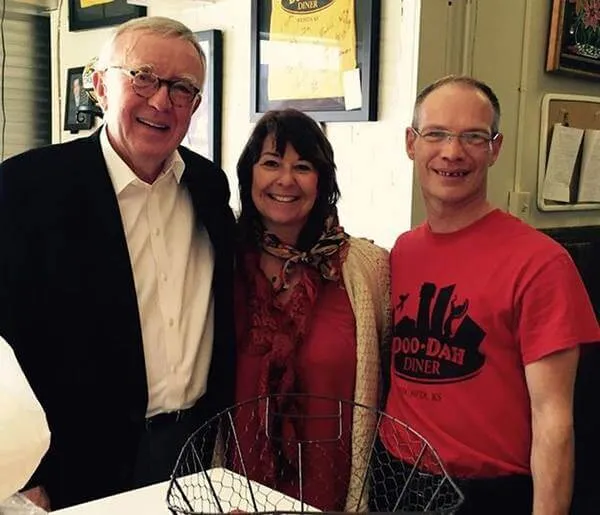 Doo-Dah Diner server Brian has suffered from painful dental issues his entire life. Even with his mouth full of crooked teeth, he never stopped smiling. One morning, Brian served attorney Fred Boettcher and his family.
Having experienced issues with his own teeth when he was younger, Fred didn't have to dig through his pockets for a tip.
Look How Different Brian Looks!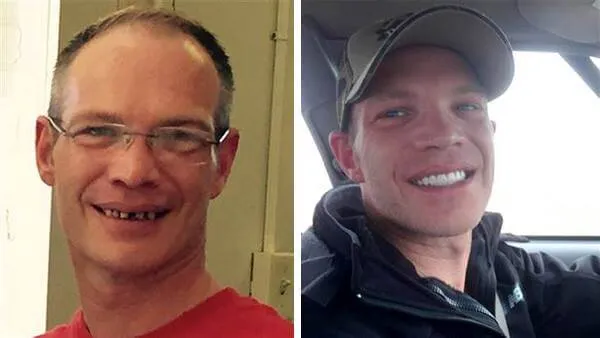 Instead of paying the bill that morning, Fred offered Brian $25,000 so he could get his teeth fixed.
Thanks to Fred's kind gesture, Brian can smile without the insecurity that came with it. Not only did this put Brian in tears, but he's walking around with a whiter smile than anyone else.
Mom Meets Her 'Angel' By Working Two Jobs For Her Kids
Cassie Camilo's life was going downhill. After losing her mom, going through a divorce, and having barely any money to pay bills, she left her kids behind.
Camilo moved from Brazil to the United States. She wanted to send whatever she earned back to Brazil to support her family. However, leaving her kids behind wasn't the easiest thing to do.
Cassie Worked Any Job She Could Find
As soon as she arrived in America, she picked up any job that was out there. While working two manual labor jobs, Cassie met Peter DeRosa, a successful restauranteur in Connecticut.
Peter hired her as a dishwasher at his Italian restaurant. The pair formed an unexpected friendship.
Peter Took It Upon Himself To Go Above And Beyond
When Cassie told Peter she had fallen ill, Peter's gut insisted that he pay her a visit. Walking into the house, Peter saw how sick Cassie had become.
The stresses of everyday life only made the distance between her and her kids worse. He decided to go above and beyond. In turn, he became her "angel."
Shuttle Driver Returns Purse With $8,000, Lady Calls His Boss And Learns Who He Is
Mart Trocchio was trying to keep a low profile as a shuttle driver for Transaction Corporate Shuttles. Just as he went to grab a cup of coffee, he noticed a purse sitting on the concrete.
There was $8,000, airline tickets, and credit cards inside. Mark poked inside the bag to find some ID and found a lady crying. The lady wanted to give Mark the reward but refused, so she called his boss to say why his good deed makes him a good person.