For Just $100, This Man Turned An Old Wooden Shack Into Something Extraordinary
Richard Aiken is sort of a jack of all trades and a master of all of them. He's a husband, a father, he earned two Ph.D.s, he has a medical degree, he's an opera singer, and he's the author of The New Ancestral Diet. Also, as you'll soon see, he's a pretty fantastic builder.
How can one person be this good at so many things? I have no idea. But keep reading if you want to watch the then-sixty-five-year-old turn this shack of a log cabin into something extraordinary.
How It All Started
Richard had been interested in purchasing a home in the woods for a while. I mean, who doesn't want to go all Walden and escape into nature for a bit?
Can you imagine just waking up, walking out your front door, and being in the middle of nowhere surrounded by trees? That honestly sounds like a dream. At the same time, this probably wouldn't be the first home we would consider buying.
The Rubble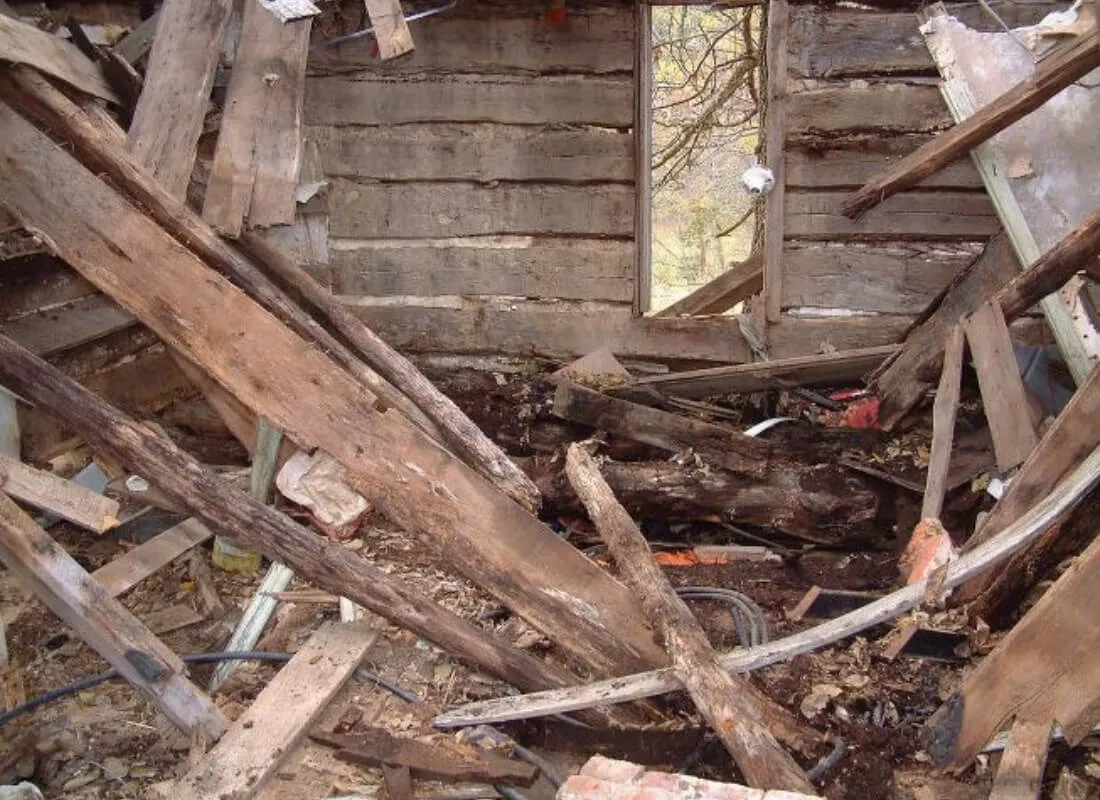 Richard thought that buying a second house would cost him a lot of money, but when a man in Missouri told him about an old, run-down cabin, Richard saw it as an opportunity to live the lifestyle he has always wanted.
Richart paid $100 cash for the property, which included the totally decrepit wood cabin. The man offered it to him for free, but Richard insisted on paying him at least a hundred bucks.
Much To Be Desired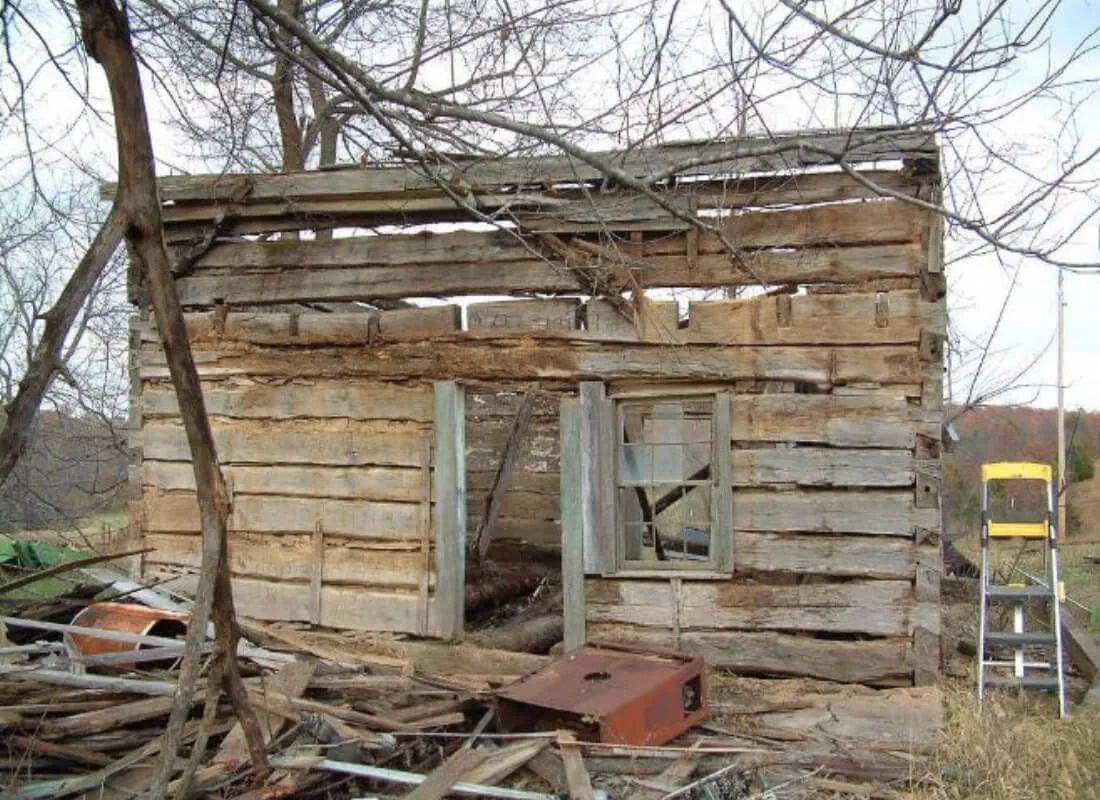 The cabin obviously wasn't in good shape. It quickly became clear to Richard that he had a lot of work to do if he wanted to live in an unsafe structure.
Richard's future home was full of debris, and its roof had collapsed completely. It looks dangerous just peering in through the doorway, never mind actually hanging out inside! Still, Richard decided he would spend his spare time fixing up the old shack.
It's Not Looking Good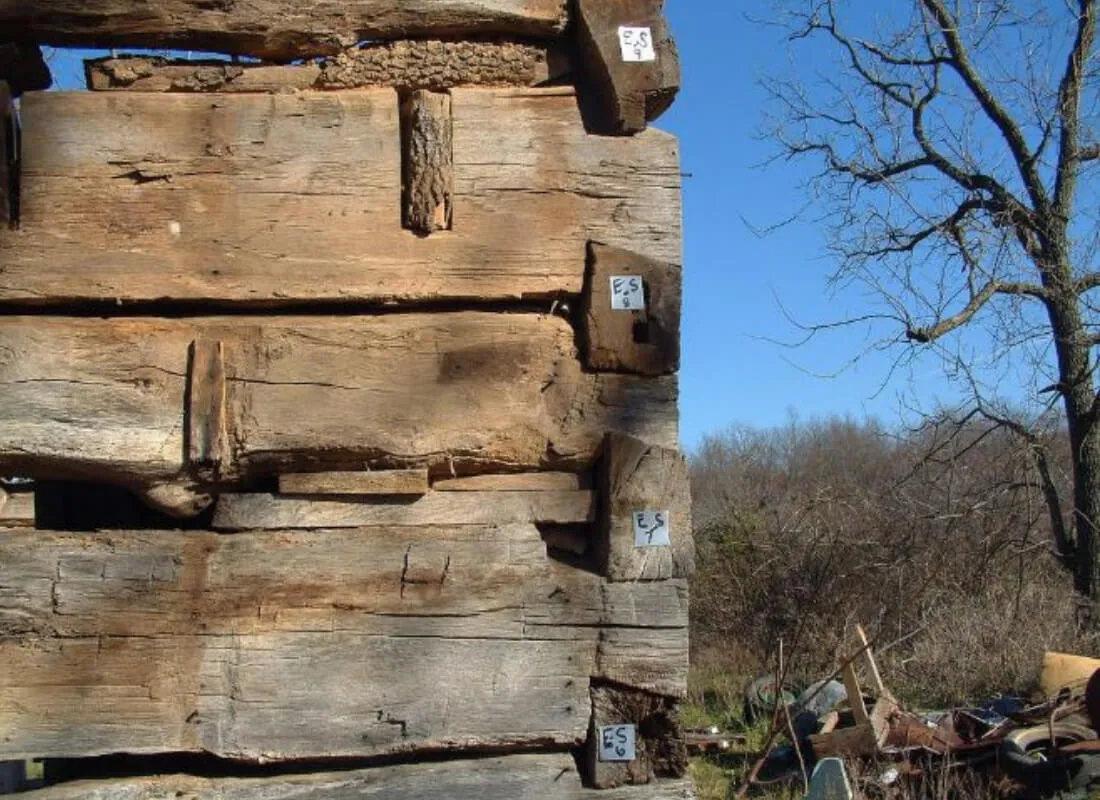 Richard took some time to evaluate the structure and consider what elements of the shack could be saved. When he inspected the cabin, he realized that most of the wood was badly rotten.
He knew that he would have to tear most of the cabin down and rebuild it from the ground up. Still, he wanted to save any wood he could recapture to ensure some of the old home still remained.
Time To Get Busy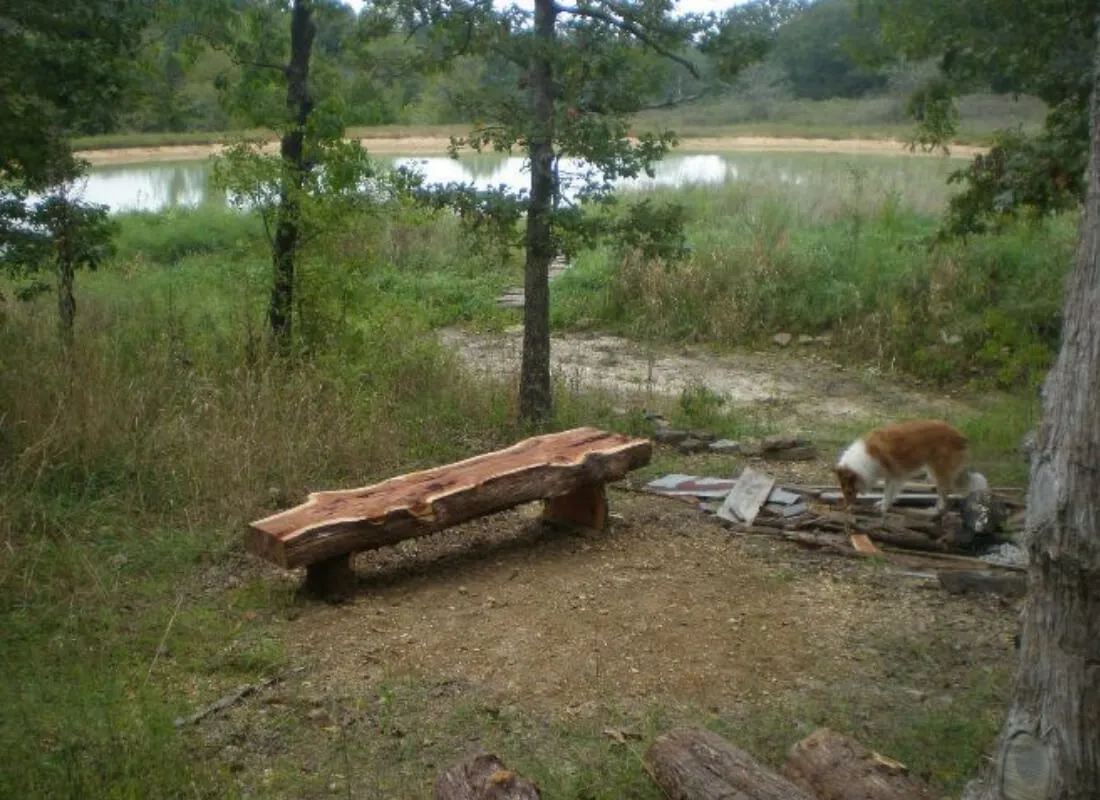 Richard marked all of the wooden boards on the outside of the cabin so he would know exactly how to arrange them after cleanup up the rot that had likely persisted for many years.
The actual cabin may have been badly run down, but just look at the beautiful scenery! Who wouldn't want to live in this oasis? That was a large motivating factor and as you'll soon see, he made the right choice.
New Discoveries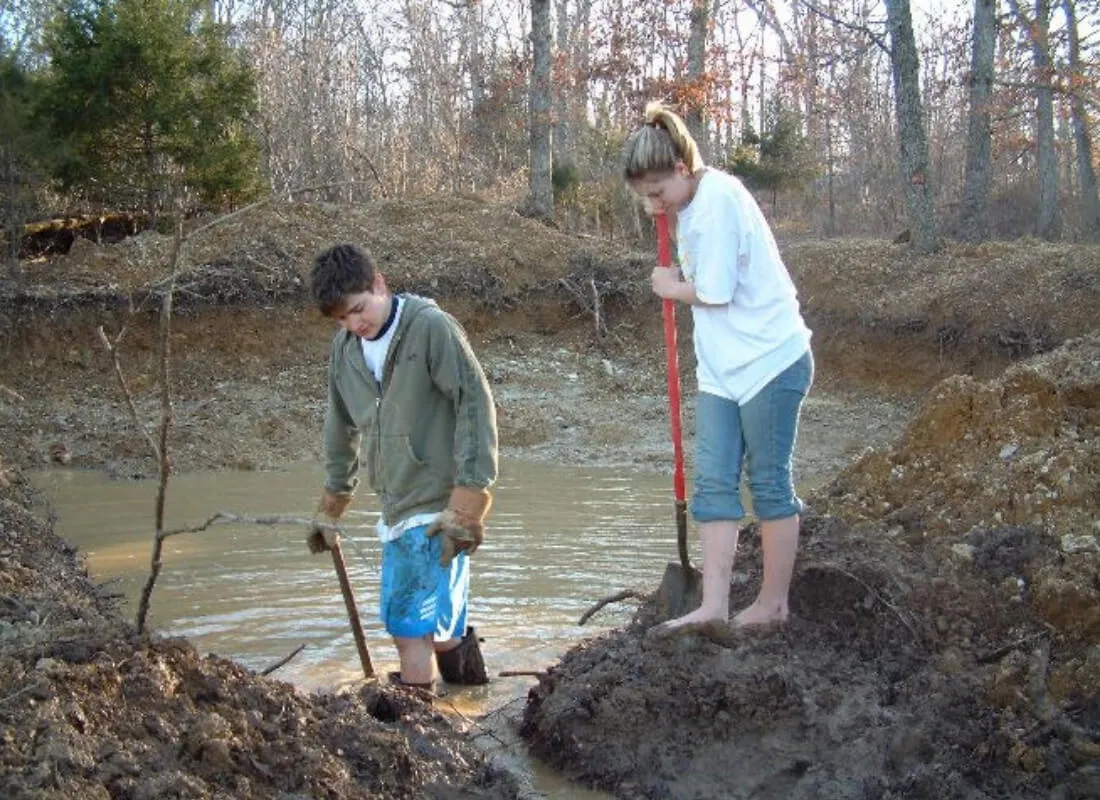 Richard enlisted his family to help him with this huge building job. It wasn't long before Richard's family discovered a natural spring nearby. That meant that they could create their own waterfront property!
Their discovery also meant they would spend a lot of time digging to unearth the spring which would provide an additional view for the newly renovated home. Now that the cabin was dismantled, Richard could move it anywhere he chose..
A Magical Moment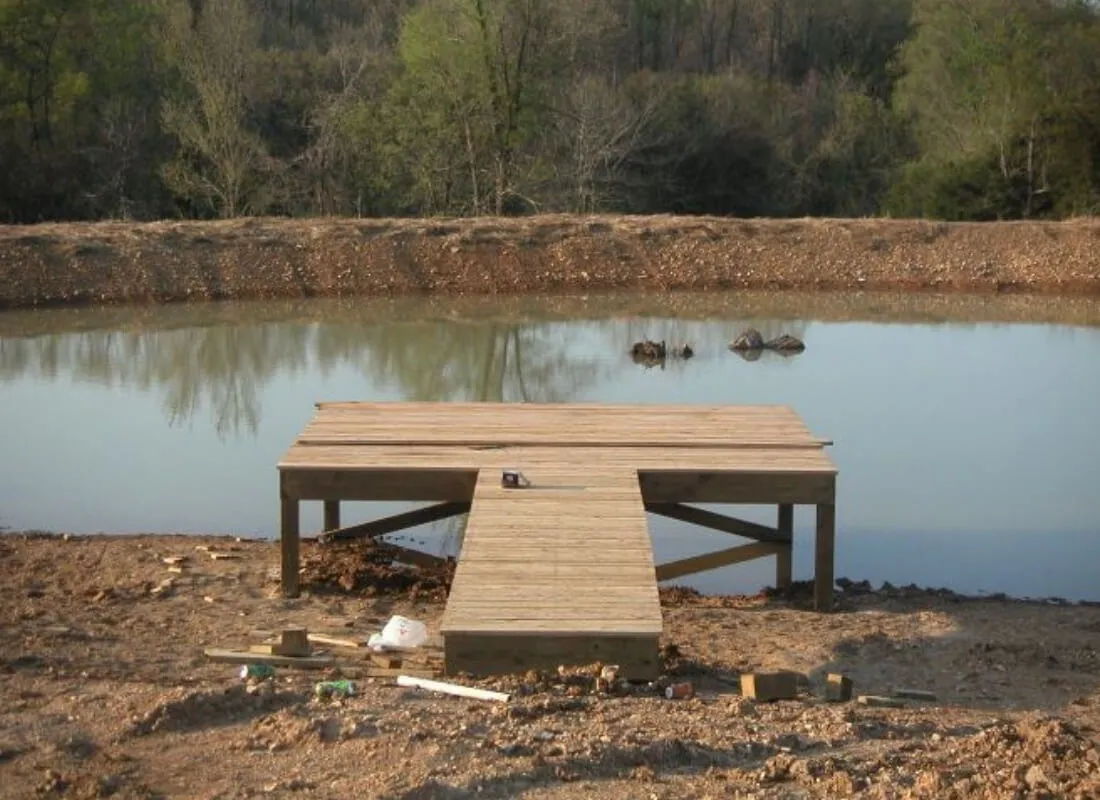 They reached the bedrock by digging into the spring by hand. Then they brought in bulldozers to dig out the rest of the pond. That's right. They built a pond.
The dock on the pond is a nice touch and showcases Richard's craftsmanship before we even see the final home project he completed. No small details were spared by this master builder, although after he laid the first logs it didn't seem like much of a project...
Laying The First Logs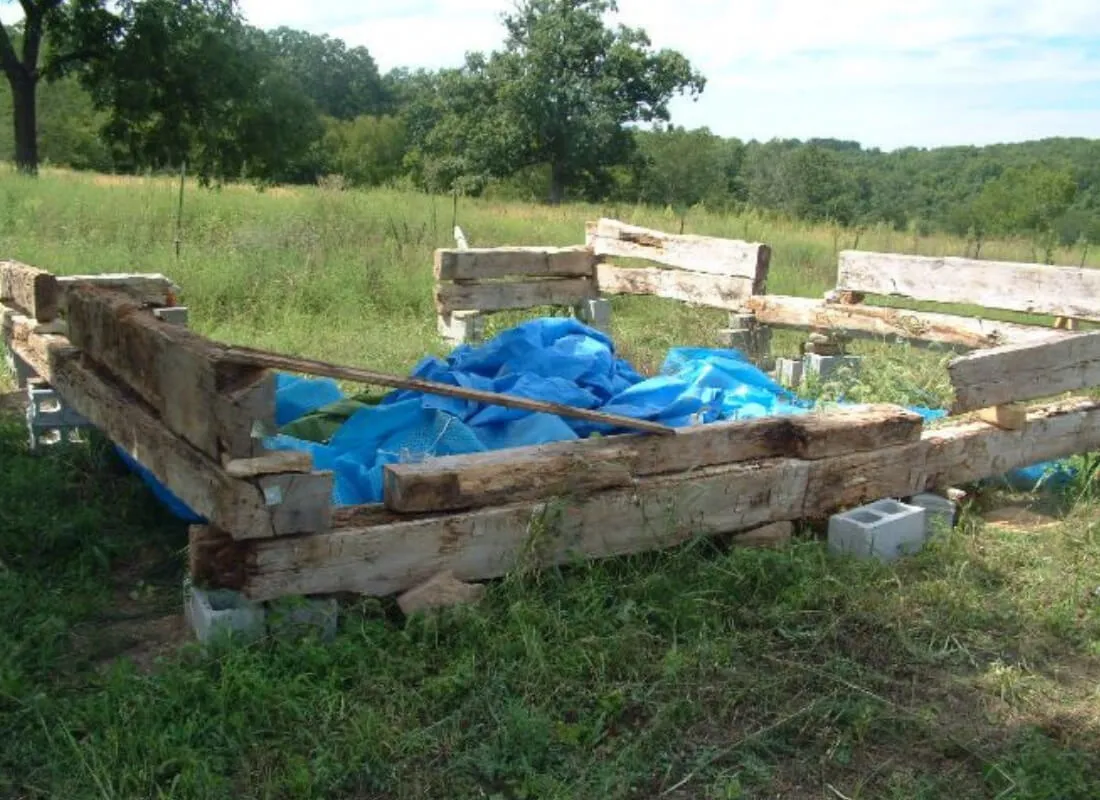 After building a natural springs waterfront area, Richard knew for sure where he wanted to build his new cabin. Right by the pond would be the perfect location.
Now he was ready to begin reconstruction. He had all of his plans and his labels ready and he knew what he had to do. The start of the project would lead Richard to painstakingly build his new property from the ground up.
Rise To The Occasion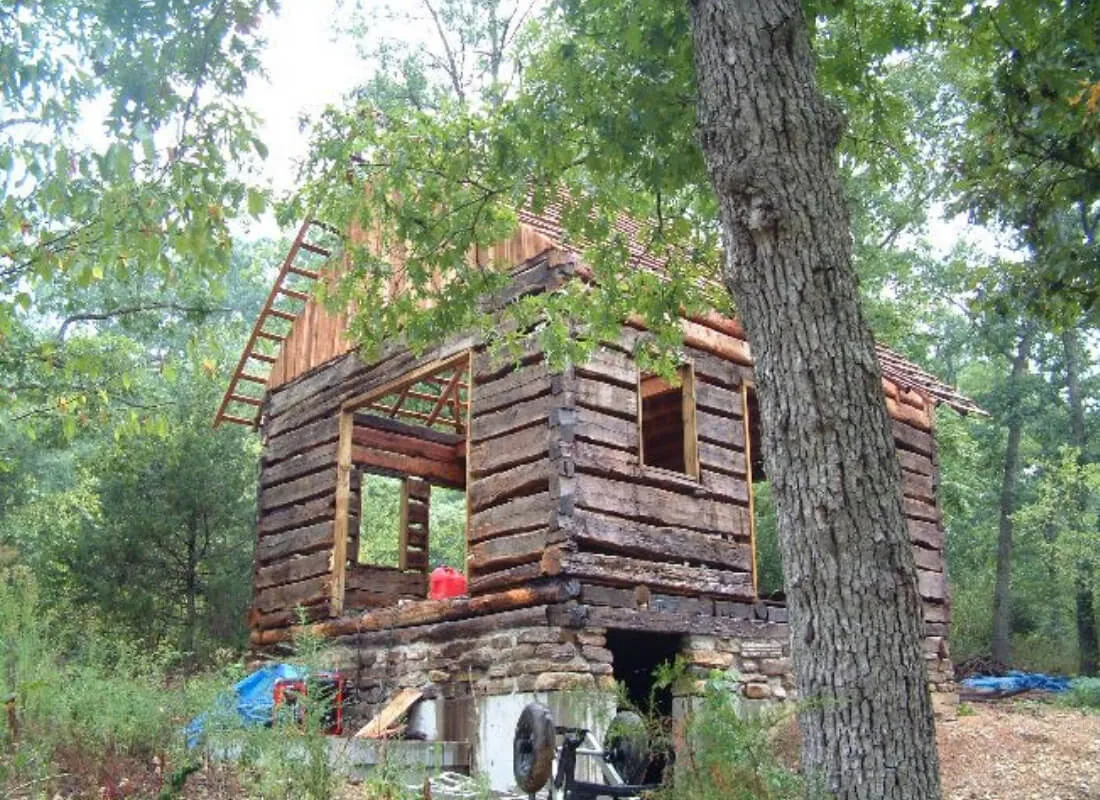 Richard wanted to "remain true to the spirit of the original construction," but that turned out to be pretty difficult. For one thing, they reached bedrock at about six feet below the ground.
That meant that they needed to build the cabin a few feet above the ground which would only add to the views the family enjoyed when the project was finally completed but more on that in a moment.
It's Starting To Look Like A Real House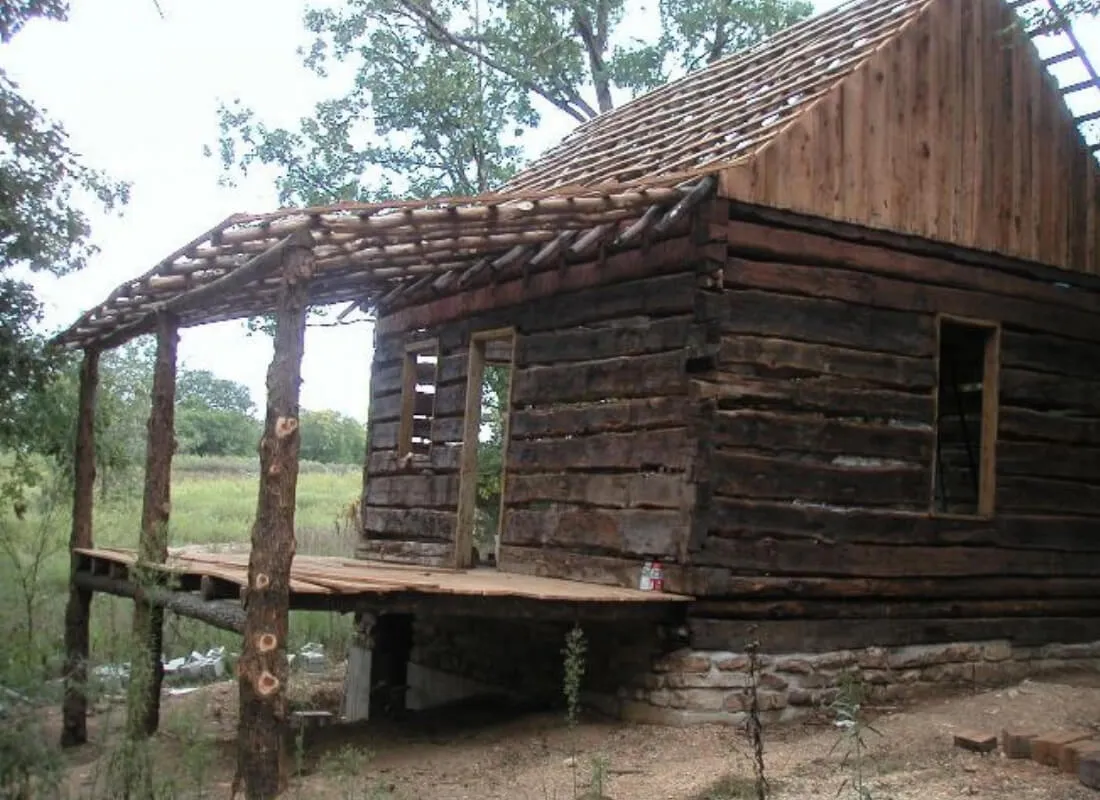 They poured concrete to create the basement floor, and Richard gathered some more materials from the trees around his property.
They used white oak to form new floor joists, and split cedar shakes as shingles. A rustic front porch really brought the whole vision together. By using wood from the area Richard was able to blend his home in with its beautiful surrounding and the project was finally looking like something special.
Gotta Keep Warm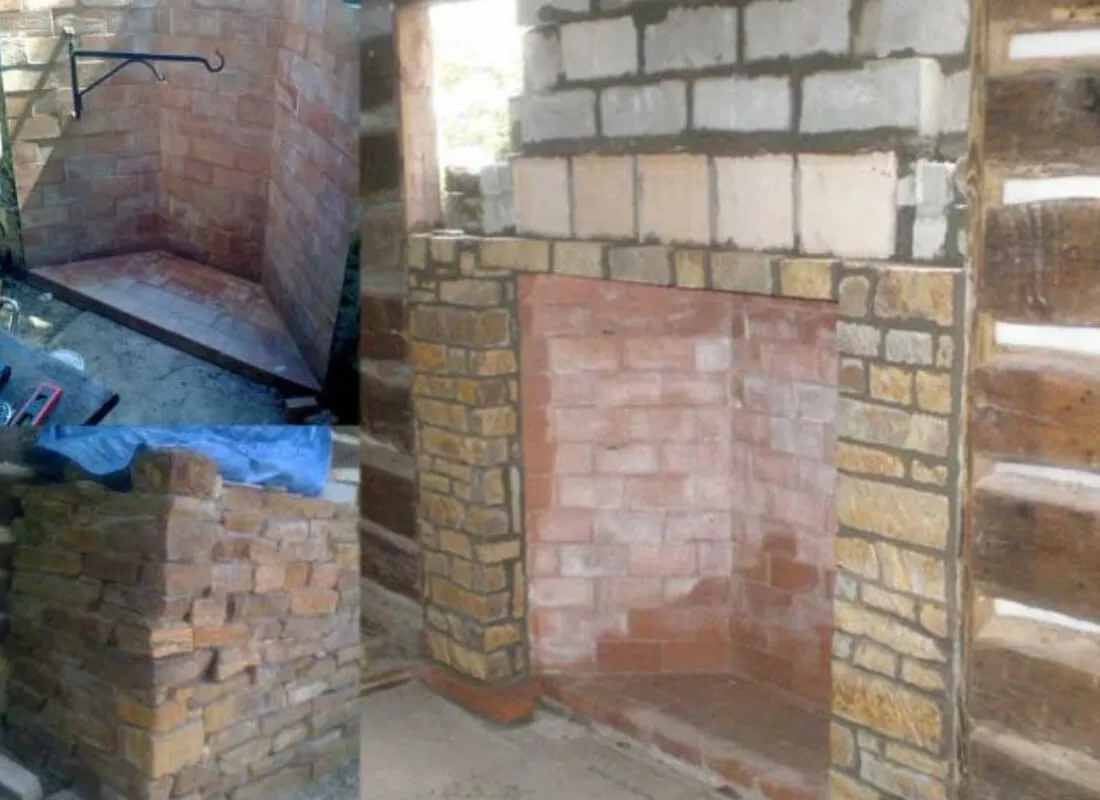 It was very important to Richard to include a hearth in his new wood cabin home. It just wouldn't be a proper log cabin without one and it would add to the country living appeal he was seeking to capture.
The Aiken family purposely chose a Rumford fireplace, which was common for log cabins between 1796 and 1850. The fireplace was a choice that would eventually add to the rustic nature of the home.
A Staircase Fit For A King
Richard's new wood cabin had an upper floor, and to get to that upper floor, they would need to build a staircase. Richard used a fallen oak tree to fashion a flight of gorgeous stairs.
Richard's choice to use repurposed wood meant he wouldn't have to cut down any of the beautiful trees in the area. Plus, the aged wood added a look that any carpenter would love to claim as their own.
The Finishing Touches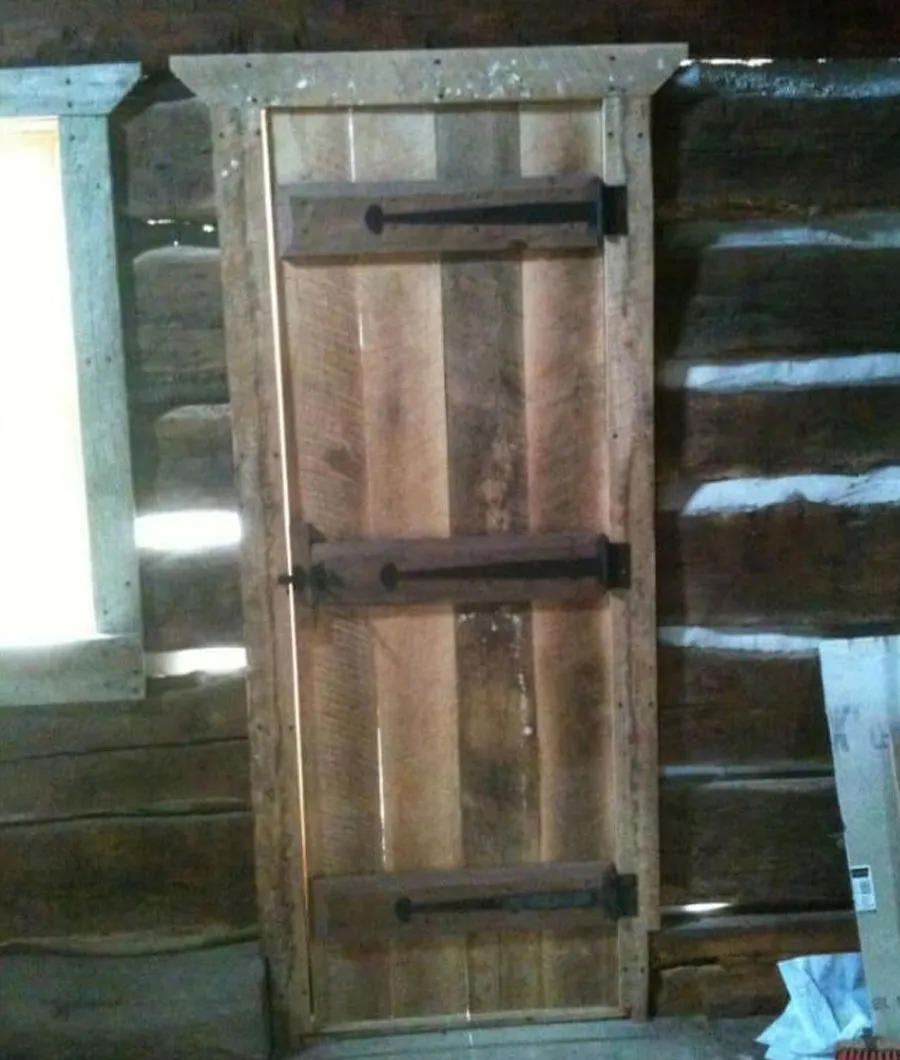 Richard knew that the door of his cabin would have to be perfect. It would be the first feature people would see when entering the house and it needed to feature a woodsy look.
The family brought materials and designs to a carpenter who turned them into the doors and windows of the cabin. The simple design did a great job of paying homage to the log cabin that had to be dismantled and then rebuilt.
Filling It In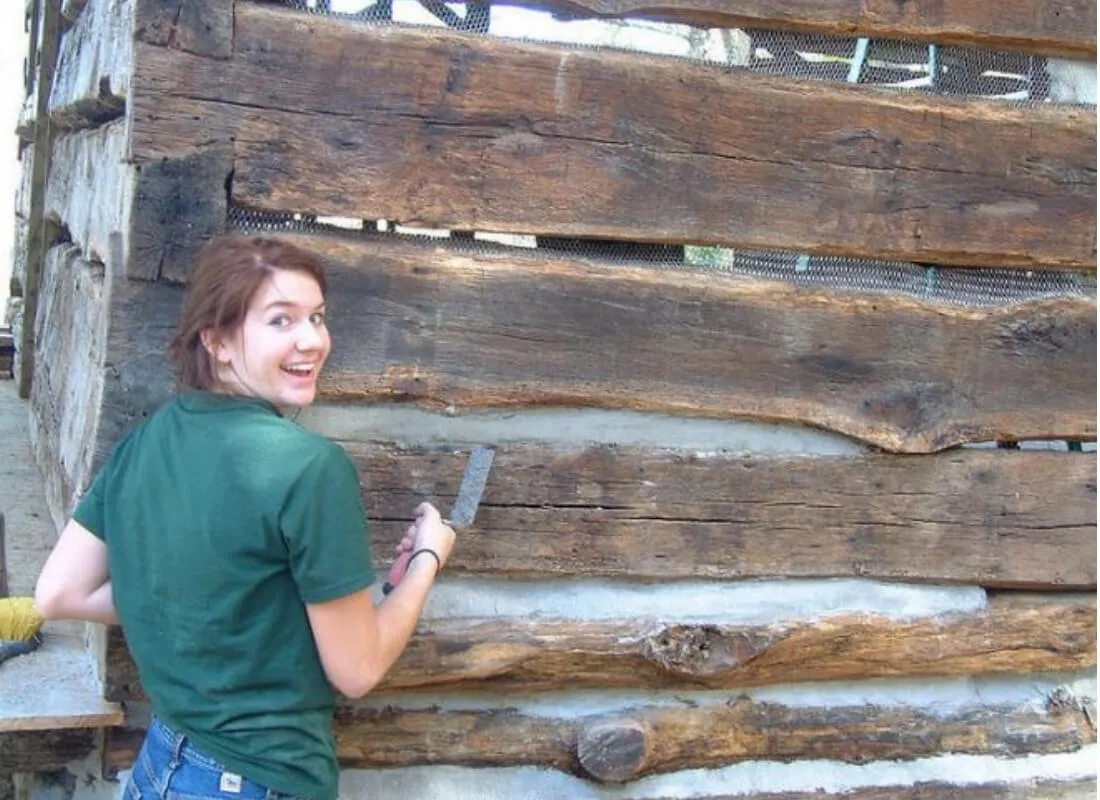 Richard constructed his cabin out of organically shaped logs, so there's no way they could fit together perfectly on their own without destroying their natural look.
The family used chicken wire and an outdoor sealant to fill in the gaps between the logs. Sometimes a big project just takes a little bit of teamwork. The gapping in the wood mixed with the filler also helped to create a natural look.
What It Looks Like Inside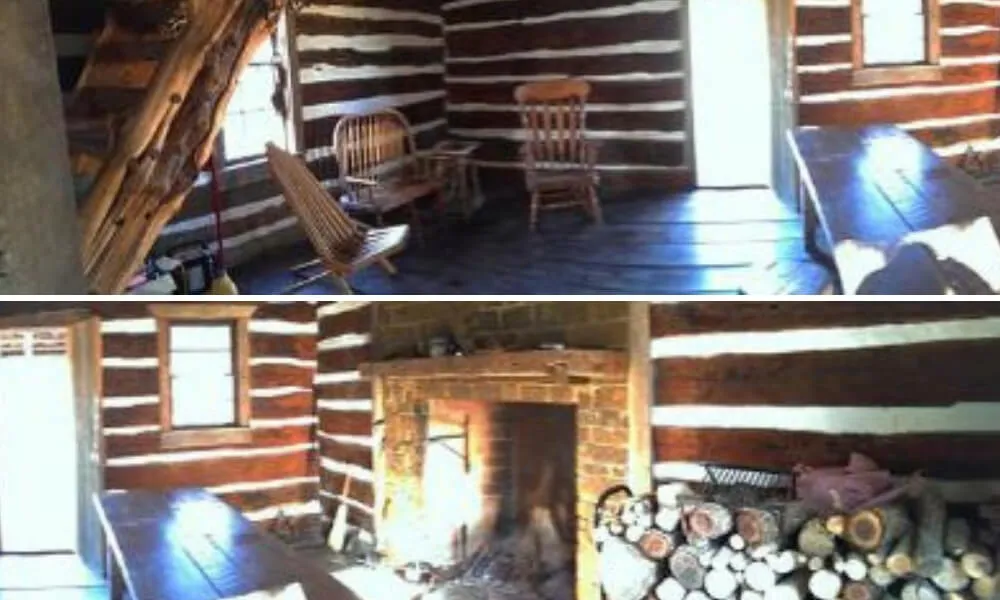 Now that the exterior of the cabin was complete, it was time to start decorating the interior. They brought in some rustic chairs and tables and stocked the fireplace with a whole bunch of wood.
This place was really starting to feel like home. Most exciting was the family's decision to avoid a modern look that would have taken away from their country retreat. The home might be new to them but it had an old-time feel.
The Perfect Dining Table
The Aiken's Amish neighbors used a fallen walnut tree and native white oak to build a harvest table.
The new harvest table designed to be light and easy to move so they could bring it closer to the fire when it was cold. This was an important feature since they wouldn't be running heaters into the home. These people really did think of everything as they built their country retreat.
Let The Light In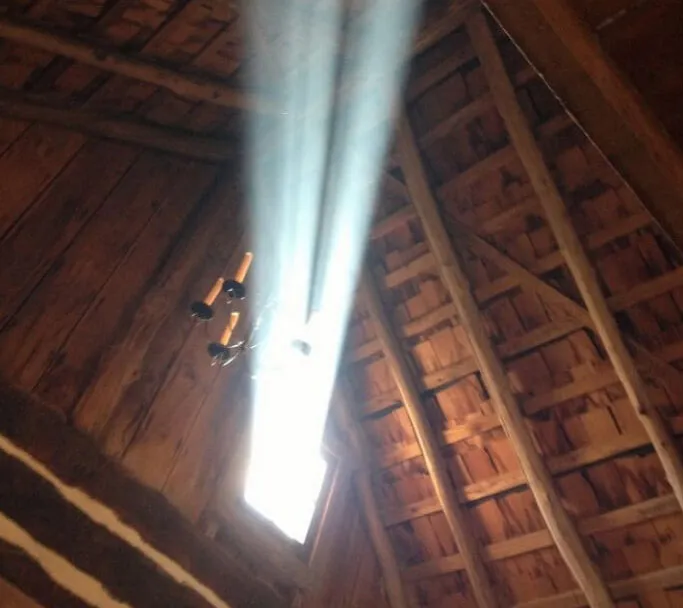 The candle chandelier in Richard's new country home makes for a great light source when electricity isn't available, and the peaked roof allows natural light to flow into the cabin.
Lighting is an often overlooked element of a house but it's so important to have windows that let in enough sunlight, especially when electricity isn't being routed into the house. Just look at the amazing window Richard installed high in the home's ceiling.
A Loft Bed For Maximum Comfort
What's a cabin in the woods without a loft bed? You've got to sleep somewhere. This little loft looks cozy and makes for a perfect way to slumber the night away while enjoying some fresh country air.
It has a warm, cozy vibe for a relaxing snooze after a long day of living in the woods and it maximizes the home's ability to house family members as they undoubtedly take advantage of the home on a regular basis.
Cooking Is Key
The Aiken family is really keen on cooking, so they knew their new place would need to have a hearth. The hearth can be used to cook everything from hot drinks to entire meals.
Dual purposes for the fireplace means the family didn't have to worry about building a full kitchen in a small face. Plus, nothing says country living like cooking over an open flame, especially when it's right inside your home!
Joanna Gaines Transformed This Shack Into A Beautiful Family Home
When Chip and Joanna Gaines get their hands on a home you now it's going to be a magical transformation. Still, with all of their success it was hard to believe they could take this dilapidated home and turn it into someone livable.
When you see the final transformation you'll quickly wonder why anyone pays full price for a fully redesigned home when they could just buy a horrible looking fixer upper.
The Inside Of The Shack Was Destroyed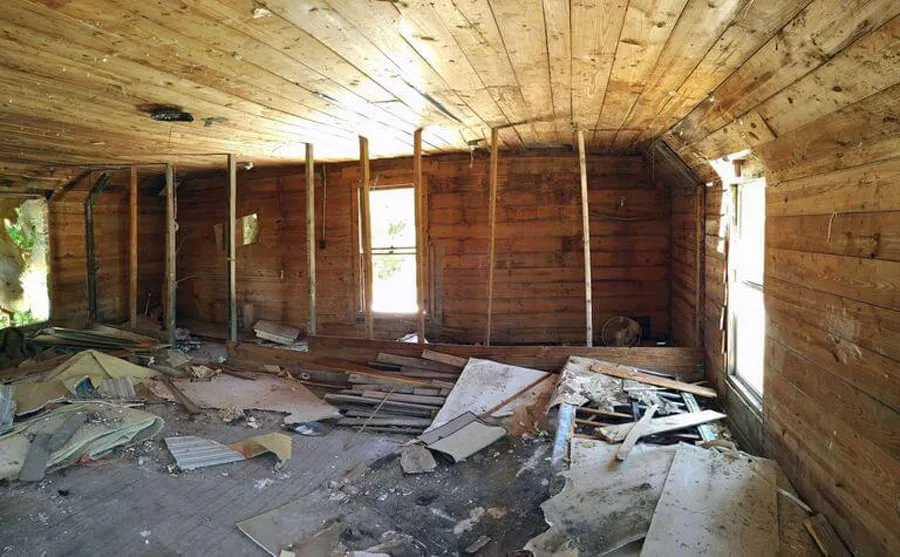 In season four of "Fixer Upper" the Matsumotos family picked up the home, which was almost completely destroyed, for just $12,500. They were paying for the impressive parcel of land more than the home which was almost completely destroyed.
A quick look at the inside of the shack shows that Chip and Joanna Gaines had their work cut out from them. New windows needed to be installed, the home's wiring needed to be completely replaced and there wasn't really a floor or workable ceiling. The transformation was nothing short of miraculous.
The Miracle Restoration Was Stunning From The Outside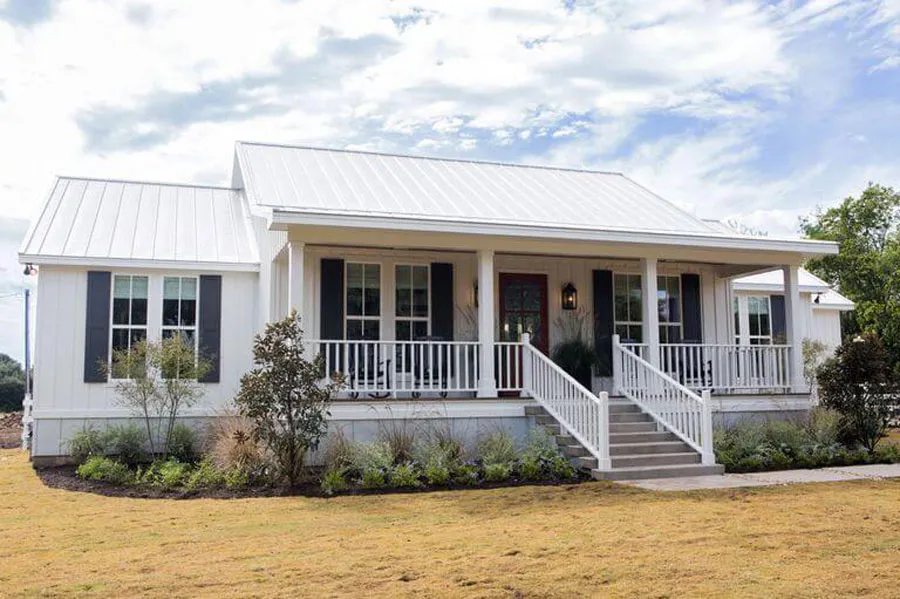 As you'll recall from our first slide, the outside of this shack was in sorry shape. The room was caving in, there was no siding, and a front porch seemed to be the least of the couple's concerns. Joanna Gaines turned that falling down shack into a stunning country living home.
By adding a metal roof, building a brand new porch, and replacing the homes' windows while adding some beautiful shutters, Joanna was able to highlight her keen eye for country home design. Adding a foundation for the home didn't hurt either.
A Kitchen Where One Didn't Exist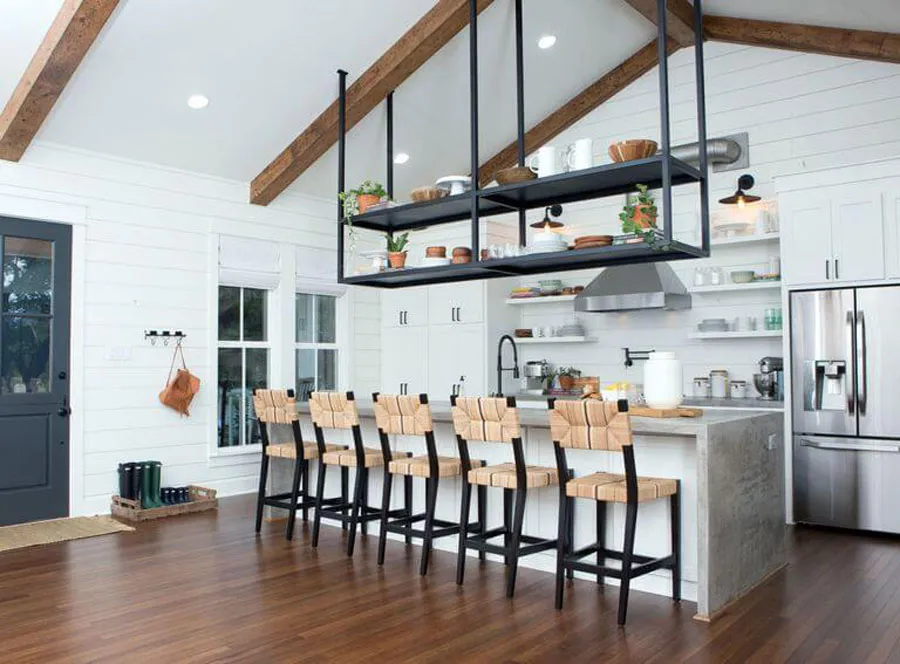 The small shack in season four of "Fixer Upper" was given a major facelift and Joanna Gaines proved that she's a master when it comes to putting a lot of features into a small space. This kitchen is magnificent. By adding some ceiling to mid-level open cabinets Joanna was able to providing the homeowners with extra space while a kitchen island provided some additional seating — perfect for entertaining guests inside a small home. She also added amazing wood floors and high-end stainless steel appliances that turned a shack into a modern masterpiece.
A Living Room Built For A New Family
As if fixing up a shack that was falling apart wasn't enough, the family were expecting twins and under a time crunch. With little feet soon to be running around the home, an open design was important for a small space.
Joanna Gaines used her famous shiplap design to cover the walls and then added off-the-floor shelving to help accent the room and providing accessibility without compromising on space. An area rug beautifully highlighted the room which was covered with the same hardwood that ran throughout the home.
A Master Bath For The Shack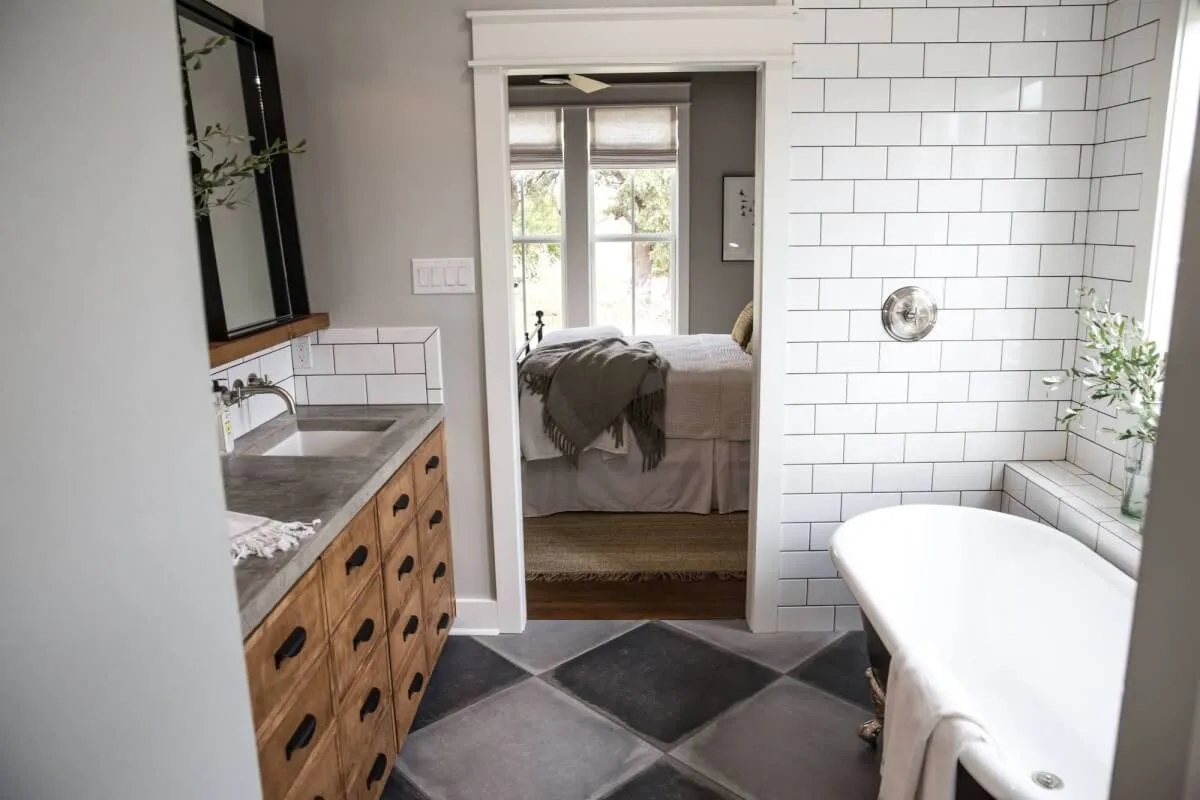 When you're working with a dilapidated home there is one advantage, you get to design every room from the ground up. While the home was small, Joanna Gaines was able to create this master bath that most buyers would envy.
It's amazing to watch a home that most people would tear down turn into such a beautiful space. This photo was taken from the walk-in shower which overlooked a clawfoot bathtub and some amazing cabinetry that adds a lot of storage space into a small but beautiful master bath.
A Master Suite Fit For A Queen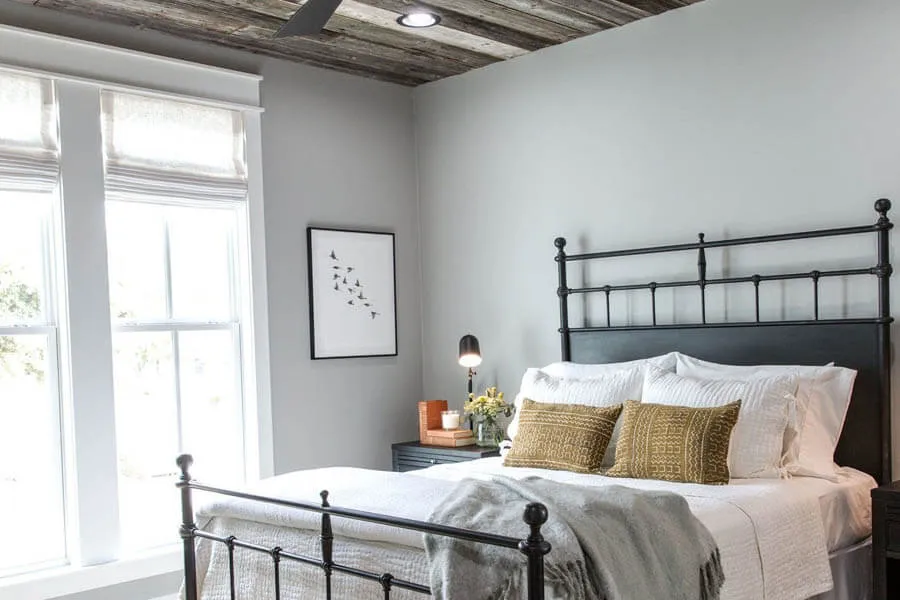 As part of the renovation, Joanna Gaines made it a point to give Matsumotos a glamorously modern new master suite. The ceiling is made from raw wood that was salvaged from the house, adding little reminder to the couple just where the project started.
Don't be surprised if the new ceiling from old material trick becomes a trend! This photo was taken from the corner of the bedroom and gives the best look at what the whole things looks like.
The Perfect Room To Grow Up In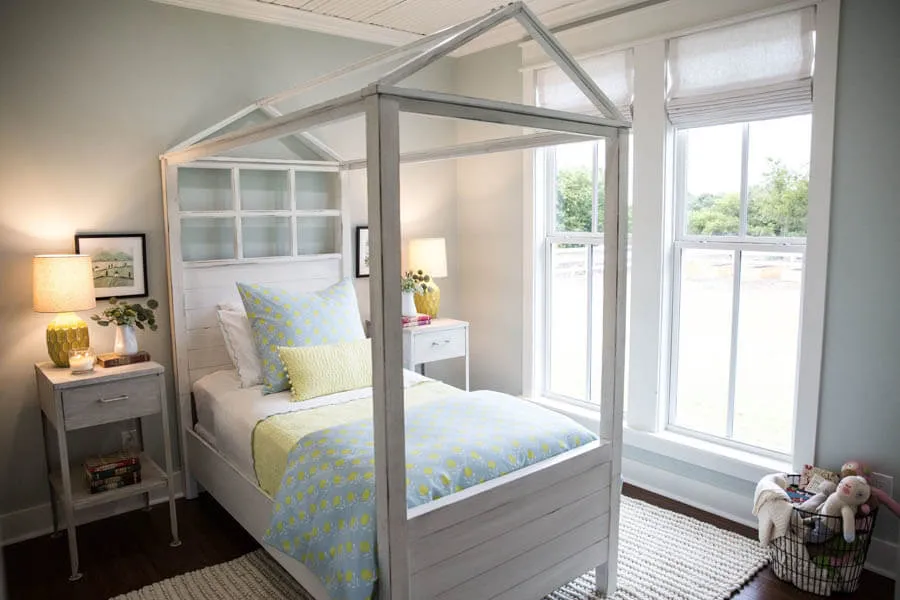 On concern when the project started was to make sure that Matsumotos' daughter could have a room to grow up in. The room needed to be perfect, and we think it's pretty clear this one fits the bill!
To help the child feel comfortable, the room was painted with soft colors and sweet accents. The windows to right of the bed make sure the young child will wake up to the beautiful sunshine every morning, as well.
An Adventurous Boys' Room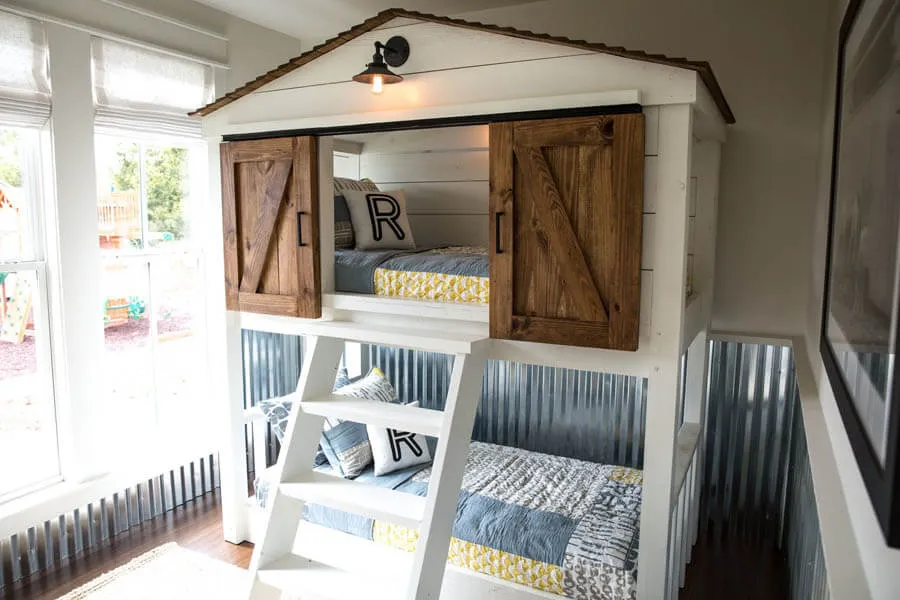 When it came to the boys' room, Matsumotos wanted an interactive room her sons could growing up adventuring together in. This look was achieved through the use of corrugated metal wainscoting.
The bunk beds are custom design that is supposed to mimic a little treehouse. Matsumotos was ecstatic with the way the room turned out. He said his son loved it too! Looking at the love that went into this project, we're sure every young boy would love it!
Perfect For Entertaining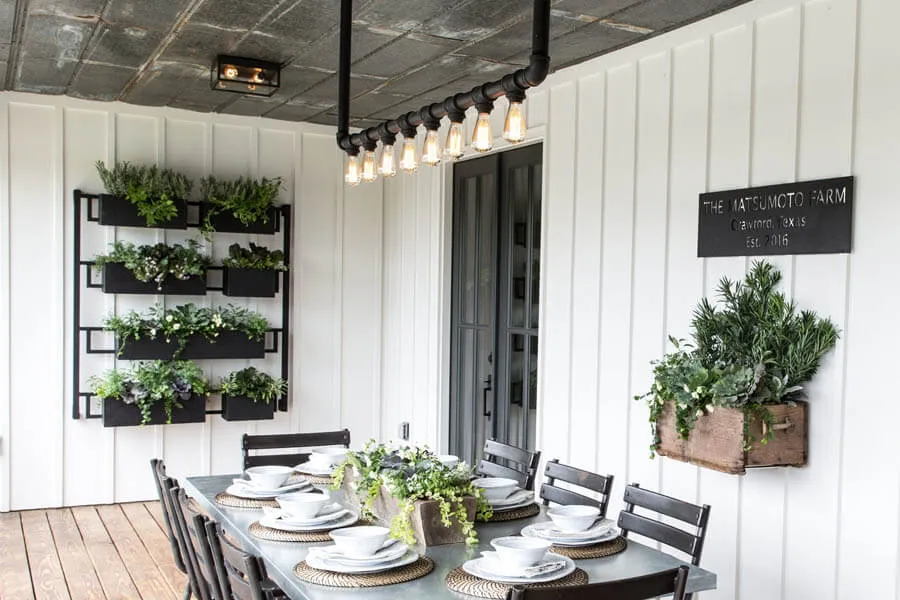 One thing the family was willing to live without was a modern dining room. To make up for the lack of that traditional space, they did request to have an outdoor gathering area be added on.
Joanna Gaines combined the old school with the new school by taking the idea of an outside gathering area and adding dining table just in case more formal hosting was ever needed. It's also the perfect place for family dinners!
Two Rooms Where One Used To Be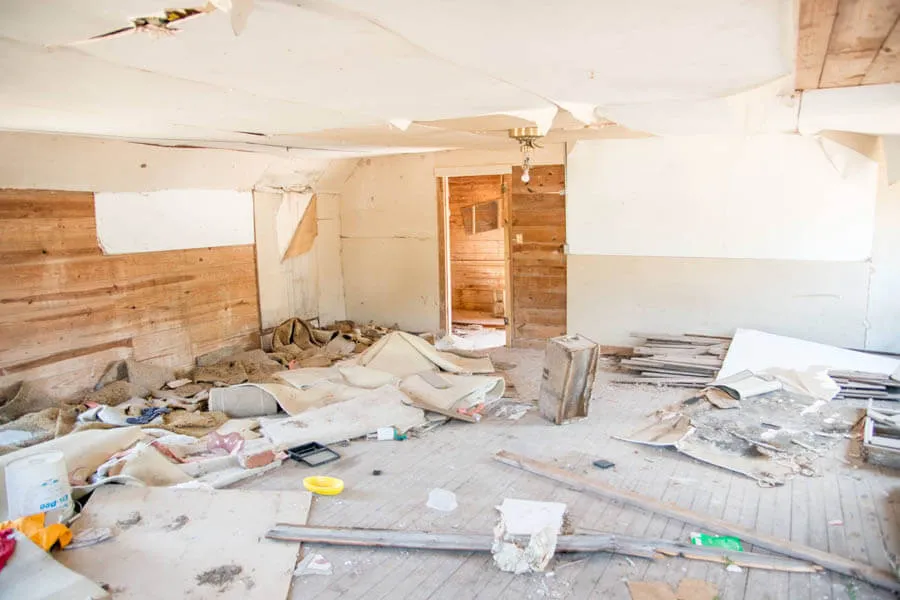 To create the kitchen and living area, Joanna Gaines took one big room and split it into two rooms. Of course, there was no wall separating the two rooms, which made it important to give each a unique look.
You've already seen what the rooms look like now. This is a picture of what they looked like before. The transformation was no small task, and the incredible transformation is unlike one we've ever seen before.
Ending Up In Texas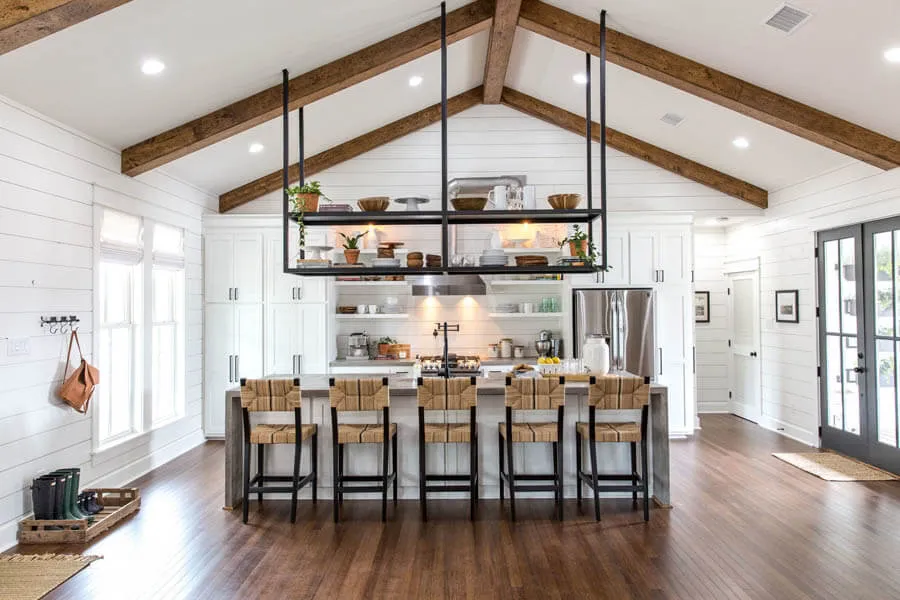 Before moving to Texas, Michael Matsumoto lived in Los Angeles. In an interview with Joanna Gaines he admitted he never imagined he would leave the city of angels but has fallen in love with his new town.
Crawford, Texas is the complete opposite of the hustle and bustle of Hollywood, and Michael thinks it will be the perfect place to raise his family. The small town aspect of it has made it the Matsumotos family's ideal landing place.
Being On The Other Side Of The Camera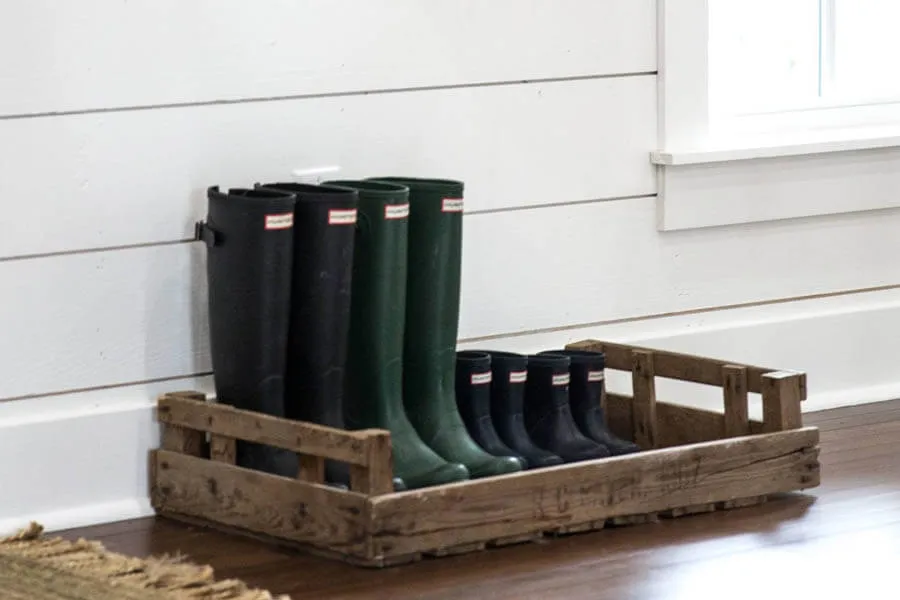 Before this season four episode of Fixer Upper, Michael Matsumoto worked as a producer behind the camera. Stepping out in front of the camera was a brand new and very exciting experience for the expectant father.
The weirdest part was getting to work with Joanna and Chip in a completely different capacity, "On a typical day I work as a co-worker with Chip and Jo, so it was really different being the client."
Getting The Perfect House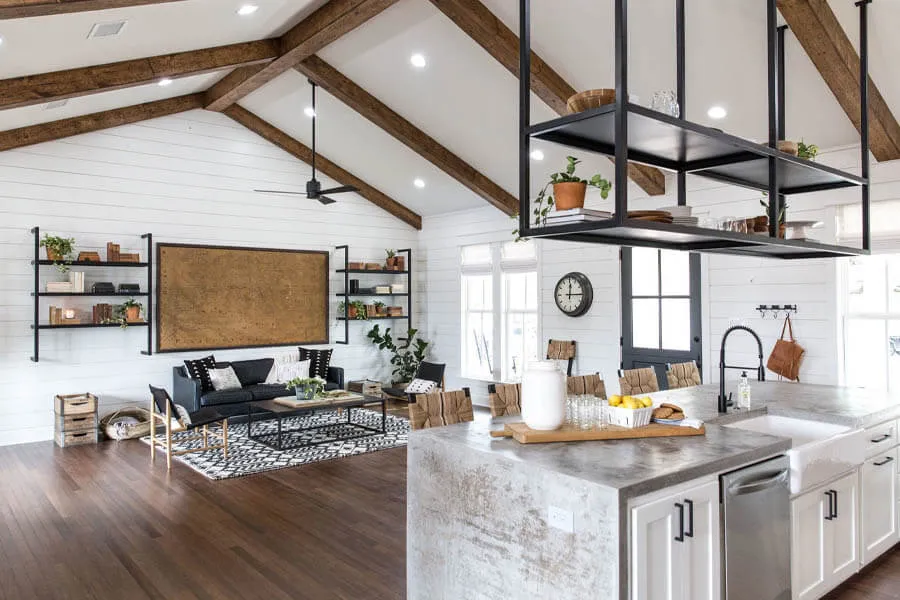 After being on Fixer Upper and having a brand new house built from the ground up, the Matsumotos family couldn't be happier with the results. Michael called the finished product both functional and beautiful.
Perhaps most importantly, the new home is childproof. One of the biggest concerns for any expecting couple is that their house won't be safe enough to raise their child in. Joanna Gaines made sure with her design the new family would have nothing to worry about.
Advice For Prospective Homeowners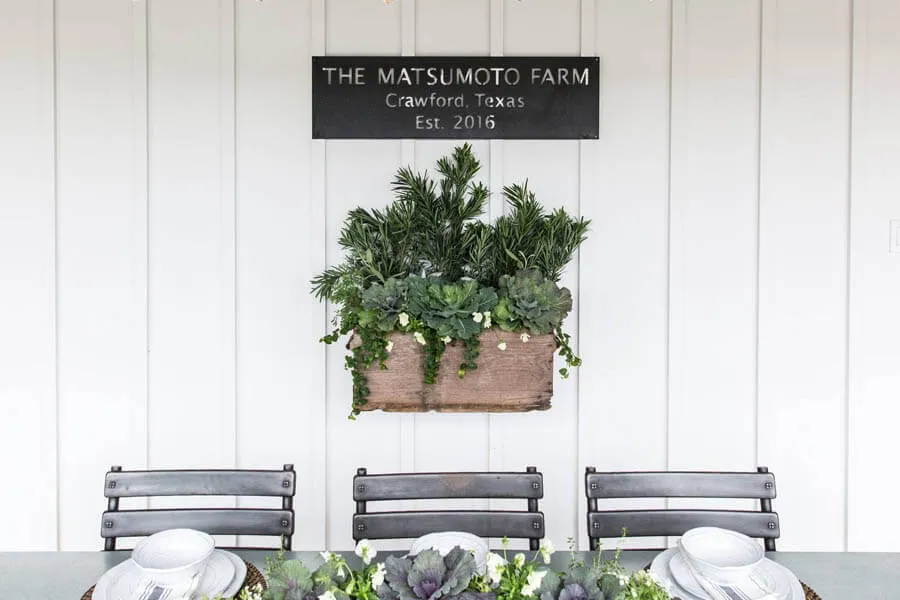 One of the big things the Matsumoto family learned from the experience was to be bold. Visualize the home you want and find a way to bring that vision to life. Michael could have had any house, but he had a vision and now he has the perfect house.
He knows it's not easy, "I think the hardest thing for people to visualize are good bones or good elements to work with." Once they come to you, the sky is your limit!
No Challenge Too Big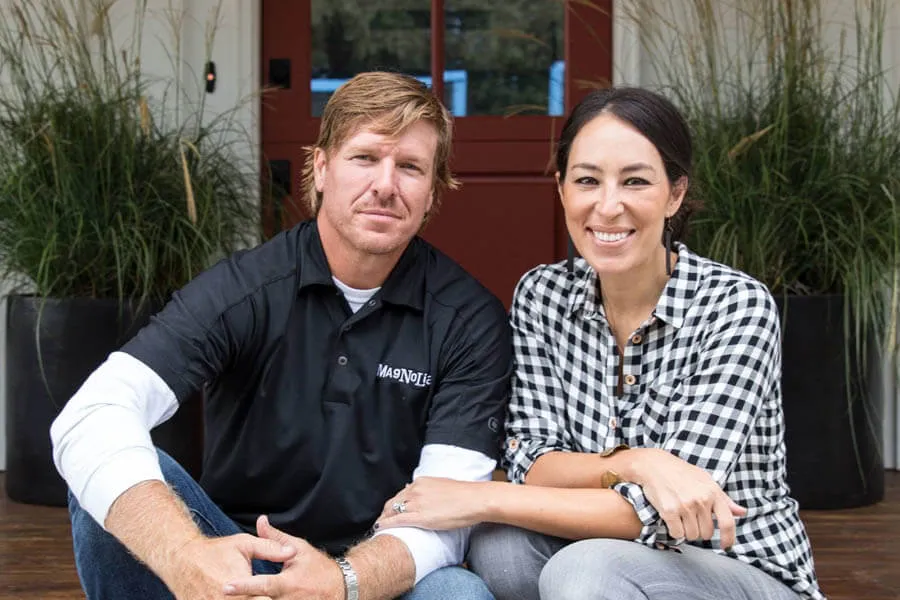 For Joanna Gaines, this project from the fourth season of Fixer Upper was one of her most challenging. It was also one of her favorites. She still can't believe the Matsumoto family trusted her to turn their decrepit shack into a beautiful home.
It's incredibly to look where this project began and how it end. We could never imagine that anyone would be able to turn this ugly caterpillar of a property and turn it into a beautiful butterfly.