Old-Timey Photos With An Interesting Story Behind Them
Old photos are fun to look at, as they give us a glimpse at a time period we've only heard about from our parents and grandparents. The photos in this slideshow will do just that, but they also have backstories that will leave you wanting more. The story behind one wagon photo is pretty mind-blowing.
Houston, We Don't Have A Problem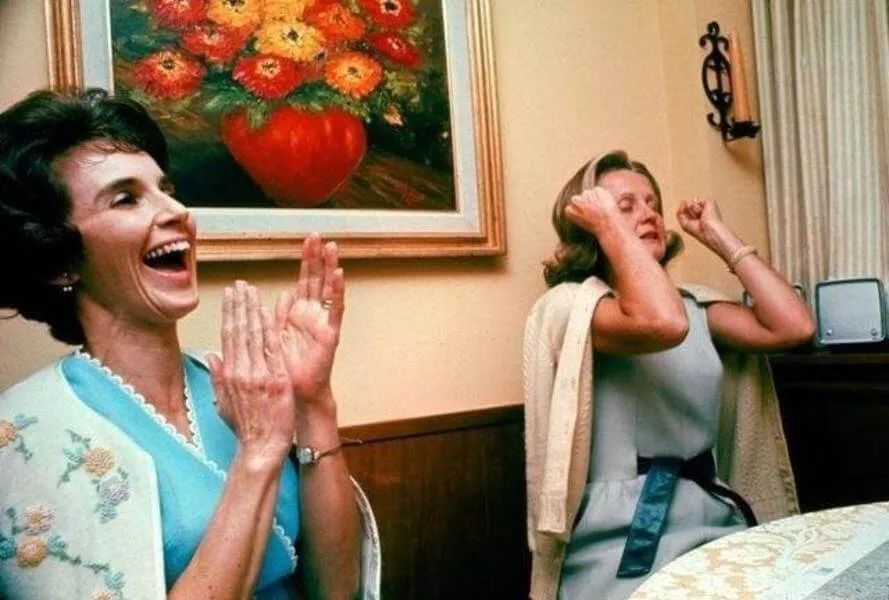 This photo might just look like a couple of friends enjoying each other's company at first glance, but these women are actually the wives of astronauts on the Apollo 8 mission in 1968. This is the moment when they first heard their husbands voices from orbit, letting them know they were safe.
I Hope You'll Dance
This is probably the most interesting picture of a dancer you'll see this year. It was taken in the 1950s during a nuclear arms test in Nevada. That's right, nuclear arms, which makes that cloud behind the dancer a mushroom cloud. Let that sink in for a minute.
Nope, Those Aren't Dance Shoes
During the Prohibition in the 1920s and early 1930s, people had to get pretty creative if they wanted to drink. Moonshiners would use these cow shoes so they could walk through the woods to their stills without leaving footprints and drawing suspicion. Keep reading for another interesting Prohibition era picture.
Your Lack Of Faith Leaves Me Disturbed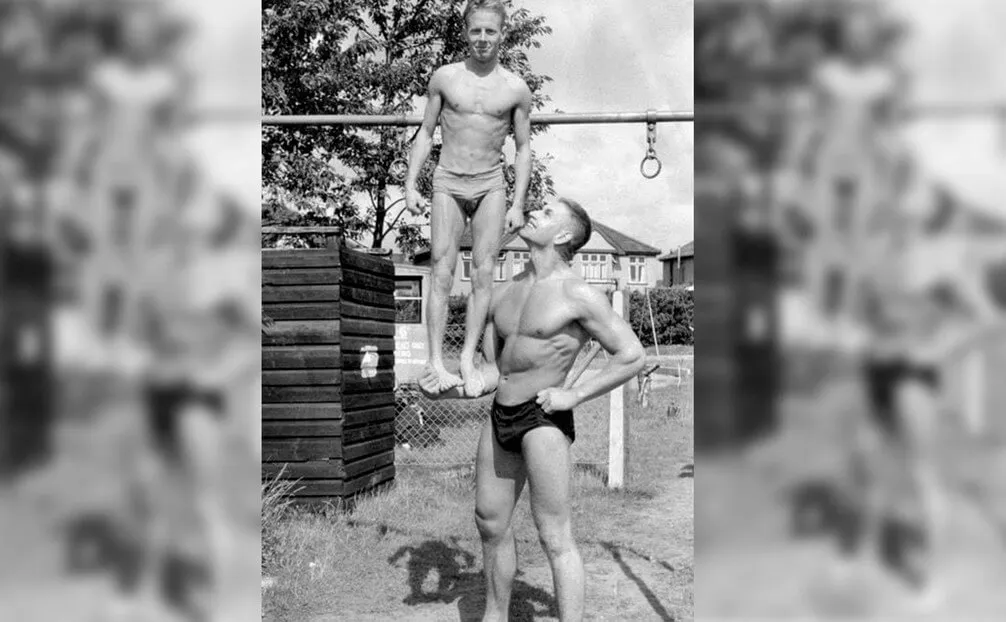 This picture is interesting in more ways than one, but for now we'll go with the big one -- see the really tall guy holding up the other guy with one hand? That is David Prowse, who is pretty well known for being the guy who wears the Darth Vader costume.
Chilling Out Before Battle
This looks like just another war photo where a soldier is kicking back for a fun shot, right? Wrong. This picture was actually taken right before the beginning of the Battle of the Bulge in 1944, which was the last major German offensive campaign. Nothing casual about that.
No, That's Not The Tin Man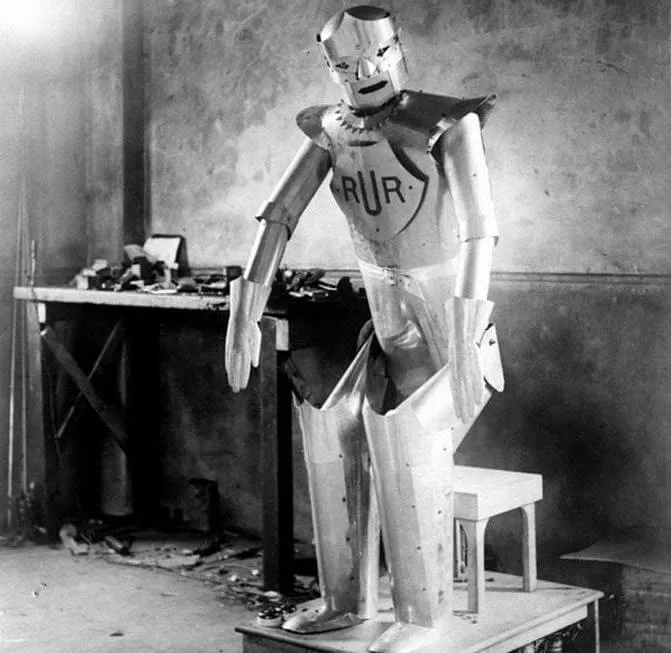 This looks an awful lot like something off the set of The Wizard of Oz, but this is actually Eric, the first British robot ever built. It was built in 1928 as a joke of sorts, but as you now know, there's nothing too funny about robots or artificial intelligence.
Baby's Day Out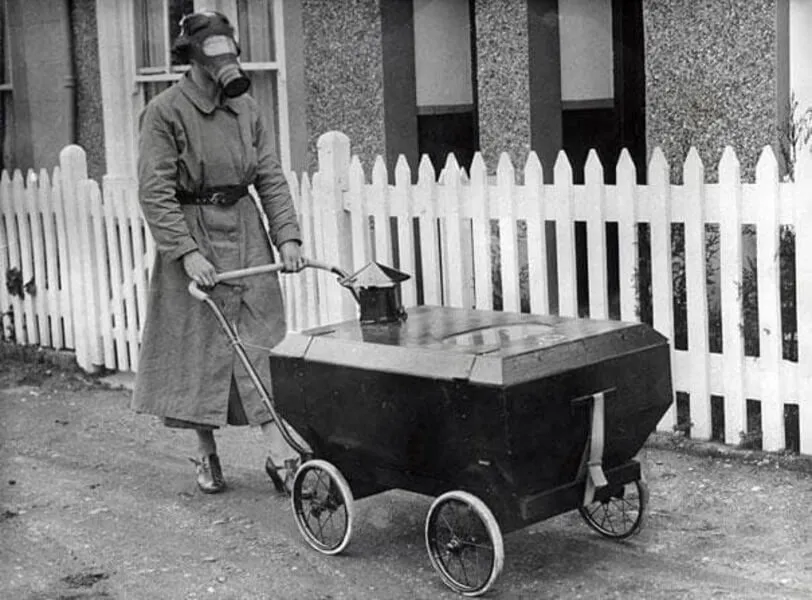 When it became obvious that World War 2 was imminent, designers rushed to create supplies that could be used to protect people -- including babies -- during air raids. The stroller (or pram) you see here is actually gas-resistant, and as safe as it may be, it is absolutely the thing of nightmares.
Dude, Where's My Car?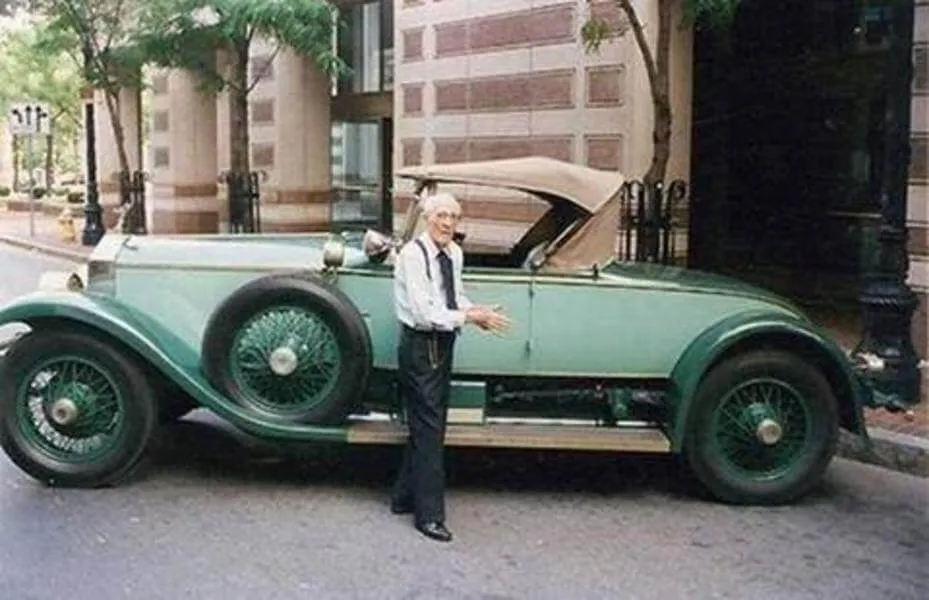 This photo itself was made using modern means, but everything about it is still old-timey. The gentleman in the photo is 102 years old, and that is his 1928 Rolls Royce that he's driven for more than 80 years. In an upcoming slide, check out one very interesting horse and carriage.
Is It Ever, Really?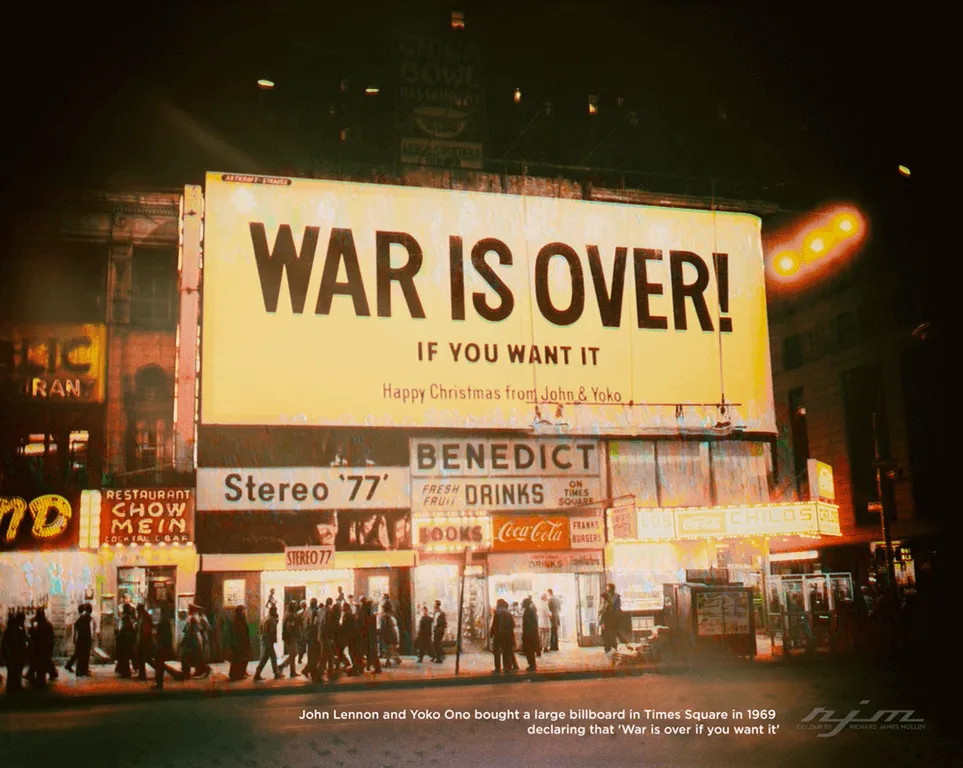 This might just look like a vintage billboard celebrating the ending of the war, but it's really not. John Lennon and Yoko Ono bought a large billboard in Times Square in 1969 stating that "War Is Over...If You Want It," referring to the Vietnam War, which lasted for another six years.
Freedom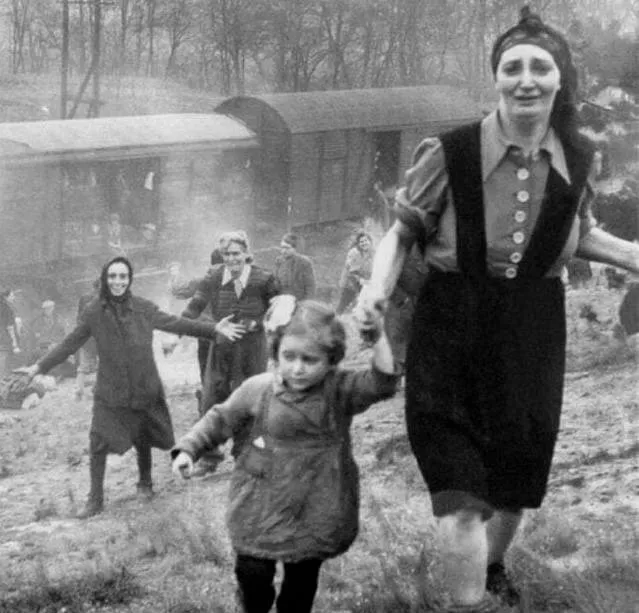 This might appear to just be an old-timey photo of a mother and child getting off of a train, but the backstory is much deeper. This photo was taken in 1945 shortly after Jewish prisoners were liberated from a death train -- they were en route to the Bergen-Belsen concentration camp.
The First Ambulance
Take a close look at the side of the carriage in this photo. It might appear to be the typical horse/carriage photo, but this is actually the first ambulance in Brooklyn, New York. The photo was taken in 1873 as the ambulance was leaving Long Island College Hospital. In an upcoming slide, you'll be sure to recognize a young Olympic boxer.
That's Not Mount Doom
This picture was taken during the 1940s in Italy and it captured Mount Vesuvius erupting. This is the last time the volcano erupted, and sadly, nearly 60 people were killed in the nearby villages it destroyed. It is the only active volcano on the European mainland.
He Wins All The Creativity Points
This picture was also taken during the Prohibition, and it shows a federal agent inspecting a fake lumber truck. As you can see, it is cleverly disguised to hide booze. The false wood was actually constructed to hold liquor bottles. Next: a really cool old photo of Boston from a surprising vantage point...
Old Beantown
This really cool old-timey photo is more than meets the eye. This is an aerial view of Boston taken from a hot air balloon in 1860. There are lots of photos of Boston, the city known as the birthplace of America, but this is the oldest surviving aerial photograph ever taken.
Float Like A Butterfly
That's not just any Olympian -- it is none other than the most celebrated boxer of all-time, Mohammad Ali. This was taken during the 1960 Rome Olympics, where Ali won gold for the light heavyweight division. In an upcoming slide, check out one kid's first day of school.
War Is Over!
This may seem like just an old picture of a crowd of people at first, but this photo has a significant historical backstory. This is a crowd of New Yorkers gathering in Times Square directly after the surrender of Germany is announced. This marked the end of a, particularly trying time.
See You Soon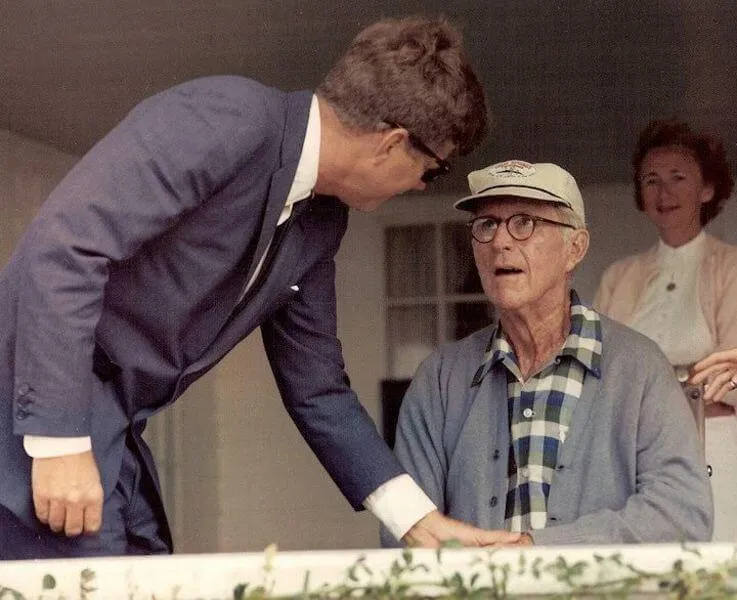 There are tons of pictures of JFK, but this one isn't just him interacting with another supporter. This is the late president telling his father goodbye at the family compound at Hyannis Port in 1963. Little did either of them know, it would be the last time they saw each other, as JFK was later assassinated in Texas.
First Day Of School
Every small kid endures the first-day-of-school jitters at some point, but none come close to that of what this small child went through. Ruby Bridges is escorted by a federal agent on her first day of school. She was the first black child to desegregate a school in Louisiana.
Fun In The Sun
This photo might look like just another sunbather who is showing off her national pride, but this photo was taken during World War 2. Ruth Lee is actually flying the Chinese flag so people won't mistake her for being Japanese following the Pearl Harbor attack and harass her.
Fertilizer?
This is a pile of bison skulls being used as fertilizer. During the 19th century, the American bison was essentially hunted down to extinction. This is so because entrepreneurs and hunters killed them for their skins, but left their bodies out to decay. But their bones could be used as fertilizer.
So Long, Lenin
This young Ethiopian boy stands in front of a toppled statue of Lenin. The statue was toppled after Ethiopia removed their own Communist dictator. In 1991, the fall of the Soviet Union made toppled statues of Lenin a common sight around the world.
Flower Power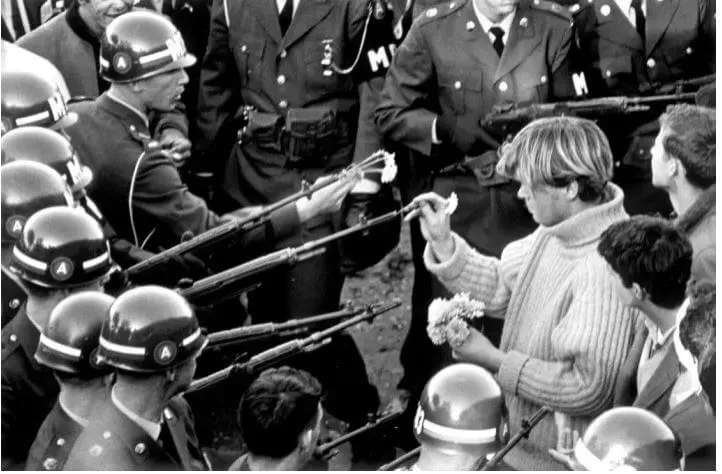 Here, young demonstrators stick flowers into the barrels of the MPs blocking the Pentagon on October 26, 1967. This was just one of the countless protests and demonstrations organized by the nation's youth to voice their opinion about the Vietnam War.
Lunch Break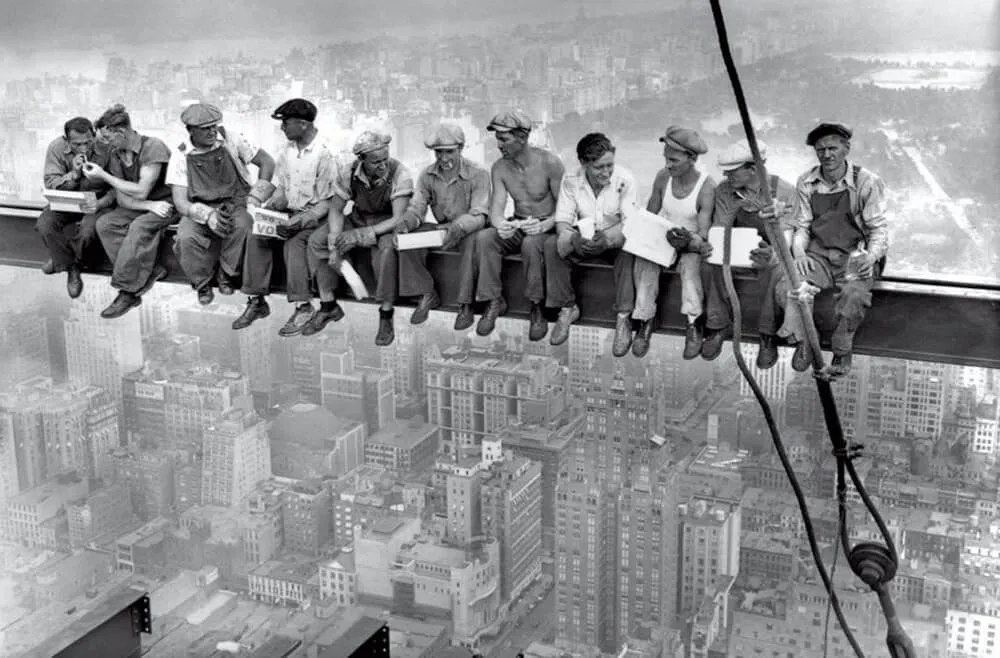 This is a photograph of a group of workers enjoying their lunch together. The picture was taken as part of a campaign for the massive RCA building that they're working on. However, their fearlessness is real, because these men are from the same group that helped to build the Rockefeller Center.
War Is Hell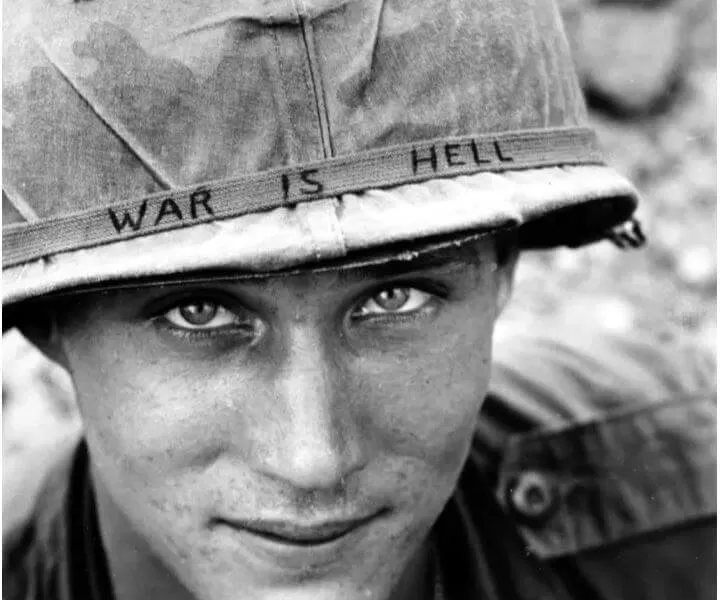 This is an image of an unidentified soldier during the Vietnam war. The phrase "war is hell" became popular to say among soldiers during that war specifically. This image also became well known for how innocent the boy looks but you know the situation he's in.
You Shall Not Pass
The day after the Tiananmen Square Massacre in 1989 in Bejing, photographer Jeff Widner captured the image of this man putting himself in front of the tanks so they couldn't get through. Every time the tanks tried to go around him, he steps in front of them again. The man is still unidentified by this photo has become a symbol of resistance.
V-J Day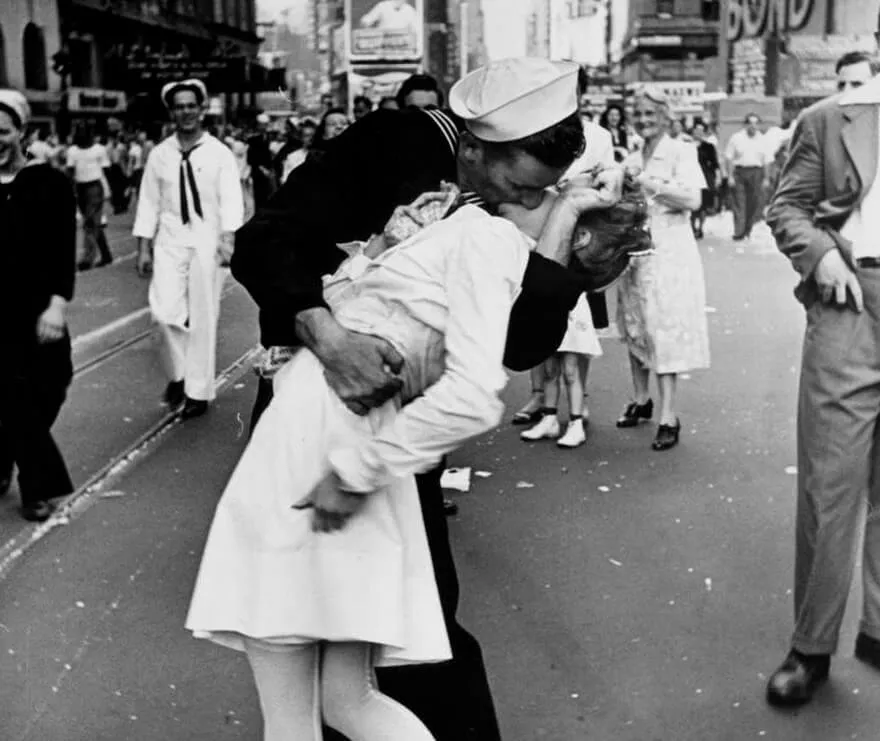 After it was announced that World War II was over on August 14, 1945, photographer Alfred Eisenstaedt went to Times Square to see what he could capture. Here, he photographed the exact moment when a sailor grabbed the nurse next to him and kiss her in a moment of pure happiness and relief. It's one of the most famous pictures of the 20th century.
Child Labor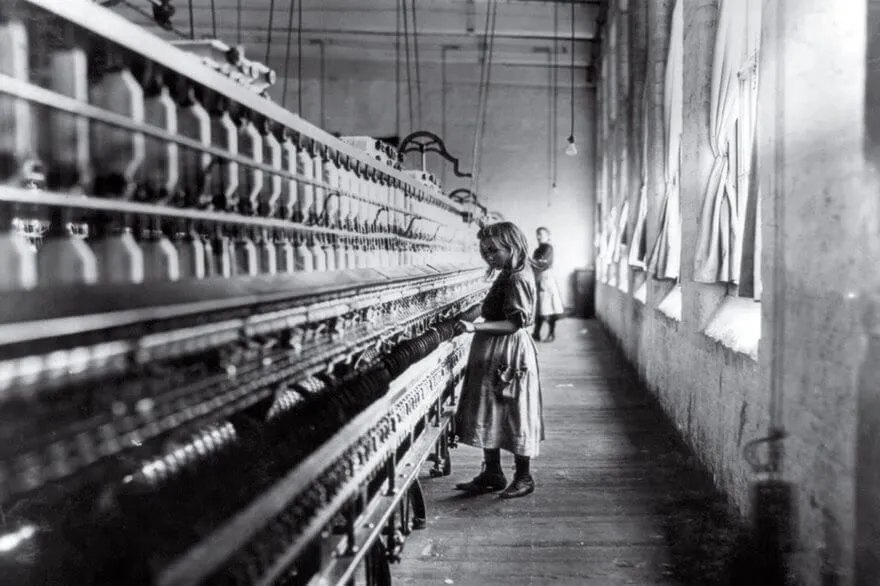 This is an image of a child laborer hard at work on a cotton spinning machine. This is a photograph taken by Lewis Hine who believed that taking images of child laborers would help to spark chain. This is one of his most famous pictures of a girl named Sadie Pfeifer hard at work on a cotton machine.
Home Again
This is a picture of Lt. Col. Robert L. Stirm as he is greeted by his family at the Travis Air Force Base in Fairfield, California, after being a prisoner of war in Vietnam. This photo also went on to win a Pulitzer Prize for capturing so much emotion and history in one shot.
First Picture Sent By A Cell Phone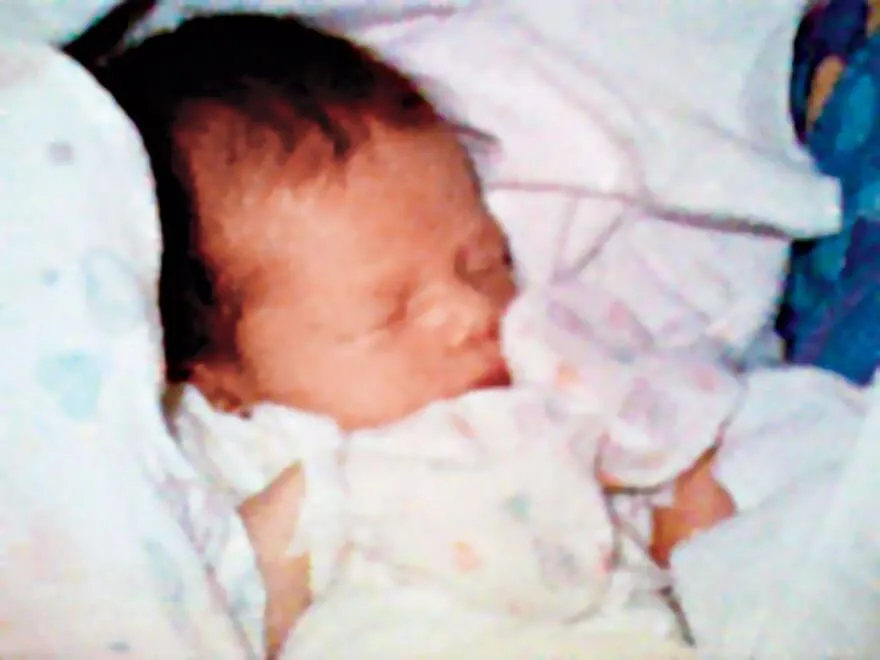 In 1997, software engineer Phillipe Kahn figured out a way to connect a digital camera to his cell phone and send a picture to his contacts. When his baby was born, he used his invention and sent the picture to over 2,000 people, making it the first ever photo sent to others using a cell phone.
Littlerock Nine
In 1957, Elizabeth Eckford is being harassed and followed by white Americans on her first day of school as one of the nine African American students to attend classes at Little Rock Central High School. All of them were threatened and harassed but didn't let it stop them from going to school.
Nightmare At The Olympics
This is an image of one of the terrorists involved with the Palestinian terrorist group that was involved in a 21-hour hostage standoff at the 1972 Olympic games in Munich. Photographer Kurt Strumpf managed to snap this photo during all of the action.
Kent State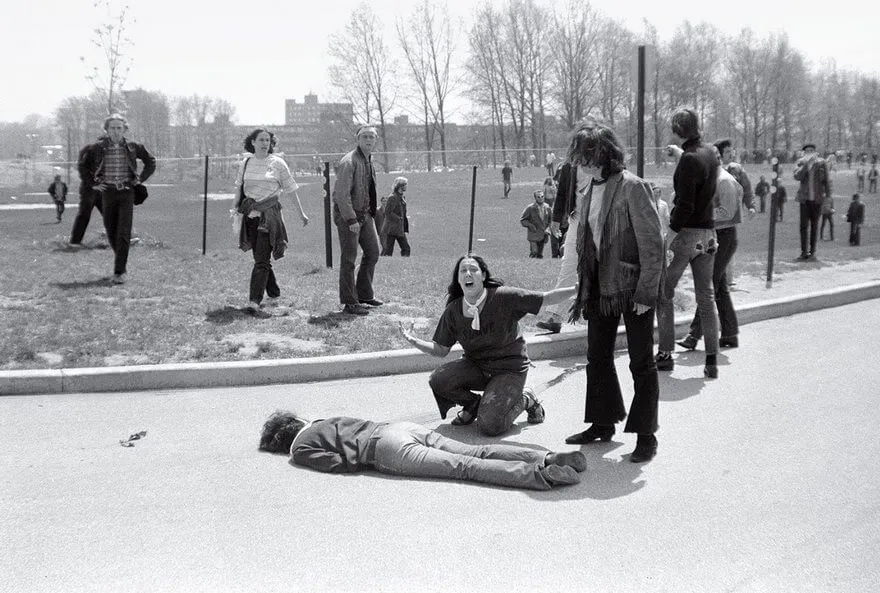 The Kent State shooting occurred at Kent State University in Ohio in 1970. It lasted for 13 seconds and left four students dead, and nine wounded. This sparked a wave of protest and demonstrations among the young adults of that time. A student at the time John Filo captured this image and went on to win the Pulitzer Prize.
Breaking The News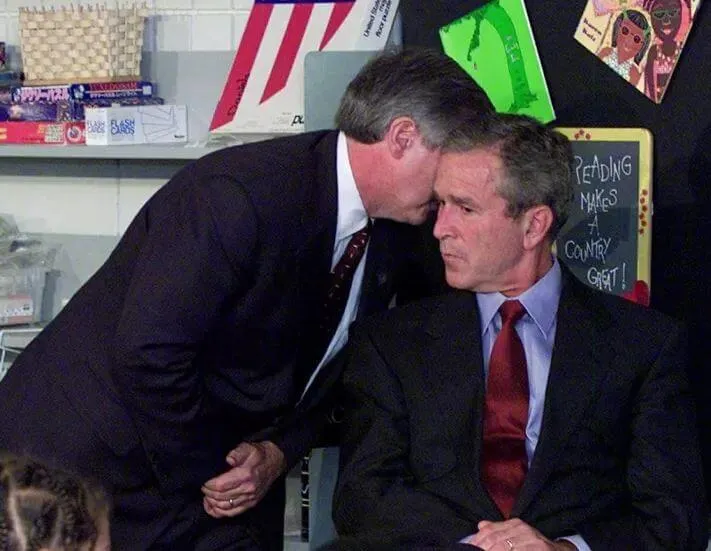 While visiting the Emma E. Booker Elementary School in Sarasota, Florida, President George W. Bush is notified of the plane crashes into the World Trade Center on September 11, 2001. He continued to make remarks to the nation on television while still at the school afterward.
Mugshot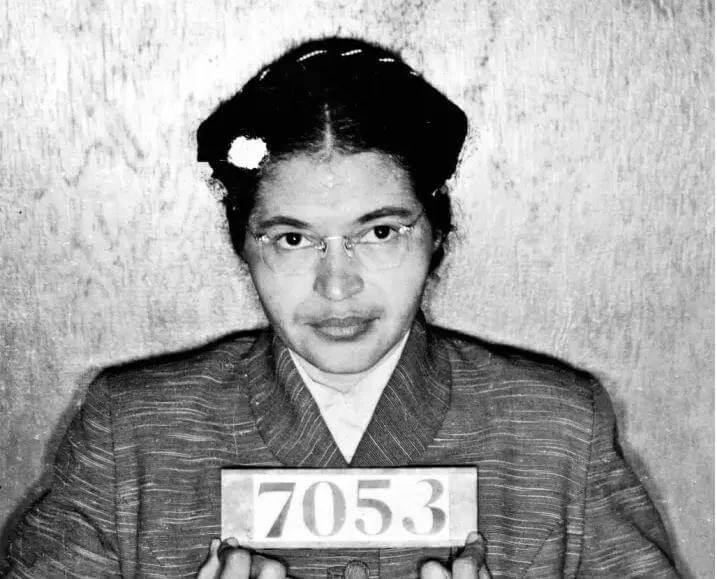 This is a Rosa park's mugshot taken in 1955 after she was arrested for refusing to give up her seat for a white passenger. Her actions helped to initiate the Montgomery Bus Boycott which was a key factor in the development of the Civil Rights Movement.
Burial of JFK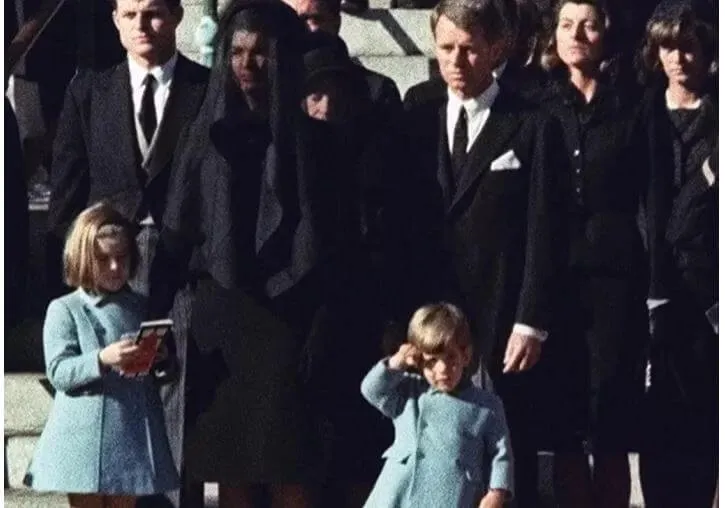 This is an image of the Kennedy family taken on November 25, 1963, after he was assassinated in Texas. His 3-year-old son John F. Kennedy Jr. salutes his father's casket as it passes by. This was taken only three days after the president was assassinated.
OJ Trials
Former professional football player OJ Simpson tries on a pair of Aris extra-large gloves dring double murder trial in Los Angeles in 1995. According to the USA Today, it is the most publicized criminal trial in history and has been named as "The Trial of the Century".
Bricklayer
This is a photograph taken by August Sanders of a common bricklayer. His goal was to be able to capture the work people do just by their appearance. He believed that you could learn a lot about someone this day by seeing if they are happy, sad, tired, or proud. His photography focused on the importance of the individual.
Neil Armstrong
This photograph was captured by Neil Armstrong just seconds after he completed the first walk on the moon during the Apollo 11 mission. You can tell that he's incredibly emotional about what has just happened, being the first person to ever set foot on the moon in the history of the world.
Disaster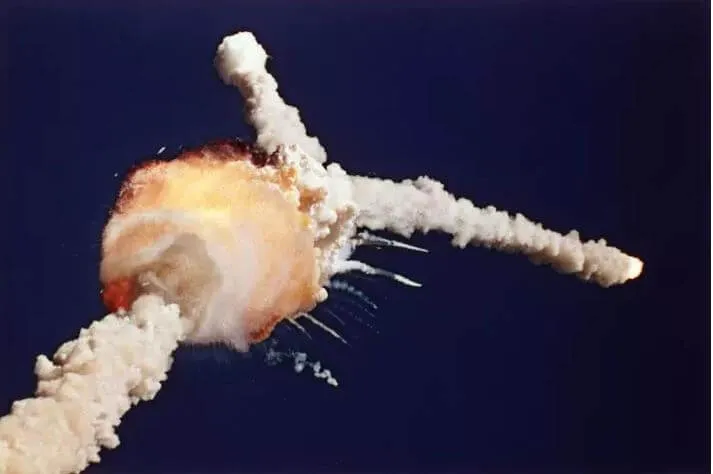 Shortly after taking off from the Kennedy Space Center in Florida on January 28, 1986, the Space Shuttle Challenger exploded while the whole nation watched. All seven crew members died in the explosion which was blamed on faulty O-rings in the booster rockets.
John Lennon's Assassination
On December 8, 1980, musician and activist John Lennon was assassinated by Mark David Chapman outside of his home on the Upper East Side of Manhattan. He was 40 years old, and his death brought thousands to come pay tribute to him in Central Park and celebrate his life.
Christmas Truce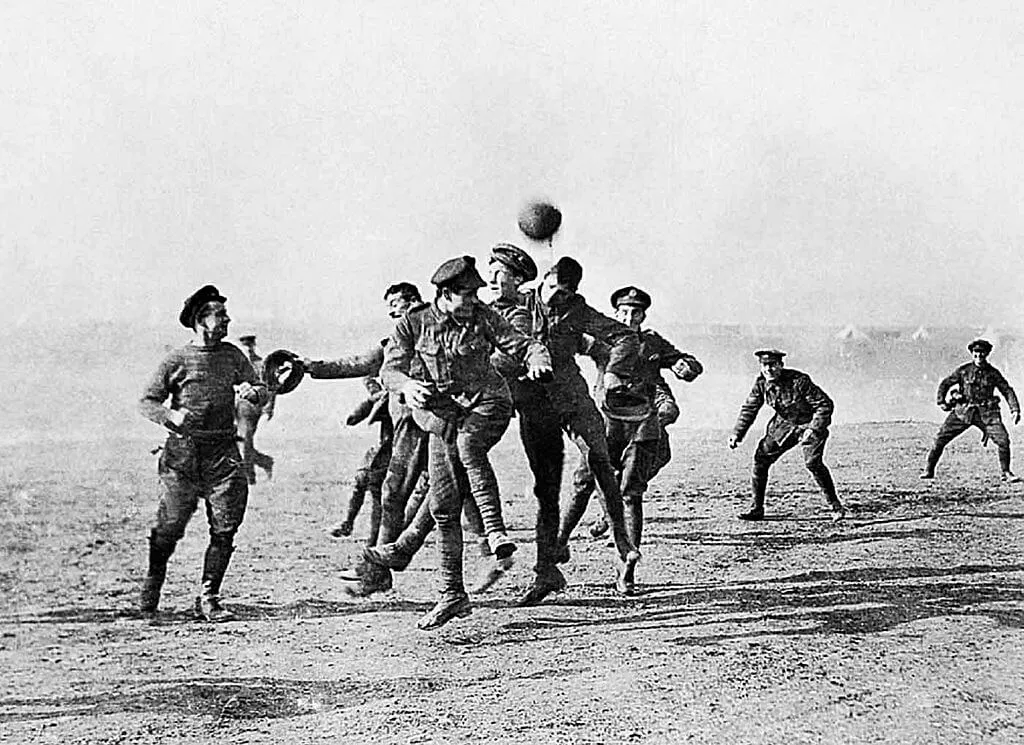 The Christmas Truce happened during the first Christmas of WW1. In December 1914, both sides unofficially agreed to a ceasefire for December 25th.
For the week leading up to Christmas Day, both sides crossed No Man's Land to exchange greetings and talk. The two sides famously even played a game of soccer on Christmas Day.
Laika The Soviet Space Dog
On November 3, 1957, Laika the became the first animal in space. She had been a stray dog on the streets of Moscow when she was picked up by the Soviet space mission and trained to go into space.
Sadly she was doomed from the start. The Soviets never planned to bring her home, and it's believed she died within a few hours of liftoff from overheating.
Mussolini's Big Brother Building
Hitler may have been the notorious bad guy in WW2 but he credits a lot of his ideas from Italian dictator, Benito Mussolini.
Along with being a bad guy, Mussolini was a huge fan of propaganda. For the 1934 "elections" he decorated his Fascist Party headquarters with a creepy image of his face with the words "Si Si Si" all across it, meaning "Yes Yes Yes".
Presidents Are Parents Too
President Kennedy was the first president in over 80 years to have a child born during his presidency. The public loved John F. Kennedy Jr. and this photo shows how being the president and a father isn't an easy job.
John Jr. would camp out under the president's desk and even referred to the desk as his house.
Louis Armstrong As A Diplomat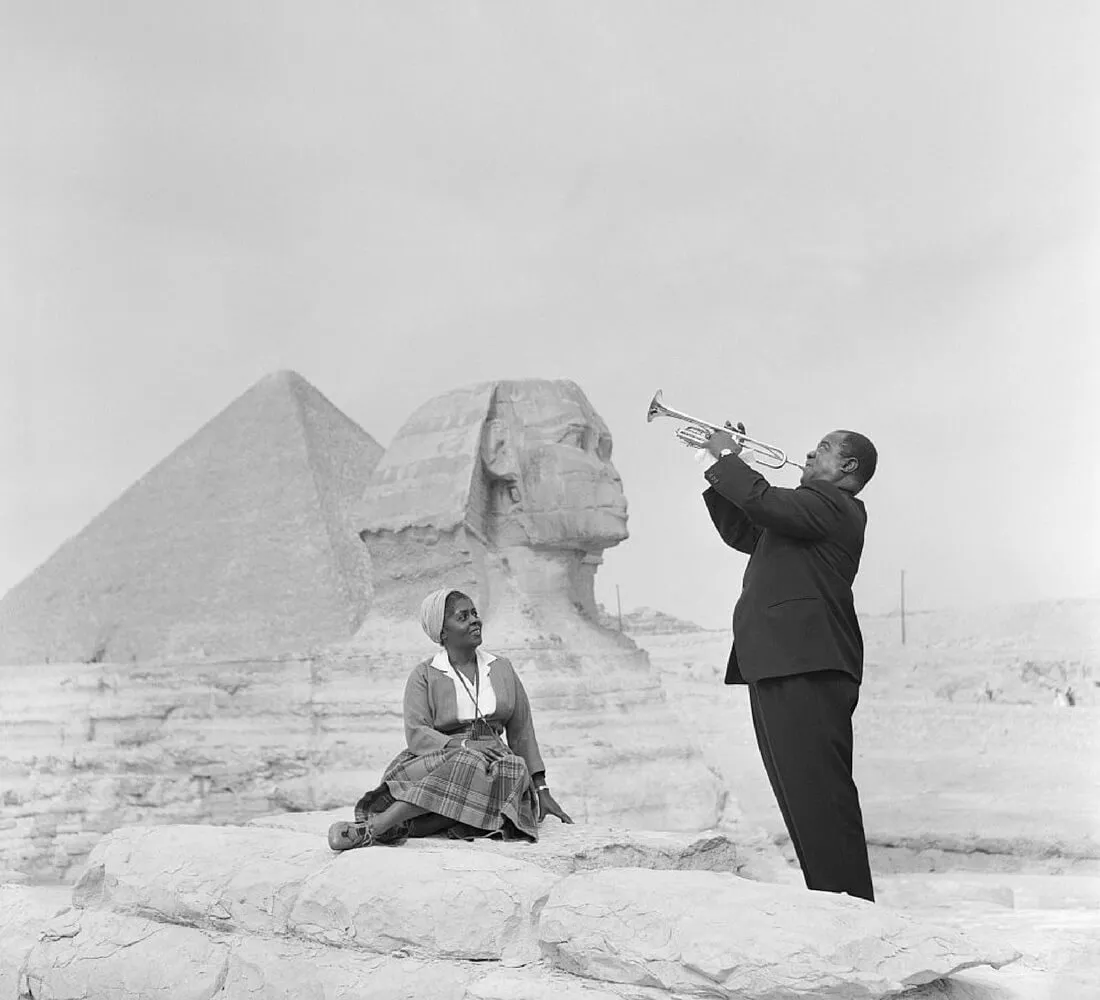 Here, Louis Armstrong plays for his wife in front of the pyramids at Giza and the Sphynx. During the Cold War, the U.S. used every trick up their sleeve, including something called "Jazz Diplomacy."
Jazz Diplomacy was when musicians would go to regions of the world that the U.S. feared would become Communist to sway them to love America through jazz music.
Easy Weight Loss
In the early 1900s, it wasn't acceptable for women to exercise or even sweat, so many tried creating exercise machines that would do all the work.
Shown here is a hip massage machine meant to help slim a woman's hip and waist through a vibrating belt.
Jesse Owens
Born on September 3, 1913, Jesse Owens was a legendary American track and field star and four-time Olympic gold winner. All four of those gold medals came from the 1936 Summer Olympics that were held in Nazi Germany.
The Nazis believed they would win every event because of their Aryan supremacy, but Owens quickly proved them wrong.
The Iron Lung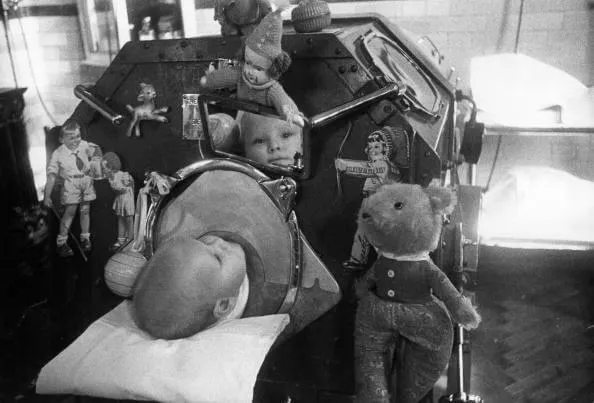 Before we had vaccines to thank for curing us of polio, anyone who suffered from the condition may have spent time in the Iron Lung. An Iron Lung would do all the breathing for you if your lungs didn't have the strength.
This Iron Lung was decorated for a young child to make his stay as enjoyable as possible.
Modern Day Samurai
Taken in 1900, this photo shows Japanese Samurai undergoing training. Japan began to modernize the ancient tradition but Samurai became almost entirely phased out by WW2.
Some Samurai left to become businessmen, including one Samurai who's grandson would establish Mitsubishi.
British Soldiers Take Cover
Here, British soldiers take cover from IRA streetfighters. The 1970's saw a lot of violence in Northern Ireland.
The Irish Republican Army began using military tactics and raids against British soldiers, in a hope to establish Ireland as an independent republic.
Auto-Ball Players
This photo, circa 1900, shows some dare-devil drivers taking polo to a dangerous new level. Instead of horses, they tried using cars.
This sport quickly went out of fashion, as the risk of injury was much higher with cars than with horses.
Original Ronald McDonald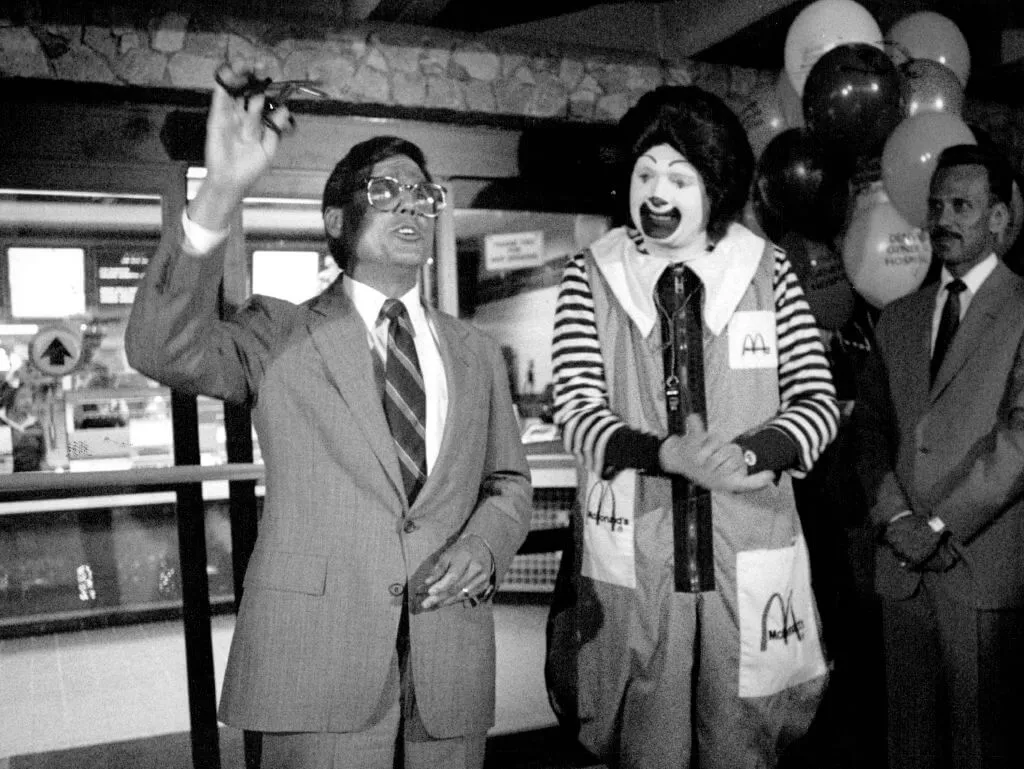 McDonald's was founded in 1940, but their recognizable mascot Ronald McDonald wasn't brought in until 1963.
This early Ronald McDonald is close to what kids know now, but the original Ronald would be unrecognizable. The first Ronald has a burger box as a hat and a drink cup for a nose.
Disco Demolition Night
On July 12, 1979, a doubleheader between the Chicago White Sox and Detroit Tigers was overtaken by an anti-disco promotion. A local radio DJ had offered reduced entrance to the game if you bring an old disco record.
The DJ then went on to destroy the records, resulting in a massive explosion that damaged the field and forced the White Sox to forfeit the second game.
Checking In On East Berlin
West Berlin citizens check in on their East Berlin neighbors and have a brief conversation. The Berlin Wall began construction on August 13, 1961, until it was torn down in 1989.
While the wall was up, over 100,000 people tried to escape East Germany and join the West.
Mocking Eisenhower
In 1962, Cuban leaders Fidel Castro and Che Guevara take time out of their revolution to stop and play some golf to mock U.S. President Dwight D. Eisenhower.
Castro had visited the U.S. in 1959 but Eisenhower didn't want to meet with him, so he went to play golf to avoid seeing him.
A Horse's Gas Mask
Gas as a weapon was introduced in WW1 and some gasses could cause death, blindness, and even pneumonia. Troops on both sides quickly developed gas masks for the soldiers, and also gas masks for their cavalry.
This gas mask is a WW2 design to protect both the horse's mouth and nose, but also its eyes.
Making Marathon History
In 1967, Kathrine Switzer became the first woman to run the Boston Marathon as a legal entry, but it wasn't easy. A trainer tried to stop Switzer from running by grabbing her number bib.
Thankfully, a number of male runners protected her and formed a protective guard so she could continue.
Tupperware Party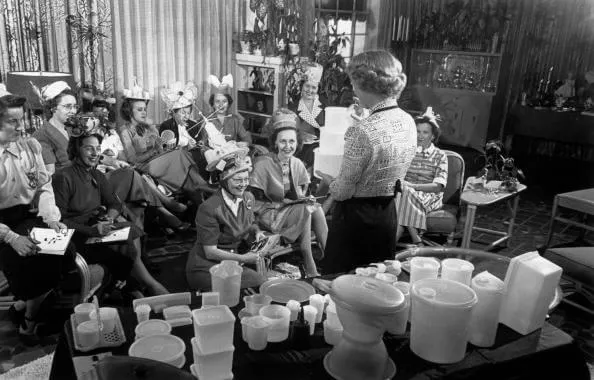 The iconic plastic containers were invented in 1942 by Earl Tupper, but became popular after marketing genius Brownie Wise began to throw Tupperware parties.
Here, a Tupperware party is thrown with such enthusiasm that some of the ladies have even fashioned Tupperware hats.
The World Stops For Princess Diana
A pub owner stops to watch the television as Queen Elizabeth II makes a speech during Princess Diana's funeral. The death of the People's Princess on August 31, 1997, shocked the world.
The televised coverage of her funeral was watched by 2.5 billion people and aired in 200 countries in 44 languages.
The Tasmanian Tiger
One of the many now-extinct animals, the thylacine, plays in the London Zoo circa 1930. The animal, also known as the Tasmanian Tiger, was the closest known relative to the Tasmanian devil.
The last wild Tasmanian Tiger was shot in 1930, and the last captive one died in 1935.